Widmer Enterprises, Inc. writes about products, strategies, and tips to help you make smart decisions with your money. We may receive a small commission from our partners, but our reporting and recommendations are always independent and objective.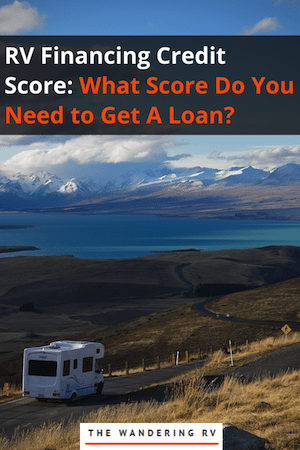 Are you wondering what kind of credit score you need to get RV financing?
In this article, we discuss everything you need to know about getting a loan for a recreational vehicle.
This includes interest rates, loan terms, and the minimum FICO score you need.
We also answer some common questions most new buyers have about financing an RV.
Let's dive in!
Table of Contents
RV Loan Interest Rates & Terms
Recreational vehicle loan interest rates vary depending on the amount of money you're applying for. You can use an RV loan calculator to see the full cost of your loan over your maximum term (aka the number of years you'll spend paying back the loan). The average loan term for a camper is around 15 years.
Most buyers prefer shorter terms because the interest rates are lower—your term can be as short as 24-48 months. However, most shorter terms are considered personal loans, which often require better credit or a higher down payment.
The average interest rates on camper loans range from 4% all the way up to 17%.
RV Financing Credit Scores
Now, let's talk about credit scores. A credit score of 670 or better is great, while 800 is considered exceptional. The higher your credit score, the better your chance of being approved by banks and loan companies for RV financing.
That said, it's possible to get a bad credit RV loan with as score as low as 550. Keep in mind, however, that these loans will usually have a higher interest rate and require a bigger down payment (usually 20% or more).
As you make loan payments on time, your FICO score (and other branches of credit score) will go up because it shows creditors you're reliable.
Frequently Asked Questions
What is a good credit score for an RV loan?

Typically, you need a score of 670 or higher to get an RV loan. Having a higher score makes you more likely to get accepted by a loan company. However, you can get a loan with a score of just 550 from certain lenders.
Is RV financing hard to get?

An RV loan is actually harder to get than a car loan and is very similar to getting a mortgage for a home. You will want to have a good credit score and have at least 20% down to help get approved.
Can I get an RV loan with a 650 credit score?

You can get an RV loan with a score as low as 550. However, lenders prefer higher scores and will be more likely to lend you money at a score of 650 or above.
Who has the best RV financing?

The best RV financing lenders vary depending on your needs.

Lightstream and SoFi can offer up to $100,000—however, they typically require a high credit score. Best Egg, on the other hand, can offer up to $35,000 for those who aren't purchasing a more expensive camper.

There are also other options, such as dealer financing, going through your bank, or taking a personal loan.