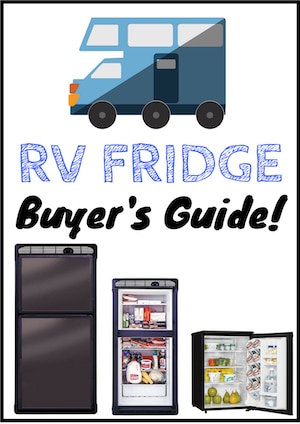 Roll up your sleeves and prepare for a cool adventure as we dive into the world of RV refrigerators! Join us as we explore the best of the best in mobile chill zones, ensuring your food stays fresh and your beverages frosty, no matter where your wanderlust takes you. Let's get started!
​Note: Some of the links in this article are affiliate links. This doesn't cost you any more than normal. Read our disclaimer for more info.
Types of RV Refrigerators
Absorption refrigerators:
A popular choice among RVers, these fridges operate silently and can run on multiple power sources, such as propane or electricity. The pro is the ability to use propane without using up precious solar or battery electricity. The downside is they are generally much more expensive and draw more electricity.
Compressor refrigerators:
Known for their efficiency and consistent cooling, compressor fridges are a reliable option for those seeking a more residential-like experience. Their upside is the lower electricity demands and lower initial price. Their downside is more moving parts to potentially break. Compressor fridges come in both 12v and 110v versions.
Residential-style refrigerators:
For those who desire the comforts of home on the road, residential-style fridges offer ample storage and familiar features. These are also compressor refrigerators and will have the same pros / cons.
Things to Consider When Buying a New Fridge
If you've tried troubleshooting and your fridge still isn't working, or you just want a new refrigerator, then we've found some of the best!
However, the right fridge for you will vary based on:
Size
Capacity
Options
Price
Let's discuss each.
Size
Depending on the size of your rig, you will have a different size fridge. You'll need to measure the space to make sure you purchase the right size unit.
If you're replacing an old Norcold fridge, click here to see their conversion chart.
To find your replacement, hit "Control + F" (or "Command + F" for Mac) on your keyboard, then type in your model number. It will show you the size of your fridge to help find a replacement.
However, Norcold Inc. does warn that some cabinet modifications may be necessary, as replacement dimensions are not an exact fit in all instances.
Remember the golden rule: Measure twice, cut once!
Capacity
Like household refrigerators, RV refrigerators have varying capacities for food storage – even between fridges of the same size!
Figure out how much you actually need, then purchase based on that.
Pro Tip!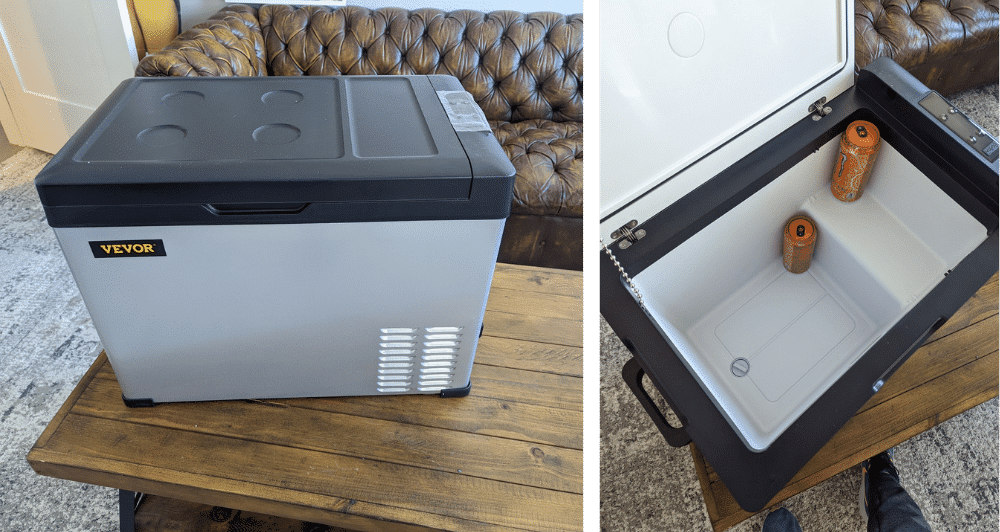 ​​If you need more freezer or food storage space, consider buying a 12V travel fridge. Most of them run off AC or DC power, plus you can put them outside while camping so you don't need to run inside for a drink!
They're especially helpful if you have a small RV and don't want to buy a cooler or ice chest that constantly needs new ice to store extra food.
Absorption vs Compressor RV Fridge
Absorption-style RV fridges operate using a combination of heat, ammonia, and water, making them almost silent and ideal for off-grid adventures since they can run on propane, 12V DC, or 110V AC power. They have fewer moving parts, resulting in lower maintenance requirements. However, they are generally less energy-efficient than compressor fridges and may struggle to maintain consistent temperatures in extreme weather conditions.
On the other hand, compressor-style RV fridges function similarly to residential refrigerators and are known for their efficiency and ability to cool rapidly. They primarily run on 12V or 24V DC power and can be easily paired with solar panels, making them a popular choice for those seeking energy independence. While they tend to be louder and have more moving parts than absorption fridges, compressor-style units offer better cooling performance and can maintain consistent temperatures regardless of the external environment.
Price
Good RV refrigerators aren't cheap. They start around $1,100 and go all the way up to $3,000 plus for luxury models.
The reason they cost this much is that, unlike a residential refrigerator, which is made of plastic parts, RV fridges are made from stainless steel to deal with the constant rumble of the road without breaking apart.
Compressor-only fridges are relatively new to the RV world but offer significant price savings when buying new ones.
If you're looking to save, consider buying refurbished. However, be careful not to buy a dud! Make sure you test the model before you buy it.
If you want to be safe, you can always buy the new models we share below.
Best RV Refrigerators of 2023
Best Absorption RV Fridges
Dometic Americana II
The Dometic Americana DM2672RB offers an array of top features, making it an excellent choice for RVers. Its reversible hinges allow for quick and easy right and left swing modifications, while the clean design and full surround steel frame optimize cooling performance. The ergonomic redesigned handle with 'click lock' sound ensures the door is securely closed, and the new LED light provides 30% brighter illumination in the fresh food compartment compared to incandescent bulbs. This versatile, double-door fridge offers spacious storage and operates on propane, 110v, and 12v electricity. Additionally, the automatic LP electronic ignition with temperature control guarantees optimal cooling, making this fridge an outstanding option for your RV adventures.
Norcold Polar 3-Way AC/LP/DC
Next up is the Norcold Polar NA7LX.3R refrigerator, a sleek and modern unit designed to maximize storage space, offering the benefits of a 7 cu.ft. fridge in a 6 cu.ft. enclosure. Featuring taller door panels for a built-in look, hidden liner, hidden hinges, and recessed door handles, this fridge provides a streamlined appearance. The user-friendly control panel boasts an LCD display, adjustable thermostat, and mode select, eliminating the need for buttons or switches. With cold weather capability down to 0°F and 3-way power compatibility (120V AC, LP gas, and 12V DC), this fridge is adaptable to various environments. New MAGNAStrips make it easy to use existing door panels (sold separately), and the refrigerator fits the same cutout as the Norcold N641/NX641 Series. Experience top-quality performance from this American-made refrigerator by an American-owned company.
Best Compressor RV Fridges
RecPro 12v Refrigerator
Meet the RecPro RV 12v Refrigerator, a practical and convenient choice for your RV, boasting both a full fridge and a top freezer. Measuring 23 1/2″ wide, 25 3/4″ deep, and 59 3/4″ high, this fridge offers 10 cubic feet of interior space, while weighing approximately 119 pounds. One of its standout features is its frost-free design, ensuring hassle-free maintenance and no need for venting. With full control over temperature, balance, and other settings, this 12V-only fridge is energy-efficient, consuming 7 amps at startup and just 1 amp at operating temperature, all while illuminating your food with a 1W LED lamp. Keep in mind that this fridge is about 5inches taller than most Dometic / Norcold fridges, so make sure you have enough room to install!
Dometic DMC4081 12VDC Fridge
Last up is the Dometic DMC4081 12V fridge, a stylish and efficient addition to your RV kitchen. This 8 cu. ft. refrigerator fits perfectly into a 6 cu. ft. cutout, offering ample storage space without compromising on design. The stainless steel door features tight radius corners, rolled edges, and a recessed side pocket latching handle, while the interior boasts glass shelves, clear door bins, dual crisper drawers, and overhead LED illumination. With easy-to-use digital controls, you can find the perfect balance between performance and power consumption, making this fridge an excellent choice for those on the go.
Best Portable RV Refrigerators
BougeRV 30Qt 12v Portable Fridge
Portable fridges are great for car camping, truck campers, and campervans! First is the BougeRV 30Qt 12V Portable Fridge, a versatile and efficient solution for your on-the-go refrigeration needs. This 30-quart refrigerator features a multifunctional storage box for power stations and accessories, ensuring everything stays organized and secure. Boasting CRPRO compressor refrigeration technology, the fridge consumes minimal power in both Max and Eco modes, while its low noise design (45dB) ensures a peaceful night's sleep. With its shock-proof design and four safety tie-down points, this portable fridge is perfect for road trips, camping adventures, and even grocery shopping to keep your food fresh.
VEVOR 42Qt 12V Refrigerator
Last up is the budget-friendly Vevor 42Qt 12V Fridge, a perfect companion for your outdoor adventures. This portable refrigerator offers a generous 42-quart capacity, large enough to hold 54 cans of cola or 29 bottles of drinks. With compressor refrigeration technology, it can cool down to -32°F in just 15 minutes, ensuring your food stays fresh. The fridge features humanized details, such as a digital display, built-in LED light, USB charger, handles for easy transport, and mobile app control. With 120/240V AC and 12/24V DC adapters, and three battery protection functions, it ensures a seamless transition from home to vehicle. Ideal for RVs, campsites, boats, and road trips, this 42Qt fridge is your ultimate travel companion.
Conclusion
In conclusion, the world of RV refrigerators is as cool as it gets, offering a variety of options to suit every need and budget. So, whether you're chilling out in a luxurious motorhome or keeping it frosty on a budget-friendly road trip, we've got the perfect fridge to keep your drinks cold and your food fresh. Happy camping!