Save an Average of $321* A Year on RV Insurance
Looking for an RV Insurance Quote?
Recreational vehicle insurance is required by law in most states and helps protect you in the event of an accident or storm. In fact, if you're in your RV during a bad storm, you should leave it behind and take shelter somewhere safer, knowing your camper is protected if the storm damages it!
It can be difficult to know who to go to for RV insurance, and what type of coverage you actually need. That's where this guide comes in! We'll help you determine the best insurance company for your needs, from vacation coverage all the way up to full-time protection. Plus, we break down exactly what RV insurance covers and more.
Ready for a quote? Use the map below to find an RV insurance quote in your state now, or keep scrolling to learn more about camper insurance.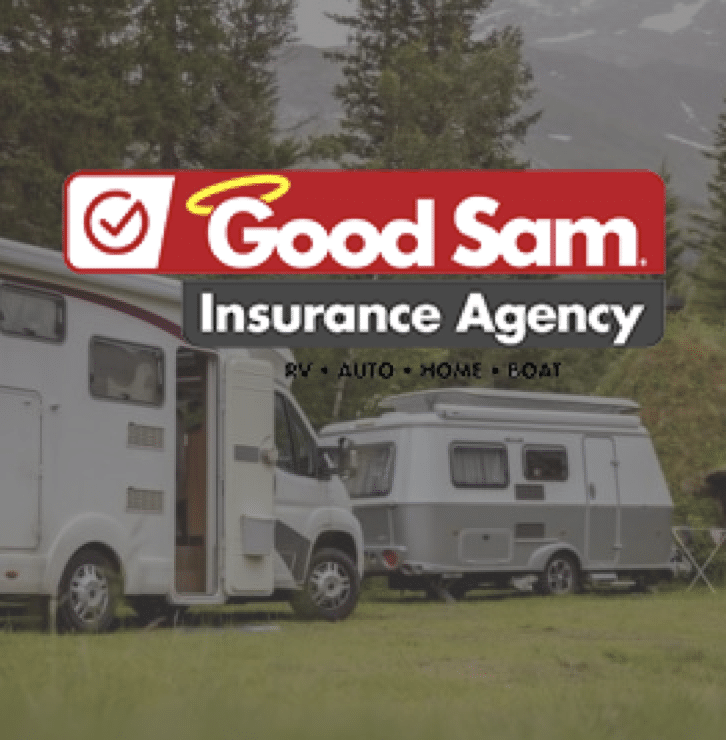 Looking for an RV Insurance Quote?
---
Good Sam Insurance Agency
offers plenty of quality coverage and service options when it comes to protecting your RV.
Table of Contents
Note: Some of the links in this article are affiliate links. This doesn't cost you any more than normal, it just helps us maintain and improve the website. Read our disclaimer for more info.
What Is RV Insurance?
When it comes to Recreational Vehicles (RV), having insurance is essential for preventing loss. Motorhomes might be the first thing you think of when it comes to RVs, but there are also other vehicles that require coverage. This includes Travel Trailers, Truck Campers, Teardrop Trailers, Fifth Wheel Trailers, Pop Up Campers and Toterhomes. All these should be considered when obtaining an insurance policy for your recreational vehicle.
The base of the insurance will still function as an auto insurance policy, so you will still need to choose a deductible and policy limits. A specific RV Insurance policy will be a hybrid between auto insurance and homeowners insurance – meaning it covers your engine, wheels and other automotive parts, as well as your home belongings.
Pro Tip: If you rent an RV, the rental company handles the insurance for you!
The 5 Best RV Insurance Companies
RENTALS
DETAILS

TOP CHOICE

96% overall customer satisfaction rating
Customers report average savings of $321 per year
Total-loss replacement for motorhomes and travel trailers

VIEW RATES →

Only RV insurance that allows you to rent your RV and still maintain your campers insurance
Unlike many other insurance companies, Roamly's customer support team is in-house and US-based
Offers better coverage at lower rates by leaving out the coverages you don't need

VIEW RATES →

Customers report average savings of $321 per year
Covers everything from class A motorhomes to pop-up campers
Quote and buy online

VIEW RATES →

Top rated C=choice: A+ BBB rating
Turn Off for liability & collision during storage – Save 53%
Cover your personal belongings or attachments

VIEW RATES →

Progressive Insurance – Trusted by Over 18,000,000
Competitive rates, tons of discounts (safe driver, pay-in-full, multi-car, multi-policy, quoting online & more)
Name your price Tool®

VIEW RATES →
1. Good Sam
Good Sam is one of the most well-known RV insurance providers. Their RV coverage includes highly tailored policies for RV and motor home owners. (Read our full review here.) They have 24 hours a day service, 7 days a week with some of the best policy options.
The Good Sam insurance agency offer specific policies for full-time RVers (full-time RV insurance), coverage for your RV and automobile in the same policy, RV storage options, coverage for attachments such as awnings or rooftop antennas, and much more. They also offer car insurance separate from your RV. And it's available in all states!
>>Click here to get a free quote from Good Sam.
Or enter your zip code below to find the best rates near you!
Note: Good Sam also offers an extended warranty to cover RV maintenance costs. Want to learn more about extended warranties? Check out our guide to RV warranties (opens in a new tab).
2. Roamly
Roamly is the first insurance company in the industry to provide personal RV insurance that explicitly allows customers to rent out their rig on peer-to-peer marketplaces like Outdoorsy.
(Read our full Roamly RV insurance review here.)

Traditional insurance companies don't allow owners to rent out their RVs due to a commercial use exclusion clause. Roamly on the other hand not only allows owners to rent out their RV, but encourages it by offering owners utilization-based discounts.
With Roamly, owners can turn their idle assets into money-making machines without the fear of losing coverage or having claims denied due to renting.
And the more they rent out their rig on Outdoorsy, the more discounts they'll get on their insurance premiums through Roamly's Rent and Save Discount.
>>Click here to get a free quote from Roamly.
3. RVinsurance.com
RVinsurance.com offers some of the best rates on motor home and camper insurance out of any company we've seen.
Like Good Sam, this insurance agency can offer insurance on both your recreational vehicle as well as your automobiles to get better rates. They're also available in all states. However, they don't offer the same level of flexibility with their policies as Good Sam.
>>Click here to get a free quote from RVinsurance.com.
4. National General
National General is the insurance provider many of the other insurance companies, like Good Sam and Progressive, actually use for their insurance. Meaning those other insurance agents are third parties using National General. (Read our full National General review here.)
They received an A+ BBB (Better Business Bureau) rating, have 24 hours a day, 7 days a week service, and excellent full-time RV insurance policies. You can't go wrong with them! They're also available in all states.
>>Click here to get a free quote from National General.
5. Progressive
Finally, Progressive is a great option for insurance. Their insurance agency has good rates and customer support. However, Progressive also uses National General insurance, so they may have more expensive rates than if you were to go direct. (Read our full Progressive review here.) Fun fact, you can usually purchase Progressive through Roamly, but at a lower rate!
In addition to recreational vehicle insurance, they also offer car insurance and homeowner's insurance. You get get a multi-policy discount if you run all your insurance needs through the same company.
>>Click here to get a free quote from Progressive.
Am I Required To Have RV Insurance?
When trying to figure out if you are required to have RV insurance coverage, the requirements are very straightforward. It does vary slightly depending on the type of RV you own.
Travel Trailers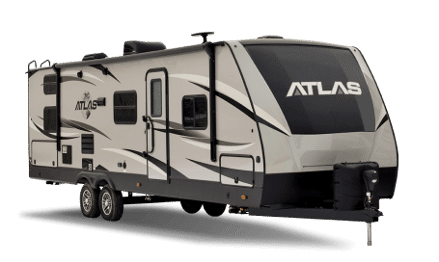 If you tow your RV (i.e. travel trailers), your insurance is probably going to be optional depending on the state where you currently live. For example, since a teardrop trailer is towed behind a vehicle and not driven, your insurance is optional according to most states' laws.However, if you are purchasing an RV through a lender, they may require you obtain full RV coverage insurance to secure your camper. Even if you aren't required to have an RV policy, we think it's 100% worth having; you can never be over-insured.
Motorhomes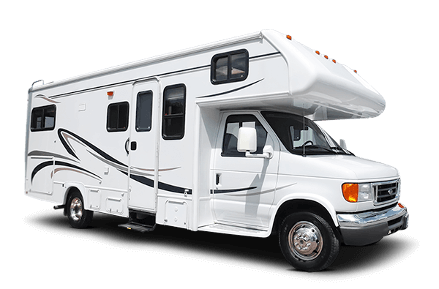 If you can drive it, it is going to require at least your state's minimum liability insurance before you can take it on the road.
So if you're driving a Motorhome or Toterhome, you're required to purchase RV Insurance. Like we stated above, you will probably have to get full coverage RV insurance coverage if you are purchasing your RV with a loan.
Need an RV Insurance Quote? – Good Sam is the #1 best-rated RV insurance provider in the US for 2023. >>Click here to view rates
RV Insurance vs Car Insurance
Yes, your RV is in essence very similar to a car so most car insurance companies will issue you a traditional auto insurance policy. However, this is going to create gaps in your coverage that can be costly if all that you have is an automobile insurance policy.
Traditional Car Insurance
Your traditional auto insurance policy is going to treat your RV like a regular car on the road, so it isn't going to cover anything like living spaces such as a kitchen or bathroom. You mainly will only be covering one part of your RV, and that's the "V" portion.
Traditional RV Insurance
You need to have a policy that is going to cover both the "R" and the "V" in your recreational vehicle. An RV policy is going to cover you for things you have to deal with on the road and also for things like coverage for your personal belongings, coverage for emergency expenses, and replacement cost coverage, like an RV water pump breaking. It's similar to boat insurance in that way.
Overall, if you have an RV, it's probably not the best idea to just get your average car insurance carrier to cover it. Get a true RV insurance policy instead.
Types of RV Insurance
It is essential to understand how you plan to use your recreational vehicle. If you plan to be RVing full-time, then you're probably going to have different RV coverage needs than someone doing it part-time.
Full-Time RV Insurance
A Full-Time RV insurance policy will provide liability insurance like a homeowner's insurance policy, and it will protect covered losses associated with parking your travel trailers and motorhomes or using one as your primary residence.
This policy will also usually cover medical expenses and medical payments for people injured in or around the RV and emergency coverage. In addition to a full-time policy, you may also want a renter's insurance policy to protect your belongings separate from the RV.
Get a Full-Time RV Insurance Quote Now – If you're a full-time RVer, you need a different kind of insurance. >>Click here for a full-time RV insurance quote.
Part-Time Insurance
If you are an occasional or part-time RVer and don't always use your RV to live in, then usually you will want part-timer or campsite insurance.
This type of insurance policy will cover you for most of the benefits of a full-timer policy like medical expense coverage and medical payments for you or people around your RV.
What Does RV Insurance Cover?
Every policy is going to work differently, and it's best to learn exactly what is covered by a specific policy. You also may need to purchase additional coverage for custom items on your RV. There are many coverage options for you.
Your policy may cover:
Personal Property & Belongings Coverage
These RV coverage options include your personal property and personal effects while you're driving in your RV or if you're parked.
Personal effects include:
Laptops
TVs
Cell Phones
Dishware
Each policy is going to have different limits on the amount of coverage it will provide toward your personal effects so you should check your plan for specifics. If you reach your camper insurance limit, don't forget that your homeowner's insurance policy may cover you for the personal items as well, even if you're away from home.
Uninsured Motorist Coverage
This works the same way a traditional auto insurance policy works. If you're in an accident with someone that doesn't have automobile insurance or are a victim of a hit-and-run, then this part of your policy is going to kick in.
Personal Attachments Coverage
This coverage protects things attached to your RV, like:
Satellite Dish
TV Antenna
Awnings
Having personal attachments coverage is important to have, especially if you happen to drive through some bad weather or under a bridge that's too low. Make sure that you understand your policy limits for how much they will cover your attachments.
Collision Coverage
This is going to cover you for physical damage caused to your RV if you're in an accident with another vehicle; collision coverage will protect you no matter who is at fault.
There are different levels of collision coverage depending on how much you want to be covered. While higher levels are optional coverage, some level of collision coverage is required.
Full Replacement Cost Coverage
In the horrible event that your RV is destroyed by a covered loss or stolen, you can get your RV replaced 100% with full replacement cost coverage. Of course, this RV coverage is optional unless you're required to have it by your lien holder. However, replacement cost coverage is always a good idea.
Medical Payment Coverage
This coverage will cover the medical payments for both yourself and your passengers if your RV is involved in an accident, no matter who is at fault. Be sure to ask about this coverage specifically when you are looking at your policy options; medical payment coverage is always an essential type of coverage to have.
Storage Coverage
This is going to give you the ability to cut your monthly premium payments for your RV insurance almost in half when you have your RV in storage. This is an excellent option for people who aren't full-time RVers because if you don't do any traveling during the winter time, then you can save money for that period.
Comprehensive Coverage
This is going to cover your RV for things outside of collision; it is also called "other than collision" coverage.
This will cover things like damage from:
Vandalism
Theft
Falling objects
Fire
Storms
Floods
Other Natural Disasters
As with the other types of coverage, be sure to know your policy limits for your comprehensive coverage.
Roadside Assistance
If you are a specific distance away from home, your roadside assistance coverage is going to kick in. You will probably want to get more coverage than usual for this because towing a motorhome or even a travel trailer is going to cost more than it does to tow a regular vehicle. However, this is optional coverage.
Roadside Assistance will cover you If your RV breaks down from things like:
Mechanical or electrical breakdown
Battery failure
Flat tire
Lock-out
Insufficient supply of fuel oil, water, or other fluids
Pet Injury Coverage
Many RV owners also have pets. Living with a pet can be a daily adventure, but living with a pet in an RV can be tough to manage. If you are like most of us that take our pets everywhere, then you can understand why this optional coverage makes sense.
Hopefully, you have a separate pet insurance policy, but if not, you can add this protection to your policy for an additional cost. You will need to check your policy limits as well. Even if you aren't a Full Timer when it comes to RVing,  I suggest you get a pet insurance policy. You can check out a few reviews like this.
Emergency Expense Coverage
Emergency expense coverage is an optional coverage that covers you for emergency expenses like a hotel room, vehicle rental costs, and food while your RV is in the shop due to an emergency (such as a leak, accident, or other major issue).
Vacation Liability Coverage
Vacation liability coverage pays for Bodily Injury and Property Damage while on vacation. Since more of your time spent RVing will be on vacation and an RV can cause significant property damage, this is a great optional coverage to have.
For an overview on what RV insurance does and doesn't cover, click here.
How Much Does RV Insurance Cost?
On average, an RV insurance policy can cost as little as $125 annually from Progressive, up to a few thousand dollars per year. Camper insurance premiums vary widely because campers themselves vary widely.
If you're covering a giant Class A or Fifth Wheel, insurance costs go up. If you're covering a tiny pop-up trailer or Class B RV, they won't be as expensive. Travel trailer insurance is typically more affordable than motorhome insurance.
Typically, RV insurance is much less expensive than auto insurance because most people don't drive them nearly as often. Of course, full-time RV insurance costs are the most expensive, as they are akin to home insurance.
Read our "How much is RV insurance?" guide for more information.
Let's look at what determines the cost of RV insurance:
What Determines the Cost of RV Insurance?
Your Motorhome or RV Class
There are a few different classes of motorhomes, and your rates are determined based on which class you have: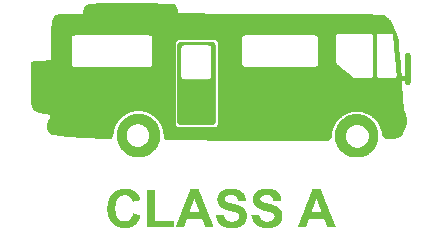 Class A – These are the largest, most luxurious, and most expensive motorhomes, ranging anywhere from 21-40 feet in length and sleeping up to eight people. A Class A motorhome looks typically like a bus and is usually equipped with the highest quality of kitchens and living areas.

Class C – These are going to be in the mid-range and are usually about 20-33 feet in length, sleeping up to six people comfortably, and are sometimes called mini motorhomes.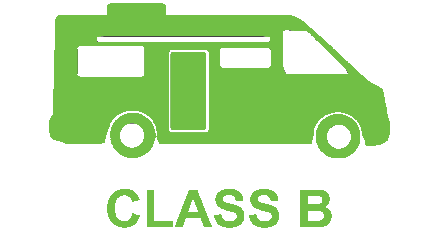 Class B – Your Class B motorhome is also known as a "camper van," and is usually the smallest and most economical, ranging 16-21 feet in length and sleeping up to four people.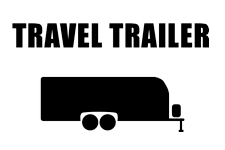 To give you an idea, a Class A RV may cost around $2,500 a year or more to insure.A Class B may fall somewhere in between $750 to $2,000, and a Travel Trailer or Camper can be even lower on an annual bases
How Often You Use Your RV
Do you use your RV occasionally like most RV owners or are you living in the RV full-time? Driving your RV more than 6 months out of the year means you need full-time insurance. Your rates will be more expensive if you plan to make your RV a residence. On the other hand, you can get all sorts of discounts for storing or parking and not using your RV for a certain amount of time during the year.
Driving History
As with any auto insurance, your driving history, and driving record of accidents or past claims filed are going to play a part in your total monthly premiums.
Your rate will also be based on the level of RV driving experience you may have as well, the more experience, the better the prices can be. Driving your RV more often means lower rates as long as you don't full-time!
Deductibles & Limits You Choose
You always have to be mindful when choosing limits and deductibles. If you choose too high, your premiums could become unaffordable, and if you choose too low, it could hurt you financially if you had an accident or loss. Choose the limits that fit your life and constantly re-evaluate your RV needs as they change on a semi-annual basis.
Additional Riders
Coverage for your personal belongings and things like roadside assistance, depending on the insurance company, can come at an additional cost. Be sure to see how your specific policy works and if it includes any of these additional riders at no extra cost.
Additional factors that can determine your cost are also:
Your Current Age
If You Are Married Or Single
Your Gender.
Your Insurance Credit Score
As you can tell, almost no RV insurance coverage quote is going to be the same, even with all the factors being the same, the insurance companies will still have different rates. Your coverage premiums could range from $50 a year to $22,000 a year, like almost all insurance, the rates are based on the person that is getting the quote and buying the policy.
It's best to get several insurance quotes and compare options to determine what policy will work best for your budget.
Get an RV Insurance Quote Now – Want a free RV insurance quote from a company we trust? >>Click here for a free insurance quote now
How Much RV Insurance Do I Need?
There are several factors you have to consider when determining how much RV insurance you need, like:
The RV Class Of Your Motorhome
Where You Plan To Travel
Are You Using It Part Time Or Full Time
Do You Have Any Custom Features
What Things You Want To Protect
The most honest answer is that you are going to need as much as you can afford, that will protect you, your guests, your RV, and your personal property. It's best to evaluate your needs and come up with a number or speak to a licensed agent to get an accurate insurance quote.
Other Insurance For The RV Owner & Family
Being on the road for long periods of time in a travel trailer can be very fun; however, it's important not to forget that you still need to have all of the traditional insurance (besides homeowners insurance) such as:
Life Insurance
You are going to be on the road and traveling to places unknown sometimes, so your risk is always going to be higher than someone that doesn't live in their traveling vehicle.
You can check out this Ultimate Guide To Life insurance here to become more educated on why you need life insurance and how it works. If you know you need coverage and aren't sure how to go about it, you can get some life insurance quotes by clicking here.
Disability Insurance
Sickness, not accidents, cause more than half of all disabilities, so don't think you won't need a policy like this; especially if you are a traveling RV blogger.
Getting disability insurance is essential, especially since you never know when sickness or accident may happen and you never know where your RV journey might take you.
If something were to happen to your ability to work and make an income you might not be able to do your RVing full-time anymore. You might even have to sell your RV to keep up with expenses and loss of your income.
Health Insurance & Dental Coverage
While traveling it is especially important to have health insurance because you never know where you are going to end up when RVing.
Your health insurance is going to cover you if you get sick or if you are hurt in an accident and can also cover any gaps that could happen if you only had the medical coverage through your RV Insurance. You should also be mindful of your dental health when traveling and be sure to get a great dental plan because dental health is important no matter where you are and as a constant traveler.
Having the ability to keep up your dental routine will be significant. Dental discount plans are almost always better than dental insurance so be sure to read how each product works.
Frequently Asked Questions
How much does it cost to insure an RV?

On average, RV insurance costs as little as $125 per year from Progressive. However, it can go up to a few thousand per year depending on the size of your RV and how you use it. Full-time RV insurance is the most expensive.
Who has the best RV insurance?

Good Sam currently has the most flexible RV insurance policies. They offer part-time and full-time RV insurance, as well as RV storage options, and they even cover RV attachments such as the awning.
Do you need insurance for an RV?

In most states, RV insurance is required by law. You're also required to have RV insurance if you have a loan on it, as the bank wants it to be covered. Even if it's not required in your state, it's highly recommended that you get it anyway for peace of mind in an accident or storm.
Does AAA offer RV insurance?

Yes, AAA offers RV insurance. Just call them about adding it on to your plan.
Taking Action
It can be really fun being able to live anywhere and travel at any time, but it's imperative to make sure that everything and everyone has proper insurance coverage.
Insuring your travel trailers or motorhomes can seem like a complicated process but just remember that you need to make sure you are covered for the R and V portion of an RV before you start driving anywhere.
There are several options and insurance carriers online that offer Insurance for RV owners, as well as RV assistance programs. It's best to check them out online or reach out to a licensed insurance agent; either way, be sure to get covered. Click here to get a free quote now!