Save an Average of $321* A Year on RV Insurance
Looking for an RV Insurance Quote?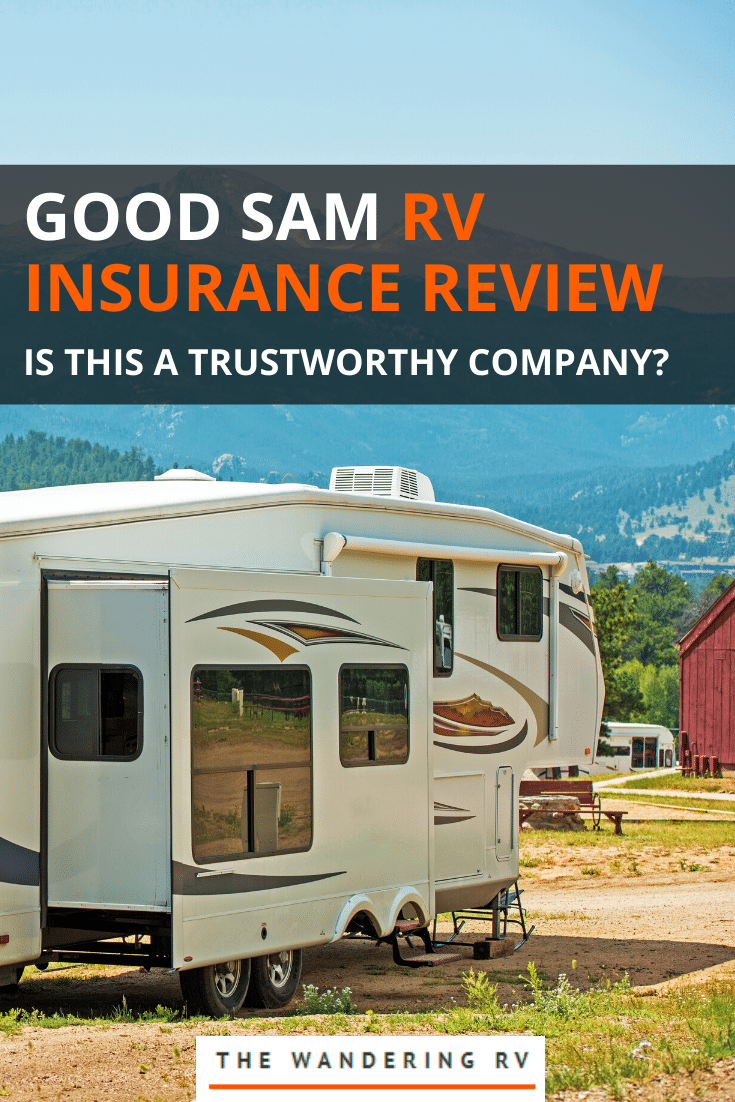 Good Sam RV insurance…
Is it worth it? Are they a trustworthy company? Should you get your insurance from them?
Below, you'll find out everything about Good Sam's insurance options, a review of their customer support, their costs and discount programs, and more.
Let's dive in!
Table of Contents
Note: Some of the links in this article are affiliate links. This doesn't cost you any more than normal. Read our disclaimer for more info.
Good Sam Insurance Overall Rating: 4.25/5
RV insurance is unique. It has to be because RV owners have such diverse insurance needs. Some people use their RVs as their home, while others use it for vacations a few times a year.
Good Sam camper insurance gives you all the benefits of an RV specialty policy. With the Good Sam Extended Service Plan and the Good Sam's Club, they have you covered. No matter where you travel with Good Sam—the US, Canada or Mexico—their policy options won't let you down.
What else does Good Sam have to offer?
Insurance Coverage & Benefits: 5/5
When you're shopping for RV insurance, regular auto insurance isn't good enough. You need a specialized policy to protect you in the camping world. With Good Sam Insurance Agency, you get that specialization. What can you get with Good Sam RV Insurance?
Basic Coverage
When it comes to standard coverage, Good Sam RV Insurance offers more than any other RV insurance provider.
Personal and Property Damage Liability
Collision
Comprehensive
Bodily Injury Liability
Uninsured and Underinsured Motorist Protection
Personal Injury Protection
Many insurance agencies don't offer all these protections standard, but Good Sam does.
RV Specific Coverage
Good Sam offers some of the best RV specific policies available. They're consistently rated highly by consumers, and they rank number one for RV insurance across the country.
What makes them work so well for so many people?
Full replacement cost coverage
Storage option
Emergency expense coverage
Personal effects coverage
Emergency medical and travel assist
Roadside assistance
Coverage in Mexico
There are a couple of things they don't cover, like pet injury insurance. Still, when it comes to protecting your RV and your personal belongings, you can't beat them.
RVs Covered

Good Sam Enterprises LLC covers more RV types than most other insurances, like National General, including:
Class A, B, or C motorhome
Conventional and Fifth-wheel trailer
Pop-up trailer
Horse trailer
Utility or Travel trailer
Toy haulers
In the camping world, it's important to know that everything is covered, from your motorhome to your travel trailer. Good Sam provides it all, and you don't have to worry about leaving anything out.
Good Sam Insurance Costs & Discounts 5/5
While Good Sam doesn't explicitly state their insurance rates on their website, they do say you can save up to $521 each year. One thing we did manage to find is that their prices are usually lower than other RV insurance agencies.
No matter what insurance agency you choose, certain factors affect your insurance costs, including:
Size, make, model, and year of your RV
Your driving history
Your credit history
When it comes to discounts, Good Sam Insurance Agency has plenty.
Multi-Vehicle Discount: If you combine your RV and auto insurance, you can save up to 20% on your policy. Plus, if you get into an accident that's covered by your insurance, you'll only have one deductible.
Paid-in-Full Discount: If you pay your insurance upfront, in full, you can lower your insurance premium.
Multi-Policy Discount: If you insure your home alongside your RV, you can save up to 10%.
Safe Driver Discount: As a safe driver, Good Sam will lower your insurance premium the longer you go without filing a claim.
Anti-Theft Discount: By protecting your RV with anti-theft devices, you'll earn the anti-theft discount from Good Sam.
Low Mileage Discount: This discount varies with your mileage, but if you don't drive your RV much, you might qualify for the low mileage discount.
Customer Support: 2/5
Good Sam Insurance Agency customer service is available 24/7 for claims. If you have questions about your insurance policy, they're there to help, but they have set business hours for that, which you can find on their contact page.
As a company, Good Sam Enterprises LLC prides itself on giving you the service you need so you can stay active in the camping world—but what do their customers say about their service and its quality?
The Good
The Better Business Bureau gives them an A+ rating. A few people mentioned having an outstanding customer service experience with Good Sam. Otherwise, the positive comments about their customer support were minimal.
The Bad
Many people said their customer service department was unresponsive, "poor at best," and "lower than sub-par." Some customers weren't able to file their claims properly, while others couldn't get in touch with them when they needed to file a claim at all.
Despite that their website says they have 24/7 service, some customers couldn't get in touch with them on Sundays. Many people complained that their claims process took far longer than it should have. That's largely based on the fact that they couldn't find a customer service representative who was professional and responsive.
Additional Offers: 5/5
In addition to their policy discounts, Good Sam Enterprises LLC gives you even more options when it comes to decreasing your spending and protecting your RV.
Good Sam Extended Service Plan
The Good Sam Extended Service plan is kind of like an RV warranty but better. It's one of Good Sam's best features when it comes to protecting your RV. The plan gives you extras like full mechanical breakdown coverage.
Parts and labor are covered by the Good Sam Extended Service Plan, but not routine maintenance. However, if you go to a service facility that's part of the Good Sam Extended Service Plan Preferred Provider Network, you can get a 10% discount on your regular maintenance.
Good Sam Club
The Good Sam Club is another excellent way to save, not only on service, maintenance, and insurance but on perks when you go on vacation. Good Sam Club members get benefits like:
Fuel savings and propane discounts
Camping world savings and dump service
Free shipping
Trip planner
Camping discounts
That's not an exhaustive list—Good Sam Club members enjoy lots of savings. You can even get the Good Sam Club app to find out where members get discounts and the best ways to use them.
Storage Option
If you don't use your motorhome year-round, Good Sam doesn't make you pay for it year-round. They offer a storage option that allows you to take a break from paying on your coverage when you don't need it.
Disappearing Deductible
The longer you go without filing an RV insurance claim, the lower your deductible will be. After a certain amount of time without filing a claim, Good Sam will reduce your deductible every year.
Good Sam Contact Information
If you have questions about insurance policies, the Good Sam Club, Good Sam roadside assistance, or if you need to file a claim with them, you can contact them directly.
Good Sam insurance phone number: 1-888-514-1116
Good Sam insurance mailing address: 64 Inverness Dr. E, Englewood, CO, 80112
Final Thoughts on Good Sam
Whether you're part of the camping world or live in your RV full time, Good Sam Insurance Agency offers plenty of quality coverage and service options when it comes to protecting your RV. While their customer support could use improvements, they insure more types of RVs than any other RV insurance provider.
Not all Good Sam insurance reviews are stellar, but in our opinion, Good Sam gives you more for a lower price compared to other insurance companies. If you want to learn more about their insurance options, visit their website.
Need an RV Insurance Quote?
Good Sam is the #1 best rated RV insurance provider for 2022.