Save an Average of $321* A Year on RV Insurance
Looking for an RV Insurance Quote?
View Rates →
Good Sam is the #1 best rated RV insurance provider for 2022.
Whether you use your recreational vehicle for vacations or you live in it full-time, there are insurance coverages that fit your RV lifestyle.
Click on your state below to get the best RV insurance quotes near you now.
While your camper is covered under your homeowners insurance when it's at home, you'll need to get RV insurance if you plan on taking it on the road.
Choose the RV Insurance Policy that Fits Your Camper
Whether you own a luxury Class A diesel pusher or a tiny pop-up camper, there is a recreational vehicle insurance coverage for your specific rig.
There is a difference between motorhome insurance and travel trailer insurance – click the link below to learn more about the specific RV coverage you need: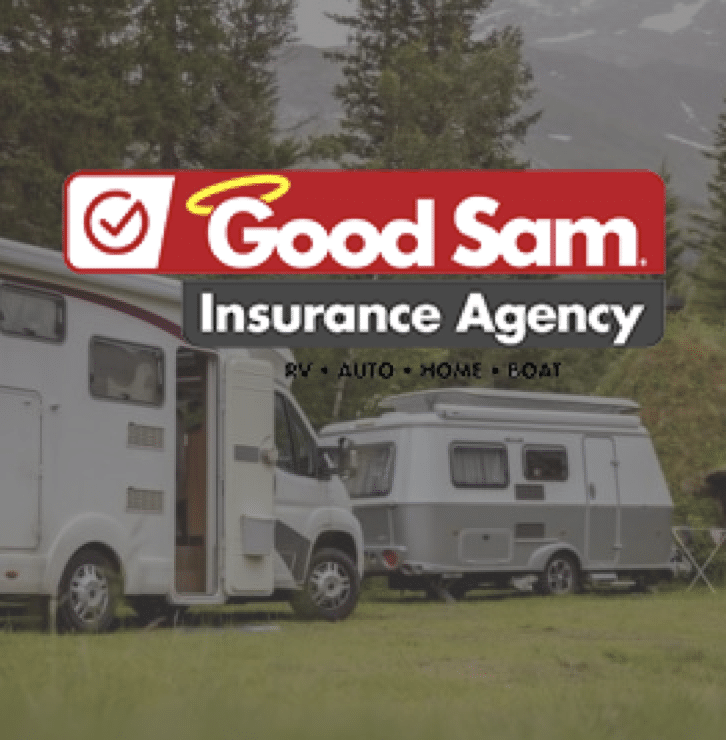 Looking for an RV Insurance Quote?
---
Good Sam Insurance Agency
offers plenty of quality coverage and service options when it comes to protecting your RV.
Choose the Best RV Insurance Company For You
Not all RV insurance companies are made equal. We only partner with the absolute best.
Check out our comparison table of the best RV insurance companies and click your favorite to get a quote now. Getting quotes from more than one insurance company can help you save!
RENTALS
DETAILS

TOP CHOICE

96% overall customer satisfaction rating
Customers report average savings of $321 per year
Total-loss replacement for motorhomes and travel trailers

VIEW RATES →

BEST FOR RENTING

Only RV insurance that allows you to rent your RV and still maintain your campers insurance
Unlike many other insurance companies, Roamly's customer support team is in-house and US-based
Offers better coverage at lower rates by leaving out the coverages you don't need

VIEW RATES →

Customers report average savings of $321 per year
Covers everything from class A motorhomes to pop-up campers
Quote and buy online

VIEW RATES →

Top rated C=choice: A+ BBB rating
Turn Off for liability & collision during storage – Save 53%
Cover your personal belongings or attachments

VIEW RATES →

Progressive Insurance – Trusted by Over 18,000,000
Competitive rates, tons of discounts (safe driver, pay-in-full, multi-car, multi-policy, quoting online & more)
Name your price Tool®

VIEW RATES →
Good Sam RV Insurance
Good Sam is widely considered the best insurance company for recreational vehicles. They're one of the only insurance companies who only offer camper insurance and don't offer other kinds of insurance. This allows them to specialize and improve their RV insurance coverage.
Check out our Good Sam RV Insurance review here.
Roamly RV Insurance
Roamly is a new insurance company with a lot to prove. They're currently the only insurance company that allows you to insure a DIY camper van conversion, as well as the only company that offers insurance on RV rentals.
Check out our Roamly insurance review here.
RVInsurance.com
RVinsurance.com is a simple, easy way to buy insurance online. Another solid option if you're looking for insurance, but not the best option.
Progressive RV Insurance
Progressive may not offer the best service, but they do offer some of the best discounts. If you run all your policies through Progressive, you can stack multiple discounts, making them one of the cheapest insurance companies on the market.
Check out our Progressive RV insurance review here.
National General RV Insurance
Finally, National General offers great RV coverage for anyone who may be using them already. They have competitive rates and good Roadside Assistance.
Check out our National General RV insurance review here.
Full-Time RV Insurance Options
If you plan on living in your RV as your primary residence, you need a special recreational vehicle insurance that doubles as homeowners insurance.
With full-time RV insurance, you receive broader liability coverages in order to protect you for a longer period of time. These coverages typically include:
Personal liability: Pays for property damage and injuries you're responsible for due to an accident while parked.
Medical payments: Covers medical expenses for those who are injured while near or in your RV.
Loss assessment: Pays for fees charged by an association to cover repairs to common areas or other parts of the property where your RV is parked.
For more information, read our full guide to full-time RV insurance.
Tips for Getting the Best Insurance Quotes
To get the best and most correct quote for your RV, keep these tips in mind:
Look up your RV's value: Knowing your RV's monetary value helps you decide how much coverage you need. You can look up your RV's estimated current worth on sites like NADA.com.
Pick the coverages that fit your needs: For example, if you travel with expensive personal property like a laptop, camera, or game console, consider personal effects to protect against damage to your belongings.
Remember safety first: Just like car insurance, safe driving can help lower your RV insurance costs.
Types of RV Insurance Coverage
There are different RV insurance coverages you can get based on your specific needs.
Different companies offer coverage differently, but in general, these are your options:
Total loss replacement: If your RV is totalled in an accident, your travel trailer insurance or motorhome insurance will fully replace the cost of the unit.
Replacement cost/personal effects: Your personal property inside your camper is covered up to the amount you specify.
Emergency expense: If your RV is disabled due to a covered incident and you're more than 50 miles from your residence, some companies will cover your resulting transportation costs and lodging costs up to a certain amount.
Click here to see a full list of available coverages.
Recreational Vehicle Insurance FAQs
How Does RV Insurance Work?

RV insurance works similar to an auto policy, in that it will cover your recreational vehicle and the driver in the event of damage.

For a more detailed explanation, read how RV insurance works.
How Much Does RV Insurance Cost?

RV insurance costs vary from $150-$1,500+ per year depending on the type of camper you own, your driving history, and whether or not you plan on living in your camper.

It also depends on whether you carry liability insurance, how much comprehensive and collision coverage you purchase, and many other factors.

Read our "How much does RV insurance cost?" guide for more info.
How Do I Get the Best RV Insurance Rates?

You can save money on your RV policy with the following discounts:

Multi-policy Discount: If you already have personal property coverage or auto insurance, you can often get discounts by adding additional policies to the same plan.
Quote in Advance: Some insurance companies, like Progressive, offer RV insurance discounts if you get a quote at least 24 hours before you actually buy the policy.
Pay in Full: Paying your insurance policy in full and up front can bring down the total cost of RV insurance.
Original Owner: If you buy a brand-new unit and you're the original owner, your RV insurer may offer additional savings. Although it will still be more expensive than insuring a cheaper, used camper.

Check out our guide to getting the cheapest RV insurance here.
What Types of Campers are Covered?

From Class A motorhomes to tiny micro campers, you can insure any kind of RV. Some of these types of RVs include:

Class A, B, and C Motorhomes
Travel Trailers
Pop Up Campers
Fifth Wheel Trailers
Camper Vans
Truck Campers

Coverage options differ between travel trailers and driveable motorhomes, so be sure to ask your insurance agency what your options are for your specific type of RV.
Where Can I Learn About RV Safety?

Staying safe in your RV is extremely important. Luckily, most campers are very safe and, with a little training, can easily be driven safely.
What Kind of RV Extended Warranties Are There?

RV warranties are different from traditional insurance. They cover the cost when parts (inside and out) of your RV break earlier than they're built to last for.

To see your options, check out our guide to RV warranties.
Get a Quote Now
Enter your zip code in the box below to get a personalized quote near you.