Save an Average of $321* A Year on RV Insurance
Looking for an RV Insurance Quote?
Whether you live in an RV full-time or use your RV for vacation getaways, finding the right RV insurance for your unique needs is crucial.
RV insurance is a combination of elements of both homeowners and an auto policy while encompassing the unique needs of a recreational vehicle. At the same time, your camper is covered under your homeowner's insurance while at home; you will still need to get RV insurance if you plan on traveling.
Click on your state below to get the best RV insurance quotes near you now.
While your camper is covered under your homeowners insurance when it's at home, you'll need to get RV insurance if you plan on taking it on the road.
Choosing an RV Insurance Policy that Fits Your Camper
Whether you own a luxury Class A diesel pusher or a tiny pop-up camper, there is a recreational vehicle insurance coverage for your specific rig.
There is a difference between motorhome insurance and travel trailer insurance – click the link below to learn more about the specific RV coverage you need: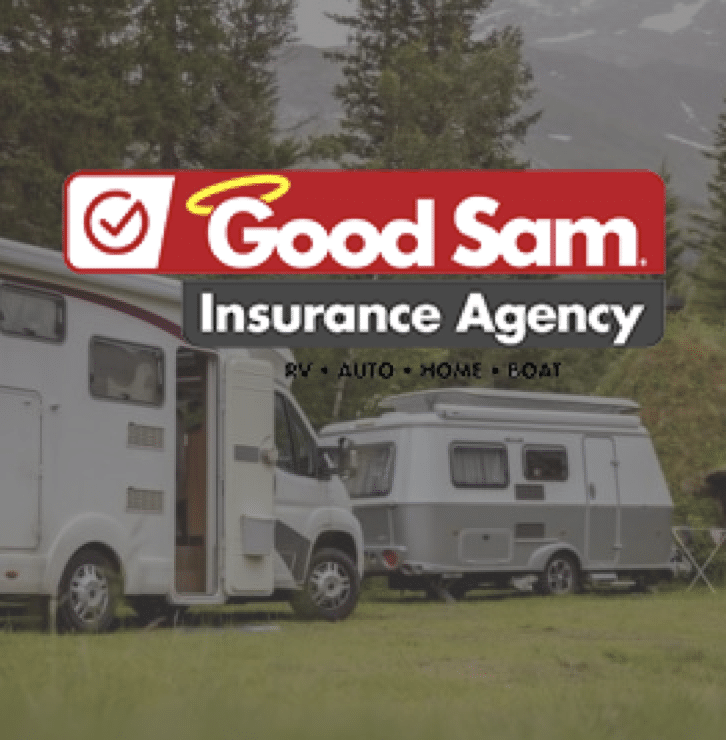 Looking for an RV Insurance Quote?
---
Good Sam Insurance Agency
offers plenty of quality coverage and service options when it comes to protecting your RV.
The Best RV Insurance Companies Compared
Every RV insurance company is unique, which is why it's important to understand the differentiating factors among each. Below you'll find a comparison table of the best RV insurance companies, so you can begin your journey toward picking the right fit for you.
You can get a quote now by clicking on your favorite insurance company. Getting quotes from more than one company can ultimately help you save.
Our Top Picks for the Best RV Insurance Companies
Good Sam – Best overall RV insurance company
Roamly – Best for renting your RV
RVinsurance.com – Best to help you find a policy unique to your needs
National General – Best for full replacement cost coverage
Progressive – Best for disappearing deductibles
Rentals
Details

Top Choice

96% overall customer satisfaction rating
Customers report average savings of $321 per year
Total-loss replacement for motorhomes and travel trailers

VIEW RATES →

Customers report average savings of $321 per year
Covers everything from class A motorhomes to pop-up campers
Quote and buy online

VIEW RATES →

Top Rated Choice: A+ BBB rating
Turn Off for liability & collision during storage – Save 53%
Cover your personal belongings or attachments

VIEW RATES →

Progressive Insurance – Trusted by Over 18,000,000
Competitive rates, tons of discounts (safe driver, pay-in-full, multi-car, multi-policy, quoting online & more)
Name your price Tool®

VIEW RATES →
Good Sam is widely considered the perfect insurance agency for those needing help choosing coverage, as they connect you with some of the best RV insurance companies to provide you with a policy unique to your needs.
Given that Good Sam's sole focus is camper insurance, they're highly specialized in their field. Some standard insurance options you can get through Good Sam include property and damage, collision, comprehensive, liability and personal injury protection.
Check out our full Good Sam RV Insurance review here.
Roamly RV Insurance
With Roamly, you have the ability to rent out your RV while still being covered for liability and damage to your vehicle. Given that rented RVs are more exposed to risk compared to personal vehicles, they require comprehensive commercial insurance.
They are a close second too. Roamly is a small business that is growing quickly. They have very friendly customer service, you talk to real people when you call, and they are a great resource for insurance knowledge. They are definitely worth a call to see if they are a fit for you and your RV!
Roamly is also currently the only insurance company that allows you to insure a DIY camper van conversion.
Check out our full Roamly insurance review here.
RVInsurance.com
RVinsurance.com is a simple and easy way to buy insurance online. Their specialists can help you find a suitable policy unique to your needs, whether you live in your RV full-time or only use it for vacationing or travel.
Progressive RV Insurance
Progressive offers an extensive array of discounts, along with accident forgiveness and disappearing deductibles, which is rare compared to other companies. Even further, if you're the original owner of your RV or if you pay your policy in advance, you can save on premiums with Progressive.
The ability to stack multiple discounts with Progressive makes it one of the most affordable insurance companies on the market.
Check out our full Progressive RV insurance review here.
National General RV Insurance
Full replacement cost coverage can typically only be bought during an RV's first model year; however, with National General, RVs are eligible within the first five model years. They can also insure your RV whether you're the first owner of the vehicle or not. Further, National General has competitive rates and quality Roadside Assistance.
Check out our full National General RV insurance review here.
Full-Time RV Insurance Options
If you plan on living in your RV as your primary residence, you'll need special recreational vehicle insurance that doubles as homeowners insurance.
With full-time RV insurance, you receive broader liability coverages to protect you for a longer period of time.
These coverages typically include:
Personal liability: Pays for property damage and injuries you're responsible for due to an accident while parked.
Medical payments: Covers medical expenses for those who are injured while near or in your RV.
Loss assessment: Pays for fees charged by an association to cover repairs to common areas or other parts of the property where your RV is parked.
For more information, read our full full guide to full-time RV insurance.
Tips for Getting the Best Insurance Quotes
To get the best and most correct quote for your RV, be sure to keep these tips in mind:
Know Your RV's Value: Understanding your RV's monetary value helps you decide how much coverage you need. You can look up your RV's estimated current worth on sites like NADA.com.
Choose Coverage Respective to Your Needs: For example, if you travel with expensive personal property such as a laptop, camera, or game console, consider personal effects to protect against damage to your belongings.
Remember, Safety First: Similar to car insurance; safe driving can help lower your overall RV insurance costs.
Types of RV Insurance Coverage
There are various RV insurance coverage options you can get based on your unique and specific needs. Companies offer coverage in different ways, but these are typically your available options:
Total Loss Replacement: If your RV is ever totaled in an accident, your travel trailer insurance or motorhome insurance will fully replace the cost of the unit.
Replacement Cost/Personal Effects: Your personal property inside of your camper is covered up to the amount you specify.
Emergency Expense: If your RV is disabled due to a covered incident and you're more than 50 miles from your residence, some companies will cover your resulting transportation costs and lodging costs up to a specified amount.
Click here to see a full list of available coverages.
Recreational Vehicle Insurance FAQs
How Does RV Insurance Work?
In the event that you have incurred damages to your motorhome or brought about damage to another individual's belongings or health, you can make a report with your insurance company. The amount of compensation provided by the insurer will be contingent on the severity of the incident and is limited to what is specified in the policy. Learn more about how RV insurance works here.

How Much Does RV Insurance Cost?
The cost of recreational vehicle insurance varies wildly based on where you live, what you're ensuring, which company you choose, and more. Learn more about the specifics of RV insurance costs here.
What Types of Campers are Covered?
Every policy is going to work differently, and it's best to learn exactly what is covered by a specific policy. You also may need to purchase additional coverage for custom items on your RV. There are many coverage options for you. Learn more about coverage here.
Where Can I Learn About RV Safety?
It's extremely important to understand the implications around RV safety. Good Sam RV Insurance outlines RV safety here.
What Kind of RV Extended Warranties Are There?
An RV extended warranty is protection that extends beyond your manufacturer's warranty to cover the cost of repair to many mechanical and electrical failures that occur in your rig during the lifetime of the policy. Learn more about what kind of RV extended warranties are available here.
Get a Quote Now
Enter your zip code in the box below to get a personalized quote near you.