If you own an RV camper and already have homeowner's insurance, you may be wondering if your RV is covered under the same policy.
Is a Camper Covered Under Homeowners Insurance?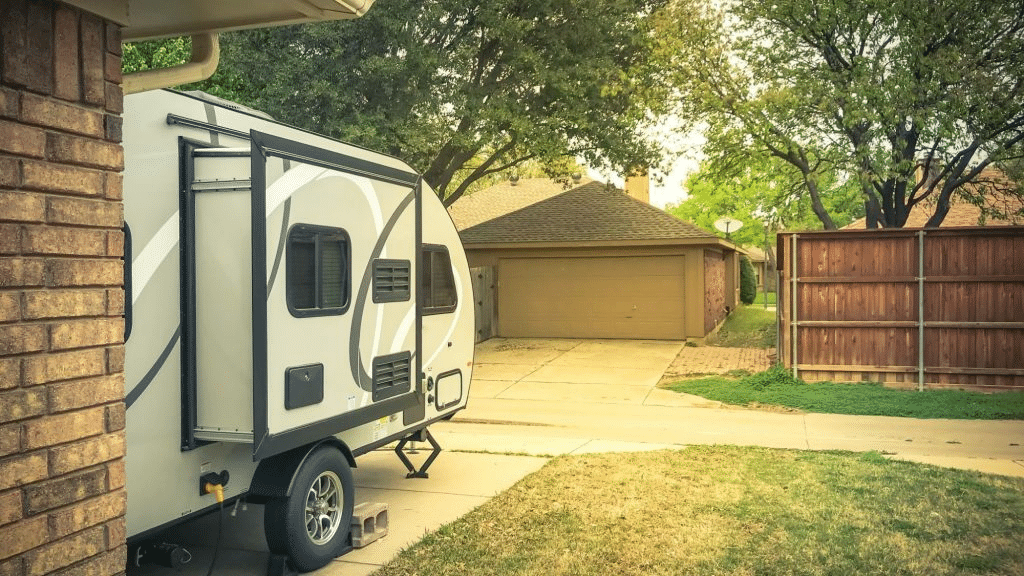 Yes! Your camper is covered under your homeowners insurance policy as long as it's parked or stored on your property.
This insurance coverage applies to both towable and drivable RVs, including:
Travel trailers
Class A RVs
Class B RVs
Class C RVs
Fifth wheels
Pop-up campers
Toy haulers
And more
Your camper will be listed under "personal possessions" while on your property, so if any natural damage happens (like a tornado or hurricane), it'll be paid out as a part of your homeowners insurance's personal property coverage.
The personal belongings you have inside of your camper will be covered too, but most coverage will max out at 10% of your overall personal property damage per claim (because covered belongings are designed to be in your home).
With personal property coverage, you'll be enrolled in either replacement cost coverage or actual cash value, so if damage occurs to your camper, you may lack adequate protection.
Which brings up the question…
When Do You Need RV Insurance?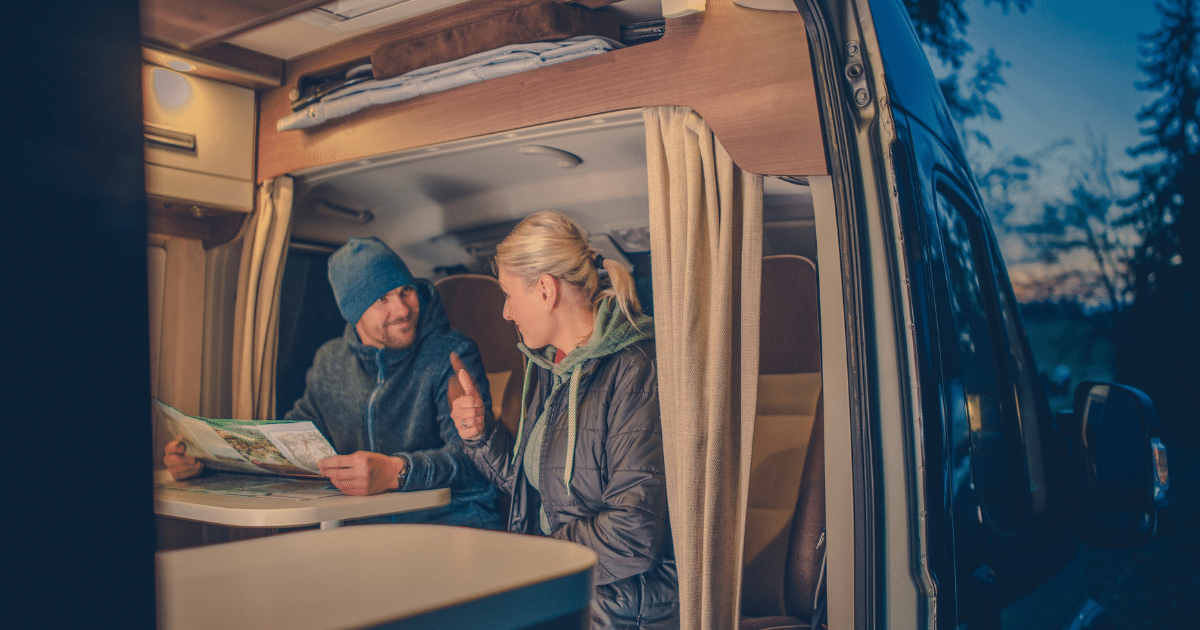 To put it simply…
If you're actively driving a motorhome, RV insurance is a requirement to be on the road.
If, however, you're storing your RV or you own a towable trailer, you don't need insurance on your RV.
If your RV is financed, most lenders will require you to have full coverage RV insurance. This ensures that they're protected and can recoup the money lent to you in case of a loss.
In some cases, a lender will take out a policy for you and send you the bill in the event that you don't purchase insurance coverage yourself. Lender purchased plans do come with much higher premiums and no liability coverage, so be sure you reach out to an insurance company beforehand to purchase it yourself!
When Don't You Need RV Insurance?
There are some situations where you don't necessarily need insurance on your camper (but even during these times, we recommend you have something that will cover basic liability).
For example, your auto insurance policy will extend to towable trailers while they're being pulled by the insured vehicle.
However, in order for your travel trailer to be covered by your car insurance policy, you need to have the towable RV registered in your name (meaning it needs to be legally owned by you, the driver).
Note: When you're no longer pulling the travel trailer, your auto insurance policy will not cover anything and rented or borrowed travel trailers aren't eligible for insurance coverage with your existing auto policy.
Check out our article "When is RV Insurance Required" if you want to learn more.
What Does RV Insurance Cover?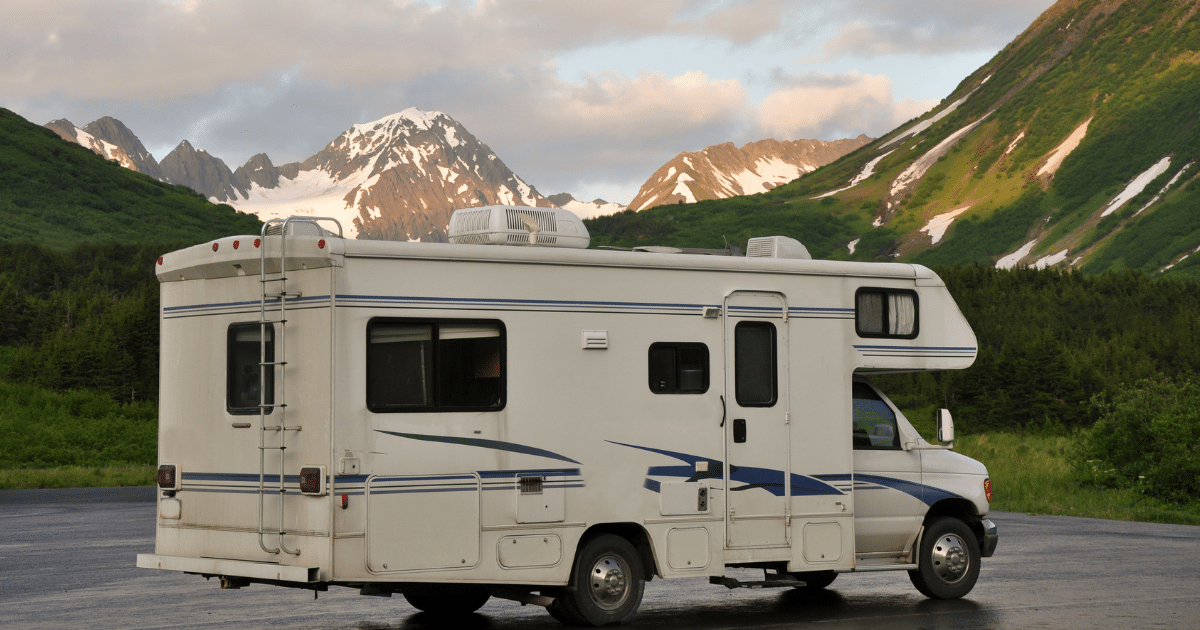 Well, that answer changes depending on the type of insurance you get!
For starters, basic RV insurance covers:
Bodily injury liability: If you're responsible for a car accident, bodily injury liability coverage pays for the medical costs of the people who are injured excluding yourself. This coverage also helps cover payment for legal defense in the event you are sued for damages.
Property damage liability: Property damage liability insurance covers you for any financial liability that occurs should you get into an accident and cause damage to someone else's property.
Uninsured motorist: This is intended to replace someone who has no insurance and was at fault in an automobile accident.
Underinsured motorist: For situations where the other driver has insurance but not enough to cover the entire claim.
Comprehensive and Collision coverage: Comprehensive coverage is for events outside your control that are not caused by a collision (such as weather, vandalism, and theft). Collision coverage is for damage resulting from an accident with another vehicle or object.
Medical payments: This coverage extends to emergency transport, medical bills, follow-up doctor appointments, and funeral costs.
Whereas full-time RV insurance covers:
Medical Payment:. Covers medical expenses for those injured in or near your RV.
Personal Liability: Pays for property damage and any/all injuries you're responsible for due to an accident while parked.
Loss Assessment: Pays for fees charged by an association that covers repairs to common areas or parts of the property where your RV is parked.
You can also add the following additional options to your RV insurance coverage depending on your specific needs, but these are not included with base insurance plans:
Roadside assistance: This insurance covers services ranging anywhere from towing, battery-jumping, flat tires, lockout and locksmith services, fuel delivery, and extrication or winching services.
Replacement cost and scheduled personal effects: This insurance provides financial protection for all possessions you bring into your RV. This includes items like clothing, computers, cameras, shoes, eyeglasses and more.
Vacation liability: This insurance provides personal liability coverage only when the motor home is parked off public roads and while the unit is used for recreational purposes. It does not overlap with or apply to any loss payable under automobile liability coverage.
So, how much coverage do you need? Simply put, if you plan on being in your RV for 6 months out of the year (or for at least 150 nights per year), you need to have full-time RV insurance.
Click here to exactly what RV insurance does and doesn't cover.
Get an RV Insurance Policy Quote Now
Other RV Insurance Articles
If you still have questions on your camper insurance, check out these other helpful articles on our blog: