Get $50 Off Your Camper Rental!
Rent with Outdoorsy to get a camper rental as low as $50 per day. (Discount Applied at Checkout)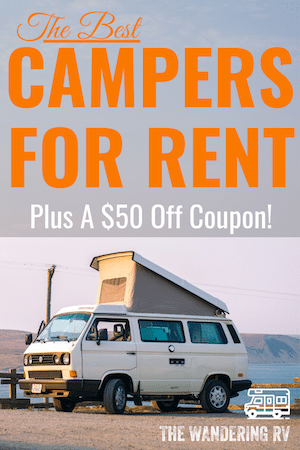 Looking for campers for rent and want the best deal?
We've got your back.
Camper rentals are a perfect way to experience new areas for so many reasons (which we'll get into below).
In this post, we talk about our favorite places to rent a camper, the pros and cons to campers, and more!
Let's dive in!
Table of Contents
The Dyrt Camping App
Find free camping with a public lands map
Up to 40% off select campgrounds
First 30 days free with code "TWRV"
Recommended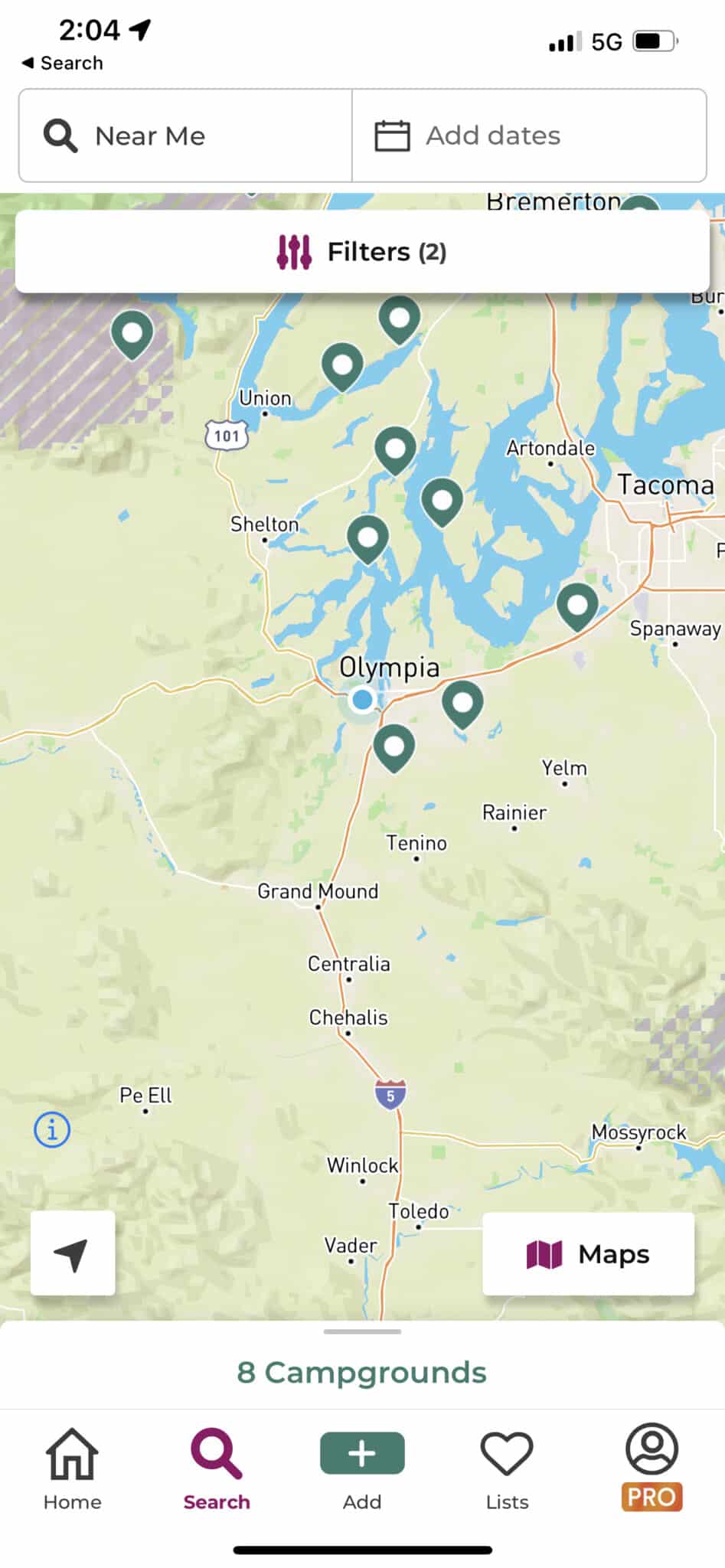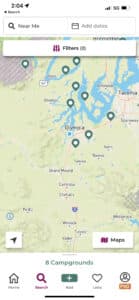 Note: Some of the links in this article are affiliate links. This doesn't cost you any more than normal. Read our disclaimer for more info.
Best Place to Rent a Camper
There are so many RV companies you could rent from these days (such as RVshare, Cruise America, Outdoorsy, RVezy, and more).
However, we found that Outdoorsy is the absolute best place to go when renting an RV, travel trailers, camper vans, or pretty much any kind of camper.
They use a peer-to-peer rental platform to allow RV owners to rent their campers to anyone across the USA to take road trips or just stay in an RV park. Think of it as the Airbnb of the RV world!
And don't worry – the renters on their site have to fill out and pass an application process (which means you can trust the person you're renting from).

We also love Outdoorsy because they offer…
Up to $1 Million Insurance on Approved Bookings
Search for RV Rentals Online (No Need to Call Anyone)
24/7 RV Rental Roadside Assistance
Thousands of Camper & Motorhome Rental Options (they even offer luxury RV rentals)
Over 5,000 5-Star Reviews
Whether you're looking for truck camper rentals, camper vans, or other unique recreational vehicles, Outdoorsy is the way to go. Simply put, Outdoorsy is one of the most trusted suppliers of RV rentals.
Why Camper Rentals? Pros & Cons
If you've never rented a camper before, you might be thinking…
"Why would I want to rent an RV when I could just stay in a hotel?"
Normally, I'd sympathize with you. You can't go wrong with a 5-star hotel…
… but you also can't go wrong with a 5-star RV rental.
Let me break it down for you with a quick pro/con list!
Camper Rental Pros
You can go virtually anywhere. Wanna stay on the beach for a few days? How about on top of a mountain? Or out in an open field? With an RV, you can do just that! Small RV's (like pop-up campers and some Class B's) allow you to drive and park wherever you'd like without taking up much space at all. There are so many beautiful sights to see in the United States – why not see them from an RV?
You'll meet so many awesome people. Bill and I remember the name of every person we met while RVing and all of their stories (well, me more than Bill – his memory isn't as good). You'd be surprised at how many genuine souls you'll meet while traveling in an RV!
You'll find more to do. Staying in a hotel is fun and all, but when you're in an RV at a campground or surrounded by nature, you'll find yourself craving to spend more time outside. Kayaking, hiking, laying in a hammock, and sitting around a campfire every night are things you just can't do when you're at a hotel.
Camper Rental Cons
When it rains, it pours. This one is a double whammy. When it rains and you're in a camper, you're not going to want to do any of the recreational activities around the campground. Unless you have plans to go somewhere, you'll be confined to the camper. Most campgrounds have terrible internet, so Netflix may be hard to watch (trust me, I know all about this one).
Cramped spaces. Traveling with a family? You'll want something bigger (for your sake and theirs). Because your'e so cramped, you may find yourself arguing about little things that wouldn't normally upset you. And because most campers only have one bathroom… well, things can get ugly! There are usually campground facilities but they're not always the best.
You're going to have little bugs in the camper. You've been camping before, right? Or at least, you've gone into the woods a few times (I hope). Bugs are a part of nature! Little flies, small spiders, and mosquitoes may get into your camper (I promise they won't hurt you). It's not like you're going to have a swarm of bugs in your personal belongings or anything – just a few near the windows and lights!
For myself and Bill, the pros outweigh the cons by a landslide. Getting in touch with nature (as well as yourself), meeting new people who have incredible stories to tell about their adventures, and having that sense of freedom while in an RV sounds so much better than being confined to four walls while on a trip.
Browse Campers for Rent Now
Ready to look for your dream RV rental? Whether you're going to a national park, Salt Lake City, Las Vegas, or any other popular United States destination, there are rentals for you.
You can browse more campers for rent from Outdoorsy by clicking here now.
As you can see, they have a wide range of available RVs – from compact RV rentals to trailer rentals for luxury travel and everything in between! All conveniently located around the country, thanks to the peer-to-peer aspect.
Frequently Asked Questions
Here are some common questions we get about RV rentals:
How much are camper rentals?

According to our study on tens of thousands of RV rentals, the average camper rental costs between $50 to $150 per night, with some premium models costing upwards of $300 per night. It depends on the make, model, age, type and location of the camper.
Can you rent RV campers?

Yes! We recommend ​finding the perfect RV through Outdoorsy. Use this link to get an RV rental now! You can rent a Class A, Class B, Class C or Travel Trailer RV!

​Outdoorsy is much better than a traditional RV rental service like Cruise America because they have more options, more availability, and better prices.
Is renting an RV cheaper than a hotel?

In most cases, yes. The average hotel costs anywhere from $80 to $200+ per night, while the average RV rental costs between $50 to $200 per night.
Does Airbnb rent RVs?

Yes; however, their system is not as polished as other platforms like Outdoorsy. They don't have as in-depth of a vetting process and their selection is lacking.
What Do You Think?
Have you ever thought about RV rentals before? If so, which platform did you use? Did you have success or were you upset with how things played out? What's your favorite national park in the United States?
We'd love to hear your stories in the comments below!
​Now go hit the road!
Great RV Rental Destinations in the United States
Rentals By Type