Get $50 Off Your Houston RV Rental!
Rent with Outdoorsy to get $50 off (discount applied at checkout).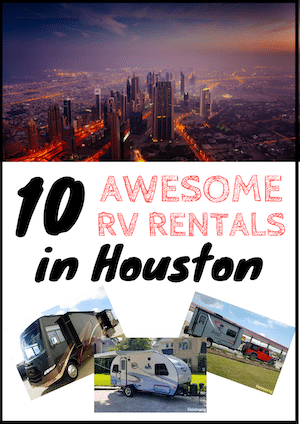 Looking for an RV rental in Houston, TX?
We've taken care of the hard part for you! 🙂
We found the 10 best RV rentals Houston has to offer – everything from cheap camper rentals to luxury motor homes, small off-road travel trailers to massive Class A's.
Ready to visit the Lone Star State? Houston is a good place to start!
(You can scroll through the whole post or choose an option below that catches your eye.)
Disclaimer: These RVs rent out fast! You usually need to rent them weeks (sometimes months) ahead of time.
If the RVs below aren't available for the time you want to rent them, click here to go to Outdoorsy and see what else is available for you in Houston!
Table of Contents
10 Best Motorhome, Camper and RV Rentals in Houston, TX
Google Maps Generator by embedgooglemap.net
1. 2014 Viking Epic 17′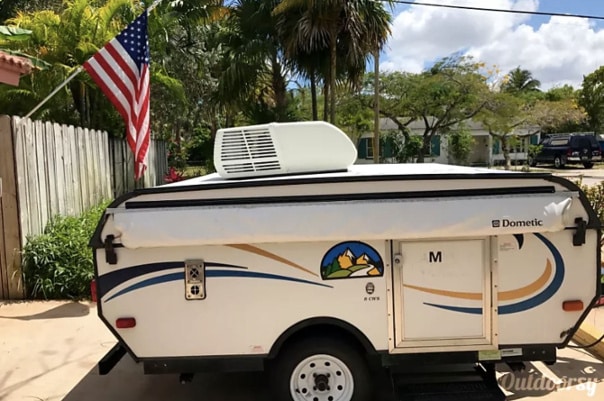 Price: $90/night Pet Friendly? Yes
Slides: 0 Sleeps: 5
This 2014 Viking Epic is a on the smaller side, but don't let that fool you! Inside you'll find an air conditioner, stove top, propane, mattress toppers, a fridge, and more!
The renter, Miriam, doesn't ask for much when you rent her tent camper, either!
As long as you treat it as if it were your own (meaning take care of it) and don't drive over 65 mph (to avoid the risk of blow outs), she'll be trilled to let you rent it for a while.
2. 2014 Thor Motor Coach Tuscany 41′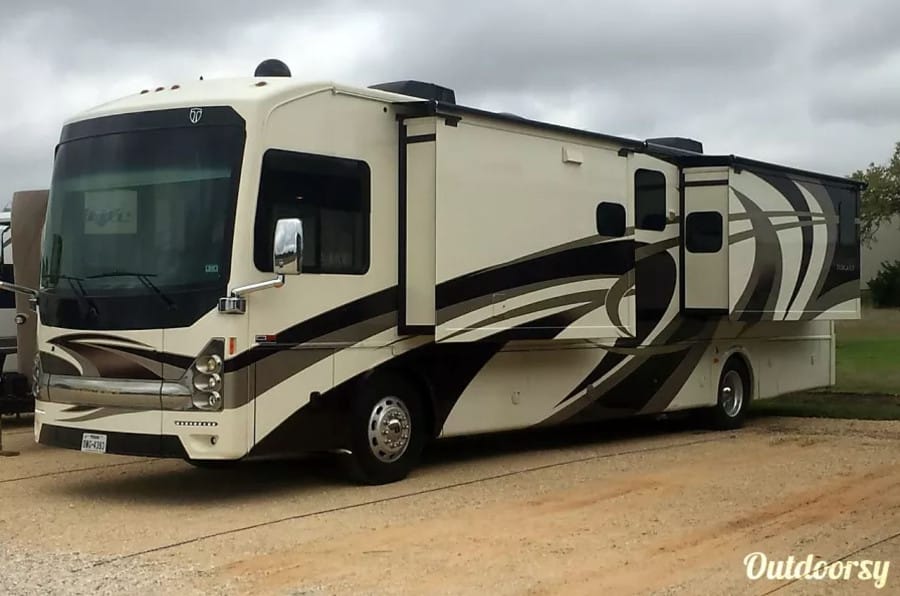 Price: $297/night Pet Friendly? Yes
Slides: 3 Sleeps: 4
This 2014 Thor Motor Coach Tuscany is a called a "Luxury home on wheels" to RV owner, Maria.
After taking a look inside of this huge motorhome rental, we can see why…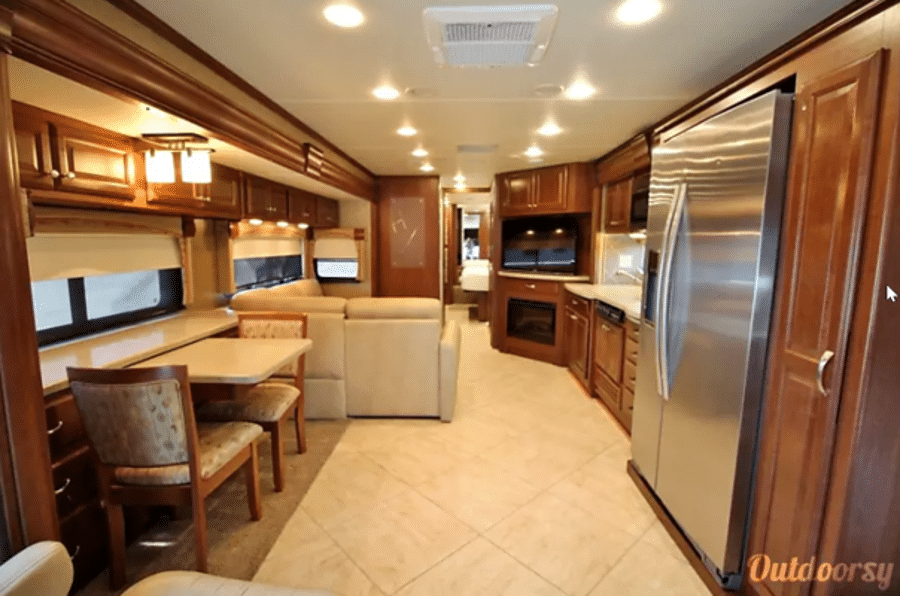 With double slide outs on one side and a king slide out on the other, you and your family (and family pets) will be able to roam around without feeling like you're on top of each other all the time!
As a bonus, Maria will drop off and pick up this rental for an additional fee! How awesome is that?
3. 2015 Winnebago Minnie Winnie 26′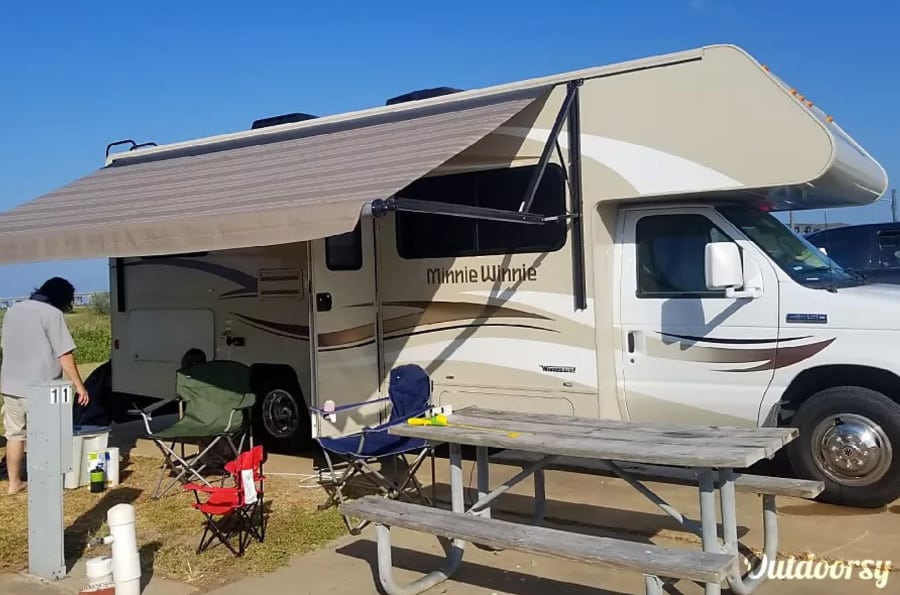 Price: $185/night Pet Friendly? No
Slides: 0 Sleeps: 8
This 2015 Winnebago Minnie Winnie located near Houston is a family friendly RV with plenty of amenities to please everyone's needs such as:
Two TVs (DVD players included)
Radio that can connect to any smartphone
Kitchen and bathroom accessories
Take a peek inside of this awesome motorhome rental to get an idea of where you will be staying for a little bit: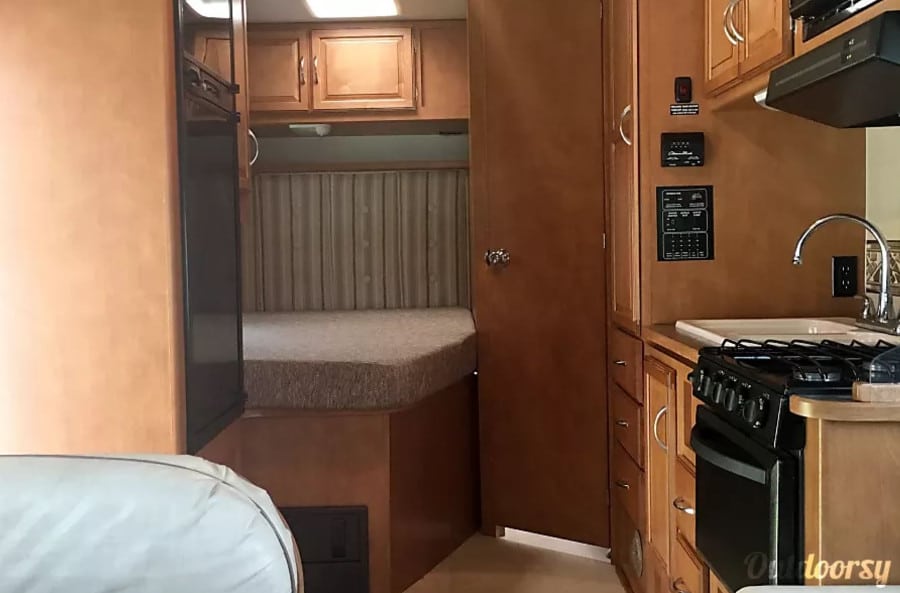 The RV owner, Bobby, is one heck of a host, too! He provides the basic essentials that you'd need as you're RVing (toilet paper, paper towels, etc.).
While he doesn't allow animals in his RV rental, he does allow you to take it to music festivals!
4. 2016 Starcraft Launch 18′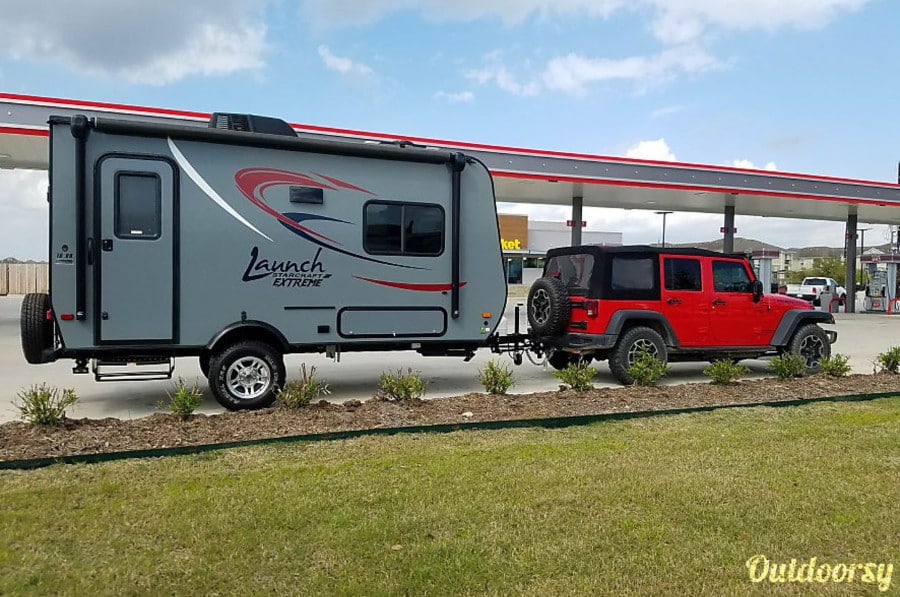 Price: $90/night Pet Friendly? Yes
Slides: 0 Sleeps: 5
This 2016 Starcraft Launch is an awesome little tow behind RV in Houston. It might look small, but like they say… good things come in small packages.
Just take a peek inside!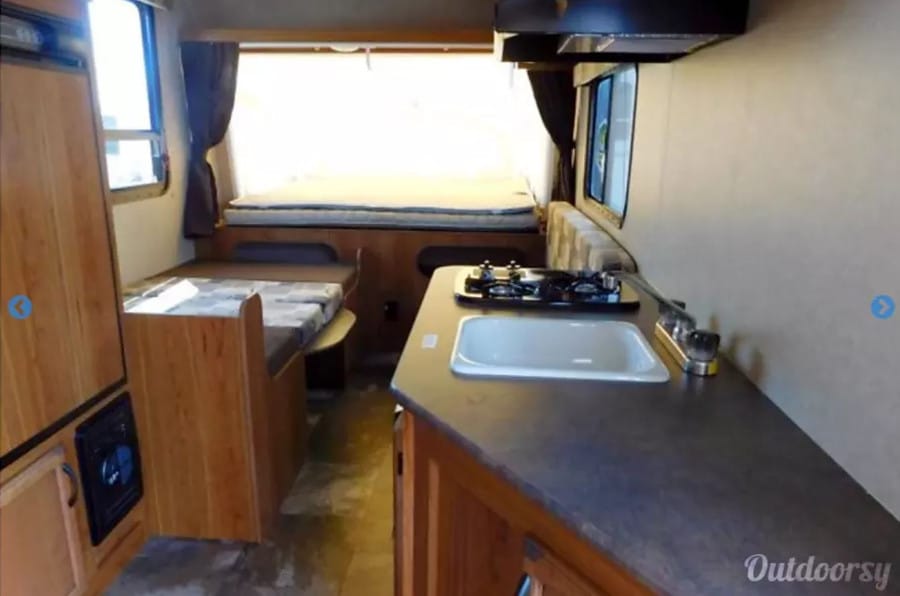 One of the cool things about this tow behind travel trailer is the fact that it comes with a standing shower – yes, you read that right! This isn't your typical shit, shower, and shave model – which we're absolutely thrilled with!
It also comes with a propane stove, refrigerator, microwave, and more.
5. 2009 Forest River 23′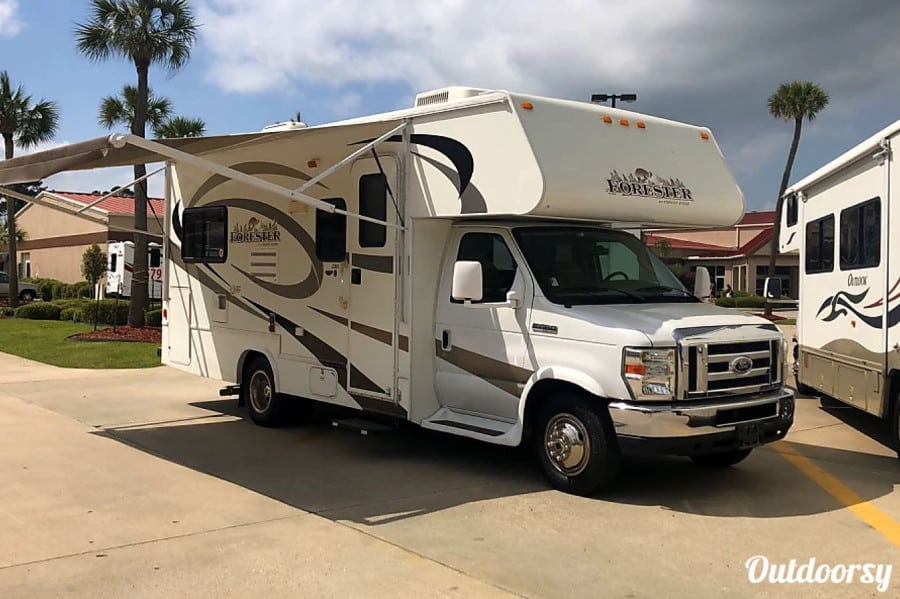 Price: $180/night Pet Friendly? Yes
Slides: 0 Sleeps: 6
This 2009 Forest River is a cozy Class C rental waiting for you in Houston, TX.
Take a look inside to see how awesome this RV is!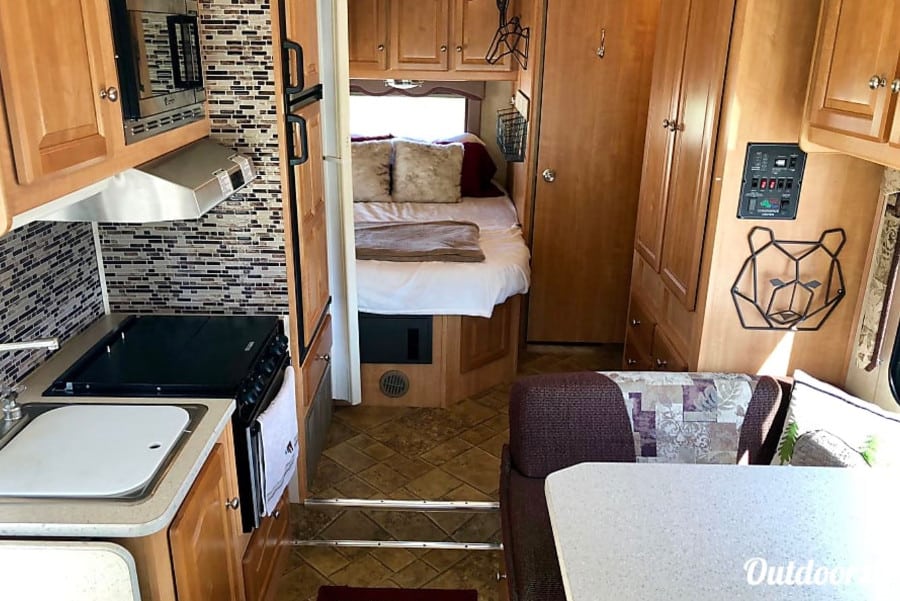 Class C RV rentals are perfect for all things – including state parks.
Because this RV is only 23′, it'll be accepted in nearly every single RV park (or campground) you choose to stay at. (Such as the Lake Houston Wilderness Park.)
6. 2017 Jayco Jay Flight 26′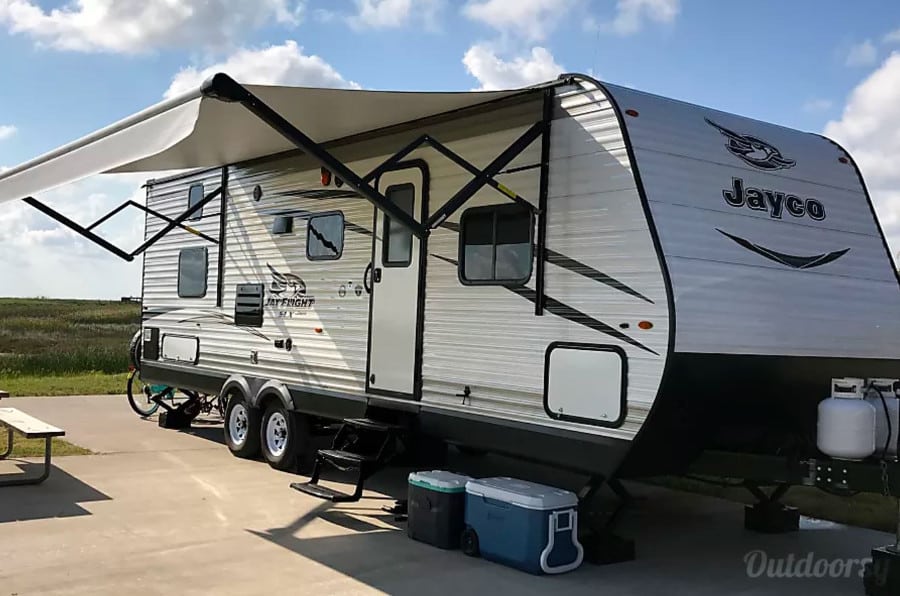 Price: $130/night Pet Friendly? No
Slides: 1 Sleeps: 7
This 2017 Jayco Jay Flight may not look like much from the outside…
but when you get a good look at what's inside, you realize this pull behind RV in Houston is perfect for small (or long) getaways with the family.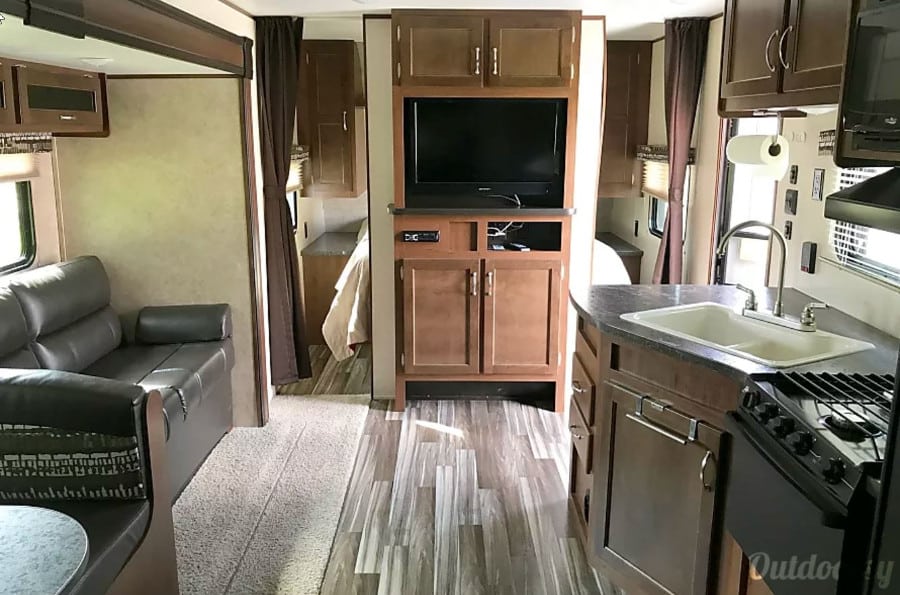 Equipped with a separate master bedroom, you can sleep knowing you have full privacy from children or other guests.
One of our favorite things about this RV rental is the simple fact that the bathroom sink is located outside the bathroom – meaning if you have to go, you don't have to worry about taking your sweet time.
Cynthia, the RV owner, just asks that you do not smoke inside her RV at anytime.
Other than that, she hopes you have fun and, more importantly, she hopes you create memories with your family and friends while renting her special home away from home.
7. 2017 Coachmen Mirada Select 37′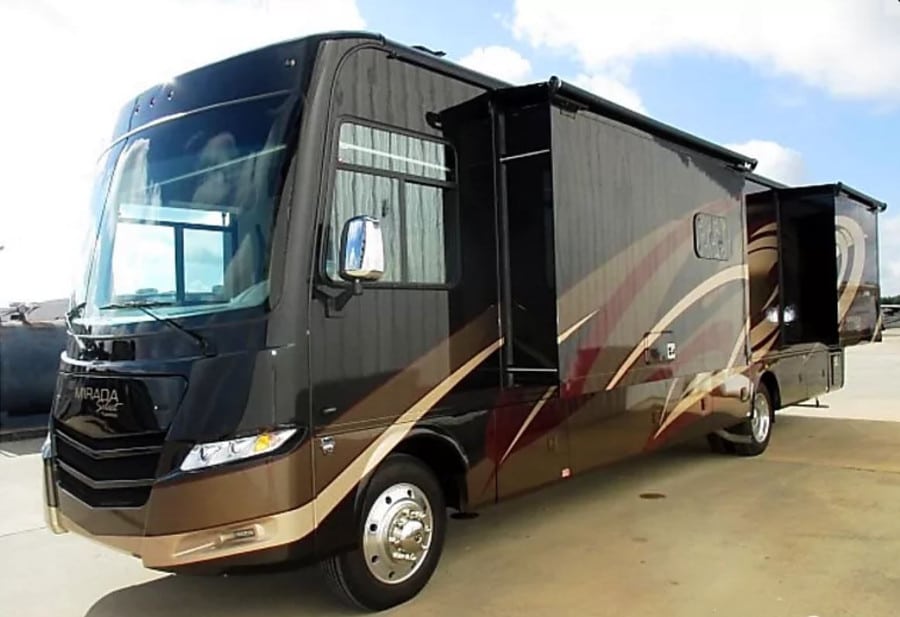 Price: $250/night Pet Friendly? No
Slides: 3 Sleeps: 6
This 2017 Coachmen Mirada Select is a huge luxury class C motorhome rental ready to take you on the adventure of your dreams!
Here's a look inside of this RV rental so you can see your temporary home on wheels: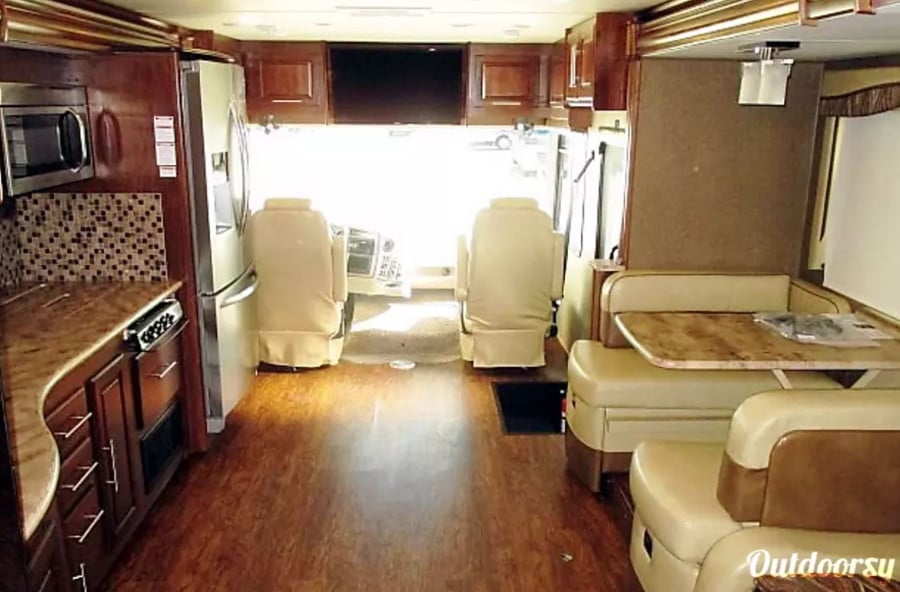 This RV in Houston is huge, guys. 37′ is a lot bigger in person than you may be thinking.
One of the downsides with renting an RV this large is that not all RV parks and campgrounds will accept you.
However, there are RV campgrounds designated for RVs larger than 32′, you'll just have to do a bit of digging before booking your trip!
The amount of storage, sleeping areas, and and electronics in this RV will please even the pickiest RVers – but act fast! This RV rental sells out pretty quickly!
8. 2019 Forest River R-Pod 190 20′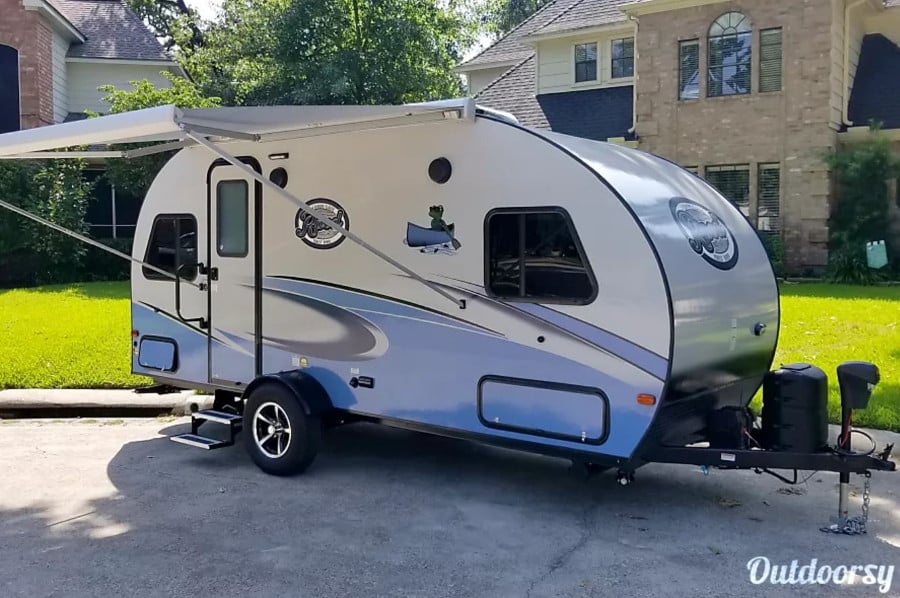 Price: $100/night Pet Friendly? Yes
Slides: 0 Sleeps: 4
This 2019 Forest River R-Pod is not your "average" RV rental. It's smaller and more unique!
To see how small, here's a peek inside (but don't be fooled, there is plenty of walking room):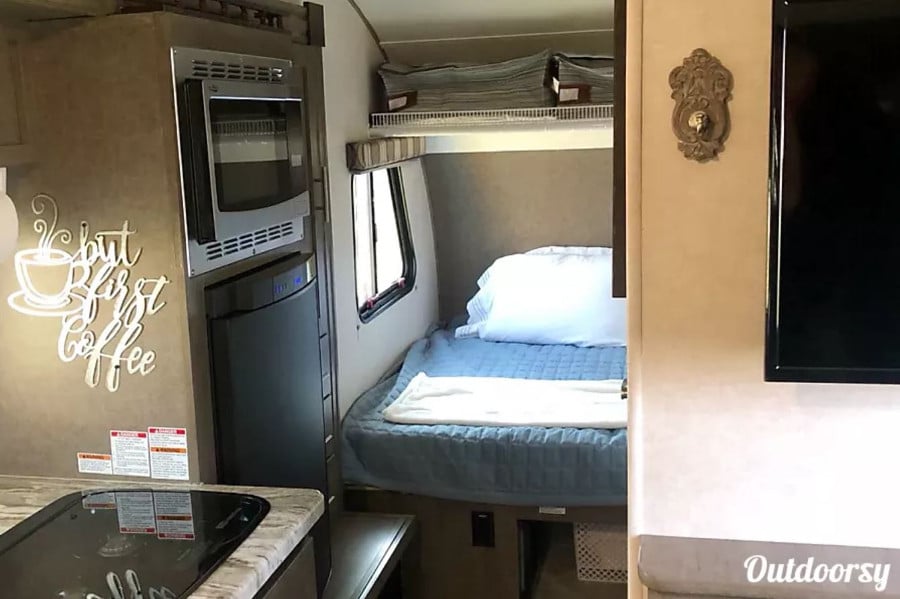 This model features hardwood storage drawers, an indoor/outdoor Bluetooth system, an extra-long awning, and more. It's the perfect camper for small families or couples.
9. 2018 Dutchmen Kodiak Cub 21′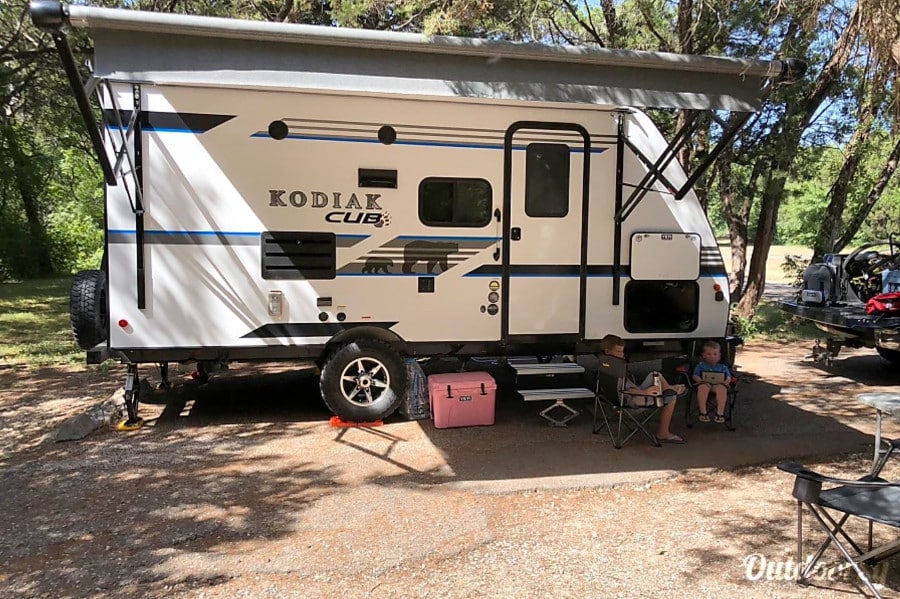 Price: $110/night Pet Friendly? No
Slides: 0 Sleeps: 6
This 2018 Dutchmen Kodiak Cub is an awesome towable travel trailer that's perfect for friends and family to hang out in the middle of nature for days (or weeks depending on how long you rent it) and make new memories.
Here's the floor plan to give you a better understanding of what you'll be sleeping in (there's bunk beds!!):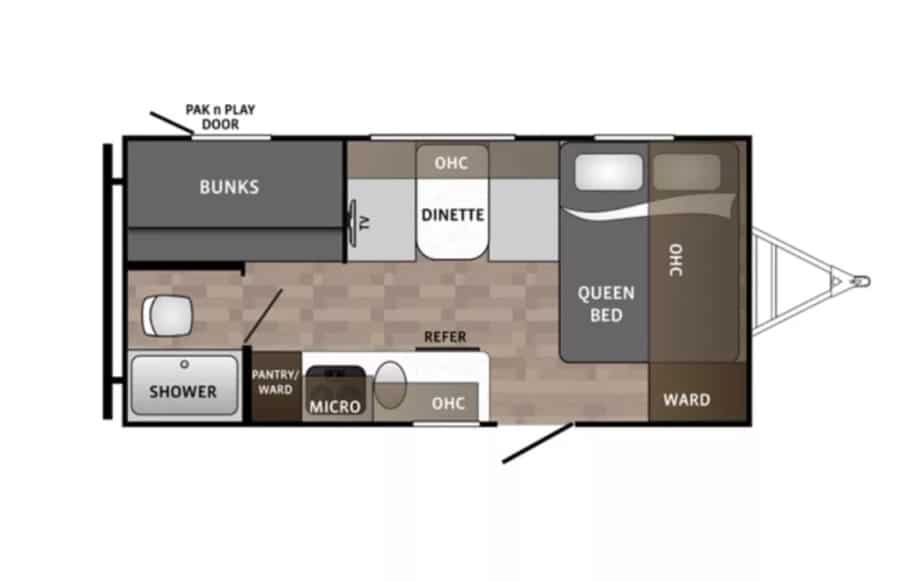 This RV rental in Houston, Texas, is well taken care of, ready to go, and is equipped with so many awesome features such as:
Bunk beds
Queen-sized bed
Dinette (that turns into a bed)
Fully furnished kitchen
Air conditioning
… and more!
10. 2011 Palomino Puma 35′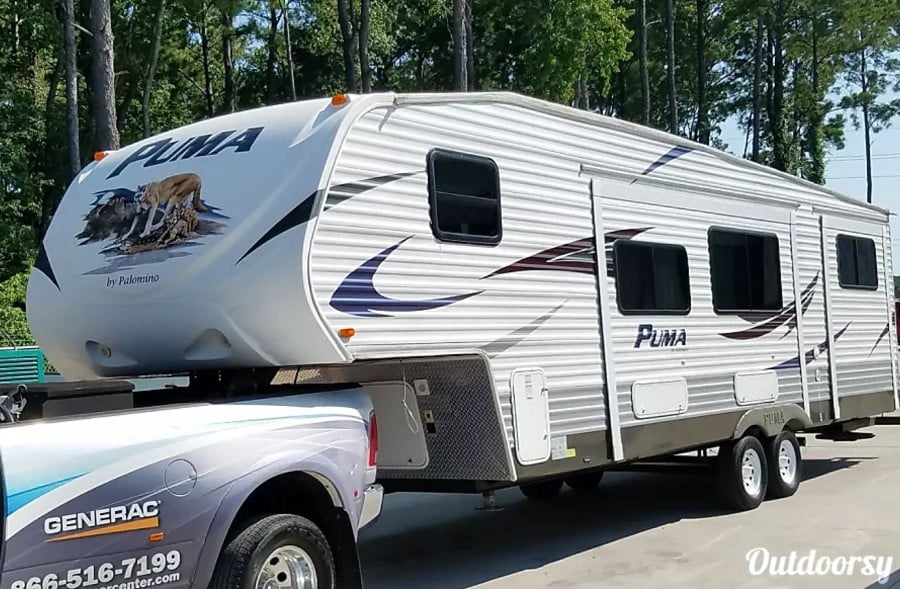 Price: $170/night Pet Friendly? Yes
Slides: 4 Sleeps: 10
This 2011 Palomino Puma is an awesome fifth wheel that sleep not 6, not 8, but 10.
You read that right, ten people can sleep in this camper rental.
Take a look at how awesome the inside is, too: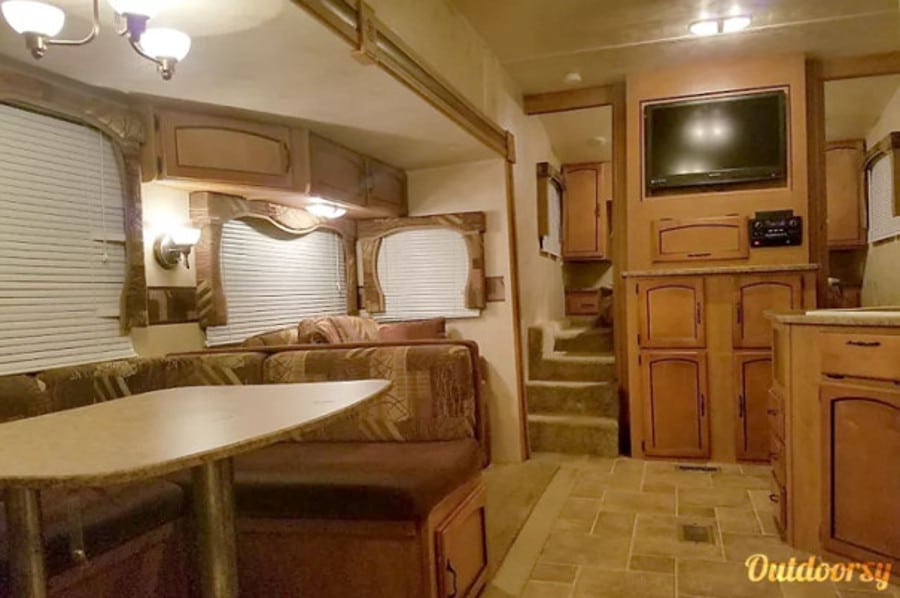 Right now the owner of this RV rental, Robert, is offering a special temporary housing discount by those affected by the hurricane that recently hit the East Coast.
If that doesn't say something about how incredible the owner of this RV is, I'm not really sure what will.
Things to Do in Houston, Texas
That brings us to the end of our list of the best RV rentals in Houston! Remember, if you didn't like any of the camper rentals we listed (or they weren't available for you), you can always check out all the Houston RV rentals available on Outdoorsy.
Now that your trip is booked, the next step is to plan your activities! Houston is the 4th largest city in the United States and the largest in the state of Texas, so there's plenty to do!
Here are 8 things to do in and near Houston, TX:
Looking for more? Check out the top things to do in Houston on Trip Advisor.
Checked out all the RV rentals Houston has to offer and ready to plan your trip? Take a look at these RV resorts.
And that's all we have for you! Want to share your Houston RV rental or some cool things to do in Texas? Or have questions? Leave a comment below!
Pro Tip: Want better rental prices? Ask the rentees if they offer reduced winter rates! Not all of them will, but a winter trip in the south can save you some money. You can also check availability and add Outdoorsy Roadside Assistance to most of the rentals for added peace of mind.
Want to take RV road trips elsewhere? Check out these other RV destinations:
More RV Rental Destinations
Rentals By Type
Enjoy your RV rental vacation!!