Get $50 Off Your Travel Trailer Rental!
Rent with Outdoorsy to get $50 off (discount applied at checkout).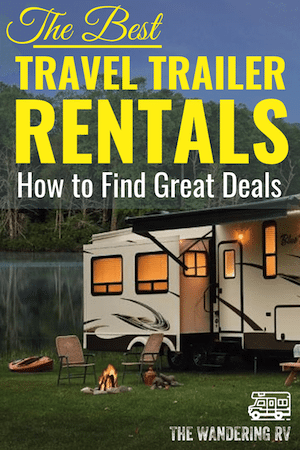 Interested in renting a travel trailer and want the best deal possible?
We were too, so we researched how to get the best travel trailer rentals at affordable prices!
Click here to browse the best travel trailer rentals near you now, or keep reading to learn our top tips!
Let's dive in.
Table of Contents
Note: Some of the links in this article are affiliate links. This doesn't cost you any more than normal. Read our disclaimer for more info.
Renting a Travel Trailer Vs. Other RV Rentals
Travel trailer rentals are an amazing way to experience an RV vacation. Compared to an RV rental (like class C motorhomes or camper vans), camping trailers often have nicer interiors and more space.
Let's look at the specific pros and cons of camping trailers for your next RV rental:
Pros for Renting a Travel Trailer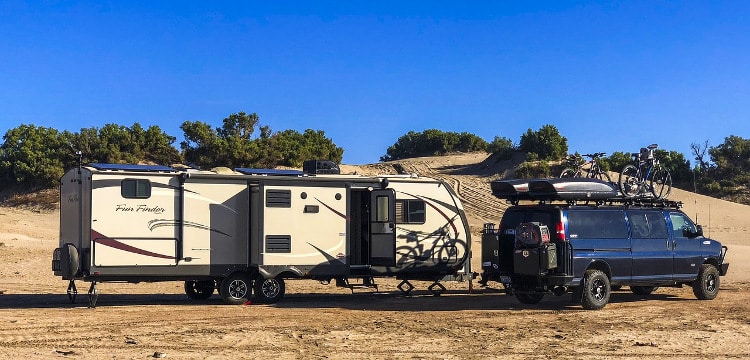 You can detach your tow vehicle.
​Because you have to tow a trailer, you've got a vehicle you can detach and use to go to the grocery store or hiking or any other fun attractions.
With a motor home, unless you tow a car behind you (which further reduces already low gas mileage), you have to unhook and bring this big vehicle anywhere you go.
You can also have the RV delivered by the RV owner to make your life easier!
Travel trailers often have more interior space than motor homes.
Because there is no front cab or engine, all of the space in a trailer can be utilized for living or utility. Thus, trailers often have more room.
Just check out the floor plan for this 31′ Keystone Bullet to see what I mean: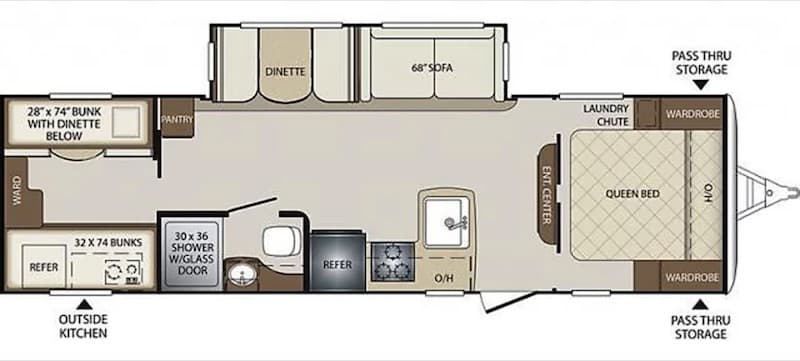 Compare that to the floor plan of this 30′ Chateau Class C, which has 4.5′ taken up by the cab and over-cab bunk, leaving you with just 25.5′ of living space.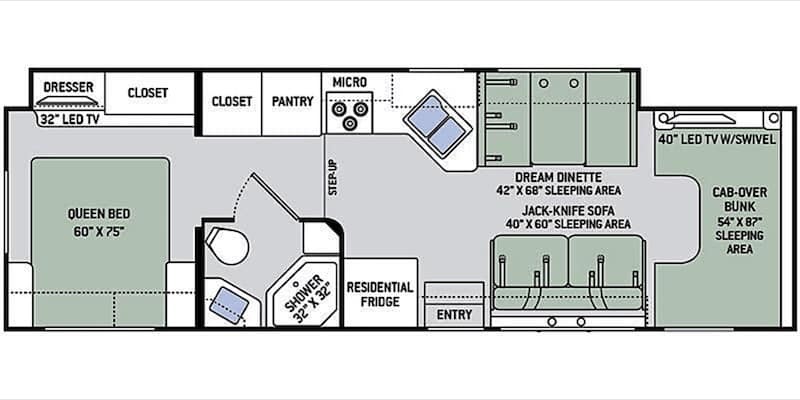 The average small RV rental sleeps 2. The average travel trailer rental sleeps 5! Talk about a perfect large RV rental!
Your home doesn't have an engine.
While this is more of a con to owning a travel trailer rather than renting one, not having an engine in your RV rental is good in the case of a mechanical failure.
With a motor home, you'd have to take your entire house to the shop and get a hotel room. But you don't have that risk with a camping trailer.
But the odds of this happening with a rental are slim to none, so it's nothing to worry about.
If you rent a toy hauler, you can bring dirt bikes or a four wheeler!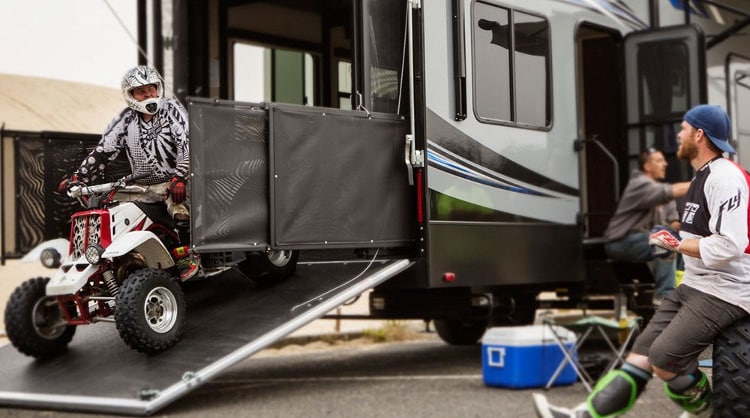 Toy haulers (shown above) are travel trailers with extra space that acts as a sort of garage for small, fun "toys" like dirt bikes. I know Forest River makes some well-built toy haulers. Pretty awesome!
Cons of Renting a Travel Trailer
Of course, there are multiple types of RVs for a reason! Each has its cons. For trailer RVs, those cons are…
They're harder to reverse.
If you're never towed something behind you before, you might have some trouble learning how to reverse into a spot. Unfortunately, not all RV parks have drive-through sites, so the chances you'll have to park into your campsite are pretty good.
However, here's a video by our friends at Outdoorsy with some tips on reversing your trailer:
Basically, it's always good to have a "spotter" to tell you which direction to go. Rather than them saying "left" or "right", have them say "driver's side" or "passenger's side" so you never get confused about who's left or right to go in.
Also, tell them to not stop talking. So they might say, "passenger side, passenger side, straight, straight, slow, slow, STOP!". It's a good idea to have some walkie talkies on hand to avoid any confusion.
Also, remember that you're able to have the RV delivered to you (which means you wouldn't have to back it into a campsite by yourself).
You have to stop to use the bathroom.
One of the cool things about motor homes is that (if you're adventurous) you can get up and use the bathroom in your camper or work on your laptop while someone else it driving. But in a travel trailer, you have to actually pull over to get in your rig. It's small, but significant (and makes your road trip longer).
You need an adequate tow vehicle.
In order to rent a travel trailer, you need a tow vehicle that can pull the trailer's weight. But, some camper rentals come with the tow vehicle, and some RV owners will actually bring them to the site for you so you don't need to drive them at all!
And don't just pay attention to dry weight. The dry weight is how much a trailer weighs completely empty (i.e. no water, clothes, etc.). Pay attention instead to the gross weight, or the weight of the trailer when fully loaded before you find the perfect RV rental!
Travel Trailer Rental Prices
How much does it cost to rent a travel trailer per night?
We recently partnered with Outdoorsy and did a study to find out how much it costs to rent an RV. We found that, on average across the US, RV rentals cost between $50 to $125 per night to rent.
However, the trailer rental rate depends heavily on the rental location, time of year, model, and age of the RV. There are even luxury travel trailer rentals available for up to $400 per night or more!
Of course, the longer you rent for the cheaper you can find rentals for. Monthly RV rentals can be found for $50 per night or less, and you can always negotiate down from there.
Where to Rent a Travel Trailer (Best Deals in 2023)
We've found that the best place to rent an RV is Outdoorsy.
Outdoorsy offers RV rentals by straight from RV owners. It's like the Airbnb of the RV rental world. Peer-to-peer RV rentals like this are great because they are more affordable than renting from an RV dealer with a rental fleet. Book online, skip the phone calls.
Plus, Outdoorsy offers free roadside assistance and up to $1M insurance on all their rentals! They also have 93% 5-star reviews from over 55,000 customers and have amazing customer support. We've personally rented from them and used their great service, and can honestly say the experience was fantastic! They also have a bunch of helpful tips for first time renters.
Not only can you rent travel trailers, but you can also rent motorhomes, fifth wheels, camper vans, toy haulers, truck campers, and virtually any kind of recreational vehicle there is.
Consider renting an RV from Outdoorsy for your next open-road adventure.
Why Outdoorsy? Check out our RV rental company comparison where we pit the top rental companies head to head.
Great RV Rental Destinations
RV Rental By Type
We hope this guide helped you find the perfect RV for your road trip. Enjoy your RV adventure!