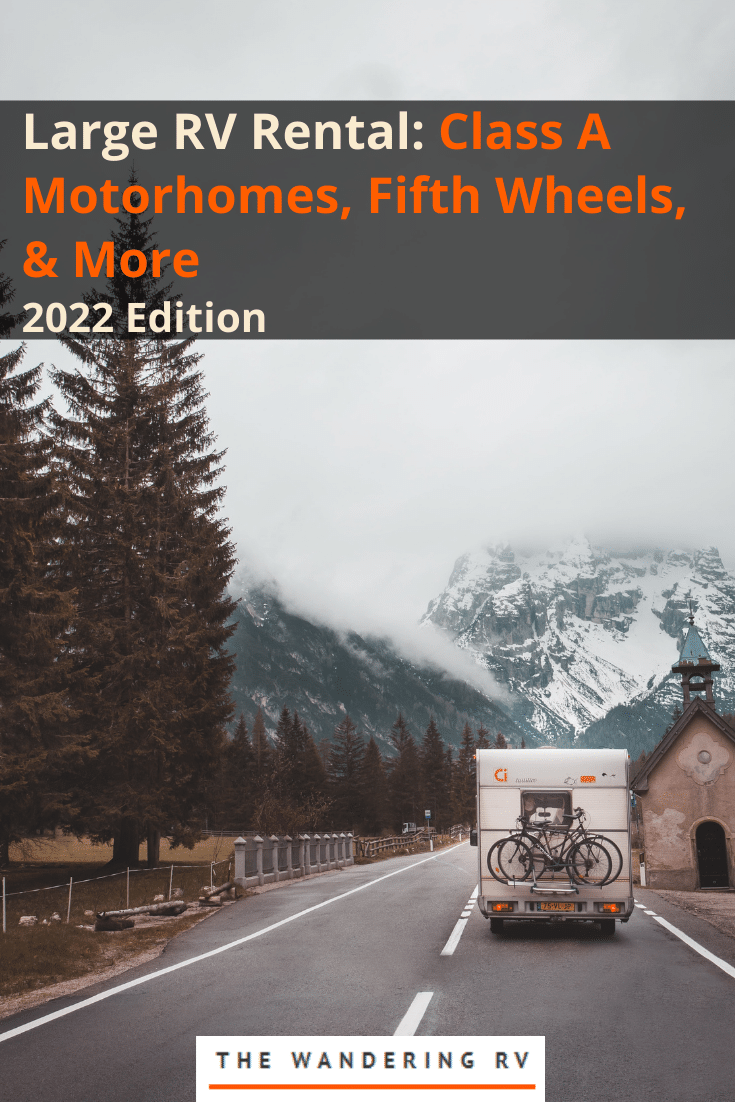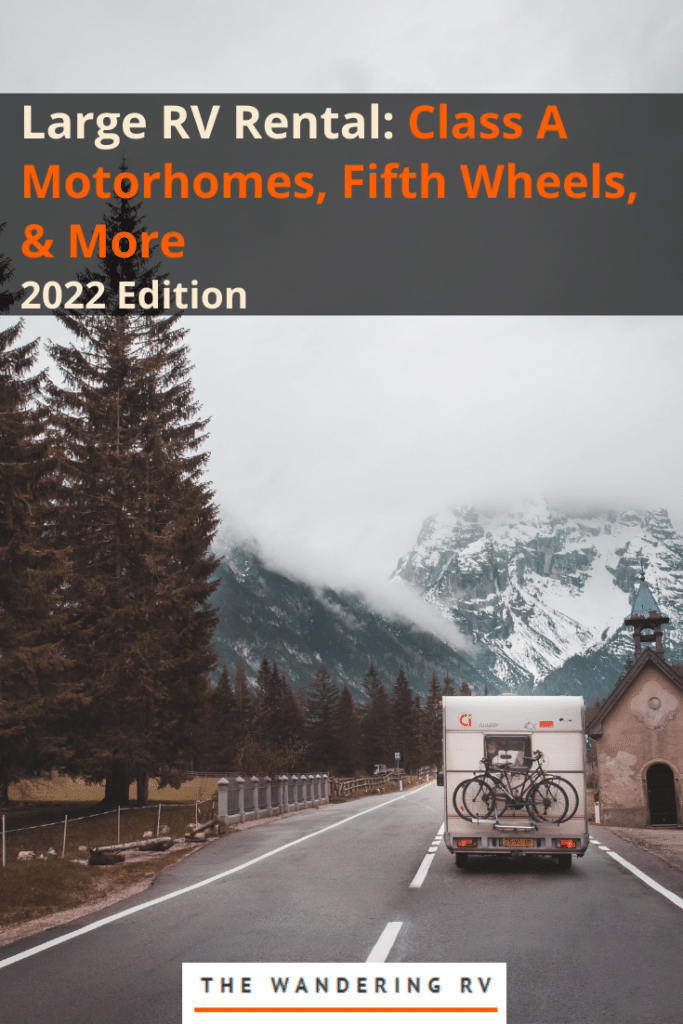 If you're looking for a large RV rental, your options are going to be luxury class A motorhomes, fifth wheels, and a few class C motorhomes and travel trailers.
First you have to decide whether you want to tow or drive your large RV rental (motorhome vs camping trailer). If you have a sufficient tow vehicle, your options open up a bit.
However, depending on the RV rental company, you may be able to have the owner drop off your RV rental right at the campground you're staying at for a hassle free experience.
Looking for a large RV rental right now? Click here to browse large camper and motorhome rentals on Outdoorsy and get $50 off your first booking.
Table of Contents
Types of RV Rentals Available
The largest RVs for rent are going to be:
Click whichever type of RV you're looking for above and you'll be able to browse your options for your next RV rental (and click here if you're looking for a more in-depth guide on what type of RV you should rent to suit your needs). These links lead to Outdoorsy, a peer-to-peer RV rental company who we believe to be the best. Read our full Outdoorsy review here.
However, there are other options for luxury RV rentals and large RVs:
When you rent an RV from any of these companies, you get free roadside assistance, great service, and some of the best prices available. Not to mention, each company has some of the best RVs you could ask for!
First time renters also get $50 off their Outdoorsy RV rental with the coupon code "thewanderingrv"! Discount applied at checkout.
Let's break down which type of RV rental is best for your needs:
Class A Motor Bus Rental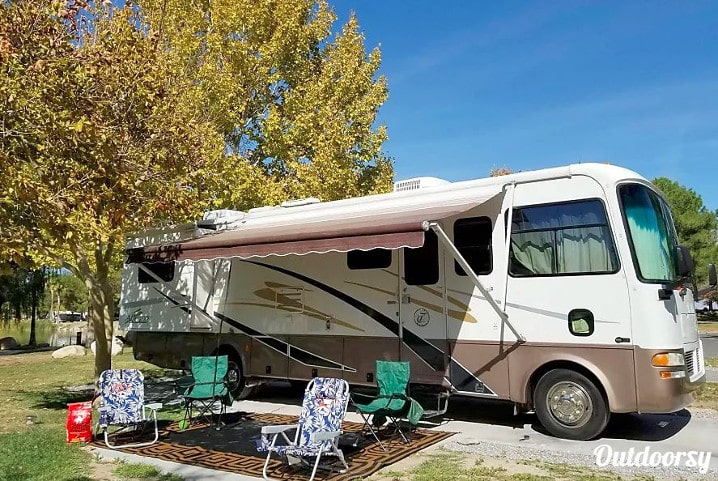 Class A RVs are the largest RVs on the market and are known to be some of the most luxurious models built on a commercial bus or truck chassis with either a gas or diesel engine.
They typically look like large touring buses and you're able to tow a small car (or truck) behind them for added mobility once you're at camp. If you're looking for a luxury RV rental, a Class A is definitely the way to go!
Pros:
More Amenities, luxuries & higher quality RV
Bigger in not only length, but height as well
Large holding tanks
Cons:
Can be very intimidating to drive or back into a campsite
Limited places you can camp due to smaller campsites
Not typically good for boondocking
Fifth Wheel Rental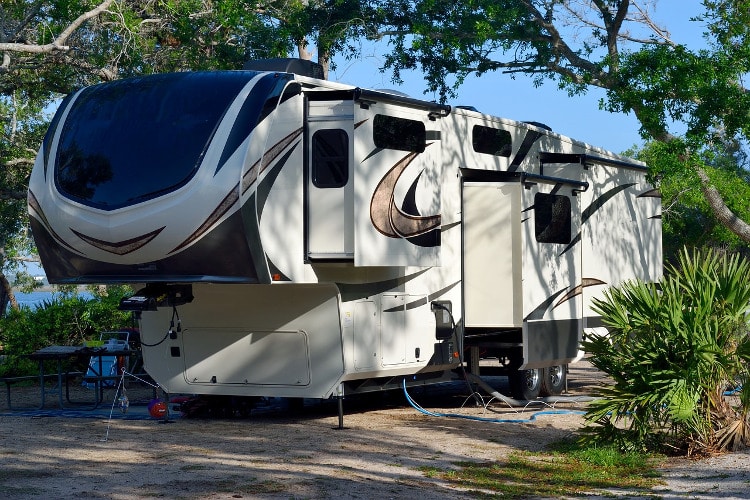 While Fifth Wheels are great RVs, most people aren't able to tow them (unless they have a special hitch mounted in their truck bed).
Luckily, most people who rent their fifth wheels out either also rent the truck or they offer delivery right to your campsite! Click here to browse fifth wheel rentals now.
Pros:
Fifth Wheels tend to be taller with higher ceilings in the living area which creates a more spacious, luxurious feeling for the renter
Fifth Wheels usually have more storage and living space
The design of a fifth wheel adds safety and maneuverability when towing compared to other types of RVs
Cons:
Fifth wheels require a special hitch mounted in the truck bed to tow
Some Fifth Wheels may exceed the length limits on certain roads and some campgrounds
There are more height and weight restrictions with fifth wheels
Travel Trailer Rental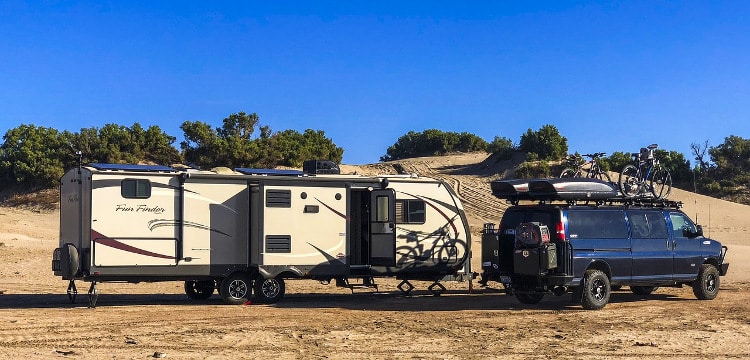 Travel trailer rentals are an amazing way to experience an RV vacation. Compared to other recreational vehicles like motor homes or camper vans, camping trailers often have nicer interiors and more space!
Pros:
You can detach your tow vehicle
Travel trailers often have more interior space than motor homes
Travel trailers don't have engines to worry about
Cons:
Travel trailers are harder to reverse & are more susceptible to wind while driving
You need an adequate tow vehicle
Toy Hauler Rentals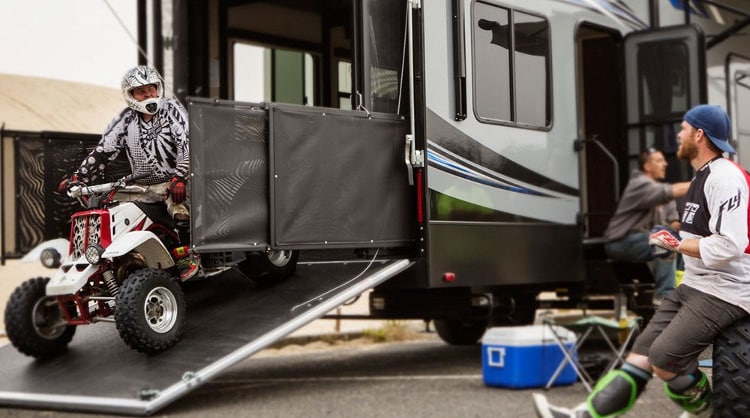 Toy haulers rentals can be an amazing way to travel if you have ATVs or motorcycles you want to bring! Unlike motorhome or travel trailer rentals, toy haulers come with space for you to bring your motorcycles or ATVs.
The best part? The average cost of renting a toy hauler is just $100 to $200 per night! Click here to browse toy hauler rentals now.
Pros:
Lots of cargo space
Extra living space
Bring your toys!
Cons:
You lose living space for cargo carrying
Toy haulers require a beefy tow vehicle
Class C RV Rentals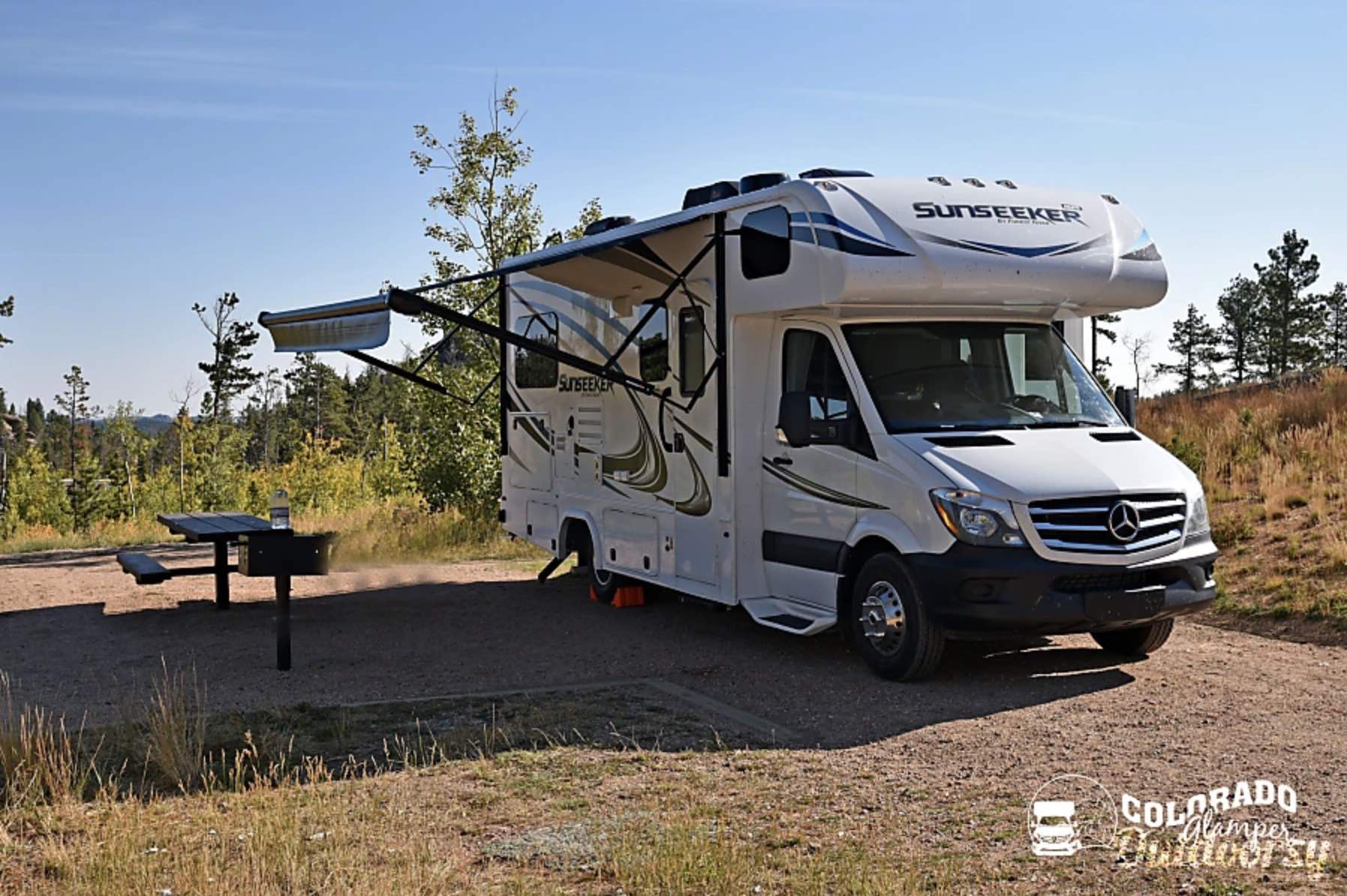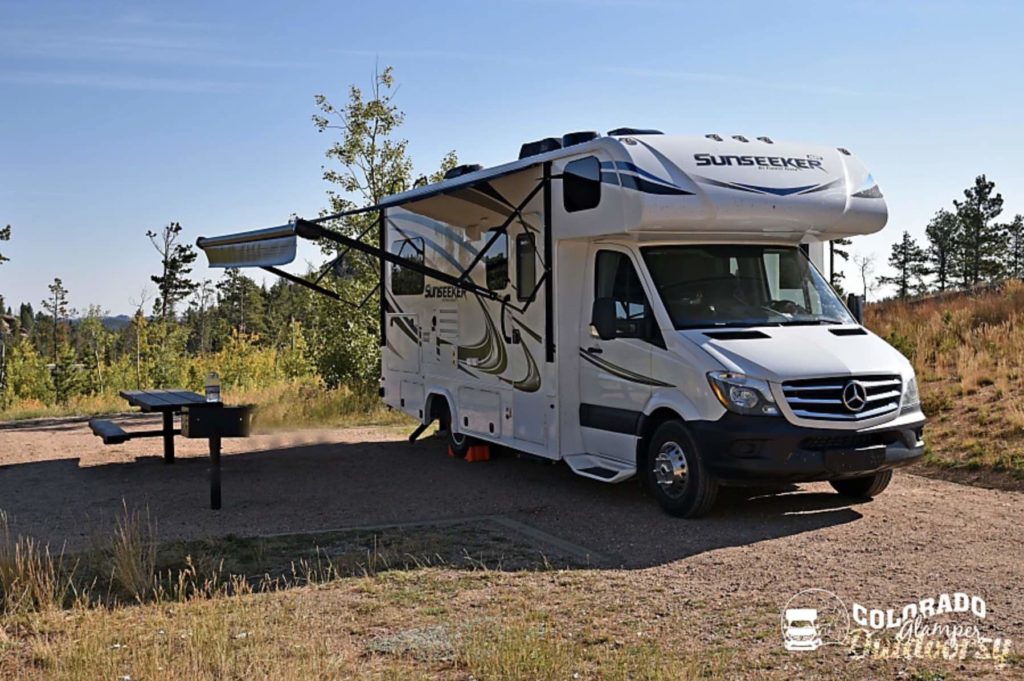 One of the best things about a Class C motorhome is that they're designed to have more indoor and outdoor storage compartments, allowing renters to have way more storage space.
Even the smallest Class C RVs we've seen had a relatively spacious shower, toilet, and sink! You're able to tow a smaller vehicle behind a Class C motorhome, which helps a ton when you're at the campground and need to go to the store.
Click here to browse Class C motorhome rentals now.
Pros:
Generous storage space
Class C RVs are easy to drive
More spacious living accommodations (can sleep up to four people)
Cons:
Class C RVs need bigger and more expensive campsites
You'll pay higher rental fees and insurance costs are higher
Class C RVs are known to be gas guzzlers
Luxury RV Rentals & Large RV Rental Options
Here are some luxury motorhomes and other RVs for rent that can fit a large group, with more room to move around and enough storage space for anything you bring:
1. Bobby' the 2017 FR Georgetown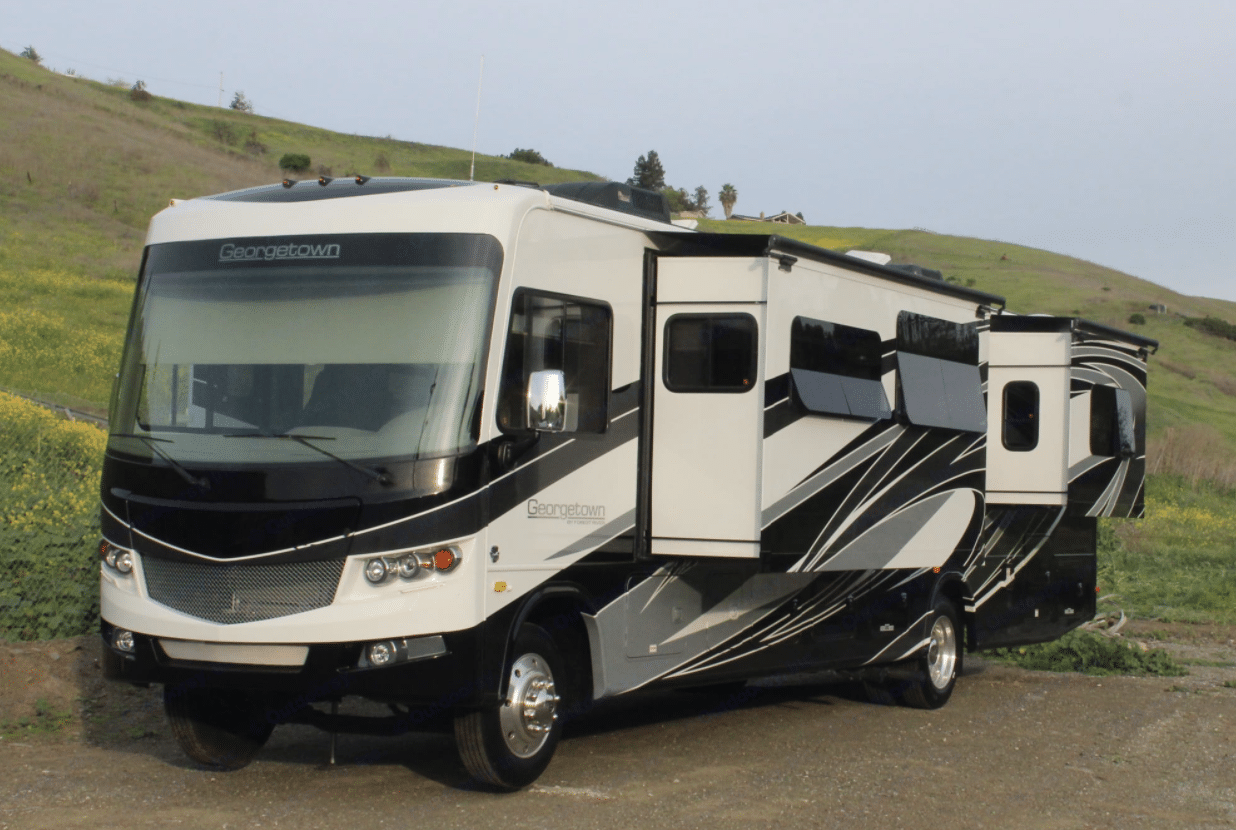 Price: $250/night Pet Friendly? Yes
Slides: 3 Sleeps: 8
With a king sized bed in the back, & bunk beds in the hallway, you won't feel like you're camping in Bobby the 2017 FR Georgetown, you'll feel like you're in a moving hotel!
There are 5 TVs located in this luxurious motorhome, has three slide outs, and can accommodate a big group of people. It has all the comforts you want in a motorhome when you're on a trip!
2. 2018 Forest River Sunseeker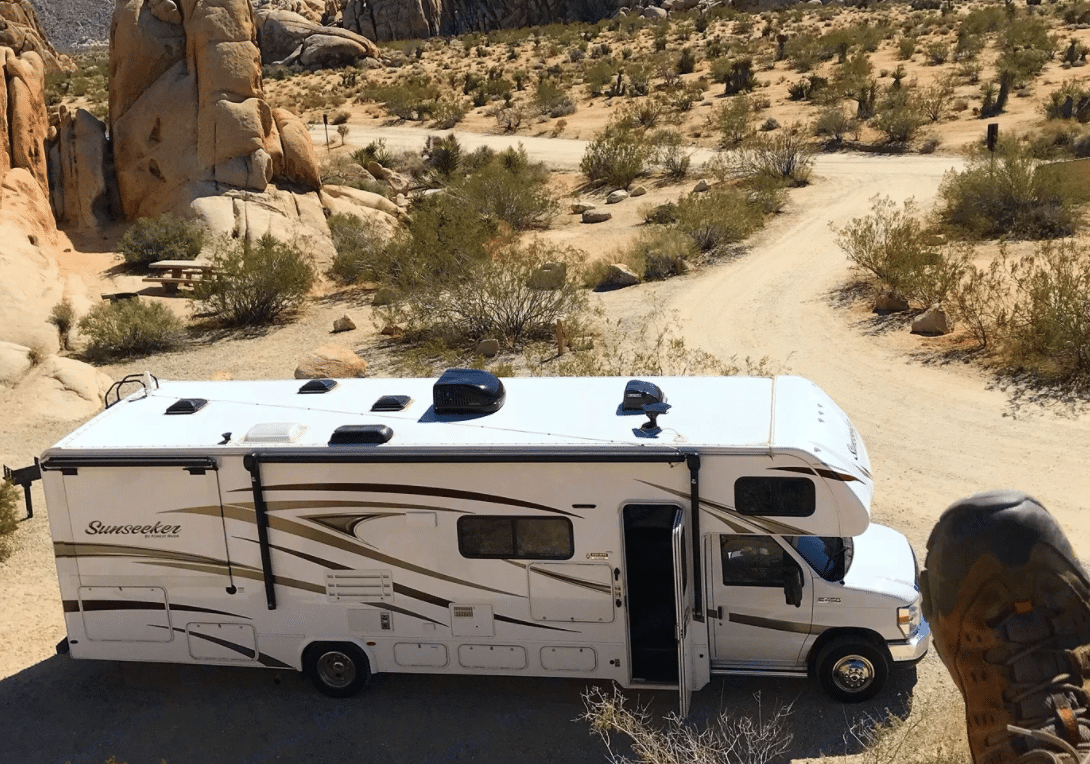 Price: $175/night Pet Friendly? No
Slides: 2 Sleeps: 8
The 2018 Forest River Sunseeker is incredibly easy to drive and has all the luxuries of home in an RV. When the slide-outs are in, this RV is very roomy. When they are out, it feels like home!
You're able to cook gourmet meals, prepare for day-long excursions, and still have a relaxing beverage at night under the stars! More kitchen space means happier cooks and campers!
3. 2016 Mercedes Sprinter Limousine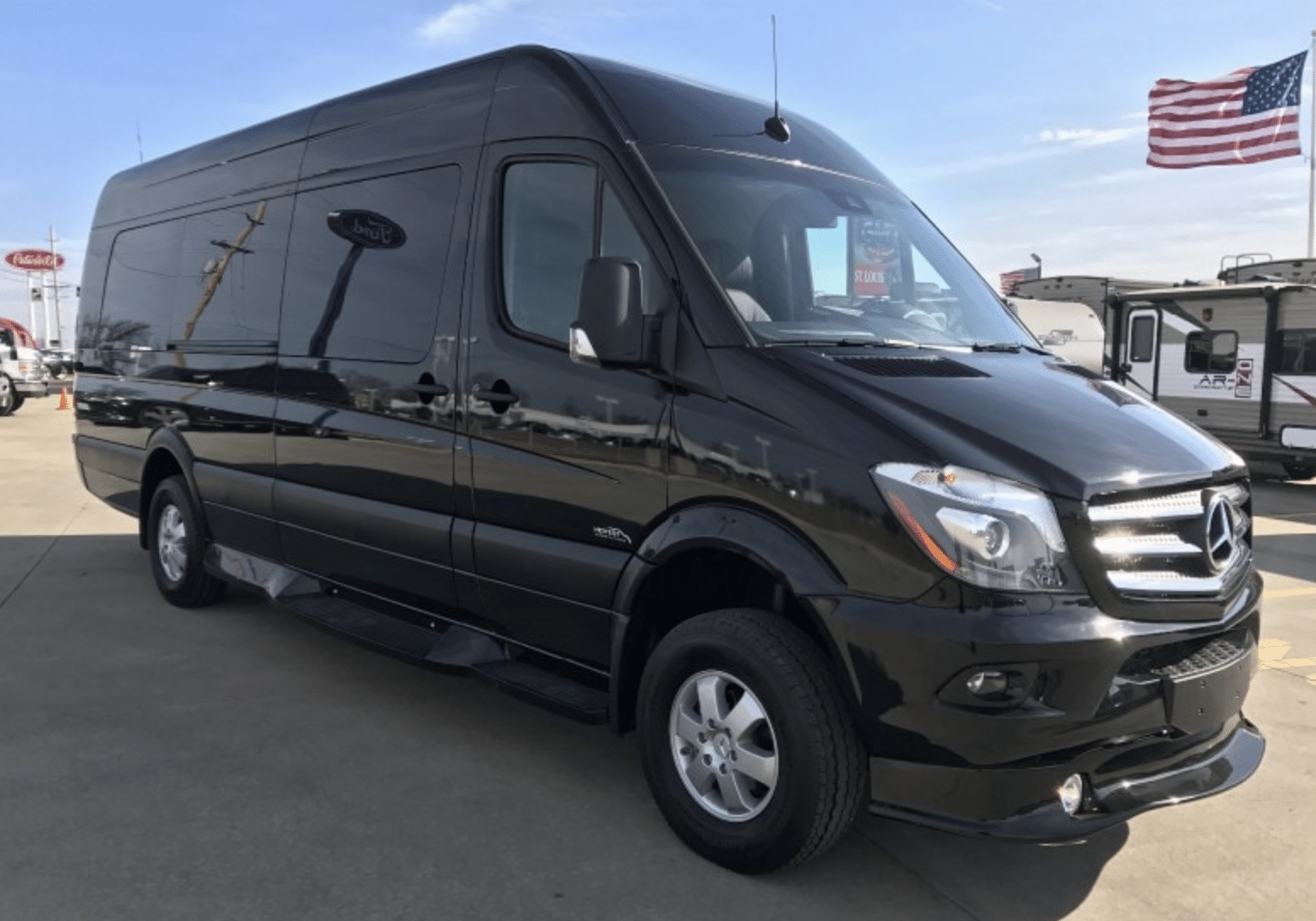 Price: $349/night Pet Friendly? No
Slides: 0 Sleeps: 2
This Mercedes Sprinter Limousine seats 9, has a working table built into the wall, comes with Wifi, a flat screen TV, refrigerator, and drawers. The rear bench folds flat to a bed, and this campervan has extra lighting and a trailer hitch!
While this might not be a large type of RV, it is definitely luxurious!
4. 2022 Fleetwood Discovery "The Big Sleeper"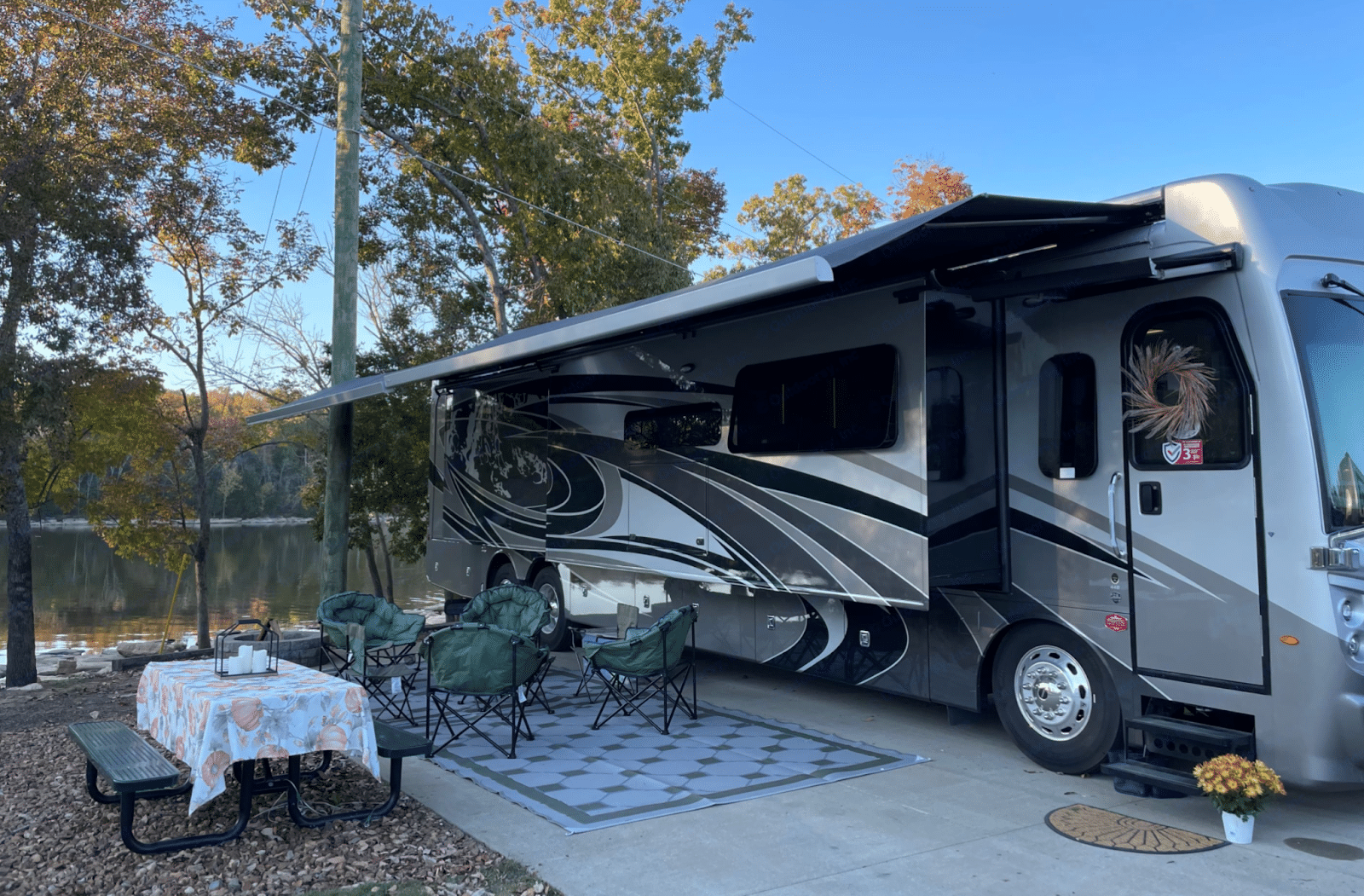 Price: $1,250/night Pet Friendly? No
Slides: 4 Sleeps: 8
This 2022 Discovery LXE is one of the most luxurious and family-friendly motorhomes in the industry. The powerful diesel engine, brand new generator, steering upgrades, upgraded RV specific GPS system, new tires, Tyron safety tire bands, and more make this 45 foot coach unbelievably easy to operate and a breeze to drive!
It's a motorhome that anyone would love and is perfect for a family vacation!
5. 2019 Monaco Signature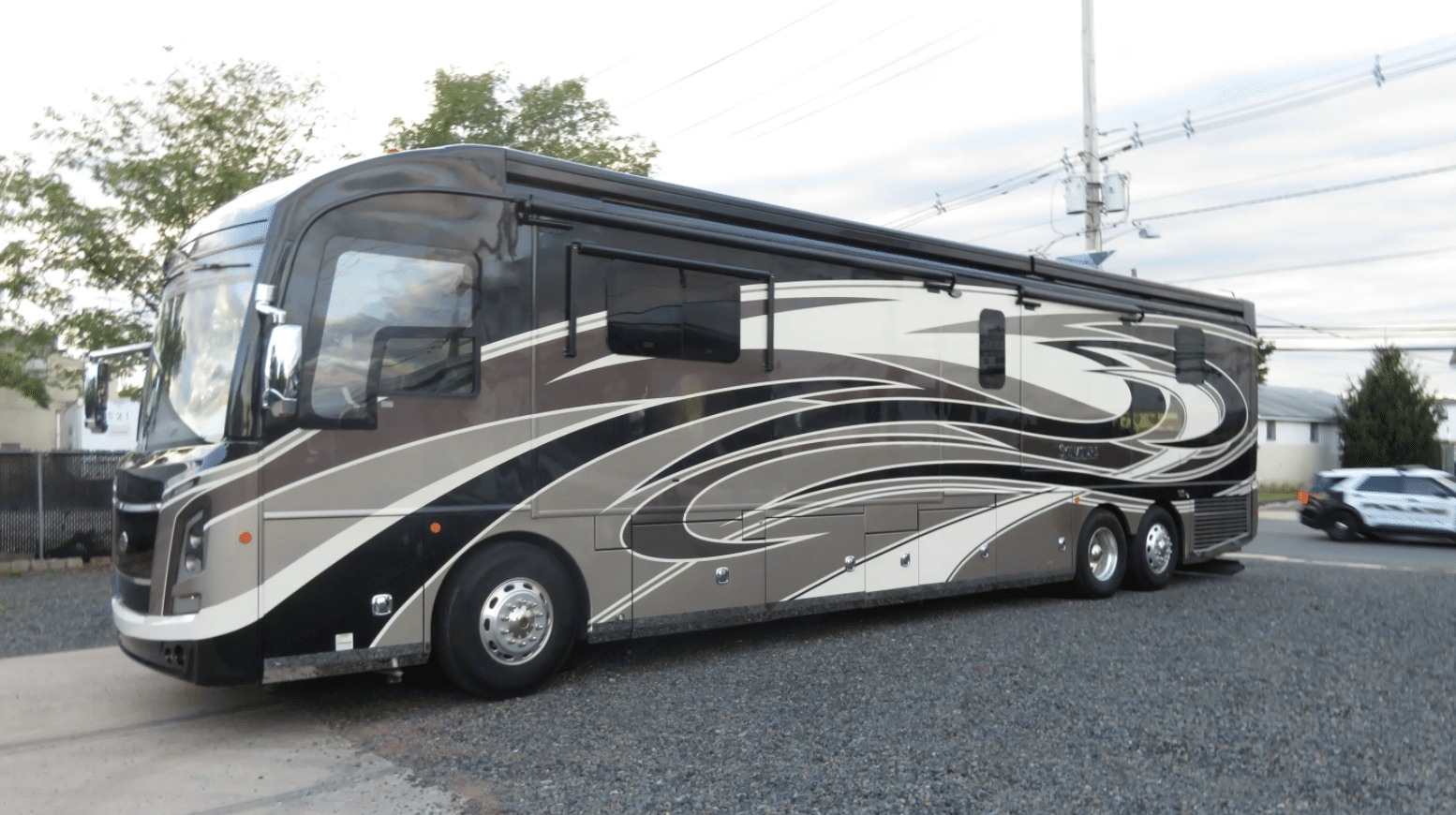 Price: $1,375/night Pet Friendly? Yes
Slides: 4 Sleeps: 6
The Monaco Signature has 4 slide outs, spacious bathrooms with heated tile floors, and unlimited Wifi. Honestly, this coach has everything – it's 45 feet of pure luxury! It's pretty expensive per night so we'd really only recommend this rig for a special event, but if you have the money and want to go on a luxury road trip, the Monaco Signature is for you!
Final Thoughts
Large RV rentals are great regardless of the rig you pick. They're spacious enough for large family road trips and, depending on who you rent from, they can be delivered to your campsite for added convenience.
Have you rented a luxury RV in the past? What was your experience? Let us know in the comments below!