This article explains the difference between a gooseneck vs 5th wheel hitch and which is better for your situation.​
When it comes to RV trailer hitches, you may have heard of a gooseneck hitch. These are different from 5th wheel hitches.
What's the difference?

Table of Contents
The Short Answer…
A gooseneck hitch is normally used for industrial trailers, while a fifth wheel hitch is for recreational use. If you only plan on towing a fifth wheel and not a gooseneck trailer, go with a fifth wheel hitch.
That said, there are reasons to have a gooseneck hitch on your truck even if you're towing a fifth wheel. Read on to learn more!
What Is A Gooseneck Hitch?
A gooseneck hitch looks like a ball mount, except it is welded or mounted on a rail in your truck bed. They look like this:

What Is A 5th Wheel Hitch?
A fifth wheel hitch does not have a ball mount. Instead, your trailer connects to the fifth wheel hitch via a downward-facing pin — called a king pin — along with a plate that rests on top of the fifth wheel hitch plate.
It looks like this: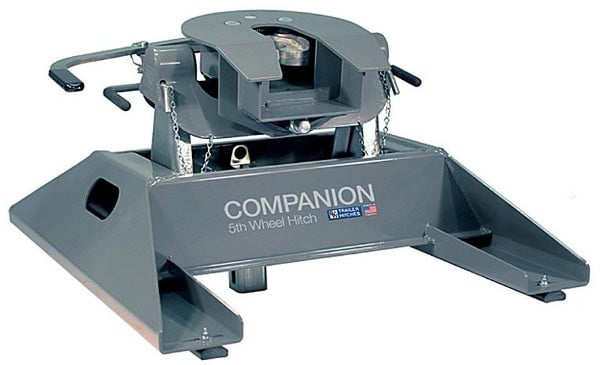 Continue Learning:
– How Fifth Wheel Hitches Work
– Beginner's Guide to RV Trailer Hitches
– RV Living: 20 Nomads Share Their Stories