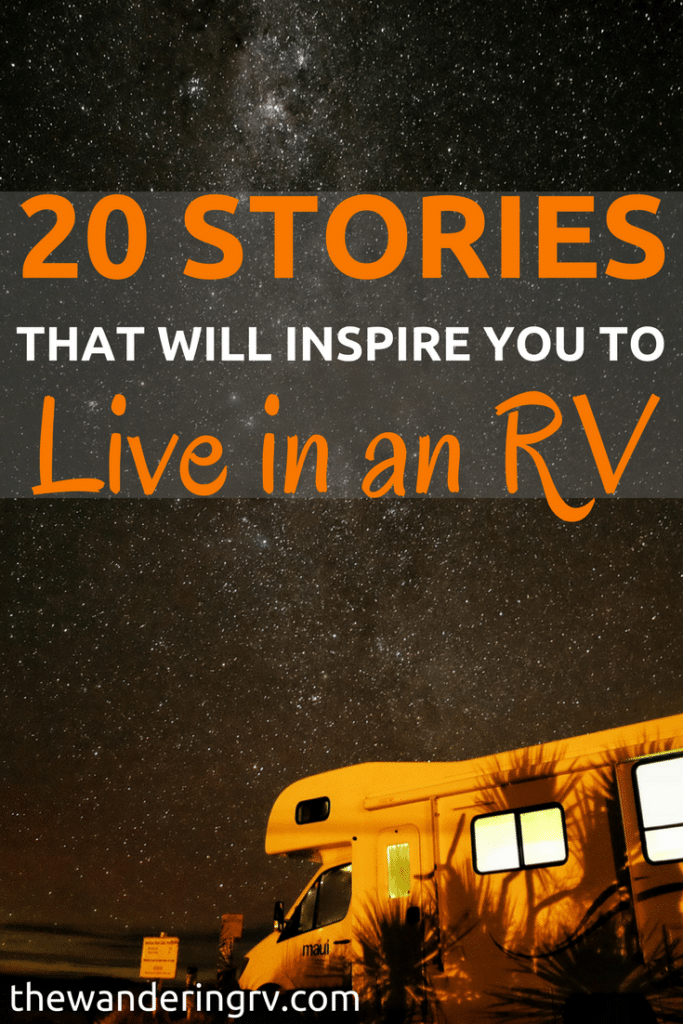 There are two kinds of people in this world…
Those that think living in an RV is insane, and those that think RV living is totally magnificent.
I'm not sure which group you fall in, but we reached out to 20 full-time RVers to find out why the RV lifestyle is so attractive.
The responses we got are nothing short of amazing.
The best part?
Whether you're 18 or 80, work as an entrepreneur or an employee, are retired, or even served in the military, there are others out there like you living the RVing dream.
We even got answers from a few families RVing with four kids!!
You HAVE to hear their stories. Keep reading.
Table of Contents
20+ Amazing Stories of RV Living
Living in a camper isn't for everyone. But for these nomads and wanderers, it's a way to experience freedom, travel, and even to save money.
So kick back, relax, and get ready to be inspired by these incredible stories:
Pro Tip: Want to test drive the RV lifestyle? Try renting an RV for a few months to see if you like it or not!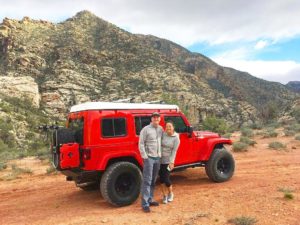 "Living in an RV is great because I can travel full-time and explore new places, all while being able to bring my comfortable home to each location. Having a new beautiful view with all different kinds of landscapes out my front window just cannot be beaten!"
Follow Michelle (and learn her amazing finance tips) on Facebook, Instagram and Pinterest!
"I'd already spent a summer in Portland, a few months living in England, and had been on a handful of cross-country road trips. I knew I loved traveling and so the idea of full time RV living sounded really appealing.
This was 2007 and it wasn't quite like it is today… just about everyone traveling back then looked to be retirees. But I came across Live Work Dream and saw they were doing it.
I didn't know much about RV parks or how any of that worked but just seeing that it was possible for someone else, I figured I could figure it out. So, I bought a 27′ Class C and didn't look back!
[tweet_box design="box_13_at" float="none" author="@WandrlyMagazine" pic_url="https://www.thewanderingrv.com/wp-content/uploads/2017/05/Nathan-from-Wandrly.jpg"]Seeing that RVing was possible for someone else, I figured I could figure it out.[/tweet_box]
In fact, I kept looking way forward.
After about a year of cruising around in that behemoth, I got tired of RV parks and not being able to find spots in the national forests on the weekends because the good spots were either too small or the official campgrounds were sold out to bigger RVs. And even just pulling into a gas station thinking, "Is that roof high enough?"
So I ditched the RV, bought a VW Bus and convinced my college sweetheart that she should give up her mountain town life and come cruise around with my son and me.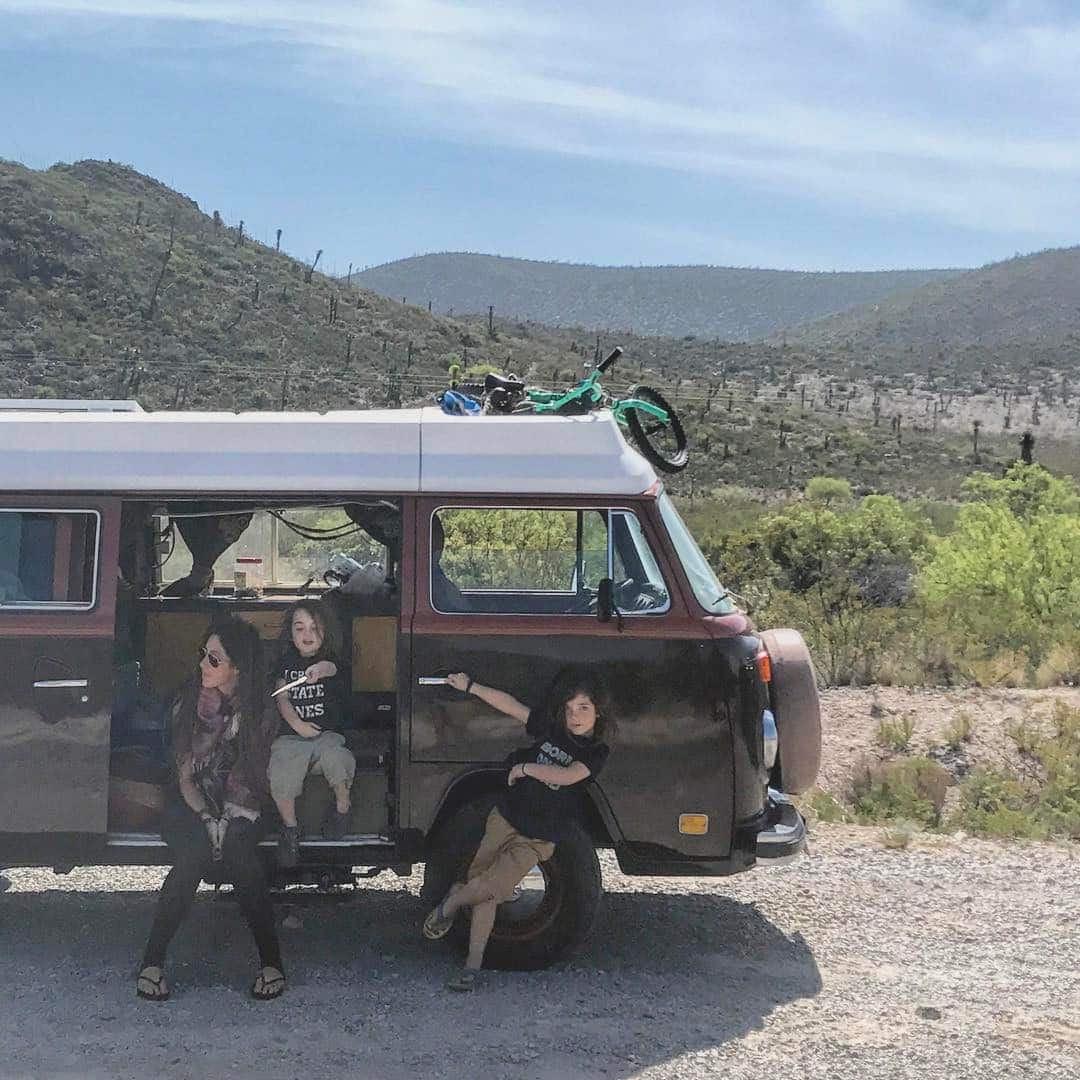 The freedom of a van was everything I wanted. It forced us to spend time outside, not lounging on a couch. It was easy to pack up and drive anywhere. We could park in any parking space, and fit into nearly every parking garage. It was just easy.
A few years and a couple of kids later we decided we needed more space, so we put the Bus in storage and got a 76 Airstream and a Ford E350 extended van. It was luxurious, but after a few more years in that, we realized we wanted to downsize again for all of the same reasons.
(Editor's Note: Check out our complete list of RV storage ideas to make the most of your small space!)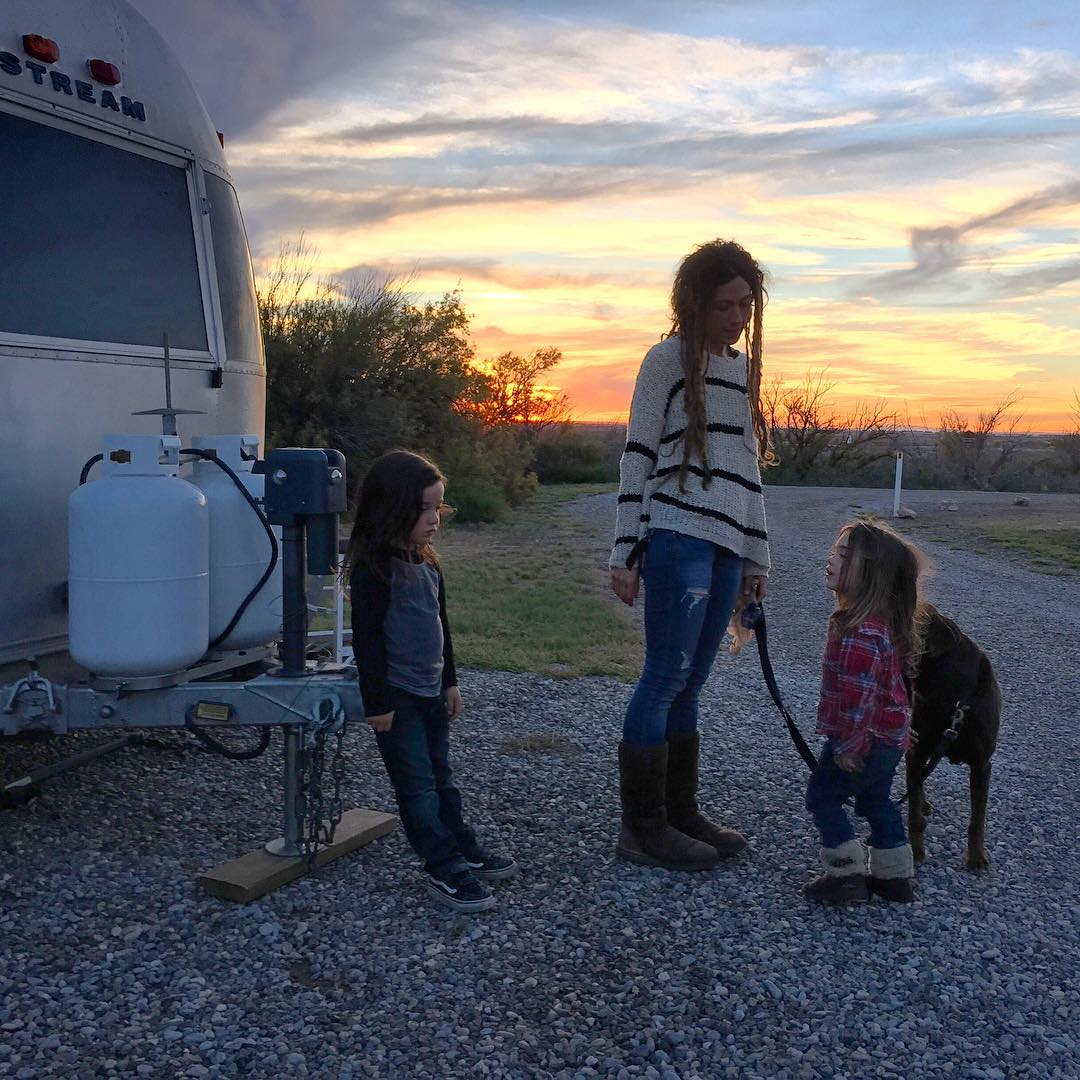 The particular vehicle aside, the whole living in a van or RV thing for us is all about being able to chase the seasons, pack up and go when we're bored, see the country and the continent and eventually the world more or less on the cheap (camping for cheap or free vs. hotel room fees).
It allows us to see friends all over the country just about any time we'd like. We get to spend a ton of time together as a family, we're teachers and students, entrepreneurs and adventurers, and all of these things together. It's a pretty great life!"
Follow the family-run Wand'rly Magazine on Facebook and Instagram!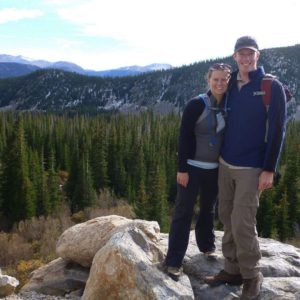 "Our answer to RVing fulltime more or less boils down to, "why not?"
We've been very fortunate to travel internationally on several occasions before our RV lifestyle began. It dawned on us that our own country had so many beautiful places that we knew next to nothing about!
We wanted to take advantage of Nik's ability to work remotely (isn't the internet great?) and see these places now, not in 30 years.
We love the simplicity of life on the road. It has made it clear to us that experiences and relationships are so much more important than things."
[tweet_box design="box_05″ float="none"]Experiences and relationships are so much more important than things.[/tweet_box]
Follow Allison and Nik's full timing adventures on Instagram!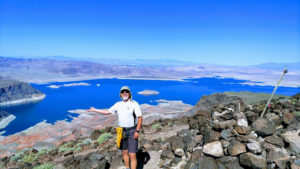 "We know many folks retire in place and struggle to find ways to fill their days so we wanted to get out of the big city where we had lived for decades and open up new horizons.
We chose to retire and live full time in an RV because it was the best way to explore the country on our own timeline, in our own home, with our own amenities (no impersonal hotels), with our cat.
[tweet_box design="box_05″ float="none"]Every day is an adventure on the road! #GoRVing #RVLife[/tweet_box]
Related Reading: Everything You Need to Know About RVing with Pets
Additionally, it's a relatively inexpensive way to travel compared to hotels and eating out constantly (once we made the initial investment into the RV).
Every day is an adventure on the road! These past few years on the road have been a great start to our retirement and is affording us the opportunity to investigate where we want to settle down again… making a new home base from which to explore further by RV."
Hand-Picked Related Content: The Best Portable Grill for RVing in 2018
"Why live in an RV?
Simple! The only way to have a complete home that moves is to put that home on wheels, wings or water.
[tweet_box design="box_13_at" float="none" author="Janet Groene" pic_url="https://www.thewanderingrv.com/wp-content/uploads/2017/05/janetgroene-e1496007571337.jpg"]The only way to have a complete home that moves is to put that home on wheels, wings or water.[/tweet_box]
My late husband, Gordon, and I were living on a sailboat in a tropical paradise. But the tropics have a hurricane season and do NOT have the family members we wanted to visit in the Northeast.
We could put the boat in storage during storm season, move into our 21-foot diesel Class C motorhome, and roam the highways just as freely as we'd sailed the seas.
For 10 years we were happily homeless, making our living as travel writer and photographer team. Now widowed, I continue to travel, write and blog solo. My latest book, published 2016, is below."
Janet is an author of several RVing books, including The Survival Food Handbook and Living Abroad Your RV.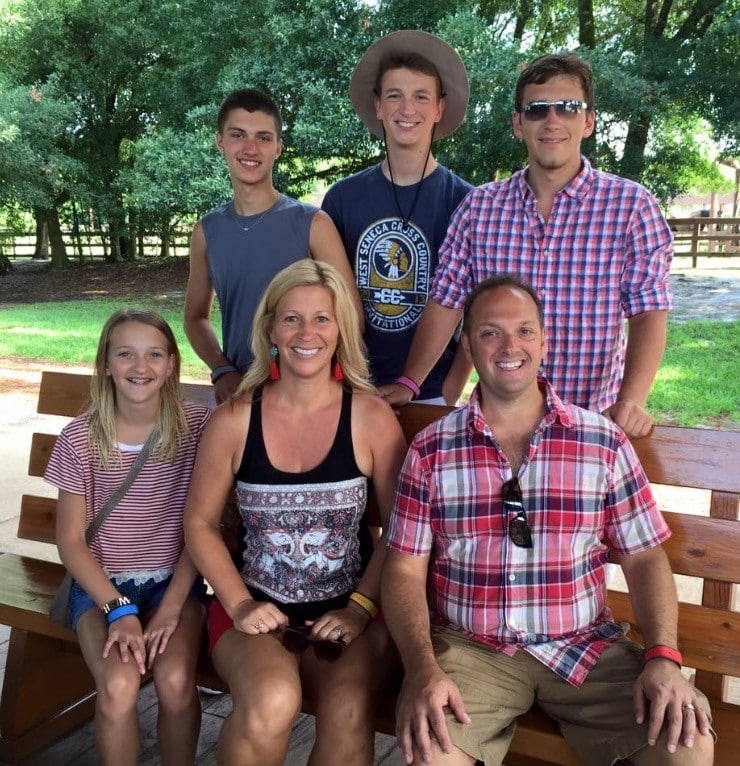 "It was Mother's Day 2008.
We had always dreamed of RVing when we retired, but something changed.
Time. It was passing by too quickly and we weren't taking advantage of it… we were just letting each day pass us by, busy in our busy lives. Monday turned into Sunday and back to Monday again.
[tweet_box design="box_05″ float="none"]Time. It was passing by too quickly and we weren't taking advantage of it…[/tweet_box]
It's not that we weren't happy, but our priorities were becoming confused. It felt like we were living to work and not working to live. Five days a year were all we were taking off for a vacation. Not enough!
The kids were getting older in front of our eyes and we wanted to slow down the clock.
Fortunately, we're self-employed, which has pros and cons. One of the pros is that you are in charge of your own schedule. For a long time, this was scary for us to step away from the business we were building. We were nervous to "not be there" for our patients.
However, how can you take care of others if you are not taking care of yourself?
We brainstormed many ideas… vacation clubs or an annual cruise? All expensive options for a family of six when you factor in flights and food. Some little voice in our heads told us to check out an RV, why wait until retirement?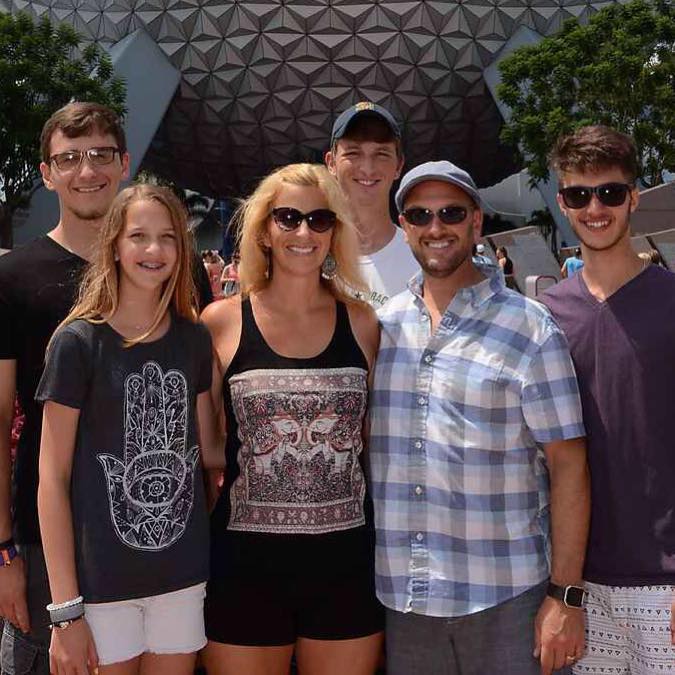 So, Mother's Day 2008 we packed the kids in the car and went to our local dealership and spent the afternoon researching Rv's. By Monday, we were the proud owners of a Winnebago Access.
It was perfect for our family. It had enough sleeping space for all six of us, we could save money by making a lot of our own meals, it could be used as a mortgage interest tax deduction, and we could easily see North America as a family!
All in all… it could be our hotel on wheels!
Now four Rv's later, we are currently in a 2016 Grand Design Solitude 5th Wheel. We've had to go bigger as our kids got bigger. We love that thing. It may be just a thing, but it is full of memories. Our 2017 Rv trips are in full swing!
This is an exciting time in our household. What memories will be made this year? What adventures will we have? What a different way to think than how we used to… we now still live to work (we do love what we do), but our priority is on working to live. Our joke is, "we work for gas money". Lol. Happy Rving!"
Follow all six members of the Pignatora family on Facebook and YouTube!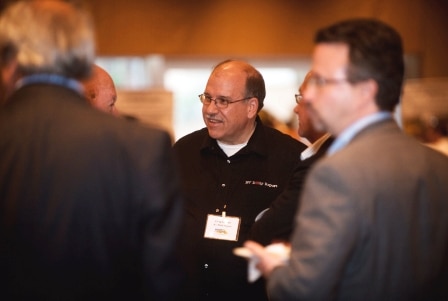 "I lived full-time in an RV for three years traveling the country interviewing dealers, suppliers, manufacturers, campground owners and RV owners. However, I came off the road in April and the RV is about to be sold.
I started my journey in 2014 after covering the industry for 14 years from behind a desk. I decided I could work anywhere I had electricity and an internet connection. It was an eye-opening experience to be a consumer using the products, staying at campgrounds and living the lifestyle.
I wouldn't say my RV living experience was all sunshine and roses, but it allowed me to convey the frustration RV owners have with various segments of the industry in a series of editorials I wrote last year called the RV Industry Death Spiral."
8. Cherie & Chris from Technomadia
"We live in an RV because we like living in the perfect spot, and that's a variable that changes often."
Here's a more in-depth intro video from these two technomads:
Follow Cherie and Chris on YouTube and Facebook!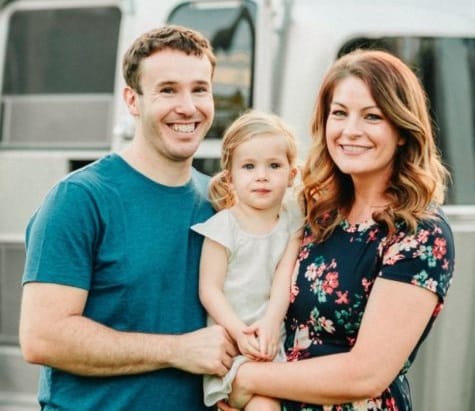 "After the birth of our daughter, our life perspective changed.
As new parents, we dreaded dropping her off at daycare all day and the only time we saw each other as a couple was right before bed. Our weekends were filled with house chores and playing catch up.
I still remember getting into that big SUV every morning for work and feeling like I needed to be a good mother.
In tears, I pulled away from our house that we worked all week to pay for knowing someone else would be rocking my baby that day. We realized we were working to pay for stuff and not really spending time as a family. We then decided to downsize to create more family time.
While discussing how small of a home we wanted, we discovered the RV lifestyle.
An "aha moment" went off in our heads and we thought: "Why not downsize and put our home on wheels to travel?!" That marked the beginning of an adventure for our family and after 2 years we look back with no regrets."
[tweet_box design="box_13_at" float="none" author="Marissa & Nathan" pic_url="https://www.thewanderingrv.com/wp-content/uploads/2017/05/Marissa-Nathan.jpg"]Why not downsize and put our home on wheels to travel?! #GoRVing #RVLife[/tweet_box]
Follow Marissa, Nathan, and their adorable daughter Hensley on Instagram, Facebook, and YouTube!
"We knew we would be leaving the state (CA) for Grad School. So instead of renting another house for a couple years we purchased an RV and decided to take life on the road.
We're still online students and we're still going to move for Grad School, but until then, we're just gonna keep moving."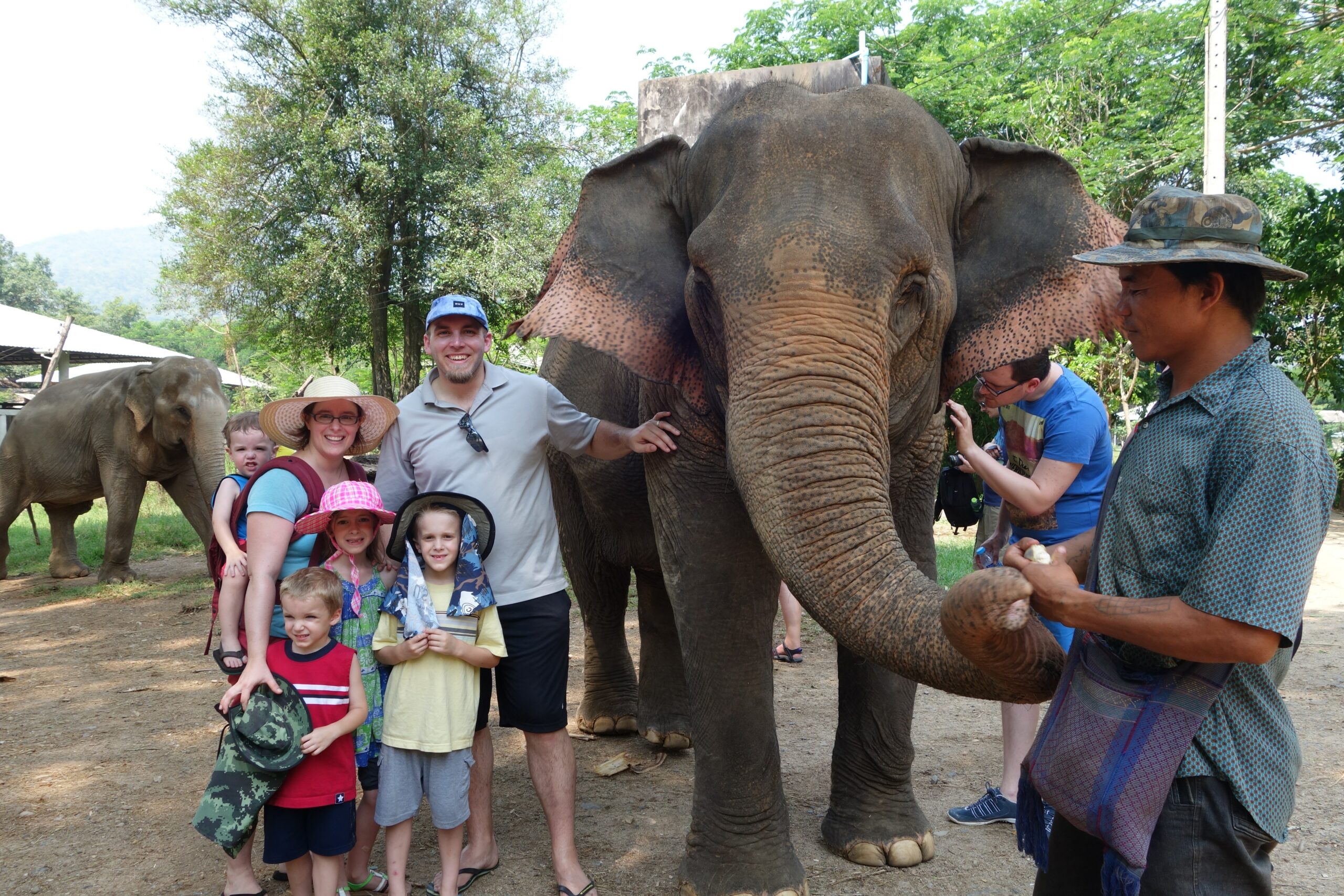 "We decided that full time RV living would save us money and be more flexible while we were traveling a lot.
With four kids we wanted to take more toys (legos mostly) and more clothes than they can fit in a backpack they can carry, so opposed to flying around the country/continent we decided to drive.
When we were first thinking of driving to Mexico we figured a motorhome would be better for us as the kids could use the toilet while we were driving and we wouldn't have such an awful experience being cooped up in a minivan for 50 hours (or an airplane for 12).
Turns out we're really happy with it.
However, we often refer to it as a GREAT house but a terrible car as the size is perfect for our living needs but it's just too huge to move around and costs too much fuel.
If I had to do it over again I'd go with a smaller rig and spend more time living outdoors a good tent/screened-in tent would be a better investment with a smaller rig.
[tweet_box design="box_13_at" float="none" author="Paul Kortman" pic_url="https://www.thewanderingrv.com/wp-content/uploads/2017/05/paul-kortman.jpg"]If I had to do it over again I'd go with a smaller rig and spend more time living outdoors.[/tweet_box]
All that being said we're planning on living full time in our RV for the next 5 years or more. However, we are going to park it permanently."
Follow the Kortmans on Facebook!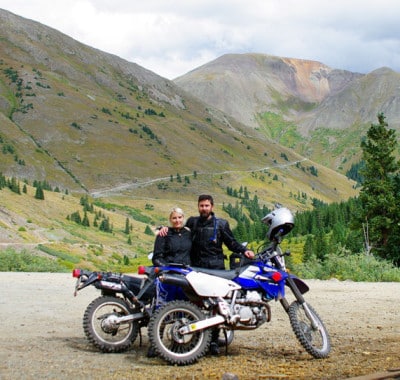 "In the Summer of 2007, I returned from living in Argentina for a year by myself and enrolled full time at PSU upon my return to Portland to finish my Bachelors.
After a short time back in the US and not really enjoying my classes or major at PSU, I realized that I didn't want to spend any more of my life in Portland, and in fact I had nowhere in mind that I wanted to live at all, but I knew I wanted to see the US before I moved away from it for good.
Ross and I were roommates at the time and had been good friends for years. We pretty much only hung out with each other in Portland, and neither of us had any connections there, so when I told him I wanted to get an RV and leave to see the country, he decided to go with me and we started our travels and relationship at basically the same time.
We initially bought a 1974 C Class RV that was only $900. It was in driveable but rough condition (and ugly) so I took the opportunity to live in it for a month in Spokane where I had some friends I wanted to see before we hit the road.
I re-did the interior, painted cabinets, decoupaged walls, made blackout curtains, had the carburetor worked on and generally got used to living in the space and how to deal with the moody 40-year-old appliances.
Back in Portland, Ross worked on selling off the rest of his things, his car, and setting up an arrangement to work remotely for a tech startup he had been working for.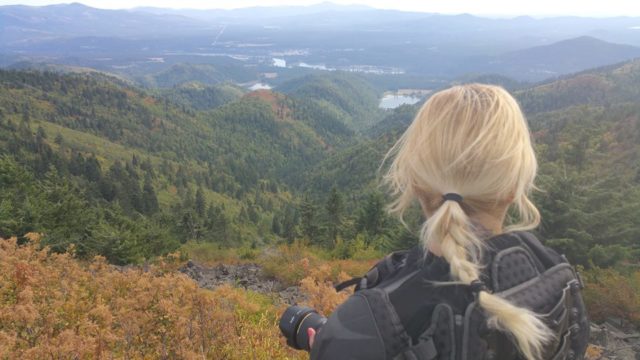 A week or so before we were due to leave the apartment, I returned to Portland to help with a yard sale to get rid of the rest of his stuff (I already didn't have anything after living in Argentina) and luckily one woman who had just moved into the neighbourhood bought almost all the furniture at once.
We attempted a going away party where nobody showed up except his guitar teacher, and we hit the road one rainy evening, October 12th, 2009.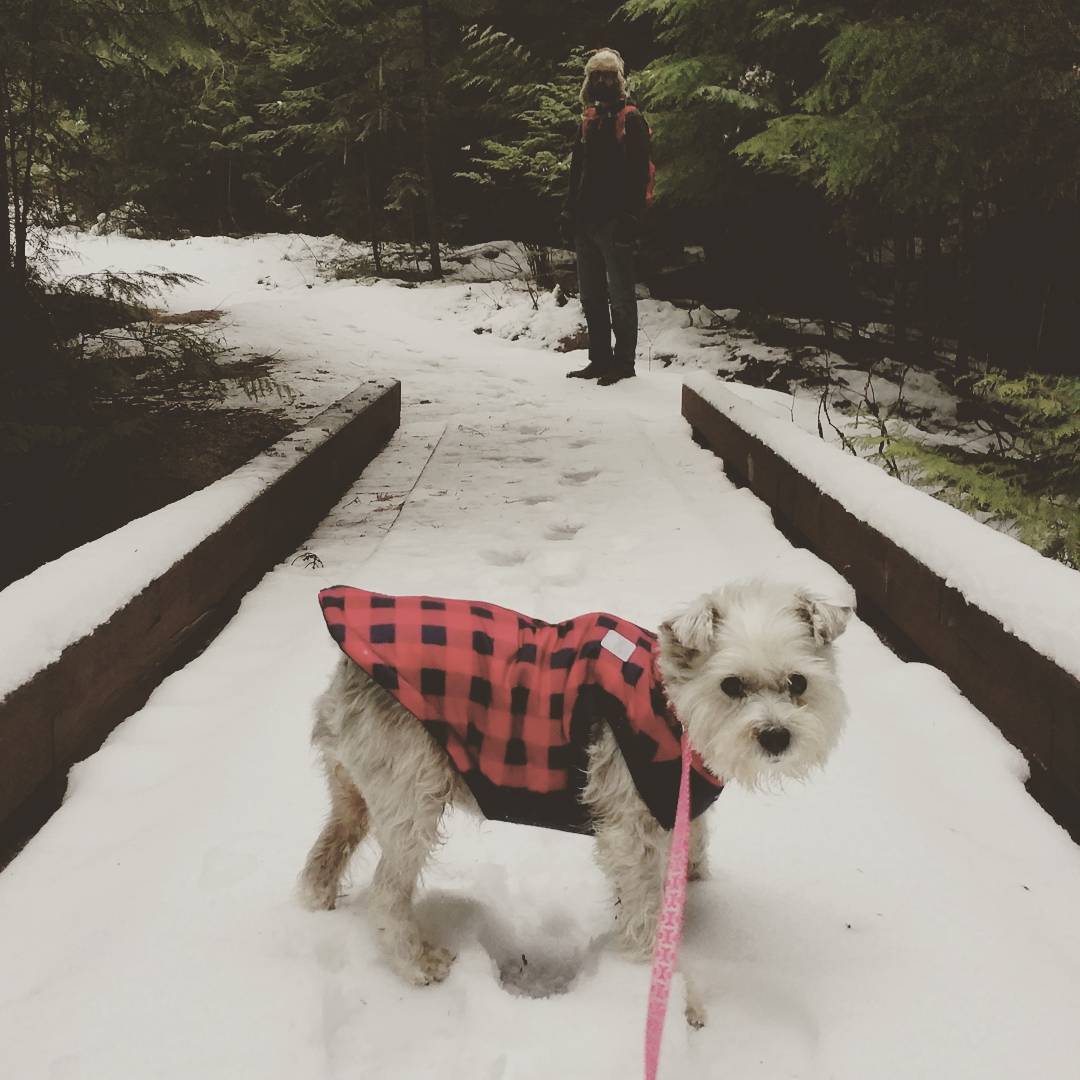 Before we even got out of the metro area, the RV wouldn't start but lucky for us an old trucker at a truck stop showed us how to bang on our starter with a hammer to get it going.
We managed like that all the way to central Nevada where the alternator went out on us, we replaced that after a week long stay waiting on parts, and made it all the way to Slab City (Niland California) before having to replace the starter.
We got stuck in snow in New Mexico, learned that our tires were too bald to drive in rain in Texas (especially with no antilock brakes), had to cover it with a tarp when it rained, and soon enough the differential started to go out.
We made it all the way to New Orleans in that thing nevertheless and there is where we decided that despite the troubles, we were ready to upgrade to a bumper pull trailer (and something with an air conditioner) and do the RV thing indefinitely.
We bought a 2006 32 foot trailer in decent shape for just $5,000, a few weeks later a dually truck, and we were officially committed to the RV life. Nearly 8 years later, we're on our 3rd RV, a 2013 Toy Hauler and it just keeps getting better."
Follow Nerds on the Road on Facebook and Instagram! And check out Kat's photography if you need pictures taken. 🙂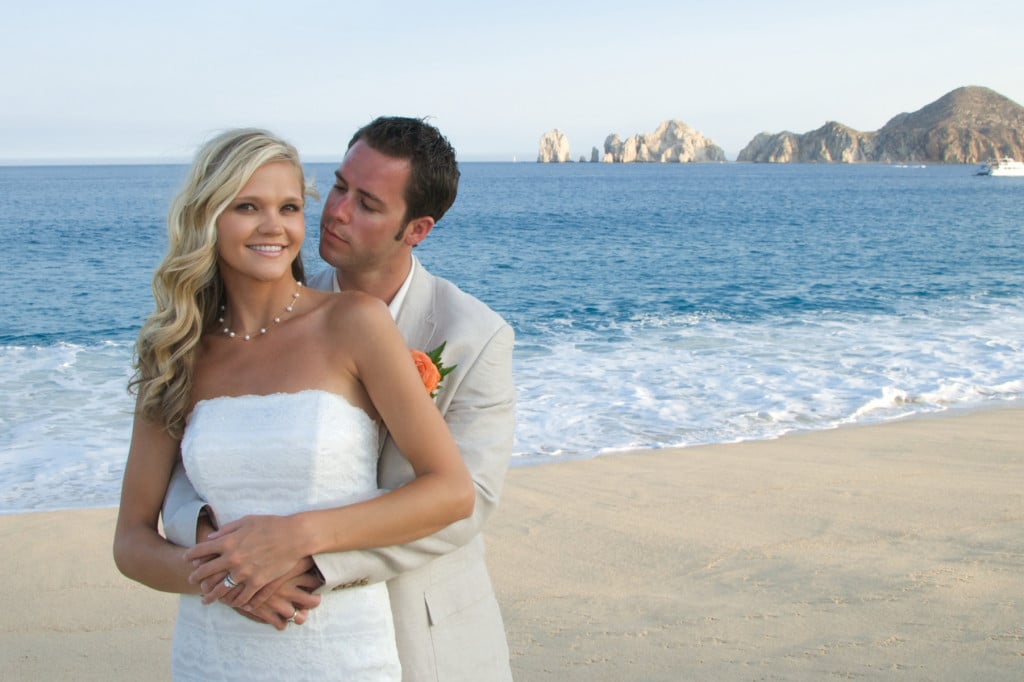 "Living in the "burbs" just wasn't cutting it for us.
Our plans of starting a family faced an unexpected delay, we didn't like slaving away in our yard and doing housework every weekend and had a house full of items we didn't ever use.
And we had an extreme love of travel.
However, we also love the comfort of home and being with our 2 dogs. So when we got the idea to have the best of both worlds and have a traveling home on wheels… it was a no brainer for us!"
Follow Lindsay and Dan on Facebook and Instagram!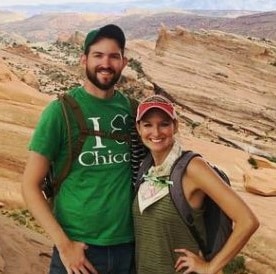 "We were living in St. Louis, MO, away from both of our families in Peoria and Chicago.
We felt like we were living in the car while we were always driving home to see one family or the other. We joked that we'd be more comfortable doing all that traveling in an RV.
[tweet_box design="box_13_at" float="none" author="Mike & Steff" pic_url="https://www.thewanderingrv.com/wp-content/uploads/2017/05/Mike-Steff.jpg"]We joked that we'd be more comfortable doing all our traveling in an RV.[/tweet_box]
Over a couple of years, the joke turned into a serious discussion about selling most of our possessions and hitting the road full-time. June of this year (2017) marks one year of full-time RVing for us.
The funny thing was it all started because we found it difficult to see our families. Now we have been away from them more than ever. Fortunately, our parents have come out to visit us on the road."
Follow Mike and Steff on Facebook and Instagram!
15. Sonya and John Schweitzer from Itinerant Life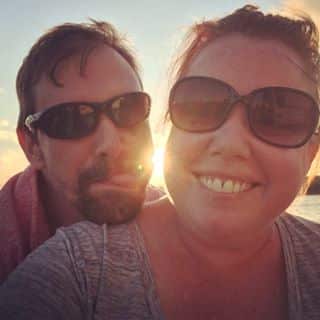 "We are fortunate to be able to work remotely – my husband in security engineering and me in marketing.
My husband became ill a few years ago unexpectedly, and everything was put into perspective. We decided we should get out and explore the world. Why wait until we retire?
[tweet_box design="box_13_at" float="none" author="Sonya & John" pic_url="https://www.thewanderingrv.com/wp-content/uploads/2017/05/sonya-john.jpg"]We decided we should get out and explore the world. Why wait until we retire?[/tweet_box]
We are a little nomadic at heart – having lived all over the world already. But now we have two dogs who we also want to have with us as we travel, so RVing made the most sense."
Follow Sonya and John on Facebook and Instagram!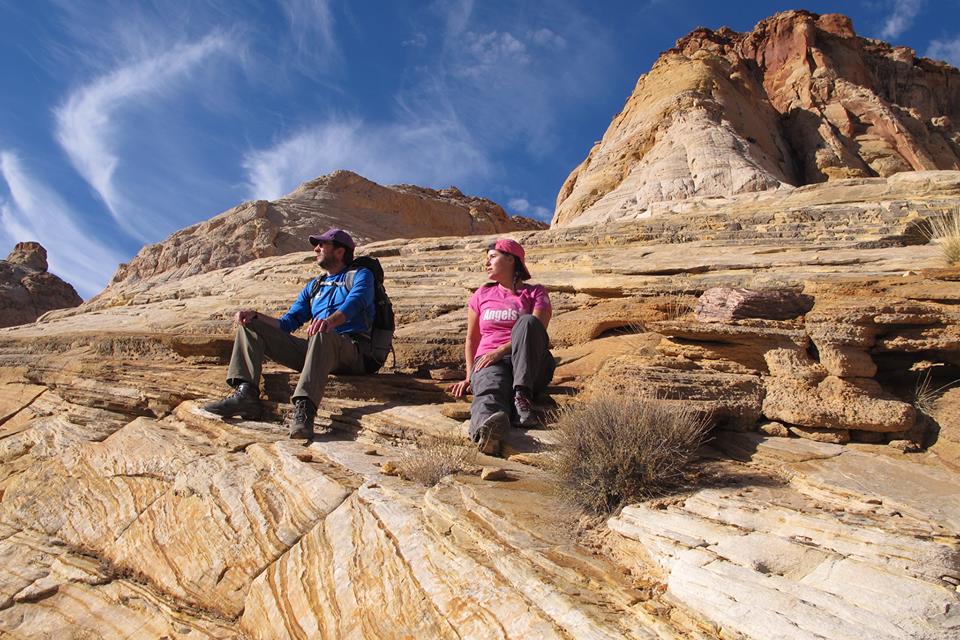 "After years of working long days in corporate America, a new marriage, new house that had a major slab leak, a back injury and a series of flu and bronchitis illnesses, we were like 'seriously, what are we doing?'
Even though we were living the typical suburban life we weren't living the typical American Dream, and no matter how hard we tried it just wasn't panning out.
Then it came to us – we should see North America in an RV and discover what else is possible! So we quit our jobs, sold our possessions, and left everything behind."
[tweet_box design="box_05″ float="none"]See North America in an RV and discover what else is possible. #GoRVing[/tweet_box]
Follow Camille on Facebook!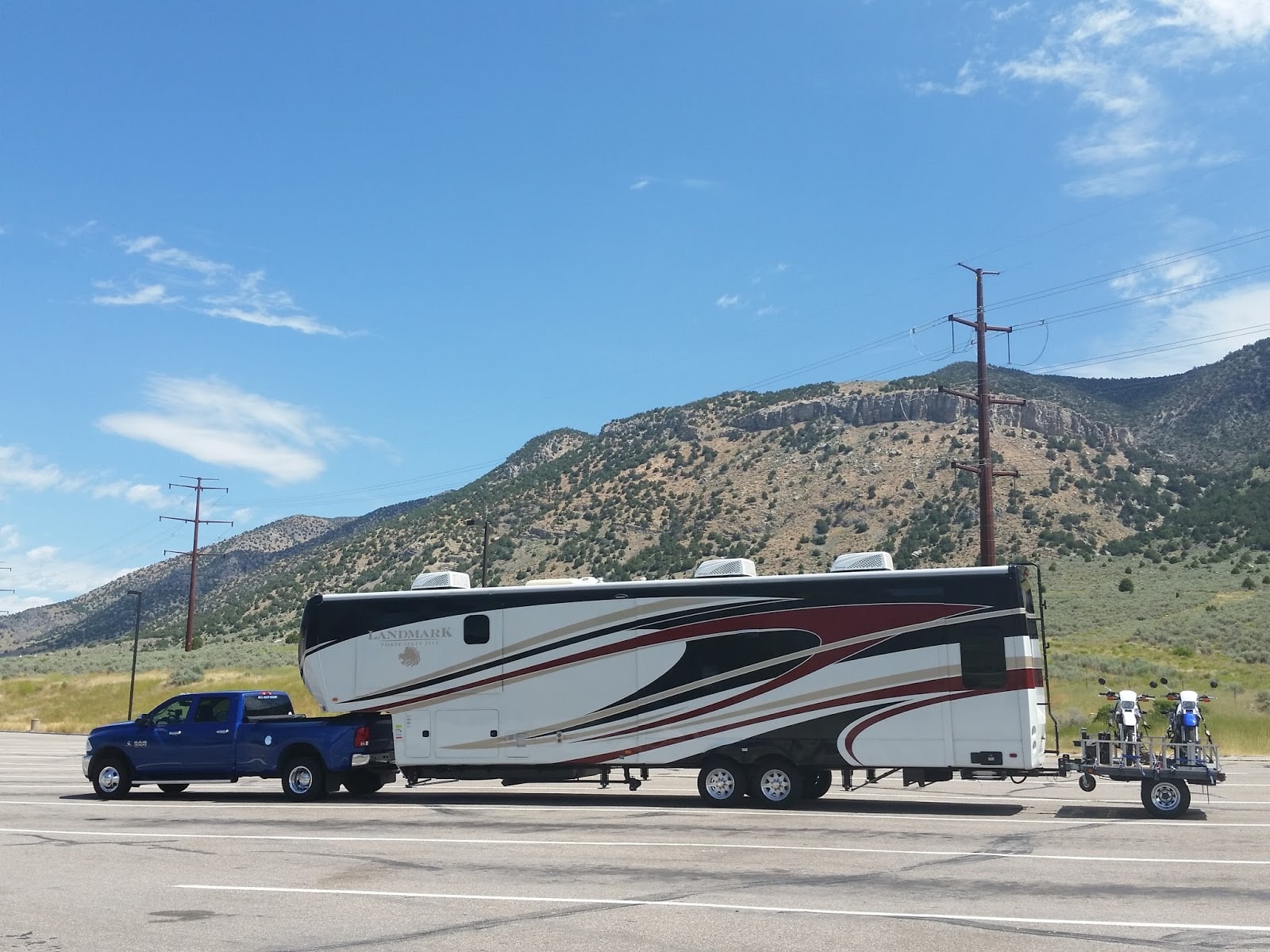 "We served our Country for a combined total of 40 years and really had no time to truly travel and enjoy our Country we helped defend and protect. We wanted to travel and explore while we are still young and somewhat fit.
We realize and learned there is no promise of tomorrow. While we could have the big house, when we'd die, that would be it. By RVing, we'd have the memories and continued stewardship of educating those who can't travel. We RV because we enjoy the freedom."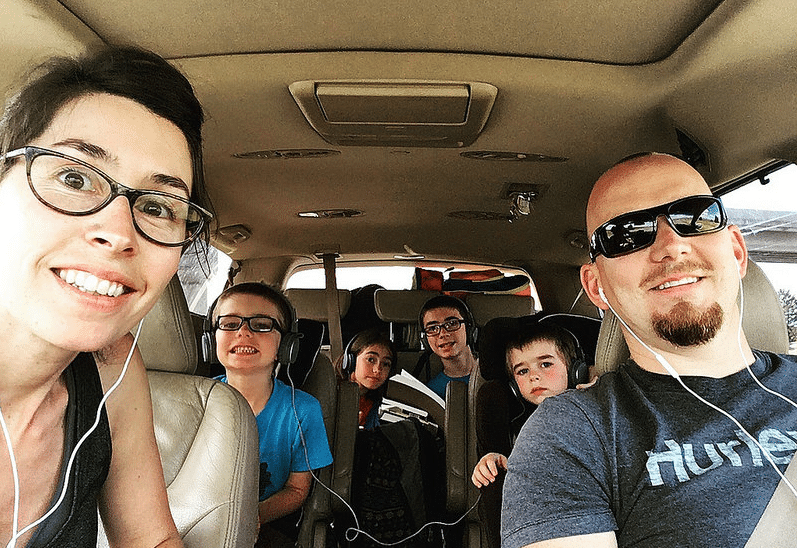 "For us, the seed was planted on one of our many family road trips.
My husband and I started playing around with ideas of how our family of 6 could have a perpetual life on the road. Living in an RV was a logical conclusion.
What really blew our mind was how many people were already living out our plan! Learning from those who went before us helped provide the confidence that it could be done."
[tweet_box design="box_05″ float="none"]It blows my mind how many people are already living in an RV![/tweet_box]
Follow Heather on Instagram!
19. Laura and Josh Mascola from Travel Explore Uncover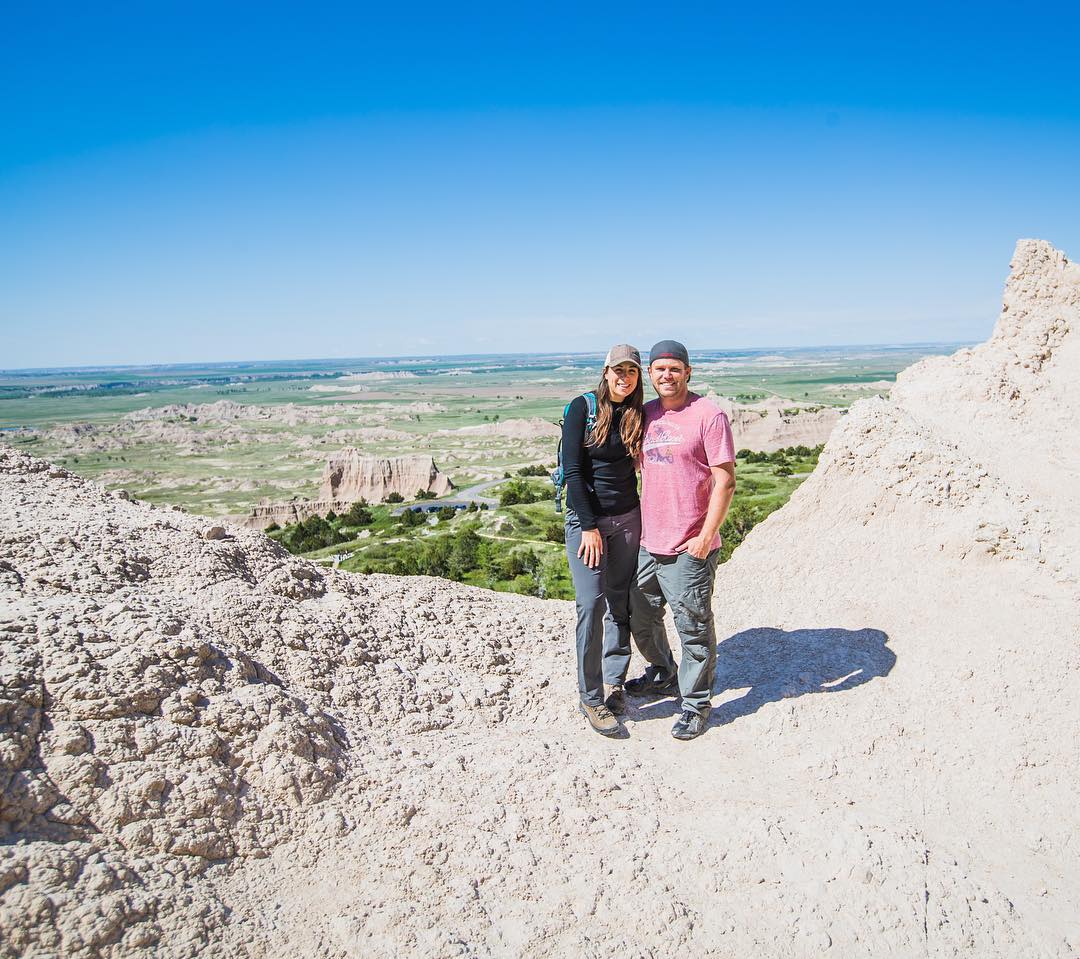 "My fiancé, Josh, initially came up with the idea to begin full-time RVing. He knew there should be more to life than wasting away inside a corporate office, 40 hours per week.
The idea sounded great to me, yet scary at first. I lived by routine and felt stable with my regular paycheck.
However, what I often remind myself, is that this is your ONE life. Shake it up. Do something unexpected. Trust the process. Go live in an RV…
[tweet_box design="box_05″ float="none"]This is your ONE life. Shake it up. Do something unexpected. Trust the process. #GoRVing[/tweet_box]
Now, every day is a new routine. Every day we make new friends. Every week we have a new backyard. Every moment makes us stronger and heightens our appreciation of what life and our country has to offer."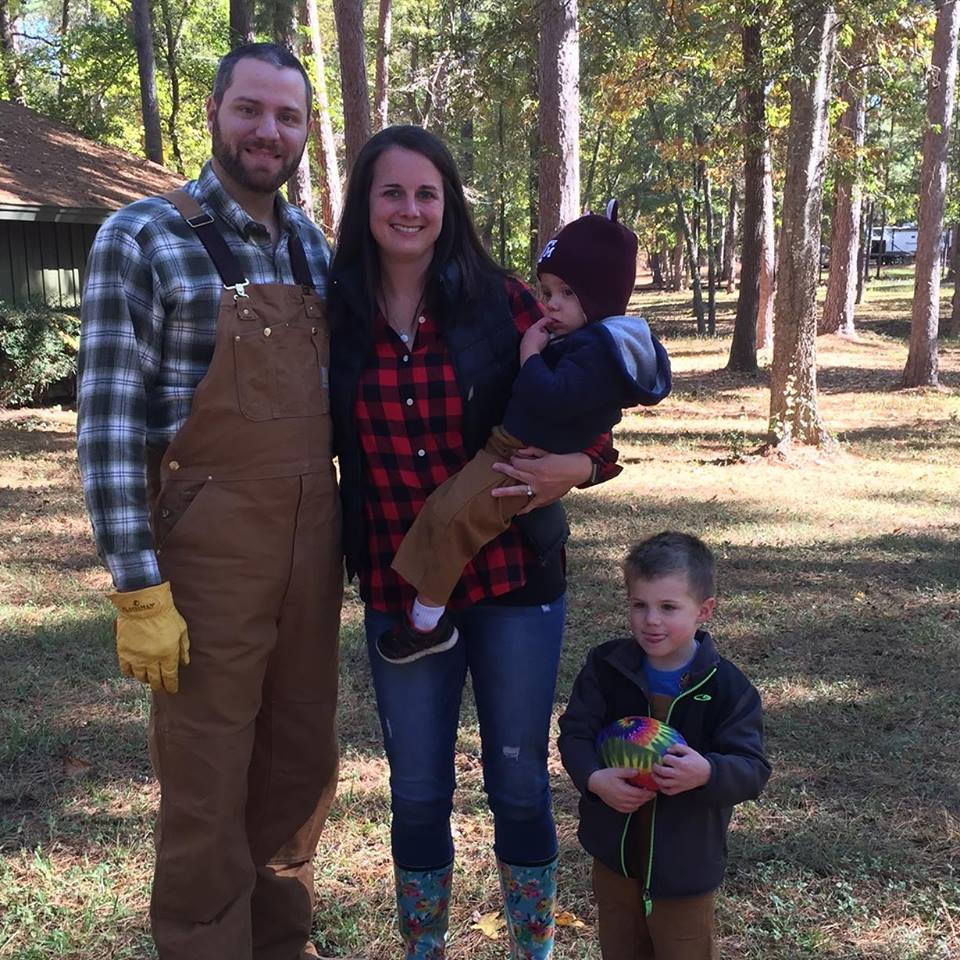 We bought our RV originally for the the purpose of enjoyment- taking it out on weekend for family trips, etc. RV living full time never crossed our minds, or mine, I should say until about a year into our ownership.
Each time we took the RV out we found ourselves never wanting to return home. We loved the simplicity of life that accompanied our time away in the RV. This feeling really made us start thinking about our long term life goals and how we could financially achieve them.
[tweet_box design="box_05″ float="none"]The biggest regret of most full-time travelers is not doing it sooner. #LiveWithNoRegrets[/tweet_box]
We eventually want to buy a large plot of land out in the country. We will live on the land in our RV for a bit and eventually build a (smaller) home. We also have dreams of opening up our own RV Resort one day.
Until then, we are soaking up the simpler life (and saving as much as we can). Living in our RV full-time has taught us so much about life. We are currently living in a local State Park and are park hosts there.
Our kids (2 yr and 4 yr olds) love it. We go hiking and biking everyday and have campfires every night.
It has really drawn our family closer together and I hope we are instilling some good values and memories in them. We still pack up and go on trips on the weekends and are just enjoying life! Our only regret is not doing it sooner!"
Follow the Hoopers on Facebook!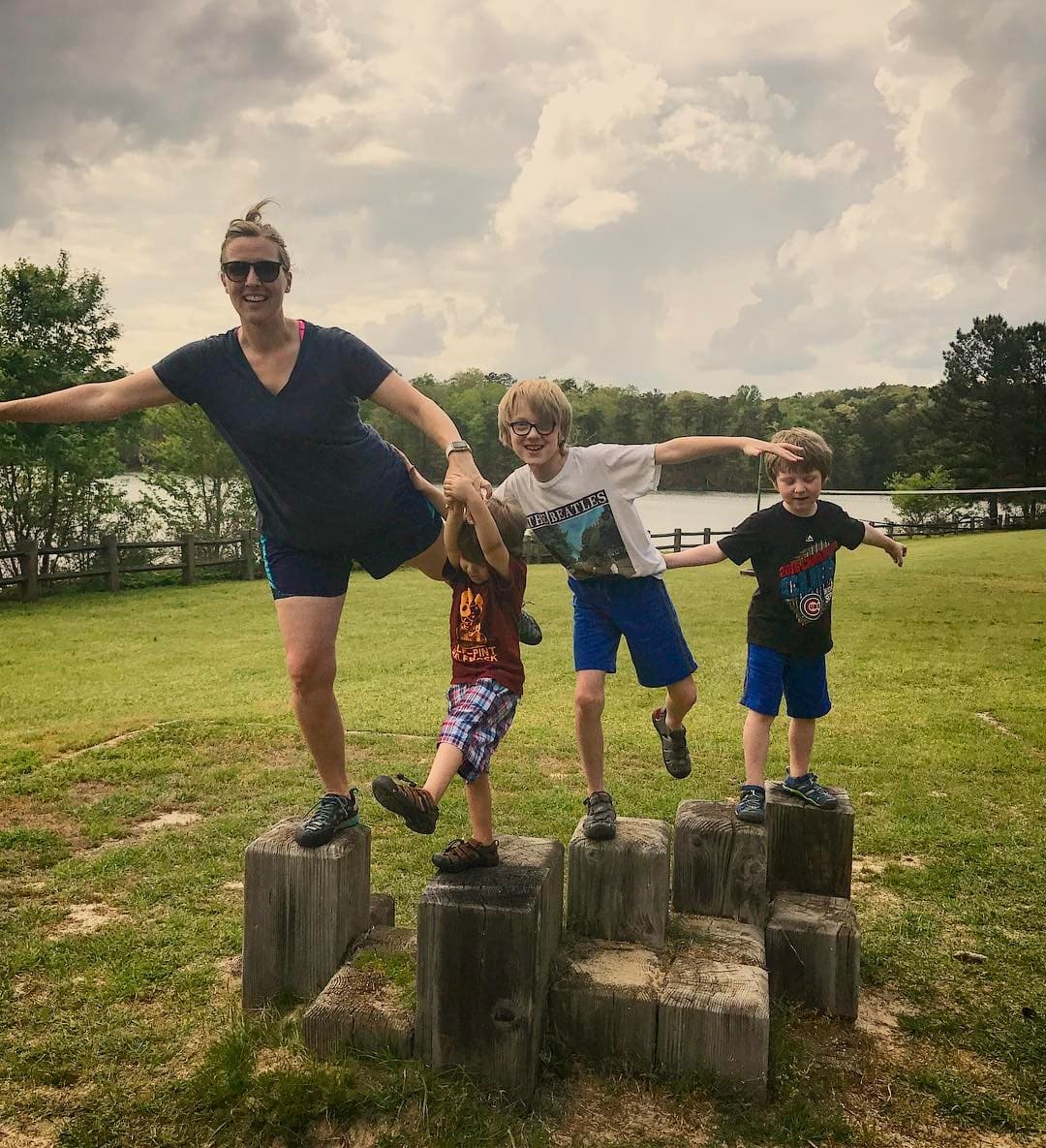 "We've always desired to travel and explore, and it wasn't until 2015 when the last few pieces fell into place that we begin to discuss full-time RV life seriously. From there we began to discuss converting a school bus as an alternative to purchasing a Class A RV.
However, all the above is only the underlying support to a desire we had for our children, and that was the chance to learn about life, nature, our country and our National Parks up close and personal. Our eldest has ADHD and giving him the chance to explore and learn at his pace has always been the preferred method, and since we were already homeschooling, the transition to life on the road wasn't too shocking.
Full-time travel has given us a new lease on life as a family and as individuals. It is not without its challenges, but at the end of the day, we know this is what we should be doing and it's not lost on us how fortunate we are to be able to own a business and believe in a life that allows us to experience so much."
You can find Our Wandering Family on Facebook, Twitter and Instagram!
22. Jennie and Jerl from Our RV Trip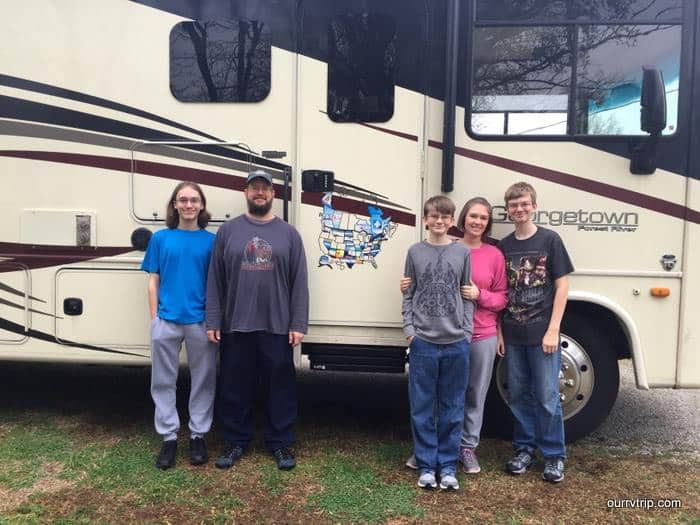 "Why did we decide to live in an RV?
Well, the short answer is that we couldn't find a reason not to.
The long answer… I was watching one of those morning news shows and saw a family who sold everything, bought an RV, and traveled to all 50 states in 13 months.
[tweet_box design="box_05″ float="none"]Why live in an RV? The better question is, why not? #RVLife[/tweet_box]
I'd never thought about doing anything like that. Ever. I didn't even know that was a possibility.
That night, after our three boys went to bed, I started telling my husband about That Family. We both loved the idea of showing the boys our country and neither one of us could come up with a valid reason not to do it. Not a single reason.
So, the next day we started putting things in motion. It took us a year and a half to research, plan, and find an RV that worked for us. We've been living full time in our RV for two years now and we absolutely love it!! We've seen 41 states and have no intentions of stopping once we reach all 50 states!!"
Follow Our RV Trip on Facebook!
23. Heath and Alyssa Padgett from Heath and Alyssa

"In 2014 we quit our jobs, bought an RV and went on a year-long road trip across America where I worked a job in all 50 states for a documentary we filmed called Hourly America.
After a year of living and traveling in an RV, we realized this lifestyle was awesome and we didn't want to give it up. We paid off a bunch of debt, built up our video production business, and continued traveling full-time in an RV.
Along the way we've shared our journey on our blog, our Hourly America documentary, a weekly podcast, and travel vlogs (the whole vlogging thing is new to us*)."
Follow Heath and Alyssa on YouTube and Facebook. Also be sure to check out their documentary and the RV Entrepreneur podcast!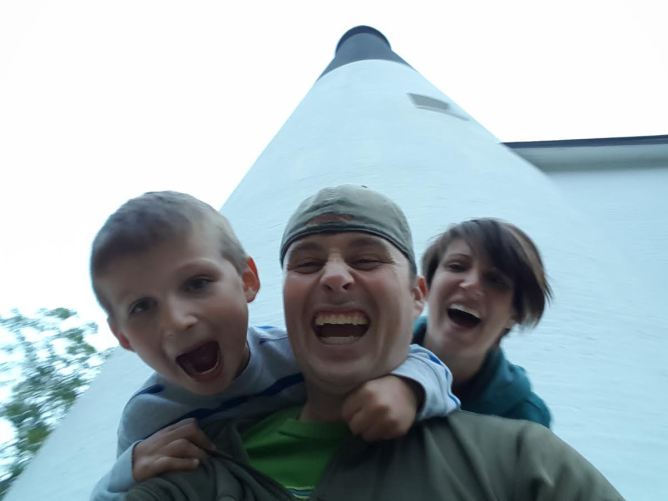 "Ever since high school, my husband and I have always enjoyed "just driving around". We were both homebodies with a love for exploring new places! As a child, when my family took road trips, I would stare out the window longingly at the houses passing by. I always told my parents, "If that was our house, we'd be home now." I have been known to still do that as an adult.
We were a typical American family of three, living a blessed life in a house in the suburbs, dreaming about one day traveling after retirement. We came to the heart piercing realization that our travel dreams may never happen when we received some earth shattering news on a frigid December day. With a lot of faith and prayers, we are here and healthy, and have decided there is no better time than NOW to travel this great nation!
So, instead of investing in our retirement for the year, we invested in something much more amazing…memories!!"
Follow Heather's travels on YouTube, Instagram, and Facebook!
25. Bill and Kayla from The Wandering RV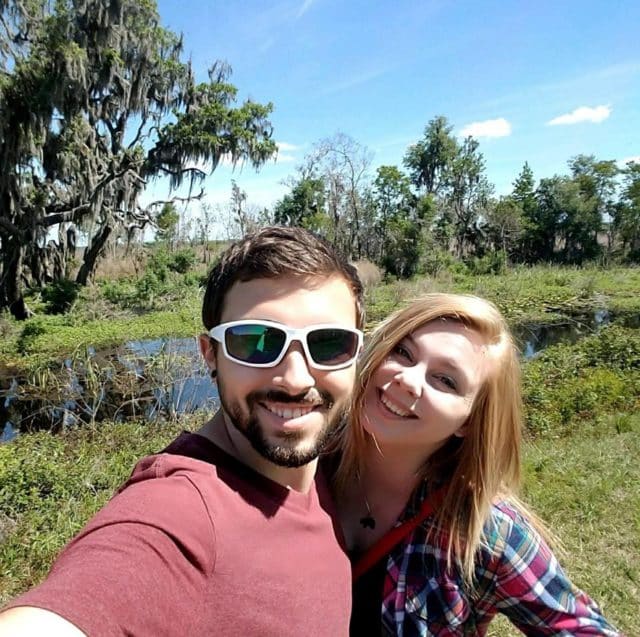 Hey, that's us! 🙂
We couldn't talk about RV living and the mobile lifestyle without giving our own two cents.
You can read our full story here, but in a nutshell, we decided to full-time RV for two major reasons:
We LOVE travel. Our biggest dream is to explore every nook and cranny of the world.
We didn't know where we wanted to live, and we had no desire to settle anywhere.
Plus, we were able to save money by living in a camper and, having just graduated college, we had a lot of debt on our shoulders. Not to mention the $15,000+ in credit debt we racked up getting our businesses off the ground.
(Which, BTW, is now cut in half and dropping every month. It was worth every penny because that money helped us build online businesses that pay for everything we do.)
Besides… life is too short to put off your dreams. Never stop dreaming, and never stop taking action.
[tweet_box design="box_05″ float="none"]Life is too short to put off your dreams. #DreamBelieveAchieve[/tweet_box]
Follow The Wandering RV on Facebook, Pinterest, and Twitter!
Wow…
Was that amazing, or what?
These are some truly inspiring and heartfelt stories. People from all walks of life are ditching the suburbs to fulfill their wildest dreams and see the country, one state at a time.
If you felt touched, inspired, or awed by any of these stories, please take a moment to share them so we can spread the word of the RV lifestyle and help more people follow their dreams.
If you're a full-timer, feel free to share your story in the comments! If you're not, leave a comment anyway of what you think of these incredible stories.
Read Next: 
Like this article? Pin it!