Need a Camper Insurance Quote?
Good Sam is the #1 best rated RV insurance provider for 2022.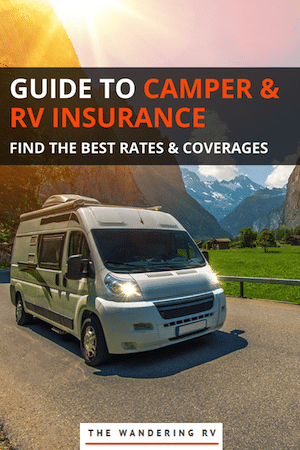 Living the RV lifestyle? Want to save on insurance?
Always compare different insurers. The comparison process ensures that you not only get the best rate, but also the coverage you need.
When searching for the right RV insurance policy and provider, big names in car insurance probably come to mind—but how can you tell whether these providers offer you the best policy at the best rate?
This guide will help you find the best camper insurance for your specific needs. Let's dive in!
Table of Contents
Note: Some of the links in this article are affiliate links. This doesn't cost you any more than normal. Read our disclaimer for more info.
The Best Insurance Providers for Campers in 2023
Let's have a look at the best RV insurance providers, the types of insurance for motorhomes they offer, costs, and more to highlight just what makes them top contenders. Then you can click your favorite for an instant RV insurance quote.
State Farm Insurance
As a household name in the auto insurance industry, State Farm also provides motorhome insurance. Their basic RV insurance policy covers bodily injury and property damage, losses incurred when your motorhome is in storage, and roadside help in an emergency. 
State Farm's premium rates for drivers with poor records are often lower than those of other big-name insurers. However, if you have poor credit, State Farm may not be the option for you. They also don't insure travel trailers.
Good Sam RV Insurance
Unlike State Farm, Good Sam specializes in recreational vehicle insurance. They offer options like full replacement costs for Rvs that are stolen or damaged beyond repair. Good Sam RV insurance covers outer attachments for truck campers, as well, including awnings. They even have storage options to help you save more when you're not using your motor home. Customers have almost no complaints about them, aside from their gratuitous junk mail.
>>Click here to get a free quote from Good Sam.
RVInsurance.com
RVInsurance.com provides RV insurance coverage for all types of campers, motorhomes, and RVs. Like Good Sam, coverage for travel trailers and RVs is their specialty.
They are one of the highest-rated campervan insurance companies available, and they partner with other insurers to get you the best deal for the best value. However, if you're looking for information on their website, you may be better off calling them—there isn't much detail online. We couldn't even find an email address.
>>Click here to get a free quote from RVinsurance.com.
Progressive Insurance for RVs
When it comes to Progressive insurance for RVs, you have plenty of discount options, from multi-policy to original driver discounts. They offer the standard comprehensive and collision coverage, plus extras.
The downside is that many types of coverage you may think are a given—like roadside assistance—are add-ons. Many customers also say Progressive denied their claims when their RV was damaged, even in natural disasters like floods and storms.
>>Click here to get a free quote from Progressive.
National General Insurance for RVs
It's easy to sign up for a policy with National General, and they cover all the basics, including collision and comprehensive. They're also a less expensive option for the specialized coverage you need for your campervan.
The downside is the add-ons. Roadside services, towing, and other services and coverage options are part of special packages, not standard.
>>Click here to get a free quote from National General.
Do You Need RV Insurance?
If you own an RV, many states require that you have RV insurance. However, coverage requirements vary by state, so make sure you do your research before you purchase a policy.
At a minimum, you need bodily injury and property damage liability insurance, that way you're covered if you get in an accident and cause harm to a person or their property.
Most states require coverage for Class A and B RVs. If you have a Class C recreational vehicle, you may not need insurance.
Enter your zip code below to get the best rates on camper insurance near you now:
Coverage Types for RVs and Campers
While some coverage types are mandatory in certain states, you can add others as you feel you need them.
Drive-able RV Coverage
Bodily Injury & Property Damage Liability
Uninsured Motorist
Personal Injury Protection (PIP)
Limited Property Damage
Property Protection
Comprehensive
Collision
Trailer Camper Coverage
Specialized Insurance: Motorhome Coverage Options
While your options may vary depending on your insurance company, most providers offer similar packages and add-ons to their standard packages.
Total Loss Replacement
Total loss replacement helps you cover the cost of your camper if it gets stolen or totaled. There are three types of total loss replacement. Actual cash value coverage only pays you what your lost or damaged RV is currently worth, which doesn't usually cover the cost of a replacement. Agreed value covers your RV for a specific amount stated when you signed up for your policy. 
Full loss replacement, while the most expensive type of total loss replacement, covers everything if you buy a similar make and model to the old one.
Custom Equipment
Custom equipment coverage only applies if you've installed after-market equipment. Custom equipment insurance usually tops out around $1,000, which means that if you've made a lot of upgrades, your insurance may not cover all the damage.
Make sure to keep track of what you've done to upgrade your motorhome—you could spend as much on repairs as you would without coverage.
Vacation Liability
Vacation liability coverage goes hand in hand with comprehensive and collision coverage. Most insurance policies have a $10,000 coverage limit on this policy type.
This coverage only applies when you're using your RV as your vacation residence, not full-time. If it is parked in your front yard, your vacation liability insurance won't cover any theft or damage at that time.
Roadside Assistance
While roadside assistance comes standard with some policies, that's not the case for all of them. Still, it can be a lifesaver if you break down on your vacation.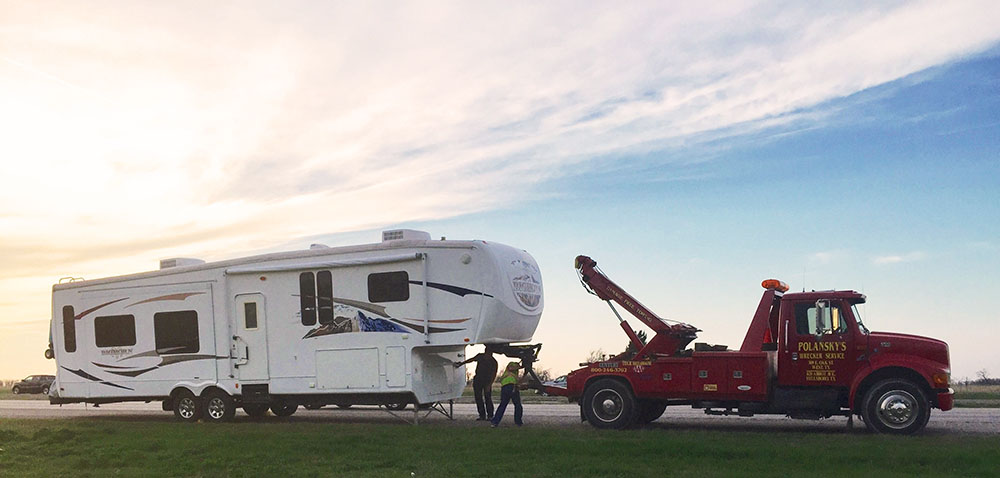 This option generally covers the following:
Battery failure
Roadside breakdown
Flat or blown tires
Low fuel or fluid
Lock-out
Getting stuck within 100 feet of the road
Personal Effects
Personal effects coverage applies if someone steals your RV or if any possessions you store in your RV get damaged in a natural disaster like a flood or fire.
A homeowner's policy is your other option for this type of coverage. However, a homeowner's policy may not cover you if you're out of your home state.
How Much Does Camper Insurance Cost?
Full-time RV insurance is more expensive than what you would purchase for part-time or vacation use. It mixes auto and homeowners insurance, so you pay more to get elements of both.
The cost of motorhome insurance also depends on factors like your credit history, age, and driving record, as well as how many extras you add to your policy.
While some coverage types may not apply to you, others could be essential in a disaster on the road. To find out which RV insurance company is right for you, use the map below to get the best RV insurance quotes in your state.
[tcb-script src="https://www.consumersadvocate.org/embed.js?iframe_id=ca_embed_88fd4e56433c"][/tcb-script]