Welcome back to The Wandering RV blog! Today, I'm diving deeper into the 2024 Jayco Redhawk Class C RVs, renowned for their blend of comfort, functionality, and user-friendliness, especially for newcomers to RVing. As I explore these models, I'm particularly drawn to the 24B for its compactness and the reliable Ford motor, ideal for my needs, including towing my 16′ enclosed race trailer.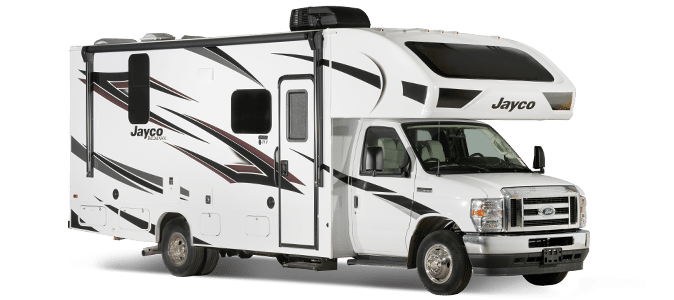 Key Features for the RV Enthusiast
The Jayco Redhawk line is equipped with features that make it a standout choice, especially for those new to the RV world. Here are some highlights that caught my attention:
Ford 7.3L V-8 325 HP Engine with 450 ft.-lb. Torque: This powerful engine is a game-changer, ensuring smooth and reliable travels.
6-Speed TorqShift® Series Transmission with Overdrive: Offers efficient power and handling on the road.
7,500 lb. Hitch with 750 lb. Tongue Capacity and 7-Pin Plug: Ideal for towing trailers or additional gear.
55 Gal. Fuel Tank and 12V Chassis Battery: Ensures long travel range and power reliability.
Swivel Driver and Passenger Seats: Enhances comfort and maximizes space utilization.
4,000W Generator and Outside Shower: For off-grid capabilities and added convenience.
Heated Holding Tanks (12V Pads): A boon for cold-weather travel.
Sony® Infotainment Center with Apple® CarPlay™ and Android Auto™: Keeps you connected and entertained.
Backup and Side-View Cameras: For added safety and ease of maneuvering.
Jayco Redhawk Floorplans: Tailored for Every Traveler
Jayco Redhawk 24B – Compact and Versatile
Length: 26′ 8″
Price: Starting at $153,293
Water Capacities: Fresh 42 / Gray 40 / Black 31
Sleeps: Up to 5
This is my personal favorite for its ease of handling and Ford motor reliability, ideal for towing.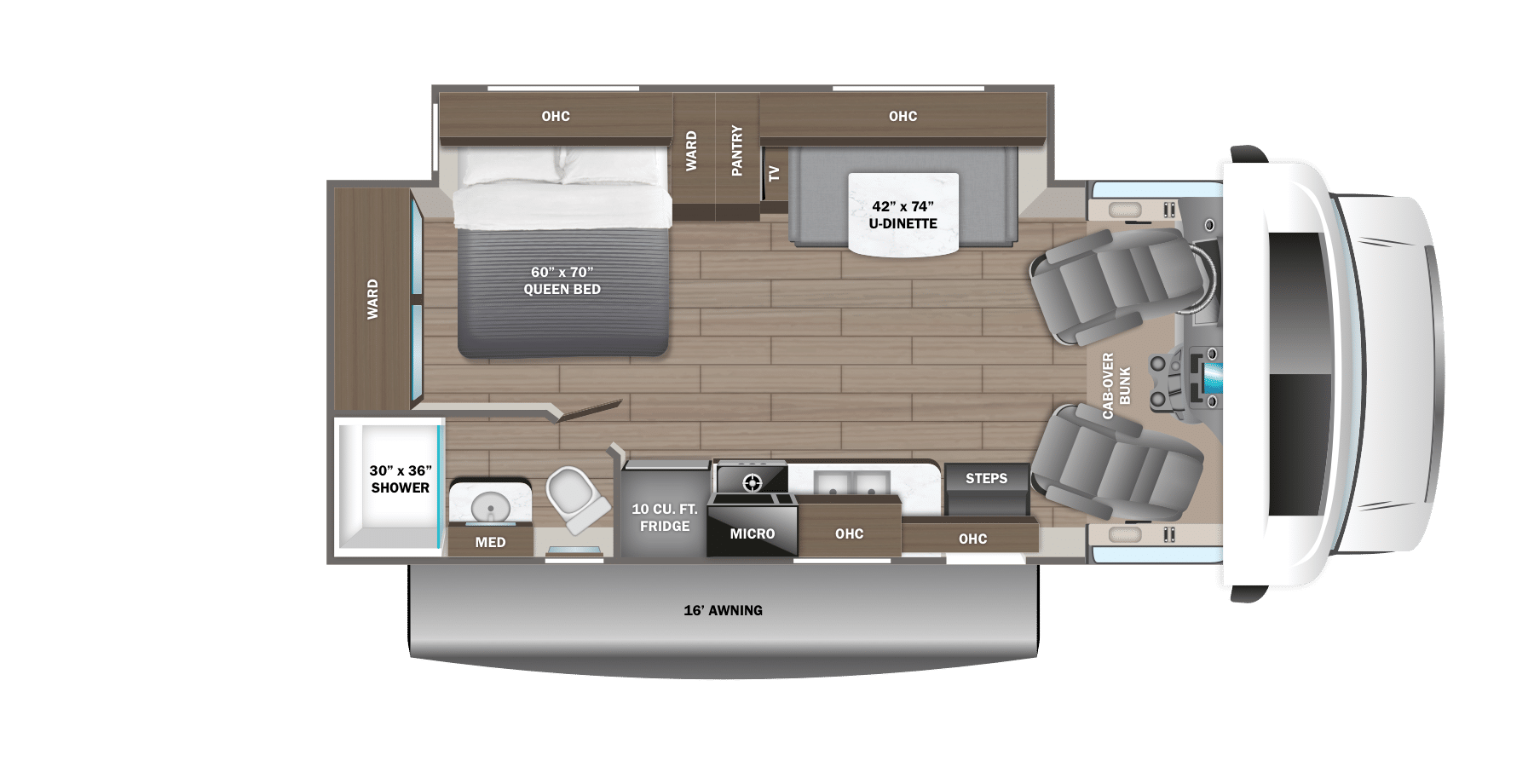 26M – Spacious and Comfortable
Length: 28′ 8″
Price: Starting at $156,668
Water Capacities: Fresh 43 / Gray 40 / Black 31
Sleeps: Up to 5
Perfect for those needing a bit more space for comfort.
The murphy bed is a great space saver!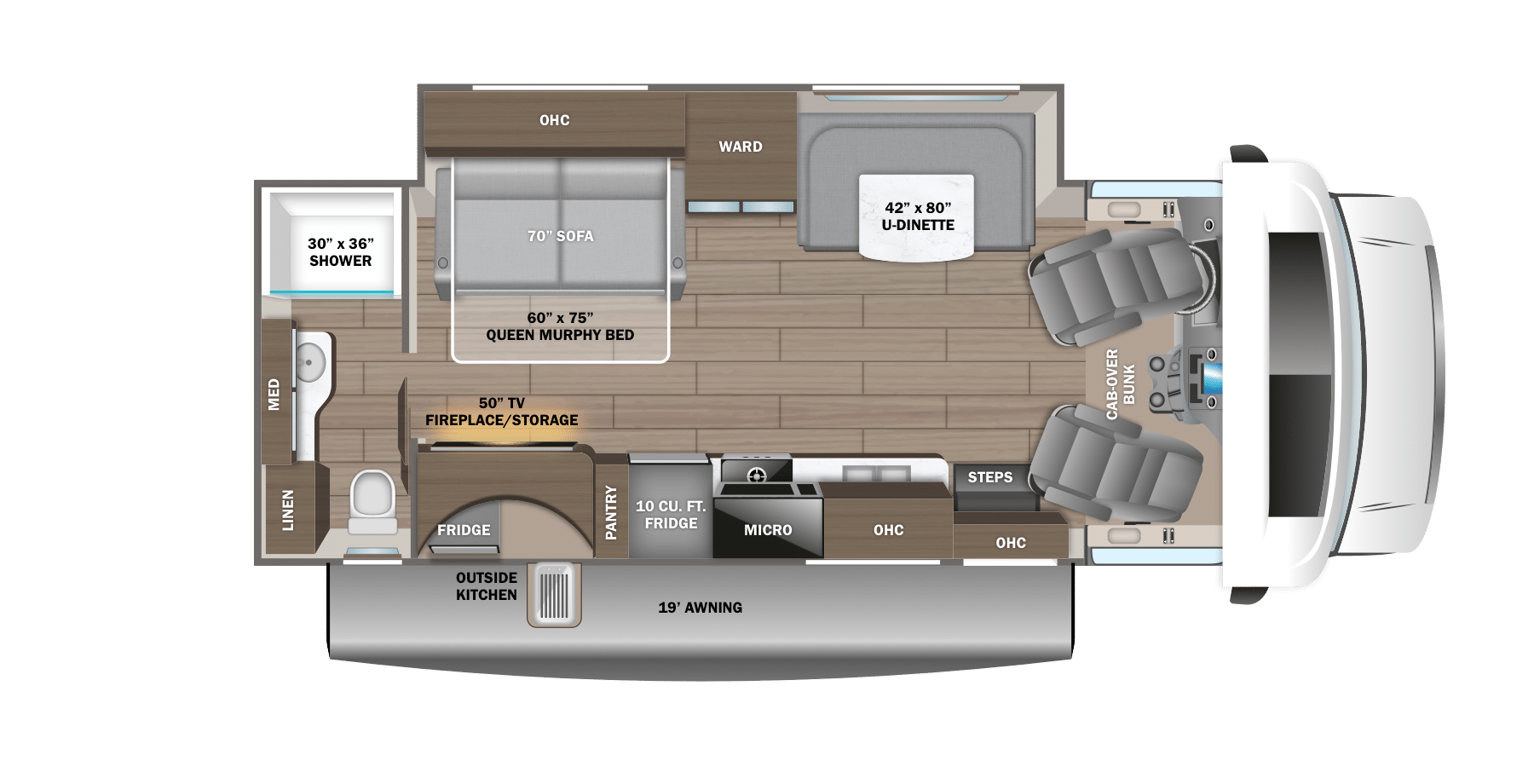 26XD – Designed to Entertain
Length: 28′ 8″
Price: Starting at $153,293
Water Capacities: Fresh 43 / Gray 41 / Black 32
Sleeps: Up to 5
Lots of space in the in the front of the camper to hang out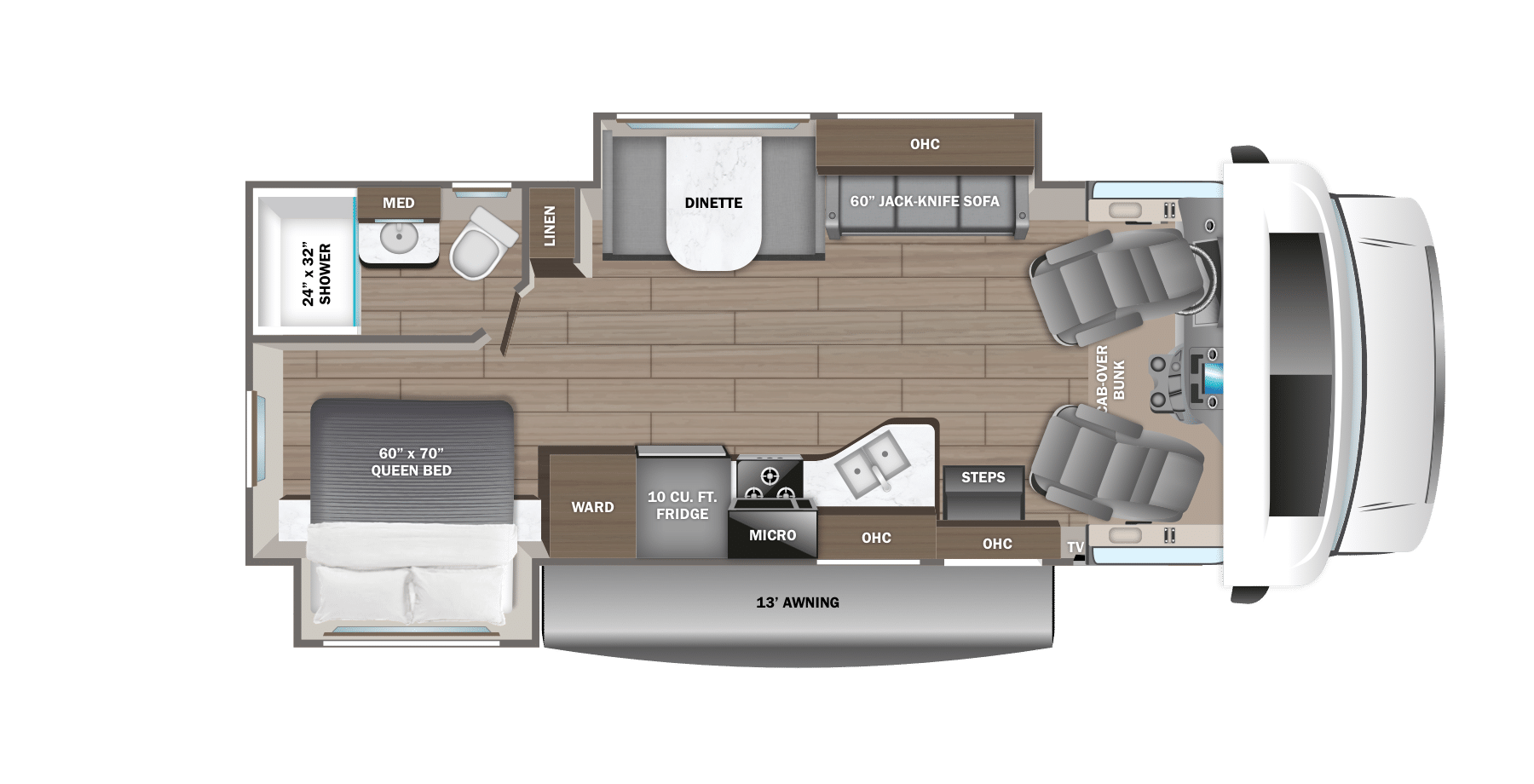 29XK – Ultimate Comfort
Length: 32'6″
Price: Starting at $153,555
Water Capacities: Fresh 43 / Gray 41 / Black 32
Sleeps: Up to 6
Love the extra privacy in the bedroom.
A model I had the pleasure of exploring during a full walk-through at the local dealership.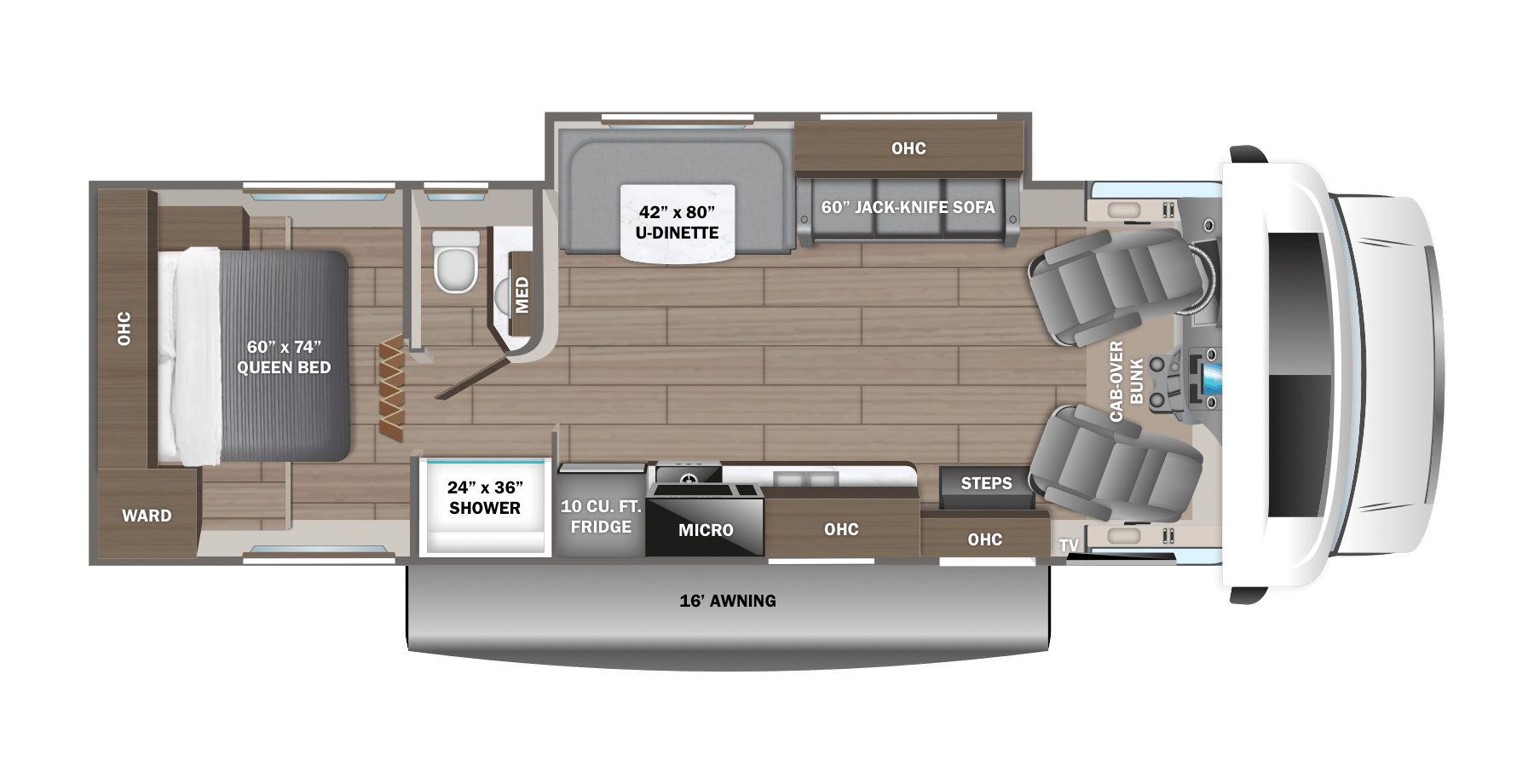 31F – Ultimate Comfort
Length: 32'6″
Price: Starting at $156,218
Water Capacities: Fresh 47 / Gray 41 / Black 31
Sleeps: Up to 7
For those who seek the most spacious and amenity-rich experience.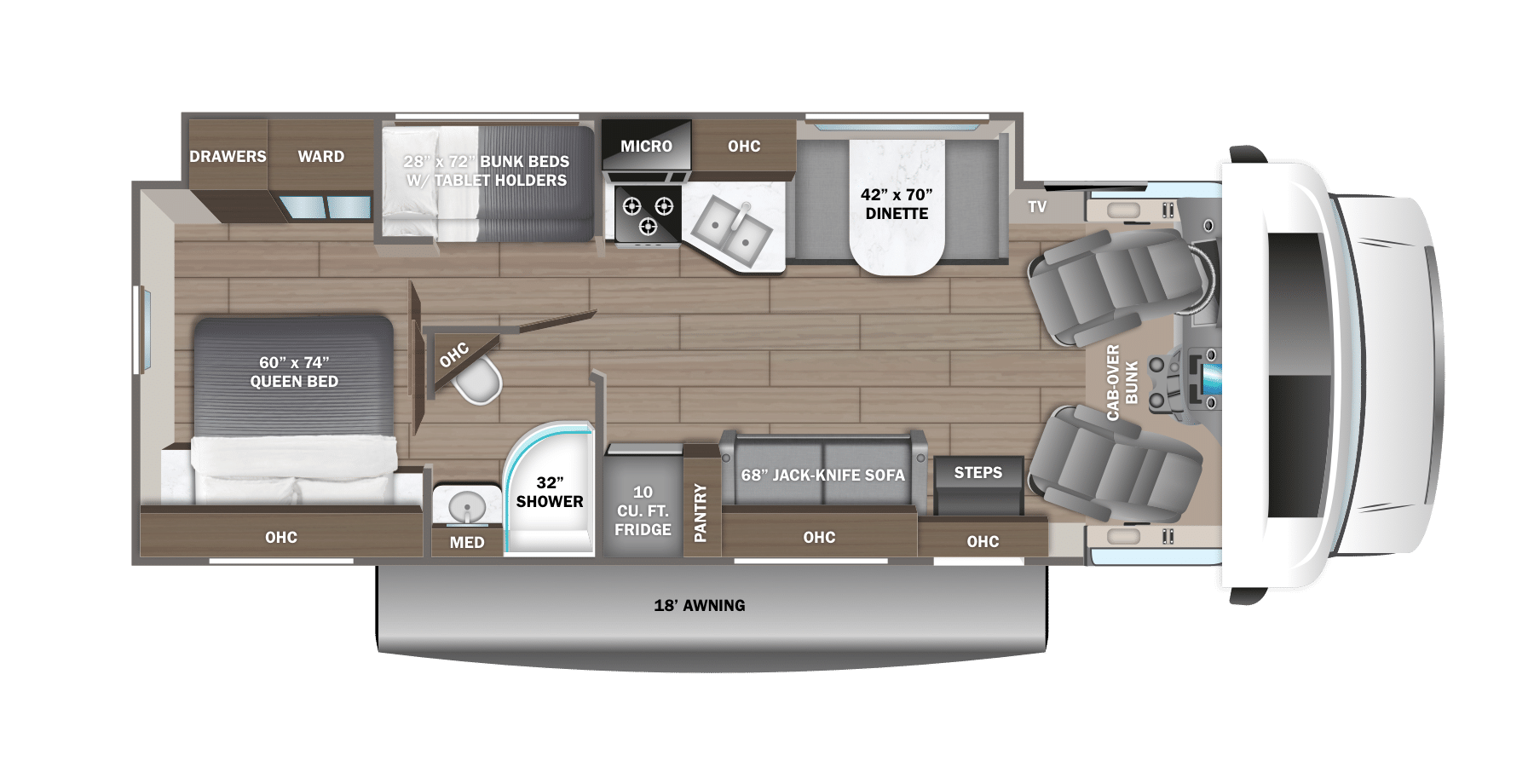 Why the Jayco Redhawk?
For newcomers to Class C RVs, the Jayco Redhawk series is an ideal starting point. They're easy to use, reliable, and can be maintained at most Ford dealerships. The Ford chassis-based RVs provide a balance of cost-effectiveness, dependability, and maintenance ease, unlike their Sprinter and Transit counterparts, which, while comfortable, come with a heftier price tag and complex servicing needs.
My Recommendations for Options
For those eyeing the larger floorplans, consider opting for the automatic hydraulic leveling jacks, 200W solar panel, and dual ACs. These features will significantly enhance the ease of use and comfort, especially for first-time RVers.
A Try Before You Buy Experience: Renting a Jayco Redhawk
If you're intrigued by the 2024 Jayco Redhawk Class C RVs but aren't quite ready to commit to a purchase, why not take one for a test drive? I recommend renting one through Outdoorsy, a fantastic platform where you can find a variety of Jayco Redhawk models near you. Renting allows you to experience the RV lifestyle firsthand for a few days or even weeks, without the initial investment. This way, you can make an informed decision based on real-life experience. Just click here to search for a Jayco Redhawk near you and start your adventure with confidence and ease.
Conclusion
The 2024 Jayco Redhawk Class C RVs cater to a diverse range of travelers. From solo adventurers to families, there's a model for every need. The standout features, including the robust Ford engine, ample towing capacity, and user-friendly amenities, make them a top choice for anyone venturing into the RV lifestyle.