Introduction:
Ever felt that sinking feeling when your camper's battery gives up in the middle of nowhere? Enter the GOLDENMATE 12V 100Ah LiFePO4 Lithium Battery – a powerhouse that promises to keep your adventures uninterrupted. Let's dive into what makes this battery a must-have for every camper and outdoor enthusiast.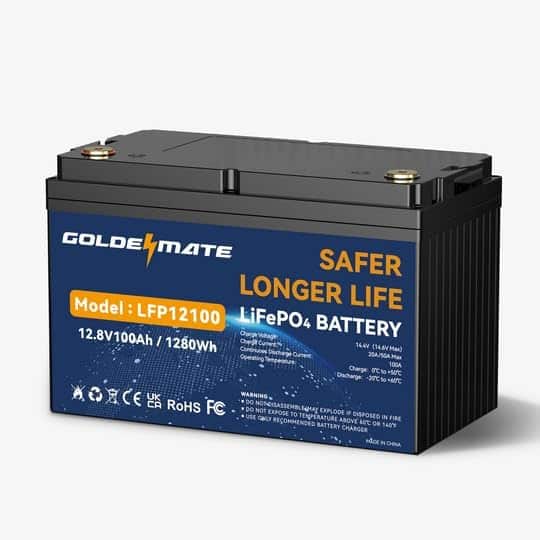 Performance That Packs a Punch:
🔋 Superior Longevity: With a life cycle of 4000-15000+ cycles, this LiFePO4 battery outperforms traditional lead-acid batteries by a mile. The absence of a memory effect ensures no capacity reduction even after repeated charge and discharge cycles.
🔋 Built for Safety: Goldenmate's integrated BMS (Battery Management System) is a guardian angel, providing complete protection against overcharging, over-discharge, over-current, overheating, and short-circuiting. Its self-discharge rate is so low that it can sit idle for a year fully charged without maintenance.
🔋 Versatility at Its Best: From powering wheelchairs and emergency lights to being an energy solution for RVs, marine applications, and solar energy storage, this battery is a jack of all trades.
🔋 Expandability for More Power: Need more juice? You can connect up to four of these batteries in series or parallel, scaling up to a whopping 51.2V or 400Ah at 12V
🔋 Effortless Charging: Recharging this beast is a breeze with its compatibility with LiFePO4 battery chargers, solar panels + MPPT, and generators. Plus, it's maintenance-free – no water adding or regular check-ups needed.
Physical Attributes:
📏 Size and Weight: Measuring 12.91×6.77×8.35 inches and weighing in at 28.7lbs, it's a compact unit. It's notably lighter than traditional AGM batteries – I swapped one out in my camper and cut the weight by half!
Real-World Experience:
🚐 In the Camper: Replacing my camper's standard 100ah AGM battery with this was a revelation. It shaves off significant weight (from 60lbs to under 30) and allows me to drain it down to 0% without any damage – a significant upgrade over the AGM battery's 50% limitation. This essentially doubles the capacity of my existing 100ah capacity.
🔌 Charging Capacity: It charges steadily at 20 amps and peaks at 50 amps, surpassing AGM batteries. The battery arrived well-packaged, double-boxed, and was 85% charged upon arrival. I made a couple of small changes to make the most of this new battery. First, I changed the charging profile on my solar charger from AGM to lithium, and second, I did the same for my inverter/ charger. It also has a whopping 100amp discharge rate.
🌡️ Temperature Tolerance: The high and low-temperature protection is a game-changer, ensuring the battery performs optimally regardless of the weather conditions.
Pros and Cons:
✅ Pros:
Lightweight and compact.
Can be drained fully without degradation.
High and low-temperature protection.
Easy and versatile charging options.
High cycle life ensures long-term reliability.
Lowest price I've found on Amazon for a quality LifePO4 battery
2-year warranty
❌ Cons:
To maximize efficiency and battery life, you'll want to invest in a lithium charger
Verdict:
The GOLDENMATE 12V 100Ah LiFePO4 Lithium Battery is an impressive offering for anyone who needs reliable, long-lasting power for their camper, RV, or emergency situations. It strikes a perfect balance between efficiency, versatility, and portability. While the supplied battery's lifespan might be a limitation for some, the overall benefits and durability make it a worthwhile investment for off-grid power solutions.
Whether you're battling cold nights in Moab (down to -4*F) or need a reliable power source for your off-grid adventures, this battery proves its mettle. It's a modern solution that supports several sources for charging. It's happy to charge slowly with your solar setup, or quickly while plugged into shore power or your generator.