Get $50 Off Your Toy Hauler Rental!
Rent with Outdoorsy to get $50 off (discount applied at checkout).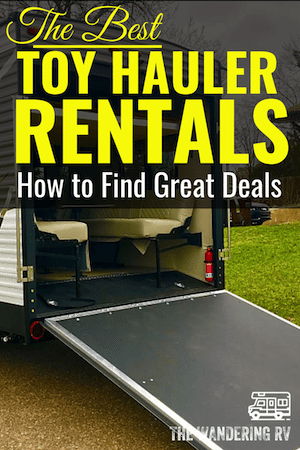 Interested in renting a toy hauler trailer and want the best deal possible?
Then you've come to the right place! This guide is all about how to get the best deals on toy hauler rentals.
We talk about where to rent a toy hauler, how much they are, and more.
Click here to browse the best toy hauler rentals near you now ($50 discount applied at checkout) or keep reading to learn our top tips!
Table of Contents
Note: Some of the links in this article are affiliate links. This doesn't cost you any more than normal. Read our disclaimer for more info.
Renting a Toy Hauler Vs. Other RV Rentals
Toy haulers can be an amazing way to travel. Unlike motorhome or travel trailer rentals, toy haulers come with space for you to bring your motorcycles or ATVs.
Let's take a look at the pros and cons of renting a toy hauler:
Pros for Renting a Toy Hauler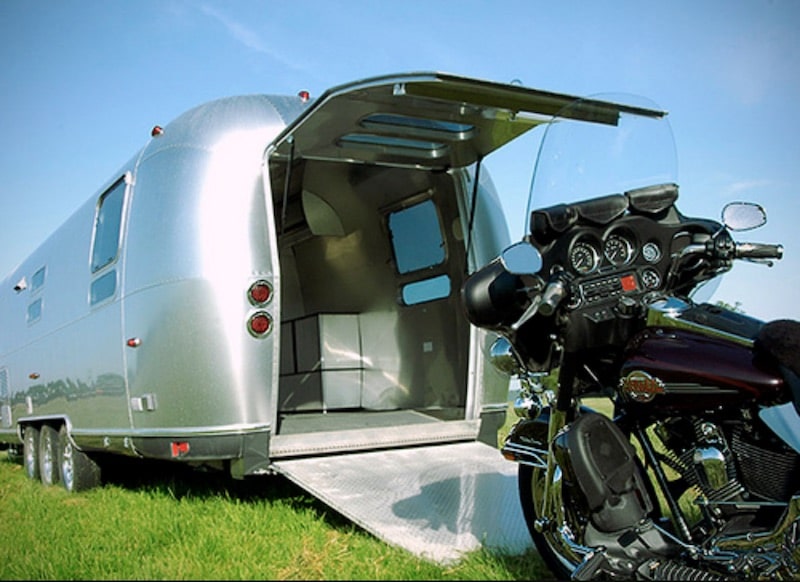 Lots of cargo space.
Unlike other RVs, toy haulers come with a space that is meant for all of your toys. It gives you plenty of storage for any extra stuff you may need on your trip.
Extra living space.
The cargo space in toy haulers is very versatile and can be used as additional living space. If you park your dirt bike outside after a long day of riding, you can easily turn the garage into an extra room.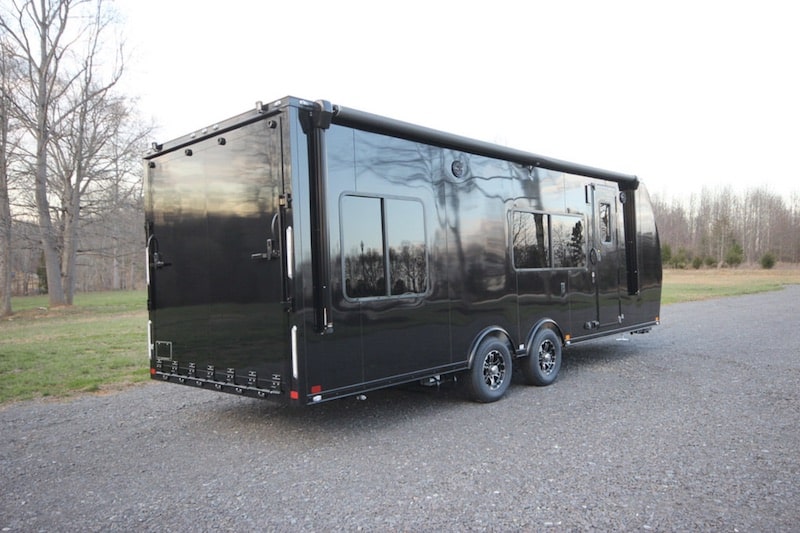 Can give you a private office space on the road.
If you are a digital nomad and work while you travel, the cargo area can be set up as a private office space. Just throw in a desk and a comfy chair!
Cons of Renting a Pop Up Camper
Where there is a pro, there is a con! That is why there are so many different types of RVs out there. Here are some cons to renting a toy hauler:
You lose living space for cargo carrying.
While it is great to have the extra storage room, it also means you have to sacrifice some of the living area when hauling around your toys. Compared to other trailer types, toy haulers have significantly less space for relaxing and entertaining than other travel trailers.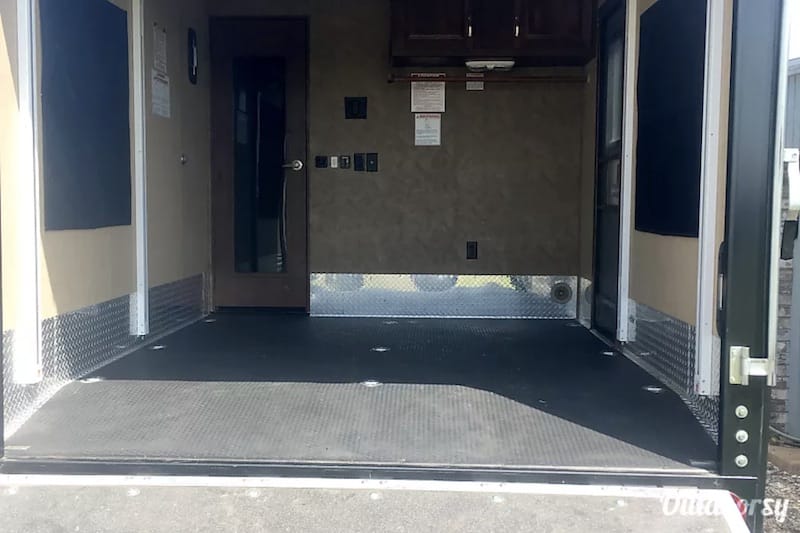 Toy haulers can be pretty heavy.
When you are towing a toy hauler with other equipment inside, things can get difficult. The toy hauler can get heavy and be difficult to maneuver.
You might inhale some fumes.
With a living area so close to the garage, you may smell the fumes of your motorcycle or ATV inside the main living area. This is not only annoying but could potentially be dangerous if you don't open any windows to air things out.
Toy Hauler Rental Prices
You may be asking yourself, "How much does it cost to rent a toy hauler?"
We did a study on RV rental prices across the US with Outdoorsy. In our study, we found that the average cost of renting a toy hauler is $100 to $200 per night.
When looking for toy haulers, you can find some that are more expensive or less expensive depending on what you are looking for. Some are more luxurious while others are more basic.
And if you get a monthly or longer-term rental, you can usually find lower rates. Regardless of how long you plan to rent a Toy Hauler, these large, versatile RVs are great for a road trip!
Where to Rent a Toy Hauler Trailer (Best Deals in 2022)
We've found that the best place to rent an RV is Outdoorsy.
Outdoorsy offers RV rentals by other RV owners. It's like the Airbnb of the RV world. Peer-to-peer RV rentals like this are great because they're usually more affordable than renting from an RV dealer (we're all about those savings).
Plus, Outdoorsy offers free roadside insurance and up to $1M insurance on all their rentals! They also have 93% 5-star reviews from over 55,000 customers and have amazing customer support. We've personally rented from them and used their customer service, and can honestly say the experience was fantastic!
Not only can you rent toy haulers, but you can also rent motor homes, fifth wheels, camper vans, pop up campers, travel trailers, and virtually any kind of recreational vehicle there is.
Why Outdoorsy? Check out our RV rental company comparison where we pit the top rental companies head to head.
Great RV Rental Destinations
Rentals By Type