Get $50 Off Your Seattle RV Rental!
Rent with Outdoorsy to get $50 off (discount applied at checkout).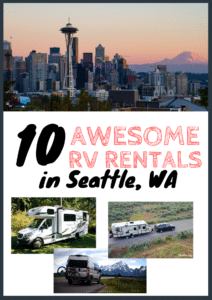 Looking for RV rentals in Seattle, Washington?
Look no more!
We found the 10 best RV rentals Seattle has to offer – everything from cheap RV rentals to luxury motorhome rentals, small off-road travel trailers to massive Class A's.
You're just moments away from being in an RV in Seattle, WA?
(You can scroll through the whole post or choose an option below that catches your eye.)
Table of Contents
The 10 Best Seattle RV Rentals
Disclaimer: These RVs rent out fast! You usually need to rent them weeks (sometimes months) ahead of time.
If the RVs below aren't available for the time you want to rent them, click here to go to Outdoorsy and see what else is available for you in Seattle!
1. 2016 Airstream International Serenity 28′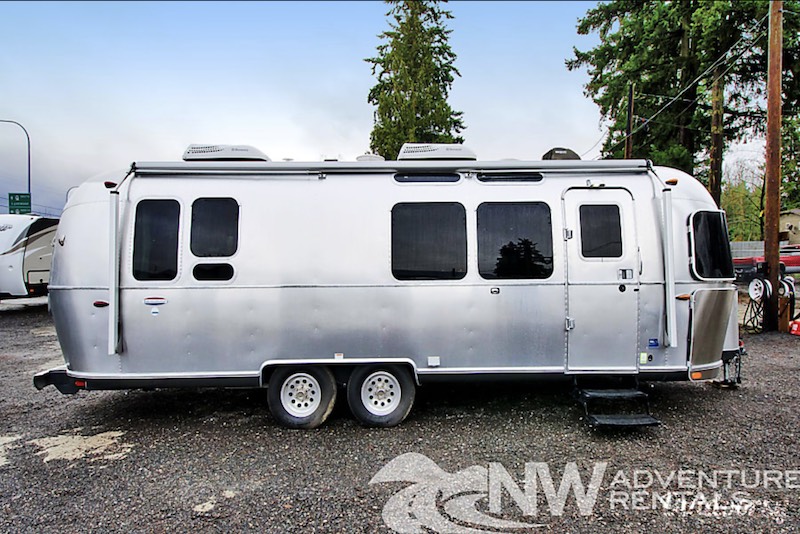 Price: $200/night Pet Friendly? Yes
Slides: 0 Sleeps: 6
This 2016 Airstream International Serenity is the embodiment of luxury with its ultimate style and comfort! Enjoy glamping to its fullest in this gorgeous travel trailer.
Take a look at the inside: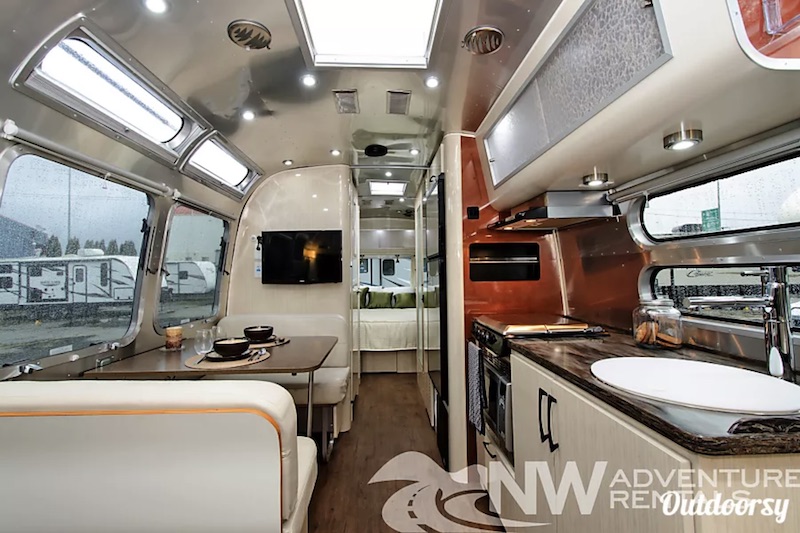 This travel trailer rental can rival some of the top European hotels with its simple, yet modern, interior. It has a master bedroom with a walk-around queen bed, as well as sleeping for four in the living area. It also comes with a full bathroom and large shower.
The kitchen is fully stocked to satisfy your inner chef, and comes with a large refrigerator, stove, oven, and microwave.
2. 2019 Jayco Melbourne 25′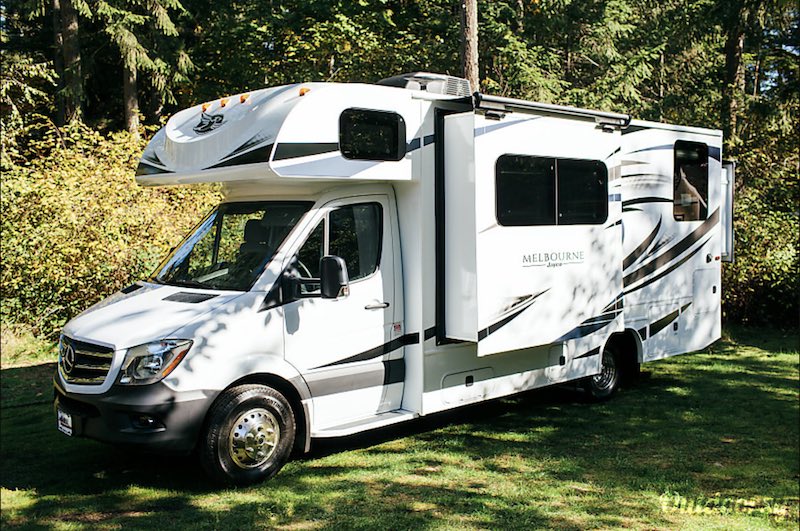 Price: $180/night Pet Friendly? Yes
Slides: 2 Sleeps: 6
This 2019 Jayco Melbourne is perfect for a couple or a family to get out and explore the Northwest?
Here's a look at the floor plan: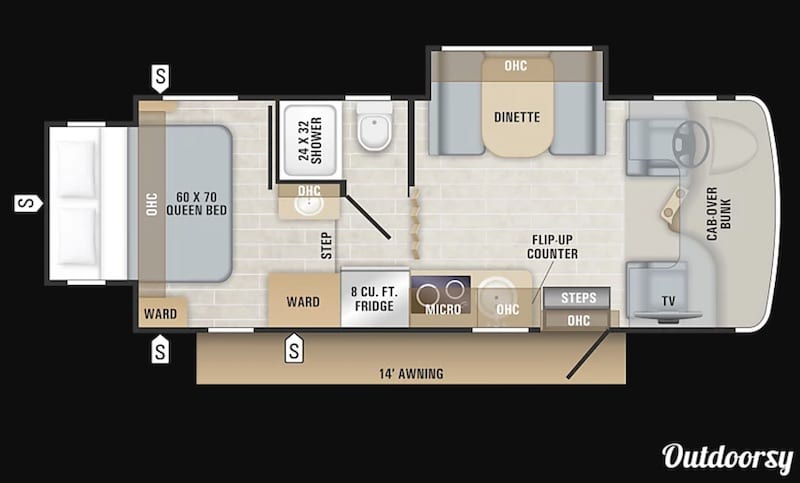 One of the coolest things about this motorhome rental is that everything is controlled with the push of a button! From the slides to the step and awning, everything is electric.
In addition to the essentials like pots, pans, utensils, plates, toaster, and coffee maker that the RV owner throws in, there is also a full kitchen. There is an entertainment system with TV/DVD and stereo for your lounging needs.
3. 2018 Dynamax Corp Isata 25′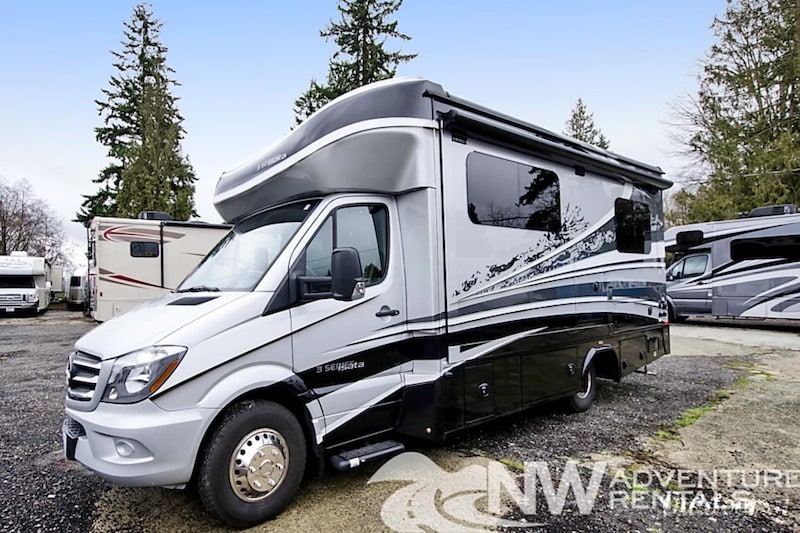 Price: $250/night Pet Friendly? Yes
Slides: 1 Sleeps: 4
Out of all the RV rentals in this article, this one sure does take the cake! With a stylish exterior and minimalist, modern interior, this 2018 Dynamax Corp Isata can't be beat.
Check out the floor plan: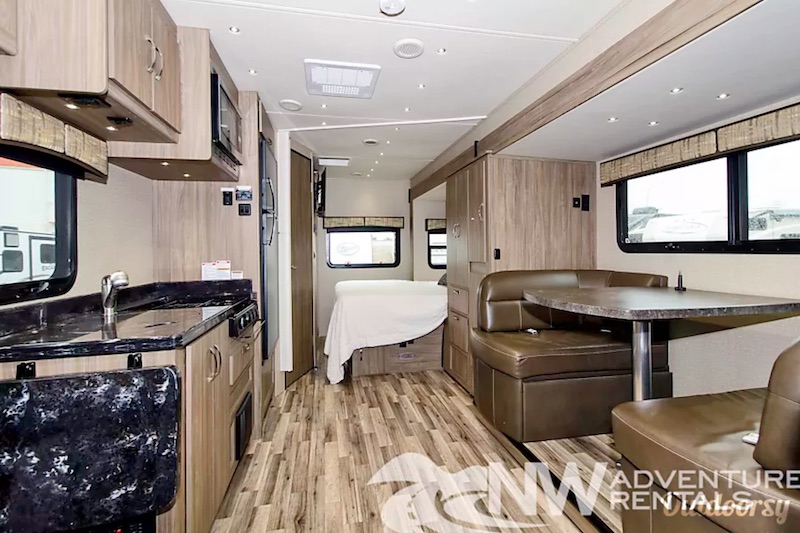 This incredible luxurious RV rental has high-end finishes and a large, fully-equipped kitchen.
In the living area, you have an entertainment system with TV/DVD and stereo. You can keep warm or cool while watching a movie with a propane furnace and air conditioning.
4. 2017 Keystone Bullet 24′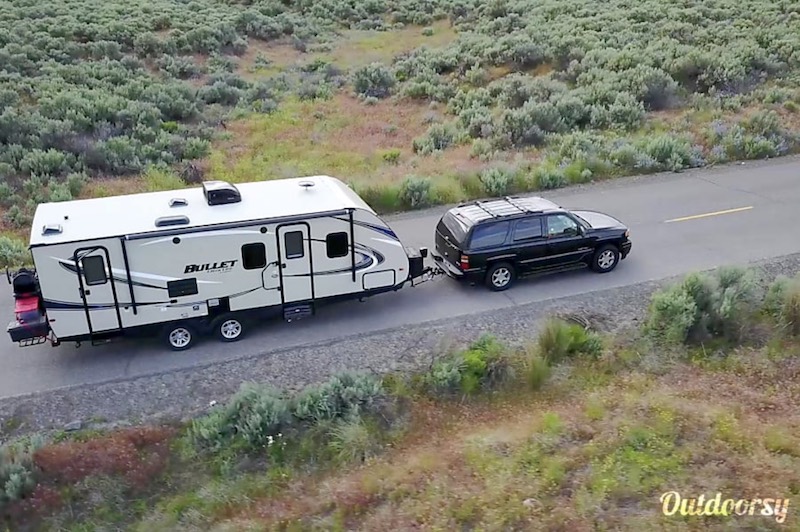 Price: $175/night Pet Friendly? No
Slides: 1 Sleeps: 6
This fully self contained 2017 Keystone Bullet is an awesome choice to check out Seattle and the surrounding areas. Just keep in mind that this trailer rental must be towed by a full size truck or SUV.
Check out the floor plan: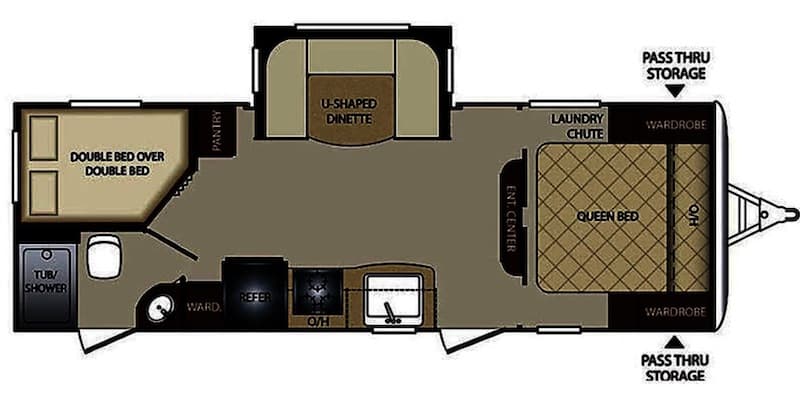 This travel trailer rental comes with a rear back up camera with a wireless 12v screen in dash for safety.
It is in great condition with double bed over double bed bunks and a queen bed. There is a full bathroom for all your hygiene needs. Need extra sleeping room? The dinette converts into a bed that can sleep two more people.
5. 2015 Forest River R Pod 20′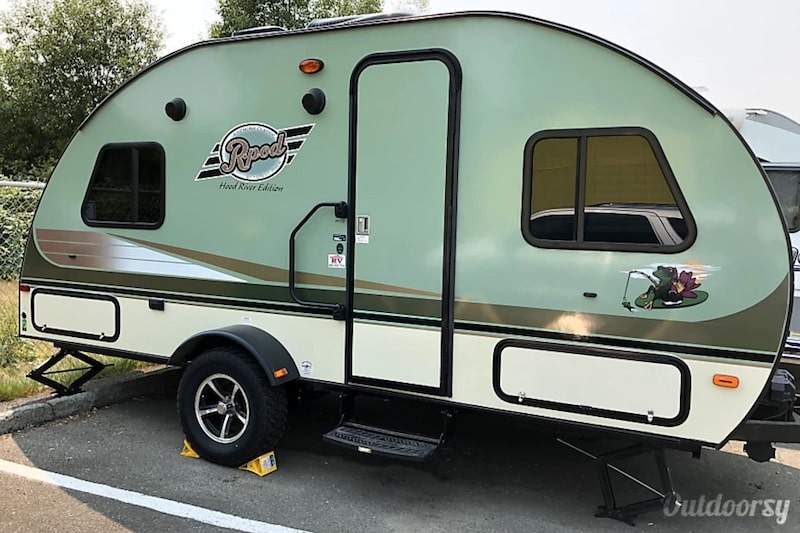 Price: $119/night Pet Friendly? No
Slides: 1 Sleeps: 4
This 2015 Forest River R Pod is the ideal and compact choice for friends and family to experience the Pacific Northwest.
Here's a look inside: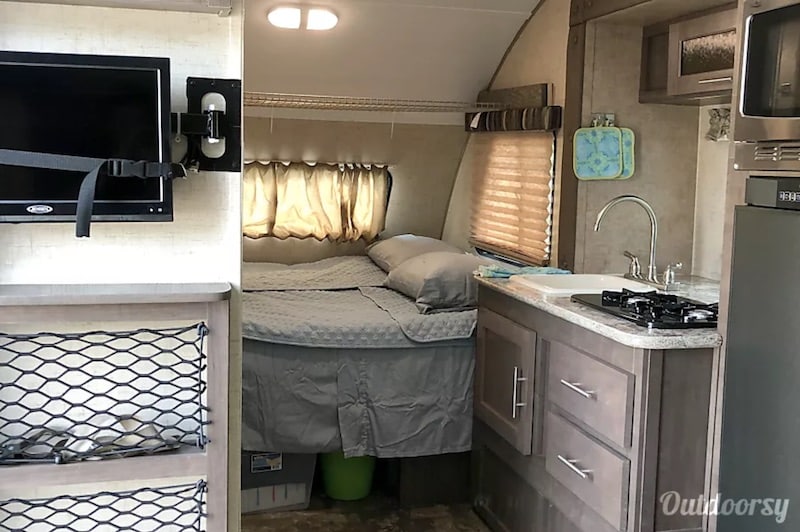 Looking for a weekend getaway? This travel trailer rental is the right choice for you!
Because of its small size, you can fit this RV into most places a larger setup cannot. Don't let the size fool you though! It has a fully stocked kitchen, a slide-out to increase space, convertible dinette seating, air conditioning, and a wet bath!
6. 2016 Fleetwood Expedition 38′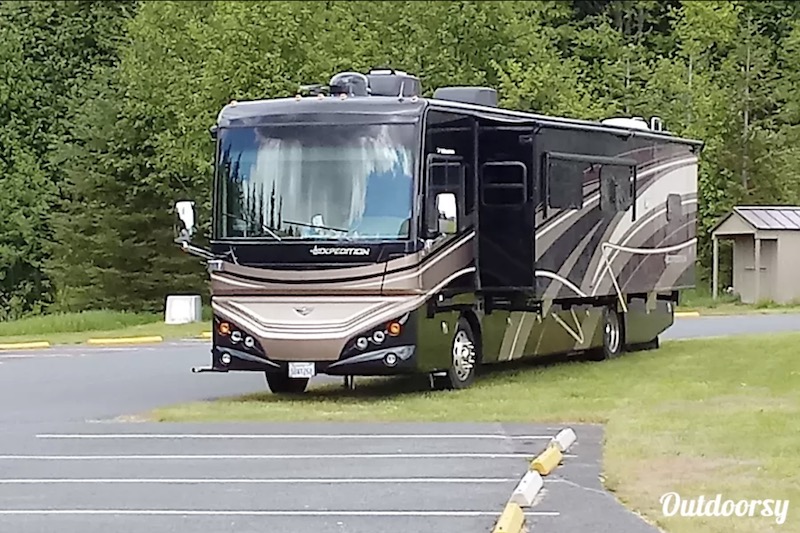 Price: $285/night Pet Friendly? No
Slides: 2 Sleeps: 4
Looking for the ultimate family-mobile? Look no further than this luxurious 2016 Fleetwood Expedition!
Here's a look inside: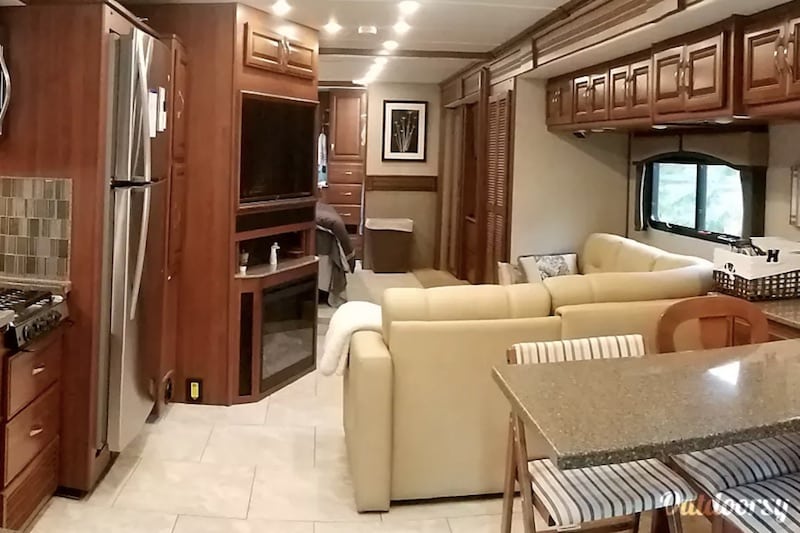 This motorhome rental comes with so many features that are perfect for a family to take on an adventure!
7. 2008 Hi Lo 1907T Towlite 19′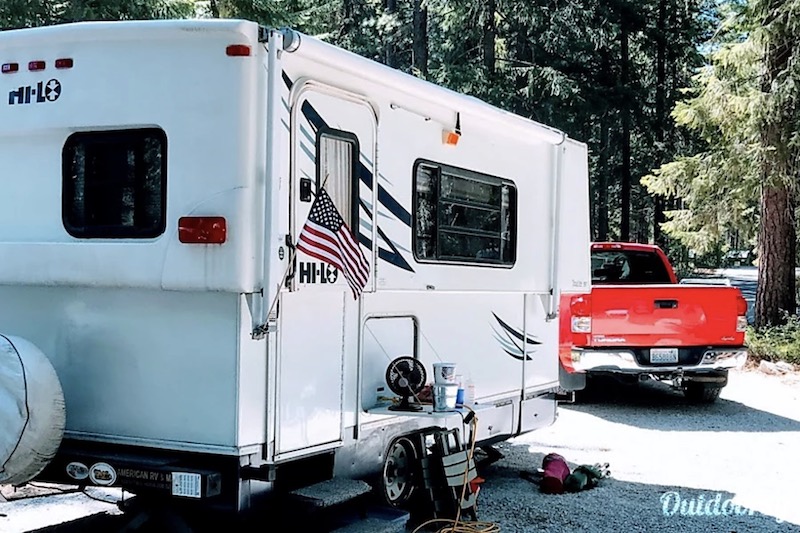 Price: $95/night Pet Friendly? No
Slides: 0 Sleeps: 5
This 2018 Hi Lo 1907T Towlite is a great way to get out and see the Pacific Northwest without having to haul around a huge trailer.
Here's a look at the floor plan: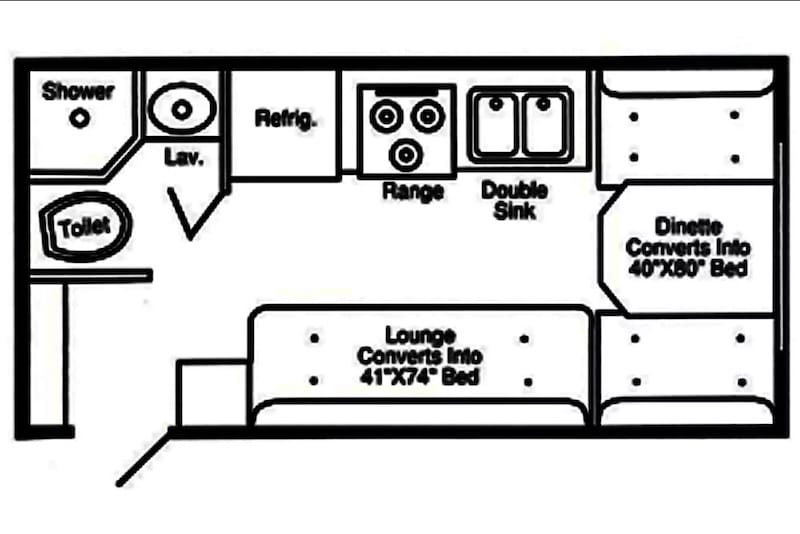 This travel trailer rental is easy to tow and can easily be lowered with a power motor and power tongue jack. It was designed to be fuel efficient.
For your sleeping needs, the lounge and dinette convert into a bed. You get a decent kitchenette with a range, large refrigerator, and a double sink. The bathroom gives you a toilet, shower, and sink (although the space is a little tight).
The RV Owner even throws in camping gear, pots and pans, utensils, cups, and a few other things.
8. 2013 Forest River Solera 24′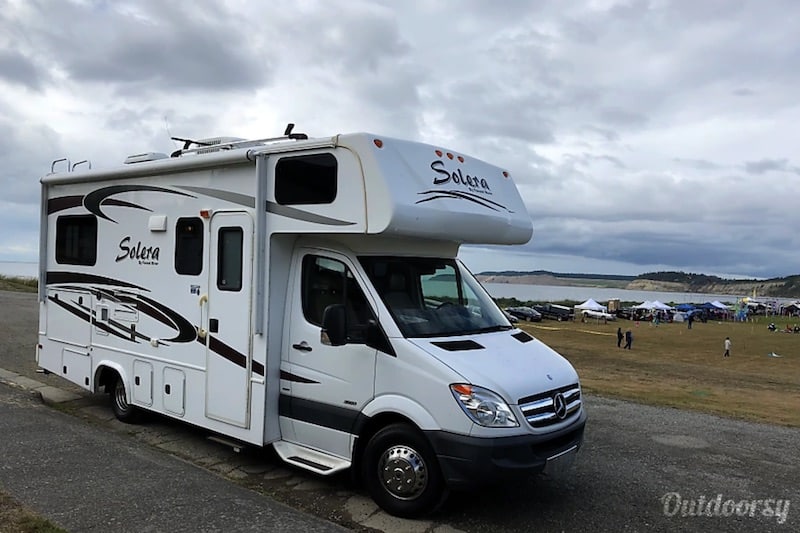 Price: $160/night Pet Friendly? No
Slides: 1 Sleeps: 6
Explore Washington in this beautiful 2013 Forest River Solera. It is compact but room, and even though it says it can sleep six, it is perfect for a couple's getaway!
Here's a look inside: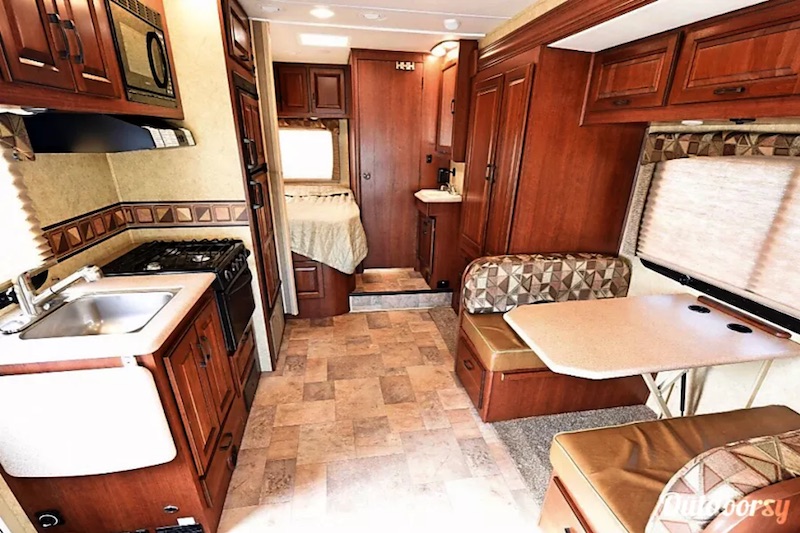 This RV rental has a slider for extra room in the living space. It also has a galley with 3-burner stove top, oven, microwave, and refrigerator. The RV owners even stock the kitchen with basic cooking and service ware.
A couple bonuses are that there is a shower/toilet with separate sink and the owners throw in linens and pillows at no additional charge (all you have to do is ask).
Another cool bonus, the RV owners speak English and German! Oh, and they offer a 10% discount on trips that are over seven days.
9. 2018 Ram Promaster 20′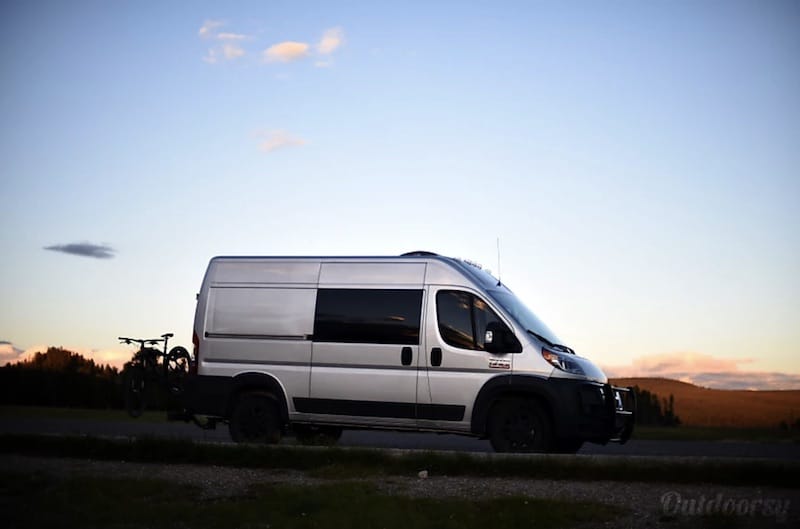 Price: $180/night Pet Friendly? Yes
Slides: 0 Sleeps: 2
Enjoy Washington in this 2018 Ram Promaster. Although it may seem small on the outside, the inside is spacious, comfortable, and absolutely beautiful with the wood paneling.
Here's a look at the floor plan: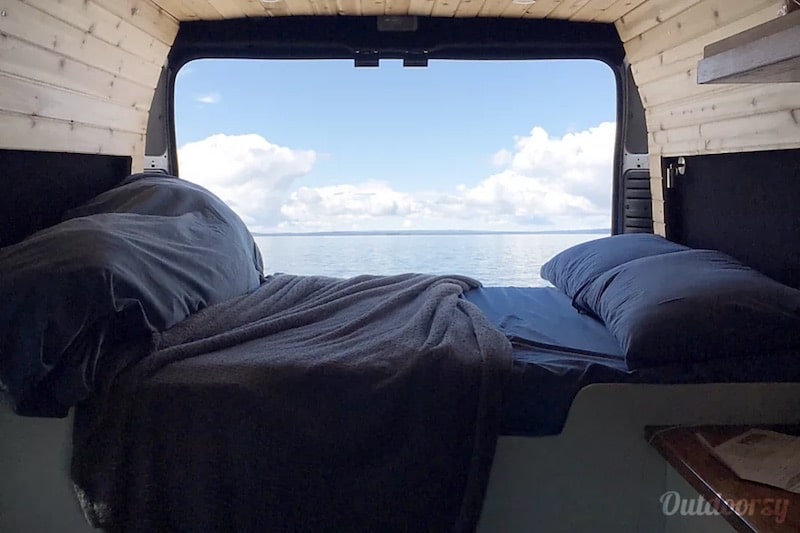 Lovingly called "the PNW (Pacific Northwest) Weekender" by RV owner, Levi, this gorgeous camper van rental has a fully insulated interior with cedar siding. In addition, it also has a passenger swivel seat with removable swivel dining table for all your food needs.
This front wheel drive comes with a full-size memory foam mattress, a kitchen area with all the necessities, and a remote controlled ceiling fan to keep you comfortable.
For safety, there is a back up camera (because safety first!). For other extras, you can ask for hammocks, camp chairs, and a bike rack at no extra charge.
10. 2002 Volkswagen Eurovan 15′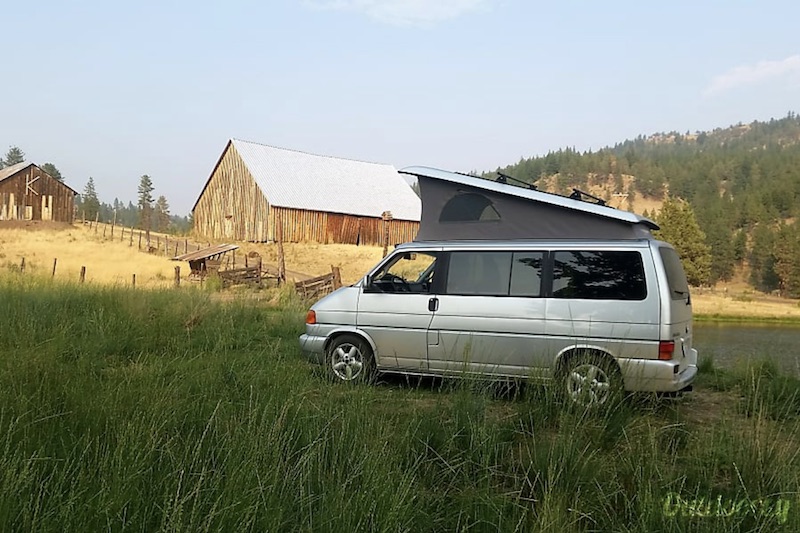 Price: $185/night Pet Friendly? Yes
Slides: 0 Sleeps: 4
Last, but certainly not least, we have this 2002 Volkswagen Eurovan.
Here's a look inside: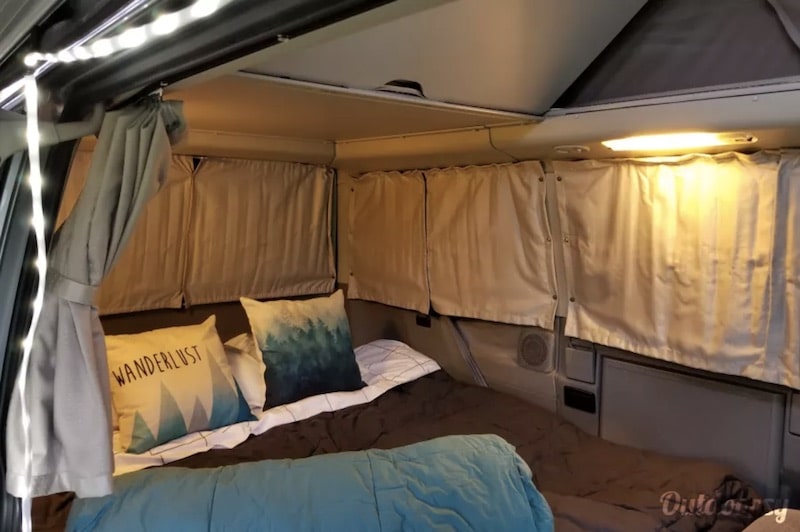 "Westy" the camper van rental is a great choice to relax and enjoy any gorgeous location in the Pacific Northwest. There is passenger seating for six people and sleeping room for three adults or two adults and two children.
The fold down beds include an additional mattress pad, cozy down duvets, sheets, and pillows for four. The camp kitchen is a complete set up with everything you could need for four people, including chairs, table, awning, and more.
The RV owner also offers kayaks, bike racks, booster seats, and roof racks for an additional charge.
Things to Do in Seattle, WA
That brings us to the end of our list of the best RV and camper van rentals in Seattle, Washington!
Remember, if you didn't like any of these we listed (or they weren't available for you), you can always check out all the Seattle RV rentals available on Outdoorsy. You can find everything from tent campers to luxury Class A's.
Now that your trip is booked, the next step is to plan your activities!
Wondering what to do in Seattle, WA? Here are a few must-see tourist attractions:
Are none of these the tourist attraction of your dreams? Check out the top things to do in Seattle on Trip Advisor.
And that's all we have for you! Want to share your Seattle camper van or RV rental or some cool things to do in Washington? Or have questions? Leave a comment below!
Pro Tip: Want better rental prices? Ask the rentees if they offer reduced winter rates! Not all of them will, but a winter trip in the south can save you some money. You can also check availability and add Outdoorsy Roadside Assistance to most of the rentals for added peace of mind.
Want to take RV road trips elsewhere? Check out these other RV destinations:
More RV Rental Destinations
Rentals By Type
Enjoy your RV rental vacation!!