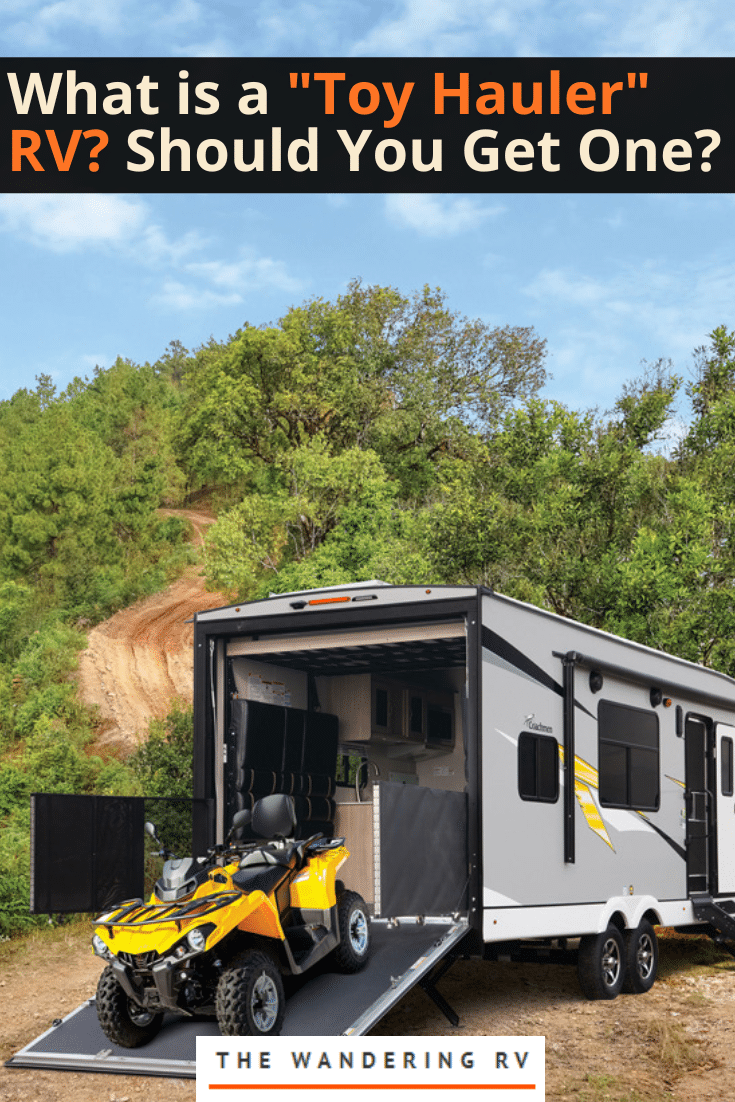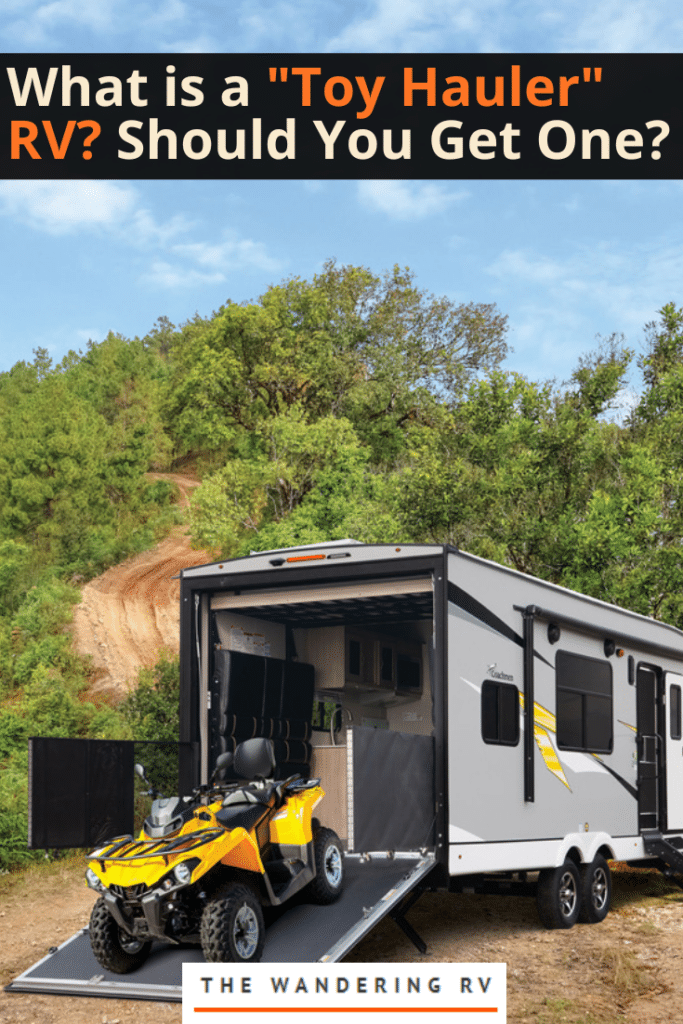 Have you ever wanted to bring your "toys", like ATVs or motorcycles, with you while traveling?
With a toy hauler, you're able to!
But, you may be wondering, "What is a toy hauler?". In this guide, we go over what a toy hauler RV is, the benefits to getting one, some things you should think about before purchasing one, and more.
Let's dive in!
Table of Contents
What is a Toy Hauler RV?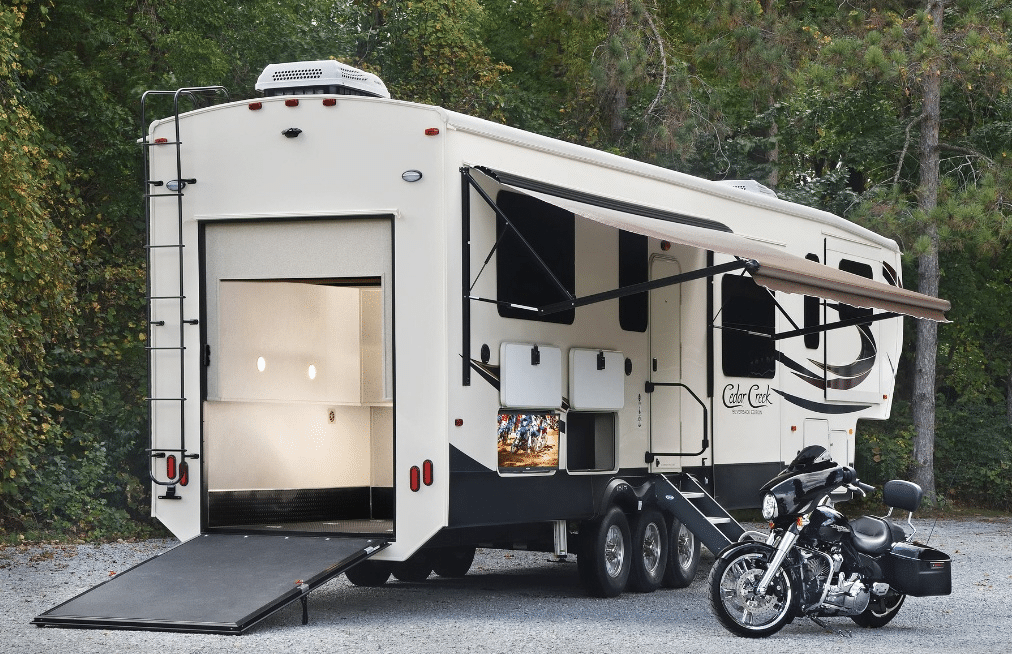 A toy hauler is a type of RV that is designed to haul toys with you while traveling, such as:
Golf carts
Snowmobiles
Motorcycles
ATVs
Dirt bikes
Essentially, a toy hauler RV adds garage space in addition to extra living space. A toy hauler combines an equipment hauler and an RV into an all-in-one package.
Toy haulers typically have a rear (or side) wall that drops down, allowing you to get your toys into the rig with no hassle!
Types of Toy Haulers
Toy haulers come in three models:
Travel Trailers
Fifth Wheels
Class A Toy Haulers
Each model comes with a garage area that can typically be converted into an extra living area!
Let's dive into each model:
Travel Trailer Toy Haulers

If you're looking for a cheap option, a travel trailer toy hauler may be your best bet.
As you can see from the image above, there's plenty of living and storage space to carry your toys. They're both versatile and convenient and can easily be detached from the tow vehicle when you get to your destination.
If you want to look more at the model from the image above, check out the XLR Hyper Lite 3310 from Forest River.
However, keep in mind that travel trailers are towed by your hitch receiver, so they're not as stable or safe to drive as a fifth wheel trailer (which we'll talk about next).
Fifth Wheel Toy Haulers

A fifth wheel toy hauler typically requires a heavy duty truck to tow it. Not only is this the safest method to tow these, it adds more stabilization.
You get way more living space in a fifth wheel toy hauler than you do in a travel trailer toy hauler, as you can see from the image above!
A fifth wheel toy hauler is luxurious and works well for those who spend most of their time on the road and want a comfortable and safe ride.
If you want to check out the model from the image above, check out the Momentum G Class Fifth Wheel 320G from Grand Design.
Class A Toy Haulers

A Class A toy hauler may be one of the most convenient toy haulers out there. Not only do you get enough living space along with plenty of garage space, you don't need to tow it with a heavy duty truck. The engine is built into the vehicle already!
Since these are some of the most luxurious toy hauler RVs, they can be very expensive. Most of these Class A's can cost $200,000 or more.
If you want to check out the model from the image above, check out the ​​Outlaw Class A 38MB from Thor!
Benefits of a Toy Hauler
Now that you know what a toy hauler is and what models are available, you're probably wondering if it's the right choice for you.
Let's go over the benefits of getting a toy hauler RV!
Bring Your "Toys"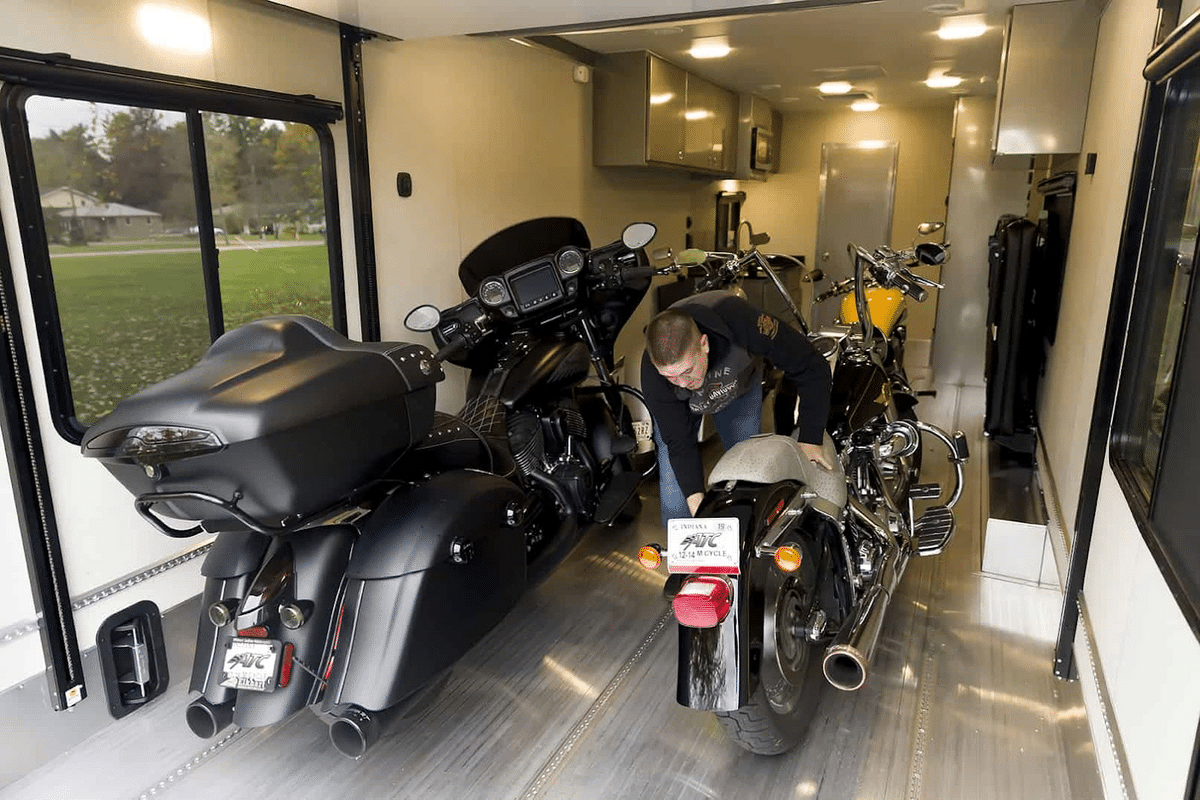 In addition to the extra living space you get from a toy hauler (more on that next), you get a separate room that acts as garage space.
A toy hauler RV is able to bring motorized toys like golf carts, dirt bikes, ATVs, and more. Many campers are unable to provide this luxury, which limits what vehicles you're able to bring while traveling.
Typically, you're limited to the vehicle you use while towing an RV or the vehicle being towed by an RV. With a toy hauler RV, you're able to have those vehicles and more.
Want to go off the beaten path with your off road vehicles while on a camping trip? A toy hauler can provide that. These rigs will change the way you view the RV lifestyle.
Convert The Extra Space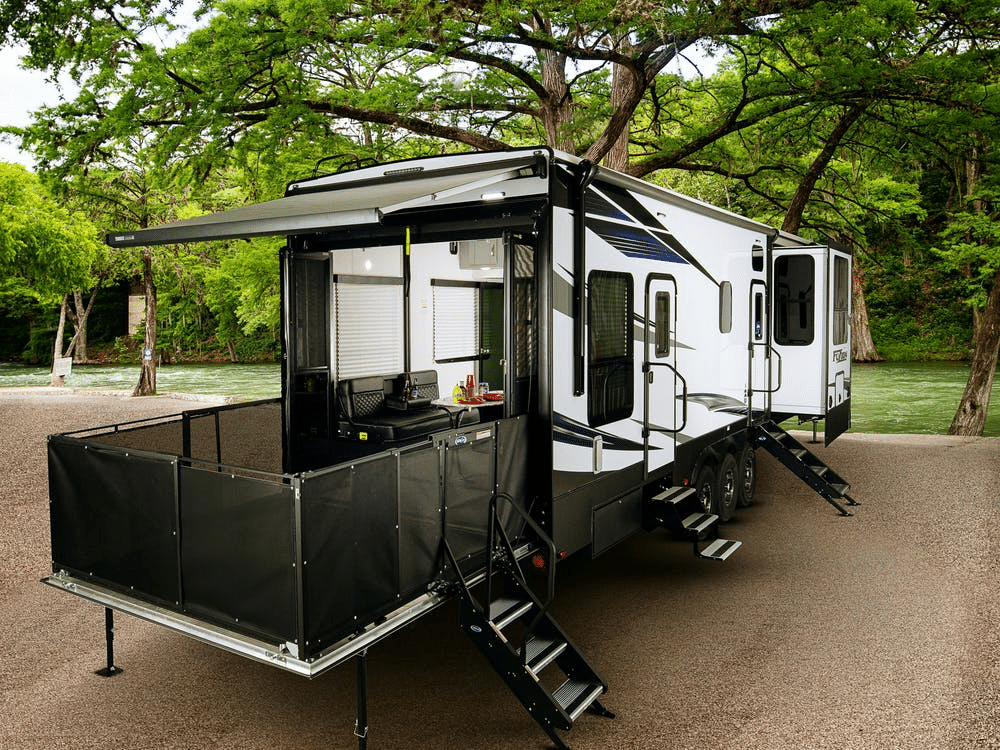 Toy haulers aren't just good for storing toys.
When you take your off road vehicle out of your toy hauler, you'll notice how much space you have in the rear garage.
The garage area in most toy haulers is large enough to provide extra living quarters and sleeping areas, but you could use that space for a range of things:
An office space
An extra bedroom
A hobby room
An open air patio
… and more!
You could even turn this cargo room into a large storage area! They make great options for anyone thinking about living in an RV, since they have more room for customization.
Note: Keep in mind that some toy hauler models have pre-built furniture in the cargo space such as a drop-down bed or additional seating.
Heavier Chassis
Thanks to the heavy duty construction, toy haulers will have a heavier chassis. This gives you a higher load capacity, which is what allows you to bring more toys on your trip!
You'll also have a smoother ride and better handling thanks to the weight of the chassis.
Interested to see what a toy hauler chassis looks like? Check out this video by Luxe Fifth Wheels:
Cons of Toy Haulers
You can't have the benefits without having a few downfalls. Here are a few cons to think about before purchasing a toy hauler:
Heavier to Tow
Thanks to the easy access the ramp door gives you, you're able to bring a ton of toys with you on your trip. However, your toy hauler is going to get heavy fast.
Having a heavy duty truck to pull a toy hauler is important, but the more weight you put on, the more fuel you'll consume. This can add up very fast and, depending on the gross vehicle weight your truck can tow, you do run the risk of overloading your toy hauler (which could result in mechanical failure overtime).
Smaller Living Space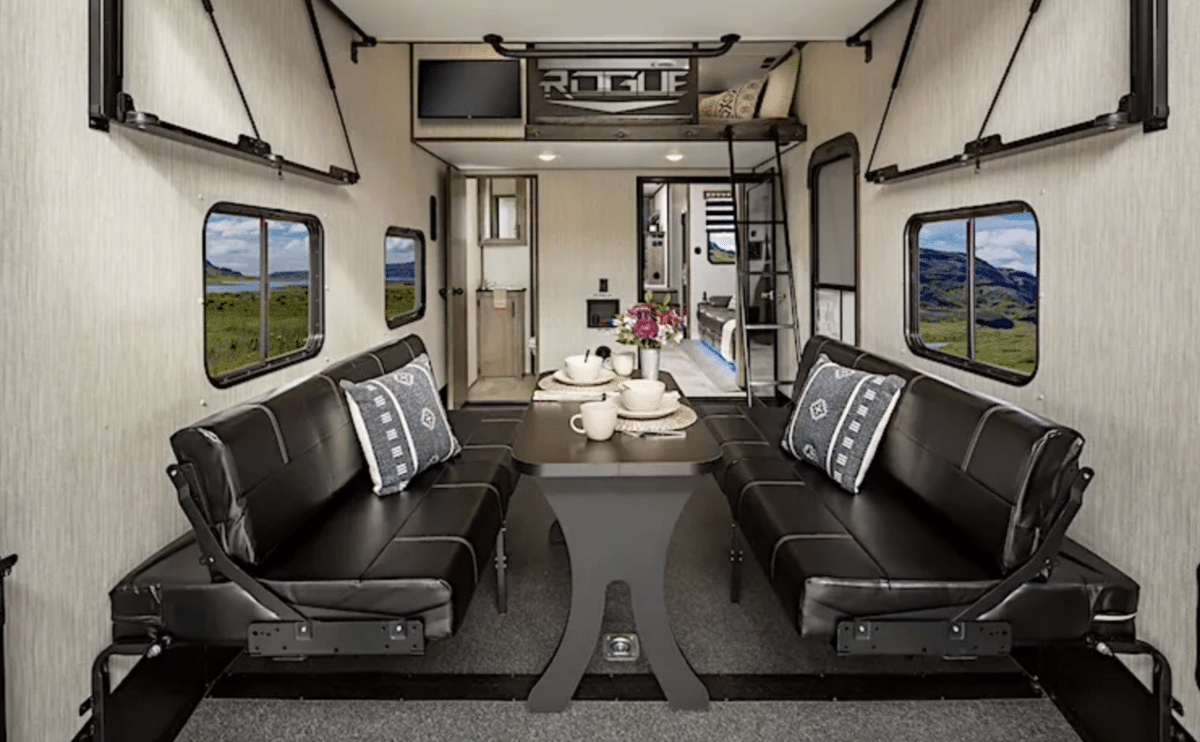 The garage takes up a lot of space in toy haulers. Unless you plan on converting the garage into extra living quarters when you get to your destination, you may feel a bit cramped.
While some people may not mind this layout, it could be an issue for those who want more space on an RV trip.
Often Less Luxurious Than Other RVs
Many toy haulers are more industrial than other models (in the garage at least), it feels less luxurious than your typical RV.
While it's not impossible to make toy haulers feel like home, it can take more effort.
Frequently Asked Questions
Still have questions on whether or not a toy hauler is right for you? We've got you covered!
Can a Toy Hauler Carry a Car?

The short and simple answer? Yes! Toy haulers are able to carry cars.

The longer, more logical answer? Yes, to a point.

Many toy haulers are able to haul cars, but keep in mind that a car is heavier than your average golf cart or ATV. Compact vehicles like a Smart car or the FIAT 500 can fit into the garage area in a toy hauler, but you have to consider the weight capacity of your RV before you attempt this.

Adding a car to the garage area in your toy hauler will eat up your weight allowance, which leaves little to no room for other supplies.
Are Toy Hauler RVs Worth It?

Depending on what you want to bring with you on your RV trip, a toy hauler is definitely worth it.

The garage area in a toy hauler can also give RV owners extra privacy (such as an office space for those who work on the road).

A toy hauler is a very versatile vehicle in the RV industry. The freedom to bring extra vehicles on your trip is a huge selling point for many people!
Do you have a toy hauler? Would you ever get one? Let us know in the comments below!
Want to read about more RV types? Check out these posts: