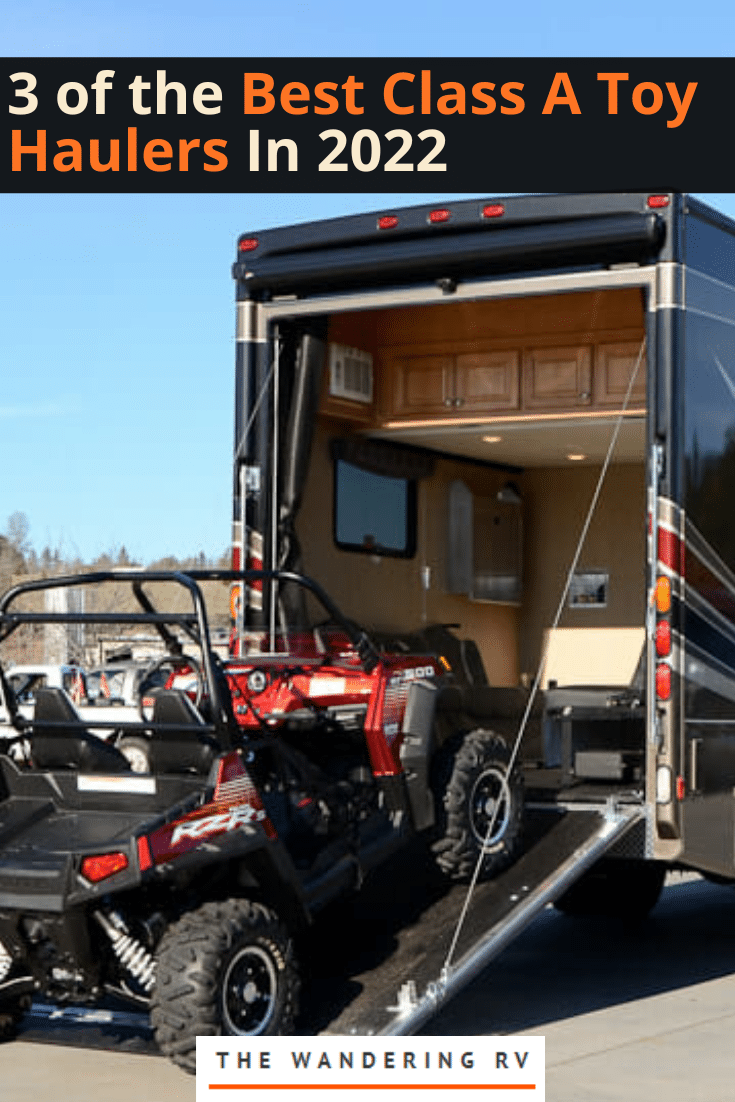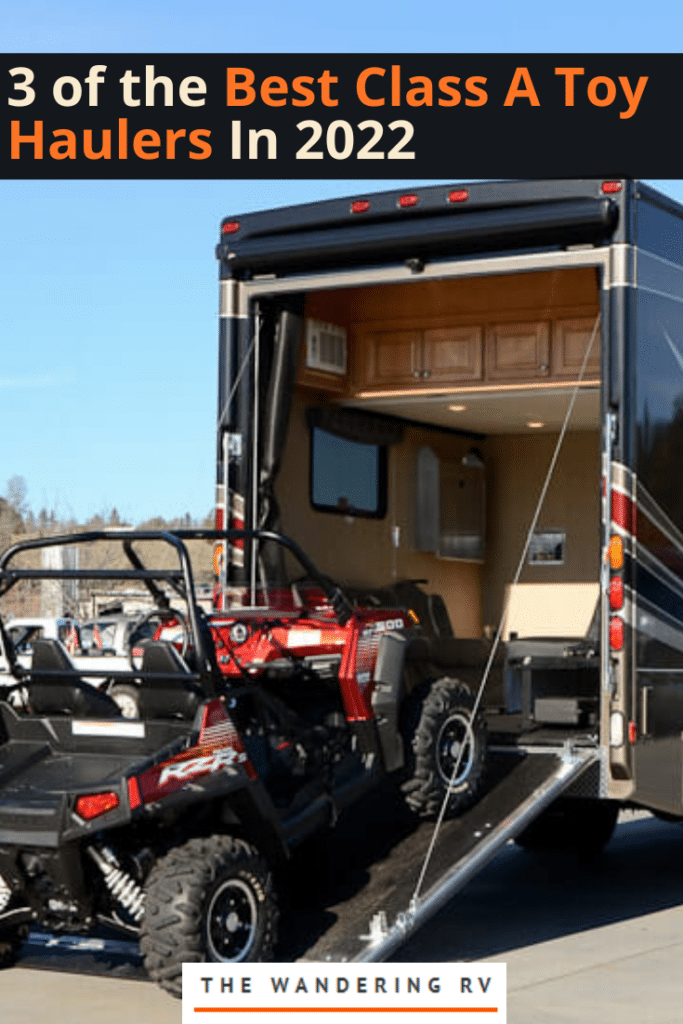 If you've been itching to go on a camping trip with your outdoor toys lately, a toy hauler is the RV for you!
In this post, we're going to talk about the Class A toy hauler in particular.
We'll go over what it is, the benefits of getting a toy hauler RV, and we'll show you 3 of the best Class A toy hauler motorhomes on the market today!
Let's dive in.
Table of Contents
What is a Class A Toy Hauler RV?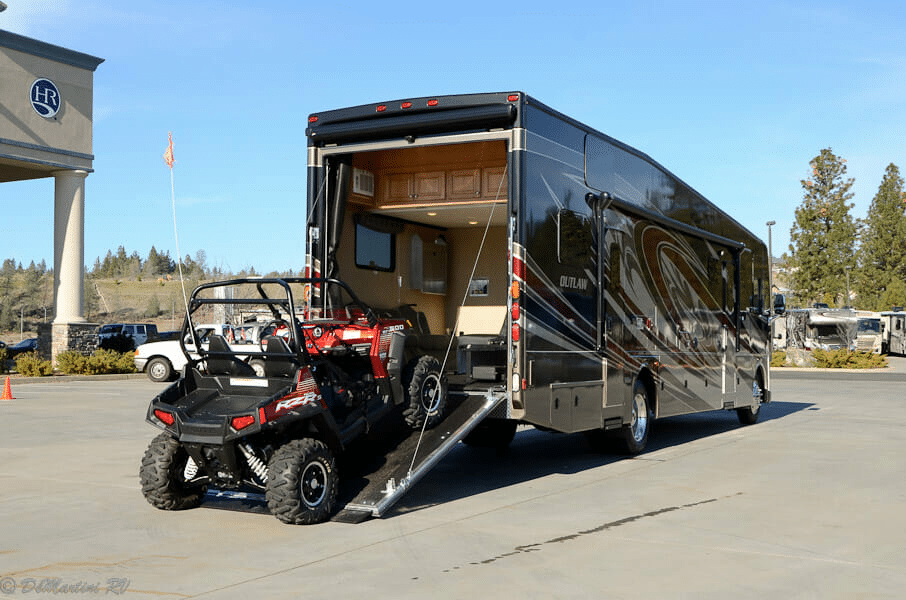 A Class A toy hauler is known to be one of the most convenient toy haulers out there. Not only do you get enough living space along with plenty of garage space, you don't need to tow it with a heavy duty truck (like you do with fifth wheel toy haulers).
This is because the engine is built into the vehicle already! Since these are some of the most luxurious toy hauler RVs, they can be very expensive.
You'll find that a Class A toy hauler can cost $200,000 or more.
Note that you can also rent a toy hauler RV if you want to save money and not have to buy one!
What Are the Benefits of a Toy Hauler Motorhome?
So, what are the benefits of getting a toy hauler motorhome? We're glad you asked!
Bring Your "Toys"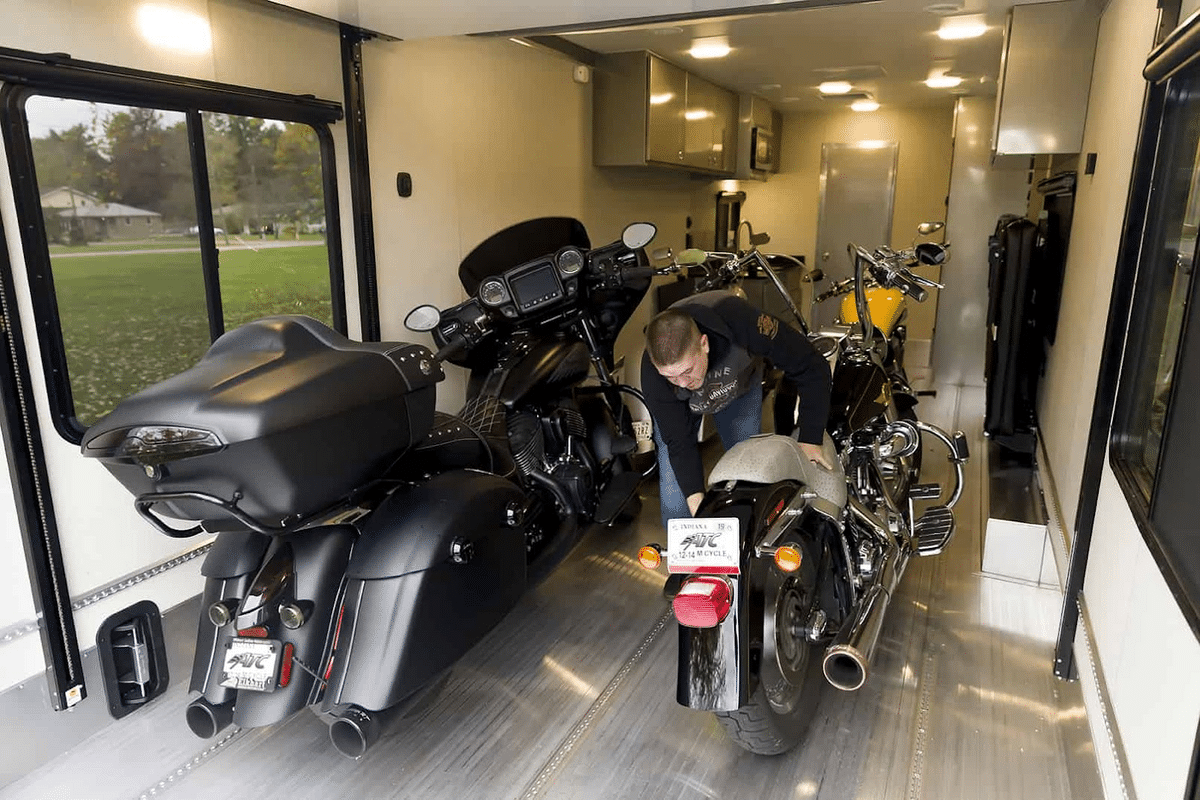 Not only do toy hauler motorhomes provide extra living space, you get a separate room that essentially acts as garage space.
A toy hauler RV is able to bring motorized outdoor toys like golf carts, dirt bikes, ATVs, and more. Many campers are unable to provide this luxury, which limits what vehicles you're able to bring while traveling.
You're usually limited to the vehicle you use while towing an RV or the vehicle being towed by an RV. With a toy hauler RV, you're able to have those vehicles and more!
Want to go off the beaten path with your off road vehicles while on a camping trip? A toy hauler can provide that. These rigs will change the way you view the RV lifestyle.
Convert The Extra Space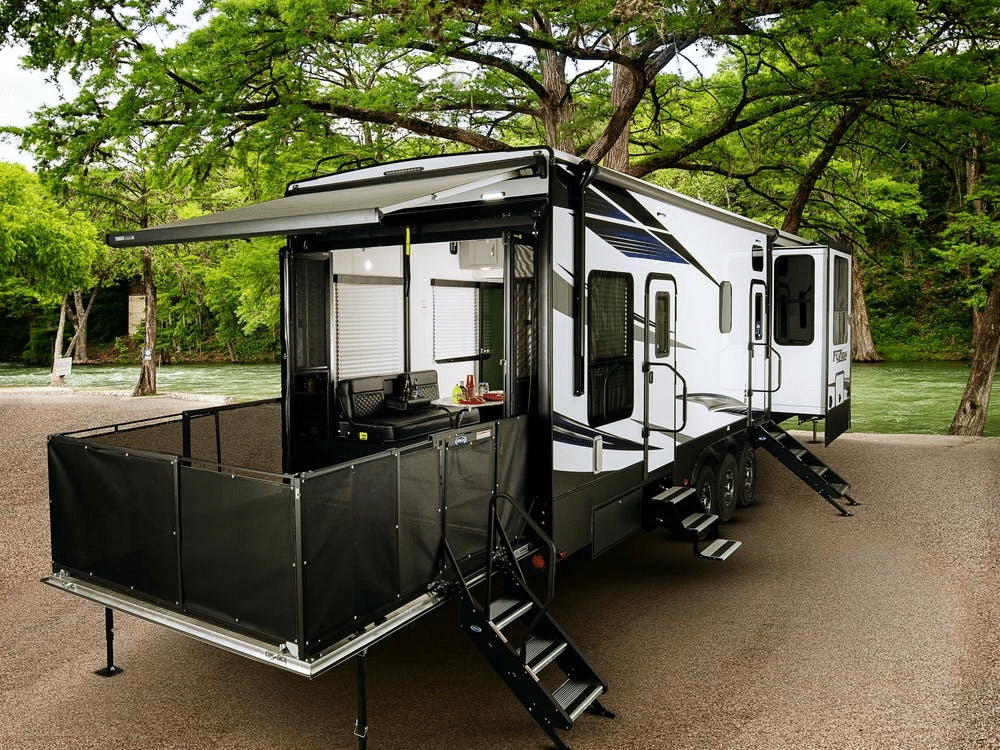 Toy haulers aren't just good for storing outdoor toys.
When you take your off road vehicle out of your toy hauler, you'll realize just how much garage space you have!
The garage area in most toy haulers is large enough to provide extra living quarters and sleeping areas, but you could use that space for a range of things:
An office space
An extra bedroom
A hobby room
A sewing room
An open air patio
Storage space
… and more!
This is especially great if you plan on living in your RV, as it can be used as your mobile office to make money on the road!
Note: Keep in mind that some toy hauler models have pre-built furniture in the cargo space such as a rear bedroom or additional seating.
Heavier Chassis
Thanks to the heavy duty construction, toy haulers will have a heavier chassis which increases the cargo carrying capacity.
Essentially, this means that you have a higher load capacity, which is what allows you to bring more toys on your trip!
You'll also have a smoother ride and better handling thanks to the weight of the chassis. Interested to see what a toy hauler chassis looks like? Check out this video by Luxe Fifth Wheels:
Note: Toy hauler motorhomes typically have a cargo carrying capacity between 3,000 – 9,000+ lbs.
3 Best Class A Toy Hauler RVs
Here are the three best class A toy haulers out now:
1. Thor Motor Coach 38KB Class A Toy Hauler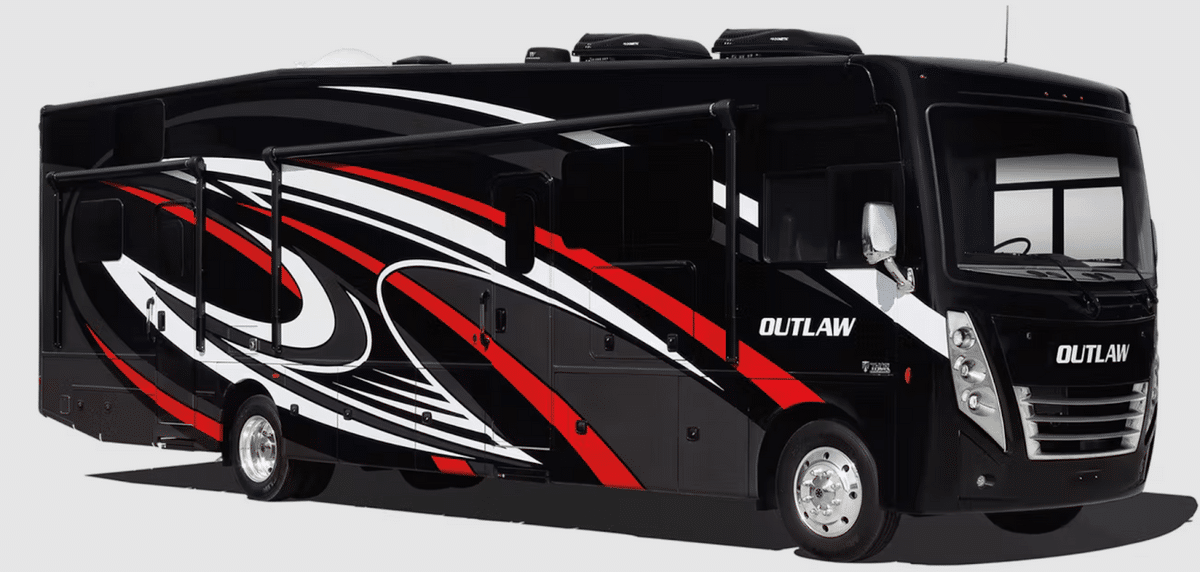 We are absolutely in love with the Thor Outlaw 38KB model. We don't want to say that it has the potential to put other toy hauler motorhomes to shame but… it might.
One of the most attractive (and unique) features of this toy hauler RV is the sky bunk in the garage area that stays in place regardless of how you set up the floor area when your toys are outside of the RV.
Take a look at the floor plan for this toy hauler motorhome:

Not only do you get an awesome sky bunk, you also get a tilt-a-view king size bed in the master bedroom. Both Thor Outlaw models provide a 9,000 lb towing capacity as well as an optional tankless on-demand water heater.
2. Newmar Canyon Star Class A Toy Hauler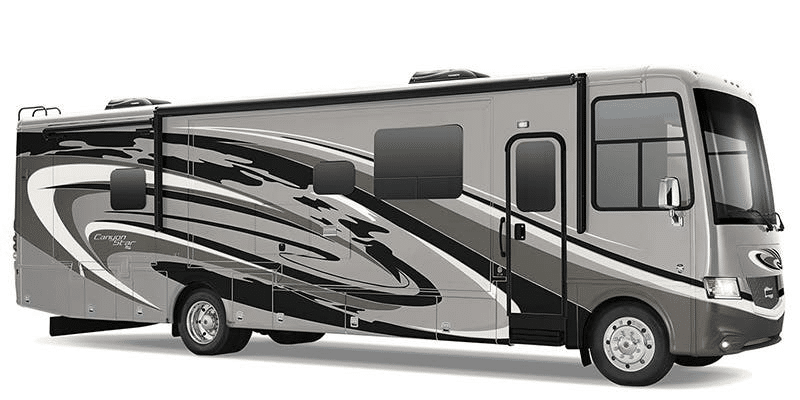 The Newmar Canyon Star stands out because as of right now, it's the only Class A toy hauler with a diesel engine. However, it's not technically under the "diesel pusher" category, its quiet engine delivers the torque and horsepower you desire from a diesel motorhome.
The Newmar Canyon Star is just as luxurious as other Canyon Star Class A's, this one just comes with garage space. To be completely honest with you, because of how large this Class A toy hauler is, you wouldn't even know that it came with a garage space unless you saw the door in the bedroom.
Take a look at the floor plan of this toy hauler motorhome to see what we mean:

When your toys are out of the garage, you'll be shocked at just how much extra storage space you have. This Class A toy hauler has a dinette that converts into a queen bed in the garage space as well (this means, you have two queen beds in this toy hauler RV – one in the main bedroom and one in the garage. Plenty of sleeping space for you and the family!). It rises out of the way when you have to bring your toys back into the motorhome, however.
Overall, we're huge fans of the Newmar Canyon Star and would highly recommend it!
3. Thor Motor Coach Outlaw Class A Toy Hauler Motorhome 38MB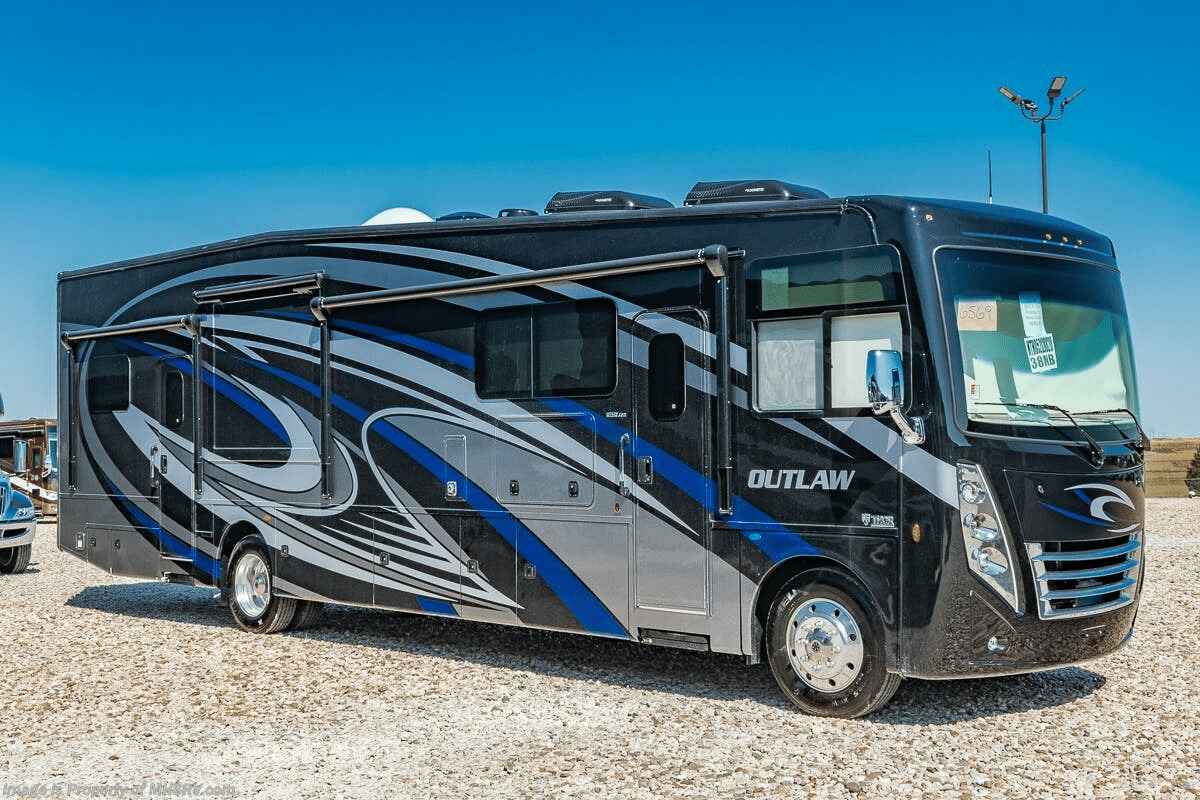 While you could argue that each of the Thor Outlaw models are identical – they're not. There are slight differences between the Thor Outlaw 38MB and the Thor Outlaw 38KB (as we talked about above).
One of the main differences is the sleeping space. With the Thor Outlaw 38MB, you get less privacy in the sleeping area. In the 38KB model, you get a tilt-a-view king size bed in the master bedroom, whereas with this model (the 38MB) you get a standard queen bed.
Take a look at the floor plan of this toy hauler motorhome:

As you can see, there are many differences between the two. The sky bunk is replaced by a drop-down overhead bunk and there isn't as much storage space in this model. However, the Thor Outlaw provides all the luxury features you'd want while on longer trips with a large family.
Other Types of RVs
While we talked about the Class A toy hauler today, there are plenty of other amazing RVs out there.
We've written loads of guides on some of the best RVs on the market today, such as:
What are some of your favorite things about toy hauler motorhomes? Do you plan on purchasing one for yourself? Let us know in the comments below!