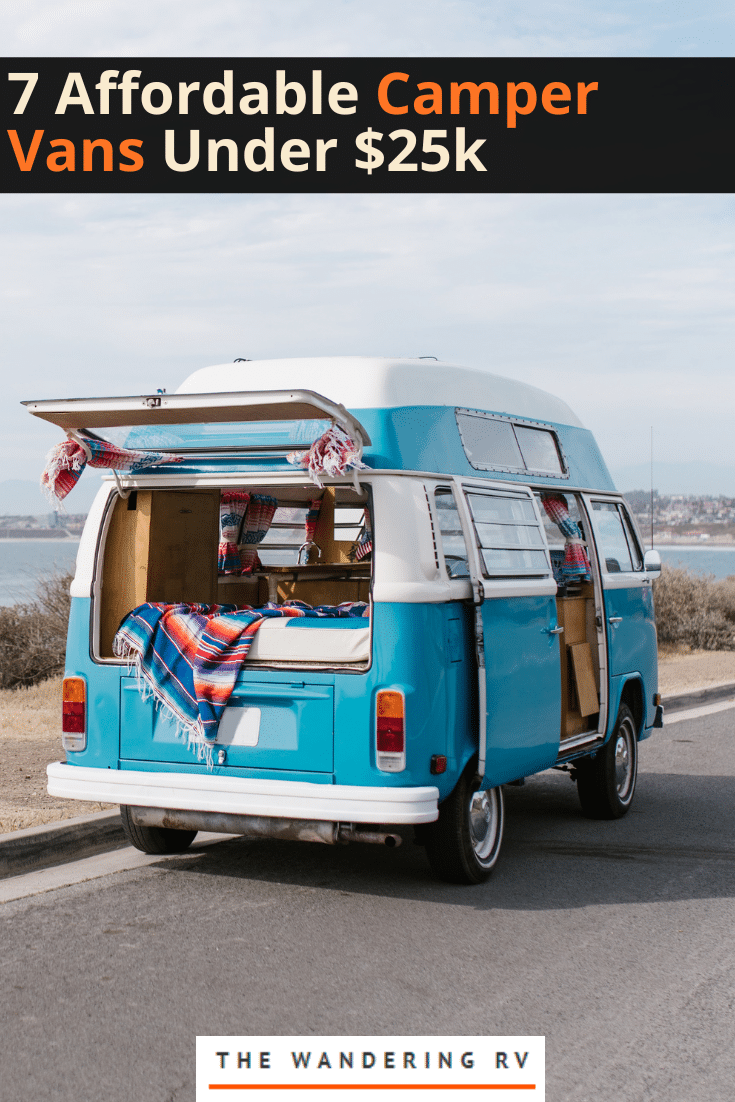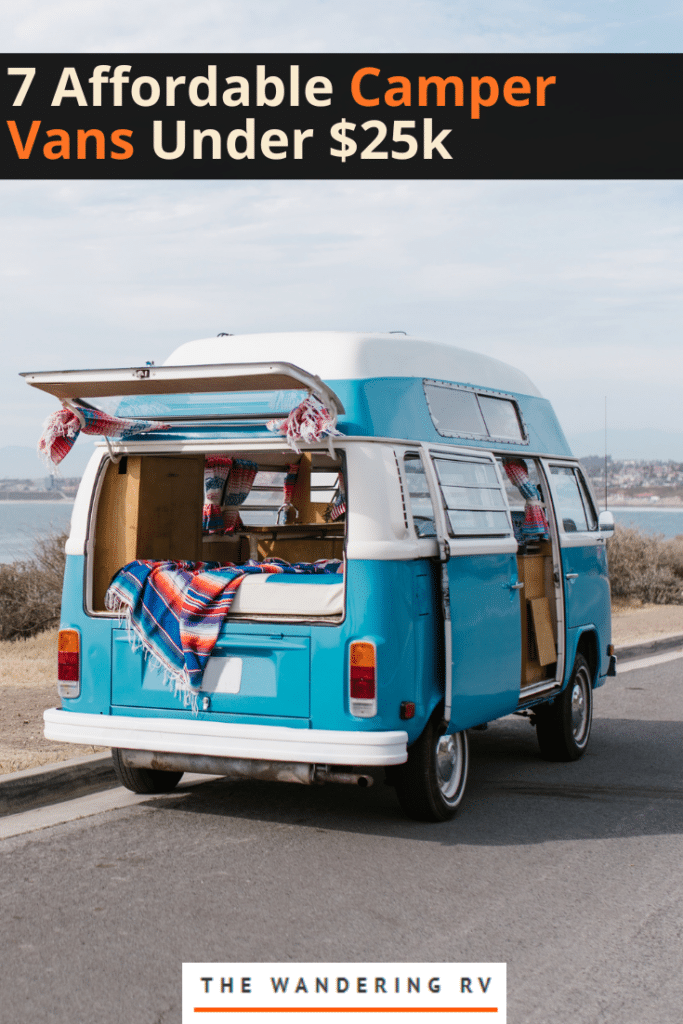 Whether you're considering van life or you just love the idea of camping in a camper van, owning one of these homes on wheels is a dream come true.
However, many class B RVs and camper vans are expensive. They can easily go for $50k, $100k, or even up to $200k!
To help you get on the road and save your wallet, we found the 7 best affordable camper vans for under $25k. Some of these vans go for as little as $10k!
Let's take a look:
Table of Contents
Average Price of Camper Vans
The truth is, that depends! Here's what we've found:
Newer camper vans can cost anywhere from $110,000-$200,000.
Old (or used) camper vans can be as low as $25,000.
Premium used camper vans cost anywhere from $75,000-$100,000.
DIY camper van conversions can cost anywhere from $5,000-$45,000.
Let's talk about some of the most affordable camper vans on the market today!
Our 7 Favorite Affordable Camper Vans Under $25k
In order of least to most expensive, here are the 7 best cheap camper vans in order of least to most expensive:
1. Chevy Astro Conversion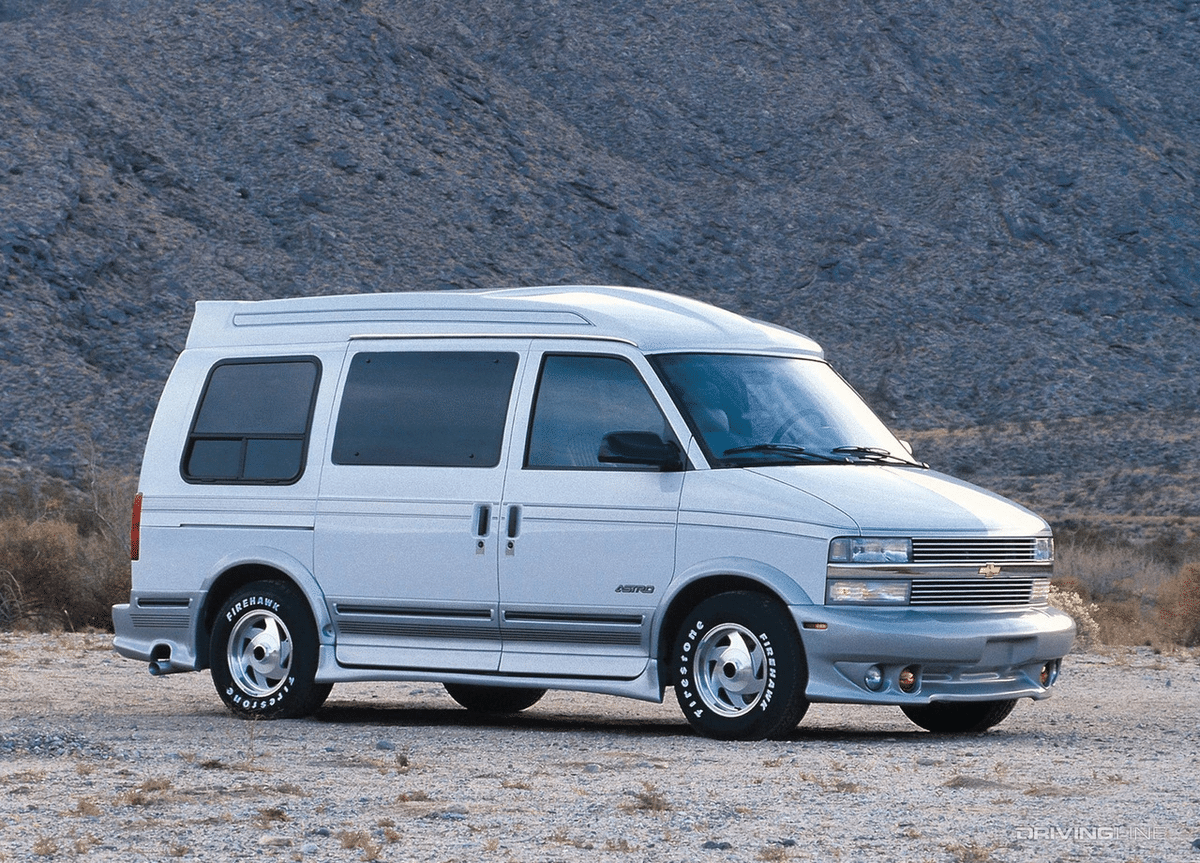 Price Range: $2,000 – $10,000
Sleeps: 2
Chevy Astro Conversion Vans were incredibly popular in the '90s and early 2000s. They feature a powerful 3.8L V6 engine and it's not unusual to see these camper vans still going strong at 300K miles!
Inside of these conversion camper vans, you'll get a bench seat that converts into a bed, built-in storage units, and extra headroom.
If you're looking for the least expensive camper van on the market today, you can't go wrong with the Chevy Astro! There's a reason it's considered one of the best vans for van life.
2. Dodge Grand Caravan Conversion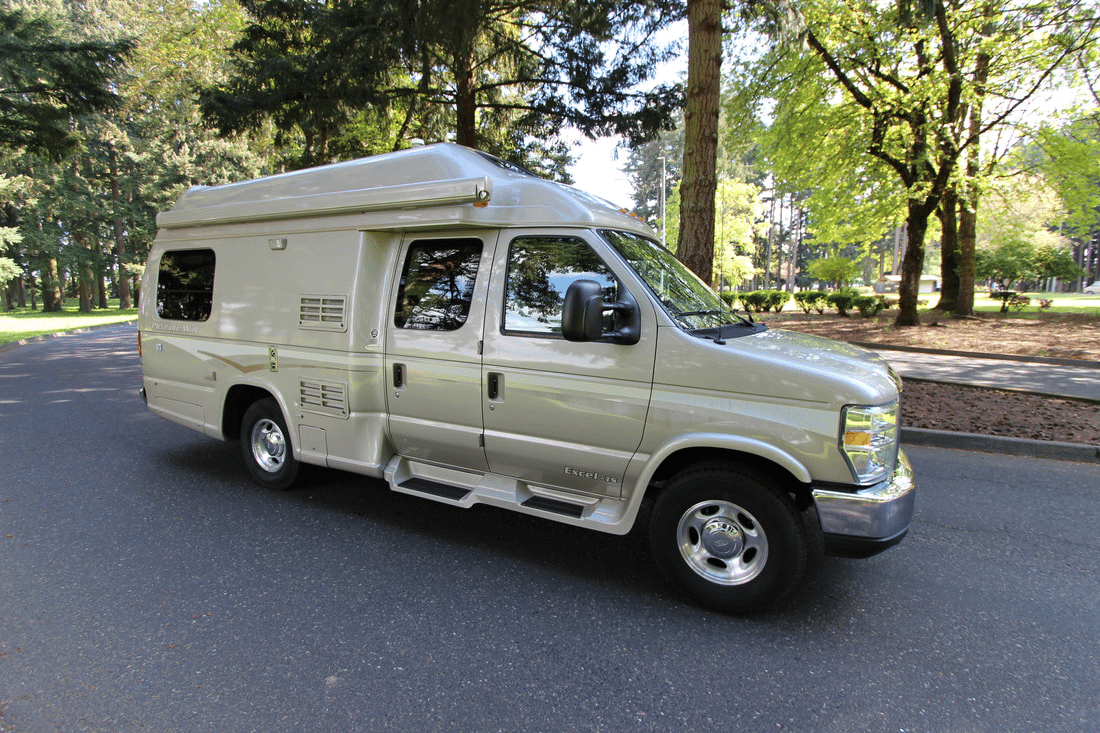 Price Range: $5,000 – $20,000
Sleeps: 2 – 4 people
The Dodge Grand Caravan Conversion is another great way to get the least expensive camper van today. If you're a couple (or small family), this camper van will be perfect for you!
Typically these off-grid adventure vans have high mileage, but they're very well taken care of when brought into an RV manufacturer. These camper vans come with:
Double beds
Sink
Mini fridge
Plenty of storage
A portable butane stove
This would be an awesome conversion van for van life!
3. Ford Falcon 190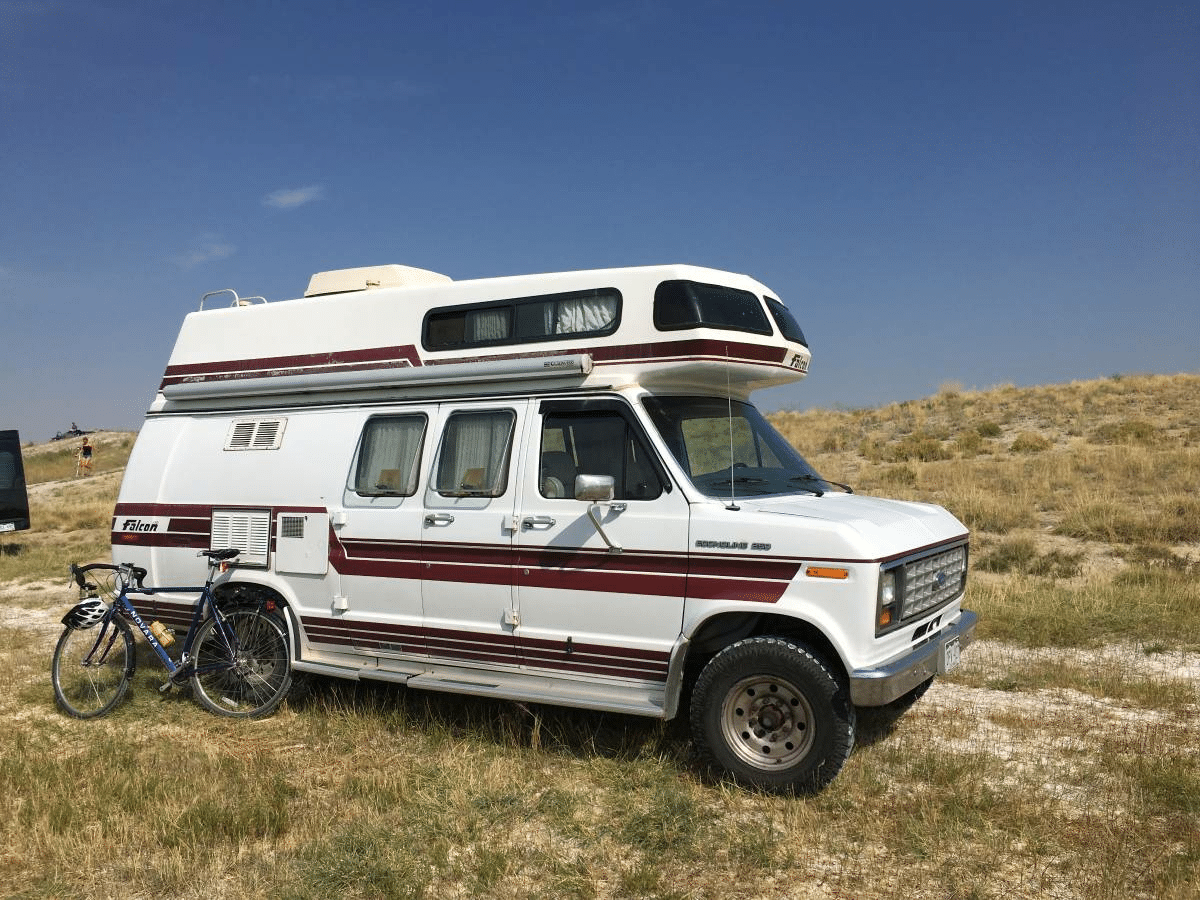 Price Range: $6,000 – $12,000
Sleeps: 4
The Ford Falcon camper van has a vintage look thanks to its raised roof and striped paint job. It's built on a Ford E350 chassis with a powerful 8-cylinder engine. It's also a fully self-contained van with a generator and propane furnace.
This camper van also has a wet bath! Apart from that, it has a dinette that converts into a bed, a fridge, and plenty of storage.
4. Ford Transit Connect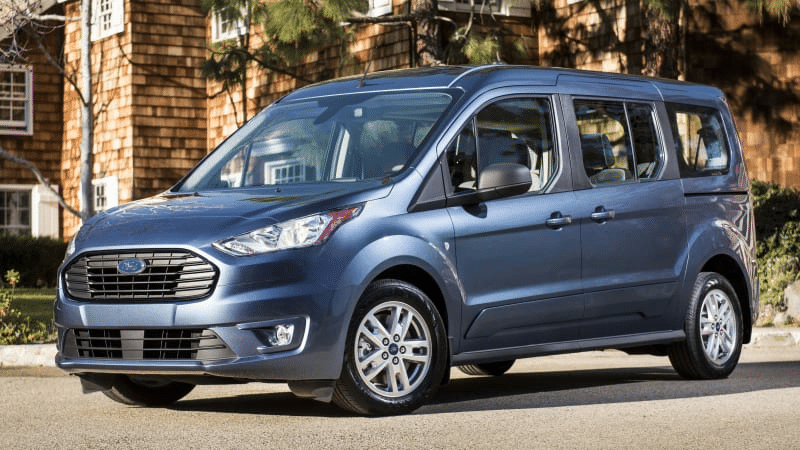 Price Range: $6,000 – $24,000
Sleeps: 1 – 2 people
Another great camper van option from Ford is the Ford Transit Connect! These are small, compact camper vans that are perfect for couples or solo-travelers.
On top of that, they're small enough to be used when stealth camping as they blend in very well! Not only that, but the Transit Connect gets up to 28mpg – it's one of the most economical vans on the market today.
5. Mitsubishi Delica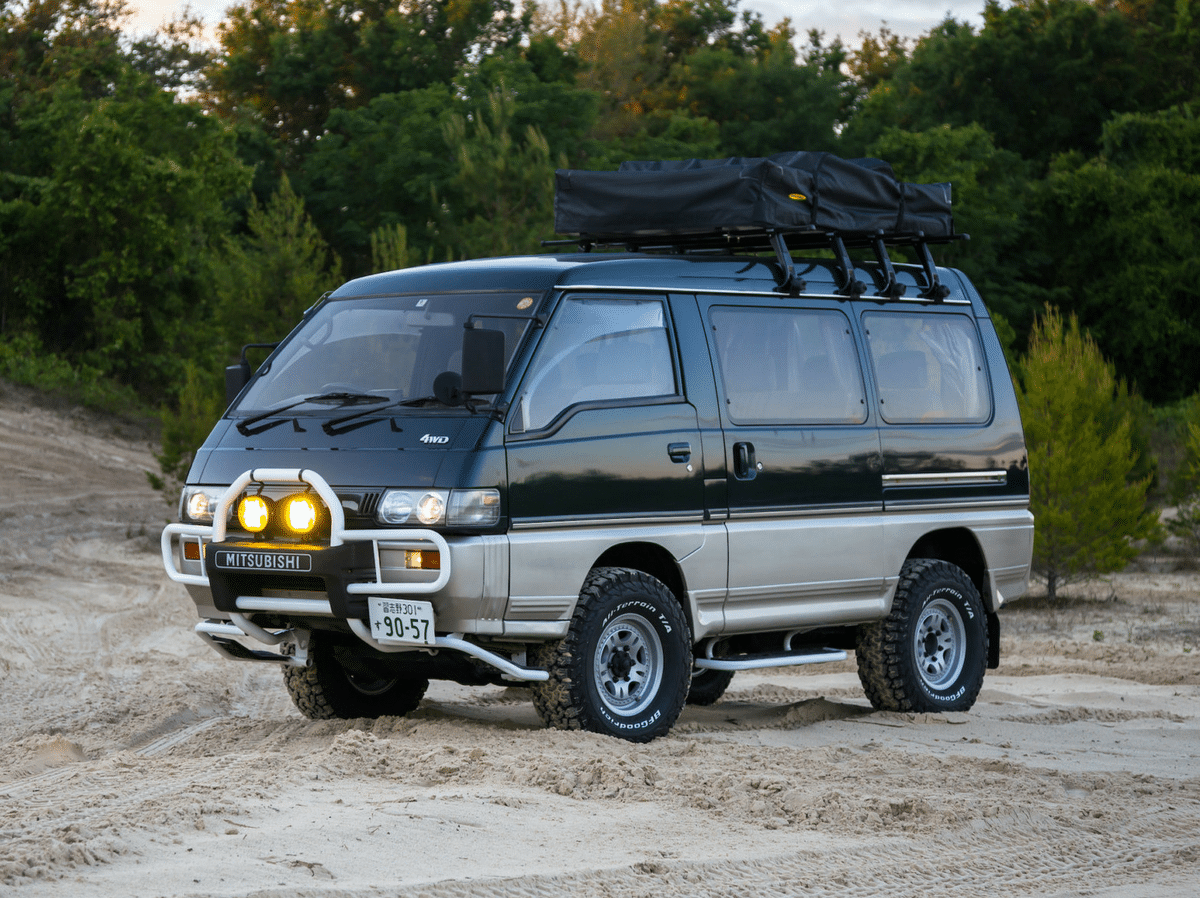 Price Range: $10,000 – $21,000
Sleeps: 4
The Mitsubishi Delica is a mid-90's Japanese classic. It's built on a sturdy 4×4 chassis and is powered by a turbo-diesel engine. The compact design makes it easy to navigate through cities and it's high clearance makes off-roading in this camper van a breeze!
Because the Mitsubishi Delica camper van is imported from Japan, the driver's seat is on the right side. It might take a bit to get used to driving on the "wrong" side at first, but with a bit of practice you'll get the hang of it!
6. VW Eurovan Camper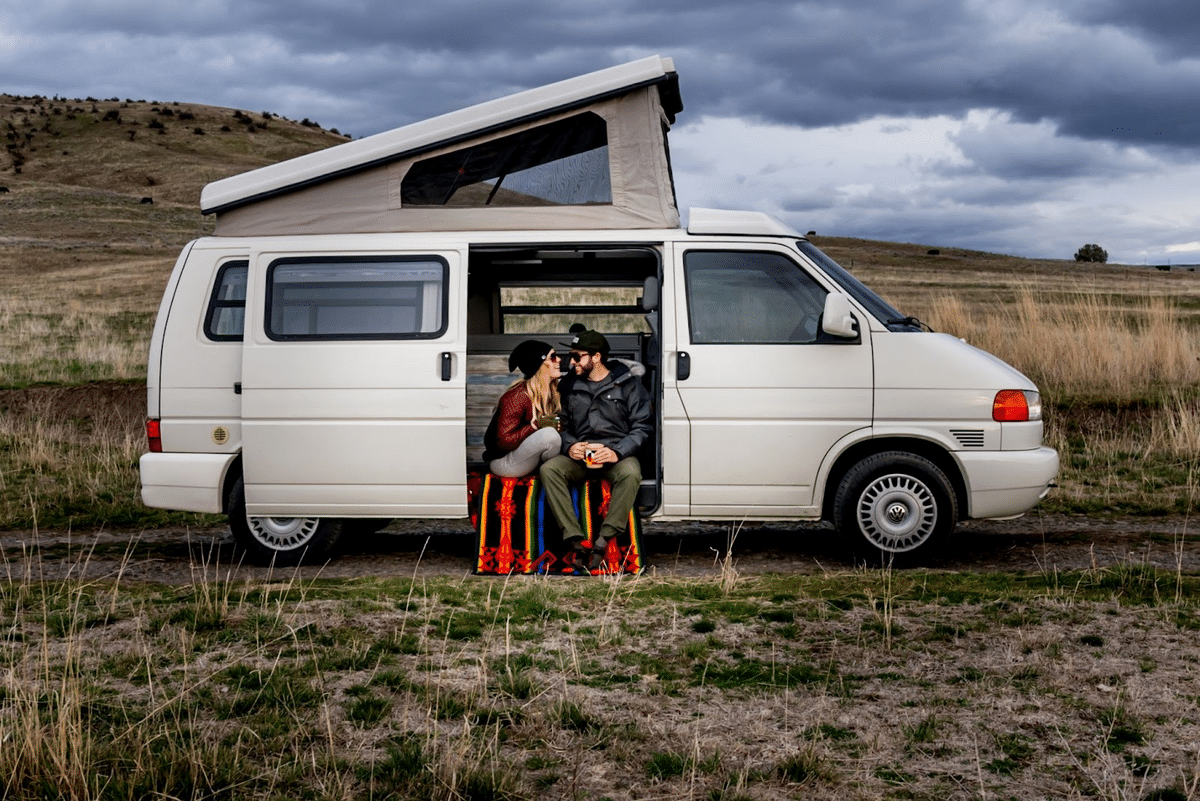 Price Range: $10,000 – $24,000
Sleeps: 4
The VW Eurovan Camper was created between 1995 and 2003 when Volkswagen partnered with Winnebago. Together, they made one of the most affordable camper vans on the market! While they didn't sell that well in the United States, you can still find these off-grid adventure vans to purchase today.
This camper van has everything you'd want for van life, including (but not limited to):
Rear passenger bench that folds down into a double bed
12-volt RV refrigerator
Stove
Sink
Storage area
If you're looking for an affordable option, we'd definitely recommend the VW Eurovan Camper!
7. Winnebago Rialta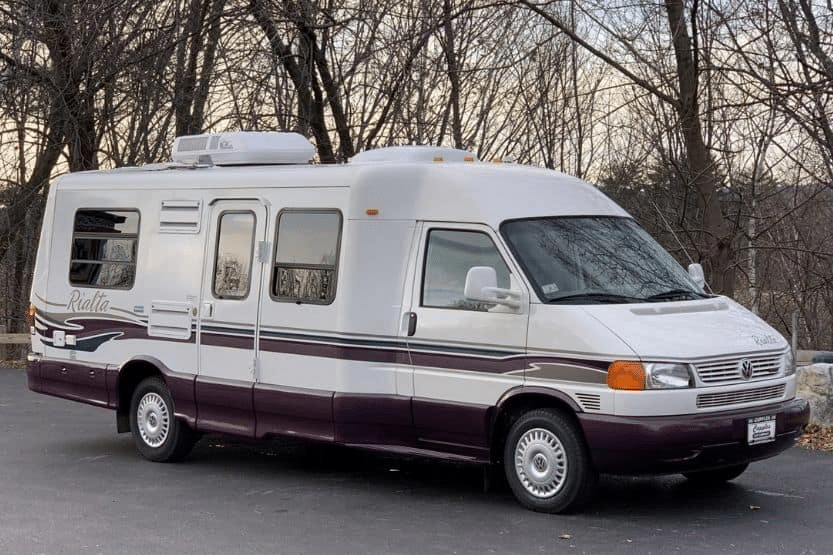 Price Range: $15,00 – $24,000
Sleeps: 4
Looking for an affordable camper van with a little bit more space than you're used to? The Winnebago Rialta is the camper van for you!
There are 4 floor plans for the Winnebago Rialta and the largest one can sleep four people comfortably. Not only that, this camper van can get 18-22 mpg on the highway. Between the size and the reliable Volkswagen V6 engine, it's easy to see why so many people flock towards the Rialta!
Luxurious camper vans aren't always easy to find, but this one has it all!
Winnebago is one of the most well-known RV manufacturers in the world. They're known for extremely high quality campers.
They're latest camper van, the Winnebago Solis, is another excellent option to look at. It's not a cheap option like the others on this list, but it's a cool one to look at regardless!
What to Consider When Buying a Cheap Camper Van
If you're on the hunt to find the least expensive camper van out there, we're all for it!
However, we recommend that you think about the following things before purchasing one:
Sleep Capacity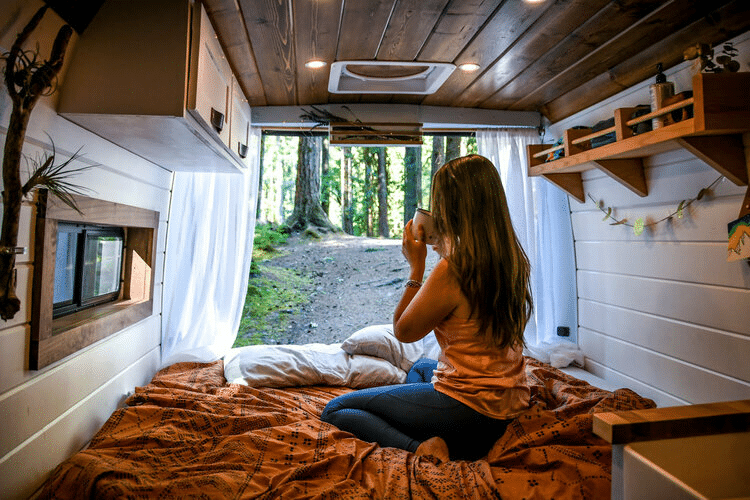 As you can tell from the examples shown above, camper vans can sleep up to 4 people.
Depending on how big your family is, they might not be the best choice for you. Some camper vans have double beds on either side, whereas some come equipped with a full size bed or a murphy bed.
While camper vans don't offer a ton of living space, they're perfect for solo travelers or couples!
Overall Living Space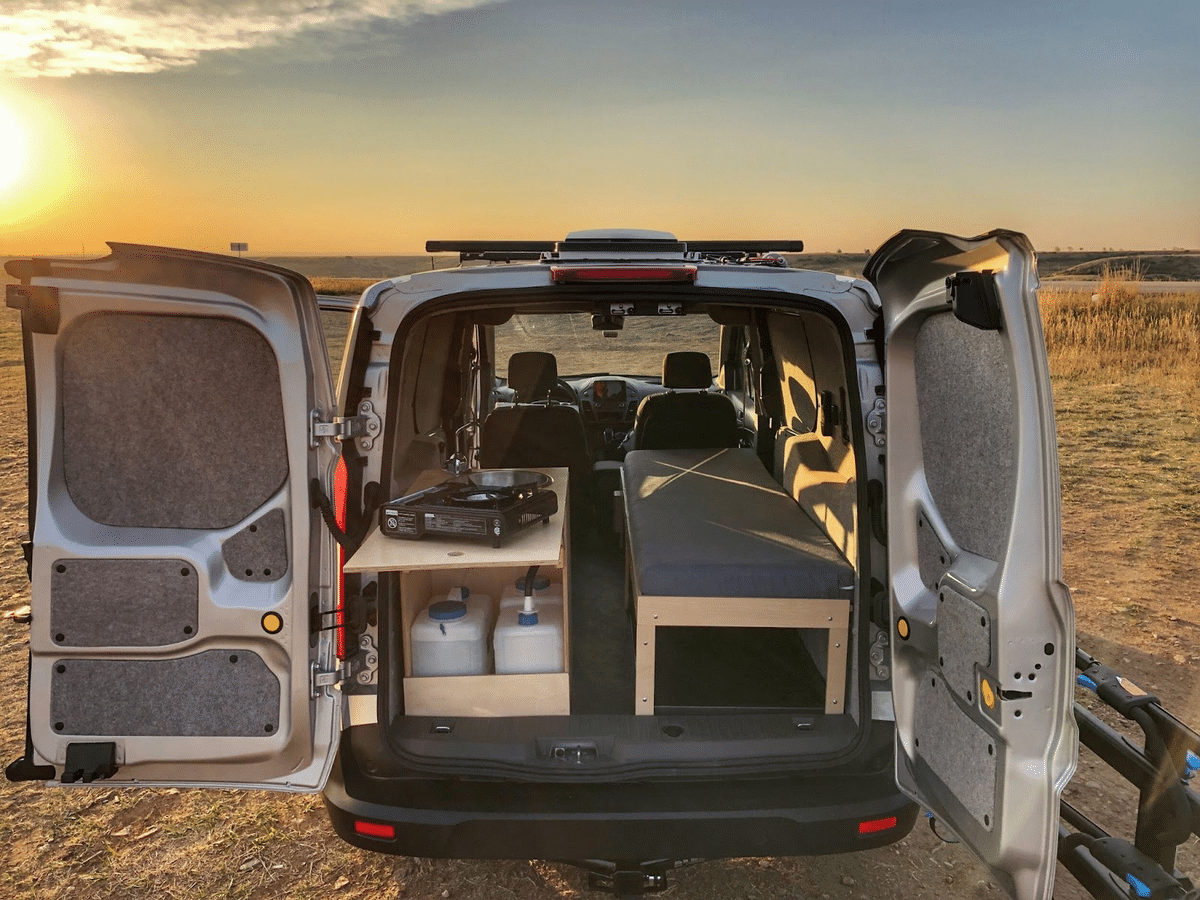 When looking for an affordable camper van, you'll find that most models have the same amount of living space.
Most vans have front seats (you could even find a van that has leather seats), storage cabinets, a full kitchenette, a full size bed, a batwing awning, and more!
Camper vans are great for everyday use and they tend to be the most affordable option when looking for an RV.
Note: Keep in mind that not all camper vans come with a bathroom or a stove! We recommend grabbing a portable toilet and a portable butane stove before you hit the road.
Storage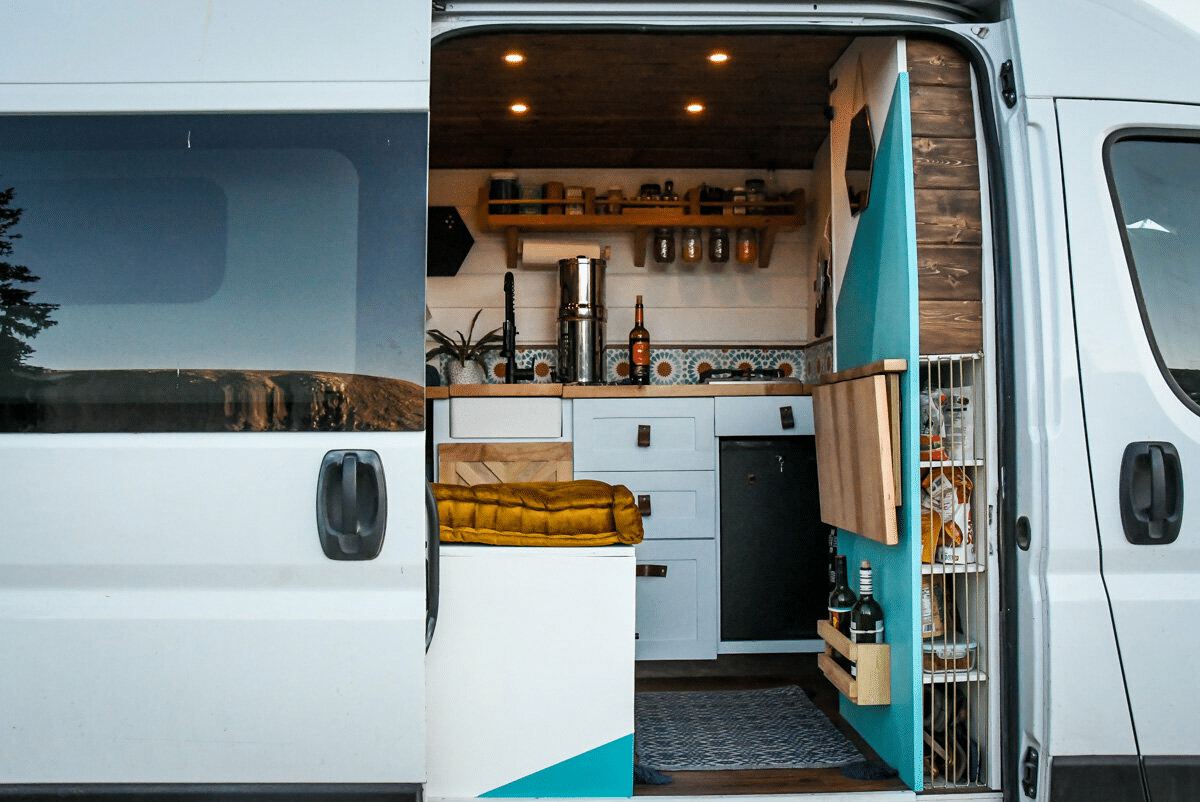 Storage space is an issue in almost all RVs (which is why we created an RV space saving guide for ultimate organization). In camper vans, you'll find that storage space is even more limited than normal.
While you could modify your camper van with a rooftop storage pod or a roof rack to hold all your outdoor gear, it does cost a bit of money. However, if you plan on being in your van for a long time, it may be worth the investment!
Exterior & Interior Height
The exterior height of camper vans is typically 8' while the interior height is around 6 ½'.
Depending on how tall you are, this could be a bit of an uncomfortable issue! We certainly wouldn't want this to keep you from living an adventurous life in a camper van, but if you realize that isn't enough room for you, take a look at some of the best RVs on the market today.
Rust Issues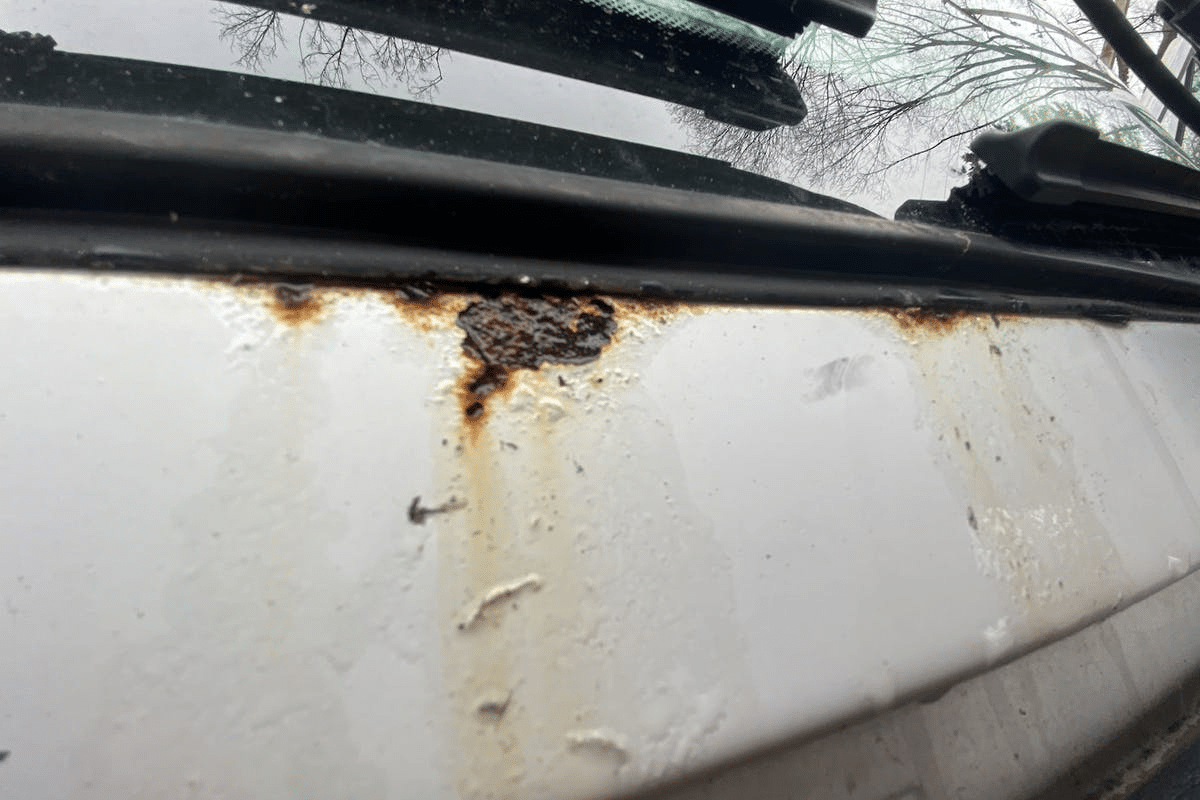 It's not uncommon to find rust on even the most expensive camper van out there. Depending on how bad the rust is, you could remove it yourself.
To do this, you'll need:
Wire brush or a drill and wire bit
Sandpaper
Rust converter
Paint brush
Red oxide primer
Top coat
Dustpan and brush or hoover
Safety glasses
The first thing you'll do is use your wire brush, drill and wire bit, or sandpaper to get as much of the rust off as you can. You want to be able to see all or as much of the metal that was once there.
Next, add your rust converter to the areas that were covered by rust. This isn't an end-all solution, but it will react with any remaining rust and stop it from spreading. You'll know that it works when the rust converter color turns black. If it doesn't change color, add another coat. You can't move on until this happens!
From there, you're going to add the red oxide primer and, when it dries, sand it down. Then you can use your top coat to cover the spot! It usually takes up to 24 hours to dry fully.
If you find that your camper van has more rust than what you can handle, you'll have to take it to a professional.
But, that can cost anywhere between $60 and $1,000 depending on how big the surface area is (and where it's located), which leads us into…
Repair Costs
If your camper van needs to be repaired by a professional, you're looking at a pretty hefty bill.
Labor costs alone can run anywhere between $150 and $170 an hour! Depending on the parts needed to be repaired in your camper van, it might need to be in the shop for a few hours. You'll also have to pay for whatever needs to be repaired (or replaced).
Typically, RV repairs can cost anywhere from $1,000 to $3,000. Keep in mind, if you have RV insurance most of your van repairs will be covered or at least a lot cheaper!
Resale Value
If you treat your camper van with the utmost care and are able to maintain it, there's no reason you won't be able to get some of your money back when you go to sell it. If you upgrade or modify your RV, you may even be able to get a bit more back!
However, if you purchase a brand new camper van, it will lose a lot of its value as soon as you drive it off the lot.
Keep in mind too that an older camper van is more likely to have mechanical issues in the future, which could make it much harder to sell.
Fuel Economy
Class B camper vans are known to be some of the most fuel-efficient RVs on the market today. They typically get 18–25 miles per gallon, while Class C motorhomes on average get 14-18 mpg, and Class A motorhomes get around 7-13 mpg.
There are tons of factors that will affect your exact mileage (for example, your camper vans overall weight, the way you drive, and more).
Other Budget Van Life Tips
Looking for some tips on how you can save money while traveling? We've got you covered!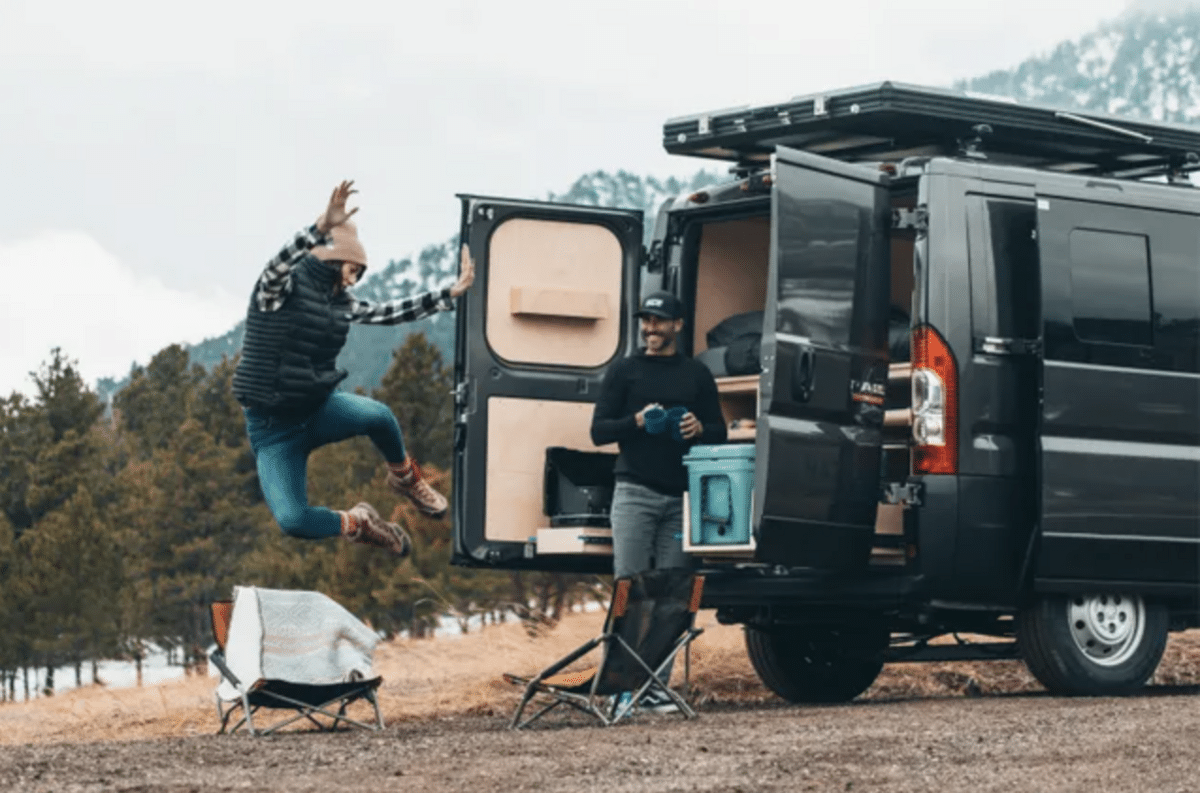 1. Look for free camping locations. A lot of the time, campgrounds can cost up to $30 per night. While that's not bad every now and then, it adds up! Click here if you want to read our guide on how to find free camping near you.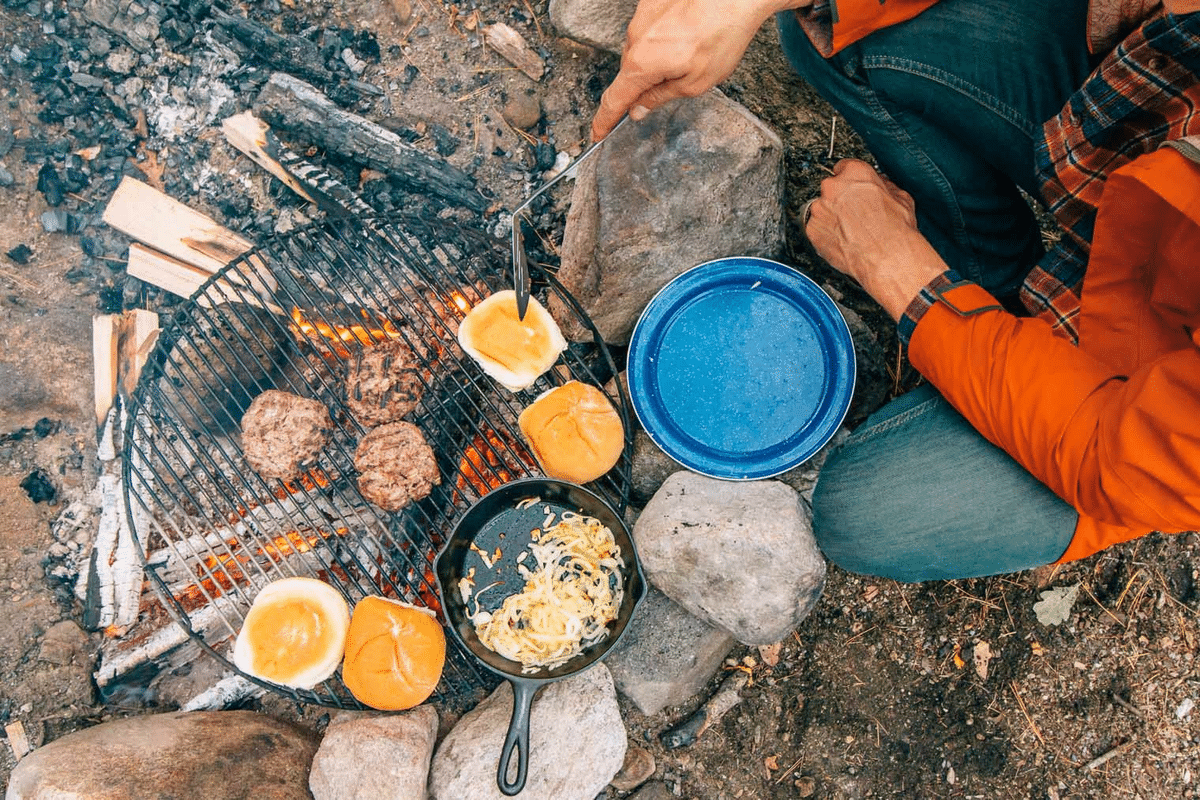 2. Cook meals at your campsite. Did you know that you spend more money eating out than you would if you purchased meals for the week at a grocery store? While the upfront cost may seem high, the cost over time from fast food and restaurants add up quickly! Click here to discover 40 easy camping meals.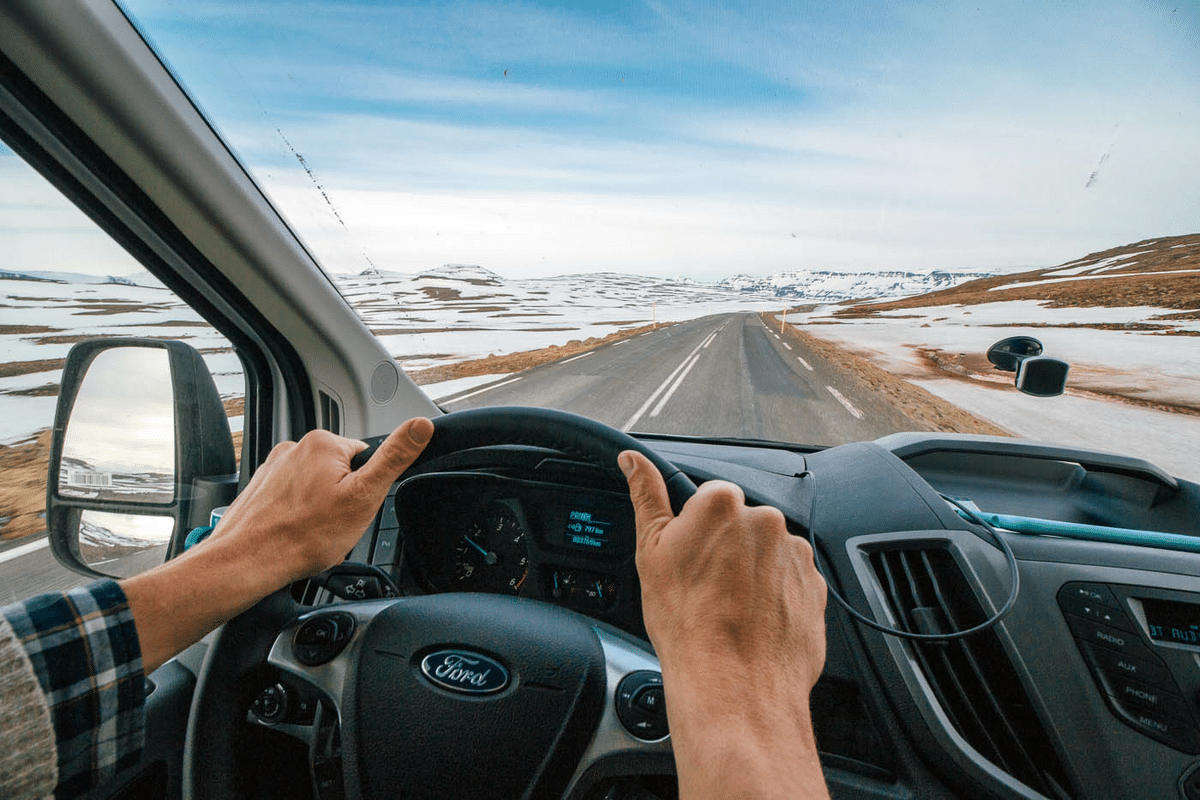 3. Maximize fuel efficiency. Planning your route will save you a whole lot of money. Not only will you know where you're going and not make any wrong turns along the way, you'll be able to travel at a steady pace and maximize your fuel efficiency. Did you know that when your speed dips and bursts, you use way more fuel (and spend more money) than you need to?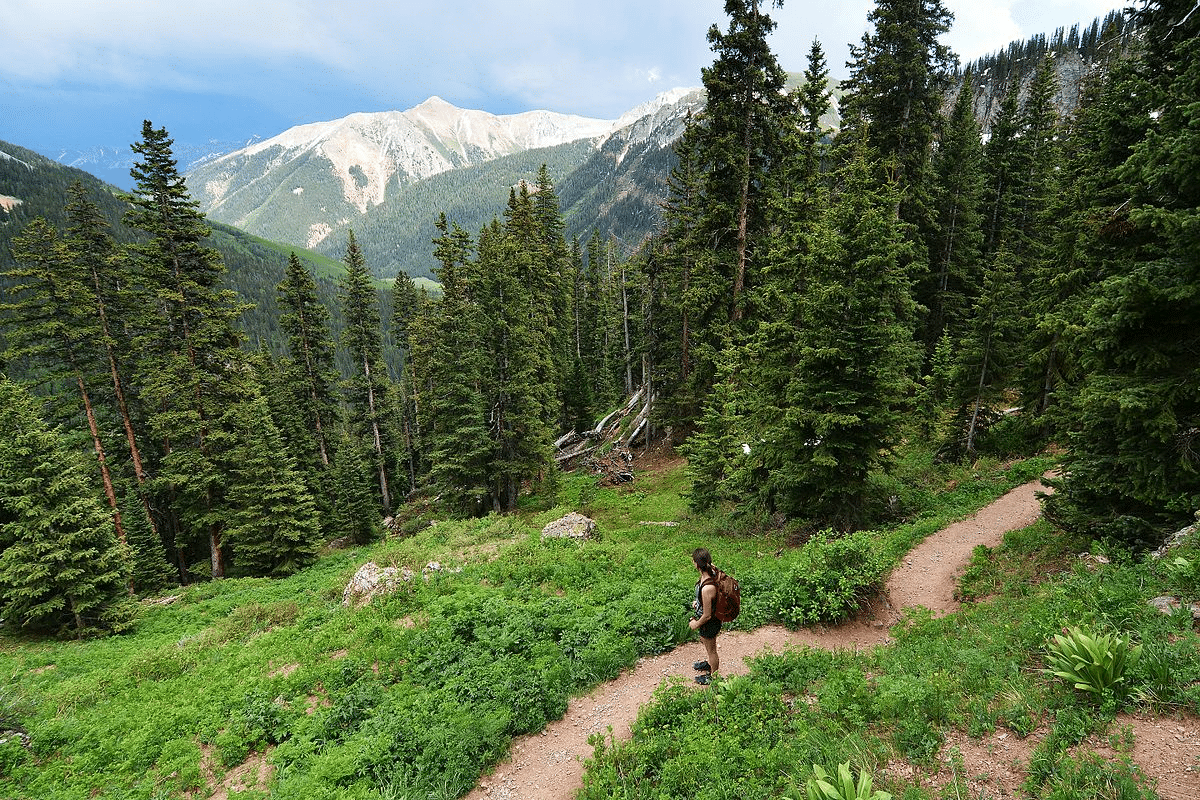 4. Enjoy free activities. Hiking, biking, kayaking… the list goes on and on! You don't have to spend a ton of money to enjoy a vacation! Click here to read our guide on cheap vacation ideas.
Which was your favorite least expensive camper van on our list? Let us know in the comments below!
Want to read more? Check out these articles: