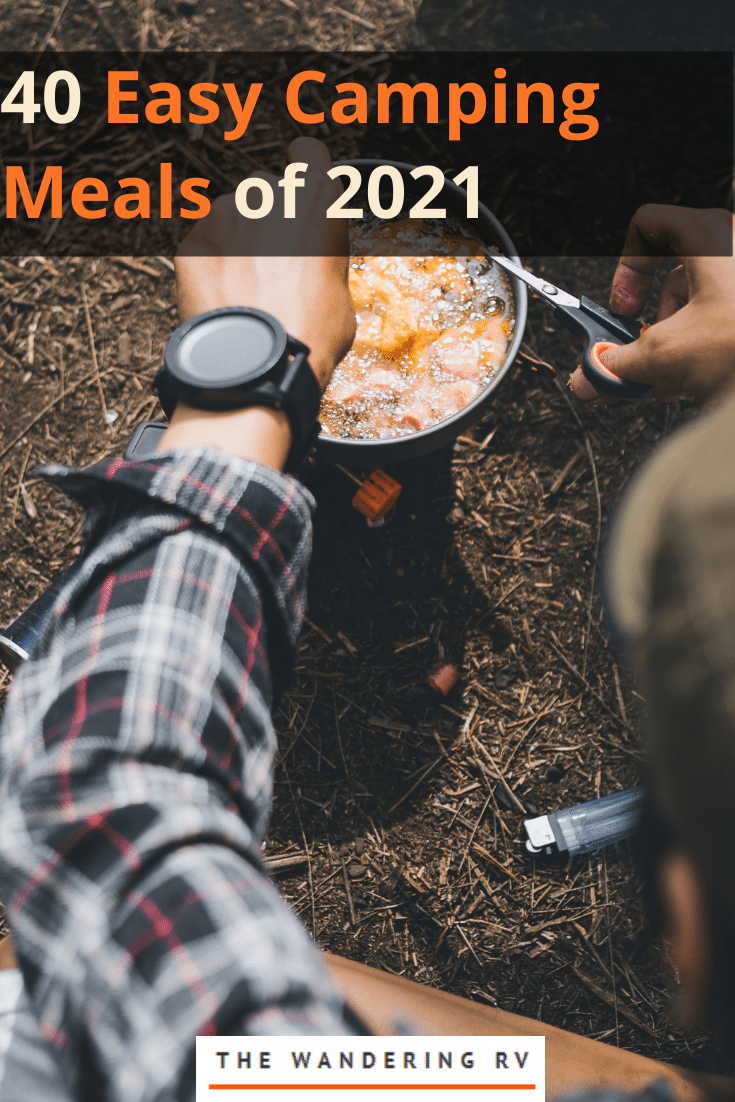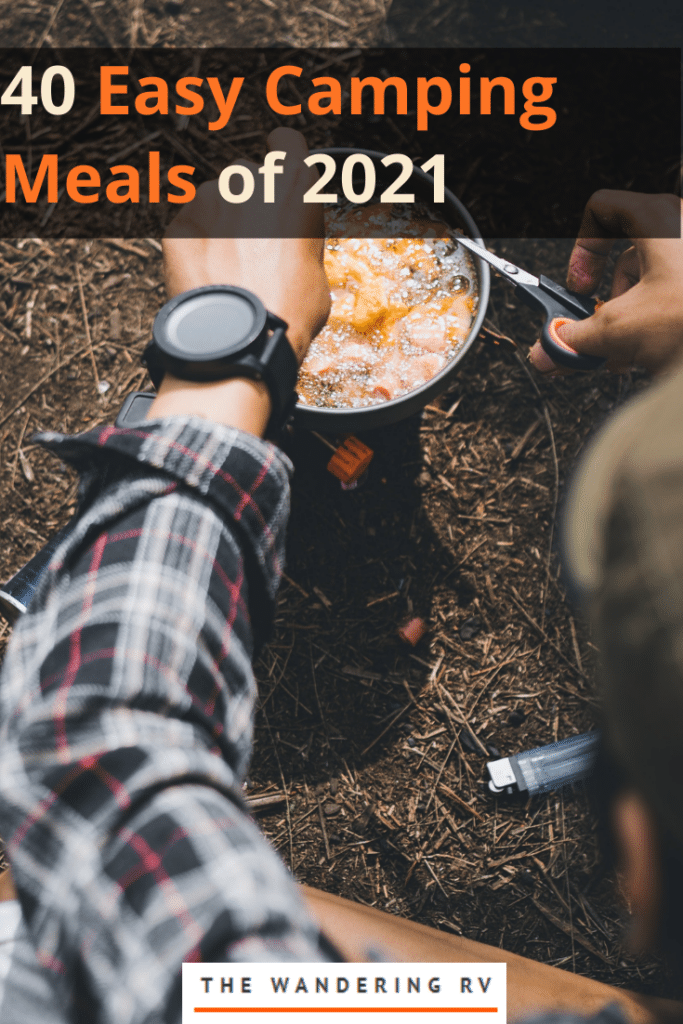 Looking for easy camping meals? Want to eat more than hot water slop before you hit the tent?
Well then you've come to the right place!
We're covering all the basics here – breakfast, lunch, dinner, side dishes, and dessert! (You haven't lived until you've had a campfire strawberry.)
Grab your cast iron skillet, Dutch Oven, and camping skewers – you're going to need them!
Let's hop into the easy camping recipes (and talk about some camping meals that you might not have known about before)!
Table of Contents
10 Easy Camping Breakfast Meals
They say that breakfast is the most important meal of the day – this doesn't change when you're camping! In fact, we highly recommend you start your day off with a delicious (and filling) breakfast before you head off for the day. You'll need all the energy you can get if you're going to be exploring the area!
Cinnamon Rolls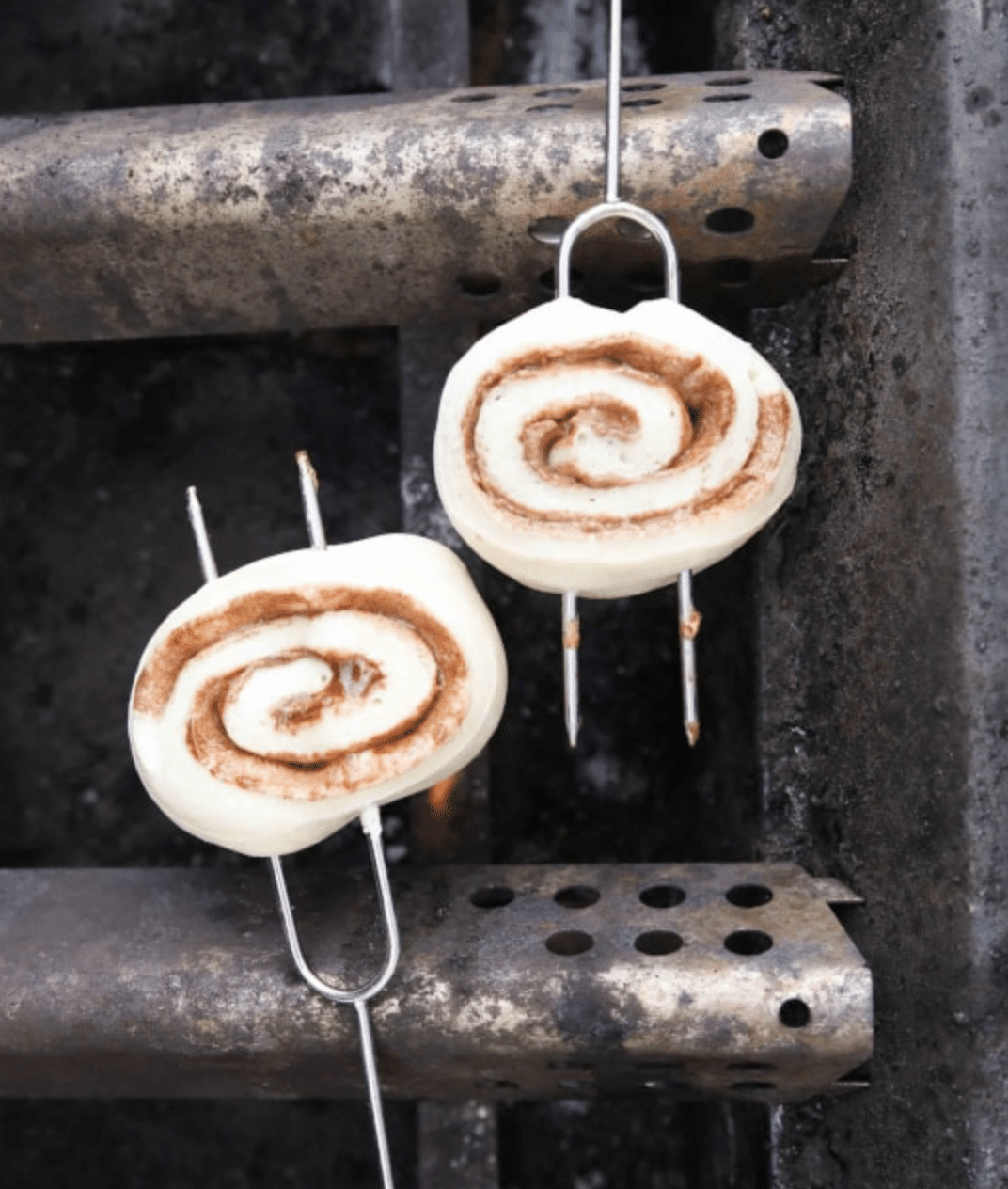 There are tons of easy camping meals in this post, but these campfire cinnamon rolls on a stick are the definition of easy. This recipe by Dessert now, Dinner Later takes cinnamon rolls to the next level. All you have to do is put a thawed cinnamon roll on a skewer and roast it over a campfire! Top it off with icing when it's finished cooking and boom. Breakfast made easy!
Breakfast Sandwich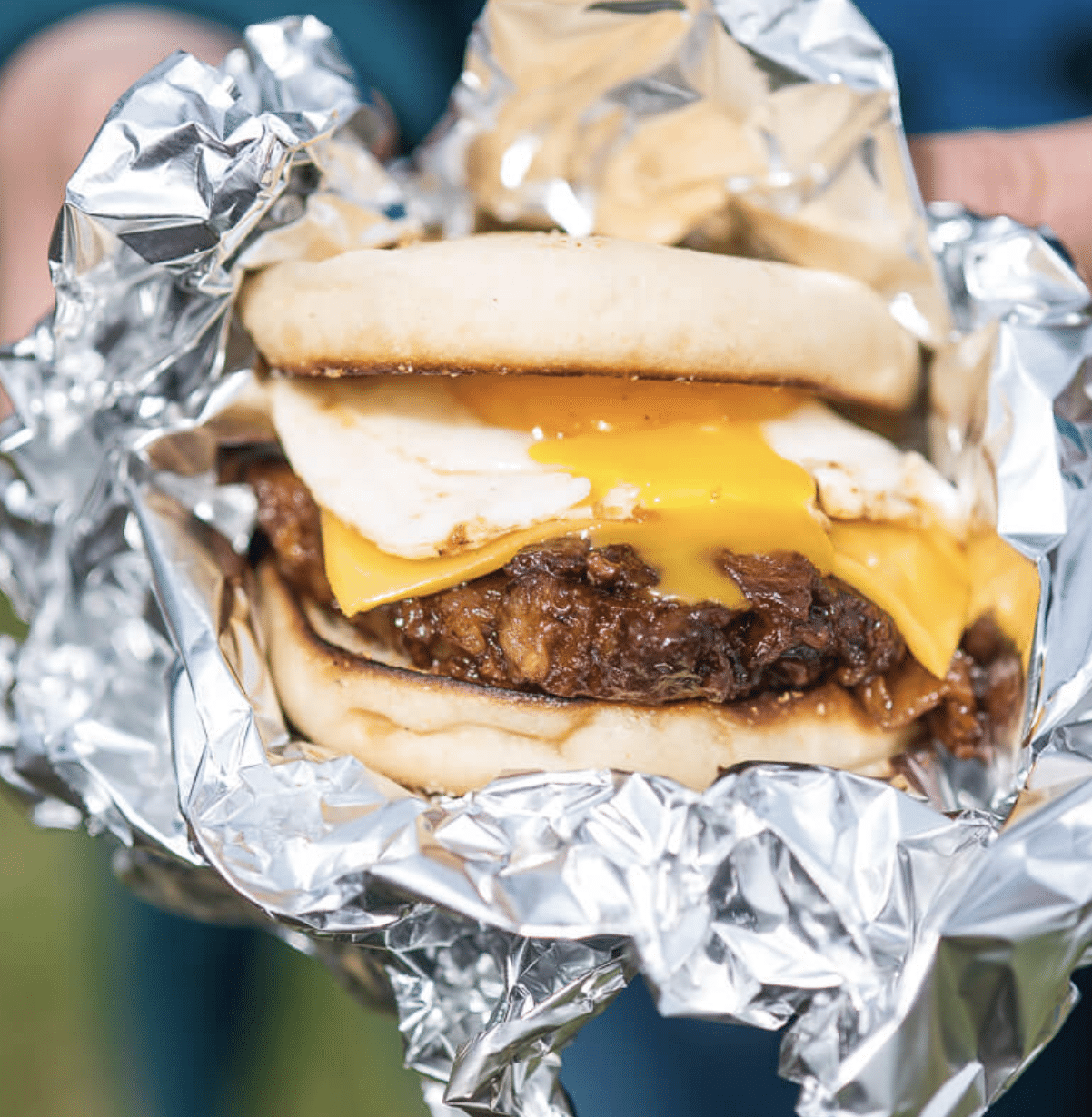 Looking for the perfect breakfast for your next camping trip? Check out these BBQ pulled pork breakfast sandwiches from our friends over at The Adventure Bite!All you need is left over pulled pork (a delicious dinner to have around the campfire), some English muffins, cheese, egg, and whatever else you have that you think would pair well with these. If you ask me, some pickled red onion or avocado would be delicious on this breakfast sandwich.
French Toast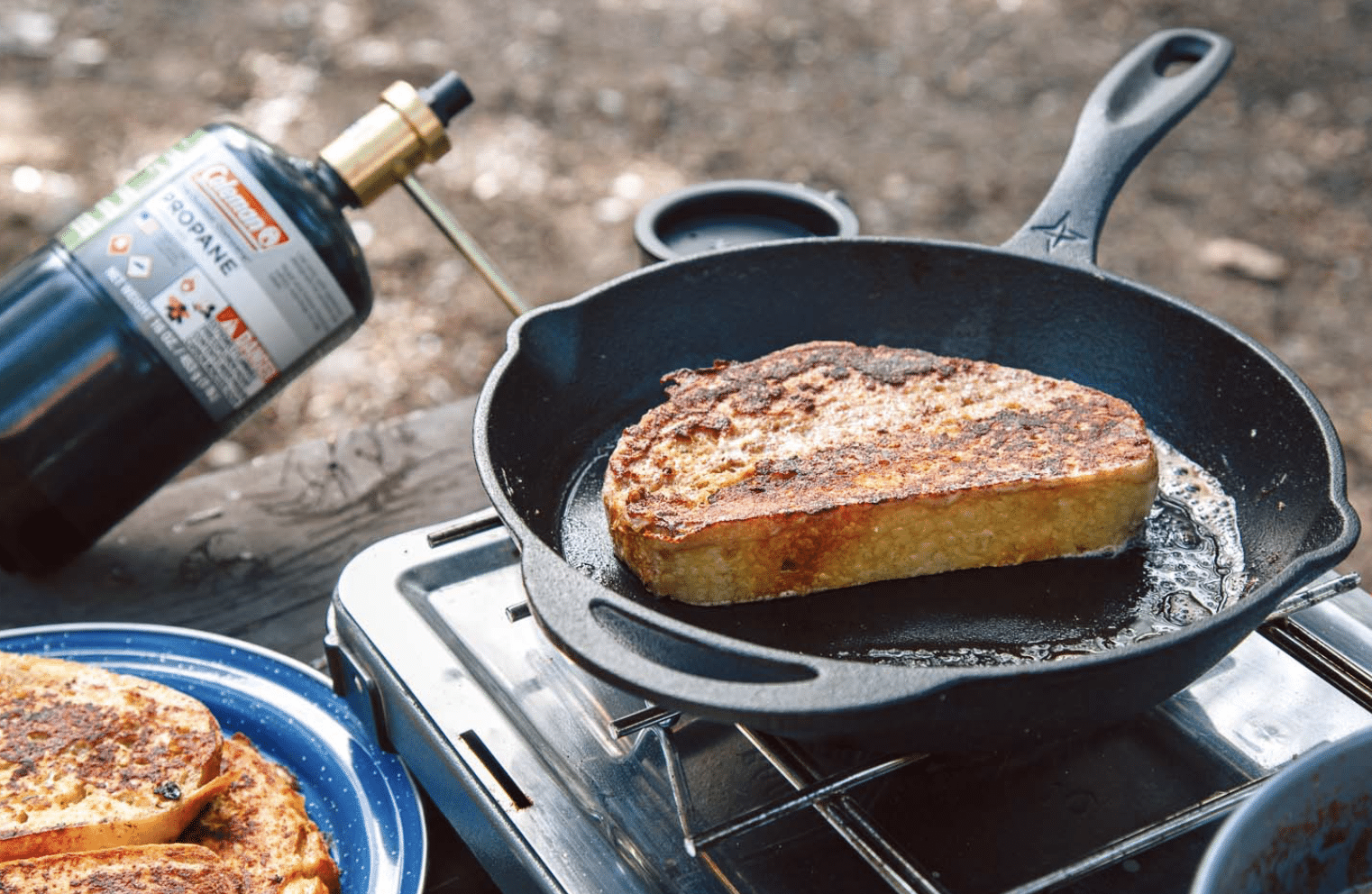 We're huge fans of French toast. Whether it's frozen, made with thick pieces of bread, or cut into sticks (dipping it into maple syrup is almost better than pouring maple syrup on French toast if you ask me).While you could purchase frozen French toast and heat it over the campfire, this recipe from Fresh Off the Grid explains how to make perfect French toast in a cast iron! Top with strawberries, whipped cream, maple syrup, or whatever your heart desires.
Pancakes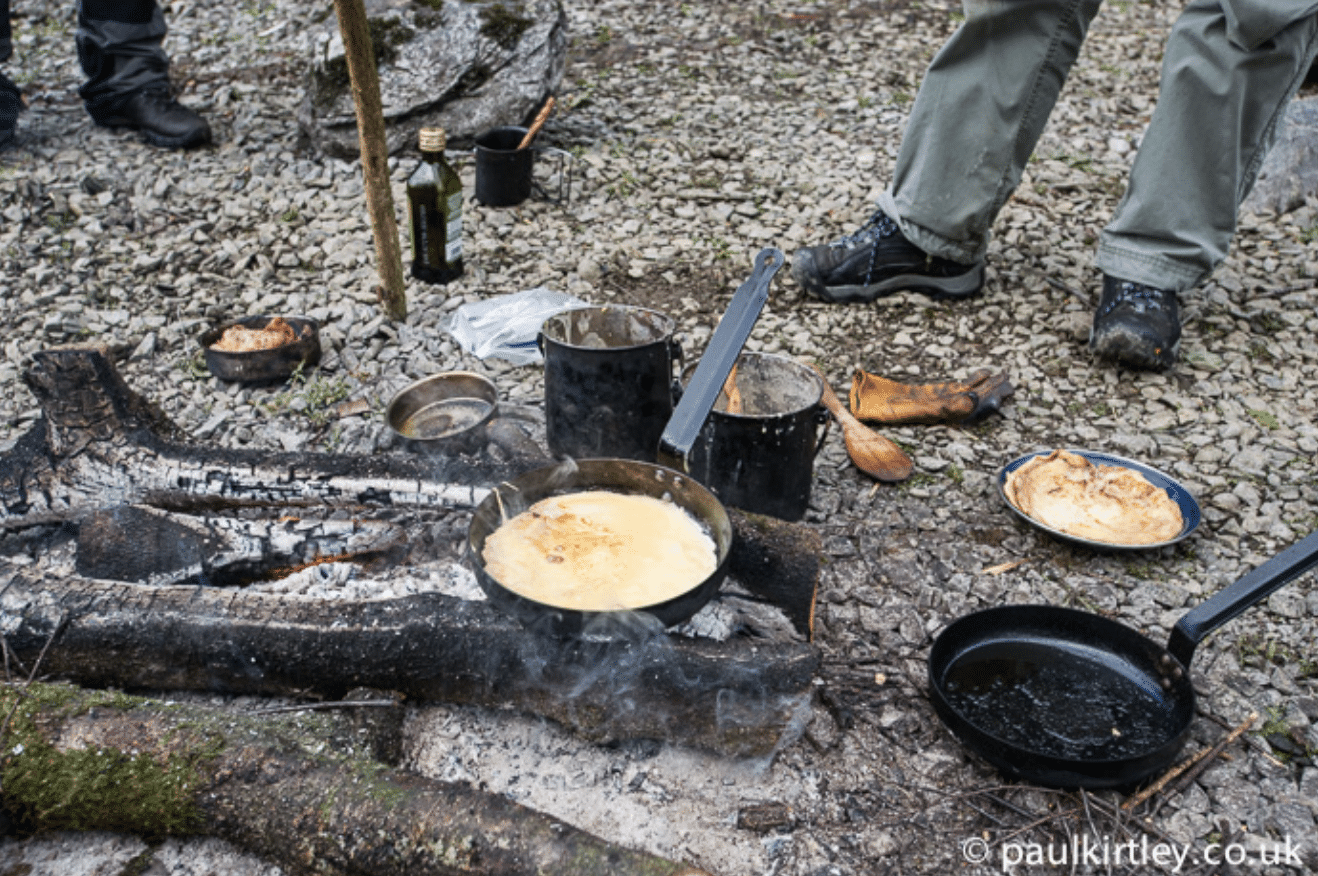 When you think of breakfast, what do you think? We're willing to bet that pancakes came to mind!This camping breakfast is incredibly easy to make! Cooking pancakes over an open fire might make you feel anxious, but don't worry, this recipe by Paul Kirtley has you covered!
If you don't feel like following a recipe, you could always buy some pancake mix from the store and follow the directions on the package! You can also serve them with some nutritious dates that are low calorie and will give you that morning boost of energy, as well as a variety of fresh fruits for a healthy pancake breakfast in the great outdoors.
Overnight Oats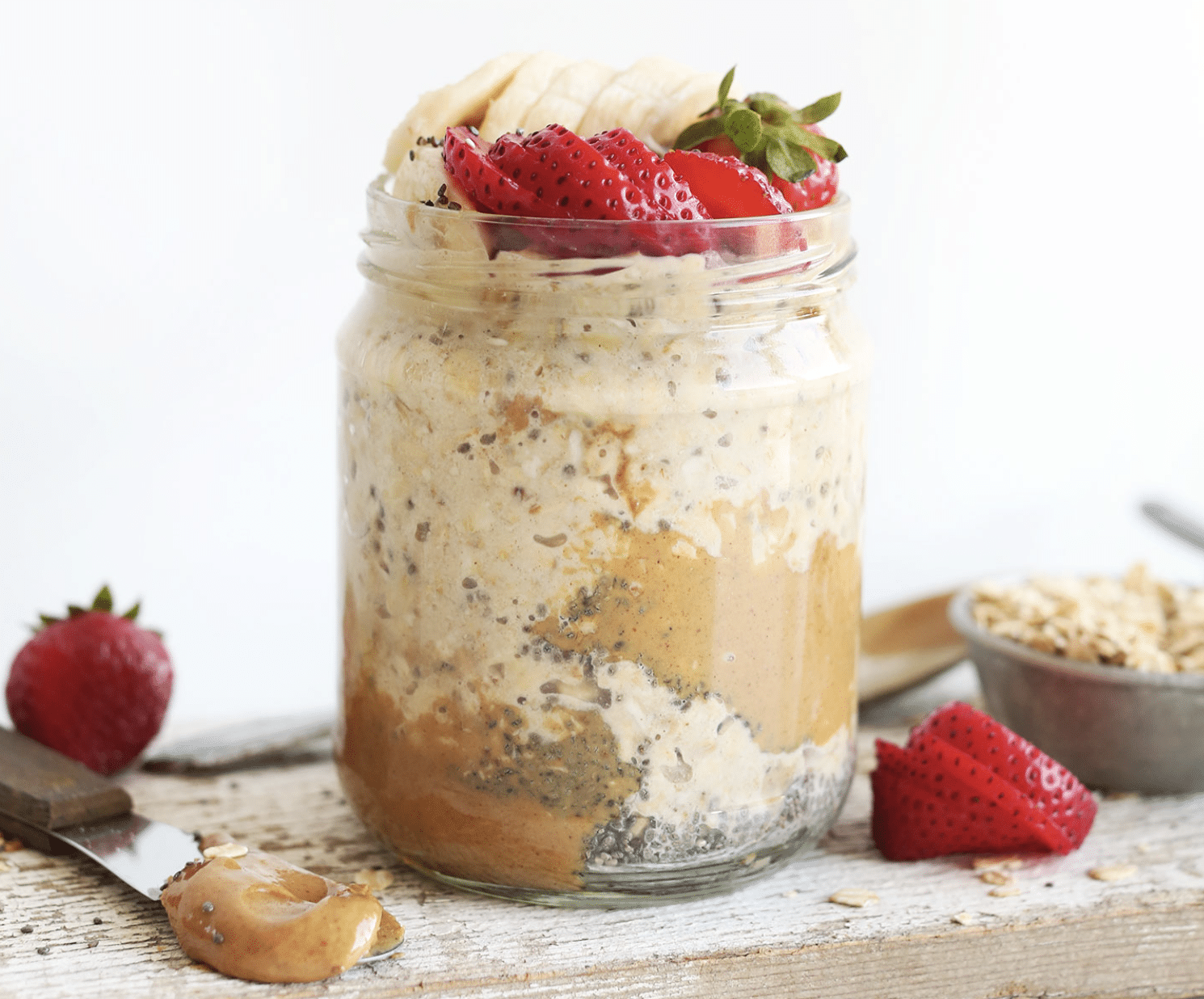 Overnight oats are the perfect addition for your next camping trip. As the name states, you prepare them the night before. Pop them in the cooler and grab them the next morning! You can top your overnight oats with granola or fresh fruit or eat them without anything else! Either way, they'll be filling and delicious! Check out these peanut butter overnight oats by Minimalist Baker for some inspiration!
Avocado Toast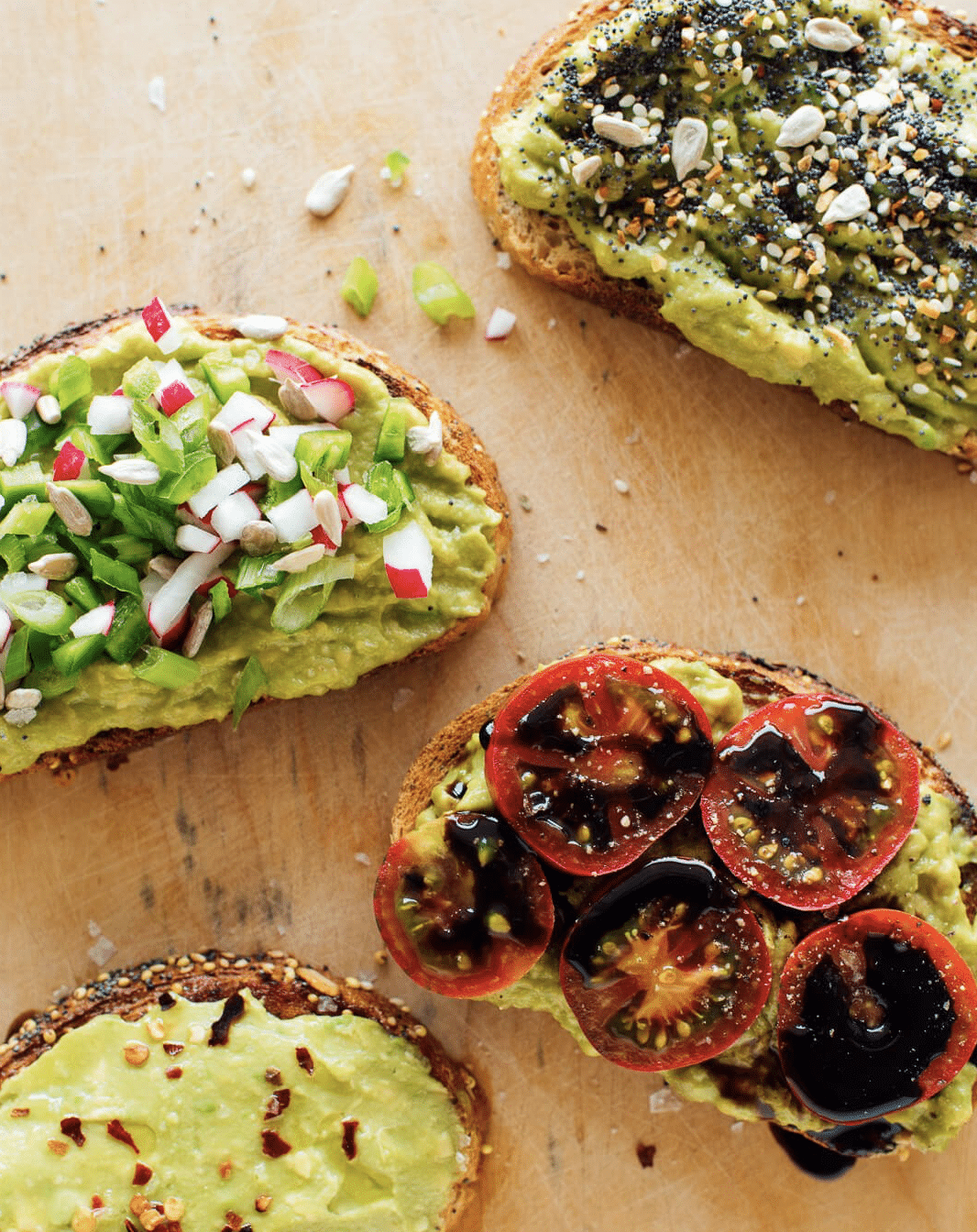 I am a sucker for avocado toast. There are so many different toppings you can put on avocado toast. Picked red onions, a fried egg, fresh herbs, jalapeños, hot sauce, balsamic glaze, etc.This is such an easy way to get a delicious breakfast in. Check out these variations for avocado toast over at Cookie and Kate!
Breakfast Burritos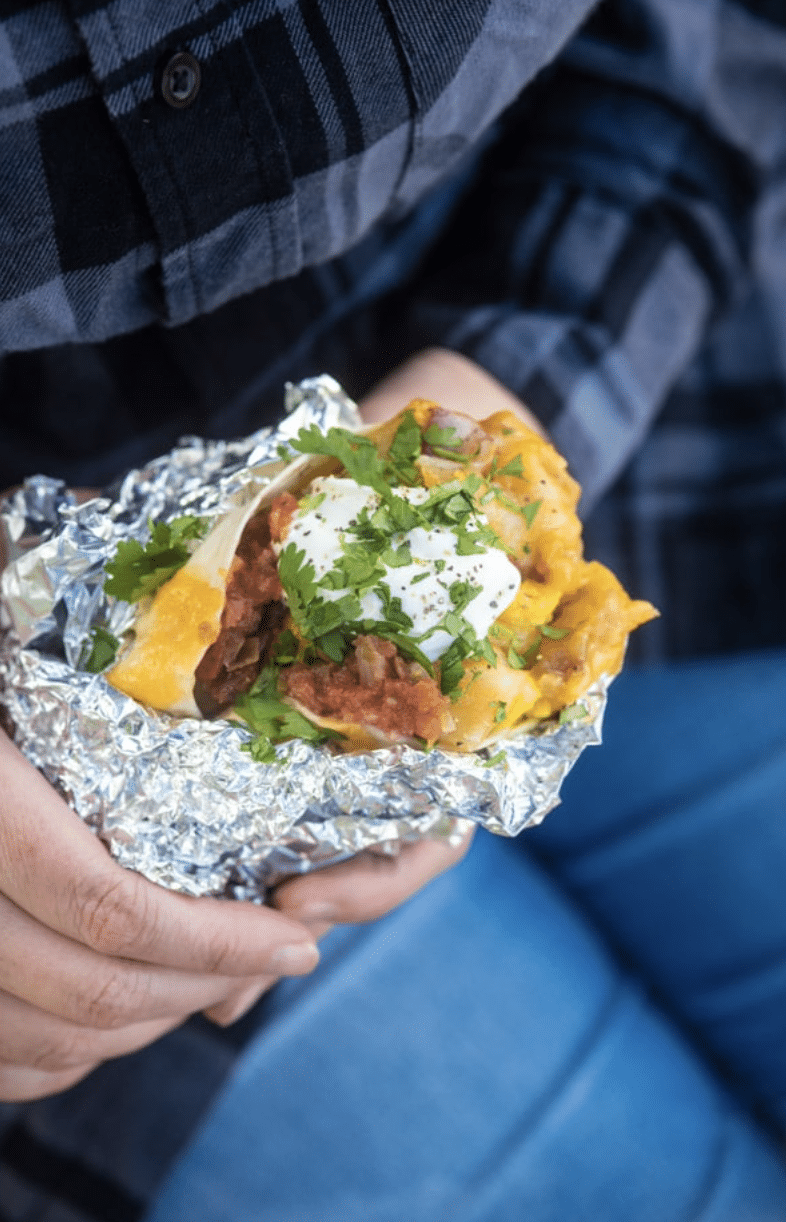 Breakfast burritos are super easy to make and you can make them ahead of time (they're freezer friendly)!You can fill these breakfast burritos with anything you'd like. Potatoes, cheese, chicken, eggs, bacon, beans, veggies… we could go on and on!Add all of your ingredients to a flour tortilla, wrap in foil, and cook over the campfire. Looking for a recipe you can follow to a T? Check out this recipe from The Adventure Bite!
Breakfast Pizza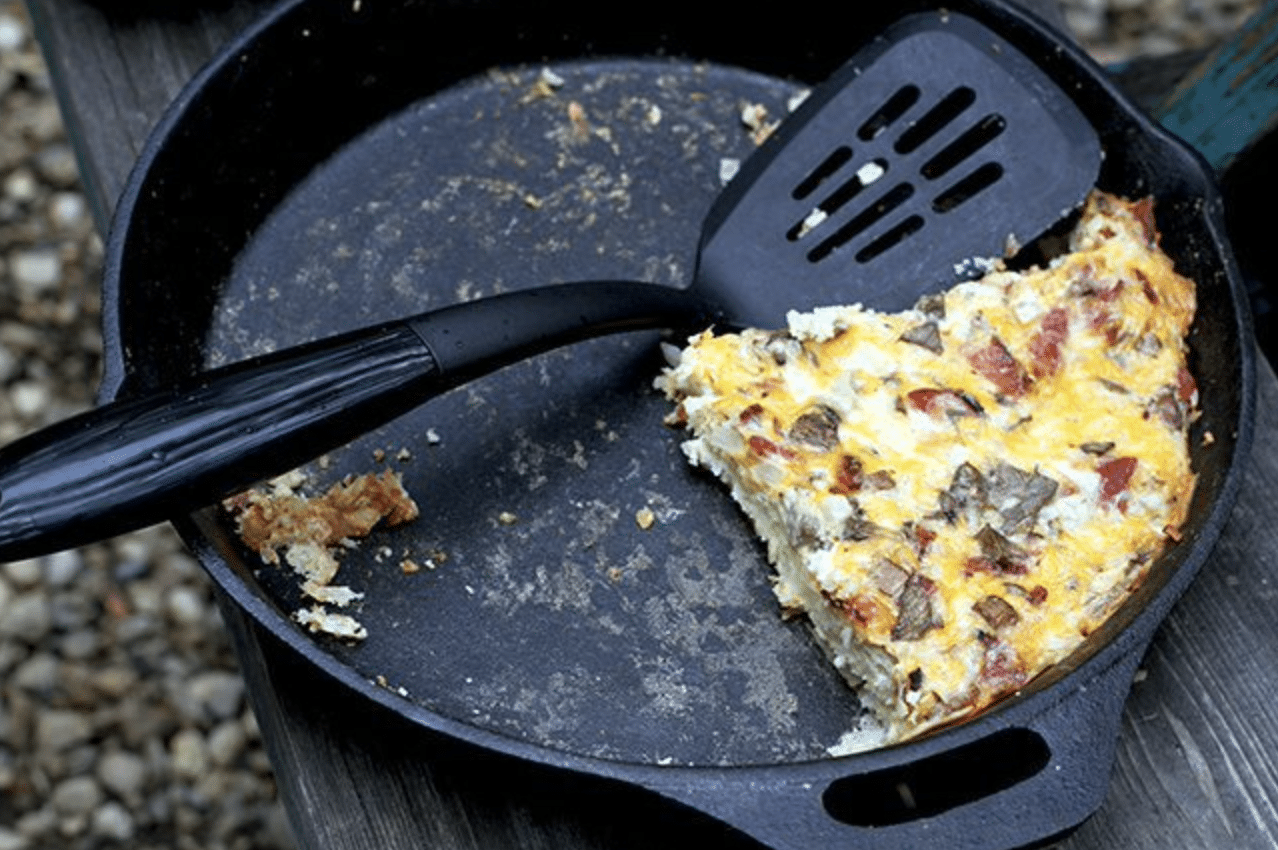 Pizza? For breakfast? Yes please!You could use pre-made biscuits dough, hash browns, or pre-made pizza dough for the base. Grab your favorite breakfast toppings (sausage, eggs, bacon, fresh vegges , etc), and some cheese.Top it with some hot sauce (or bbq sauce) and enjoy! Find the step-by-step recipe details here.
Skillet Breakfast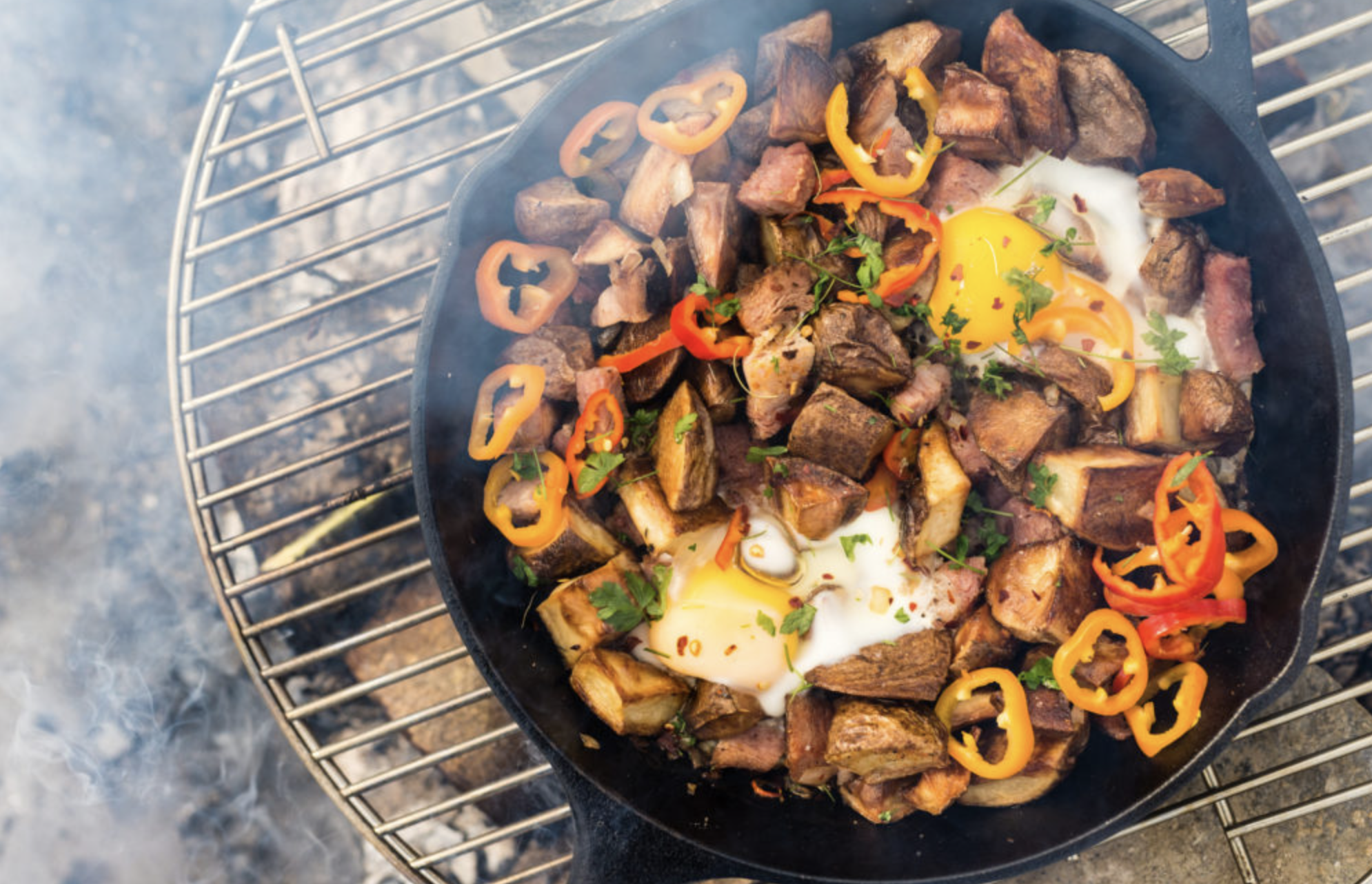 You can't go wrong with sausage, eggs, and fresh veggies! Pair it with some of your favorite spices and some biscuits and pow! You've got yourself a delicious skillet breakfast meal.Grab your cast iron skillet and get to it! Camping for Foodies has an easy to follow recipe – check it out here!
Shakshuka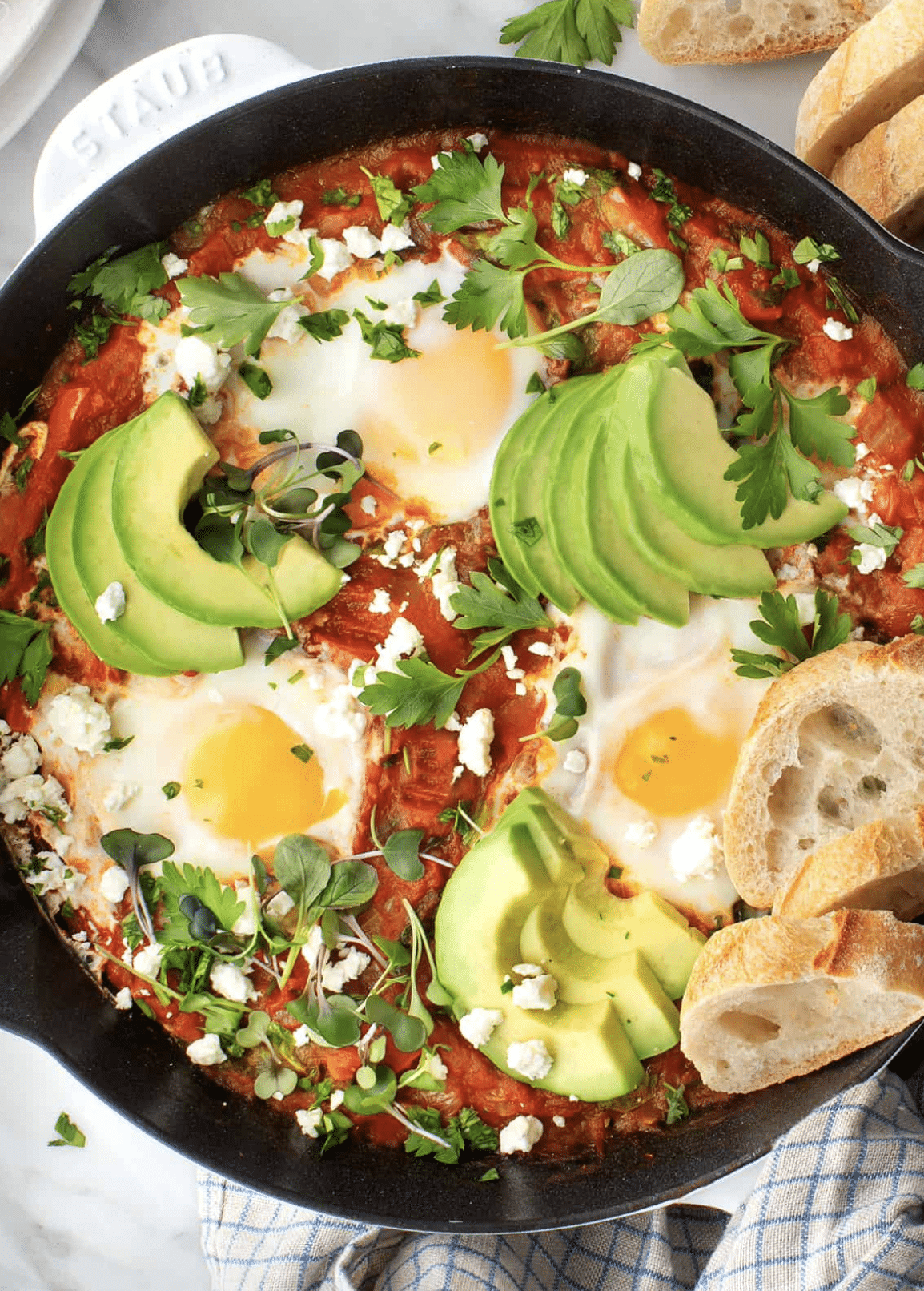 Out of all of the camping recipes shared, Shakshuka may be one that you've never heard of. It's a one pan wonder – all you really need is a cast iron skillet and an open flame! Shakshuka is a very popular breakfast food throughout the Middle East. With poached eggs sitting on top of a harissa-spiced tomato sauce, this breakfast dish is perfect for any chilly morning camping!
Ready to try this delicious recipe out for yourself? Be sure to check out this recipe by our friends over at Love and Lemons.
10 Easy Camping Lunch Meals
The easiest lunch (and let's be honest, dinner) that you might think about while camping is hot dogs. While we won't say no to a hot dog, we know that there's more to camping food!The following camping recipes will up your lunch game (and make other campers jealous).
Peanut Butter and Jelly Sandwiches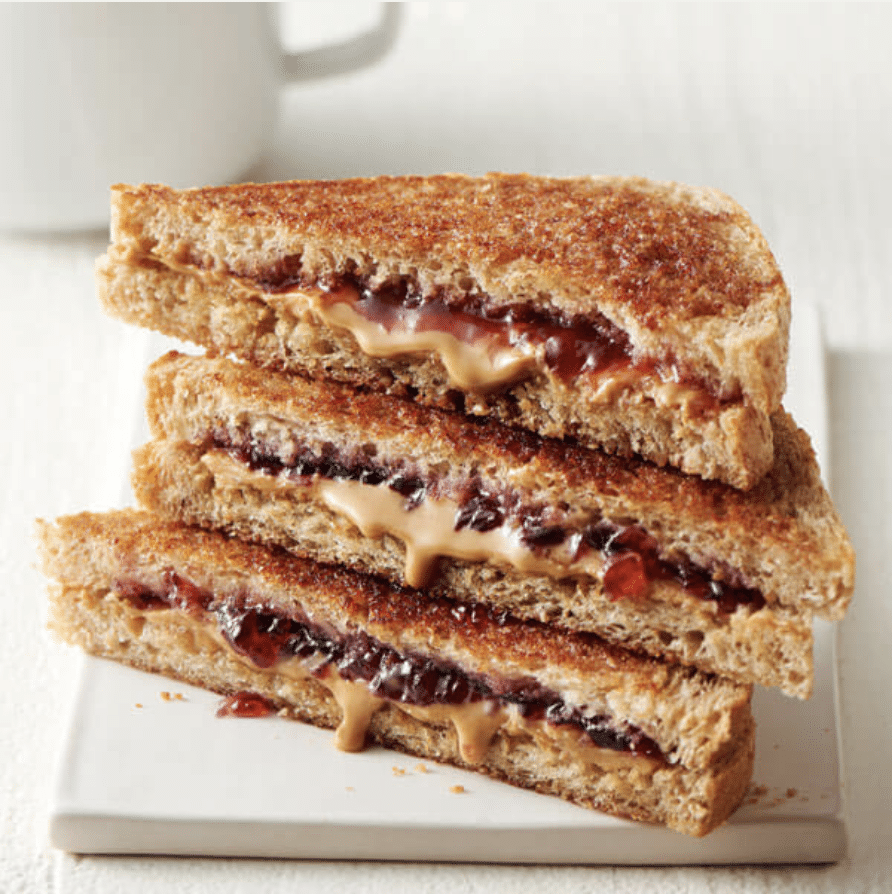 There are tons of dishes that bring me back to my childhood! SpaghettiOs, chicken nuggets, peanut butter & jelly sandwiches, etc.Pb&J sandwiches could be made ahead of time for a grab & go lunch. But this recipe from Land O Lakes takes your average sandwich to the next level. Have you ever thought to grill your peanut butter & jelly in a cast iron? If not, it's time to try it for yourself. It's definitely a game changer!
Pigs in a Blanket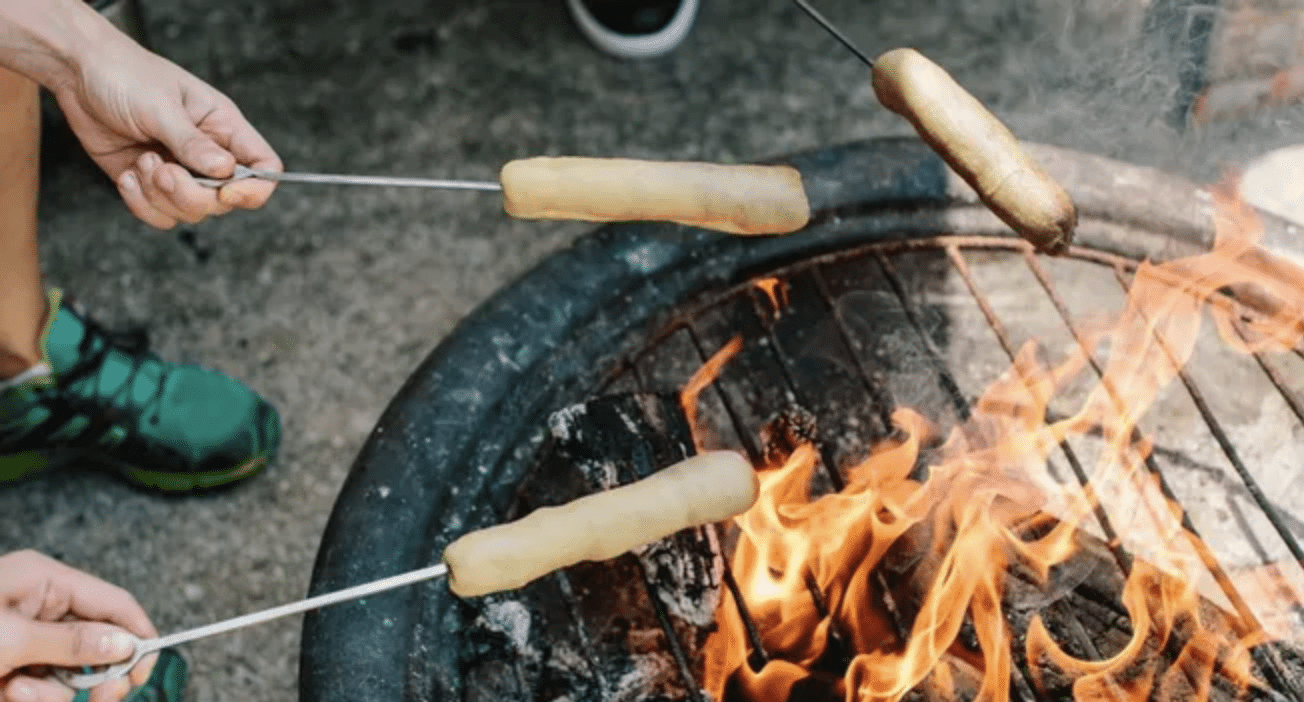 Pigs in a blanket are typically made with hot dogs (or cocktail wieners) and pre-made crescent dough.This recipe for campfire pigs in a blanket from Southern Kitchen are perfect for an easy camping lunch. Simply wrap your hot dog in a portion of the crescent dough and roast over the campfire! Top it off with your favorite condiment (spicy brown mustard or BBQ sauce is delicious on these hot dogs) and enjoy!
Campfire Nachos
This is one of those easy camping recipes you have to try at least once. Nachos are freaking delicious and when they're cooked over a campfire in a dutch oven? Come on people… our mouths are watering!This recipe from our friends over at Fresh Off the Grid explains how to make the most delicious campfire nachos you'll ever have. While they have a list of ingredients that they use, don't be afraid to change it up a bit to fit your favorite toppings on top!
Dutch Oven Mac & Cheese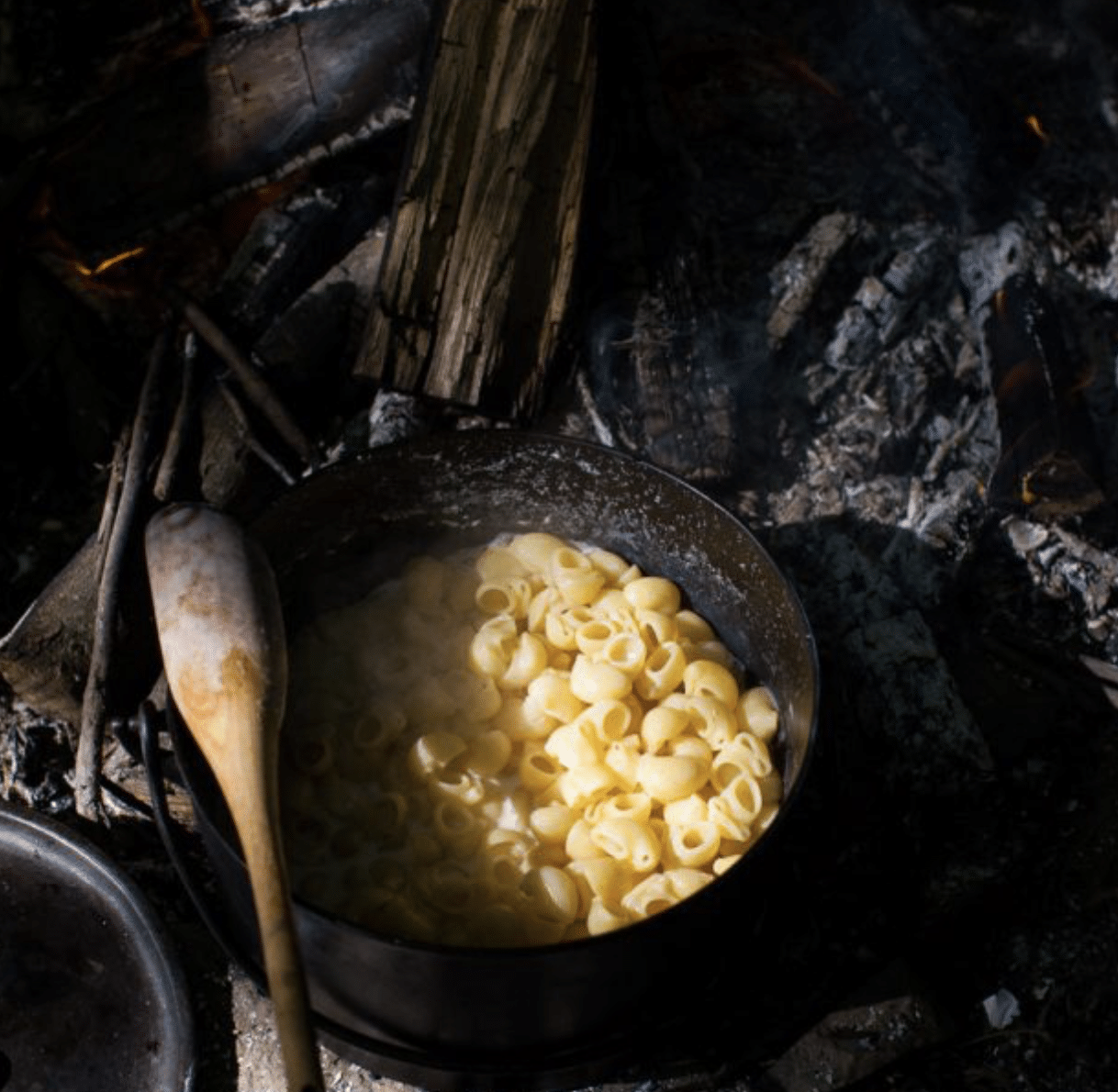 You read that right – you're able to make Mac & cheese while camping!This recipe does require a few more ingredients than most – macaroni, cheese, milk, butter, spices… But, it comes together in a dutch oven in just about 20 minutes and it's one that's sure to be a crowd pleaser (especially for kids)!Interested in making this one pot camping meal on your next trip? Check out the recipe from our friends over at Simple Bites!
Hotdogs (or Bratwurst) With Peppers and Onions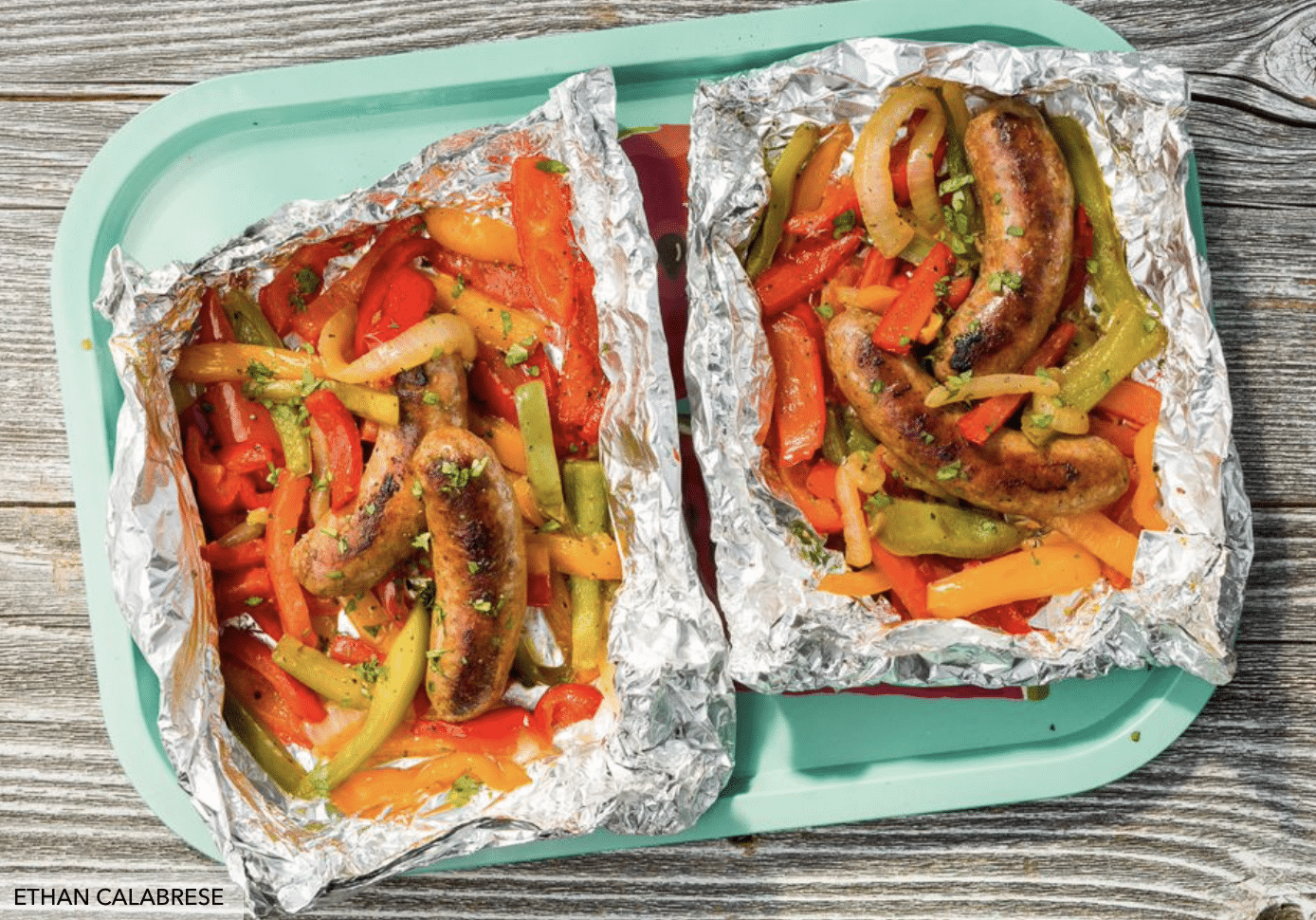 This is one of our favorite recipes to make when we go camping. You can do a lot with some foil packs and hot dogs! First thing's first, you've got to grill your hotdogs (or bratwursts, depending on which you'd like to make). Then, place them in foil packs and top with peppers and onions. Grill over the fire until fully cooked, about 15 minutes.Looking to follow a recipe? Check out this one from Delish!
BLTs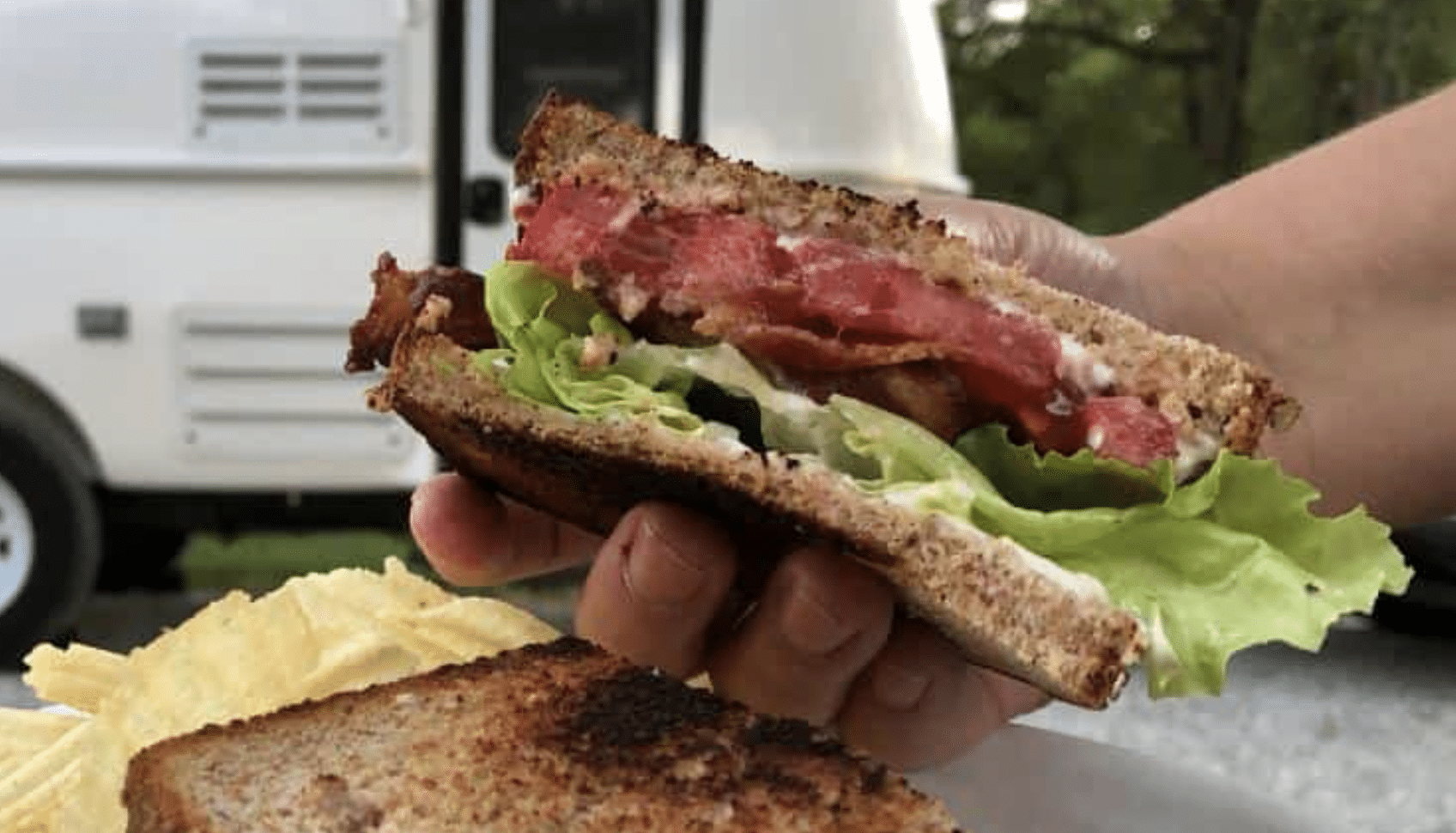 Looking for a recipe you could make ahead of time? These BLTs are perfect for you!This recipe from Campsite Bistro teaches you how to make the best make-ahead BLT sandwich. Simply toast the bread and cook the bacon in the oven before heading out (the bacon will last in a cooler for 3-4 days). If you'd rather cook the bacon over the campfire, you'll need a skillet or a grilling gate!
Grilled Cheese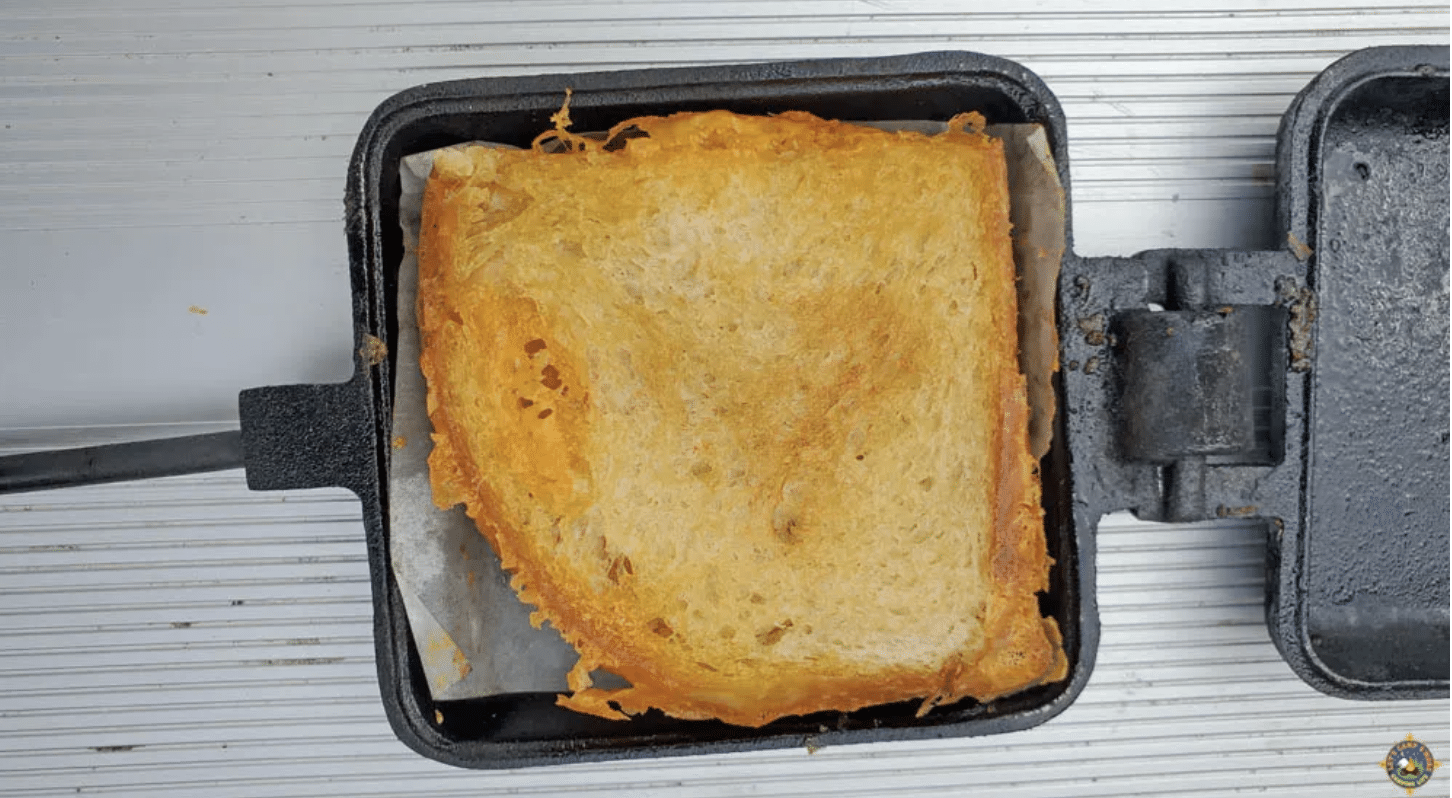 Looking for an easy to make lunch? Look no further than these campfire grilled cheese sandwiches. There are two ways you can go about making grilled cheese while camping. One method is with a pie iron. Line the pie iron with parchment paper, place the sandwich in between, and grill over the campfire for 4-5 minutes. Another way to make these sandwiches while camping is by placing your sandwich in a foil pack and cooking it over a grilling gate. The cook time should remain the same either way you go! Check out this recipe from Let's Camp S'more to check out both camping methods!
Quesadillas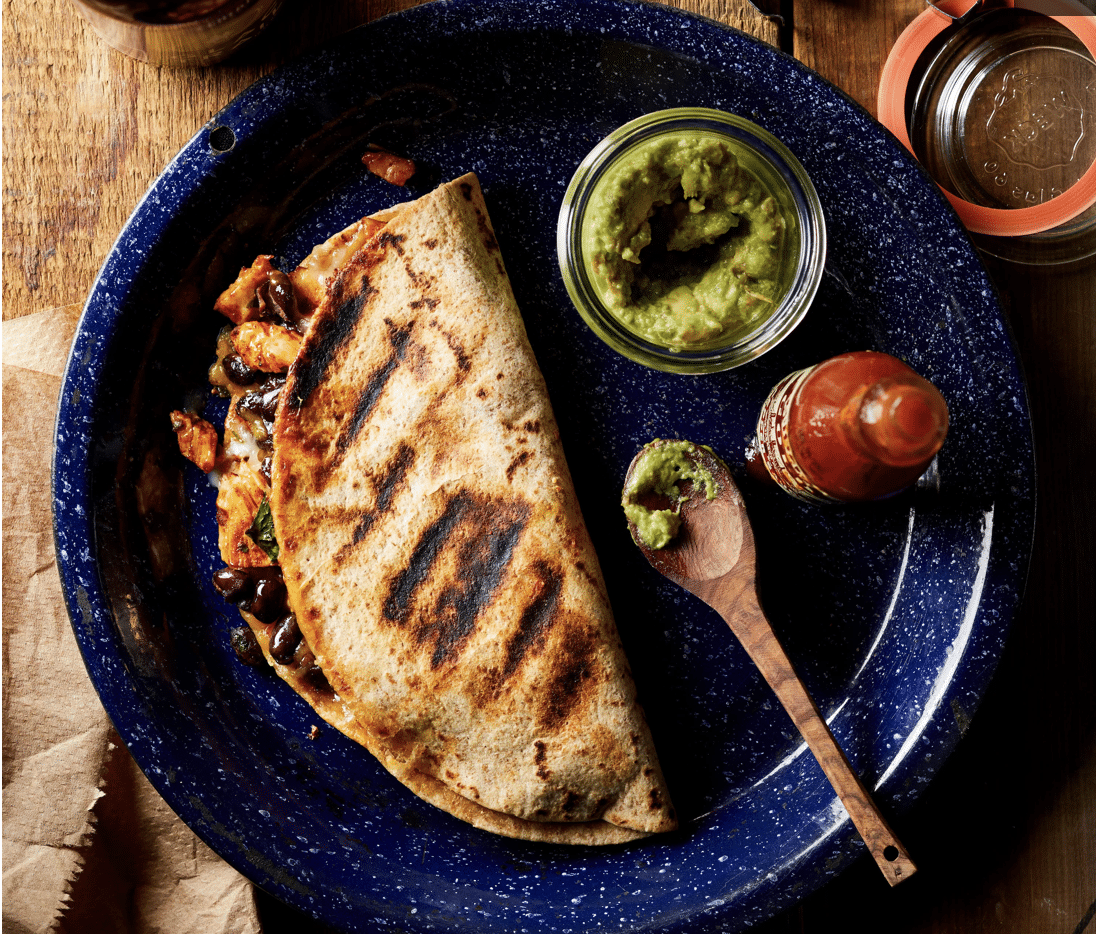 We love easy to make campfire recipes. These quesadillas from Eating Well can be assembled at home and thrown over the campfire for a quick lunch.You can fill these quesadillas with pretty much anything you can think of. Veggies, black beans, shrimp, chicken, cheddar cheese, potatoes, your favorite sauce… the list could go on and on!To pre-assemble them, mix all of your ingredients together, place on the center of the tortilla, wrap in foil, and when you're ready to cook them, place them over the fire. They should be done in 10 minutes!
Walking Tacos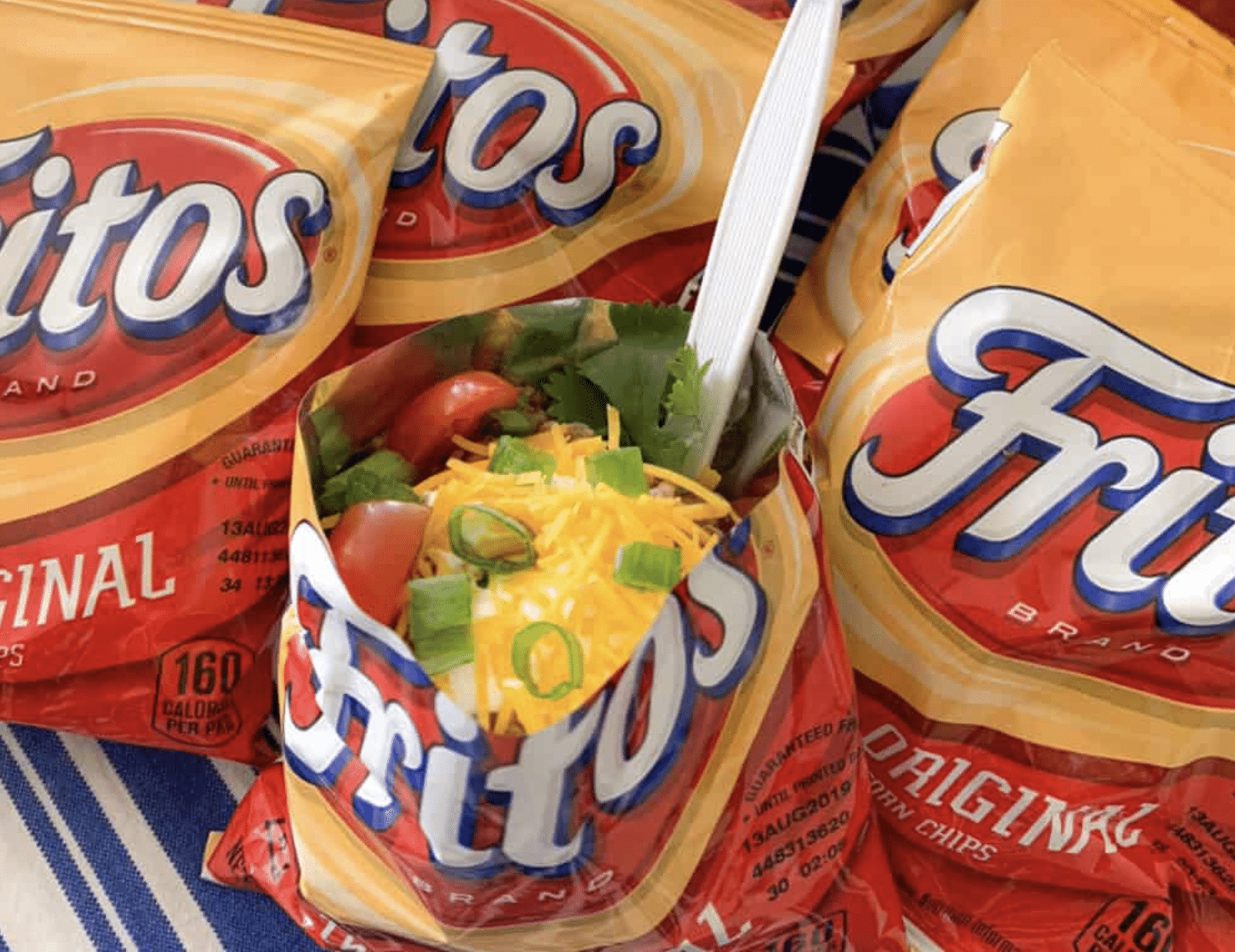 Want to eat on the go? These quick and easy walking tacos may be your new favorite campfire meal!To make these, grab your favorite bag of store bought chips (like Doritos or Fritos), cook some ground beef (or store bought grilled chicken) in a cast iron , top with veggies, cheese, hot sauce, and enjoy!Check out this recipe from Picky Palate to make your own walking tacos!
Salad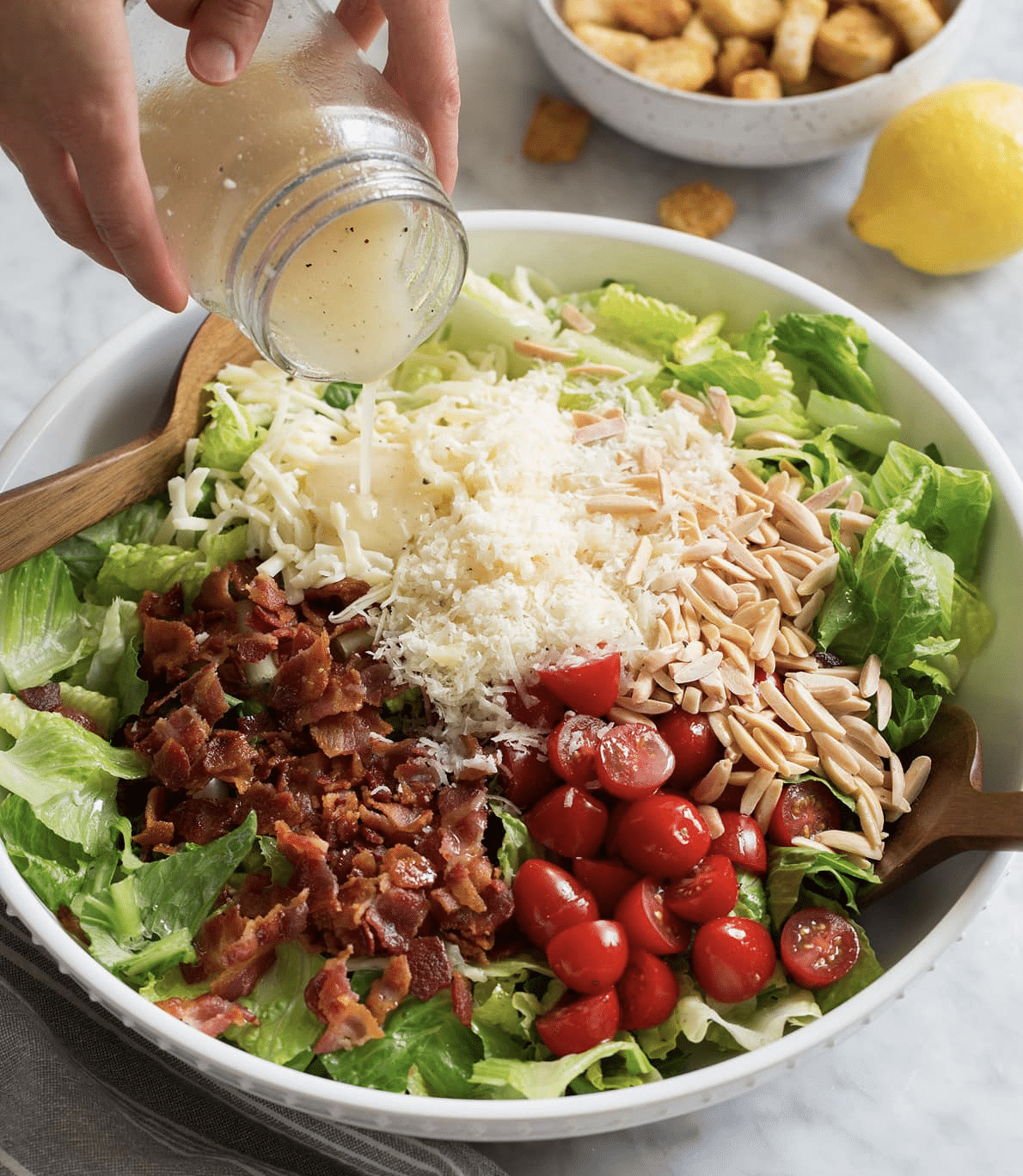 Salad is a pretty easy meal to make. You don't have to cook anything (unless you want some chicken or another protein to go with the salad), it's quick and easy, and can be made at home and packed in a to-go container.If you're looking for one of the best salad recipes, check out this one from Cooking Classy. She even has a homemade salad dressing for you to try out!
10 Easy Camping Dinner Meals
We've said it before and we'll say it again – hot dogs and hamburgers aren't the only meals you can make while camping!We've given you breakfast and lunch – now it's time for our favorite meal of the day… dinner.
Burgers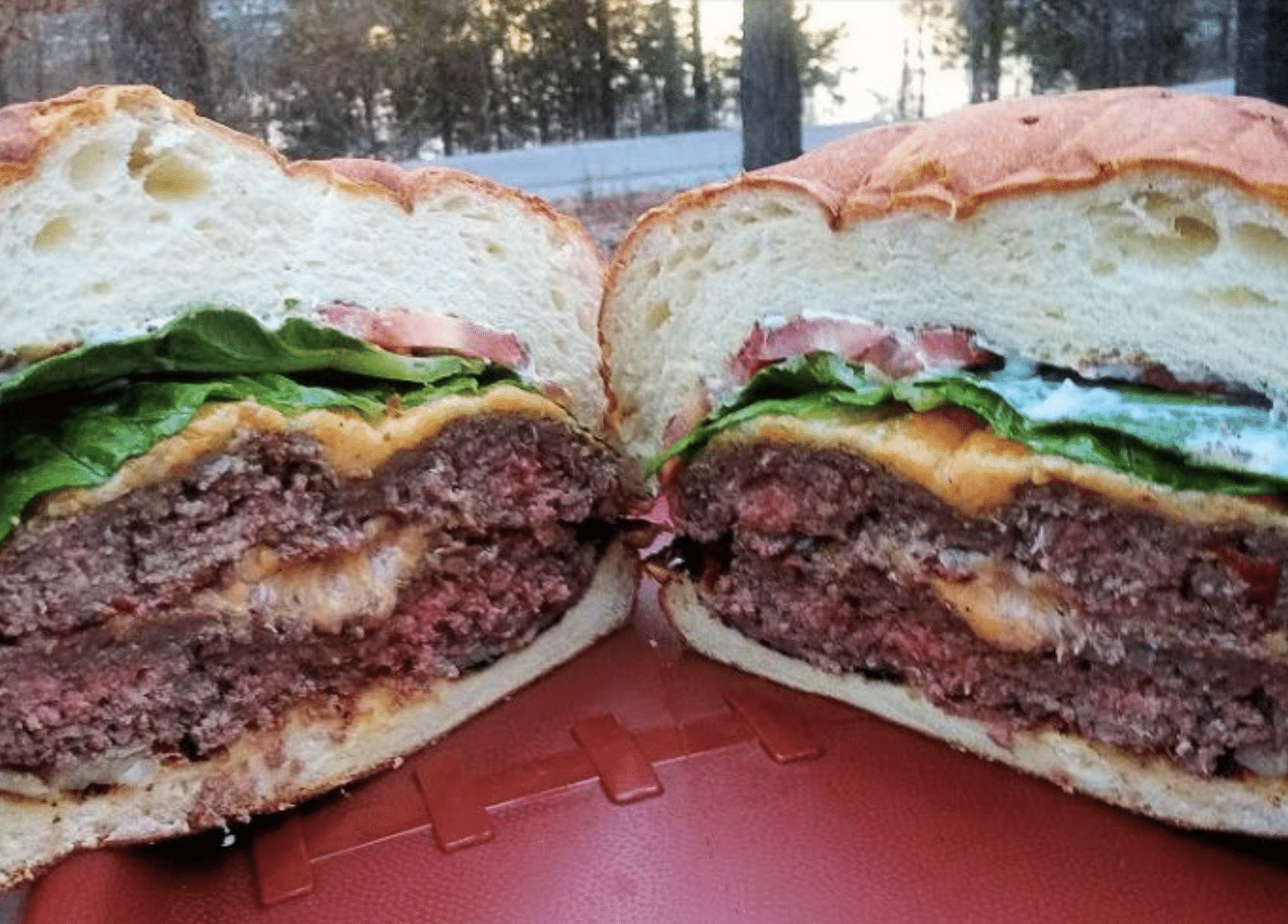 Let's get the basic (yet delicious) recipe out of the way first… Burgers!To spice it up, how do these colossal campfire two-pound cheeseburgers from Scrappy Geek sound?With ground beef, seasonings, and any burger topping you can think of (lettuce, tomato, onion, any sauce you'd like, extra pickles, etc), these burgers have it covered.You don't have to make a two-pound burger though – just stick to one patty if you want!
Pizza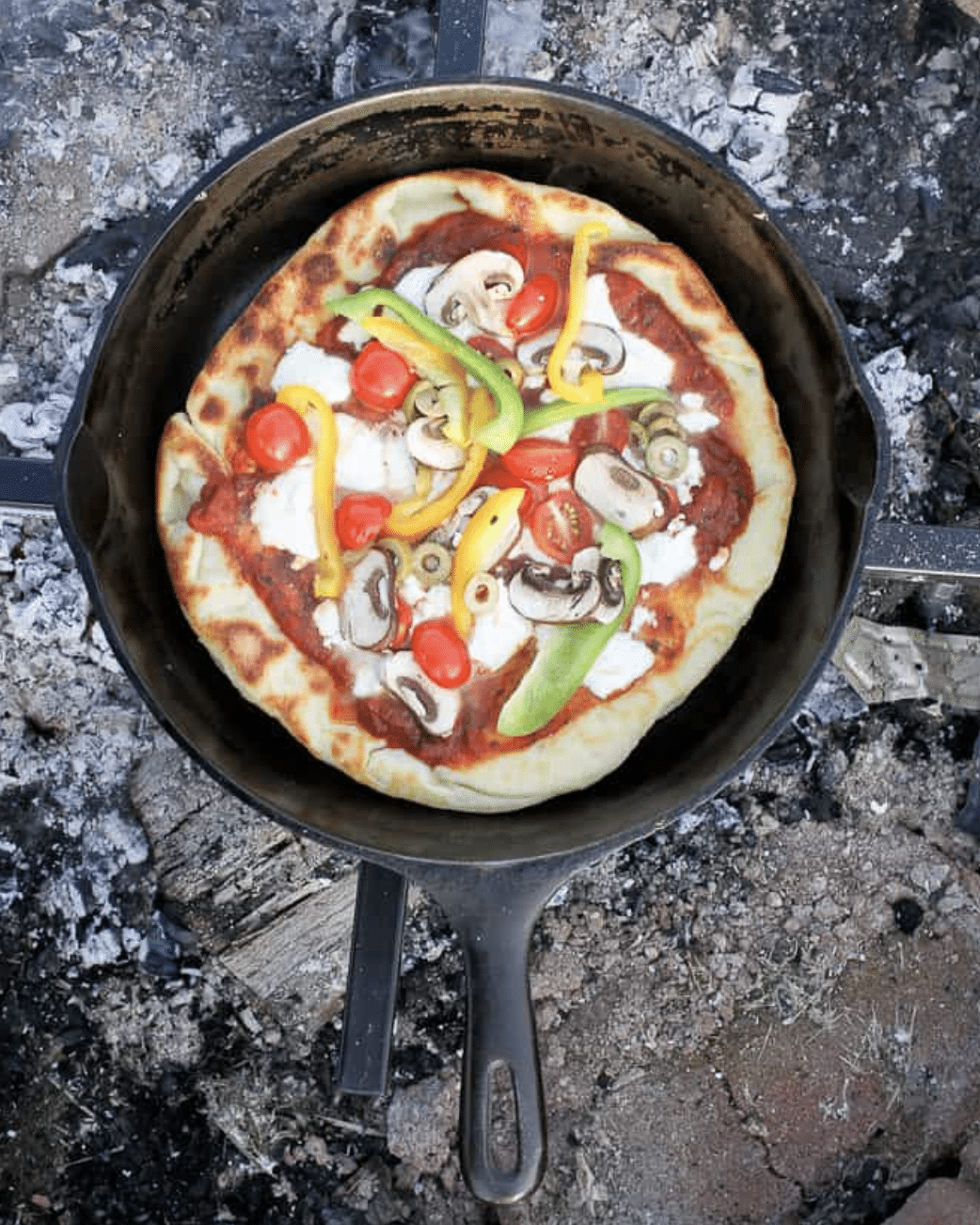 Does anything sound better than making a fresh pizza at camp? When we saw this recipe from Champagne Tastes we knew we had to try it. All you really need for this recipe is some store-bought pizza dough, cheese, sauce, and any toppings you can think of (veggies are the best, if you ask me).Kids will love this recipe – it's easy, you only need one pan, and it's a nice switch up from your average family dinner at the campground!
Kabobs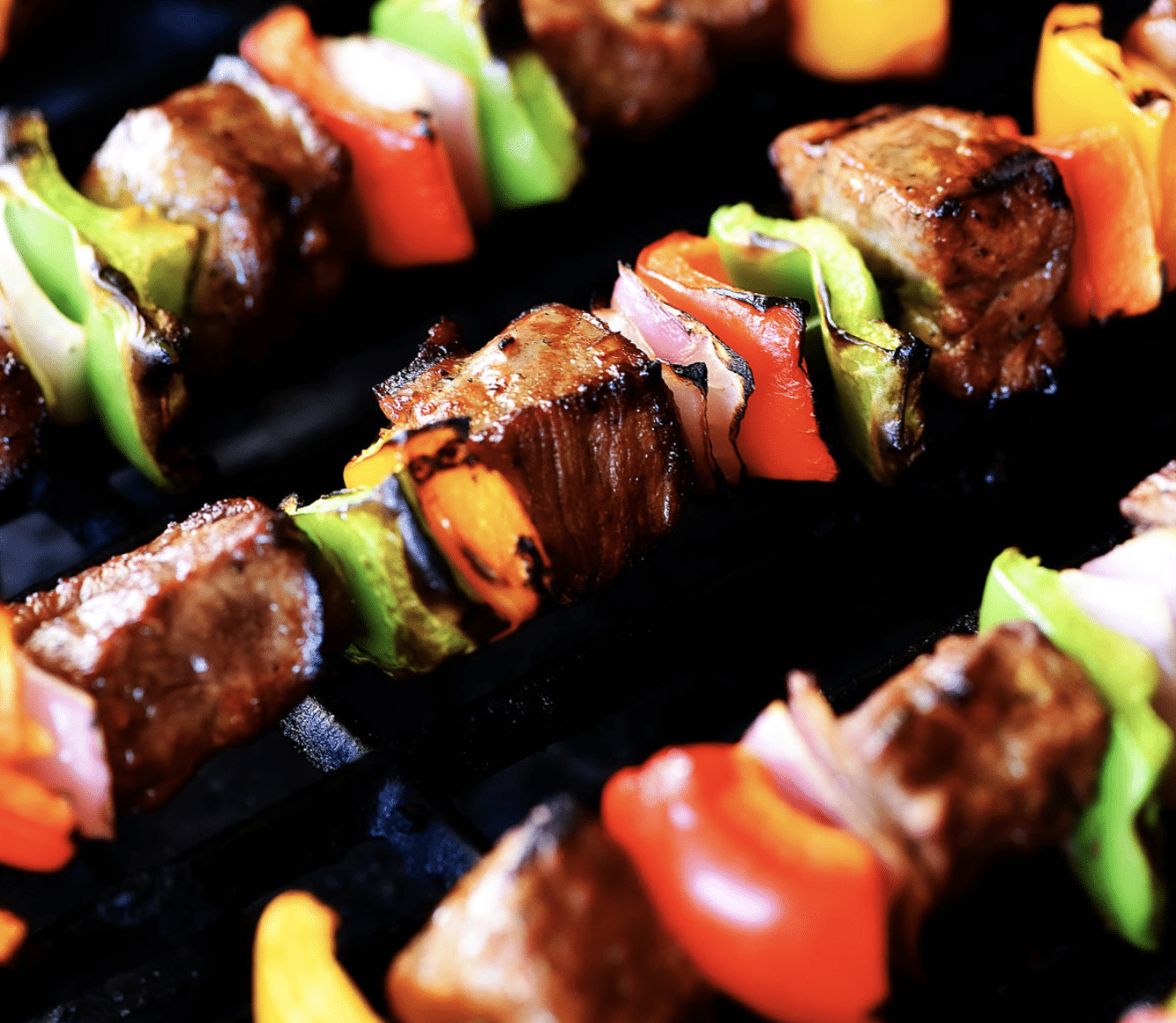 Whether you use chicken, steak, shrimp, or tofu – kabobs are the perfect meal to make over a fire. These grilled steak kabobs from Life in the Lofthouse are made with steak, fresh veggies, and a pretty sweet sauce. This has to be one of our favorite camping recipes out there – it's easy enough to make and who doesn't love grilled food?Pro Tip: Prep your vegetables before you head to your campground to make cooking faster!
Sloppy Joes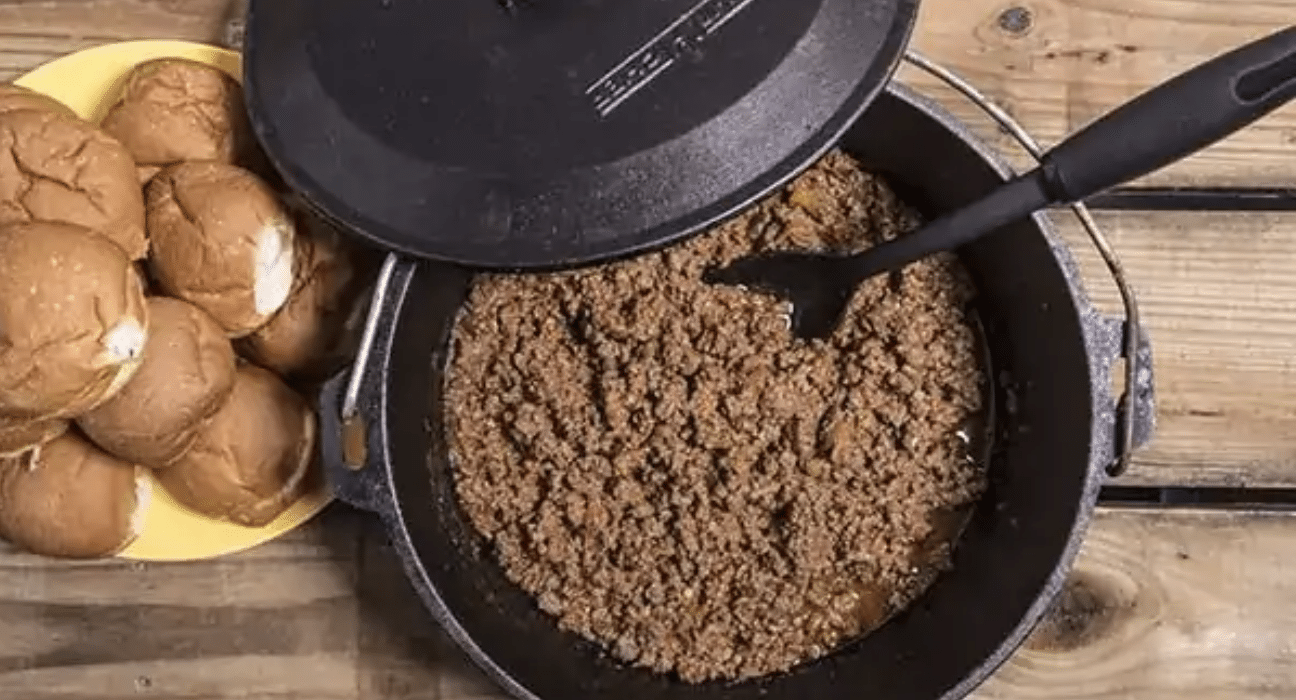 These easy dutch oven Sloppy Joes from 50 Campfires have us hungry! You don't have to prep anything for this recipe really – just grab your cast iron pot and start cooking! Brown the ground beef, mix in the rest of the ingredients (all listed in the link above), and chill around the fire for about 40 minutes. Put it all on a bun and your meal is ready to go!
Smothered Pork Chops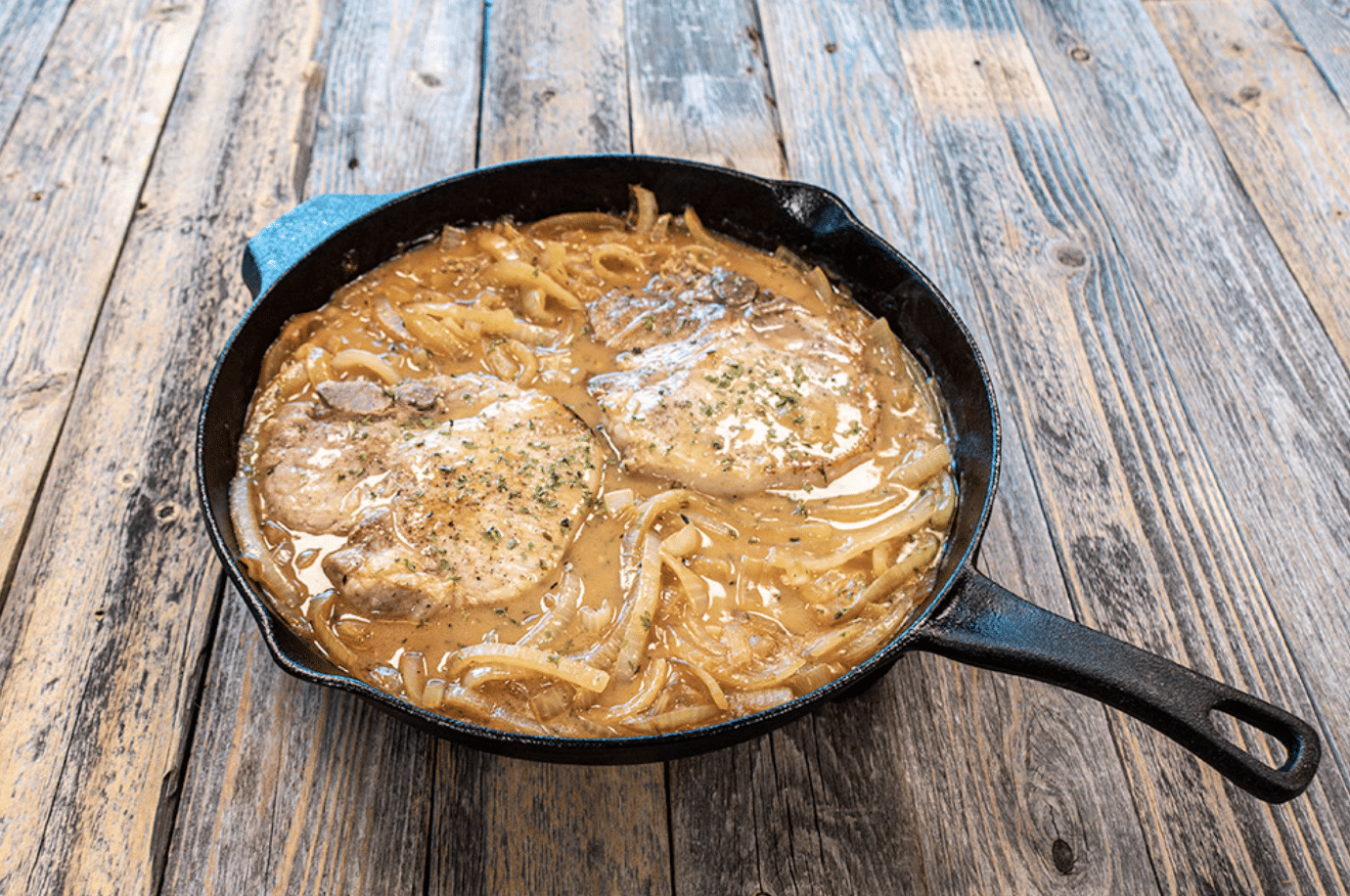 This recipe might take you a bit longer than some others, but it's well worth the wait. Our friends over at Easy Campfire Recipes shared their favorite way to cook this meal (and we're so glad they did!).If you do plan on making this meal, we highly recommend purchasing a meat thermometer to bring along with you. The internal temperature of the pork chops should be between 145-165 degrees. Need to get one? No worries, this one works great!
Shrimp Scampi
Looking for a no-fuss recipe that can be topped over pasta or eaten on its own in a foil pack? Look no further than this shrimp scampi from Damn Delicious.Simply mix all ingredients listed in the link above with the shrimp, toss everything in a foil pack, and place on a grill over the fire for 10-12 minutes! We've added butter to this before – and recommend it! But either way, this is an easy family meal to make around the fire.
French Dip Sandwiches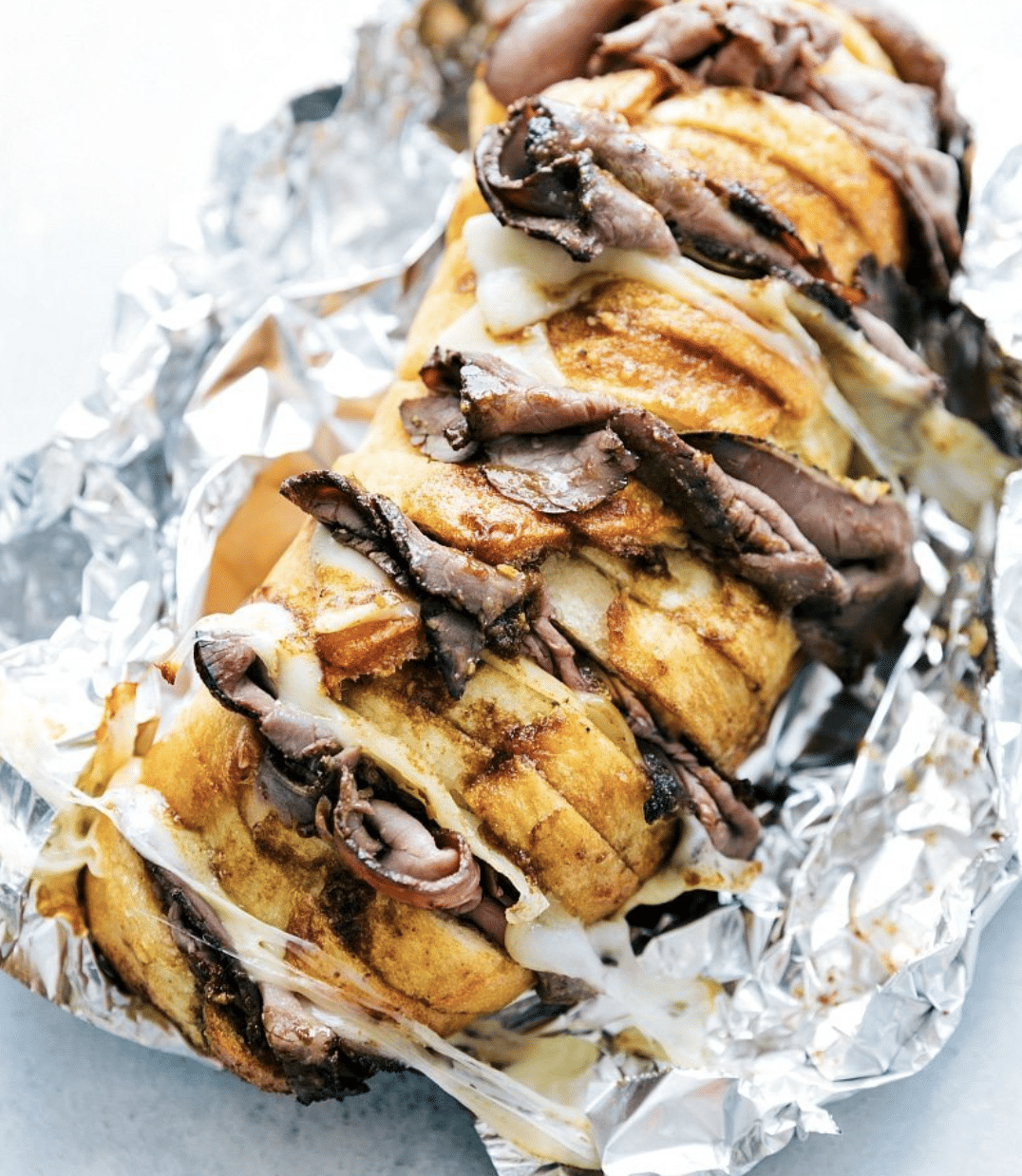 Up your sandwich game with these amazing French dip sandwiches from Chelsea's Messy Apron! Everyone will enjoy getting their own mini sandwich (and you're able to make all of the sandwiches in one foil wrap)!This recipe isn't hard to follow but it does take a bit of time to prepare everything. The good news is, once the sandwiches are cooking over the fire, you can work on making the au jus sauce (it's a sauce similar to gravy!).
Dutch Oven Lasagna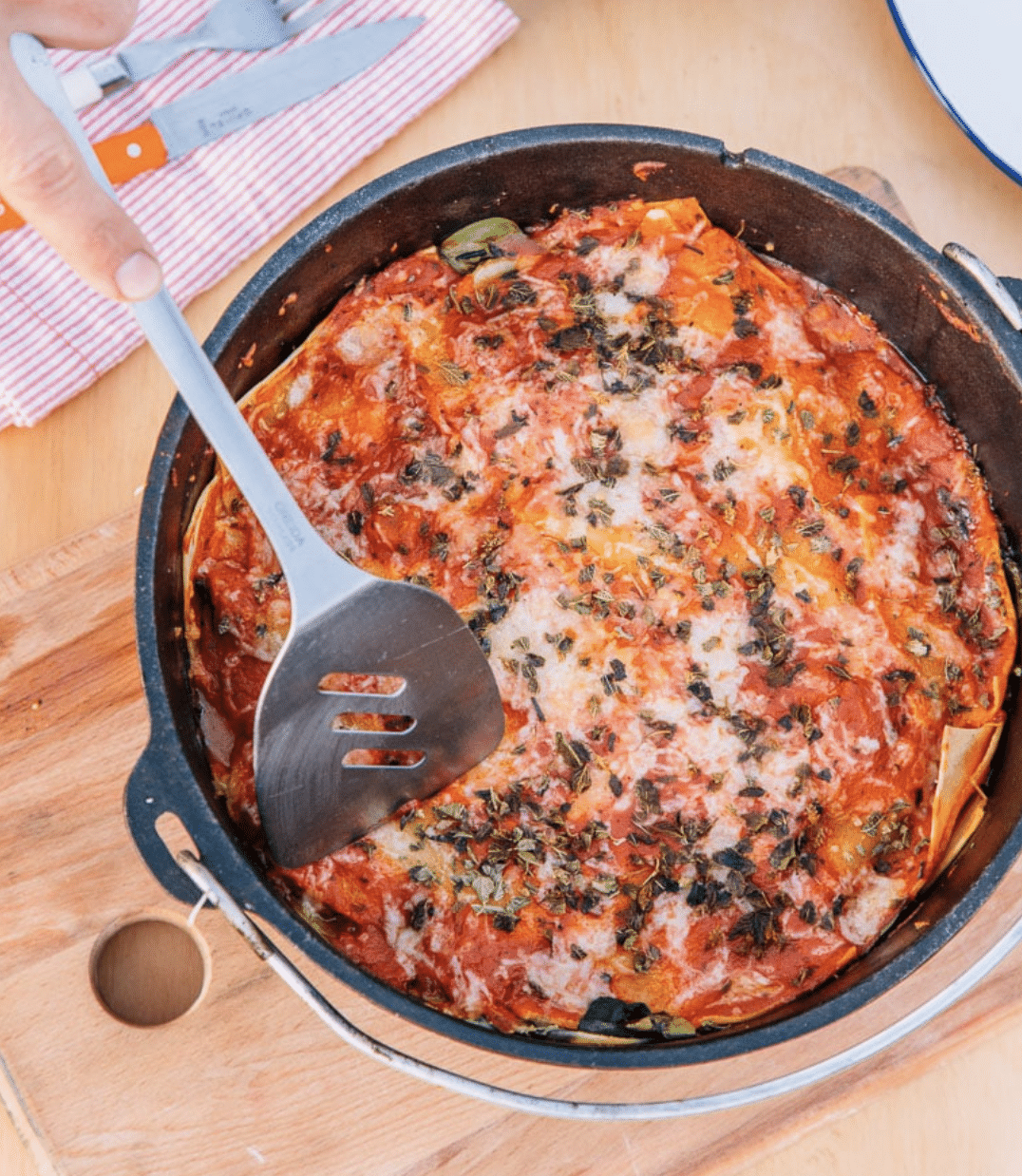 When we first saw this recipe from Fresh Off the Grid we were impressed – it's not everyday you see someone cooking lasagna at camp!This one pot recipe is sure to impress the whole family (kids included!). It's made in one pot with layers of pasta, cheese, spinach, and sauce – how could you not want this while camping!?
Campfire Philly Cheesesteaks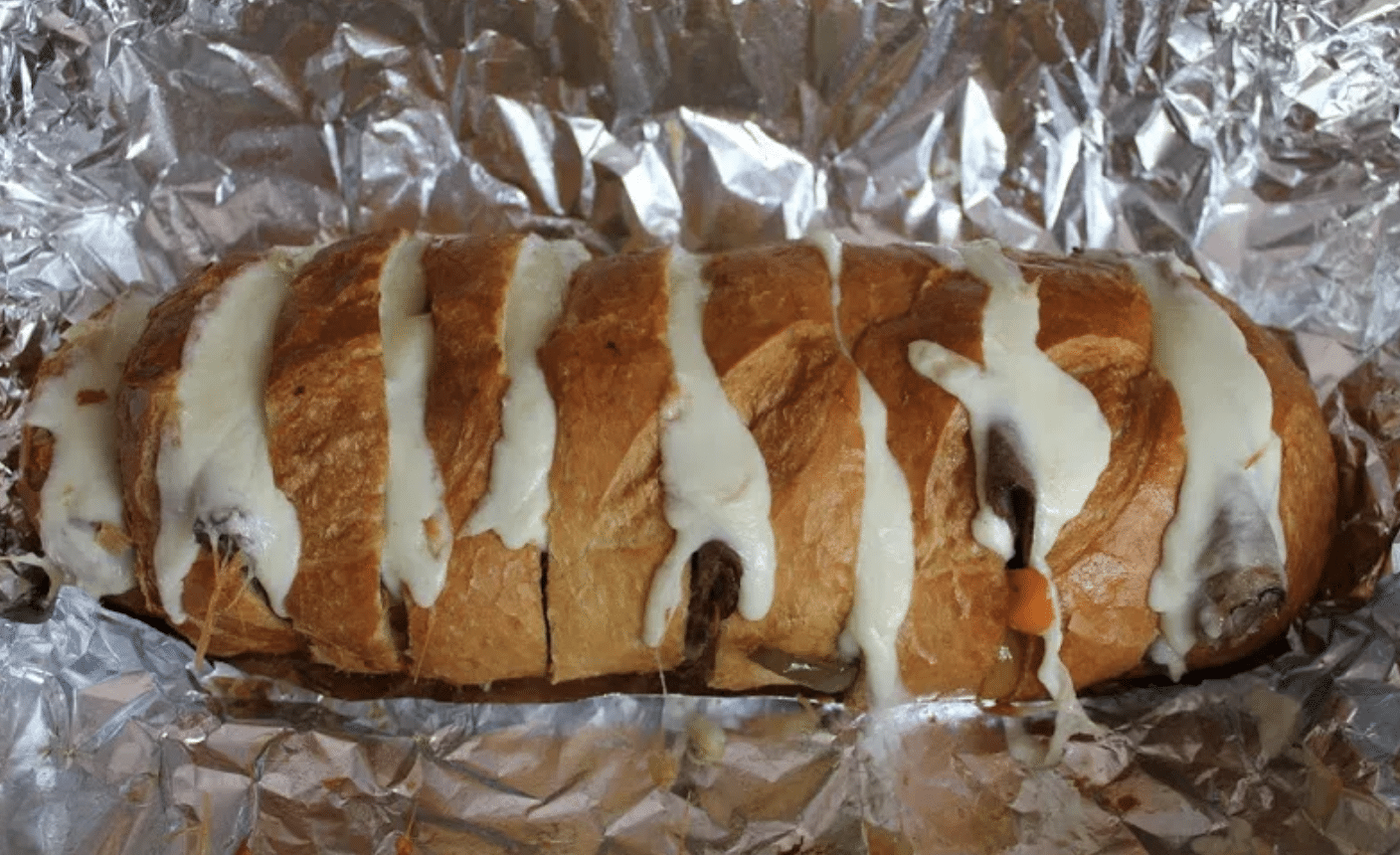 Similar to the French dip sandwich, this Philly cheesesteak from Homemade Heather is easily made in a foil pack over a fire! Simply slice a loaf of French bread about 1.5 inches apart from each other and don't slice the bread all the way. Stuff each cut with roast beef, peppers, onions, and cheese of your choice. Wrap in tin foil, place near the fire, and heat until the cheese is melty and the bread is golden!
Chili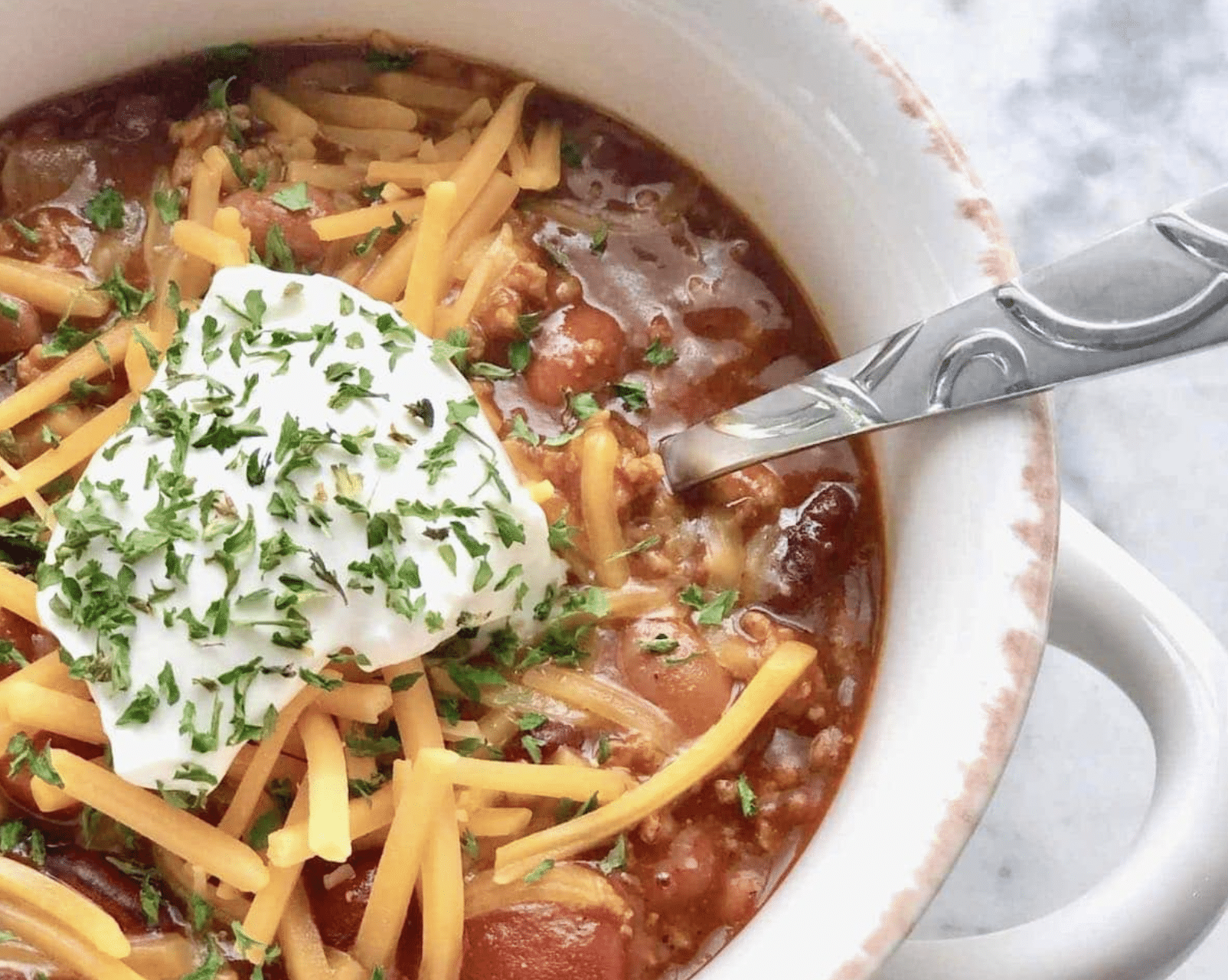 Cooking chili has never been better! All you need to make this campfire chili by Quiche My Grits is a Dutch Oven! Yep, another one pot wonder here!So many people make chili in their own way. You can add potatoes, black beans, corn, veggies, herbs… whatever your heart desires really! This recipe comes together in a little over an hour and requires very little attention.
5 Easy Camping Side Dishes
Nothing completes a meal quite like a side dish! The following side dishes are able to be baked over the fire in a decent amount of time. Campfire cooking has never tasted this good!
Pull Apart Garlic Bread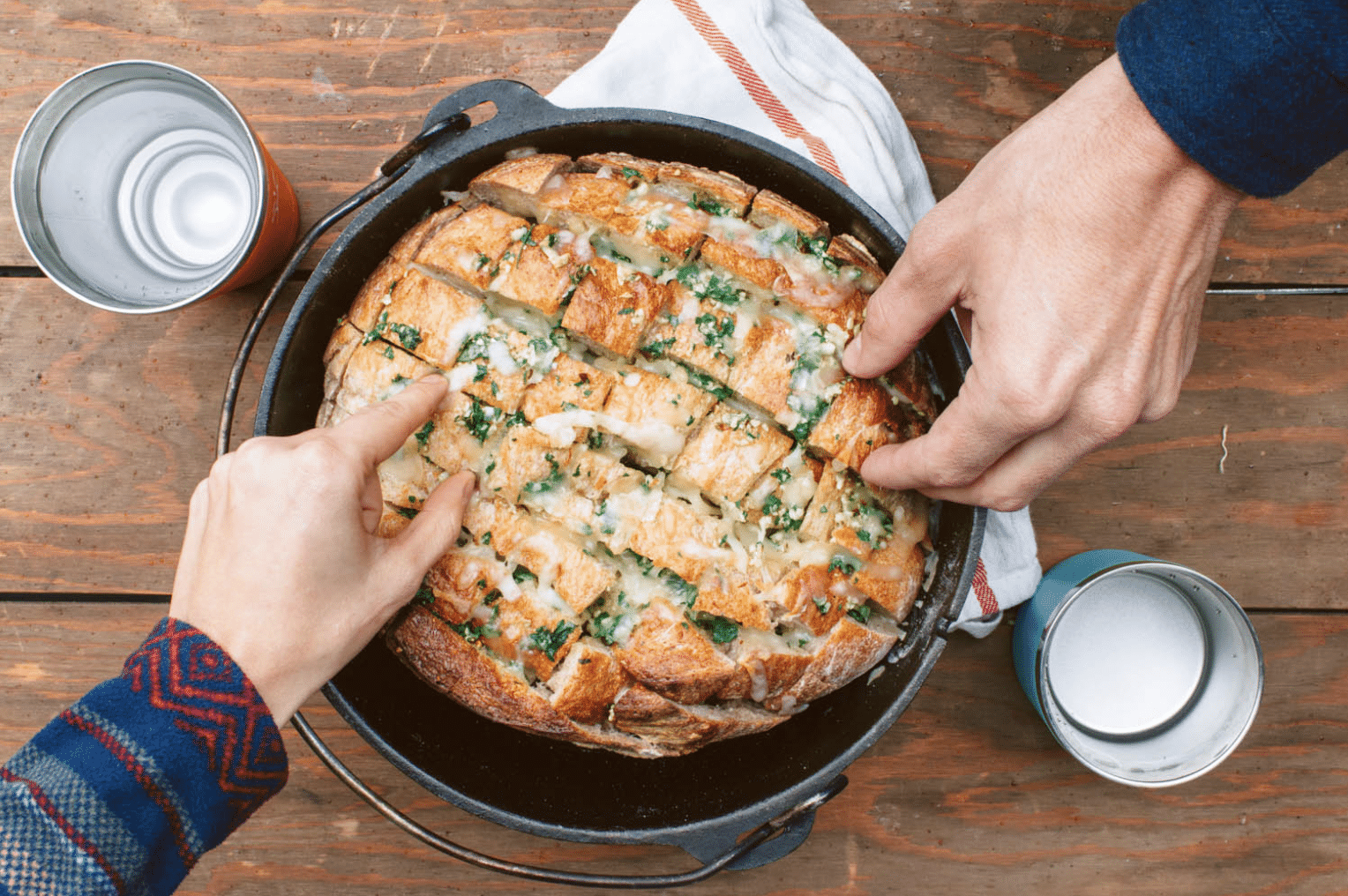 We're huge fans of garlic bread. When we saw that Fresh Off the Grid had a recipe for pull apart garlic bread that you can make at camp? We were freaking astonished and ready to try it out for ourselves. This recipe did not disappoint.You can use any artisan bread you'd like (sourdough is a personal favorite of mine). Cut slits in the bread, pour melted butter, garlic, herbs, and cheese on top of the bread and cook in a Dutch Oven for 10-20 minutes and get ready to be mind blown!
Mexican Street Corn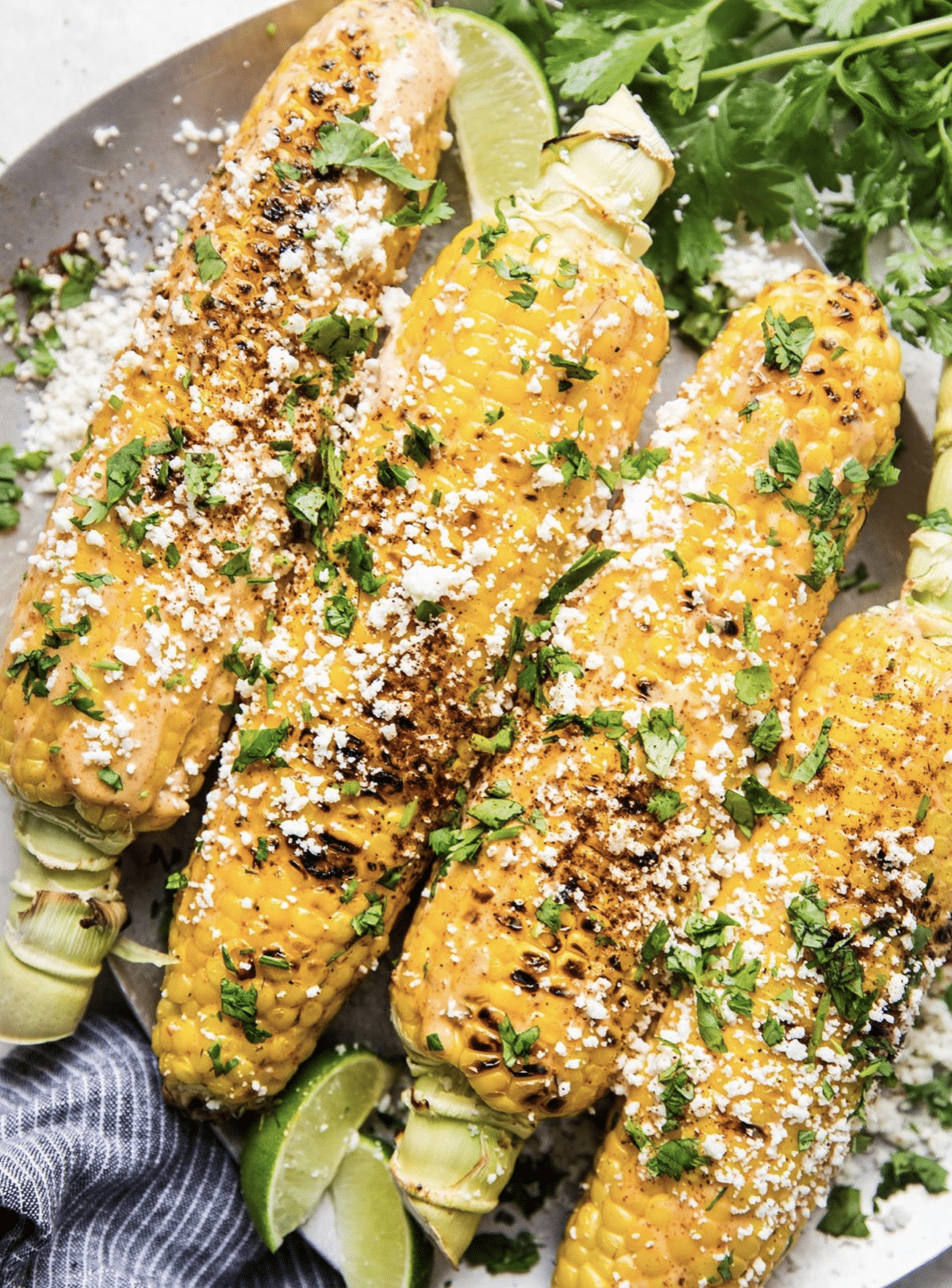 Have you ever had Mexican street corn? If not, it's time to grill some!The Modern Proper has the perfect recipe for you – it's not hard to make at all and it'll change how you make corn in the future! Husk the corn, grill it over a campfire, and turn it every few minutes. While you wait for the corn to cook, mix mayo, sour cream, and cilantro. This is what you'll put on the corn when it's finished grilling. Top with cheese and a squeeze of lime and you're got a new favorite way to eat corn!
Campfire Potatoes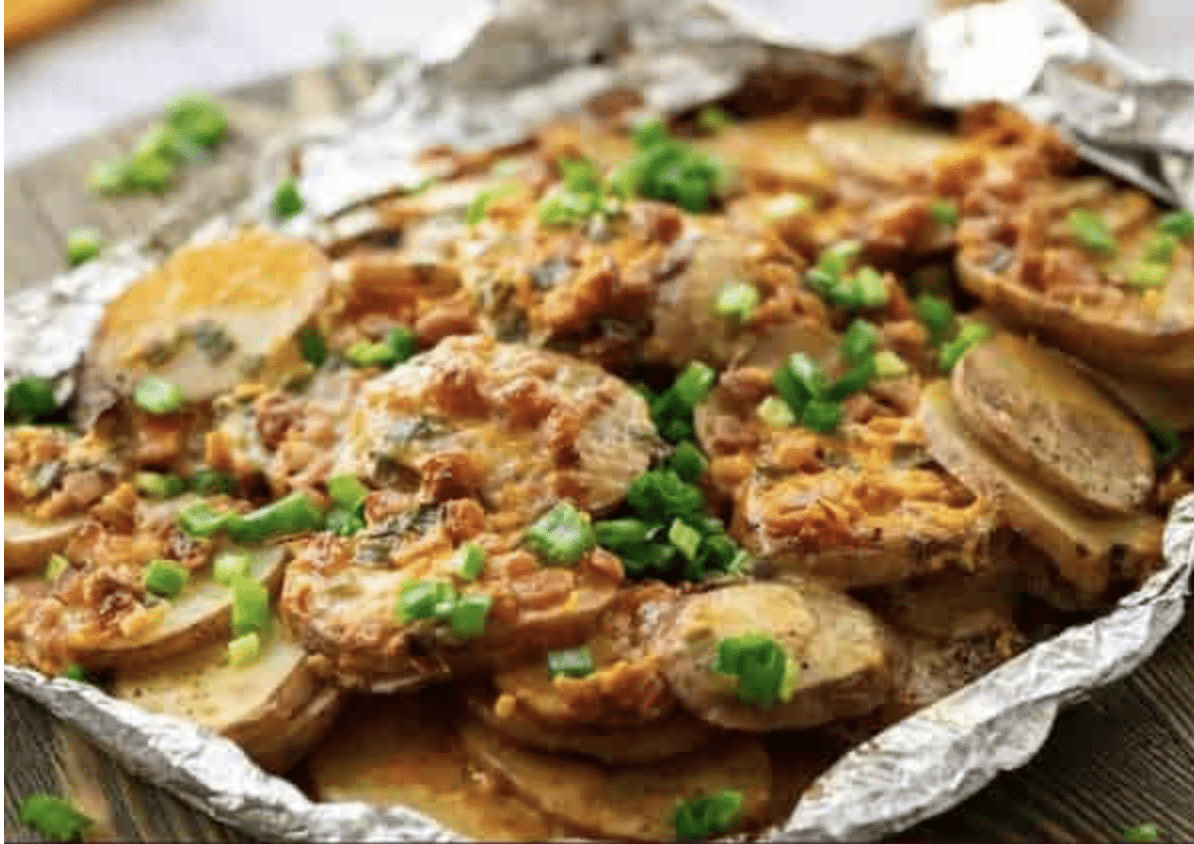 You've had scalloped potatoes, right? These campfire potatoes from Princess Pinky Girl are similar, they're just made over a campfire!You'll need potatoes, cheese, bacon, and chives to make these. They can be made in a foil in and only take about 20 minutes to make! This recipe would work for baked potatoes, too! Just don't thinly slice the potatoes – pierce them with a fork or a knife, bake them over the fire, and when they're done slice them down the middle and put the toppings inside!
Bacon Wrapped Brussels Sprouts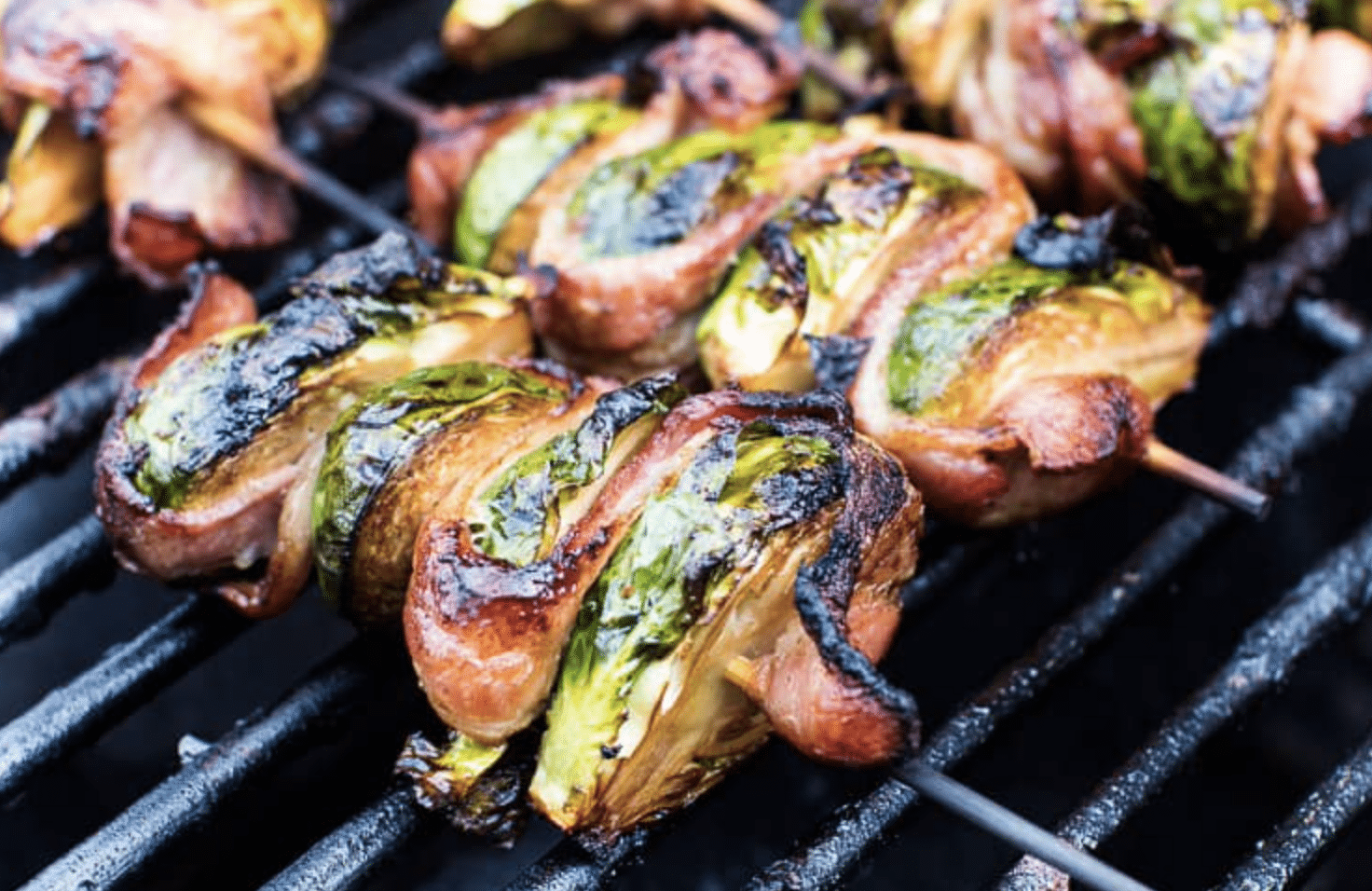 Have you ever had bacon wrapped Brussels sprouts? If not, this recipe by Gimme Some Grilling will quickly become one of your favorite side dishes out there!All you need is a grilling grate, some skewers, and 30 minutes. You can make the marinade ahead of time and put it in a Tupperware container before you leave, too!
Skillet Cornbread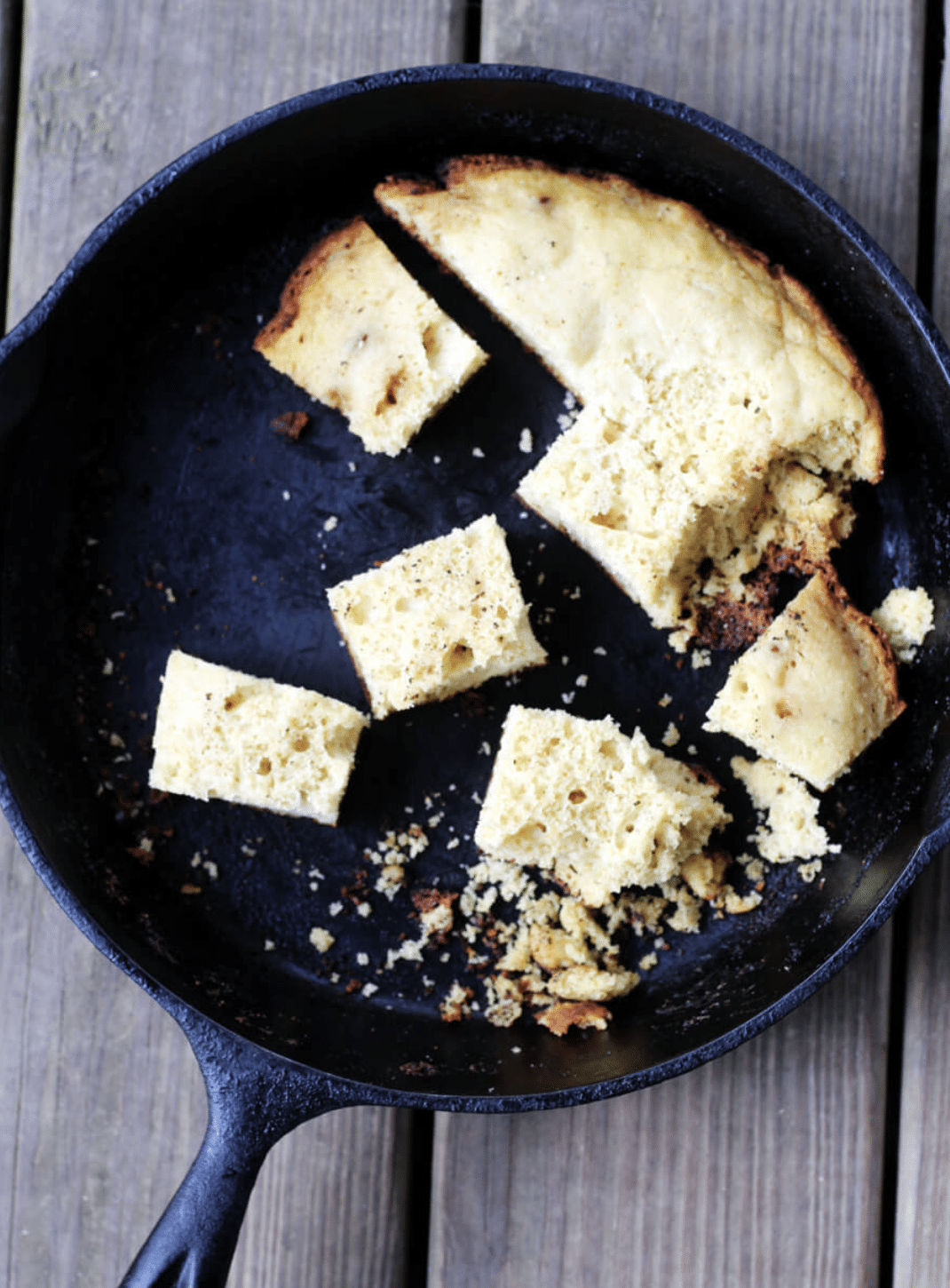 Cornbread is one of those side dishes that is almost necessary when you go camping. It goes with pretty much every dish (especially chili) and tastes just as good the next day.Buy This Cook That has a simple recipe for cornbread you can make in a cast iron pan (and it checks all of the boxes for us).Pro Tip: Mix all of the dry ingredients together and place in a glass jar or Tupperware container before going camping!
5 Easy Camping Desserts
After writing about all of these dessert recipes, we're ready to pack our bags and go camping just to make these! We hope you're ready for something baked and sweet!
S'mores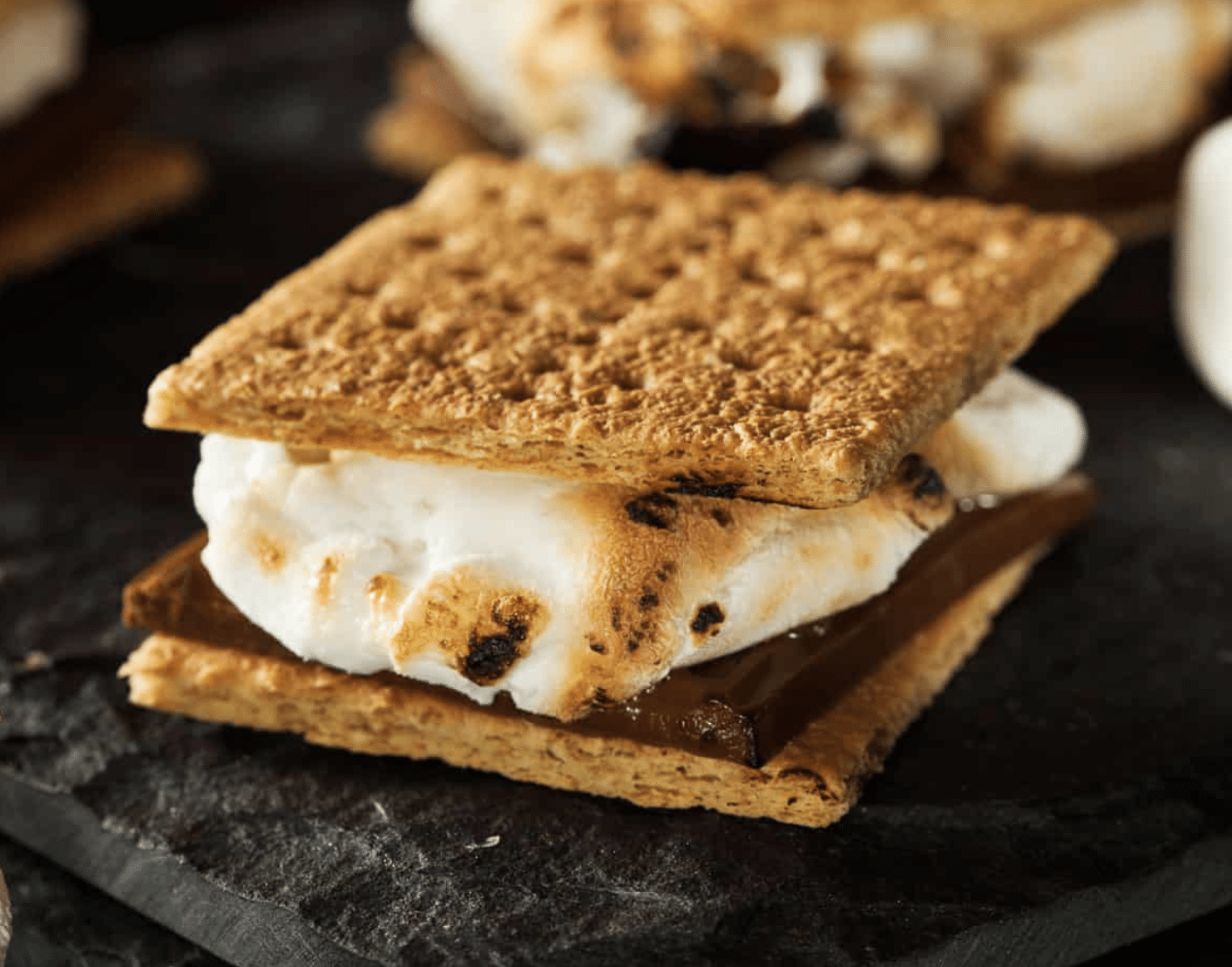 Nothing says "We're going camping!" quite like s'mores!Our friends over at GudGear know how to make a good s'more. They have 7 recipe variations (all of which are family favorites).Their caramel s'mores are a personal favorite of mine (your average s'more but with some caramel sauce… to die for). Traditional s'mores are great and all, but sometimes you need a change!
Campfire Banana Boats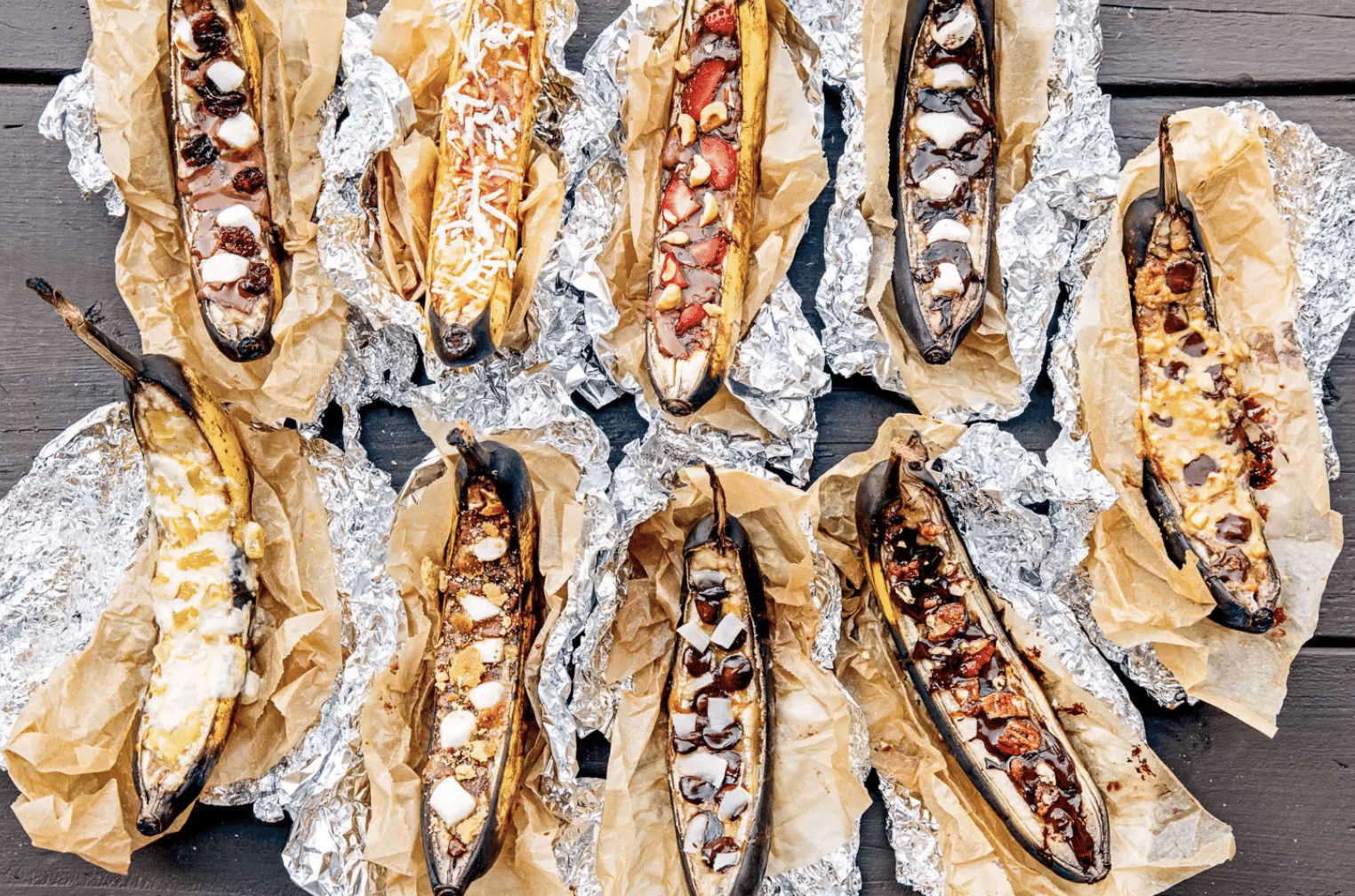 Our friends over at Fresh Off the Grid have done it again… These campfire banana boats are a family favorite (especially with kids) and are incredibly easy to make. With tons of variations on how to make these, there's no question in our mind that these banana boats will be a must-have every camping trip!
Pineapple Upside-down Skewers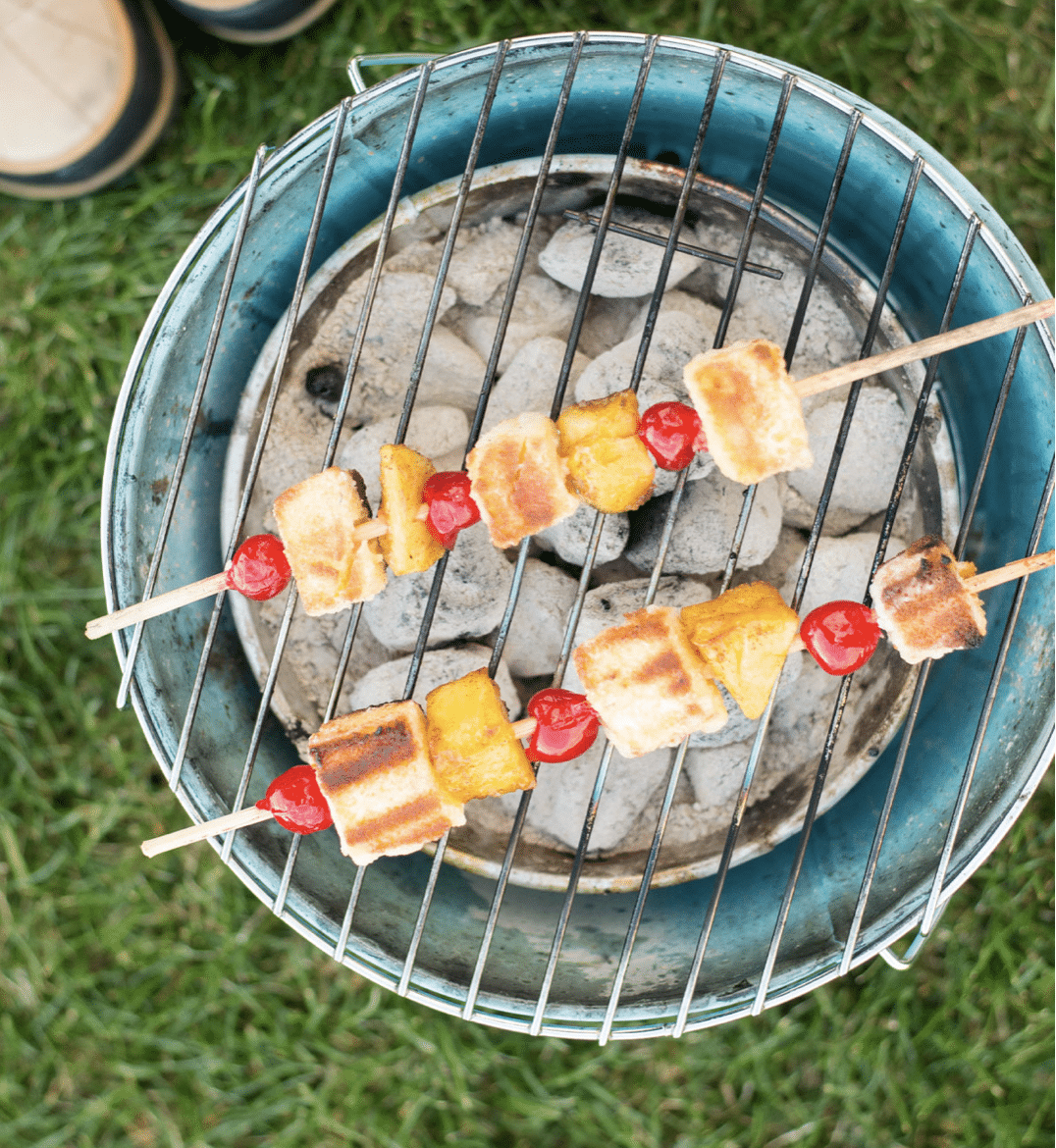 Pineapple upside-down cake is amazing on it's own… but on a skewer over the campfire? We're hooked!Karrie from Happy Money Saver has crafted the most perfect camping recipe for one of our favorite cakes. Pound cake, pineapple chunks, and cherries are the perfect trio in our mind – we really hope you check this recipe out!
Dessert Pizza (AKA Fruit Pizza)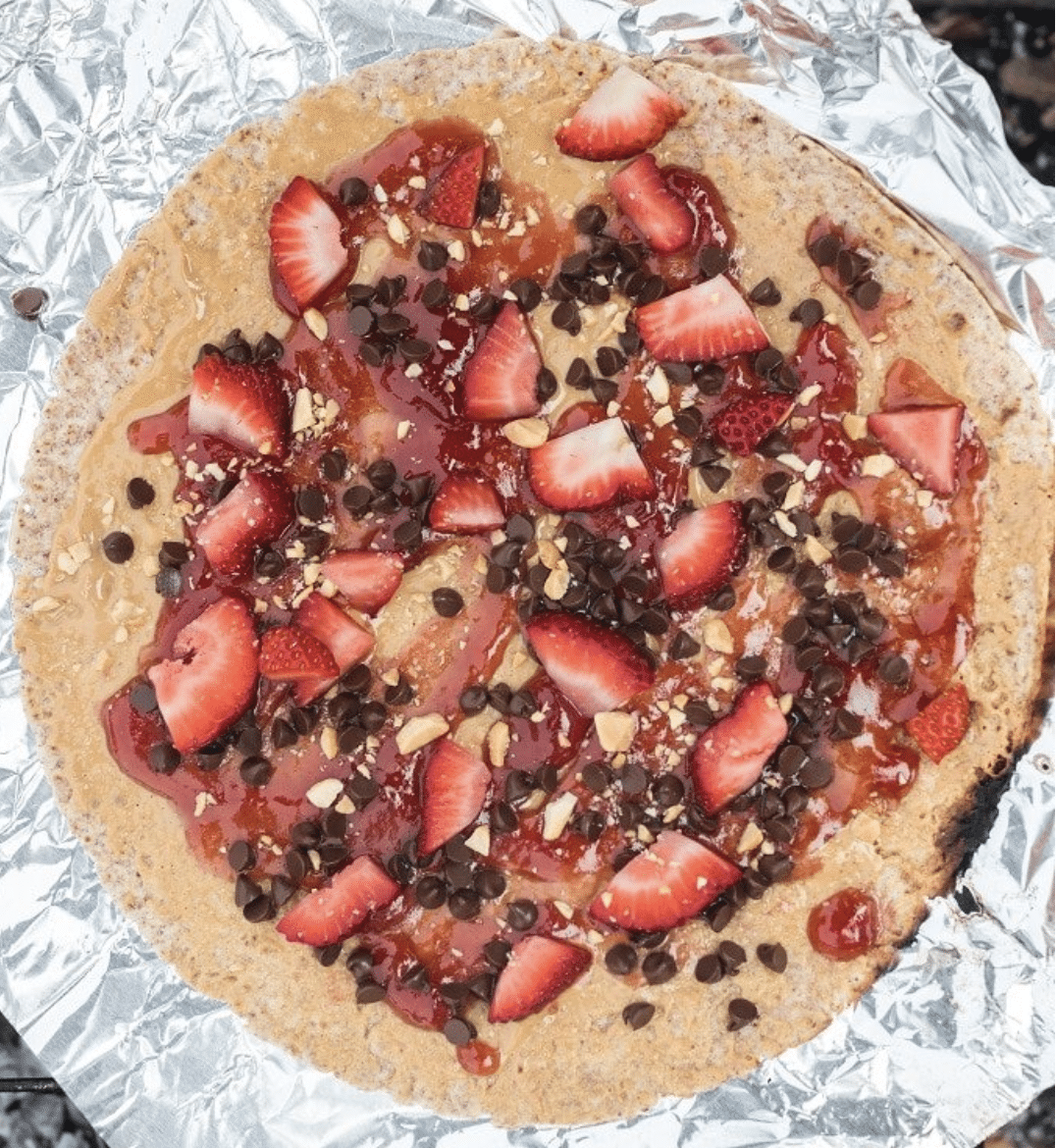 Looking for a new way to impress your kids while camping? This dessert pizza is sure to do the trick!Our friends over at Spaceships and Laser Beams know how to tempt us with dessert pizza – their dessert pizza is easy to make, has tons of delicious toppings (add any fruit you'd like), and takes barely any time to come together! Feel free to swap out any ingredients that you're not a fan of – or if you want to try a different flavor combination! Nutella, bananas, and nuts would be an awesome flavor combination! Regardless of the fruit you use, you'll love this dessert pizza!
Campfire Strawberries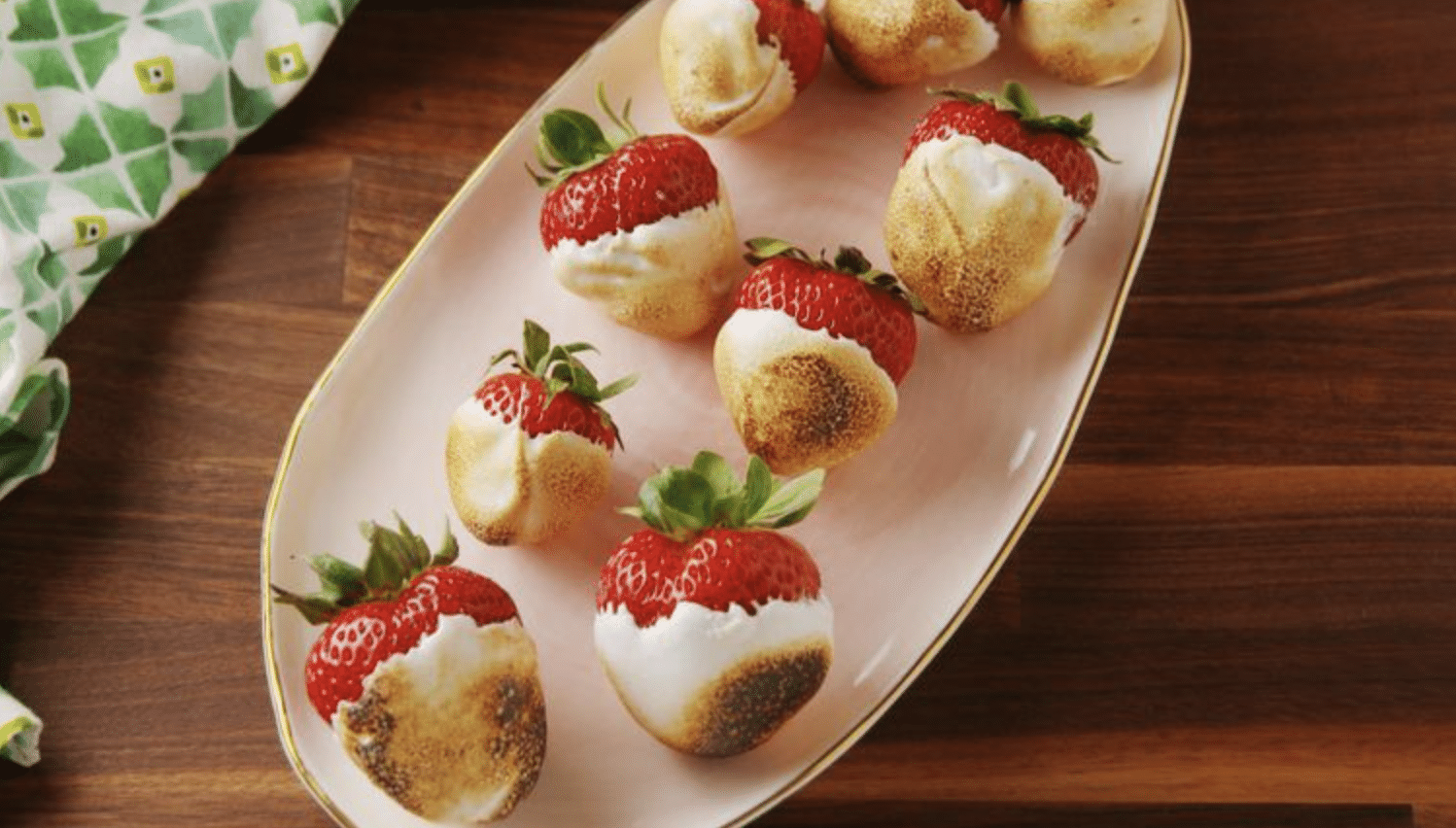 Getting sick of the same old s'mores? You'll love these campfire strawberries from Delish!All you'll need to make these are some strawberries and marshmallow fluff! Pierce the strawberries with a sewer, dip in marshmallow fluff, and roast over the fire!These are sure to be a crowd pleaser (and they're perfect for kids!).
Ready to go Camping?
After these meals, how could you not be ready?!
Were there any dishes we mentioned above that you had never heard of? Are any of them staples when you and your family go camping?
Let us know in the comments below. Happy camping!