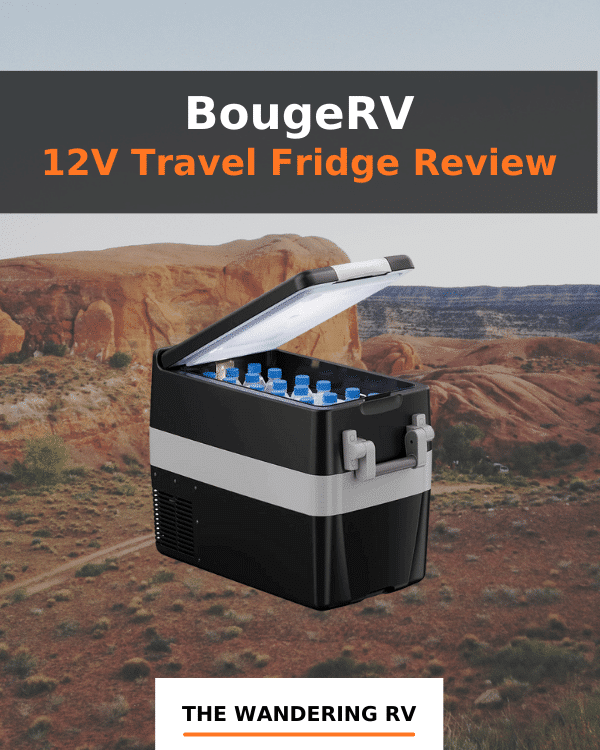 Interested in the BougeRV portable fridge, but aren't sure if it's worth the investment?
Good news: We tested it so you don't have to!
In this BougeRV portable fridge review, we talk about the pros and cons of these affordable fridges and whether or not you should buy one.
Let's dive in!
Table of Contents
BougeRV Portable Fridge Review Video
Don't care for reading? Here's a great review we found on YouTube you can check out:
​BougeRV Discount Codes
​Use the following discount codes to save on your BougeRV purchase!
​Use code ​​​AFF25 ​to ​​​​save 25%​ off any car refrigerator.​​​
BougeRV Refrigerator Specs
Let's break down everything you want to know about these portable refrigerators.
What's In the Box
Aside from the fridge, here's what's included in the box:
12/24V DC cigarette lighter adapter
120V AC power adapter
Attachable handle kit: parts and a t-handle allen key tool for putting the handles on the fridge
Instruction manual
The BougeRV comes packaged with attachable handles (tool included) that are really solid and have powerful springs. They probably did this to save packaging space and reduce costs, which means savings for you!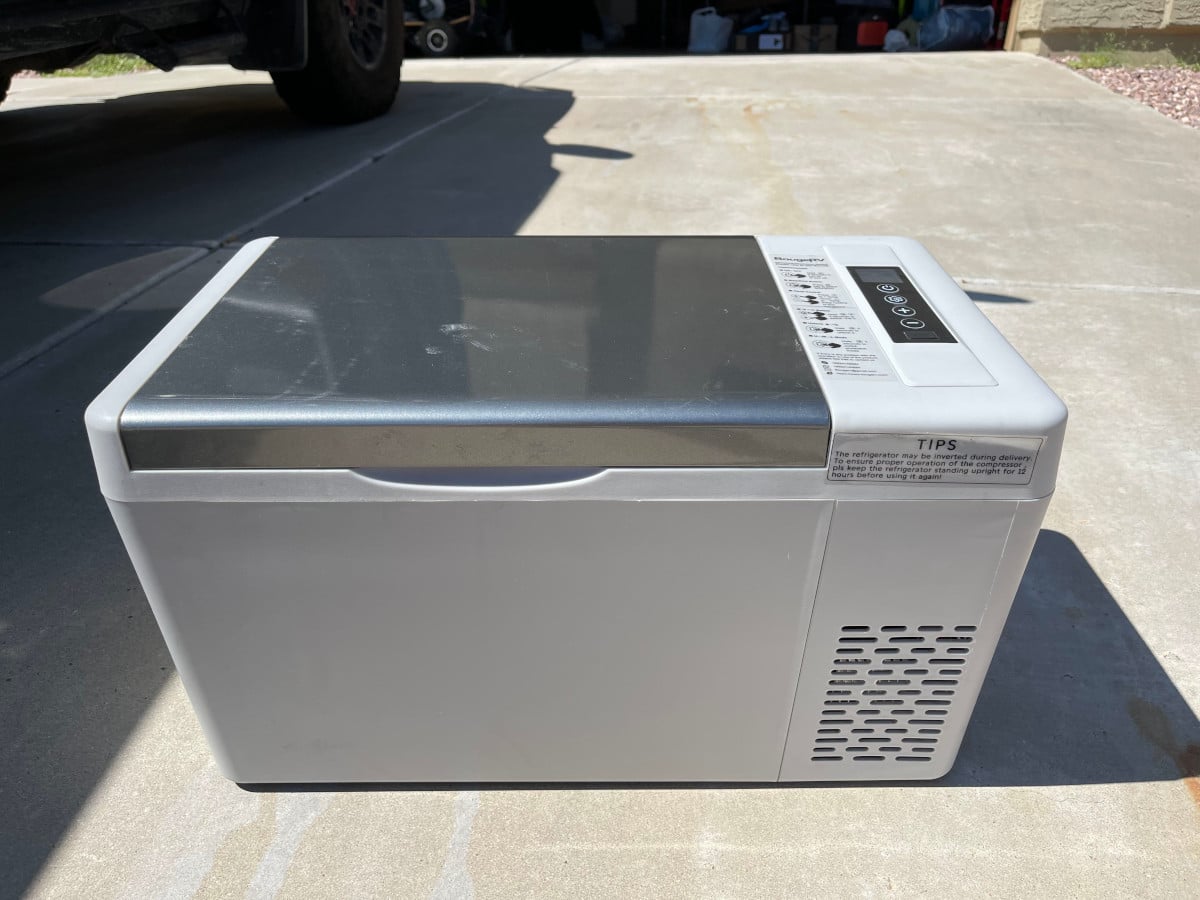 Design & Durability
Looks-wise, the BougeRV fridge looks very similar to most other portable refrigerators on the market.
When it comes to durability, it does feel pretty light. However, I've taken it on several trips now and moved it around quite a bit, and it hasn't given me any trouble. Nothing seems like it will break so far!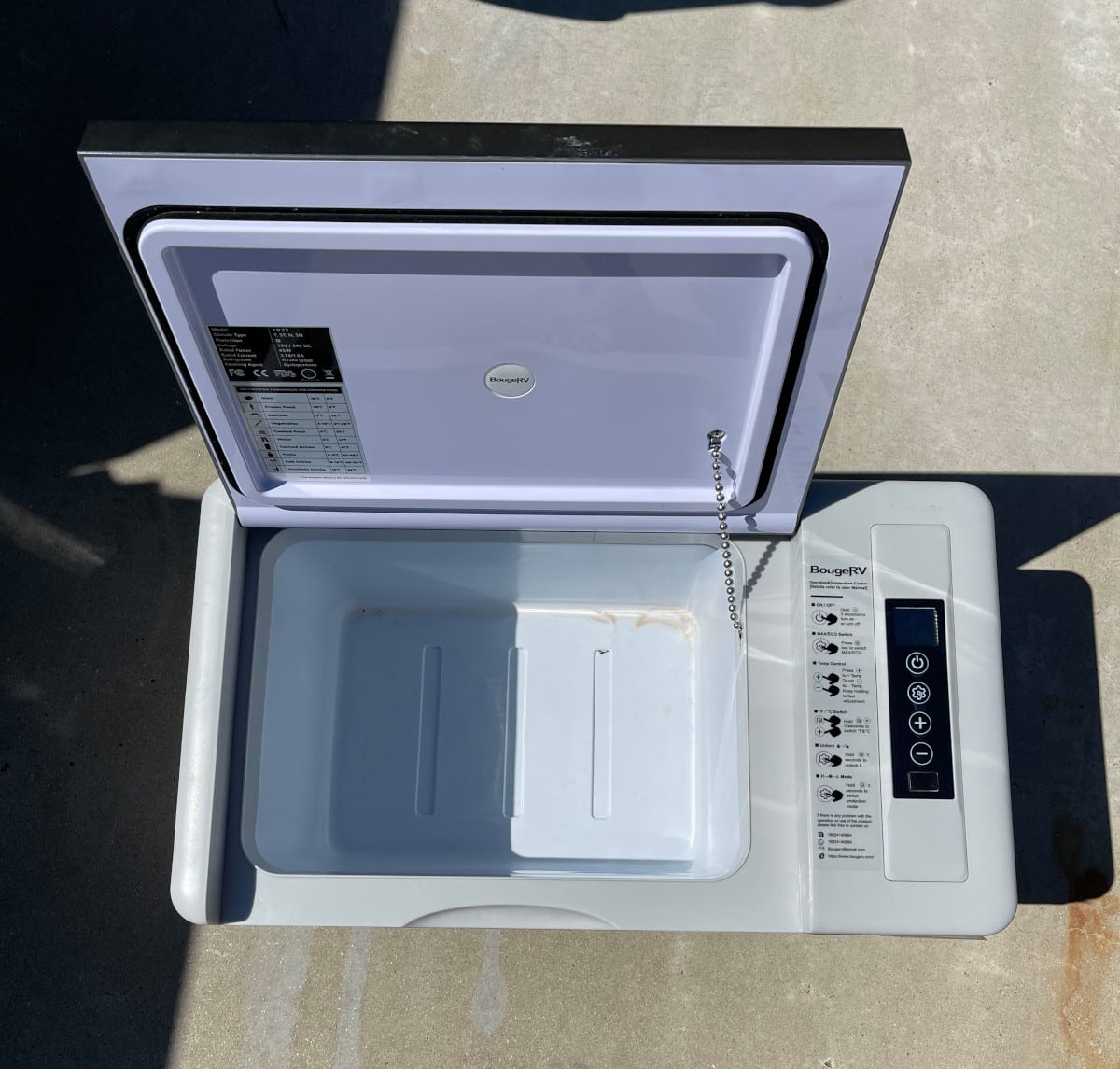 Dimensions / Sizes
Dimensions are important, whether you're trying to fit this thing into an RV, a van build, or in the back of your truck. It has to fit!
Here are the exact dimensions of the various fridge sizes (we have the 28L):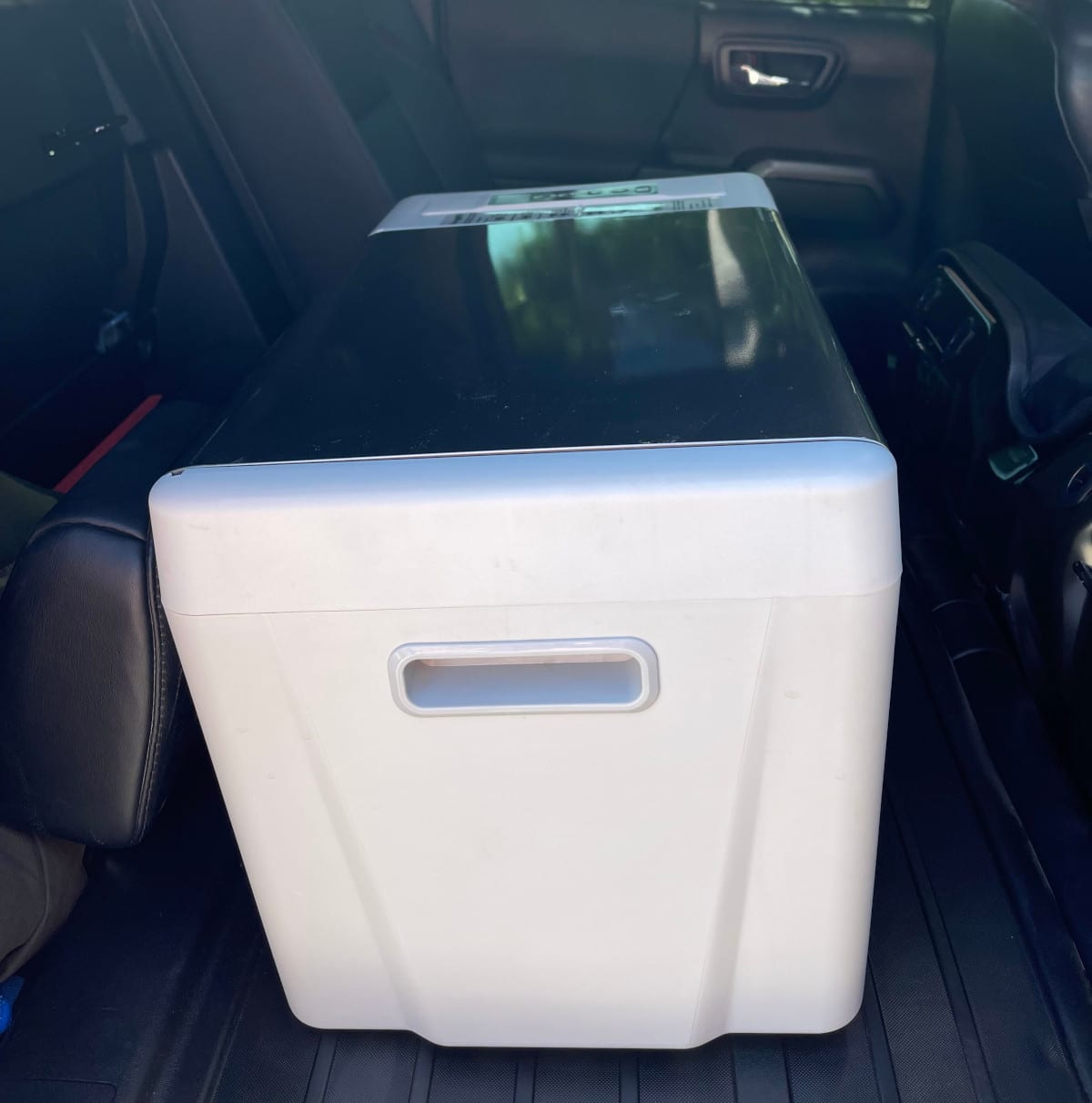 Features & Specs
The BougeRV fridges all have the following features:
Max and Eco modes. Max mode gets you fast and powerful cooling at the expense of greater power consumption. Eco mode gets you better power consumption at the expense of some cooling performance.
Temp range: -4F to 50F. This means you can set your fridge to be either a super deep freezer or just keep drinks chilled.
Three battery protection modes. This turns the fridge off when your batteries hit a certain voltage so that you don't drain your batteries. The BougeRV fridge features three modes (Low/Medium/High) so that you can customize the cut-in/cut-out voltages to your needs.
Can function up to a 30 degree incline. This fridge will work fine even after getting knocked around on those back roads.
Relatively quiet (45 decibels or less). I keep the fridge in the cab of my truck, and while I notice the noise occasionally when it kicks on to cool things off, it's usually barely noticeable and not an issue at all.
Wancool ACV25FC compressor. This compressor seems similar to a Danfoss SECOP compressor but is less expensive.
2-year warranty (can upgrade to 3-year). The BougeRV fridge includes a 2-year standard warranty, which can be upgraded to a 3-year warranty if you register your fridge through their BougeRV Club.
How the BougeRV Fridge Performs
Overall, I am very happy with this fridge. It cools down extremely fast (within 20-30 minutes) and has a similar power draw to even some of the more expensive fridges.
While it's not quite as efficient as the higher-end refrigerators, the difference is small enough not to really matter.
On top of that, this fridge is extremely cheap compared to most of the other refrigerators on the market. With hundreds of dollars in savings, you really can't go wrong!
Conclusion: Overall Value
The BougeRV portable fridge isn't the absolute best portable refrigerator on the market. But it's also much cheaper than the competition and can perform almost as well as the high-end brands.
For me? I'd go with this cheaper option over the fancy, expensive stuff. Even if it only lasts you a year or two, you'll still get a ton out of it. Another viable option is the Vevor 12v Portable Fridge. See our detailed review here.
Click here to view the best price on ​BougeRV fridges right now.