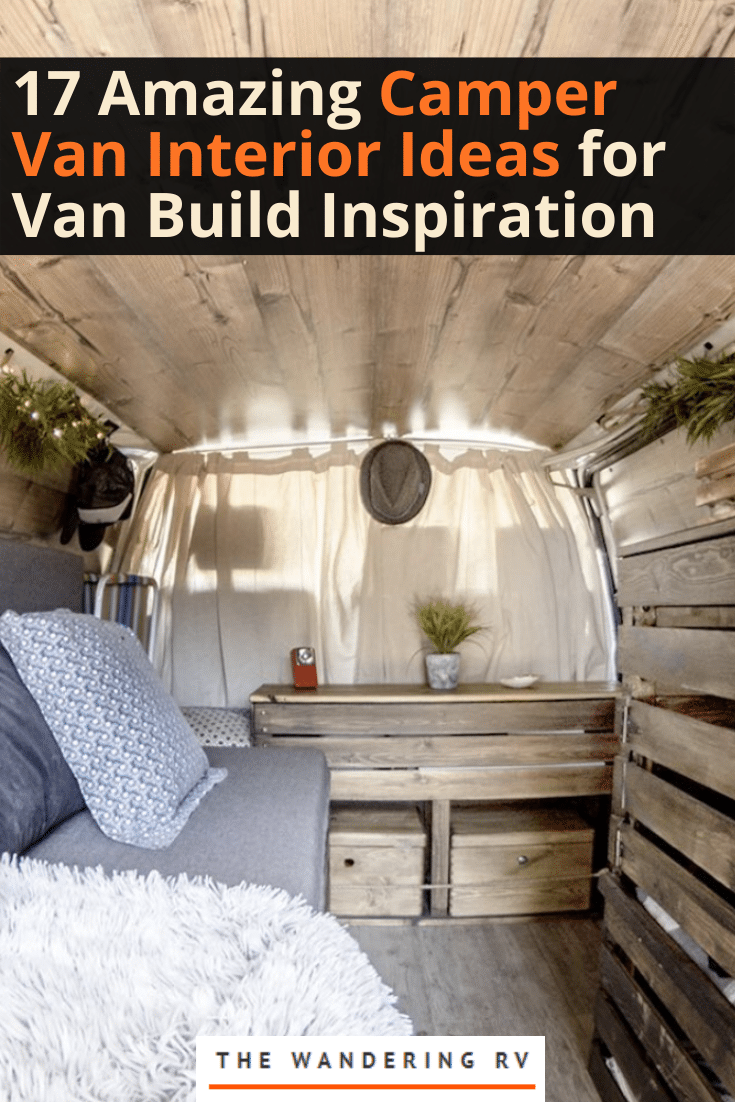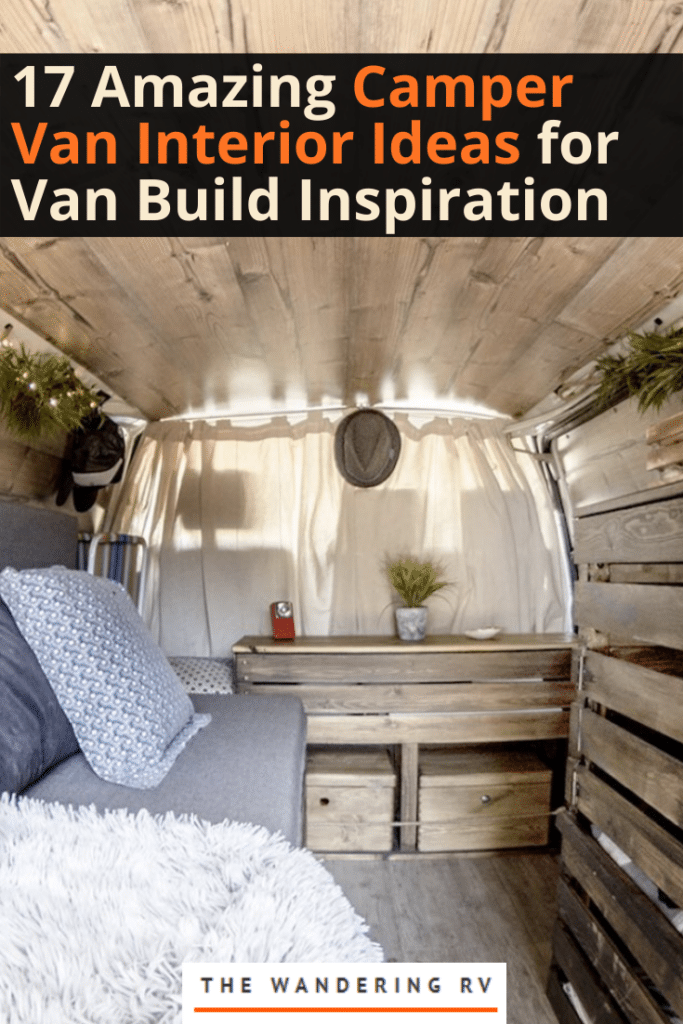 Planning your campervan interior is the first step in starting a van conversion build.
But with so many options, how do you decide what you want?
Easy—you look at small camper van interior ideas for inspiration, and start pulling together what you want your build to look like!
Get ready for some van life inspiration. Let's dive in!
Table of Contents
1. Set Up Better Lighting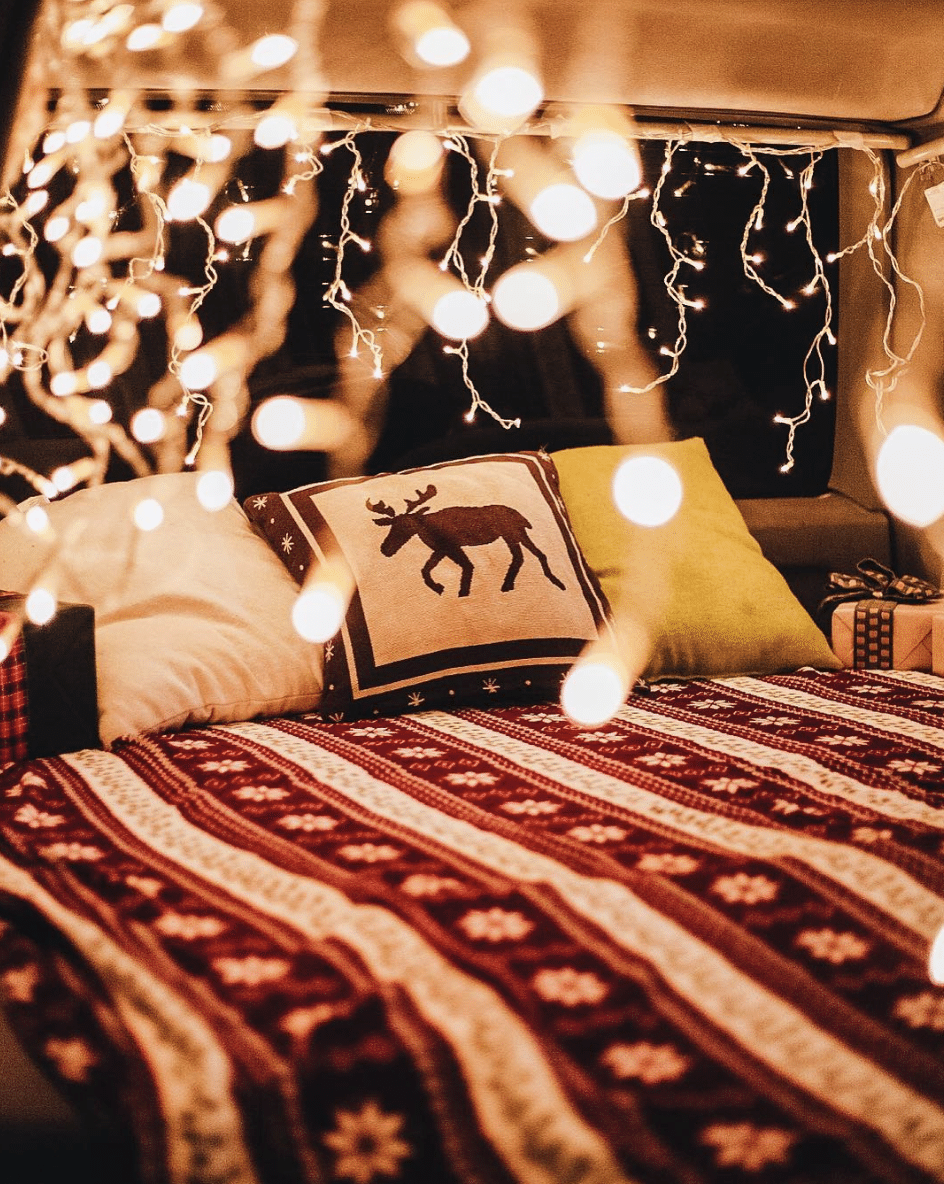 Nothing really spruces up your campervan interior quite like twinkly lights, and Camping Quebec certainly knows that!
Whether you choose to hang lights over the bed or across the entire ceiling, you'll find yourself feeling cozier in seconds. Not to mention, installing lights into your van will help to keep your camper van functional at night when you can't rely on natural light to help you out.
Twinkle Lights
The copper wire is flexible
You can switch on/off, adjust brightness, or select between 8 modes
With low voltage and no overheat after hours of usage, it's safe to touch after many hours
Recommended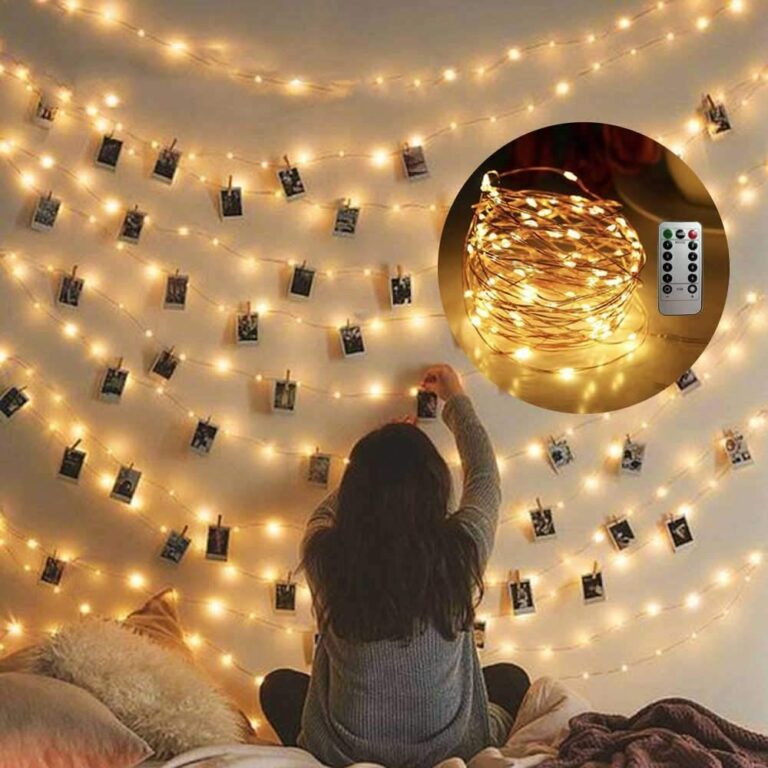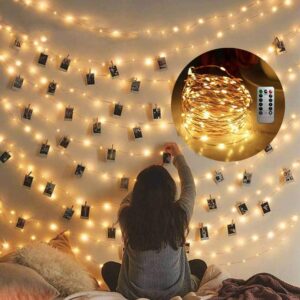 2. Spruce Up Your Floor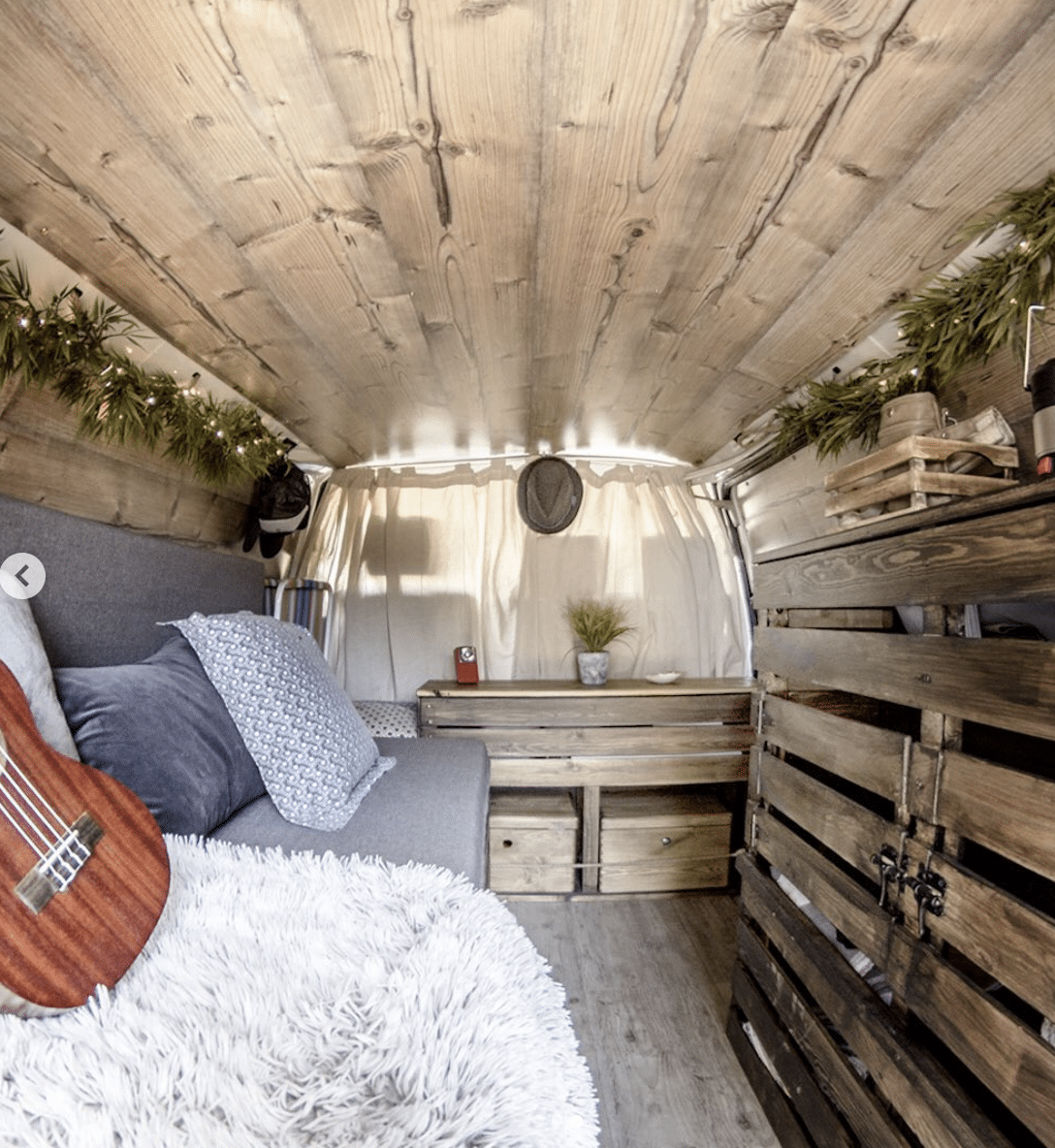 Installing new floors is a big part of van conversions. Whether you choose to install vinyl planks or bamboo flooring, you'll be able to resemble real hardwood floors (not to mention, they're easy to clean).
Danny Freediver spruced up his campervan interior by adding vinyl planks to his van conversion. The neutral tones in this photo help to make this van look bigger by opening the space. It looks less like a home on wheels and more like a tiny home! This space is truly "van life goals".
3. Build in a Kitchen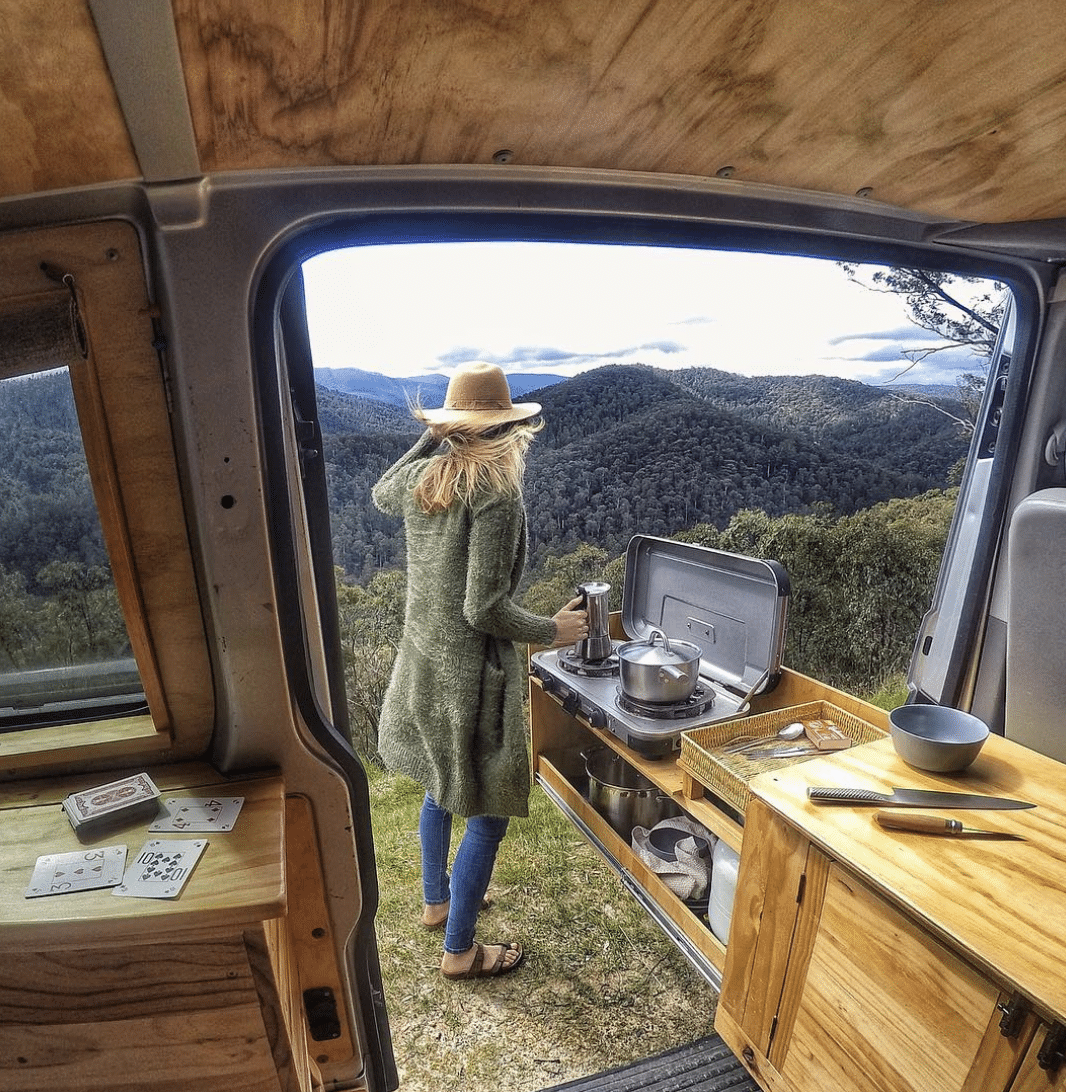 Adding a kitchen to your campervan can help you save money while on the road (especially when you have tons of easy camping meals to choose from). While you could choose to keep the kitchen inside the van interior, you could build a pull out kitchen like Roaming with Rob did (we can't get over how gorgeous that kitchen photo is)!
Whether you opt for a more upscale, luxury kitchen with granite counters, a sink and faucet, and small oven or you keep it casual by building a pull out kitchen with built-in storage and a two burner stove, you'll feel like you're living in a tiny home!
Plus, a pull out kitchen is great for a smaller van build with limited indoor space.
4. Build an Interior Shower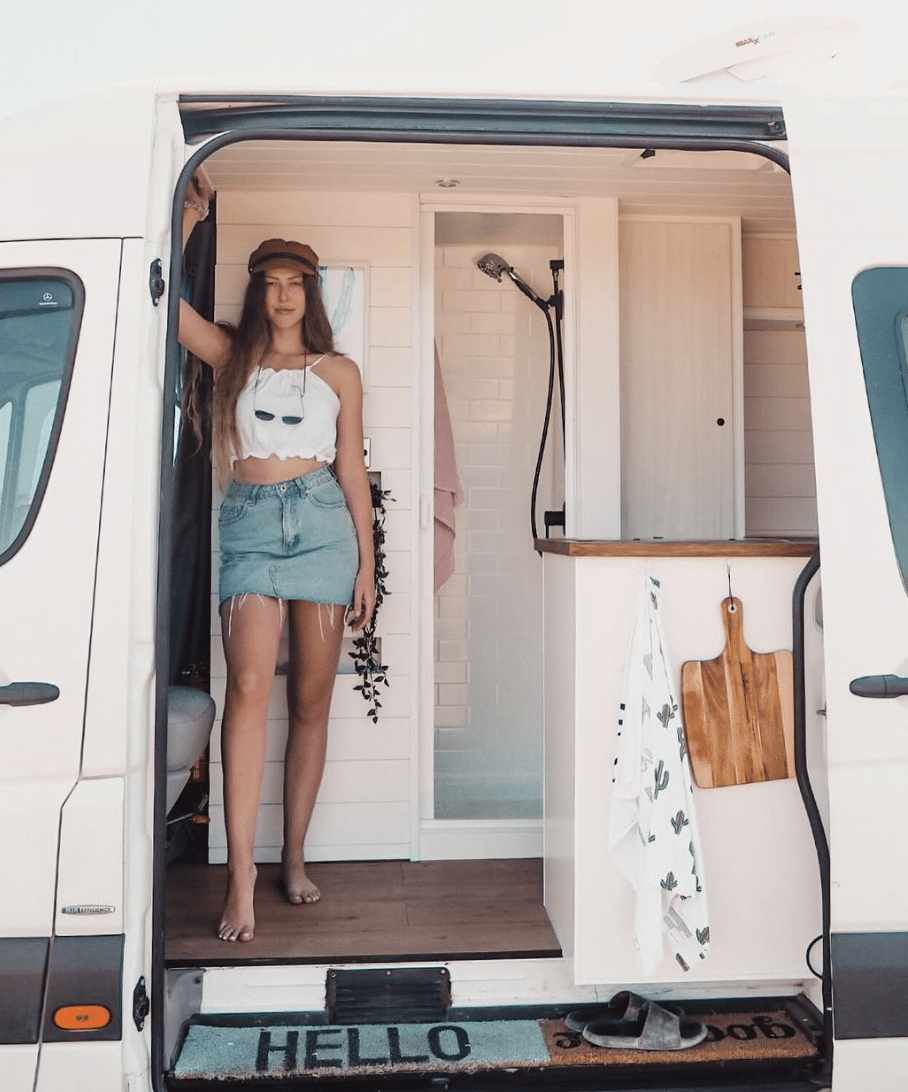 Lessa from Escaping Ordinary found a way to shower while on the road. How? She built herself a wet bath! Some van lifers don't want to give up the luxury of having a hot shower whenever they want it (and that shower photo above shows just how awesome it is to have a shower in your van).
Check out how she built this wet bath for her awesome van life here:
5. Add a Skylight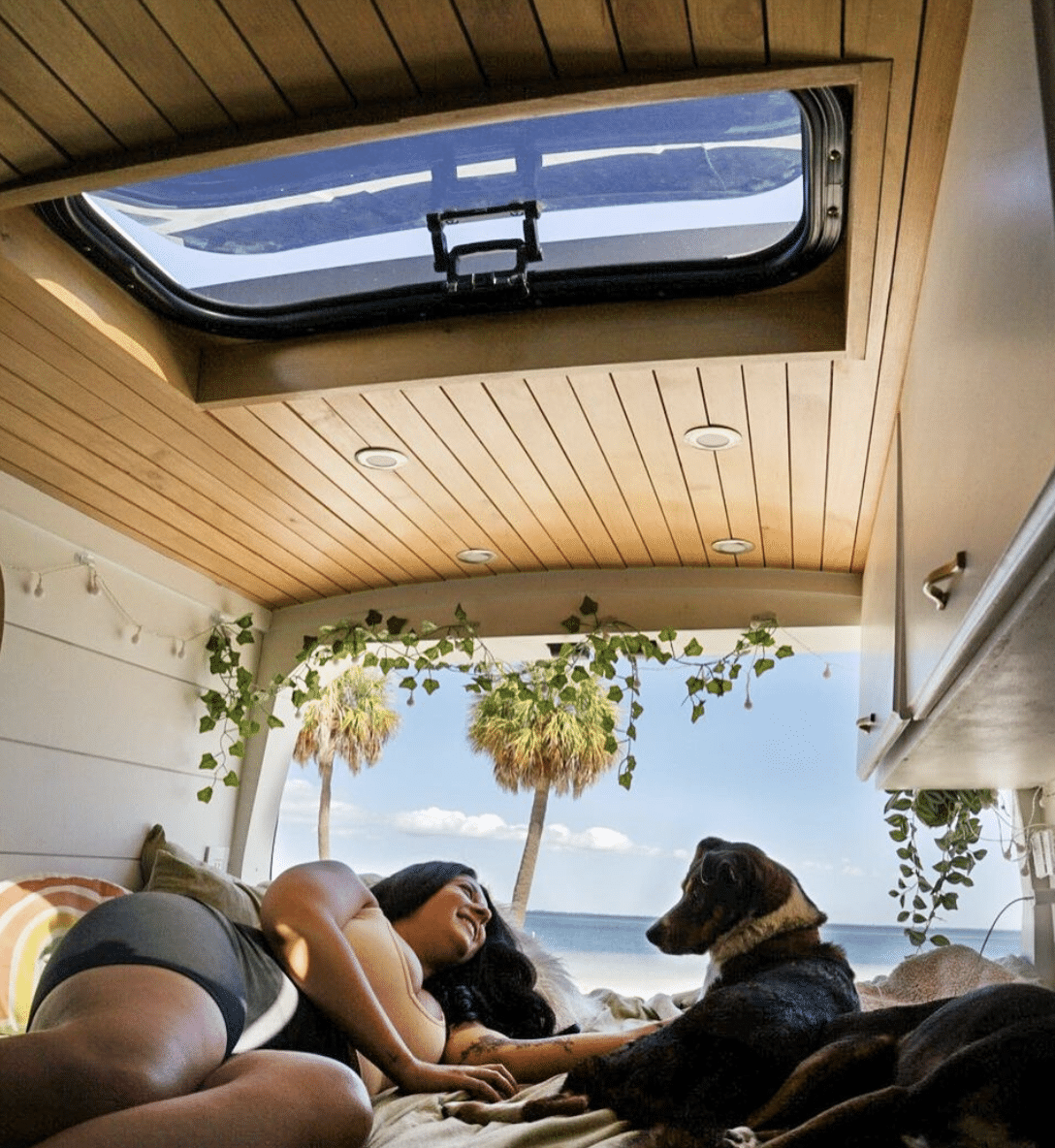 Kristin from Where the Road Forks seems to have van life figured out. Not only does she travel with her dog, she's made van conversions look like a piece of cake!
A skylight is perfect for a campervan because they bring in tons of natural light during the day while allowing you to sleep under the stars at night. The amount of light that comes into your van will help you to feel like the space isn't as limited, too!
6. Opt For A Murphy Bed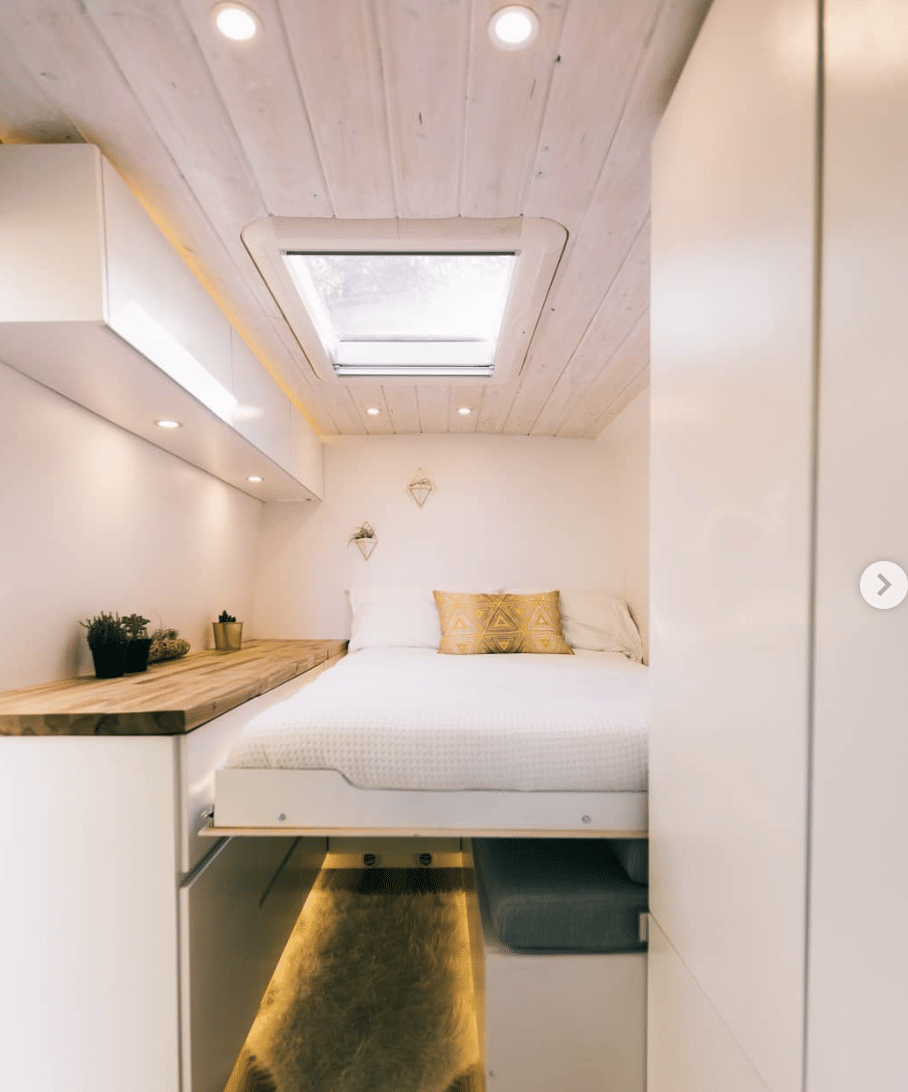 Want to create as much room in your van as possible? Don't feel like assembling your bed every time you get in it? You're in luck – simply do what Brandon from Bucksd did and get a Murphy bed!
During the day, you're able to have the bed fold into the wall which allows for more room to work or cook. At night, pull it down and sleep peacefully. A Murphy bed saves so much space and we'd recommend it for your van conversion!
7. Or, Build Bunk Beds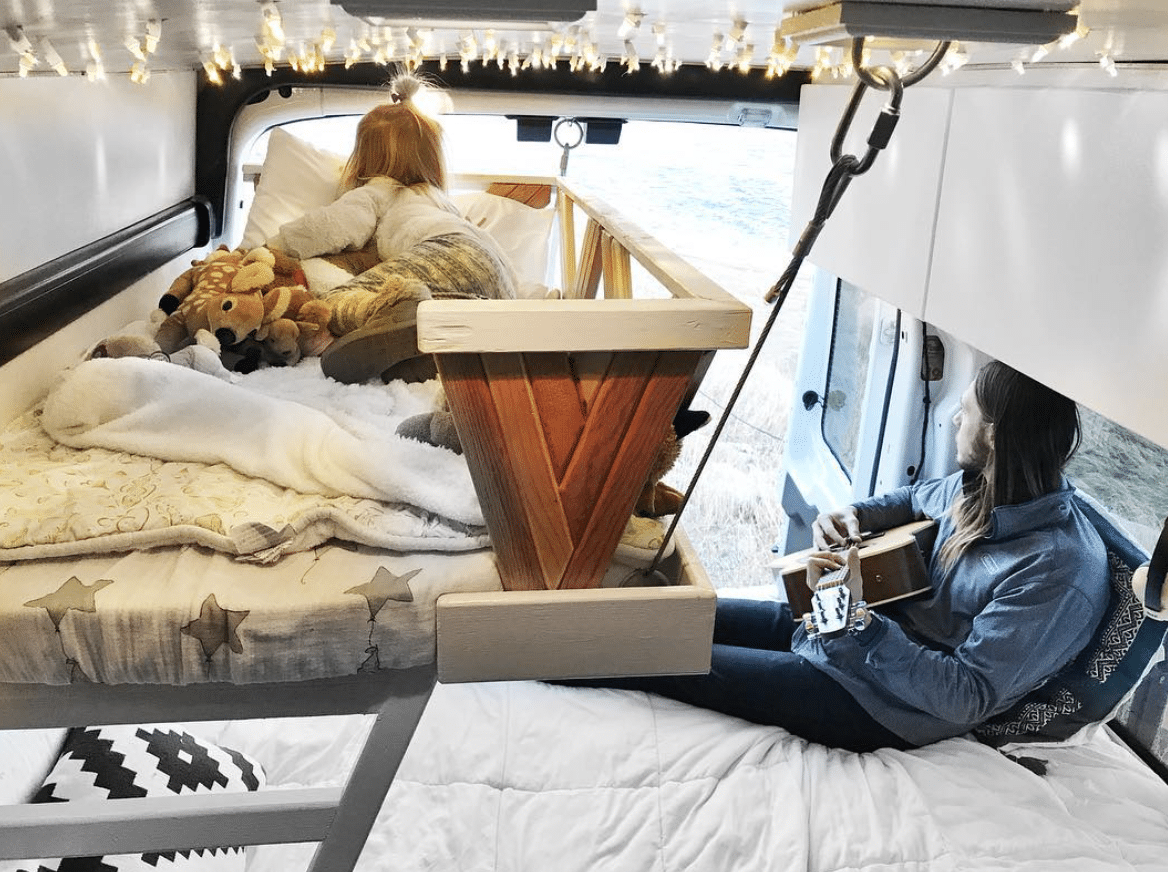 We absolutely love this idea from The Fites! They travel with their young daughter and have found a way to properly accommodate their van life sleeping situation with bunk beds.
This is a great idea for people with smaller vans and larger families. Not only do you save space by building bunk beds, each person has enough room to relax and unwind (which is such an important part of van life – as it can get pretty hectic at times).
8. Build a Pull Out Deck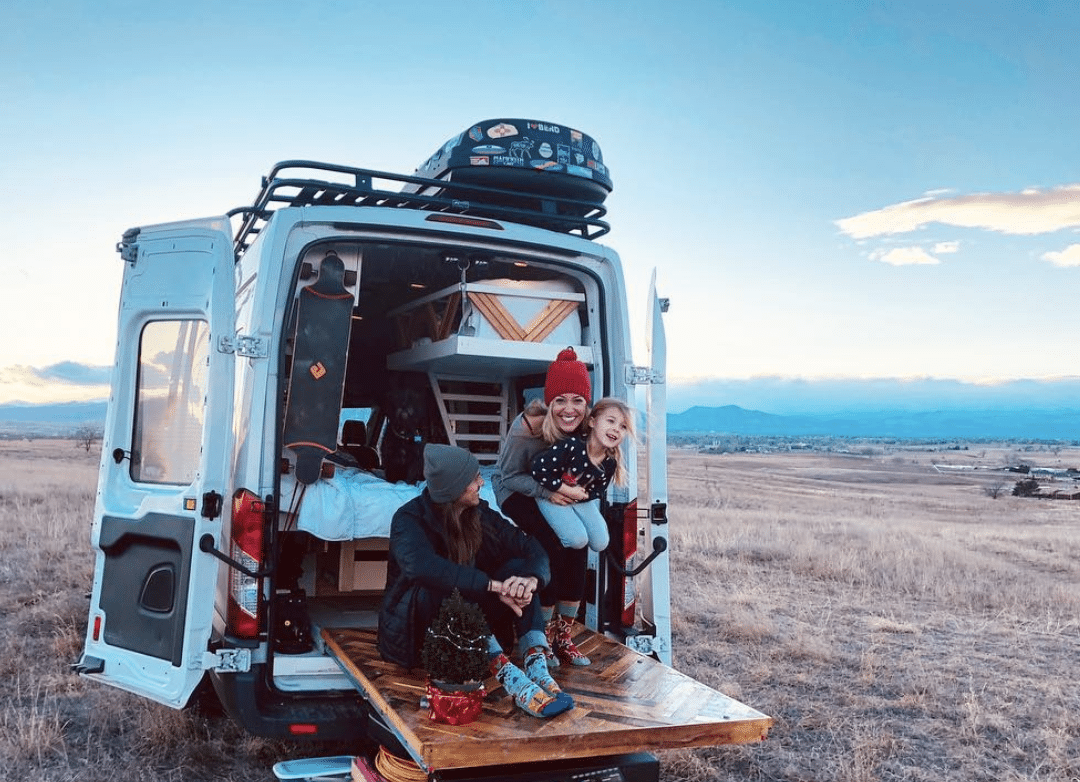 Want to save a bit of floor space inside of your van? We don't blame you! By installing a pull out deck like the Fites, you're able to do just that!
Feel free to sit on it with friends and family, use this deck for extra counter space while preparing meals, or use it as a makeshift desk to work outside!
Note: While this is a super cool van conversion idea, we recommend you don't overload a makeshift deck! If you plan on building this for your own van, make sure you get some good, sturdy wood.
9. Invest in a Wood Burner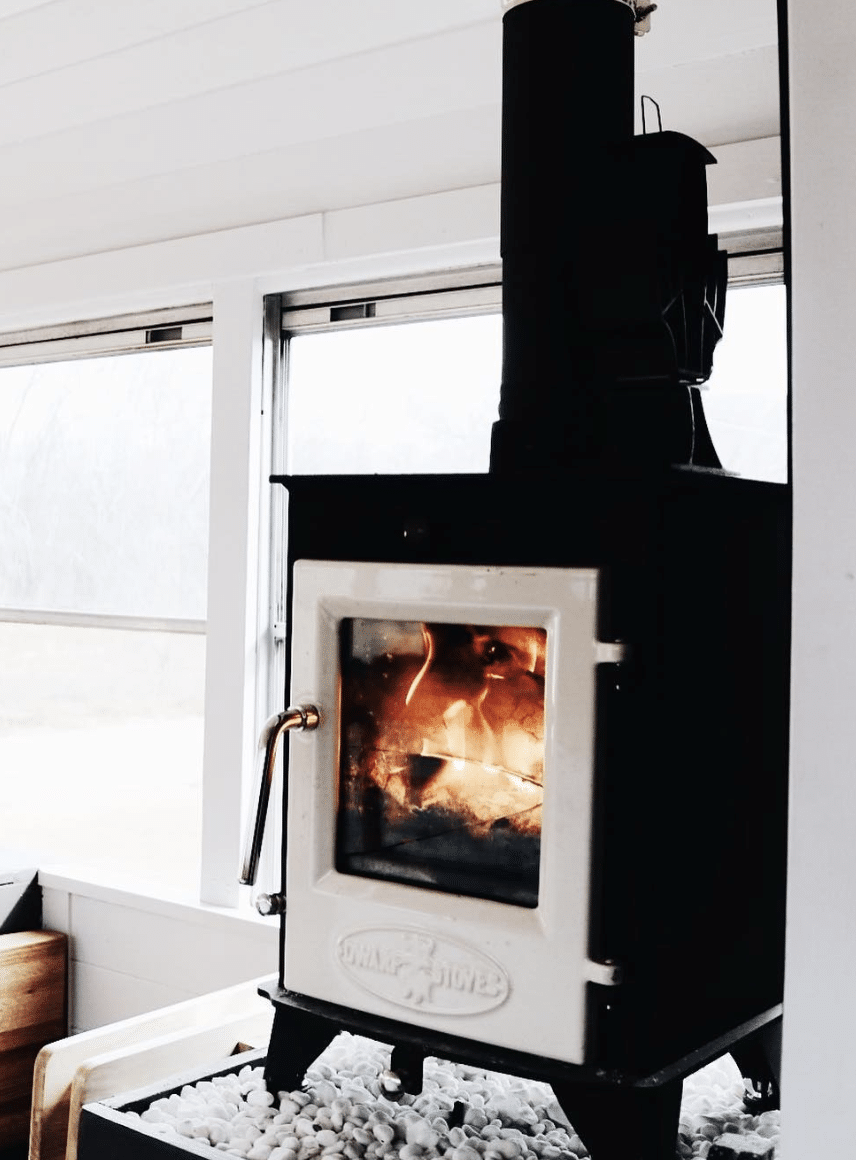 Want to make your campervan interior completely stand out from others? Take a note from Ashley from Treb Venture and purchase a tiny wood stove!
Not only does this look great, you're able to heat your camper van and cook meals with this wood stove without using any extra battery power.
Interested in getting one for your van? We've got you covered:
Tiny Wood Stove
Cast Iron Door and Firebox for Durability and Heat Retention
Top or Rear Flue Exit and Top Cooking Surface
Large Window for Monitoring and Enjoying the Fire
Recommended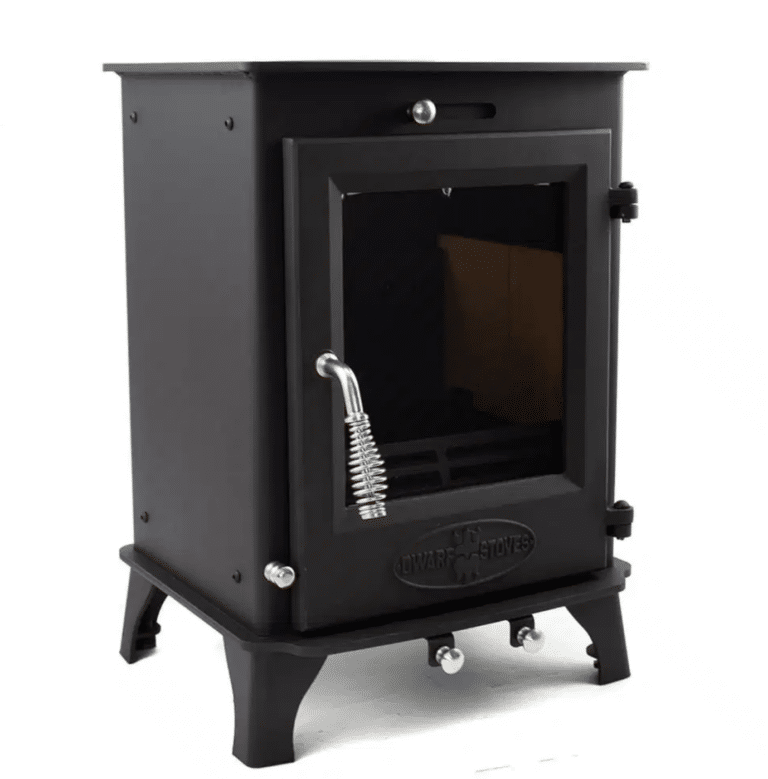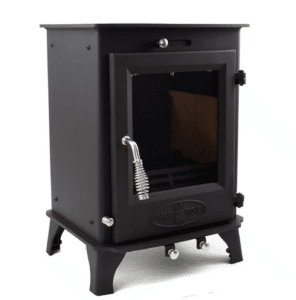 10. Hang Plants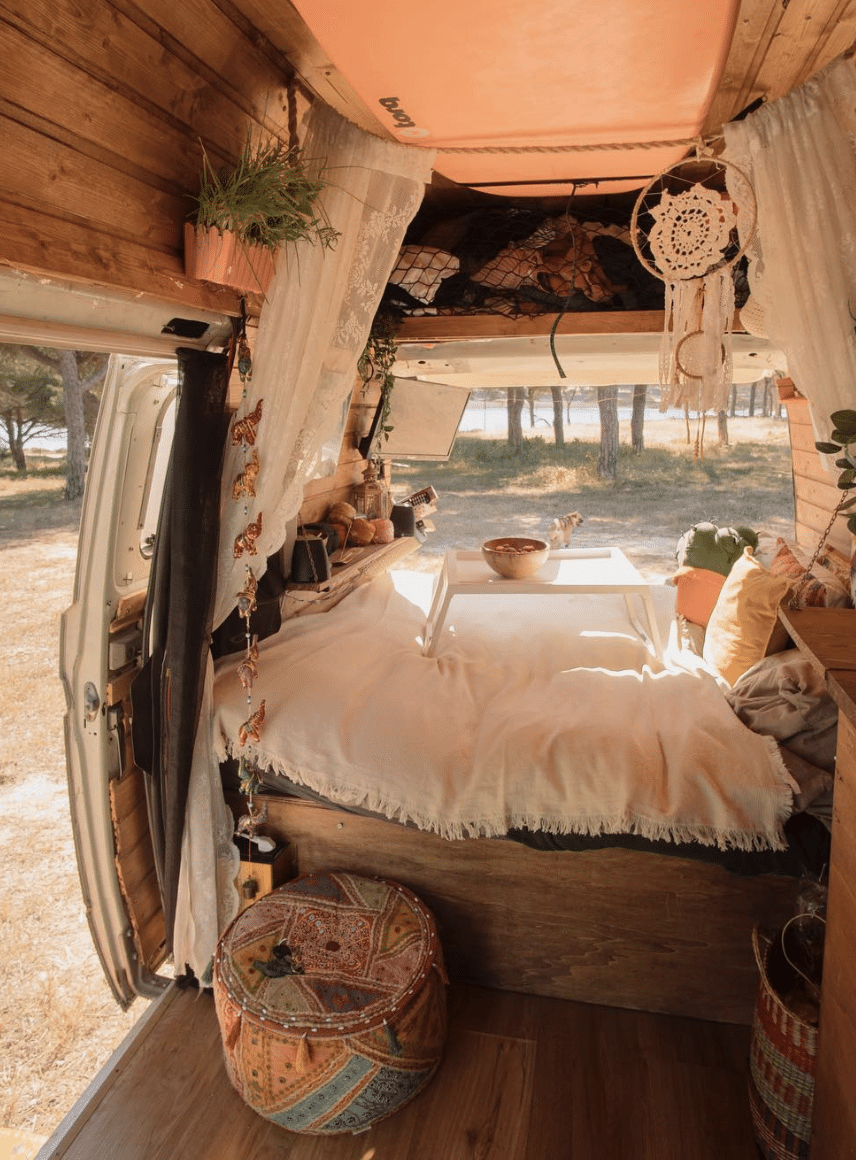 Susi Cruz built her own van and has been traveling out of it since 2017. One way that she's spruced up her van interior is by hanging plants (among other things).
We're obsessed with how her van looks and love the natural light that comes in through the back. Our favorite part about hanging plants in a campervan is that you're able to save interior space because they're not taking up any floor space! Instead, they're on the walls (and could even be hung from the ceiling).
11. Install a Projector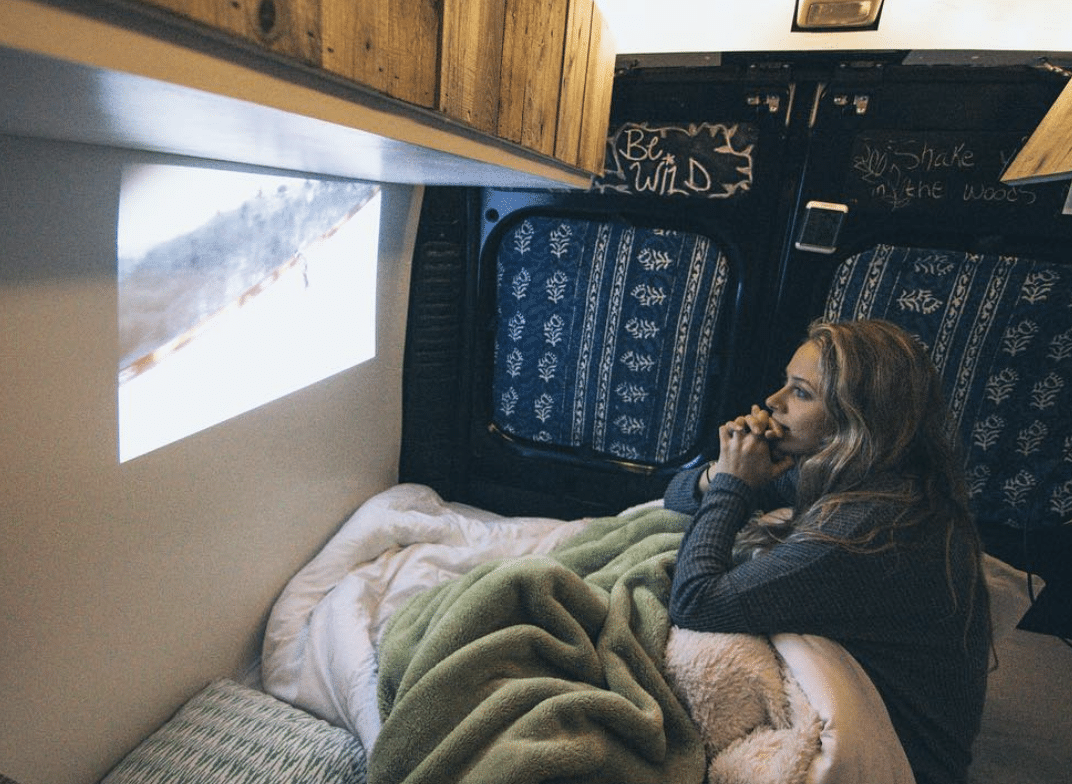 Van life may be exciting and fun, but let's be real. On those cold, rainy days you probably won't be going outside! Installing a projector like Caroline Winslow did in her camper van is an excellent way to enjoy van life (even when you're unable to explore outside).
What better way to pass the time than by watching some movies streamed from your projector while cuddling up on your camper van bed when it's raining? We can't think of anything!
Portable Projector
This home projector with 100 inch screen is easy to use and real value for money
A unique dual built-in speakers system offers excellent loud sound quality without connecting to an external speaker
With the built-in HDMI, VGA, AV, USB Headphone port & TF card slot, and included AV & HDMI cable, this projector is the perfect solution for a wide variety of inputs source
Recommended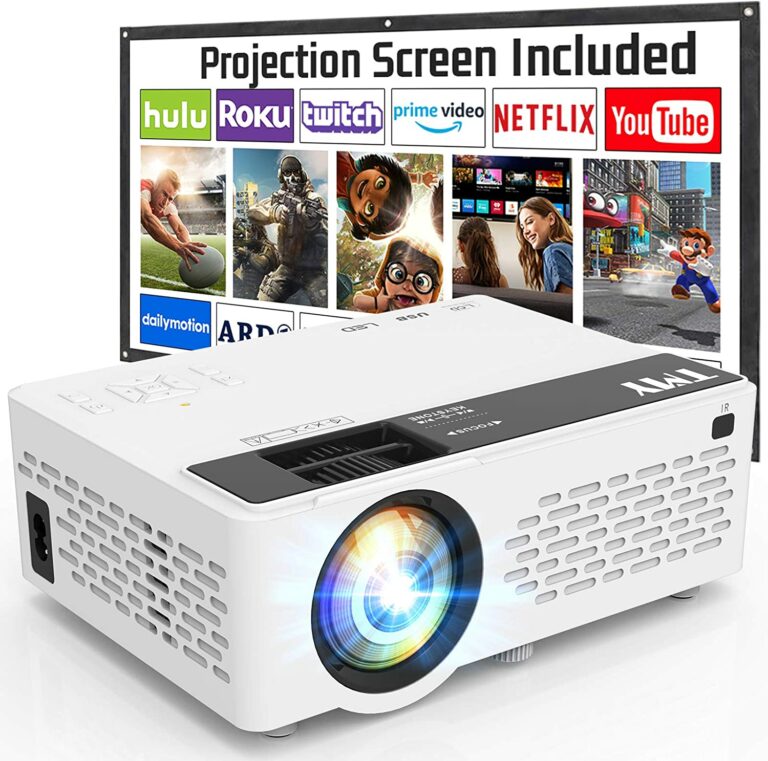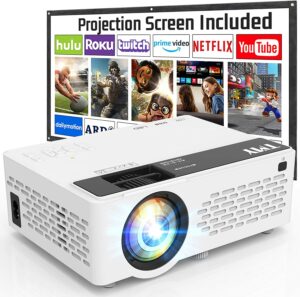 12. Build a Pull Out Desk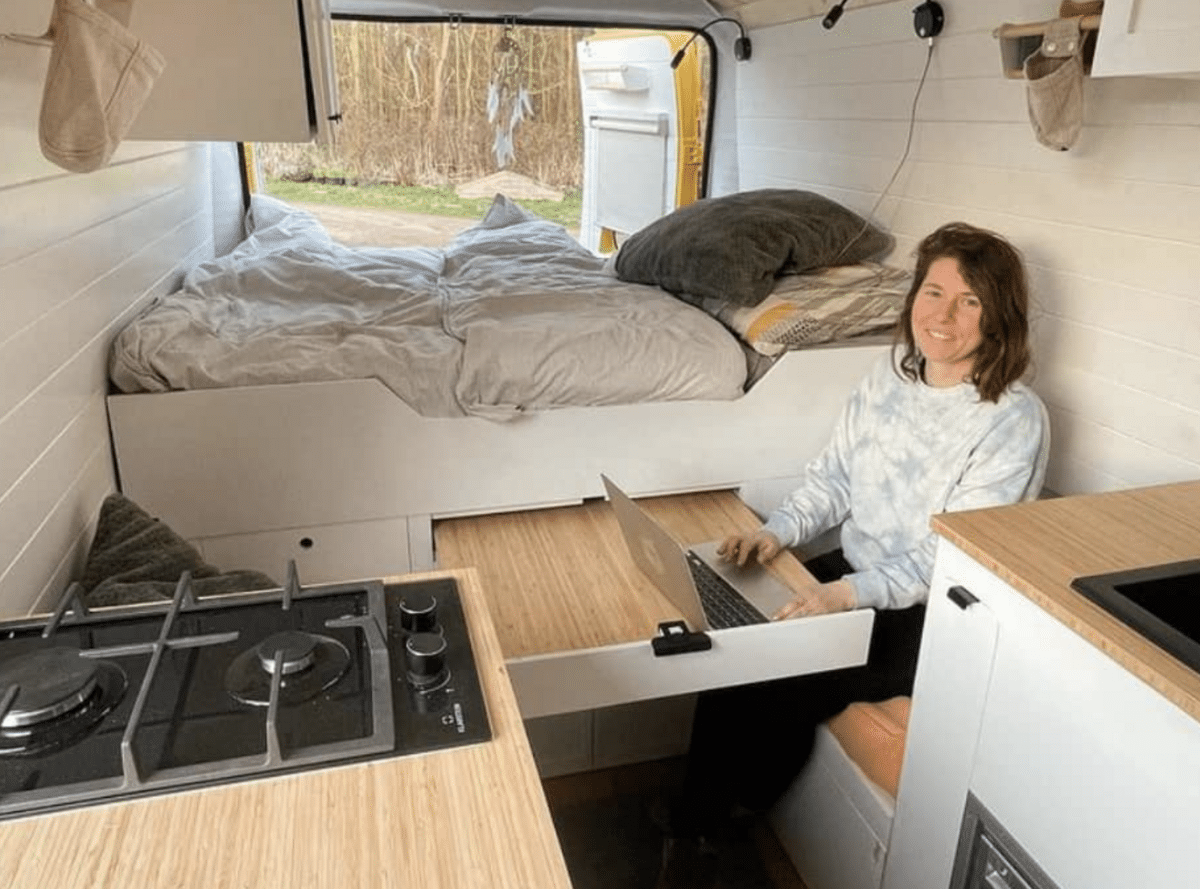 Saving space is one of the key elements to a good camper van conversion. By building a pull out desk under the bed, you're doing just that! Whether you use it for meals or work, it'll leave more room for other appliances (or counter space) where a table would typically be.
Bai & Den were generous enough to share how they built this:
"We used a solid piece of bamboo plywood, 2cm thick. We have used a bamboo-specific, water-based clear coat to protect the wood and give an extremely smooth finish. The width is 65cm and it slides out to a length of 60cm, enough to enjoy a meal for 2, some computer work and an evening card game. It sits on a set of undermount slides so they are almost invisible, and can hold up to 45kg on top."
13. Make Sure You Have Plenty of Storage Space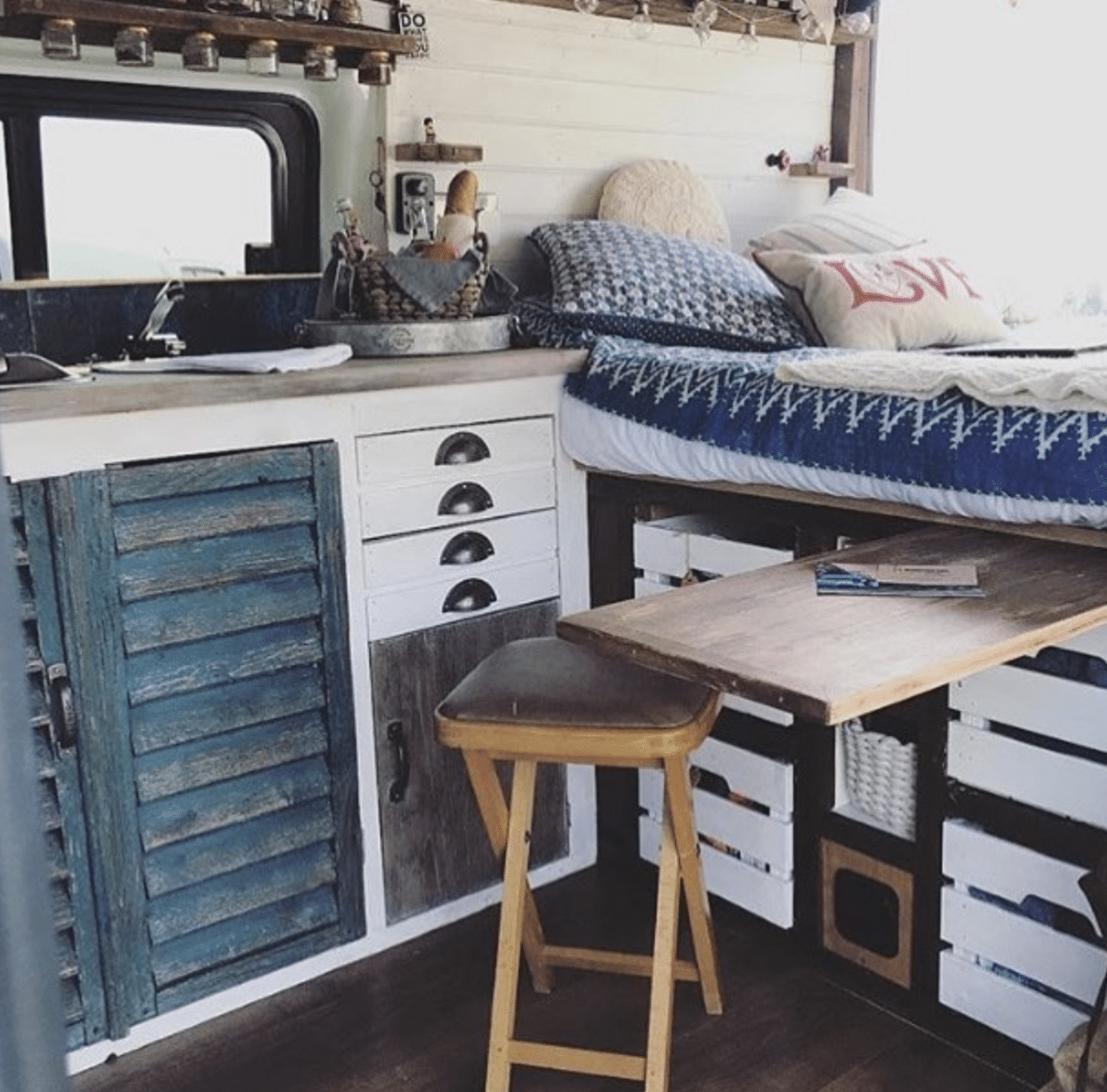 Making sure you have enough storage space is an absolute must when it comes to your camper van and Wonderland Vans completely understands that! Just look at how much storage space you can see in the image above!
We also love the pull out table you see under the bed! Whether you need extra counter space to chop up some food while cooking, you need an extra spot to eat dinner, or you need a makeshift desk to work at, it does the job.
14. Build a Flip Down Cabinet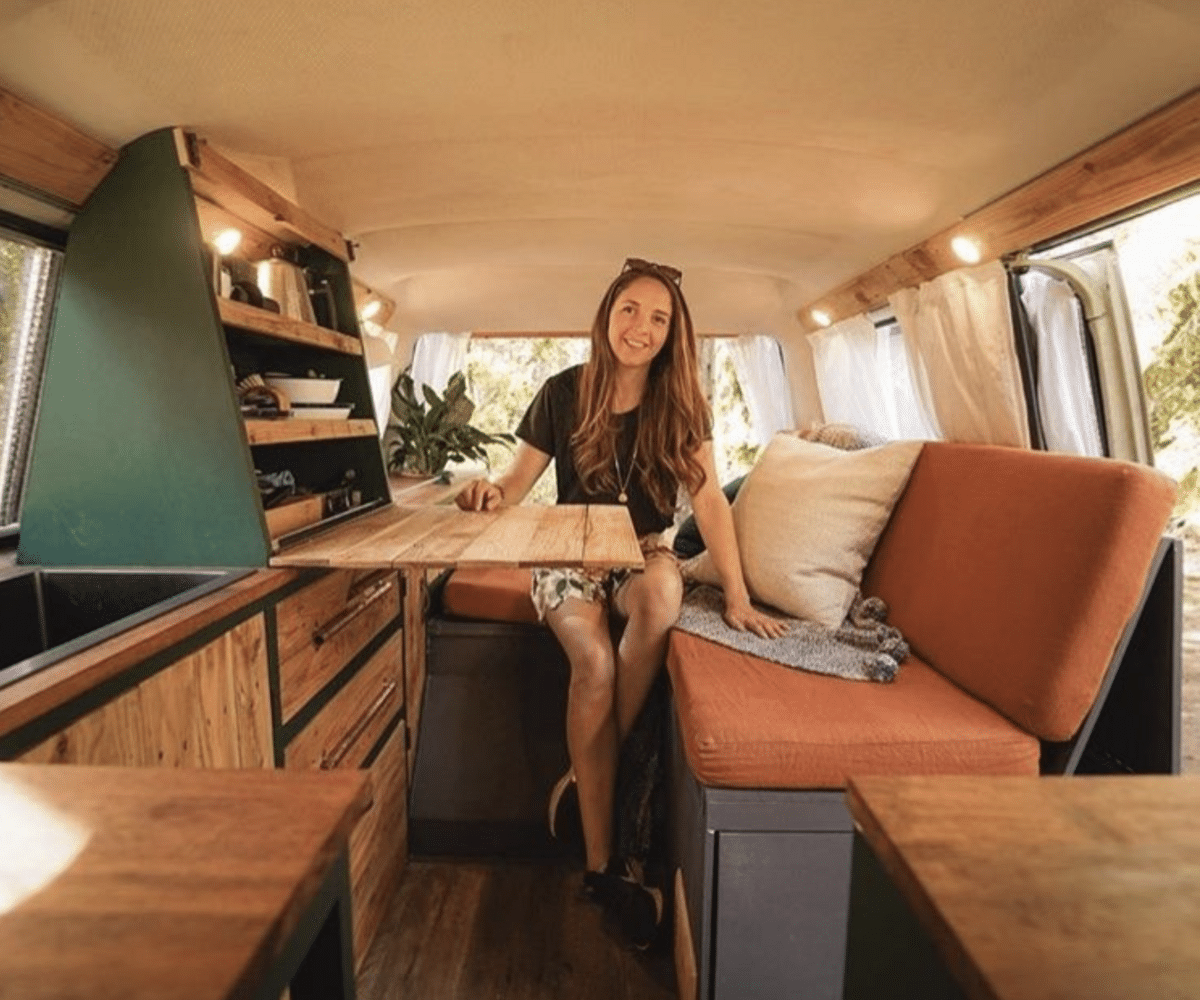 This flip down cabinet table that Hannah & Ollie built is super stylish and we think it'll inspire van lifers everywhere. With this, all you'll need is a bench seat (that's right – you're able to take the tables and chairs and save some more room).
We love that Hannah and Ollie have an L-shaped bench seat, too. This allows for more people to gather in their camper van!
15. Build Gear Storage Trays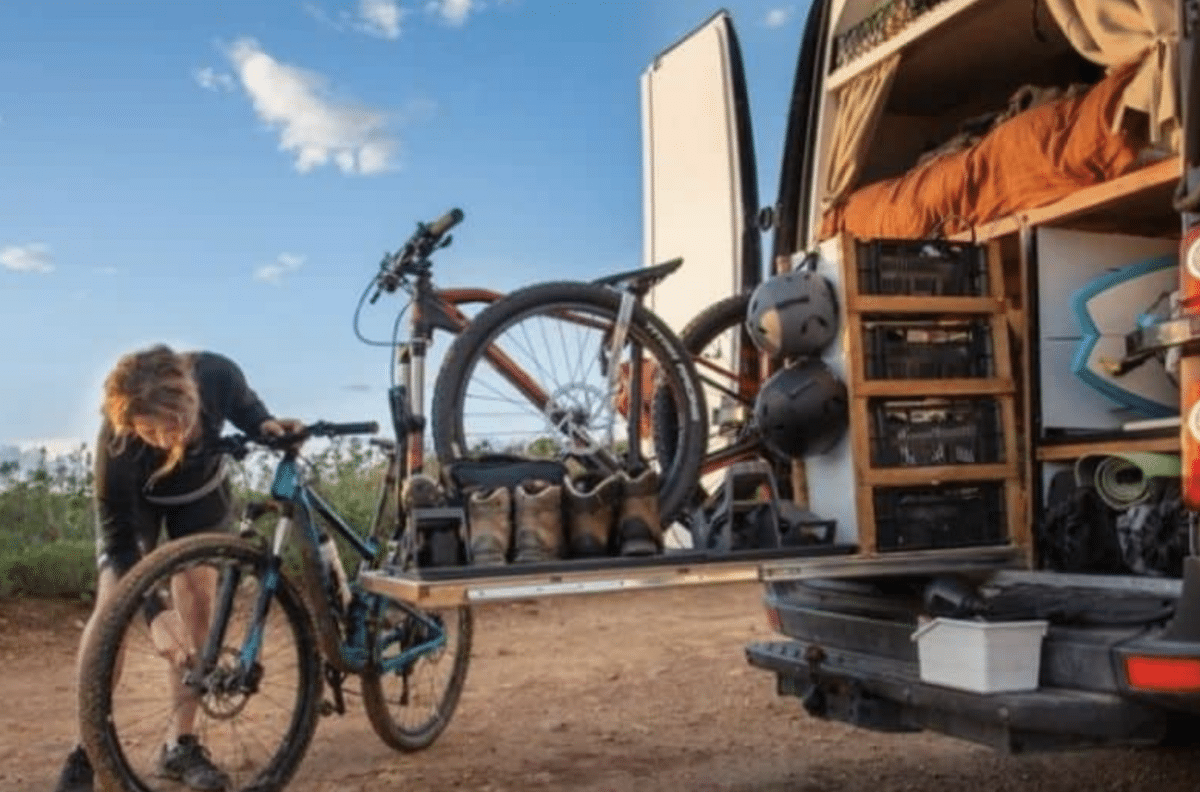 Looking for one of the coolest campervan conversions you've ever seen? The Lost Van really outdid themselves with this gear storage tray!
Think of this as a makeshift toy hauler – you're able to bring bikes, snowboards, and other small (or thin) pieces of gear along with you while you enjoy van life. With a toy hauler RV, you're able to bring larger toys (such as motorcycles and golf carts).
This is a great way to store your gear while you're out exploring!
16. Invest in a Van Oven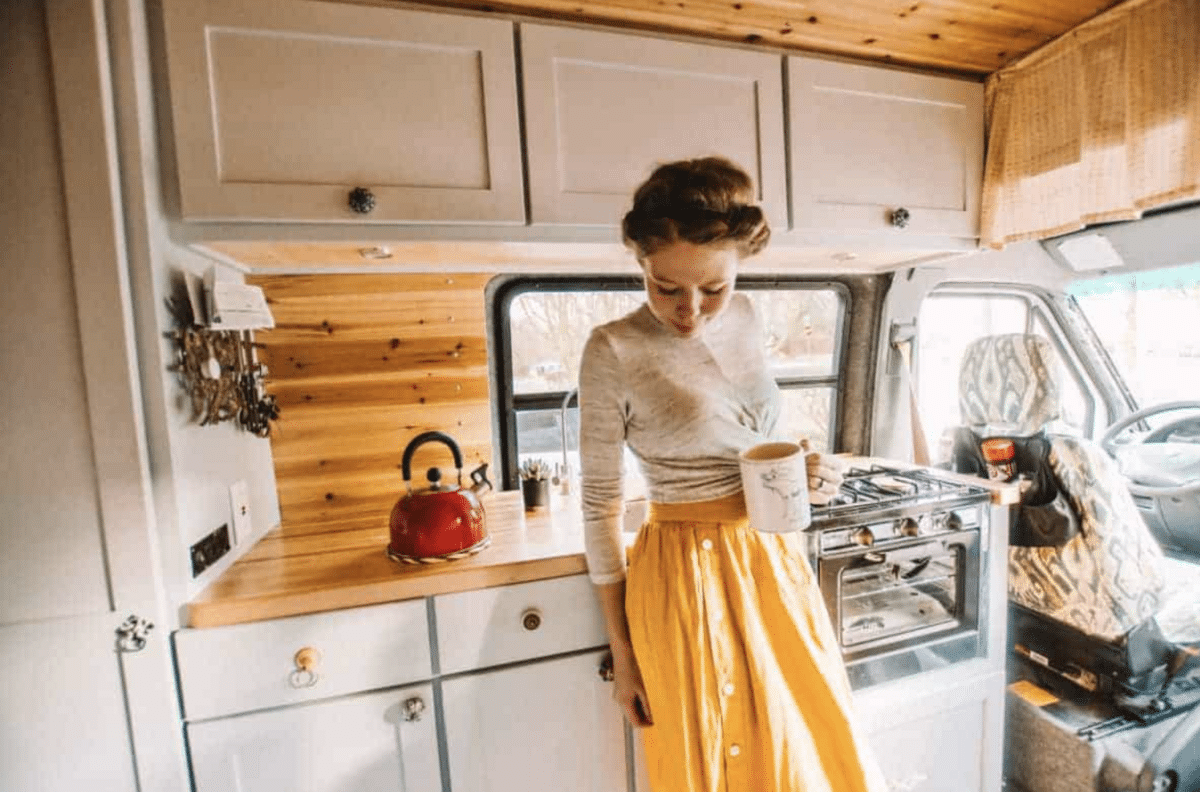 Love cooking? Don't let the fear of living in a camper van stop you! Instead, do what The Wandering Woods did and invest in a camper van oven!
Note: An oven will take up a bit of counter space. However, if you get an oven without a two burner stove you may be able to place a slab of wood (or marble) down while you're not using the oven for extra counter space!
Camp Chef Outdoor Camp Oven
Matchless Ignition – use 1 lb propane tank – can be adapted to use 20 lb tank
Stainless steel construction – 7,500 BTU's per burner, Oven 3,000 BTU's
Nonstick enamel cooking surface
Recommended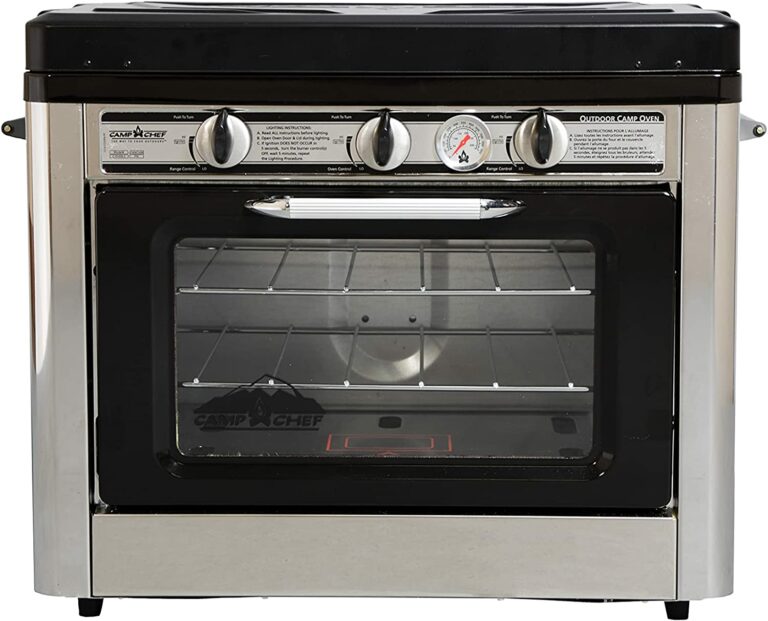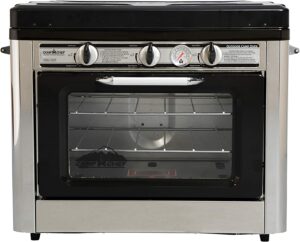 17. Build a Bathtub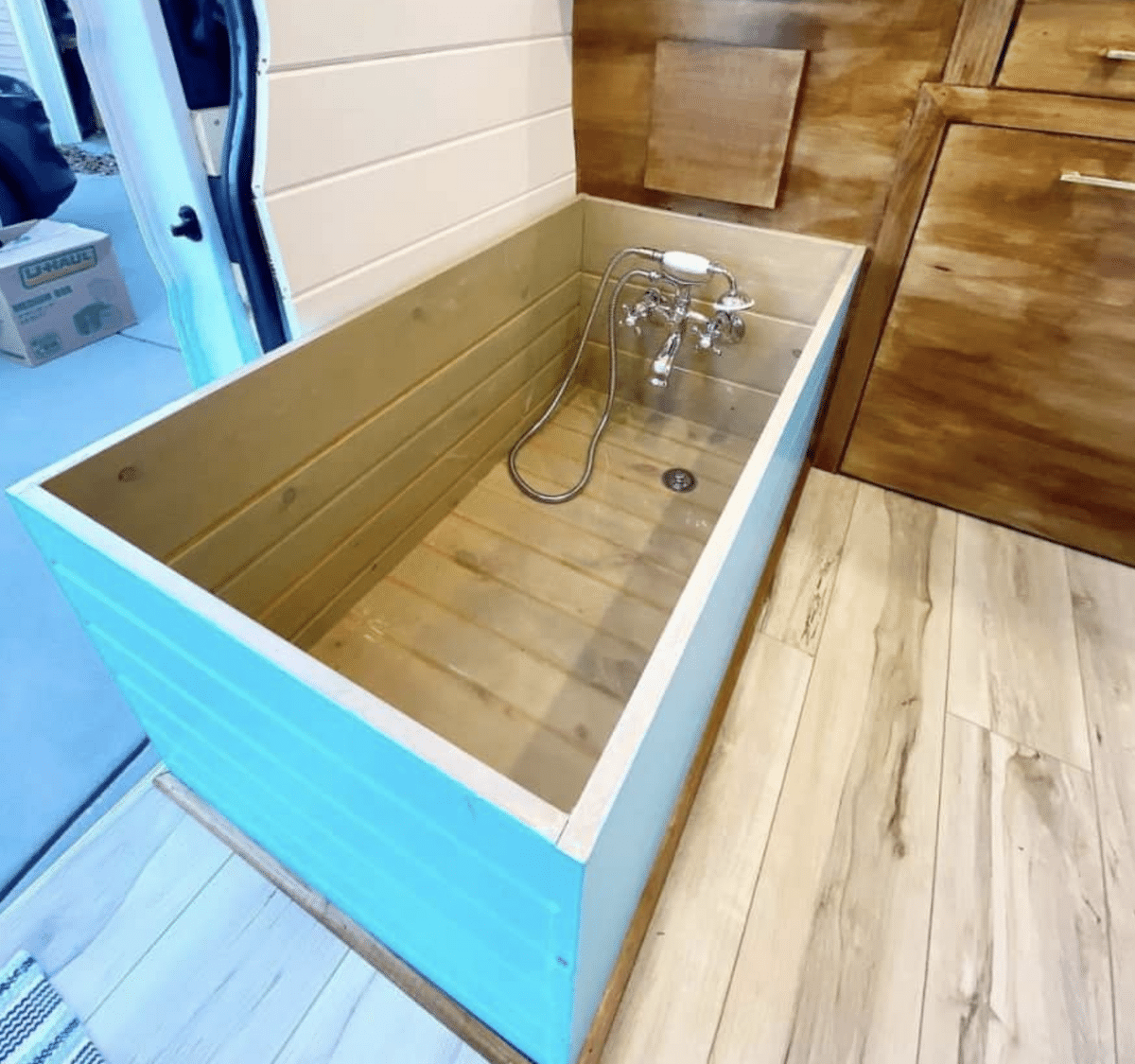 Did you ever think you'd be able to have a bathtub while living in such a small space? Bryce & Katie didn't let that stop them! We absolutely love how this tub turned out (and we're wishing we thought of this, too).
Note: While a bathtub is a great way to relax and unwind after a long day, keep in mind that you have very limited space in a camper van. A tub will take up a decent amount of room and you may end up losing storage space while doing this!
Final Thoughts
What did you think of these campervan interior ideas? Do you think you'll implement any of them into your van build? Let us know in the comments below!
Looking for more van life content? We've got you covered: