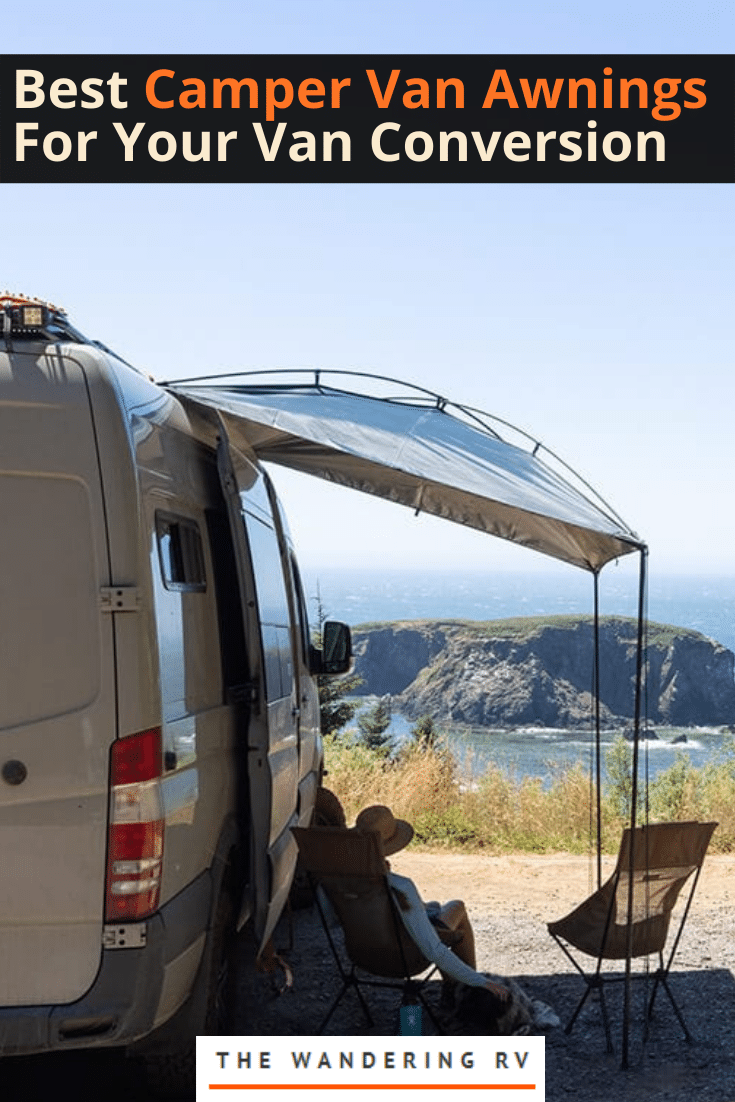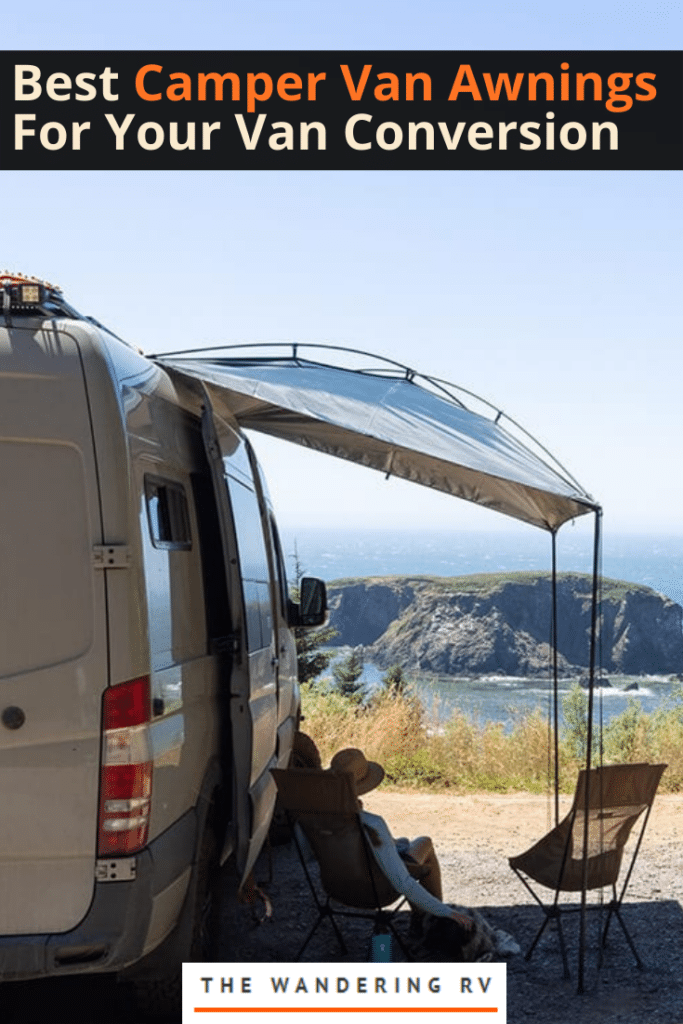 A camper van awning can give you tons of extra living space outside your van, plus a safe spot to be outside in the rain or intense sun.
If you're going to spend any amount of time in your camper, a camper van awning is pretty much a requirement.
But which camper awnings are the best? Which one should you spend your hard-earned money on? We looked at the best van awnings on the market to answer this question.
Let's dive in!
Table of Contents
The 7 Best Camper Van Awnings in 2022
Without further ado, let's go over some of the best campervan awnings for van life!
Note: Click here if you're looking for the best RV awnings!
1. Rhino Rack Batwing Awning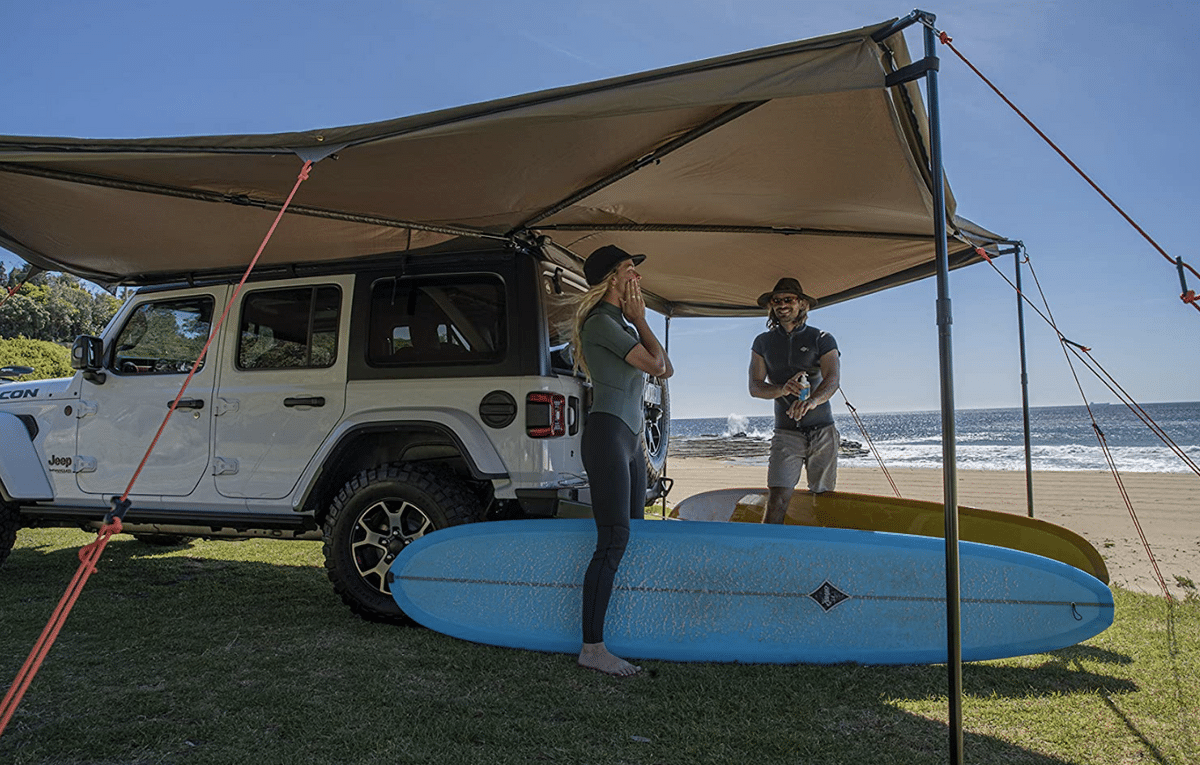 The Rhino Rack Batwing Awning is one of the coolest camper van awnings we've seen. You're able to choose which side you want to be covered (right or left), and you get overhead coverage near the trunk!
This is a roof mounted awning and it fits on most standard roof racks. Whether you plan on using this on a camper van or truck tent, this van awning will exceed all of your expectations.
Rhino Rack Batwing Awning
270 degrees of shade & 118.5 square feet of coverage
Comes with poles, ropes, pegs, & a fitting kit for roof rack mounting
Powder coated poles & frame for rust resistance & longevity.
Recommended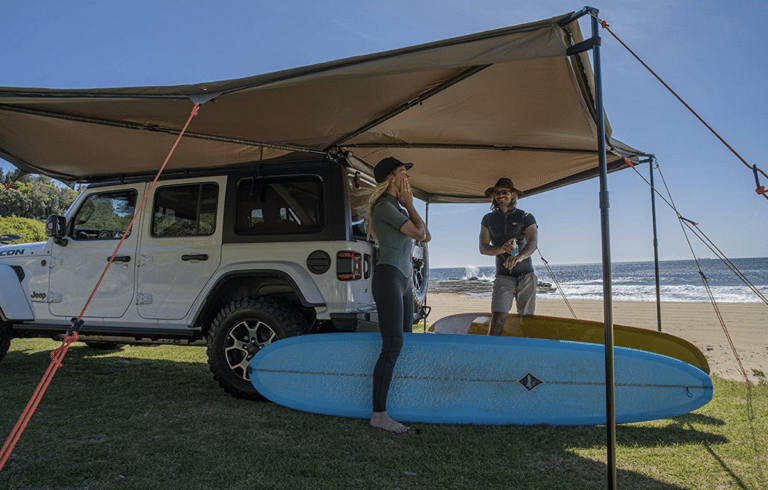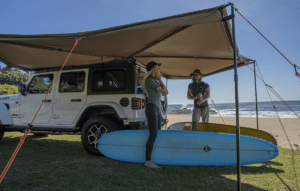 2. ROAM Rooftop Awning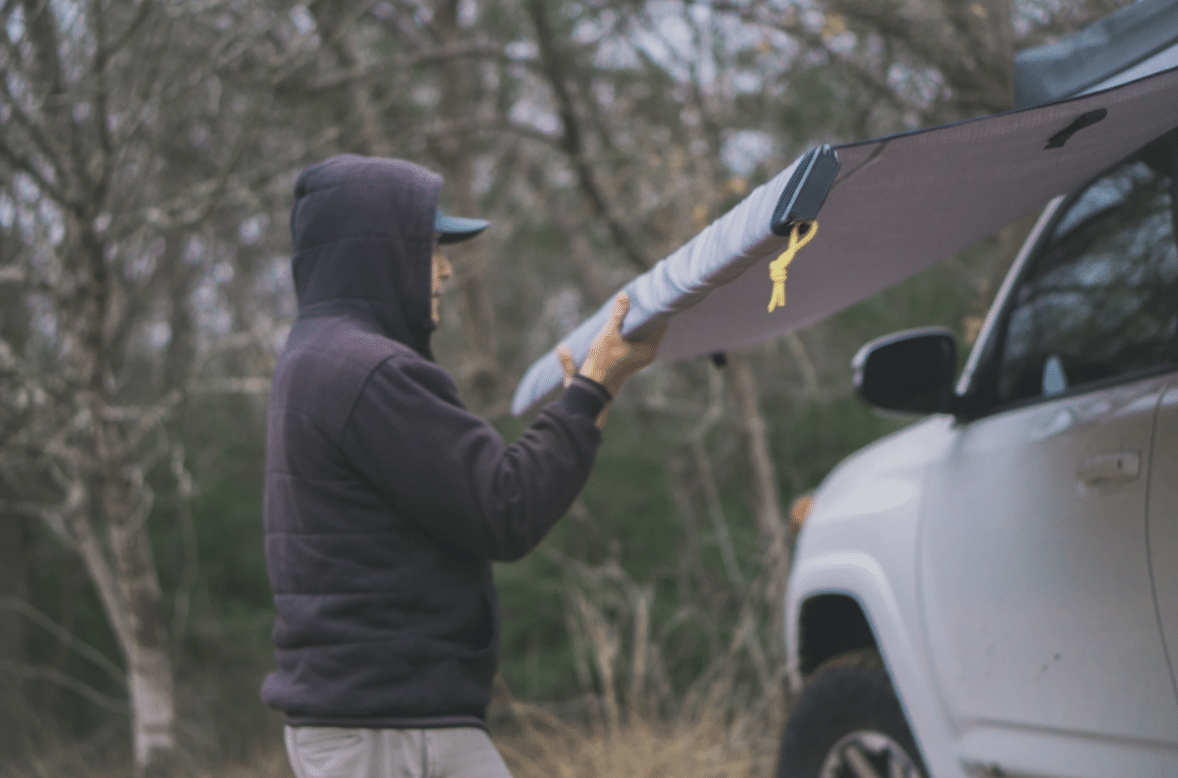 Looking for an award-winning van awning that not only has an easy setup, but also provides plenty of shelter from the sun and inclimate weather?
Look no further than this rooftop awning from ROAM.
This awning is a great investment for any camping vehicle with a roof rack (such as truck campers and camper vans). ROAM currently sells two types of camper van awnings, a standard rooftop awning and a standard awning room.
ROAM Rooftop Awning
Made of waterproof, polycotton ripstop material with all-aluminum framing
Adjustable height aluminum frame and joints
Comes with a universal mounting kit and is designed for mounting to a variety of roof racks
Recommended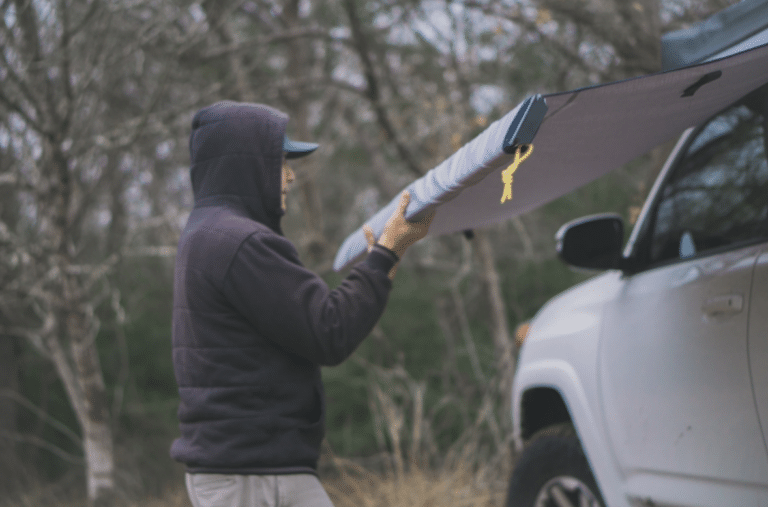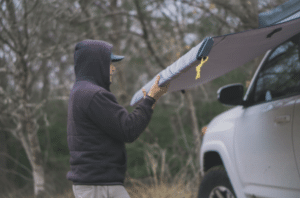 ROAM Standard Awning Room
Same durable material as used for rainfly and includes black, heavy-duty, laminated, 600 GSM PVC floor. *Does not include awning. The awning is sold separately.*
Recommended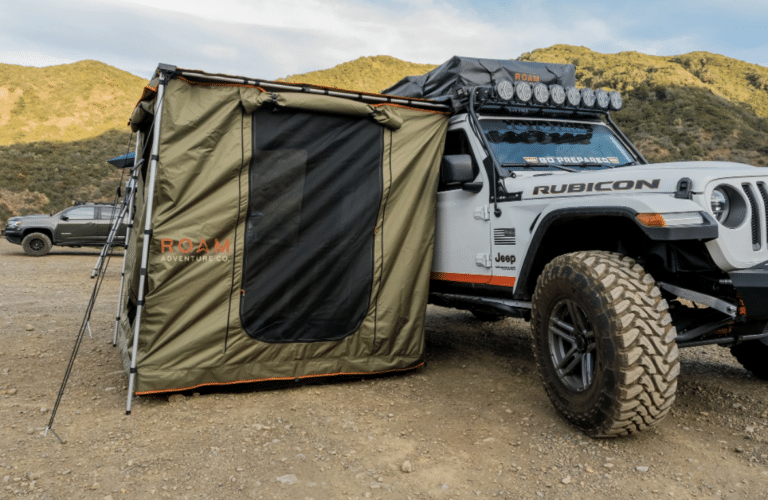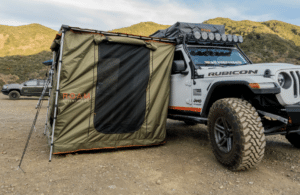 3. ARB Awning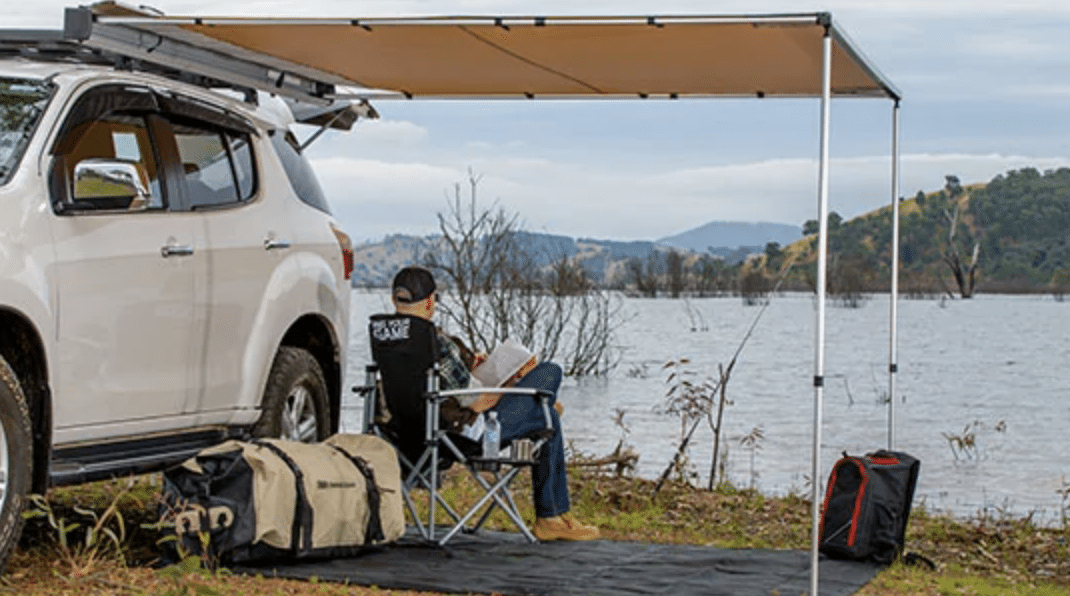 The ARB van awning is affordable, durable, and, arguably, one of the best campervan awnings for smaller vans. With its adjustable height settings and waterproof UV protection, you'll be set!
It's able to be permanently mounted to a roof rack and, because there's no hand crank, it's best suited for smaller vans (as we said above). Unlike most awnings, you can expect to pay less than $500 for the ARB awning.
ARB Awning
Specifically designed for harsh wilderness conditions
Constructed from tough PU coated 300gsm poly/cotton rip stop canvas
Comes with pegs and guy ropes for securing legs, stainless steel mounting nuts and bolts and comprehensive instructions
Recommended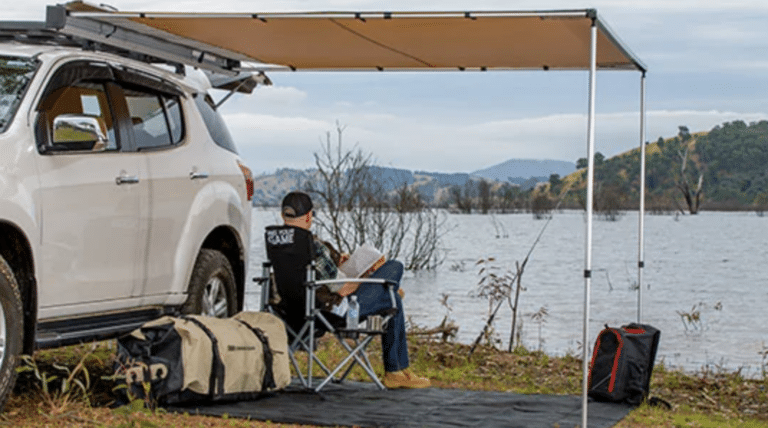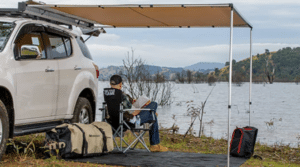 4. Fiamma Awnings F45s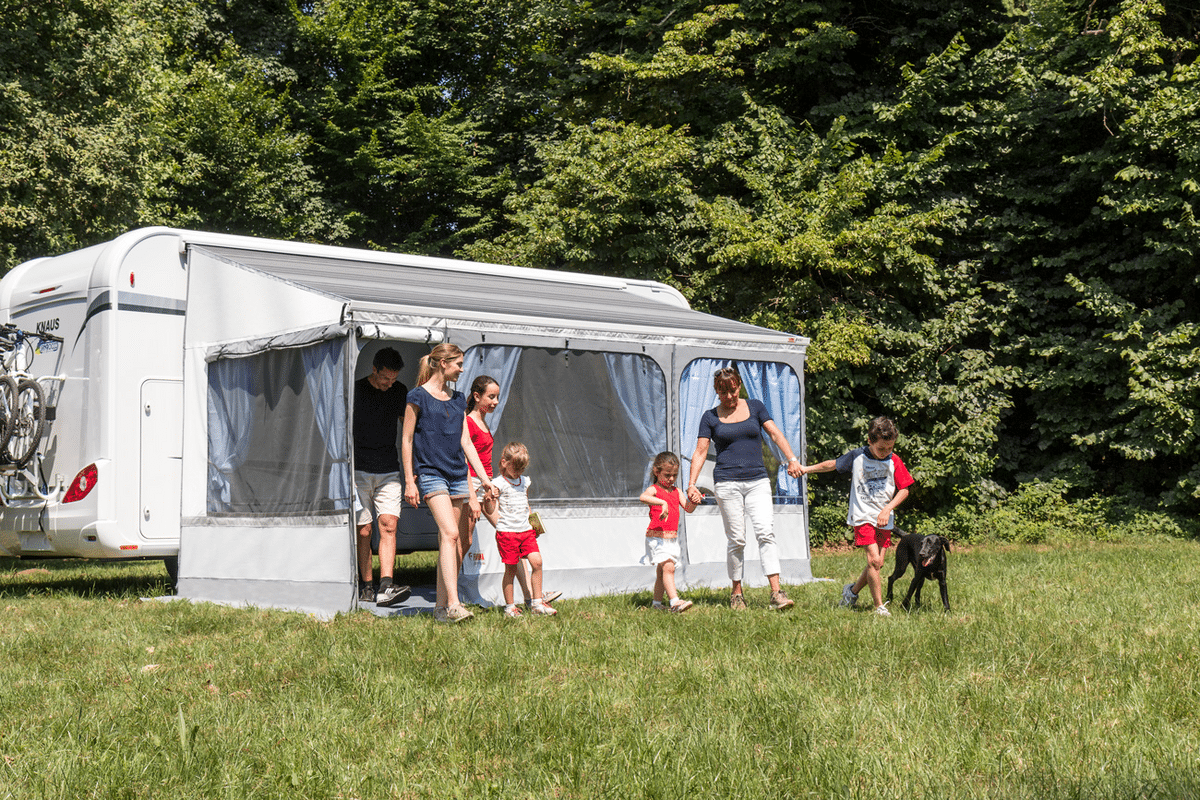 If you're looking for a lightweight camper van awning, the Fiamma F45s is the perfect awning for you. While it does cost between $800-$1,300+, we have to say this is by far one of the best campervan awnings out there.
This camper van awning has shock-absorbing brackets that help withstand high winds as well as built-in LED lights. There's also a UV stabilized cover that can be rolled in easily with a manual winch.
Between the sturdy structure and weather protection, this van awning tent provides you with more than enough living space!
Fiamma F45s
Compact & functional
Double guide on the lead bar allowing the installation of two front panels
Patented shock absorbing bracket with dual bolt system to protect the awning and the vehicle during bad weather
Recommended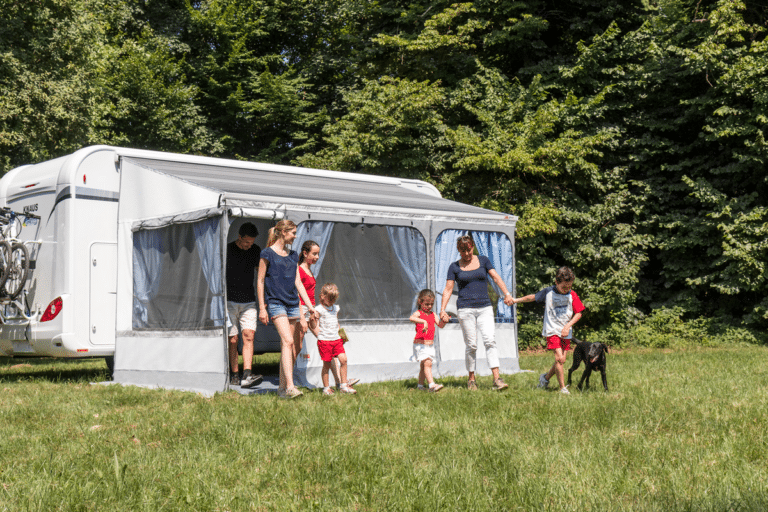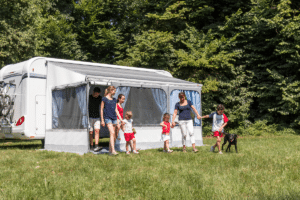 5. Dometic Rally AIR Pro 330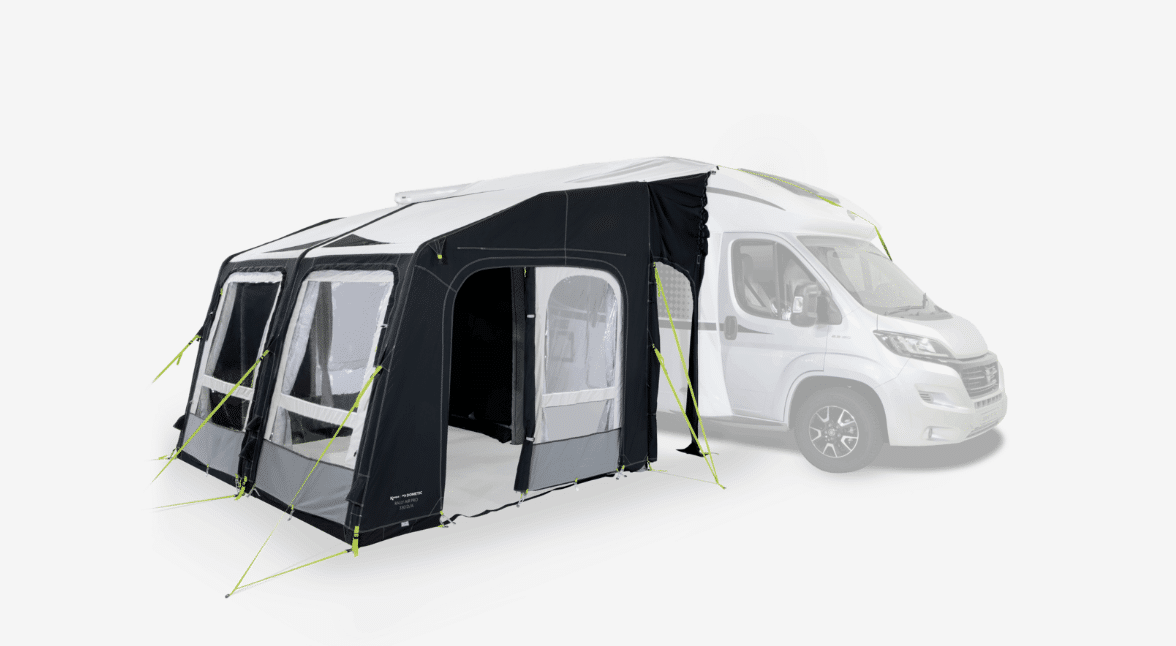 The Dometic Rally Air Pro 330 is a popular option if you're looking for drive away awnings with inner tents. This campervan awning provides extra floor space due to it's awning tent; it also has weather-resistant fabric.
Unlike other awnings, the Single Point Inflation AirFrame technology ensures a fast set-up with minimum fuss. All you have to do is connect the awning tunnel to your vehicle by throwing the attached webbing straps over the motorhome, or with the use of a drive-away kit.
This is one of the more expensive camper van awnings on our list, starting at $1,960+. However, it's definitely one of the best van awnings with a tent that you can get today.
Dometic Rally Air Pro 330
Single Point Inflation AirFrame technology
Weathershield™ Pro material
Drive-away freestanding awning
Recommended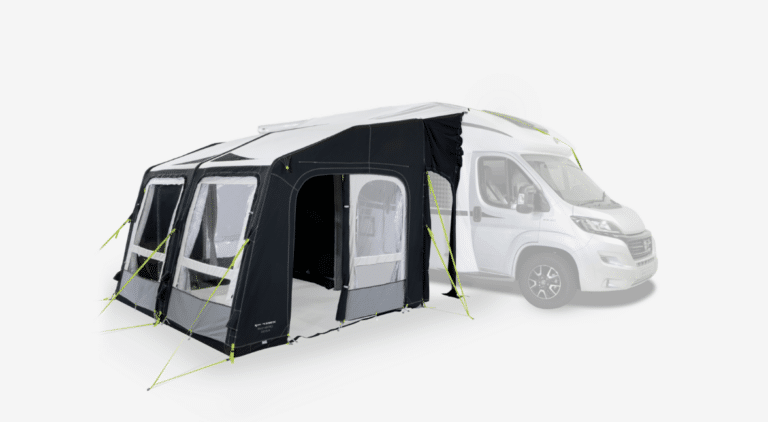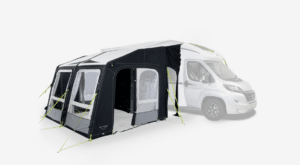 6. 270° Peregrine Awning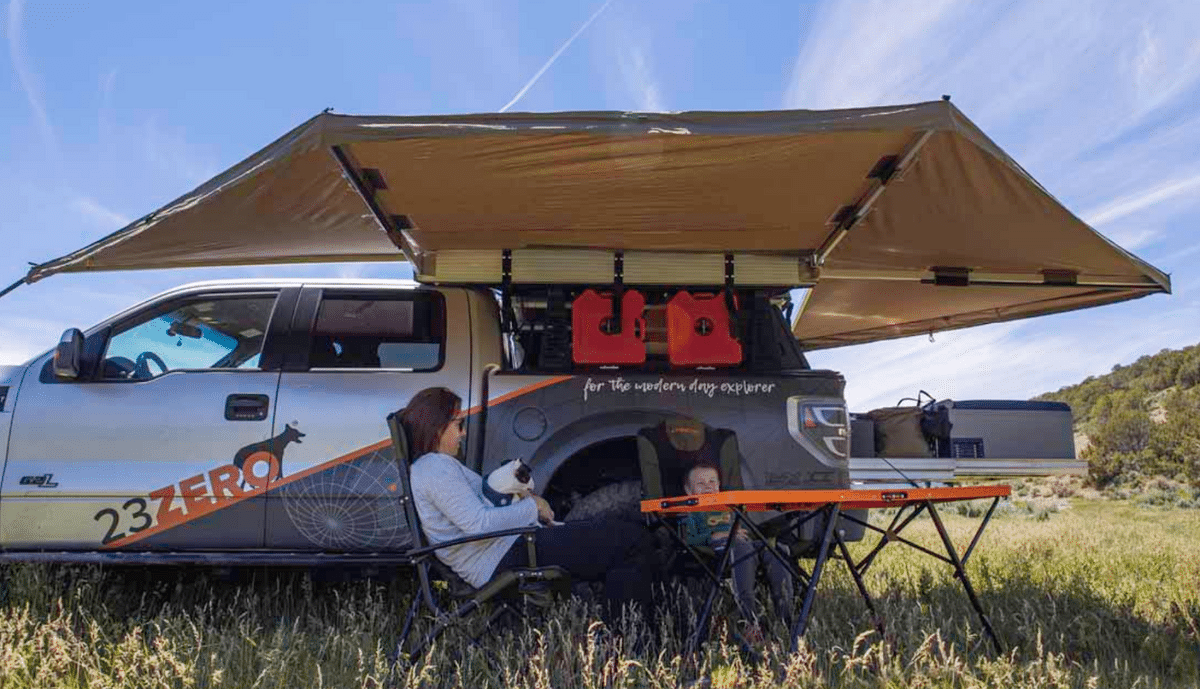 The Peregrine 270 campervan awning is incredibly easy to set up – so easy in fact, that one person can do it! It provides you with, you guessed it, 270° coverage and can be attached to most roof racks.
The fabric is built with Light Suppression Technology, which helps to reduce the temperature by 20% (and can sometimes prevent sunburns). This campervan awning ​is ideal for overnight stays, meal breaks, and long term base camping.
270° Peregrine Awning
Simple 1 person set up and pack down
88 Inch mounting length 7.5 inches tall , 6 inches deep
Fully open measures just over under 20 feet end to end
Recommended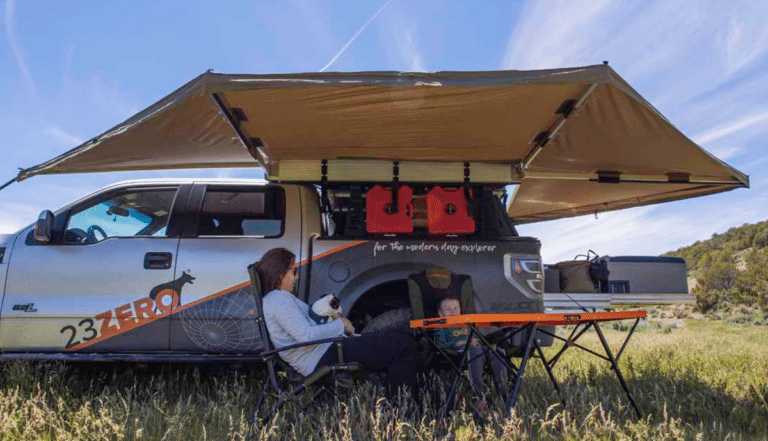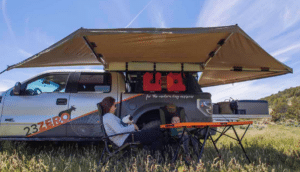 7. Hasika Versatility Teardrop Awning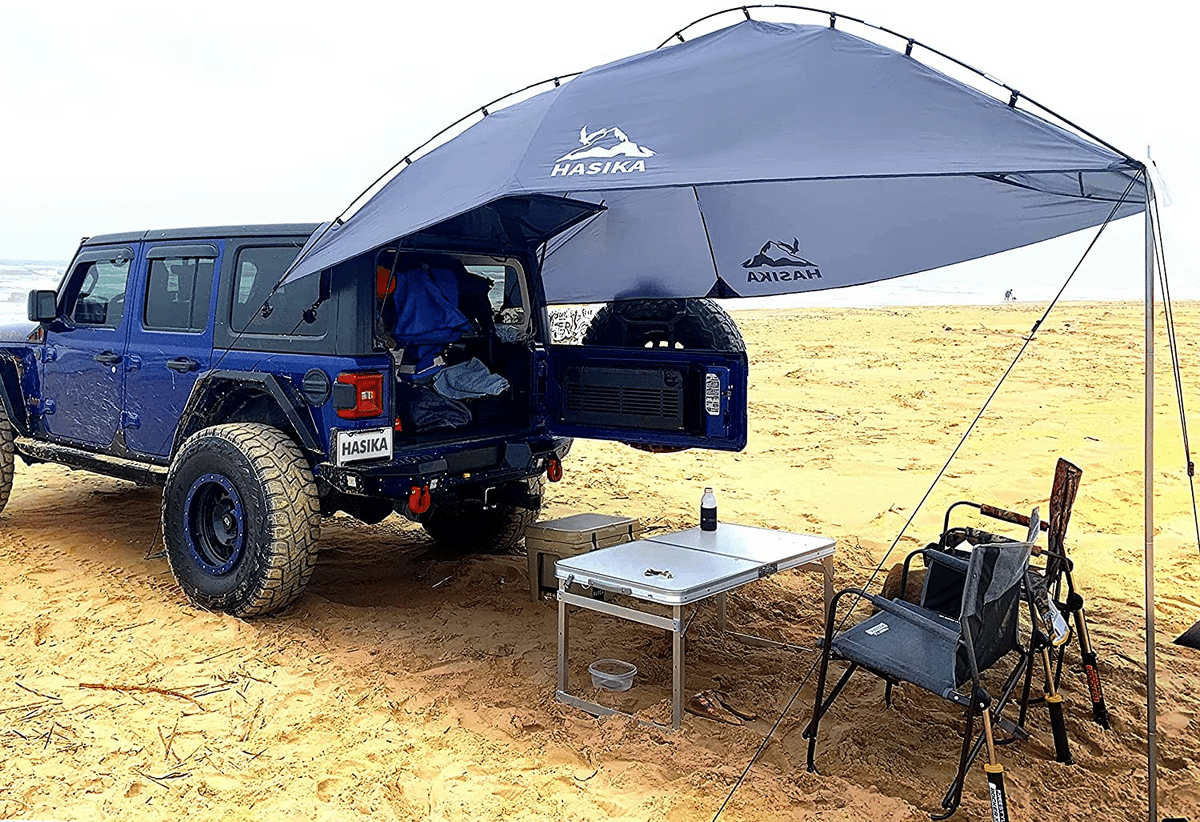 The Hasika Versatility Teardrop Awning is not only an affordable awning, it's able to fit any size van (and doesn't require a roof rack to be installed).
It easily attaches to any size van with pegs and guy ropes and the teardrop-shaped van awning creates plenty of outdoor space for your table and camping chairs while being protected from inclimate weather.
Note: This van awning is about $140 and is a less durable camper awning than other options we've shared, but it's still one of the best portable awnings you can get.
Hasika Versatility Teardrop Awning
Large enough to cover table, chairs, coolers, kids, and pets as well as shields you from the elements
You're able to adjust the height of the outboard end all the way to the ground to create privacy when needed
Air vents in the peak allowed upward breezes to flow through
Recommended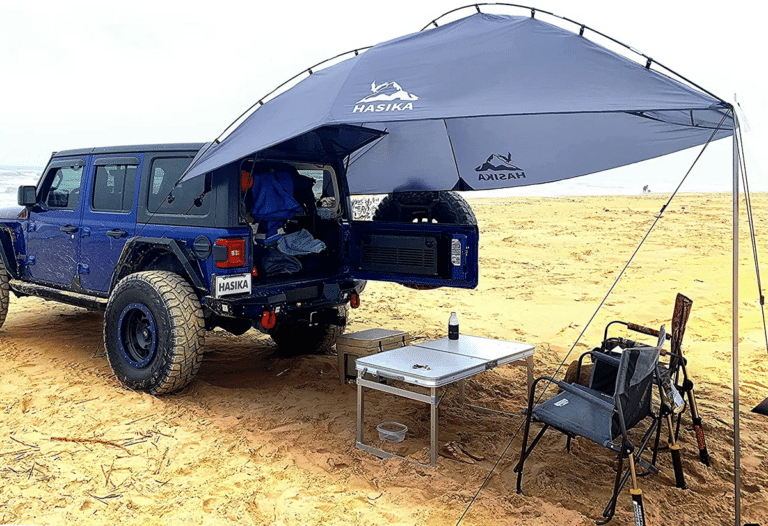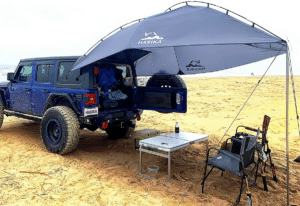 Frequently Asked Questions
We've received a lot of questions on how to pick out the best van awning. To save you a few Google searches, we added them here!
Note: If you have any questions that aren't answered below, leave a comment and we'll be sure to add it!
How Do You Mount a Camper Van Awning?

Depending on the type of awning you get, this answer will change!

Roof-mounted awnings (also known as permanently mounted awnings) can be attached to stock roof bars, roof racks, or above the side doors. These require heavy duty mounting brackets to keep it in place.

Portable awnings (also known as drive-away awnings) can be attached to your van with suction cups or ropes! They're less sturdy, but much cheaper.
Are Drive Away Awnings Good?

If you want to add extra floor space that can be protected from the elements, yes! They're great if you're on the go a lot and want something cheaper for van life.
Are You Able to Sleep in a Camper Van Awning?

Not unless you're interested in purchasing van awning tents, no. Your typical van awning acts as an extra roof, nothing more! It's the same as sleeping under anything outside.
What's the Difference Between a Self-Retracting, Manual, and Inflatable Air Campervan Awning?

Good question!

Self retracting awnings are permanently mounted in most roof racks and slide back into its case with the push of a button. You'll find these on most motorhomes or RVs.
Manual awnings function the same, but they're controlled by a hand crank (and are typically much cheaper).
Inflatable awnings come with a manual pump. All you have to do is inflate it before pegging it out. They're very popular drive away awnings!
What's the Difference Between 360, 270, and 180 Degree Awnings?

To put it simply, these numbers describe the amount of coverage your campervan awning will have:

A 180 degree awning is the most typical shape you'll see. It's rectangular and is usually mounted on the top or side of a van.
A 270 degree awning provides more outdoor space around your van. Think of it as a ¾ circle shape. Typically, it'll be on the right or left side and extend to the back.
A 360 degree awning is like a giant umbrella for your campervan. Essentially, it provides full coverage regardless of where you are around your van!
Other Van Life Content
We hope you enjoyed this article on camper van awnings! Let us know if you purchase one or, if you have a van awning already, let us know if it's different from what we listed!
Looking for more van life content? We've got you covered: