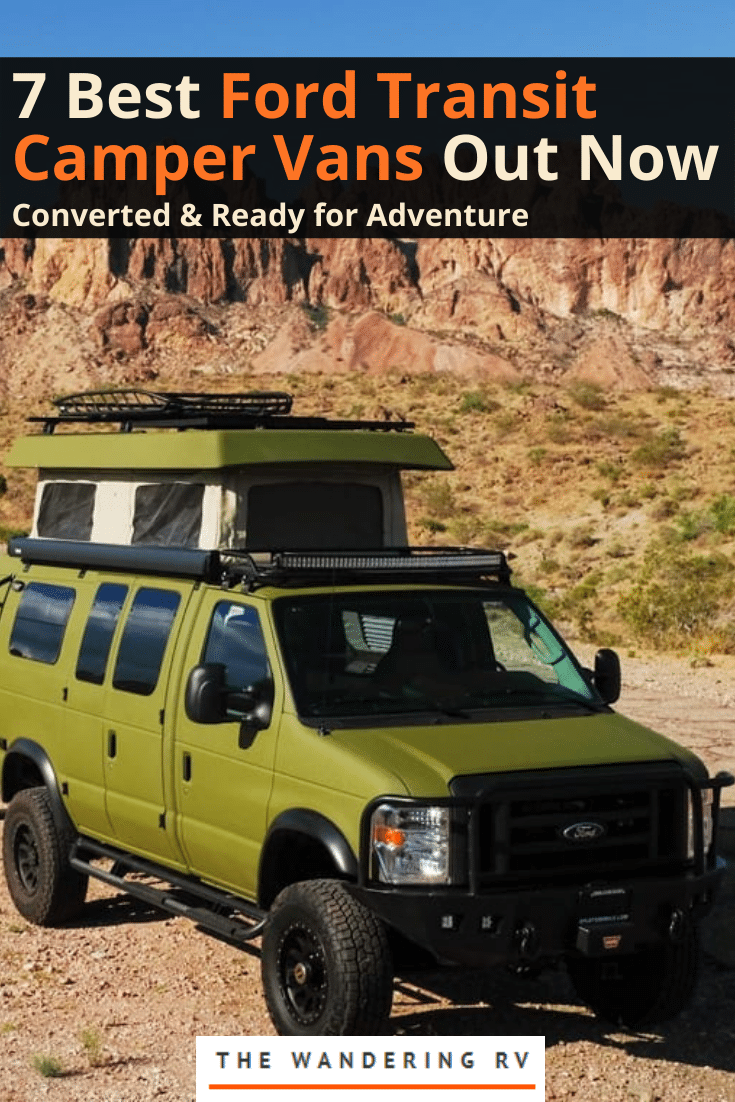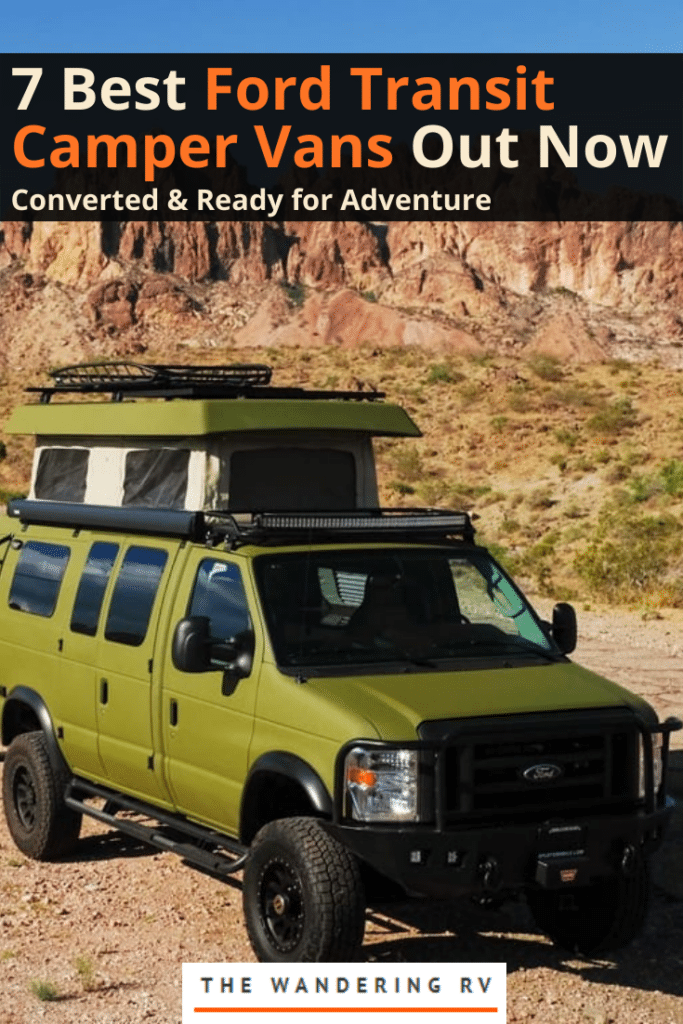 Ford Transit camper vans are one of the best vans for van life. It isn't called America's best selling van for nothing!
It has the tallest interior standing space of all the camper van options, it's rear-wheel or four-wheel drive depending on what model you pick, and maintenance is cheap.
So they are an excellent choice if you're looking to start van life!
But if building your own DIY camper van isn't something you're interested in, don't worry — we found these 7 awesome Ford camper van options you can buy pre-built and ready to camp.
Table of Contents
7 Awesome Ford Transit Camper Vans You Can Buy Right Now
In no particular order, here are some awesome van conversion options you can buy right now:
1. Storyteller Overland LT Ford Transit Campervan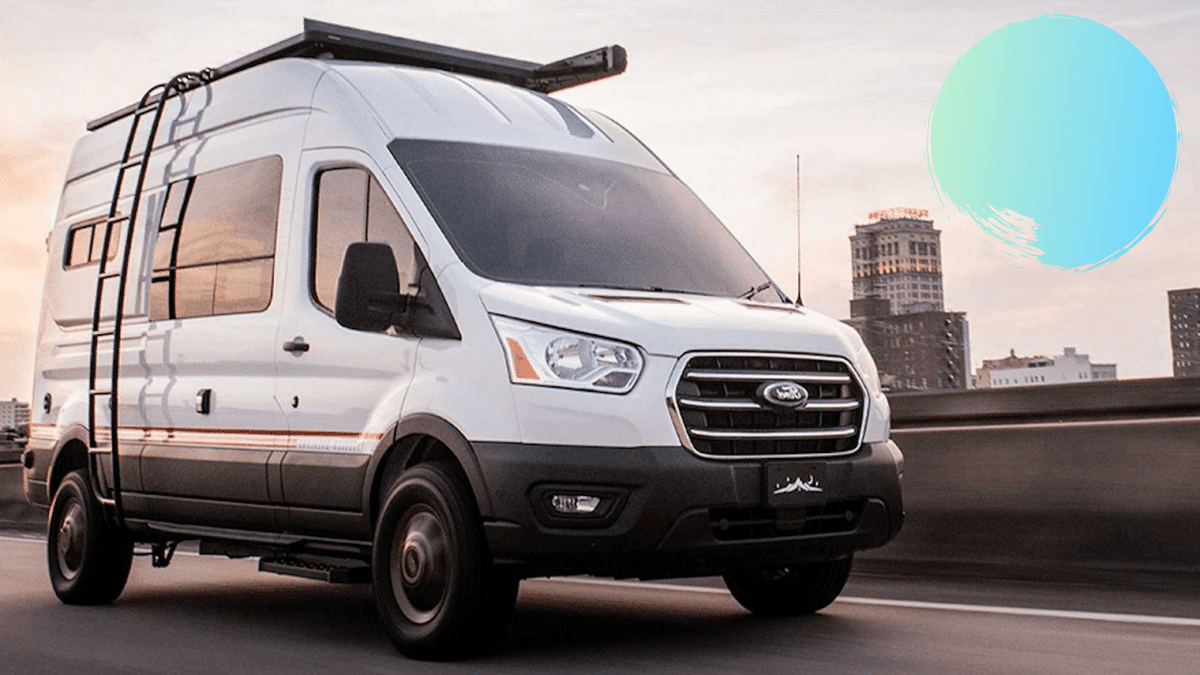 Brand new in 2022, Storyteller Overland released the LT Ford Transit campervan to go alongside their Mercedes Benz MODE vans, and it has everything you need for off-grid living. You really can't go wrong with a Storyteller Overland MODE van.
We're talking an AWD chassis, off-grid power system, and reclinable Groove Lounge for ultimate comfort and luxury.
The van also has a hidden portable toilet and a HALO shower system.
Other features include:
A queen-size Murphy bed
Volta energy storage system
3200-watt inverter
90 watts of solar panels
21-gallon water tank w/ hot water heater
LED lighting
And more!
Pricing for the Storyteller Overland LT Ford Transit campervan starts at $153,748 and goes up to $200,000.
Learn more about the Storyteller Overland van options here.
2. Vandoit Ford Transit Camper Conversion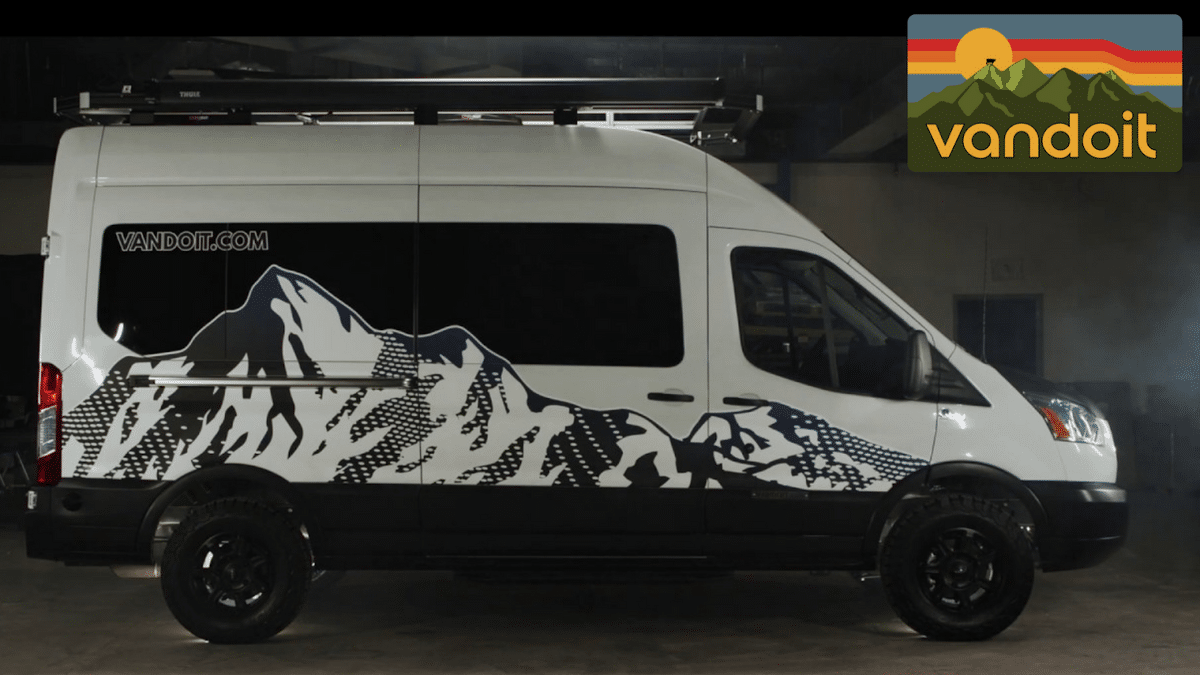 The Vandoit Ford Transit camper conversion is a great option for those who want to spend time outdoors and spend a little less.
They offer 2 different packages for their Ford Transit camper: LIV and DO. Prices range from $48,000 to $108,000 for one of these rad Ford Transit campers.
Other features include:
A movable kitchen pod that runs on T-tracks
A hydraulic queen-size bed (in the LIV package)
Solar panels
An outdoor shower
And more!
Learn more about the Vandoit Ford Transit camper conversion here.
3. Coachmen Beyond

Coachmen is the only major RV manufacturer to offer a Class B Ford Transit camper rather than building it on a Class C RV chassis.
The Coachmen Beyond comes in 3 different floor plans, each built on a Ford Transit 350 HD and featuring a 3.5L EcoBoost engine, 10-speed transmission, and remote start.
They have excellent floor plan options that maximize space and include a wonderful van kitchen area with a fridge, microwave, and 2-burner stove.
Other features include:
An electric awning with LED lights
A master control panel to monitor electronics
A 24" Smart HDTV
Optional solar system
And more!
Pricing for the Coachmen Beyond starts at $161,278.
Learn more about the Coachmen Beyond here.
4. Sportsmobile Ford Transit 4×4 Camper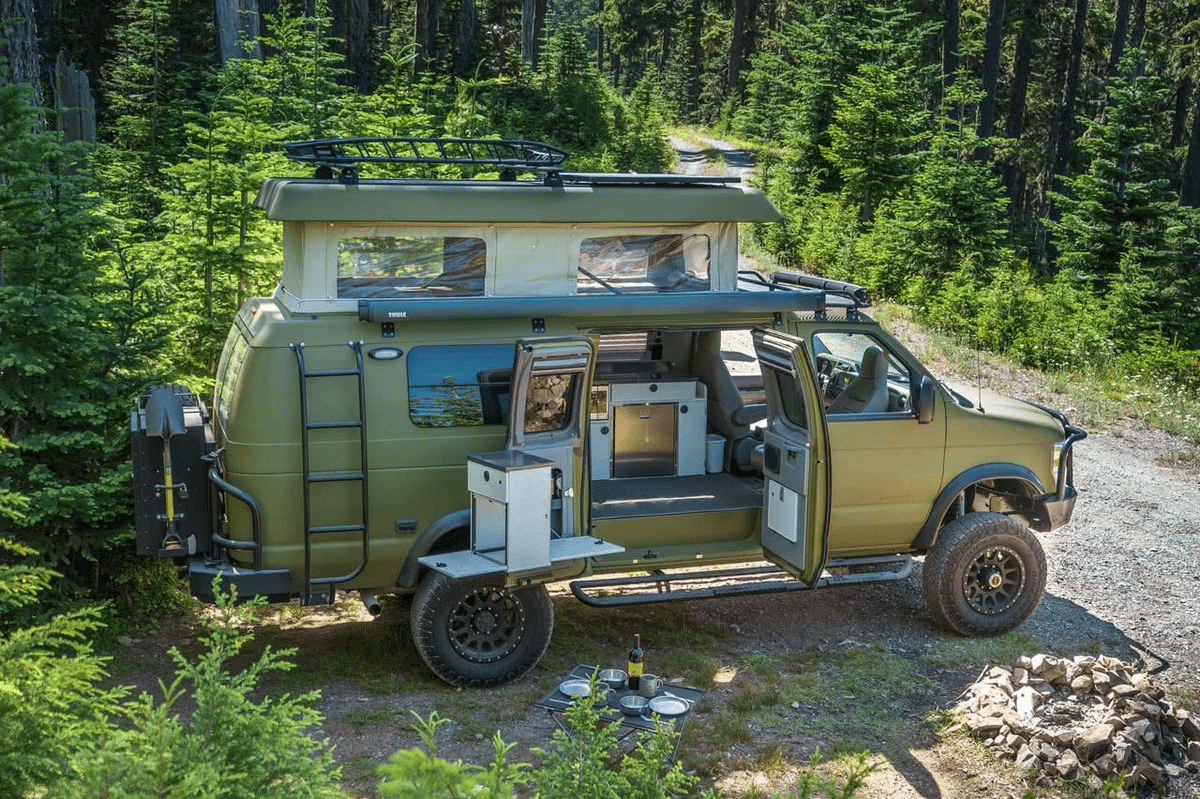 Sportsmobile Ford Transit 4×4 Camper is not only one of the sexiest ford camper van options on the market, it's also the absolute best option for anyone who wants to go off-roading.
With it's high clearance, 4-wheel drive, and beefy all-terrain tires, it was build for adventurers, by adventurers. In fact, Sportsmobile has been converting vans since 1961!
If you're looking for an awesome Ford Transit camper van, you can't go wrong with this one. Other features include:
Dozens of configuration options
Various plumbing, heating, and electrical systems
A super cool penthouse pop-top option
And more!
Learn more about Sportsmobile here.
5. Pleasure-Way OnTour Ford Transit Camper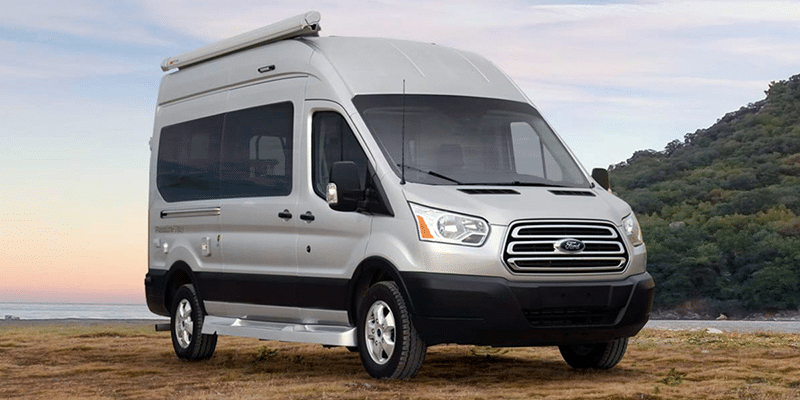 Built on a Ford 2500 chassis and offering 78″ of headroom, the Pleasure-Way OnTour Ford Transit Camper Van is another wonderful van sold by a reputable company.
Their van conversion comes with a fully-equipped kitchen, roomy wet bath, and spacious comfy bed for lounging in luxury.
Other features include:
An induction cooktop, refrigerator, microwave and large stainless steel sink
A TV with swing mount, Bose speakers, Bluray player and HDTV antennae
A handheld shower head, mirror, rack and ceramic toilet with foot flush
And more!
Learn more about the Pleasure-Way OnTour camper van conversion here.
6. TouRig Ford Camper Van
TouRig is a newer recreational vehicle conversion company, started in 2015. So they have a lot to prove with their camper van conversion.
But don't let that new age fool you. Their Ford Transit camper conversion is one of the best on the market, with spacious interior designs that offer sleeping options for up to 6 people.
Better yet, they offer custom-made camper van mattresses that are much more comfortable than many pre-existing mattresses.
Other features include:
Customized seating arrangements
Airliner Storage Cabinets for better organization
Optional thermal window tinting, ladders, roof racks, awnings
And more!
Learn more about the TouRig here.
7. Modvans CV1 Ford Transit Camper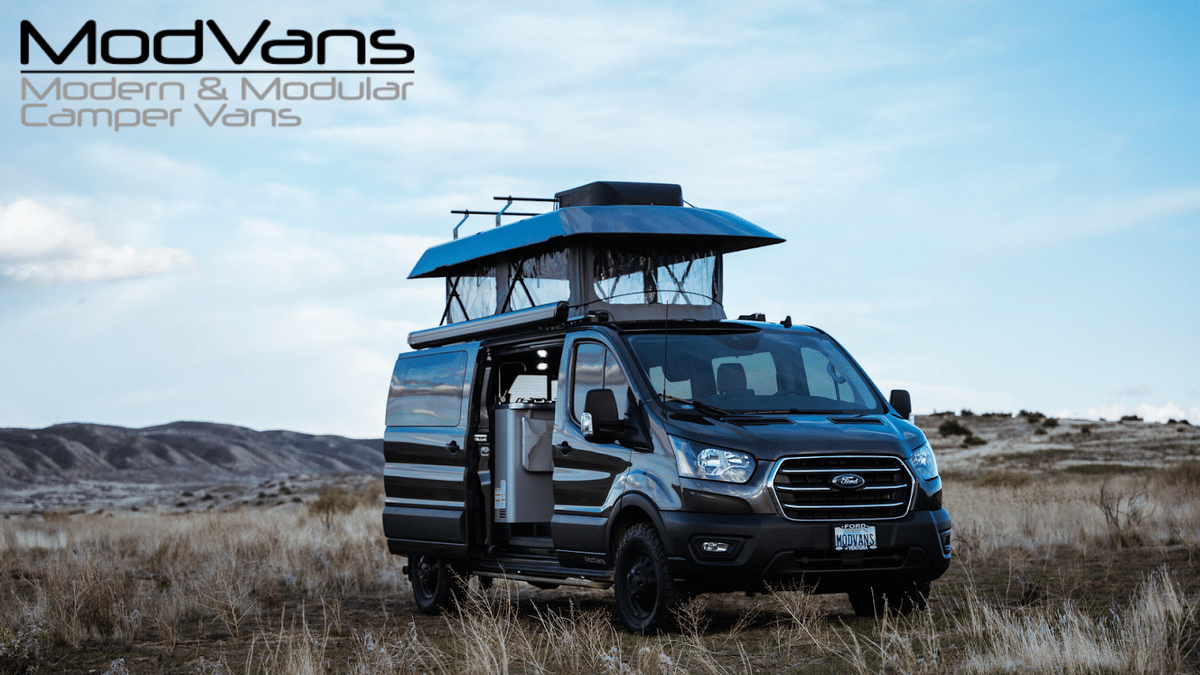 The CV1 is Modvans' primary offering and is built on a Ford Transit 150 chassis low-roof van. They've spent years perfecting this van conversion, and it shows!
This ford camper van features a pop-top and has sleeping space both "upstairs" and "downstairs", meaning more room for more people.
Similar to Vandoit camper vans mentioned above, the Modvans' CV1 uses a modular design that allows the cabinets, seats, and accessories to be removed and reconfigured.
Other features include:
Optional front bumper with winch and lighting
Awning and LED lights
All wheel drive option
Automatic emergency breaking & advanced driver assistance features
And more!
Learn more about Modvans CV1 here.
So Should You Buy a Ford Transit Camper Van Conversion?
If you're looking for a reliable and comfortable camper van, there's no doubt that a Ford Transit is one of the best options on the market.
It is close to the size of the popular Mercedez Benz Sprinter van options, but at a fraction of the cost. And with all wheel drive options, you can take it places over vans simply can't go.
Ford Transit Camper Van Pros
These camper vans have a lot going for them if you're interested in van life:
Cheaper Than Other Options
Compared to other popular vans for conversions, the Ford Transit is much cheaper. While not quite as cheap as much older models like the Ford Econoline or the GMC Vandura, it's still big savings on a modern vehicle.
Easy to Drive
Compared to some of the longer passenger and cargo van options, the Transit is smaller and easier to drive. It has comfortable driver seating and passenger seats.
Plenty of Living Space
Being the tallest van on the market, it gives you lots of head room to stand up and move around! Plenty of living space for anyone to live in their van.
Ford Transit Camper Van Cons
However, they do have a few drawbacks. Namely:
Poor Towing Capacity
The Ford Transit van conversion is able to tow, but not as much as similar vans in its class. So if you plan on frequent heavy towing, this may not be the best van for you.
Drivetrain Limitations
The 2020 Ford Transit is the first of its class to have AWD capabilities. The 2019 and earlier only have RWD. This can limit your ability to go off-road or drive in bad weather.
But, you can add a Quigley conversion to turn it into a 4×4 if you have the money.
DIY Camper Van Conversion vs. Custom Conversion
Going the DIY route and building a camper van conversion yourself is always going to be cheaper than buying one pre-built or having a professional build it for you.
But doing it yourself means learning a lot, having the space and tools to do it, and it takes a lot of time.
That said, custom built vans from professional van conversion companies cost a lot of money. So you may not have the funds to go that route.
It just depends on the resources available to you as to which you do.
Other Van Life & Van Conversion Tips
If you're ready to dive into the full-time RV lifestyle and live on the road, congratulations! There's a lot to see and do, and you'll learn a ton about yourself.
If you're still in the research phase, here are some other articles and guides to help you: