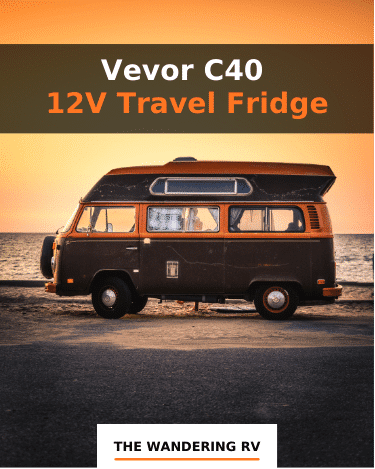 Keeping your food and drinks cold on a long road trip is essential. But packing your Yeti cooler with dry ice and hoping for the best is not the best solution. Today we're reviewing the Vevor 12v travel fridge. It's small enough to fit in most back seats and runs on both 12v and 120v for ease of use in many situations.
I have been personally testing this fridge for the last few weeks. It's been my "garage fridge" when not traveling and has been in the back of my truck everywhere I go.
Table of Contents
Note: Some of the links in this article are affiliate links. This doesn't cost you any more than normal. Read our disclaimer for more info.
Vevor C40 12V Travel Fridge: Pros & Cons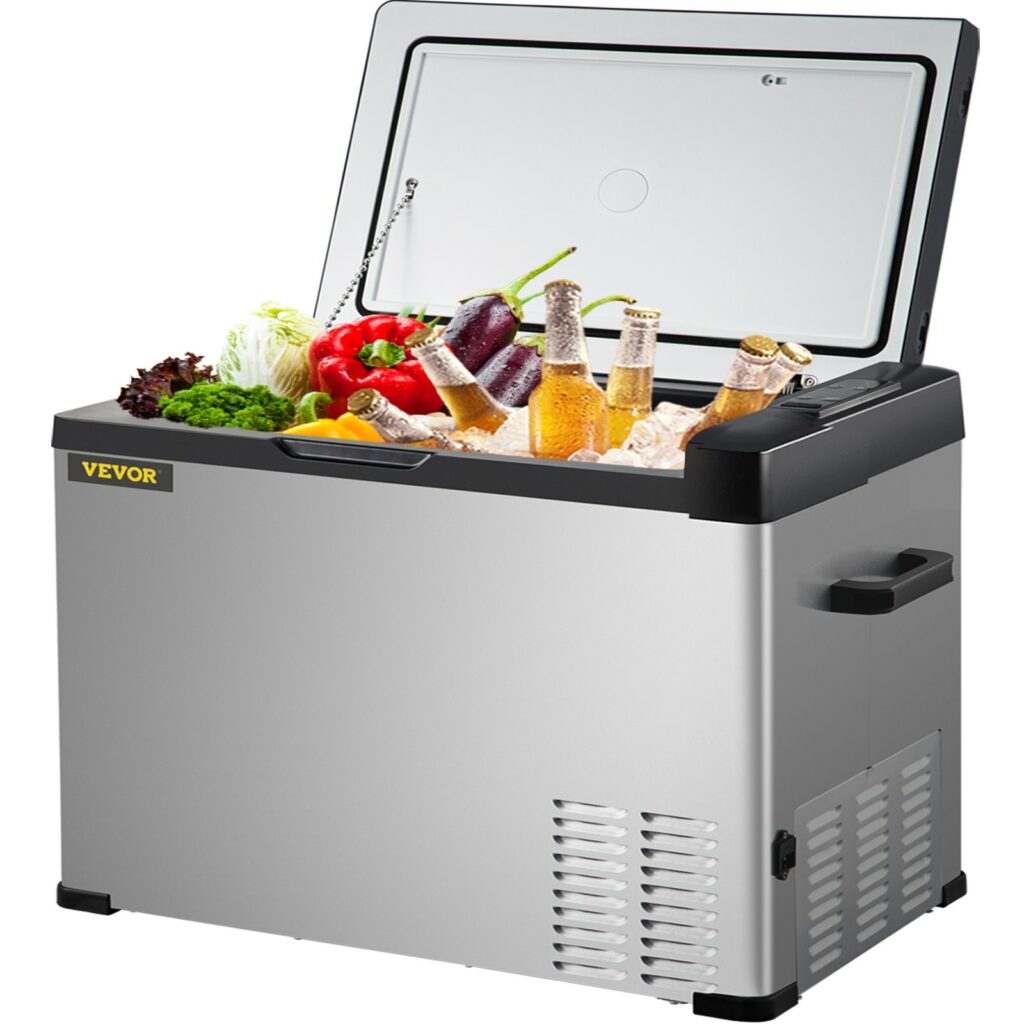 Pros
Pros:
Lightweight (32 lbs)
Affordable ($249)
Cools down to -4F
Only draws 60 watts
Sleek & Durable
Fan Runs Quiet
Cons:
Isn't as durable as the competitors
No USB C charger
Automatically turns off after 10 hours
Bluetooth App Doesn't Get Great Reviews
12V Travel Fridge: Key Features
I was surprised at how light this fridge was when I first opened it. I'm not sure why I expected it to weigh 80 pounds, but my C40 weighed just under 32 pounds empty. The C40 is aptly named since it holds 40 liters. It measures 17.8 x 11 x 13.4 inches on the inside and is said to hold 54 12-ounce cans; I didn't try it. The outside dimensions are 25.6 x 14.8 x 16.8 inches.
As I mentioned before, it is a 12-volt fridge, but it also comes with a power adapter to run on 120 volts. You can run this as a freezer, as it cools down to -4 °F, or as a normal fridge, as it has an upper cooling limit of 68 °F.
There is a convenient LED digital display that shows the current temperature, the desired temperature, and the input voltage and lets you set different settings for when the battery shuts off. The battery voltage protection is handy, as it protects you from drawing too much voltage from your battery. The cutoff values for high, medium, and low are 11 v, 10.1 v, and 9.6 v, respectively. I would recommend the high cutoff value, especially if this is drawing from the battery that starts your vehicle! This fridge only pulls 60 watts, so it doesn't demand any kind of fancy wiring or big inverters (if you use 120 volts). I was able to plug it into the cigarette lighter in my truck with no issues.
It also has Bluetooth and an app for your phone to set and track the temperature. The app didn't get great reviews, and I'm a bit leery about installing these types of apps on my phone, so I didn't test that.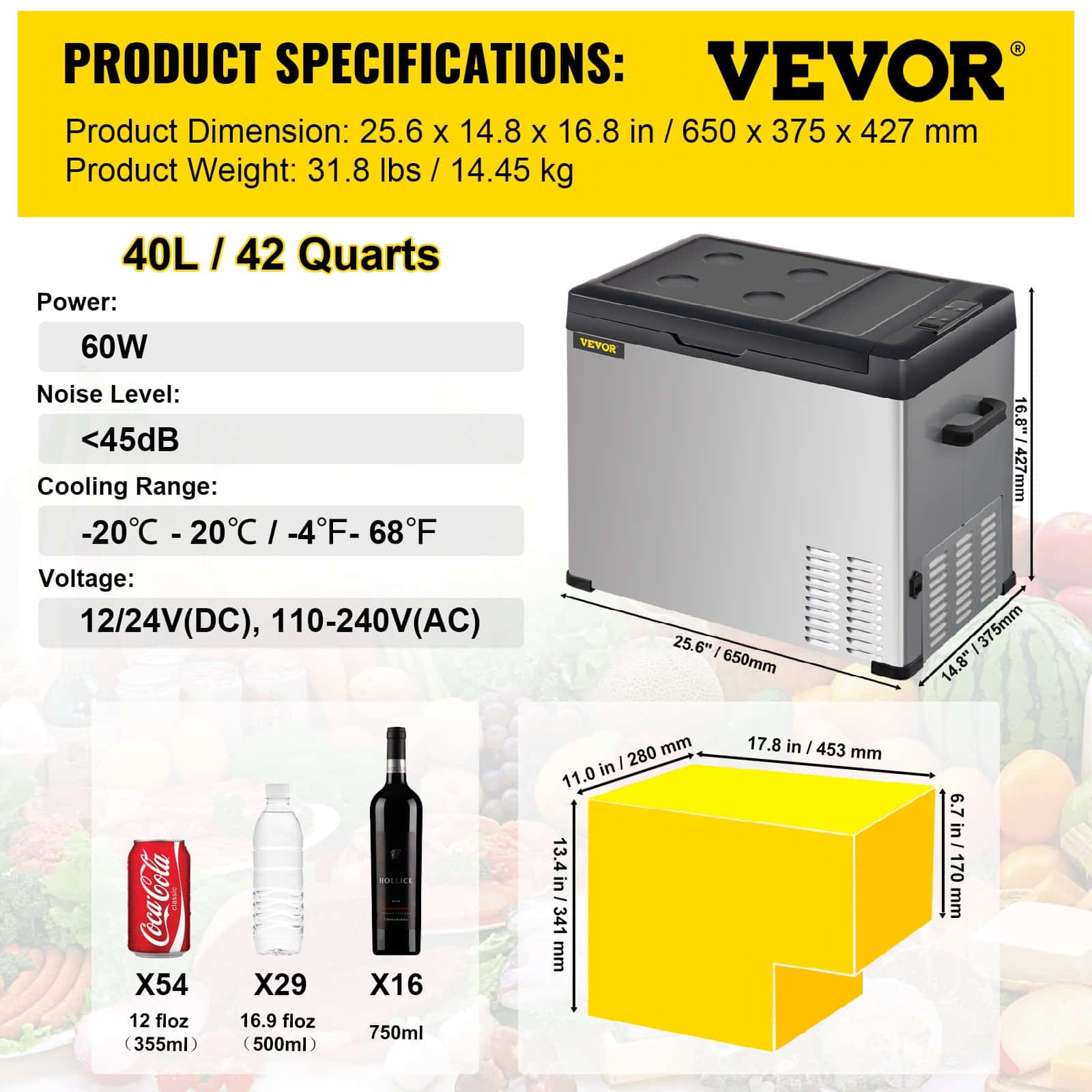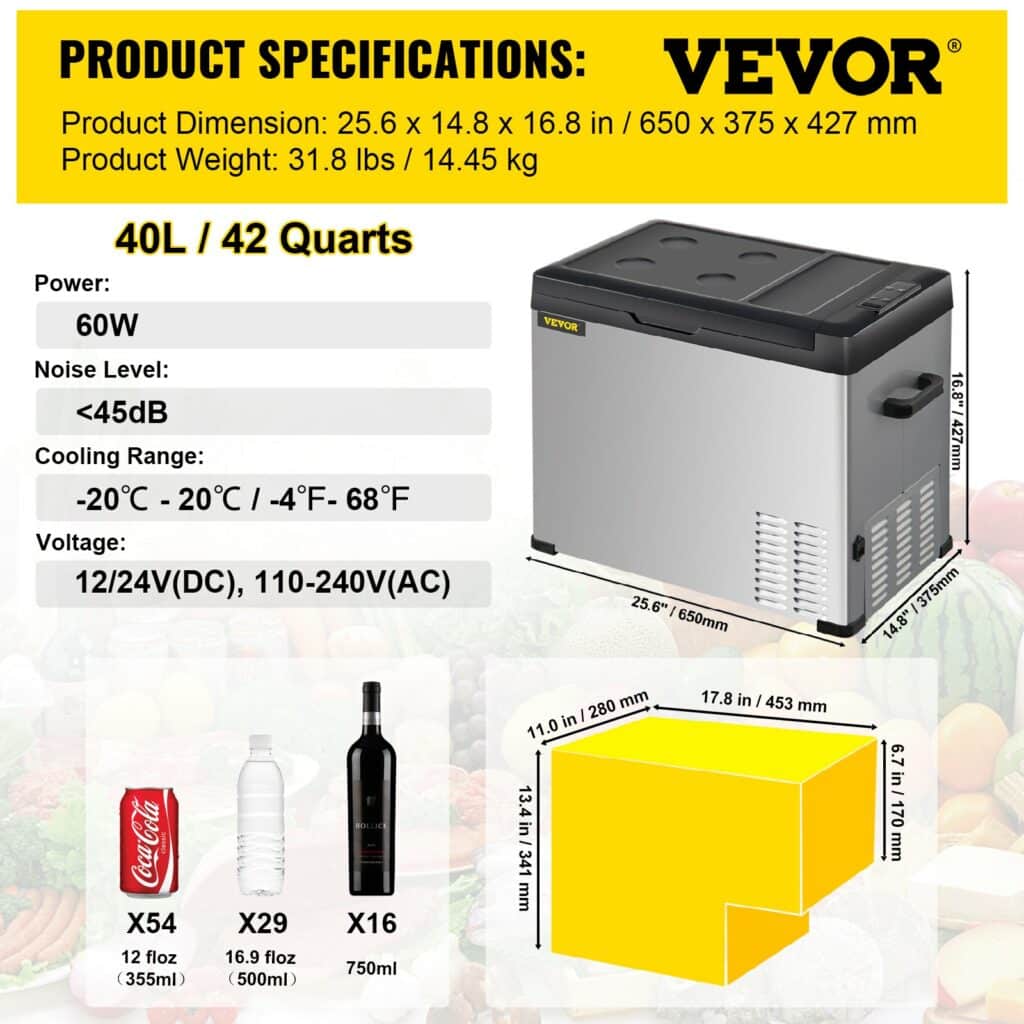 Design, Build Quality, and Functionality
The fridge was packed nicely in a sturdy box. There was lots of corner bracing and thick styrofoam to keep it from moving around.
Everything was intact, and the fridge really feels solid. No flimsy plastic pieces or rattling from inside. The door opens smoothly and has a positive seal.
After the unboxing and first inspection, I let the fridge get up to room temperature. It was 16F outside, so I didn't want to give it a head start on my cool-down test. I had a short road trip from Des Moines to Omaha, which is about 2 hours, where I would be spending the night for an awards banquet. I filled the fridge up with some drinks, fruit, and other road-trip snacks. I plugged it in and turned it on.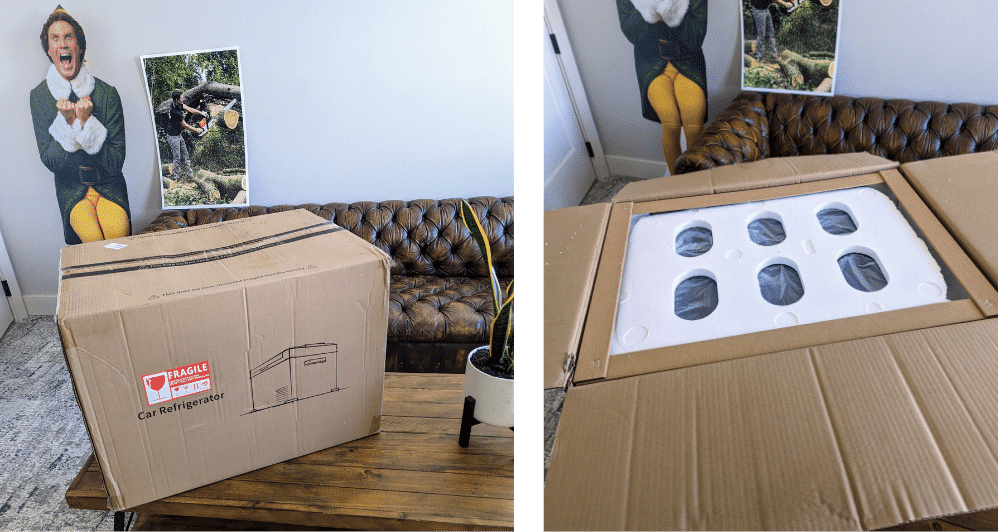 I was very impressed with how quiet the fridge was. I am a bit of a weirdo when it comes to noise, especially when going on a long trip. It was barely audible in my house, so I knew it wouldn't be a problem in my truck. It took about 30 minutes to cool from 73F down to 34F, about half full of food and drinks.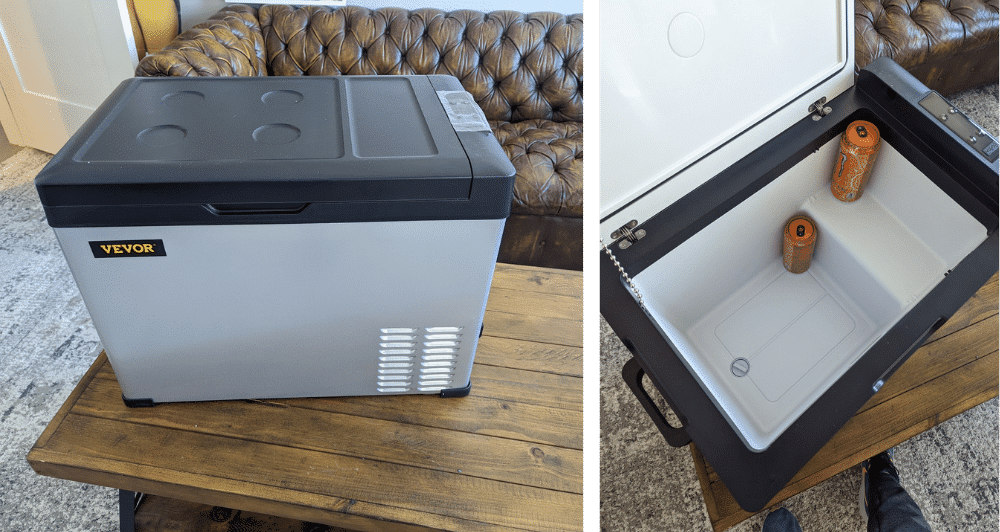 One neat feature about this fridge is that it comes with a drain plug in the bottom. This should make cleaning a breeze.
The weekend went without a hitch. My truck cuts power to the 12-volt cigarette lighter anytime the truck is off, and it handled the constant on and off with no issues. I was also relieved that it remembered my temperature settings, so I didn't need to reprogram it every time.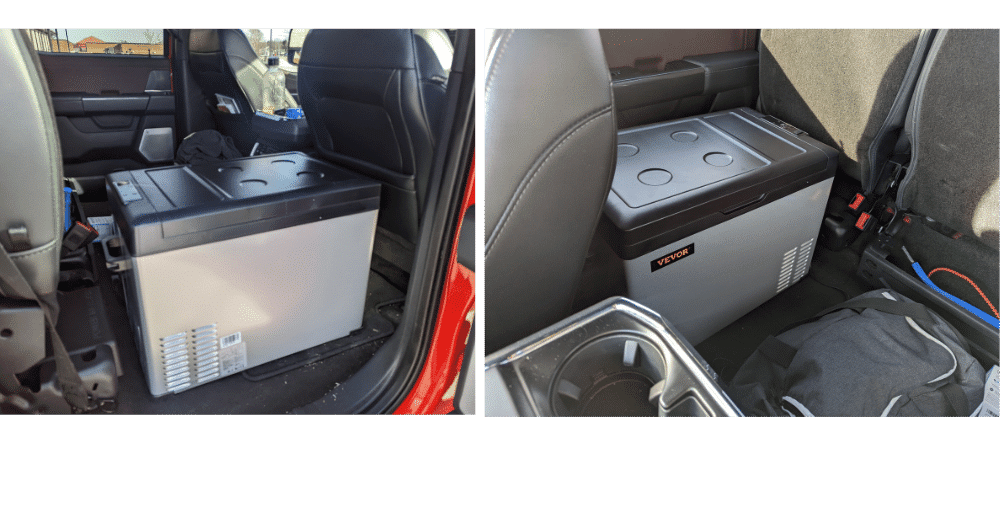 Usability
I really enjoyed the 12-volt fridge for a small road trip like this. It was nice having a cold banana and a fresh sandwich on the way out, and a crisp Red Bull for the next morning! It fit neatly in the back of my F-150 with the seat folded up. It would easily fit in the backseat or trunk of any car and is built sturdy enough to be strapped into the bed of my truck or trailer.
Where I think it will really shine is on the longer trips. I have a race in South Carolina next month, which is a 17-hour drive. Instead of relying on fast-food and gas station snacks, I can prep some much healthier meals and not feel like garbage when I get there! Then, once we get to the track, having a fridge in my enclosed trailer to keep our water and fruit cold will be a lifesaver!
I can see this being extremely useful for car camping as well. I imagine pulling up to the campsite with a cold fridge and then using it as a cooler while at the campground. Since it only takes 20–30 minutes to cool back down, I wouldn't keep it plugged in the whole time to save my battery. These can also be paired up with a portable generator / inverter to last even longer.
Value for Money and Conclusion
The Vevor C40 12V fridge comes in at $249 at the time of this writing (early 2023). This is significantly cheaper than the BougeRV at $350 and other Amazon non-branded fridges that start at $269. Time will tell if this proves reliable, but initial impressions are fantastic. I am excited to use the heck out of this fridge all summer. I can certainly recommend this to anyone who needs a nice, low-budget, 12-volt fridge.