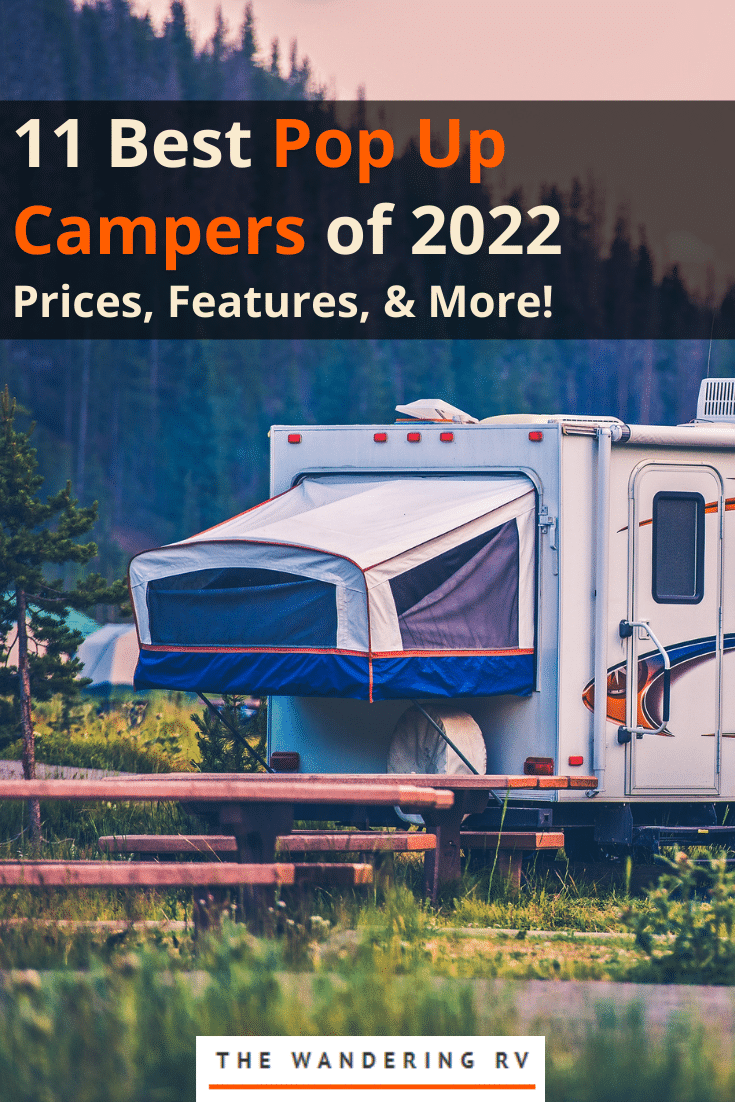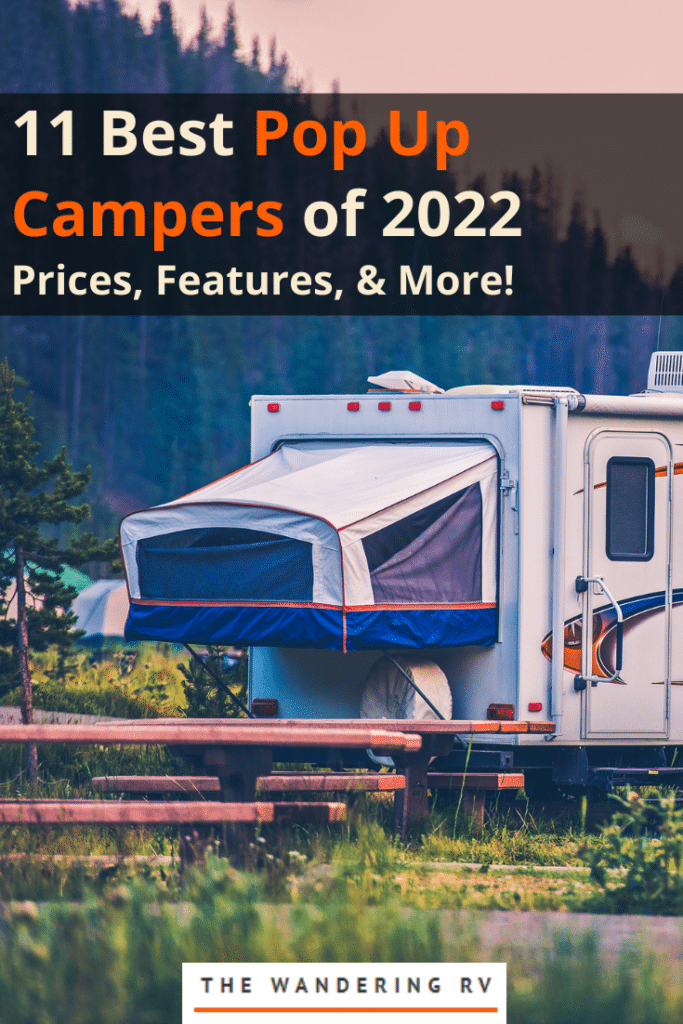 Pop-up campers are an excellent type of RV.
They are lightweight, easy to use, and some even have a bathroom!
Plus, they're much more affordable than traditional trailers and can be pulled by almost any tow vehicle.
In this article, we reveal the 11 best pop-up campers for sale so far in 2022!
Check out the quick index below to jump straight to a trailer you've heard about, or just scroll through to see them all!
Table of Contents
Types of Pop Up Campers
Not all pop up campers are made the same! In fact, there are three different types of pop up campers. They are:
1. Tent Trailers
Tent trailers, or tent campers, are the soft-shelled pop up campers that essentially look like a big tent. They are the most light-weight and easiest to use of all the RV types, but they are also the most prone to failure and breaking.
If you're new to the RV lifestyle and want something easy, a tent camper might be right for you!
2. High Wall Campers
High wall campers are an innovative re-take on traditional tent campers. The walls on these campers are solid, so they're sturdier and more durable. The top portion of the walls are canvas and expand upward for more interior space. The Trail Manor below is a good example of a high wall camper.
3. A-Frame Trailers
A-frame campers get their name from the shape of their roof, which expands up to look like an "A", similar to the roof of a traditional house. This allows for more interior space with less weight, as well as a solid roof and walls rather than canvas.
The 12 Best Pop Up Campers
Now that you know what the types of pop ups are, let's look at some of the best options for you to buy right now:
1. Starcraft Comet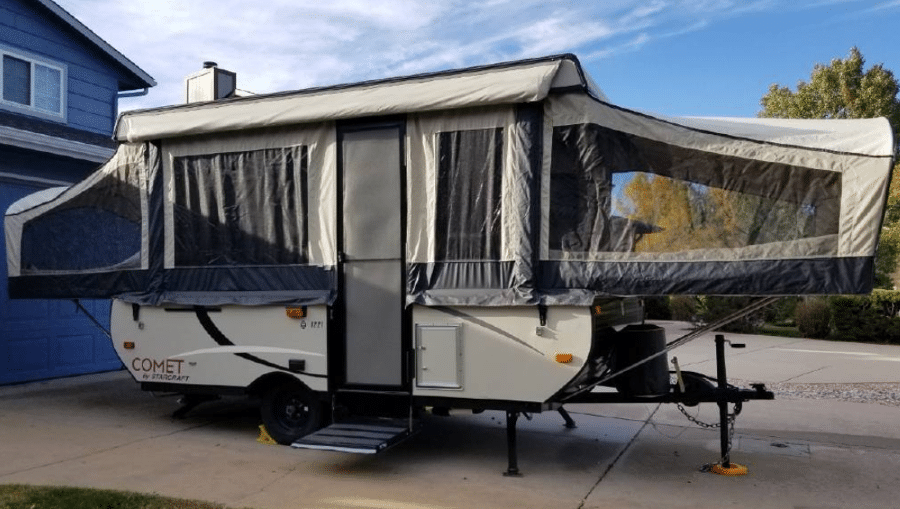 Quick Stats
The Starcraft Comet is a great pop-up camper for families.
With a full sized bed on one side and a queen on the other, you know you (and your family) will sleep with ease. It's also one of the only small campers with slide outs as it has extra portions for the beds.
Not to mention, you have a decent sized u shaped dinette and living area separating the sleeping space!
Take a look at the inside of this beauty below: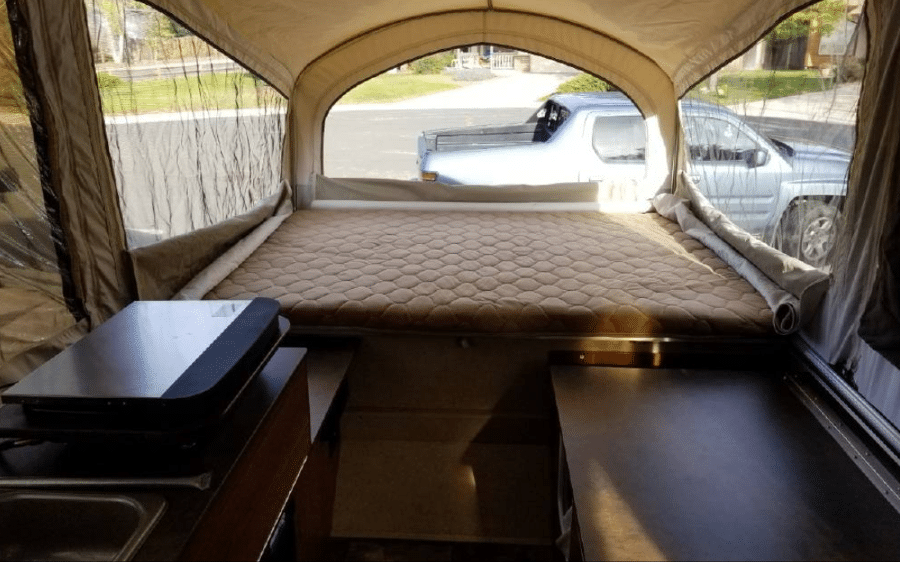 Rent a Pop Up Camper with Outdoorsy – Ready to hit the road in an RV? Grab an RV rental from Outdoorsy for $50 off! Claim My $50 Discount
2. SylvanSport GO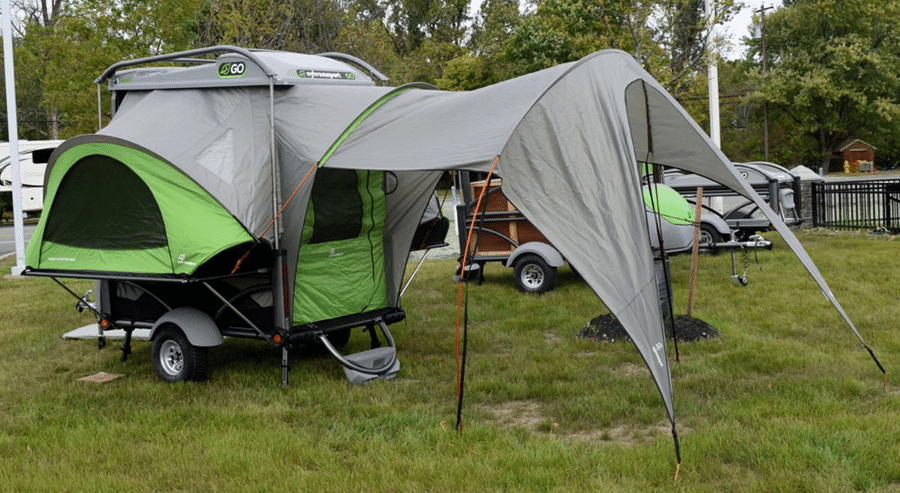 Quick Stats
This pop-up camper is super unique—it's probably one of the smallest ones yet.
The SylvanSport GO is either a tent with a dinette table or a tent with a giant bed—there's not really an in between!
Not sure what I mean? Check out the interior and you'll get a better understanding: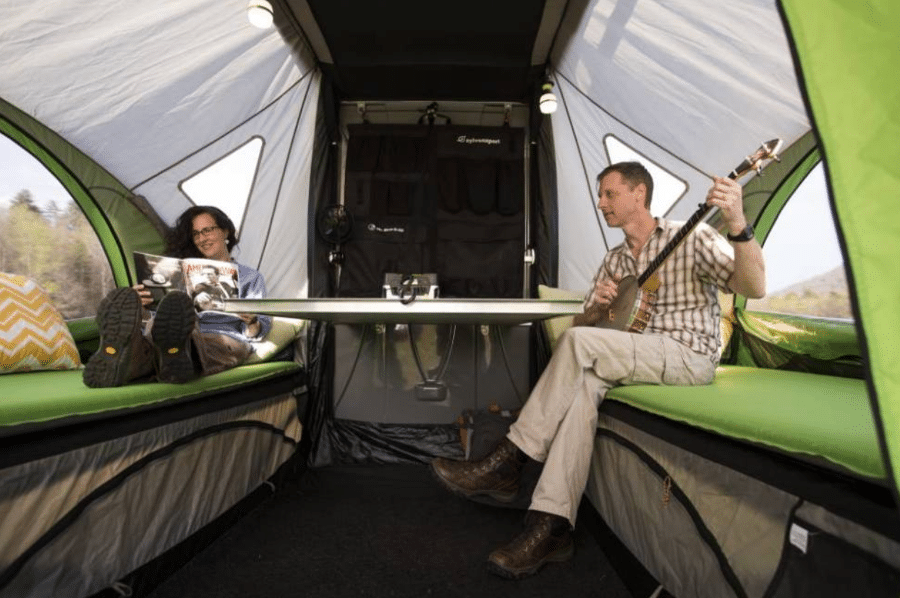 You can use the dinette feature during the day and, when you're ready for bed, simply put the dinette table away and pull the cushions down to sleep!
This model is 100% waterproof, too. It's truly one of a kind (and one of our favorites).
3. Livin' Lite Quicksilver 8.0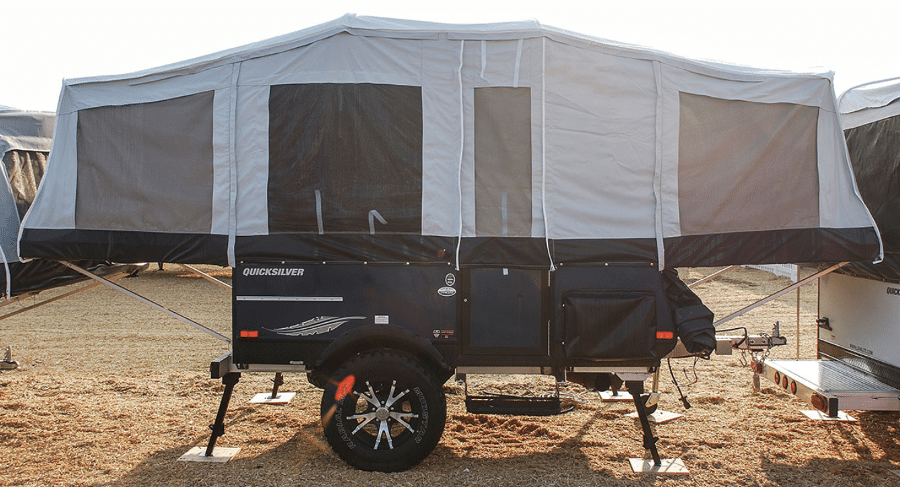 Quick Stats
You might not have a ton of storage space in this pop-up camper, but it's a beauty.
The Quicksilver 8.0 is great for families looking for an adventure, or even a group of friends that want to get away for a while.
Check out the interior design for the Quicksilver below: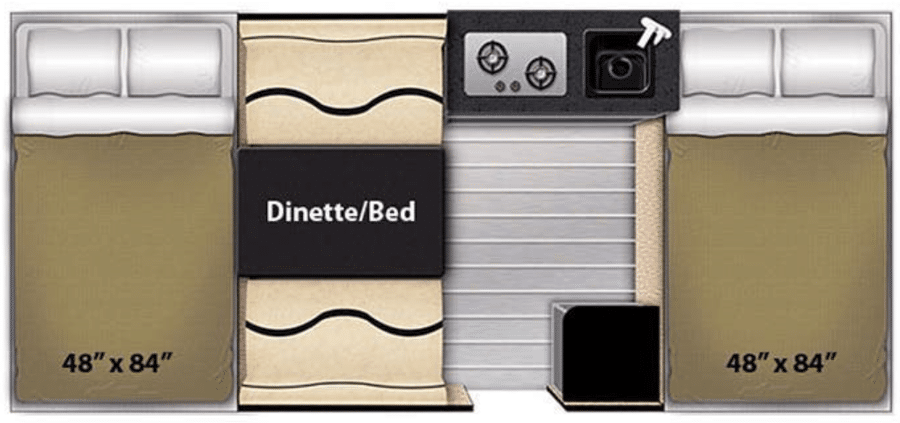 4. Forest River Flagstaff Pop-up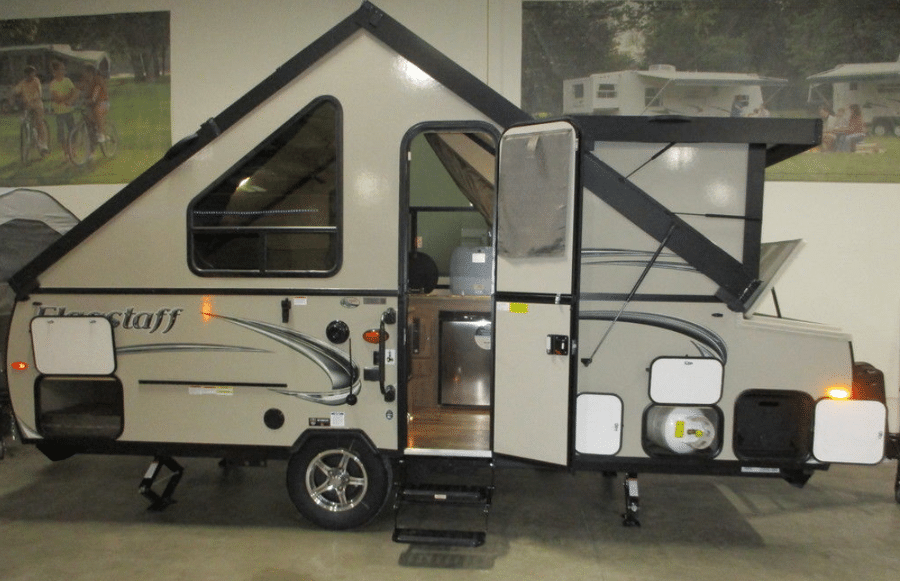 Quick Stats
The Forest River Flagstaff is a perfect pop-up camper that has a roof-like design (which makes us think of a tiny house).
This model might not be the best for couples (as there are two twin mattresses rather than a queen) but if you and your partner are okay with sleeping apart for a few nights, this is model will be perfect for you!
Here's the floor plan for a better look: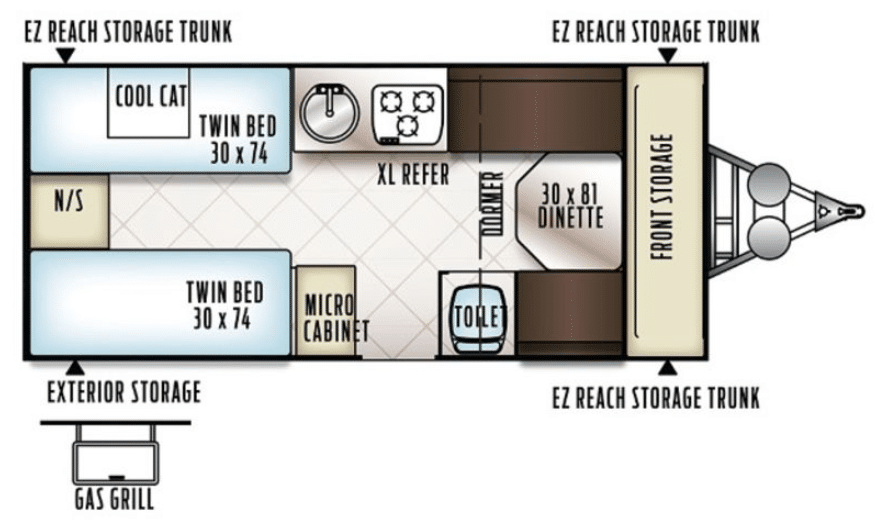 Not Sure Which RV to Buy?
Why not try before you buy? Find the models you're thinkingabout, then give them a test run in a cheap & easy RV rental.
5. Jay Sport Camping Trailer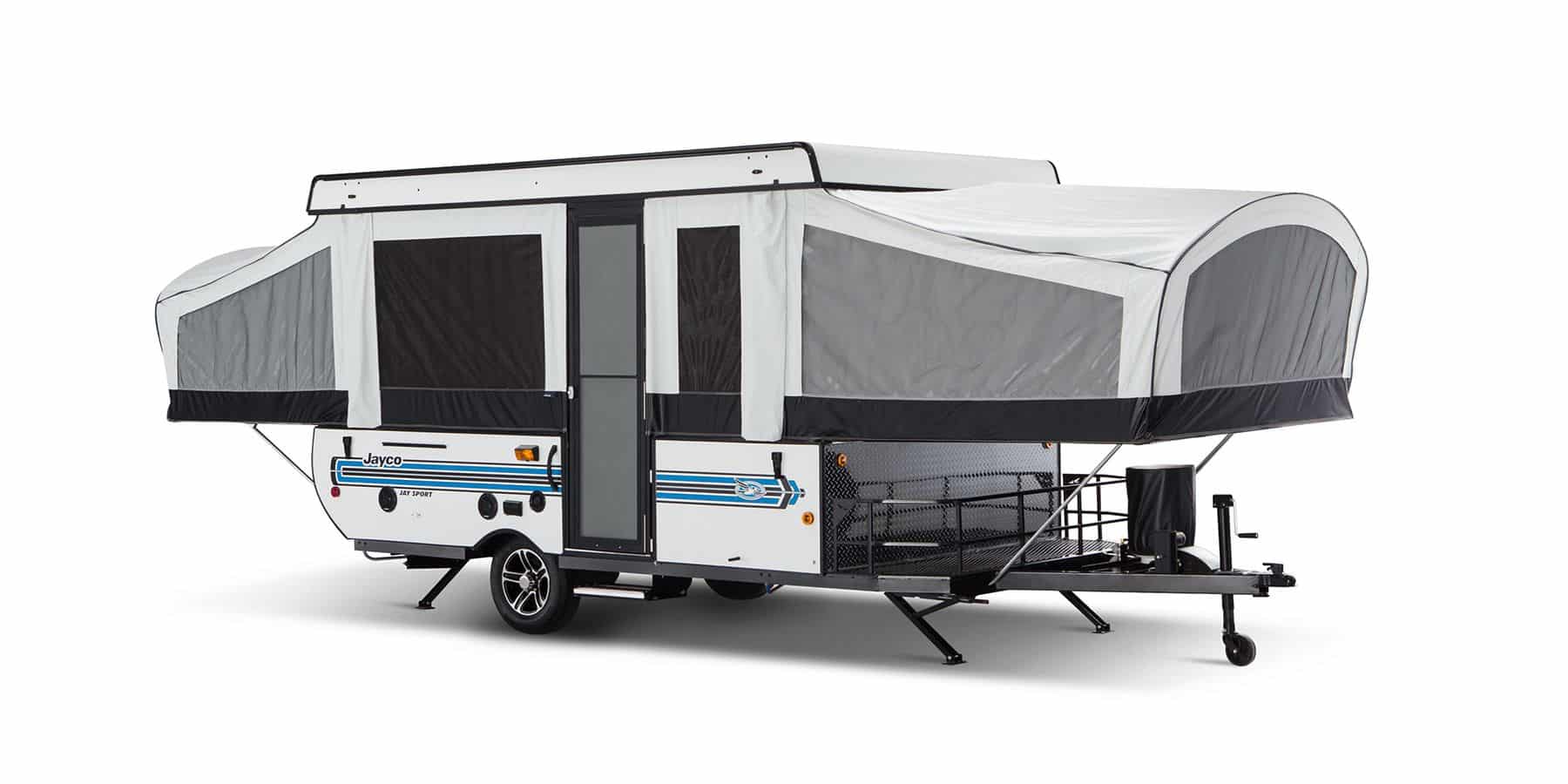 Quick Stats
If you're looking for a classy camper, the Jay Sport Camping Trailer will provide just that. 
How could you not want something that looks like this: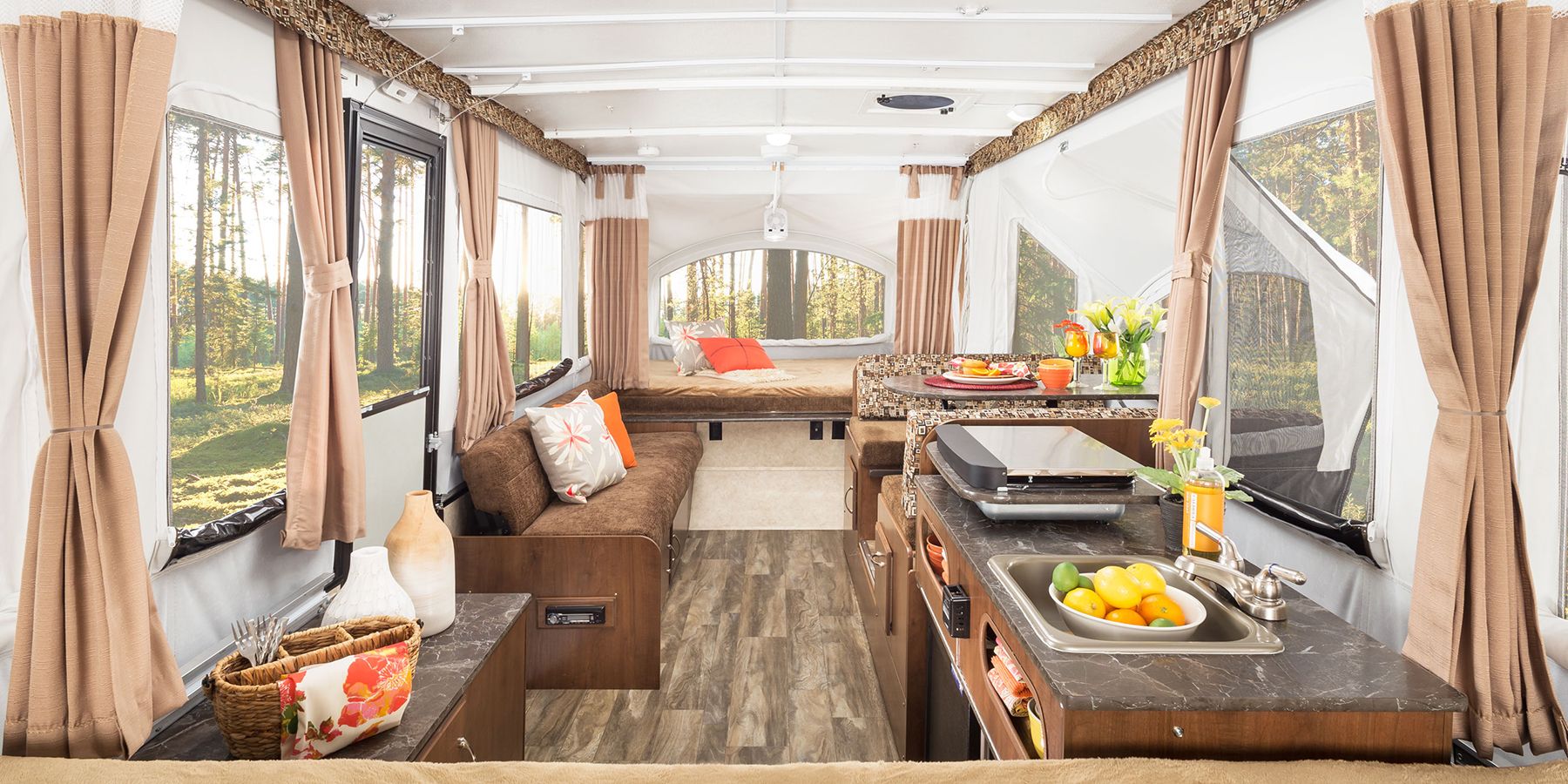 There might not be a built-in bathroom, but there is an exterior shower!
Check out what this mini pop-up camper looks like in this video tour:
6. Forest River Rockwood High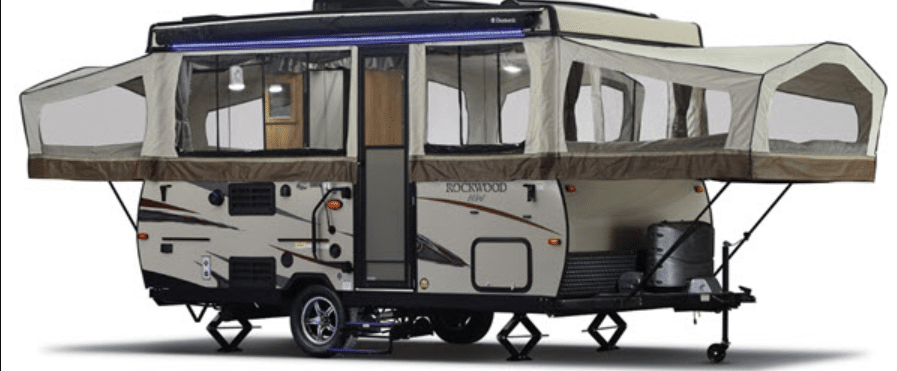 Quick Stats
The Forest River RV Rockwood High may sound like a high school found deep within the forest but it's a pop-up camper (that you can take into the forest).
Each Rockwood High model features a three burner glass top stove with oven, a microwave, a WiFi range booster, and much more! It's as close as you can get to the full living space of a class C motorhome in a pop-up camping trailer.
Plus, since Forest River is such a well-known brand, they have plenty of used pop up campers for sale on sites like RV Trader.
Take a look at the floor plan below to see how spacious these pop-up campers are: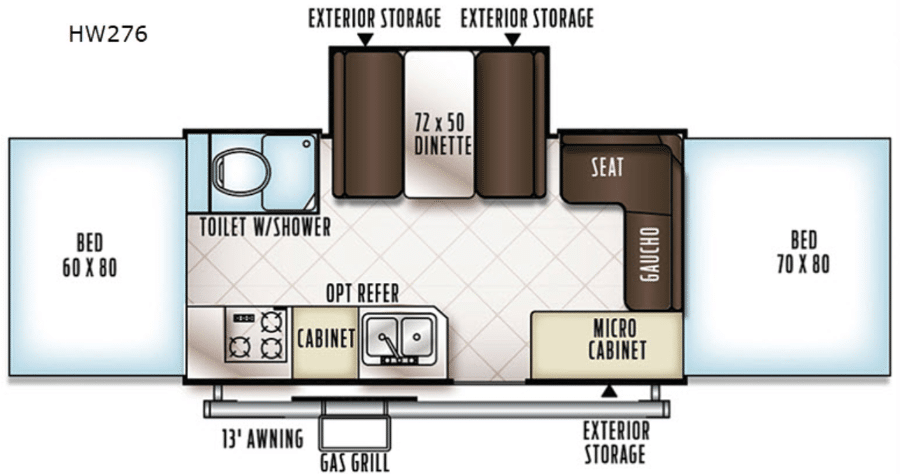 7. Coachmen Clipper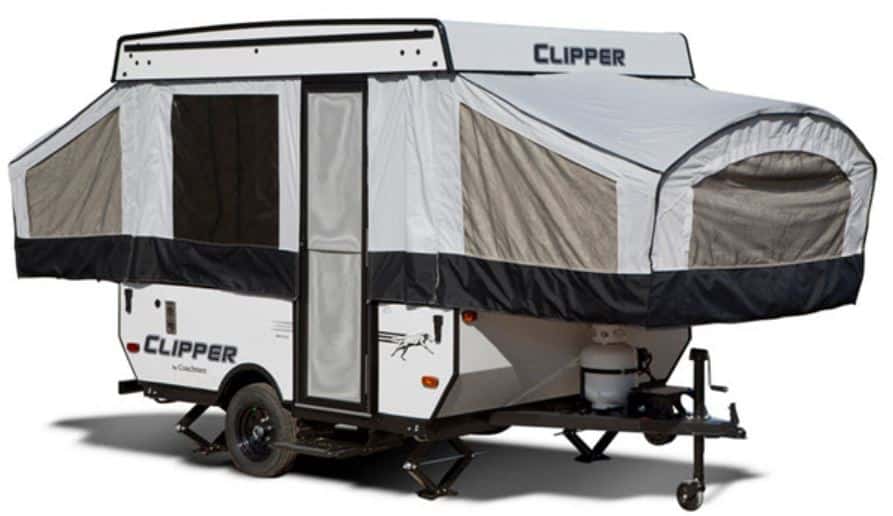 Quick Stats
We truly have nothing but good things to say about the Coachmen Clipper.
It's small (yet spacious) and is made with aerodynamic materials that make it a breeze to pull behind your vehicle. It's an excellent travel trailer thanks to it's low price and great features!
Plus, the hard top gives you the option to add air conditioning, if you want.
Rent a Camper with Outdoorsy – Ready to hit the road in an RV? Grab an RV rental from Outdoorsy for $50 off! Claim My $50 Discount
8. Trail Manor 2518 kB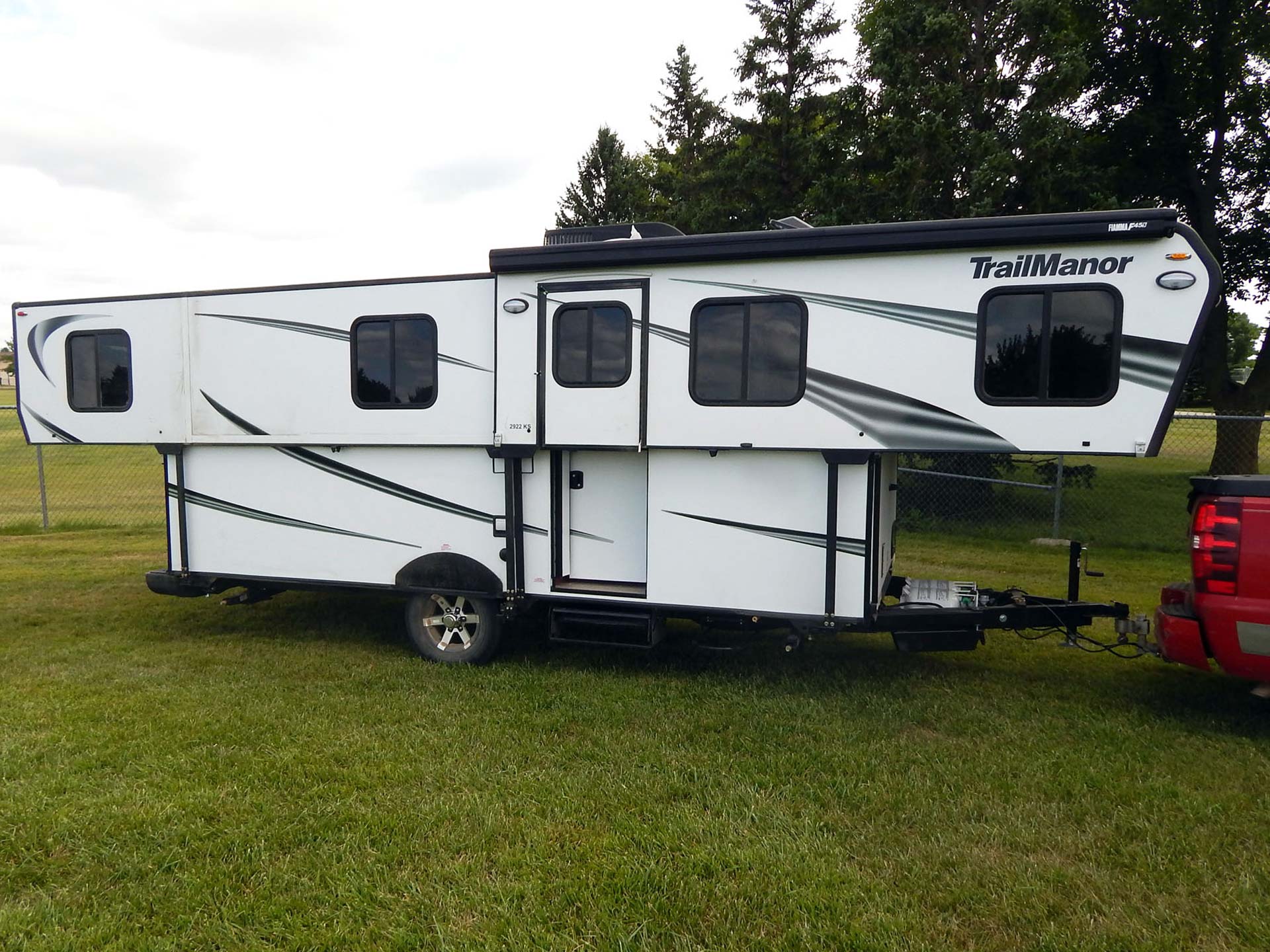 Quick Stats
The Trail Manor 2518 KB is a perfect camper trailer for small families-with three beds, and a kitchenette, what more do you need! This pop-up camper can even fit into any standard sized garage. 
Take a look at the floor plans and see what you think!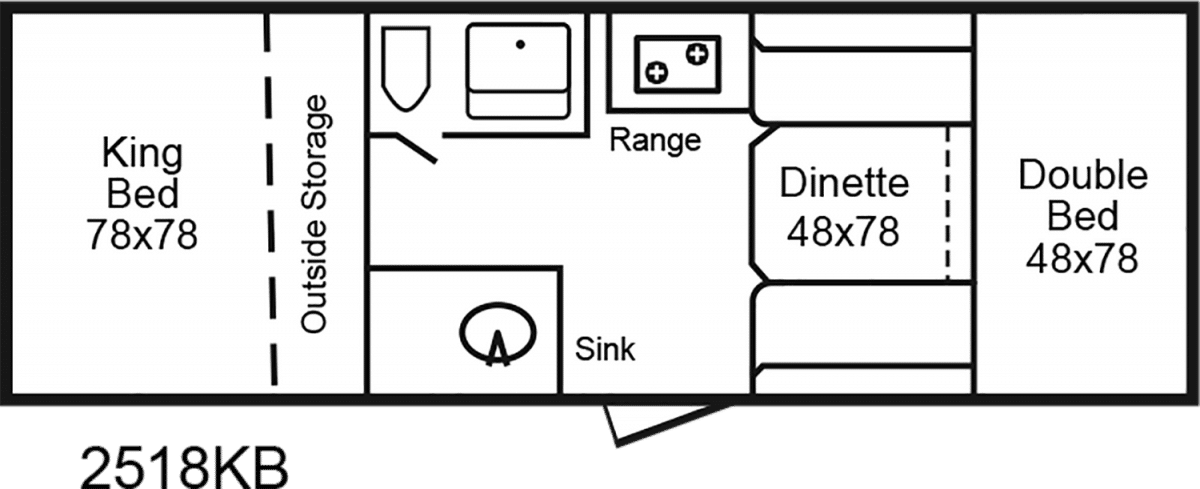 9. Aliner Ranger 12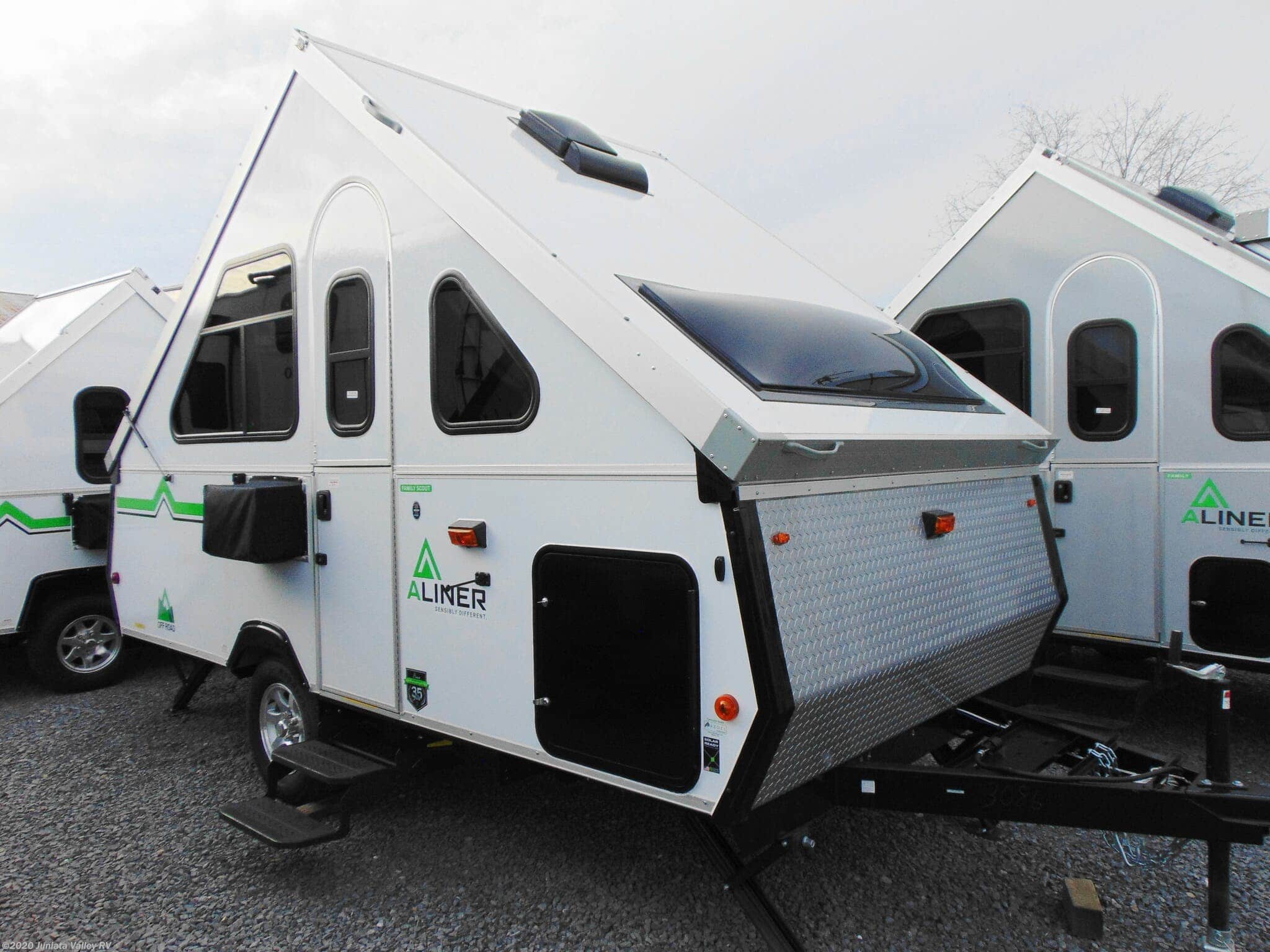 Quick Stats
Similar to the Forest River RV, the Aliner Ranger 12 is perfect for a couple and has plenty of space. With an outside shower, refrigerator, and built in stove top, this pop-up camper is very convenient in size and amenities.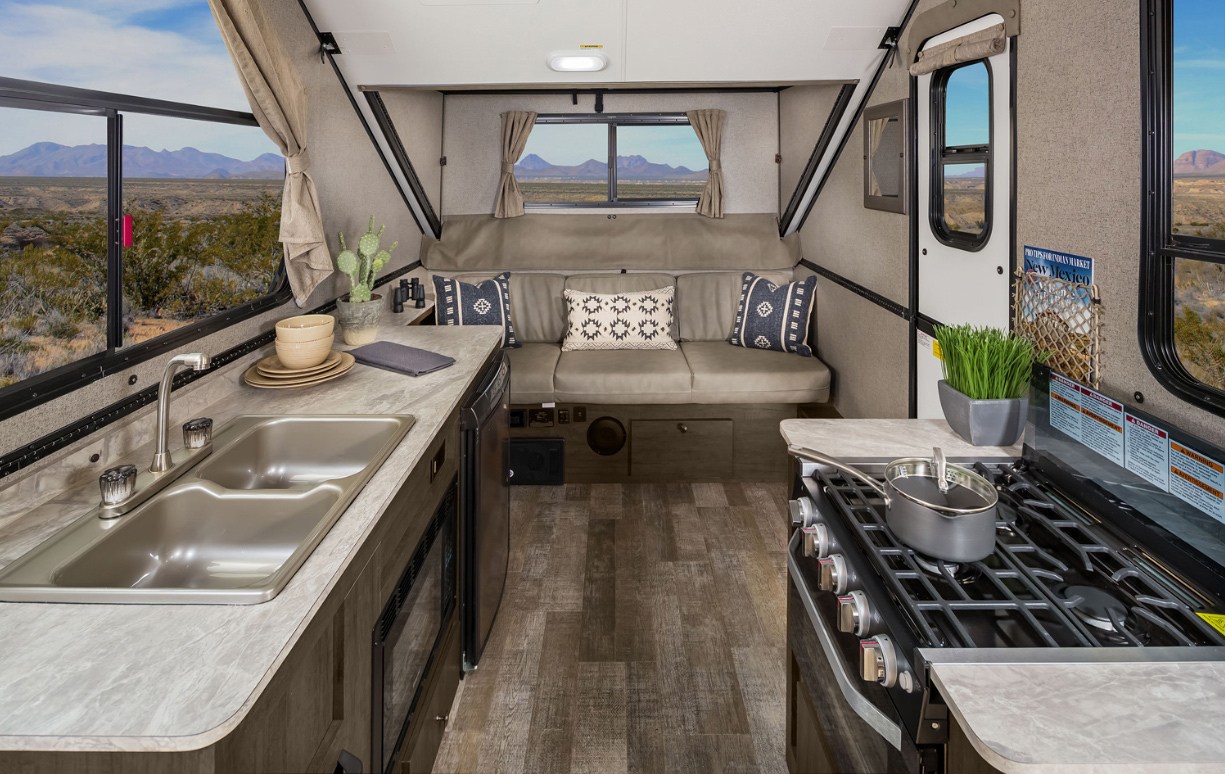 10. Opus Off Road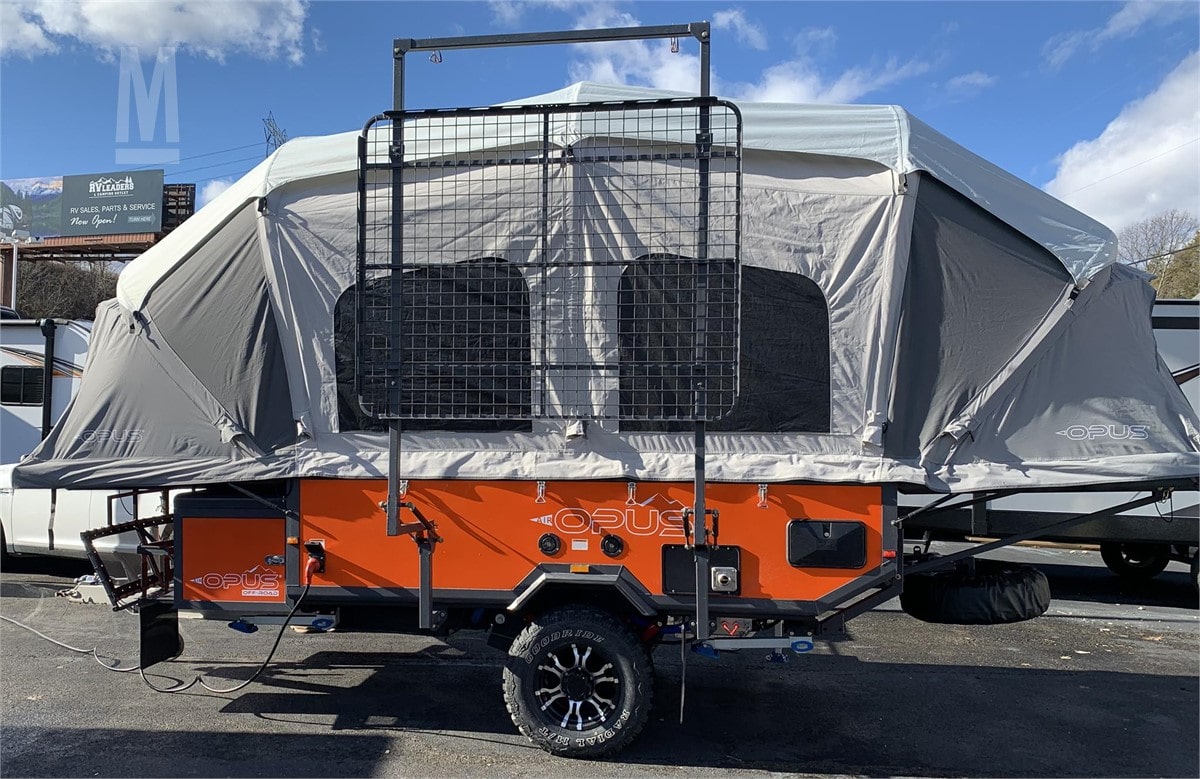 Quick Stats
The Opus Off Road pop-up tent trailers are completely unique.
This camper can travel anywhere from a campground to the middle of the mountains. If you like the feel of tent camping, but don't want to sacrifice the convenience of a travel trailer, then look no further!
See how awesome the inside of this camper is below!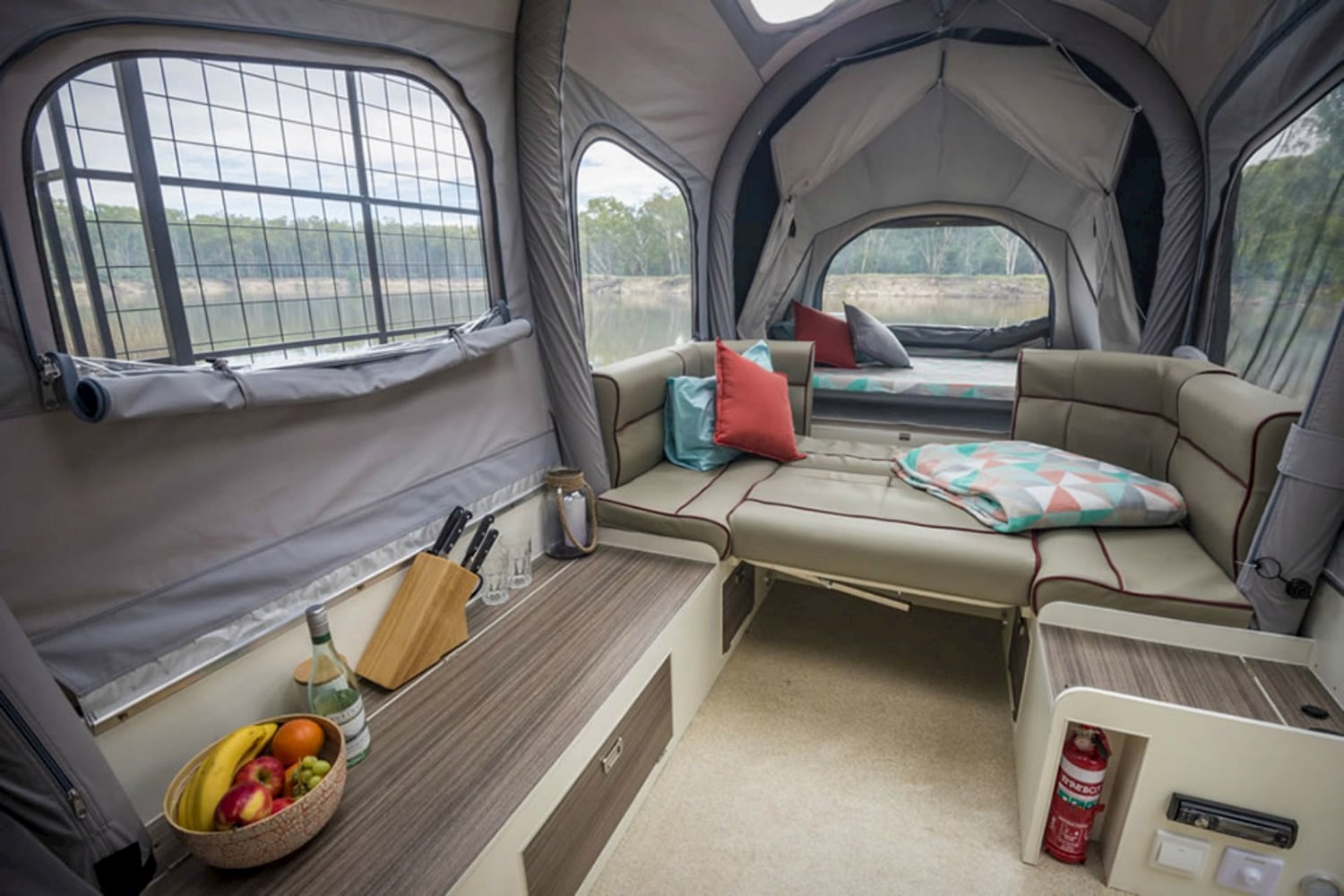 Rent a Camper with Outdoorsy – Ready to hit the road in an RV? Grab an RV rental from Outdoorsy for $50 off! Claim My $50 Discount
11. Turtleback Adventure Trail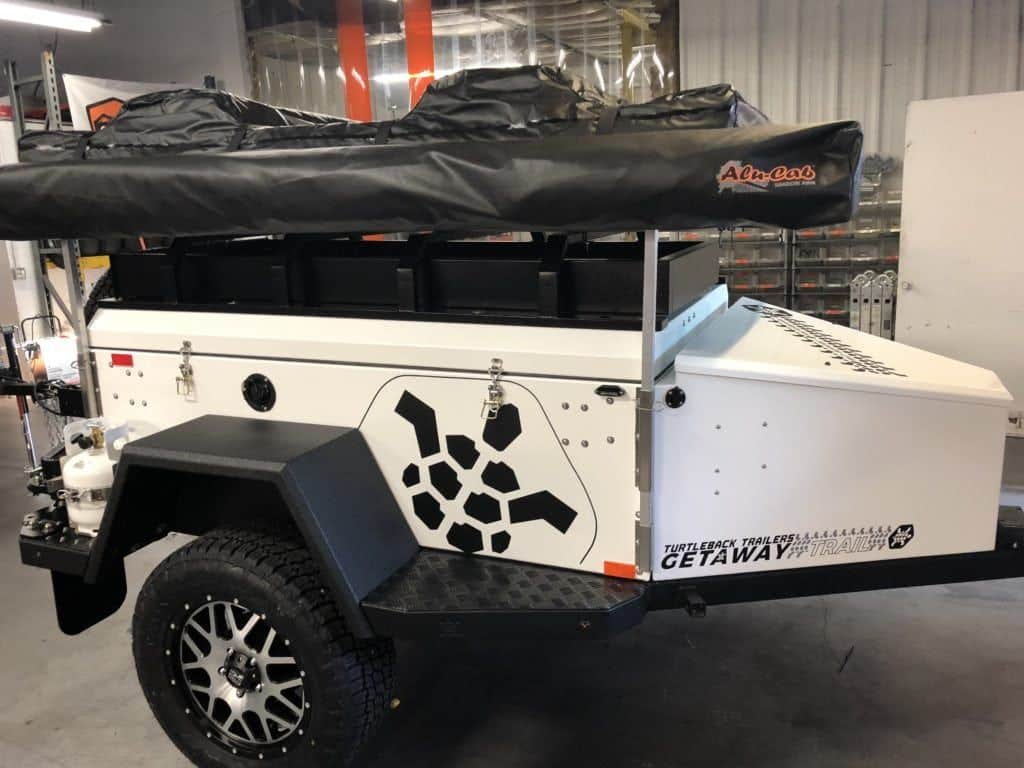 Quick Stats
The Turtleback Adventure Trail camper is completely customizable and comes with plenty of options to design it to your taste. From a mini kitchen to an extra roof tent for you vehicle, you can make it just perfect for you and your family.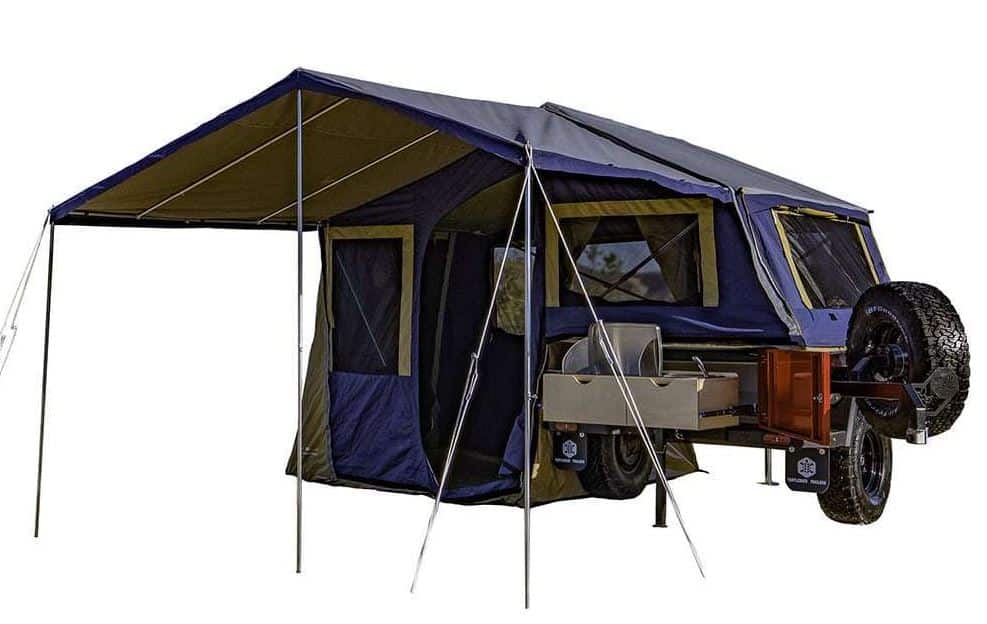 There you have it—the 11 greatest pop ups available in 2020 (so far)!
Are you getting an RV from this list? Or do you know of something better that's not here? Let us know in the comments below!
In the mean time… we hope you have a great camping experience!
What Are the Best Pop Up Campers?
Want a summarized list of what we believe are the best pop up campers from our list above? We've got you covered! 
Going in no particular order, we'd suggest:
Livin' Light Quicksilver 8.0
Jay Sport Camping Trailer
Aliner Ranger 12
Opus Off Road
Coachmen Clipper
All of these are incredibly spacious, perfect for one to four people, easy to tow, and some are even built for off-roading (we're looking at you, Opus Off Road)!
Which pop up camper is your favorite? Do you have personal experience with any of ours?
Let us know in the comments below!