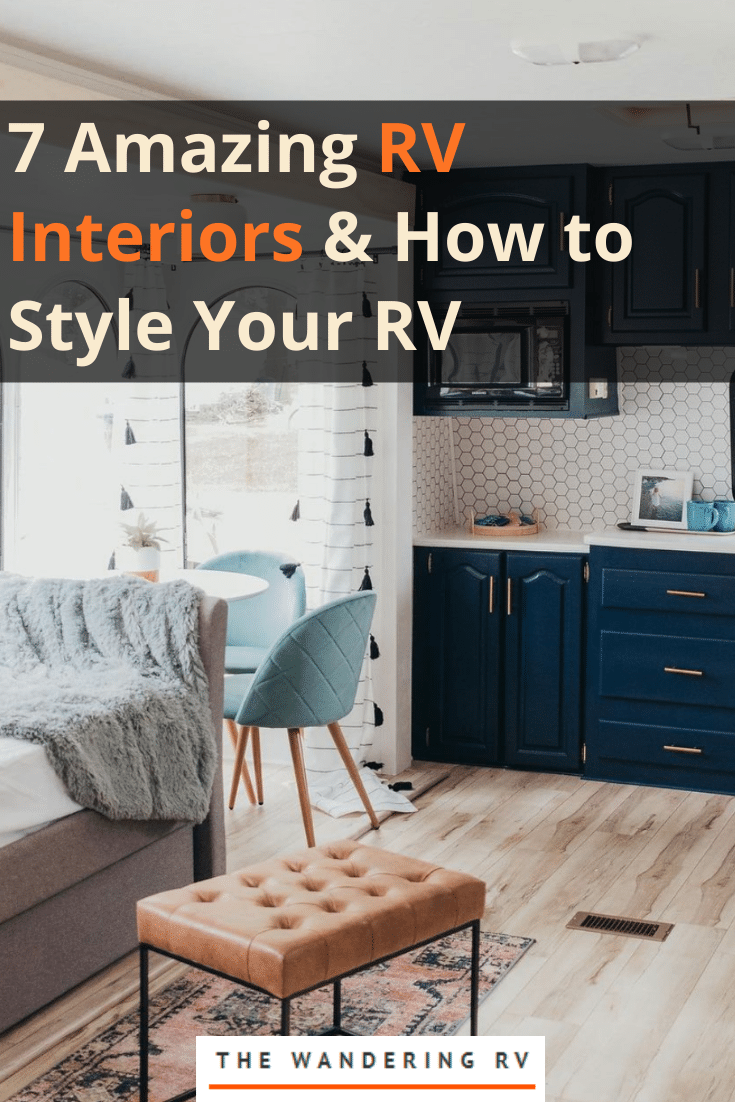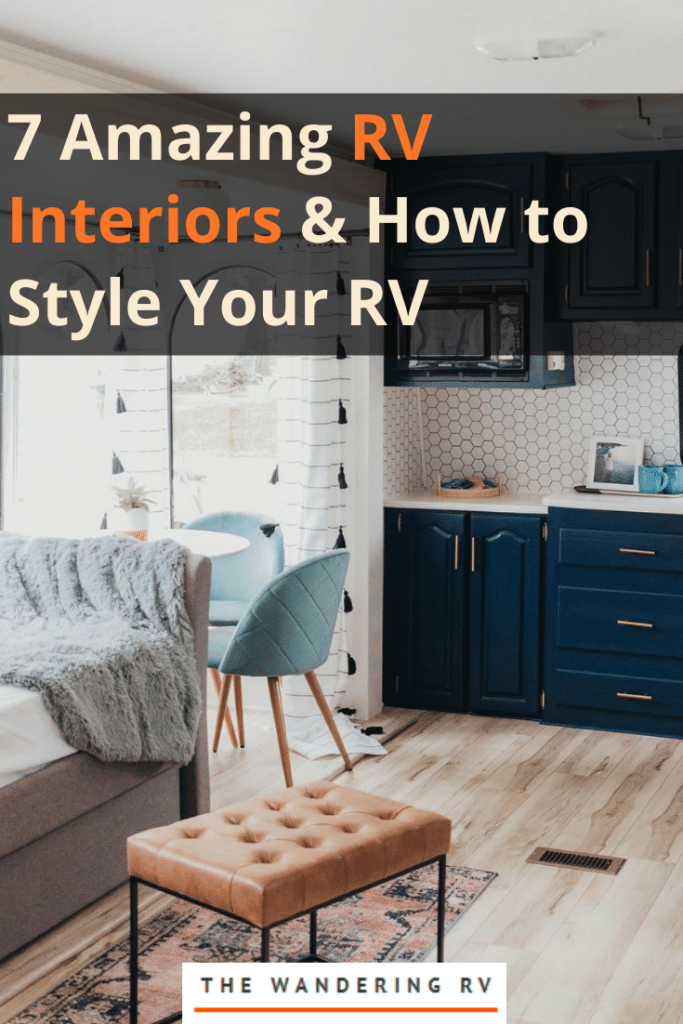 Looking for inspiration to spruce up your camper?
Whether you're looking to upgrade your own RV's living space or you're just bored and want to see some cool designs, you HAVE to see these jaw-dropping RV interiors.
Then at the end, we give some tips for you to spruce up your own RV interior and make it just as cozy (if not cozier) than the ones in these pictures!
Let's dive in.
Table of Contents
7 Gorgeous RV Interiors You HAVE to See
We found some of the most gorgeous RV interior designs out there and are excited to show you! The first four were renovated by RV owners and the final 3 are RVs you can purchase from dealers as they are!
From the accessories and appliances, the paint on the walls, the ceiling lights and doors, and all other elements, we're sure you'll be inspired! Let's dive in.
1. 2008 Thor Jazz Fifth Wheel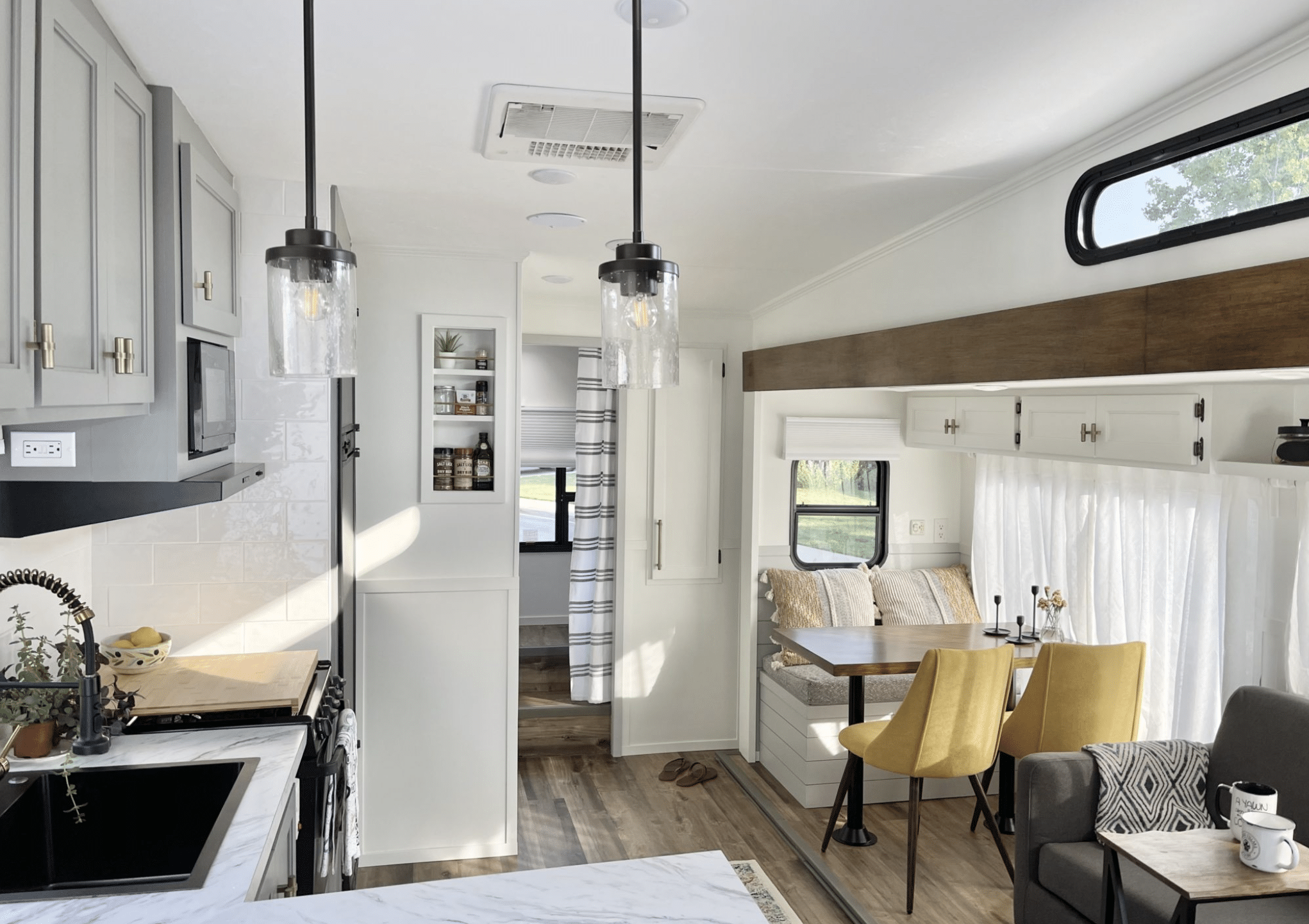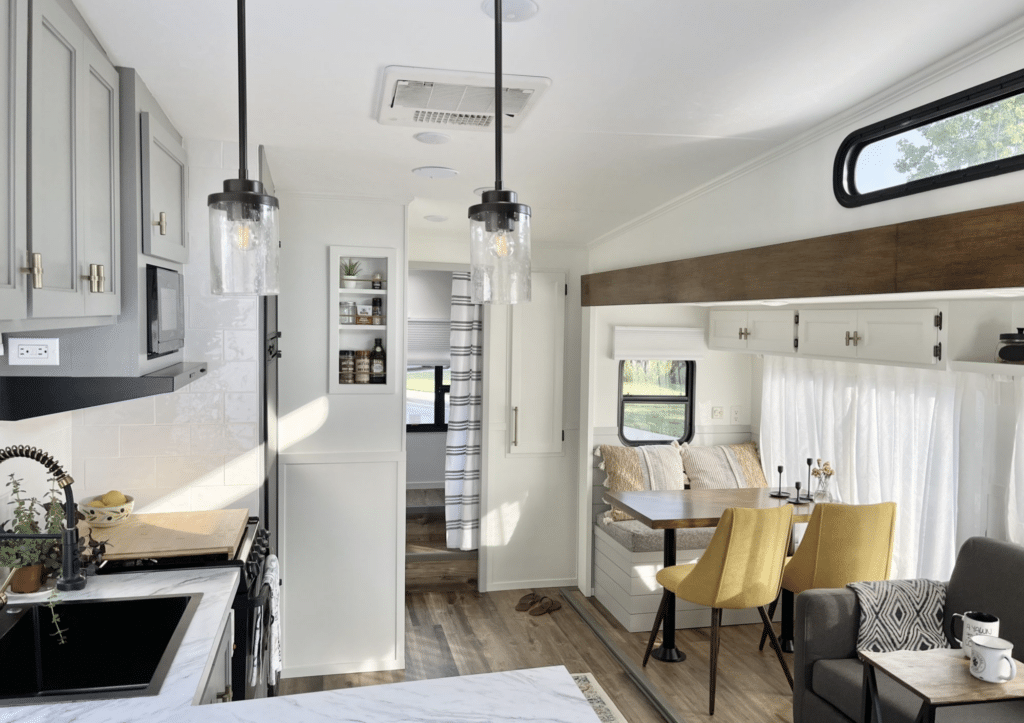 This gorgeous 2008 Thor was renovated by Ann and Tom from RVing Dogs and Wine. They went for modern accessories, hung some gorgeous light fixtures, and it's an interior that we cannot get over!
2. 1967 Kit Companion Travel Trailer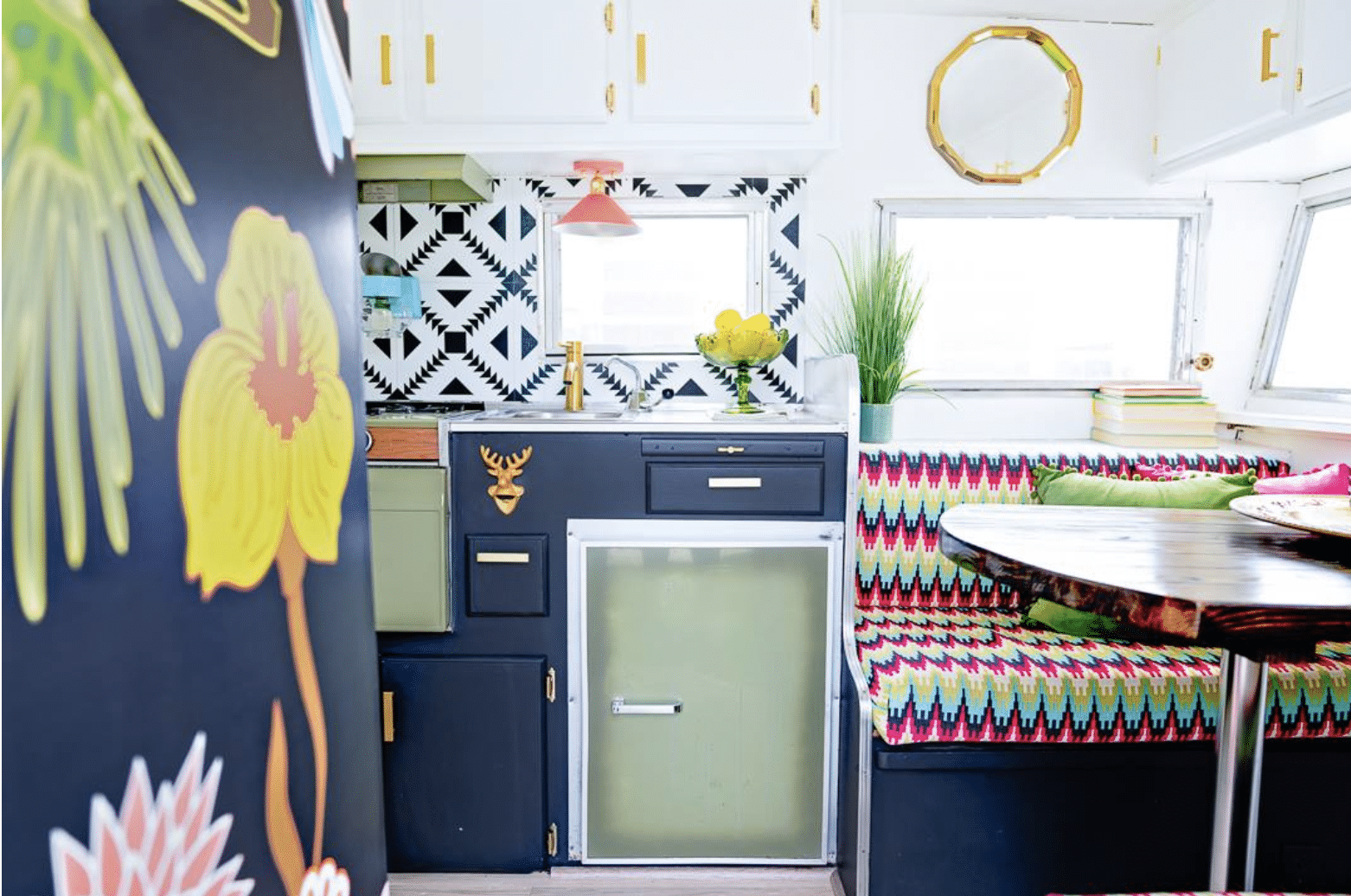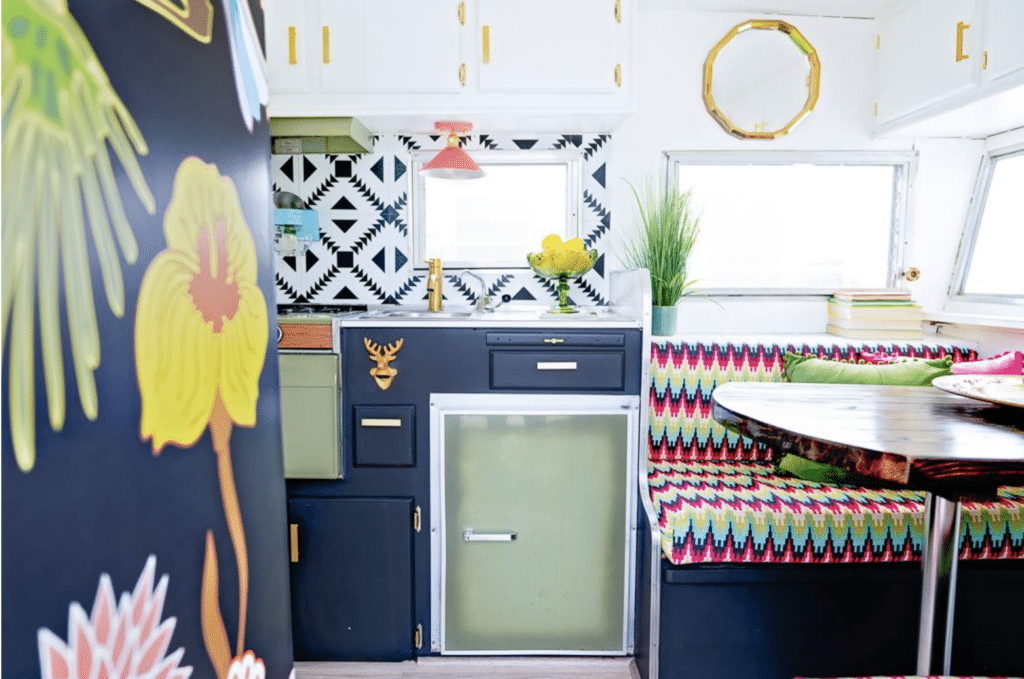 This vintage-inspired 1967 Travel Trailer will make any RV owner stare in amazement. It was renovated by Allison and her husband at the start of 2020 – what started as a quarantine project turned into a renovating obsession! Don't let this older RV fool you, the interior makes you feel like you're in a brand new RV!
3. Thor Citation Renovation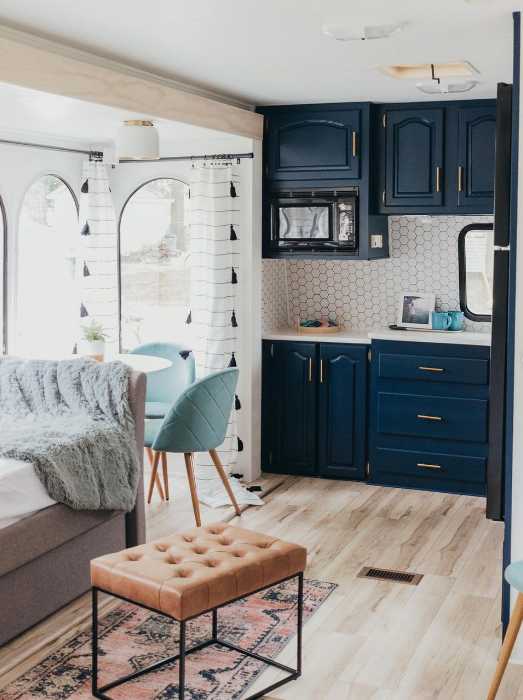 This camper renovation blew our minds – Sarah's vision for this Thor Citation is full of life! The layout of this RV was amazing to begin with (the amount of windows makes the space bright and helps the room to look bigger). Each wall is different, the furniture is cute and functional, and the accessories make all the difference!
4. 2000 Coachmen Catalina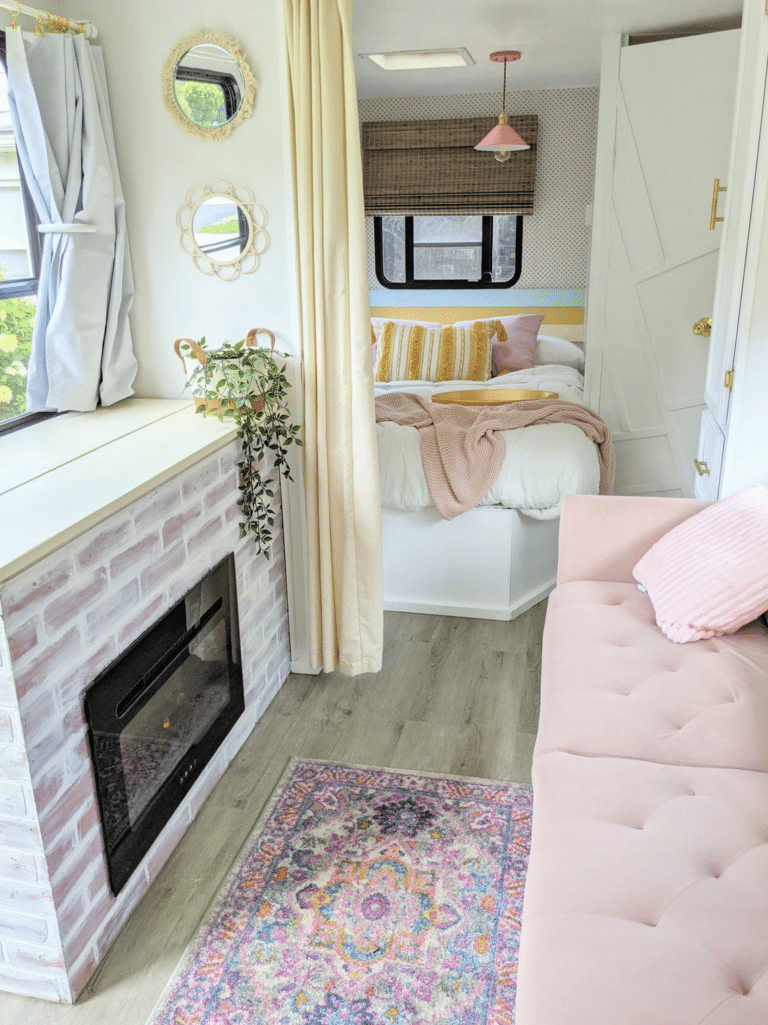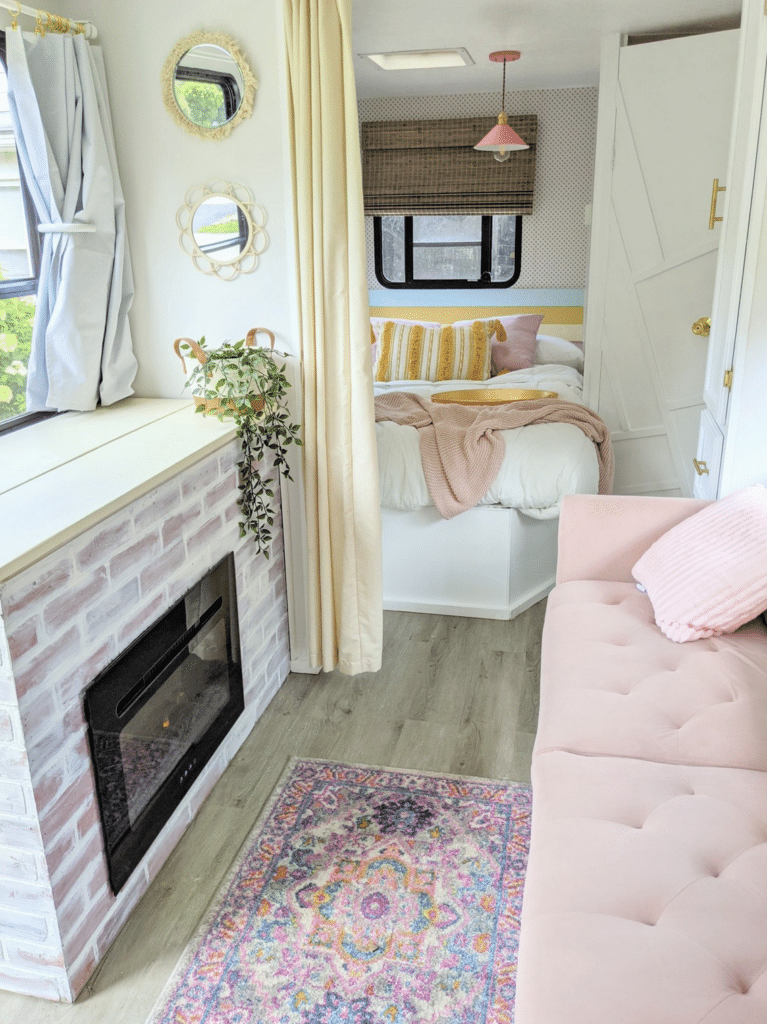 The interior of this RV is definitely a work of art! Sarah from All Things with Purpose did this renovation for a customer she found on Facebook marketplace and we're probably just as blown away as they were with the results. The furniture is gorgeous and it really shows how big of a difference accessories can make in a small space. Check out the door to the bathroom, too! This layout is fully functional and is blowing our minds.
5. Airstream Pottery Barn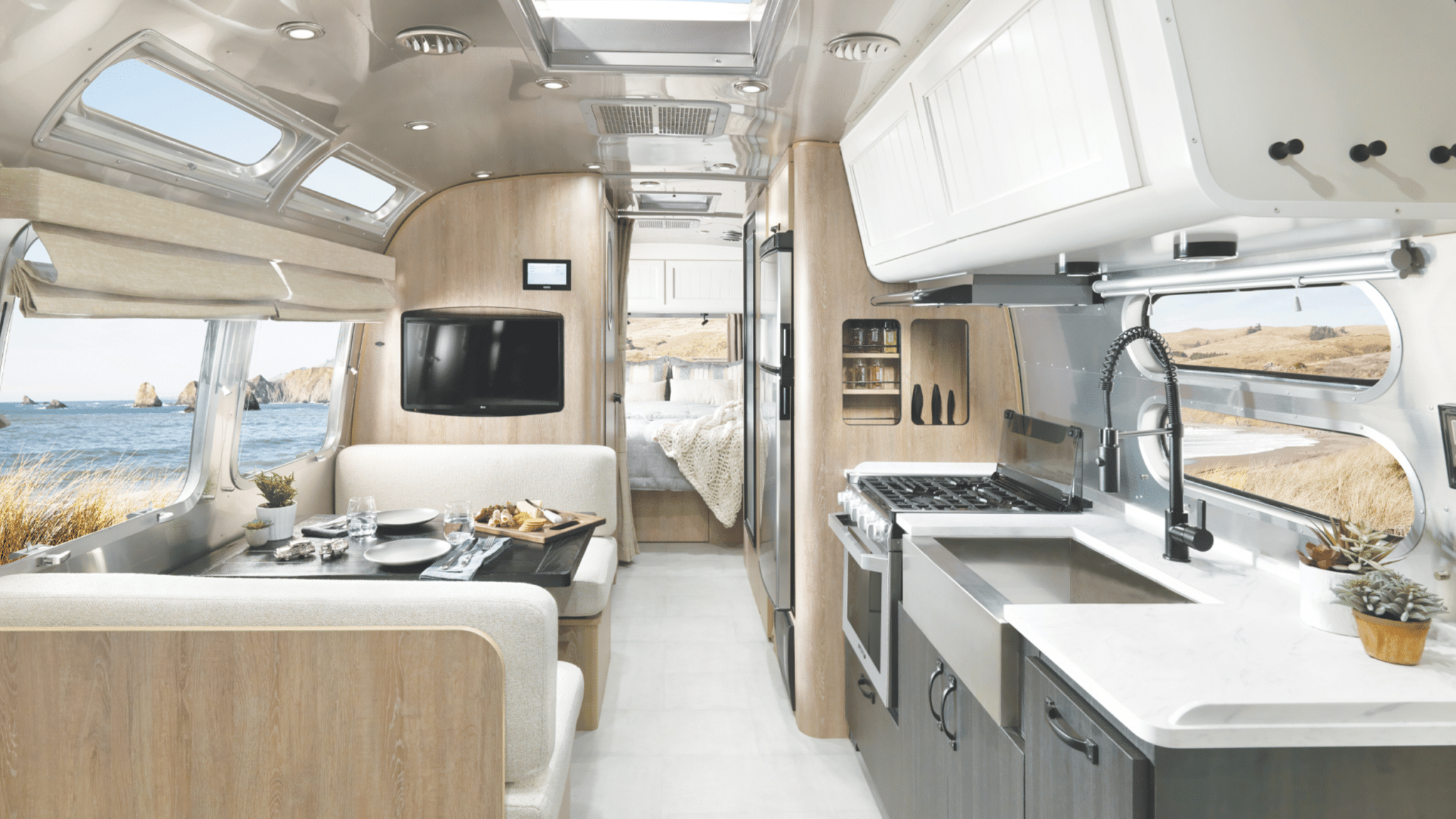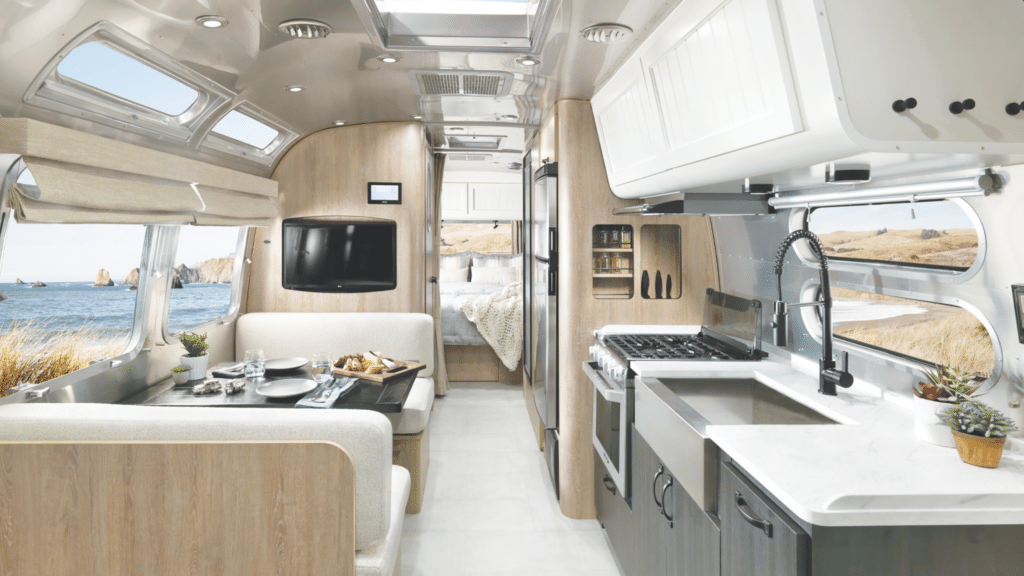 Airstream RVs are gorgeous. The Pottery Barn design is one of our favorites and it's easy to see why! The style of this vehicle is beautiful and the natural light coming into the RV makes the interior look phenomenal.
6. Jayco 2022 Alante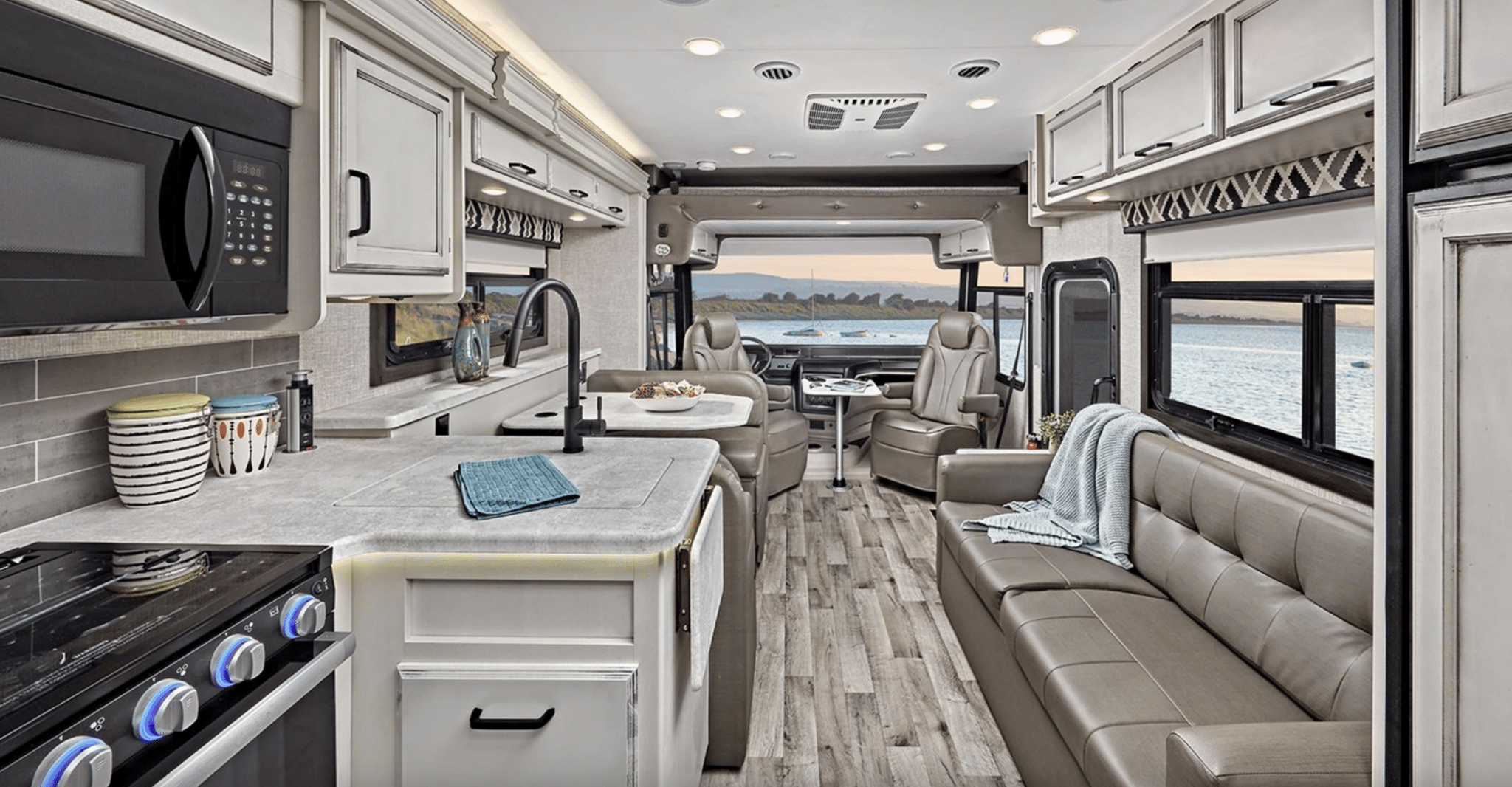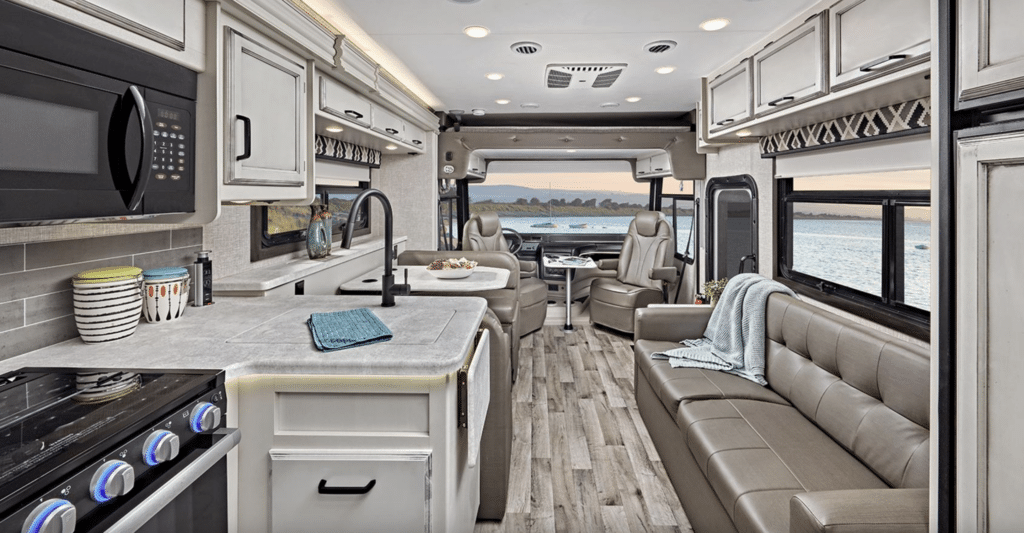 Jayco is known to have gorgeous campers, but the new 2022 Alante has so many elements that we love. From the amount of storage space to the interior of these RVs, it's easy to fall in love.
7. 2022 Winnebago Journey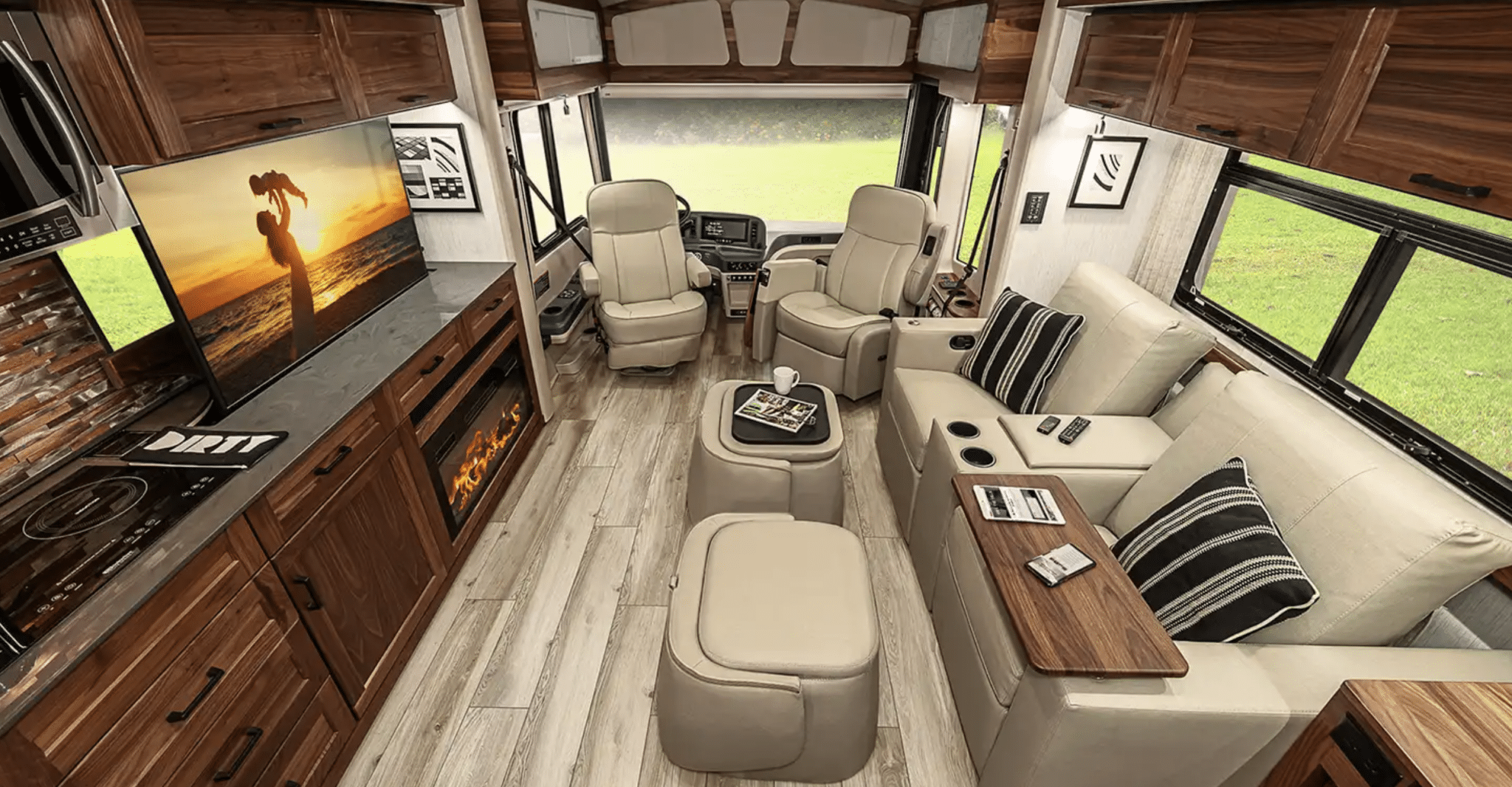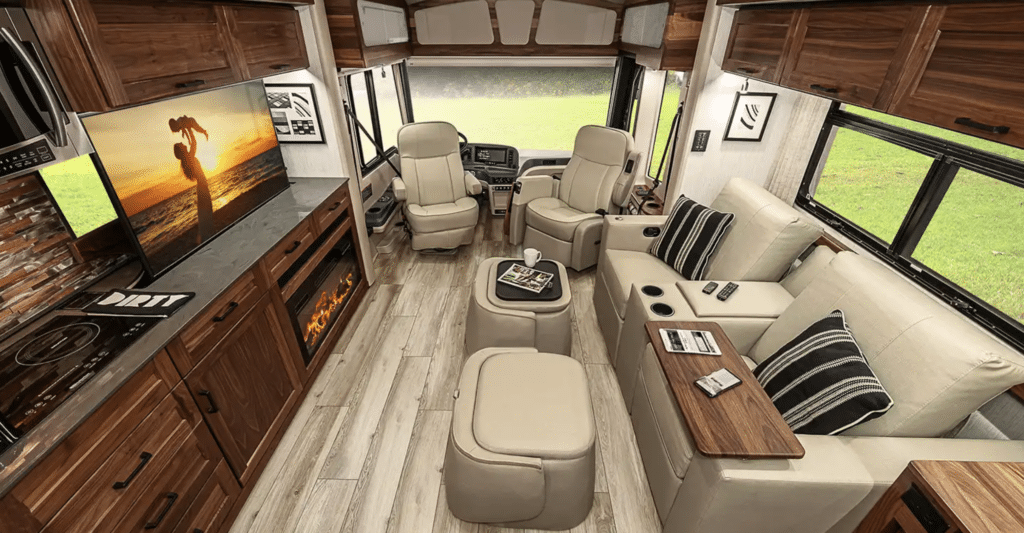 This 2022 Winnebago Journey was designed for luxury travel and entertaining. It features stylish, modern refinements from front to back and we love all of the elements in this camper!
How to Upgrade Your Own RV Interior
When it comes to upgrading your RV interior, there are a few things you need to take into account: the style of your camper, the type of furniture you want, and the materials you'll need.
Pick a Style
There are all sorts of different styles you can go for when remodeling your RV interior. Some popular choices include:
Contemporary
Modern
Rustic
Vintage
Bohemian
But really, the sky's the limit! You can choose whatever style speaks to you and makes you feel comfortable.
Order Your Materials
Once you've picked a style, it's time to order your materials. This can be done either through the internet or by visiting local home improvement stores.
If you're not sure what type of furniture or accessories you want, take a look at some online retailers or even Pinterest for inspiration.
Start Remodeling!
Once you've figured out your style and have the materials you need, it's time to start remodeling!
If you're not sure where to start, check out this video from Adaline Zook on YouTube! She fully renovated the interior of her RV and takes you through the entire process.
Frequently Asked Questions
Looking to stay up to date with the times? Check out these FAQs to keep your RV modern!
Pro Tip: You can find inspiration on Pinterest to update the functionality of your rooms, how to rearrange your furniture, different appliances, how to update your cabinets, and more!
Is it hard to remodel a camper?

It can be a bit tricky to remodel an RV, but with the right instructions, it's totally doable. There are tons of resources on YouTube and Pinterest to help you redesign the interior of your RV!
How much will it cost to remodel an RV?

This will vary depending on the size of your RV, the type of materials you choose, and how much work needs to be done. As a general rule, expect to spend between $2000-$5000 on a full remodel.
Can I paint over the wallpaper in my RV?

Yes, you can paint over your RV's wallpaper. However, it's generally recommended that you sand the surface down and use a primer before painting. Painting is a great way to get the color scheme you want for the interior of your rig!
Can I use wallpaper in my RV?

Wallpaper is a great way to add some personality to your RV interior, but it's not recommended for everyone. Some people choose to use wallpaper because it can be easier and less expensive than painting, while others find that it can be difficult to remove if they decide they don't like it later on.

Think about how pretty you can make the RV kitchen look with a bit of luxury wallpaper! The difference in the atmosphere will make your space feel more modern (and it's always fun to decorate).
What is the best RV furniture?

This really depends on your individual taste and what type of look you're going for. However, some popular choices include:

Sofa beds
Ottomans
Tables
Cabinets
Ceiling lights
Kitchen cabinets
Curtains
Appliances
Chairs
New light fixtures
Can I hang items on my RV walls?

Yes, you can hang items on your RV walls as long as you use the proper anchors and screws. Just make sure whatever you're hanging is lightweight and won't cause any damage to the wall. Accessories make your RV look incredible – don't shy away from them!
Can you put screws in RV walls?

Yes, you can put screws in RV walls as long as you use the proper anchors and screws. Just make sure whatever you're hanging is lightweight and won't cause any damage to the wall.

We hope this article gave you some inspiration for your next RV interior remodel! Whether you have a small motorhome or a large RV, there's something for you here.