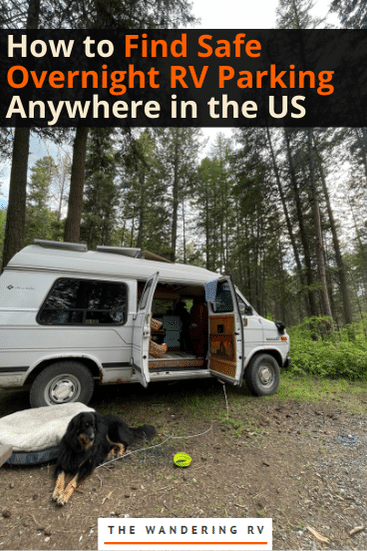 One of the challenges of RVing is finding safe, legal overnight parking spots to rest and take a break during long road trips.
Some RVers will tell you that booking a campsite or RV park months ahead of time is best—if you plan on staying in a highly popular spot, that's usually sound advice.
But sometimes you just want to find a quick place to lay your head in between destinations. You don't want to plan every single stop on your route. And you want beautiful, free camping!
So how do you find free RV parking on a whim? Well, let me tell you how!
Table of Contents
Safe & Free Overnight RV Parking Options
When all you want is a spot to park overnight and rest for a few hours, exclusive campsite charges hurt even more. There are secure areas to camp for free all around the country—if you know where to look. In fact, knowing where you can park overnight for free is an essential skill for any RV-er or van life-er.
BLM Land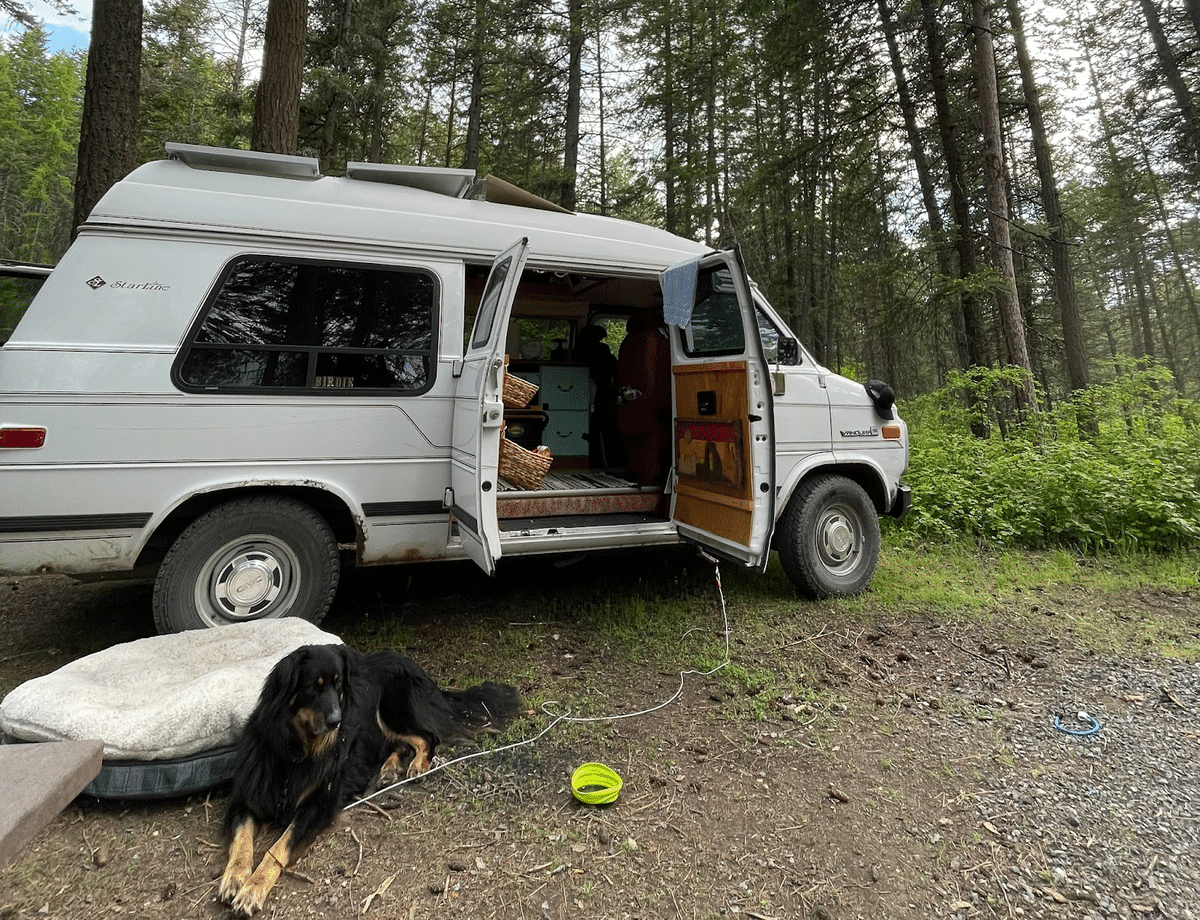 For details on how to park and where to find BLM property, see the Bureau of Land Management (BLM) or National Forest websites. Depending on the type of property and the restrictions that apply, it's pretty common to be able to stay in one of these locations for up to 2 weeks.
BLM lands are owned by the Federal Government and many of them allow free RV parking. These scattered camping places are particularly common in the Southwest. Many BLM lands are located in beautiful regions, so you may end up staying longer than you anticipated!
Although there are usually no showers or power hookups (which means you'll be boondocking), these places are often calm, tranquil & breathtaking. They are my personal favorite spot to spend a night (or a few!).
Business Parking Lots
There are a lot of businesses that have parking lots that become vacant overnight. Try listing privately-owned businesses like departmental stores, large furniture marts, supermarkets, or cinemas.
If you arrive at the location at a decent time, you can try walking into the store and asking for permission. You can also try calling them in advance and asking if they allow overnight RV parking.
Here are some of the common business parking lots which allow free overnight RV parking:
Walmart Parking Lot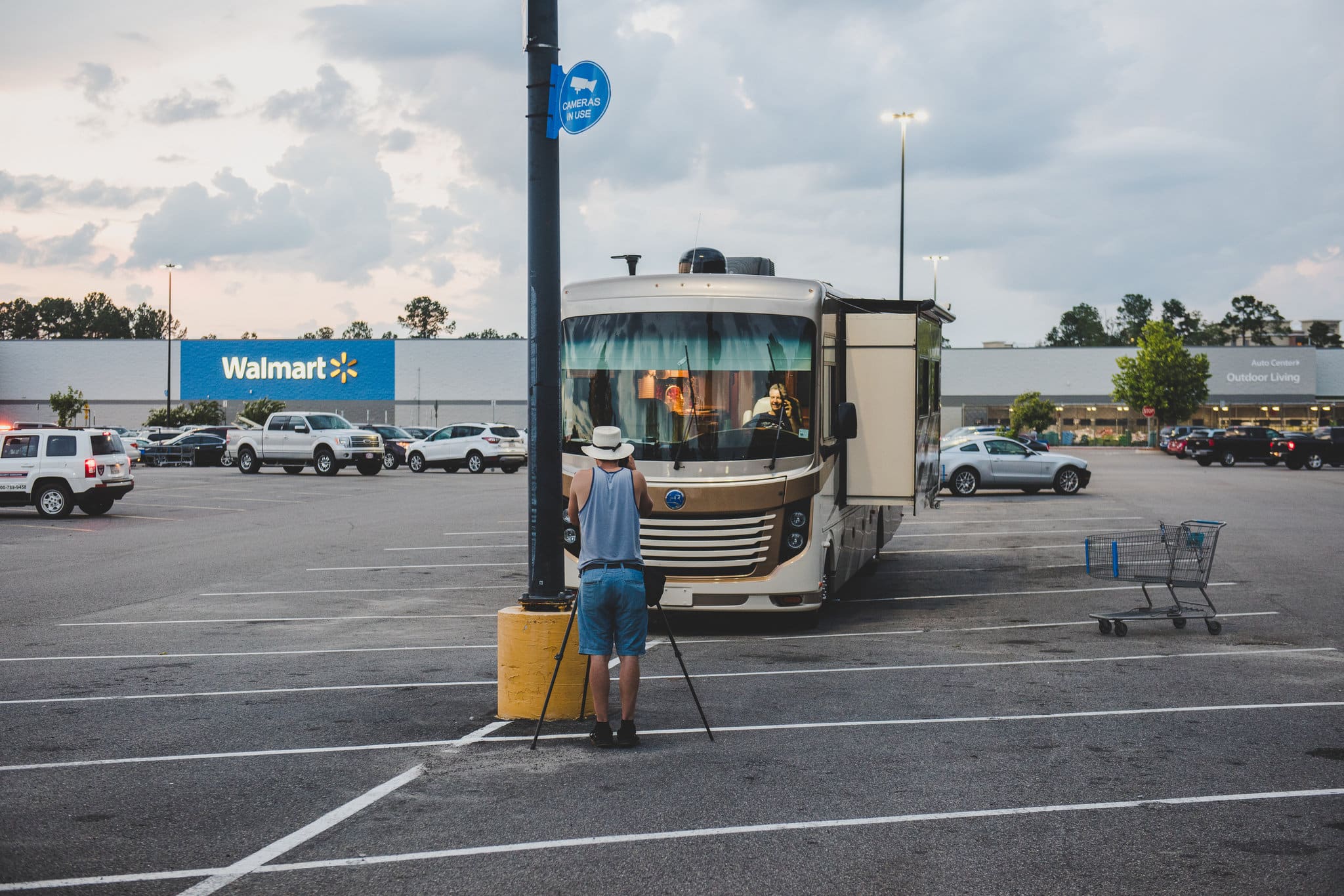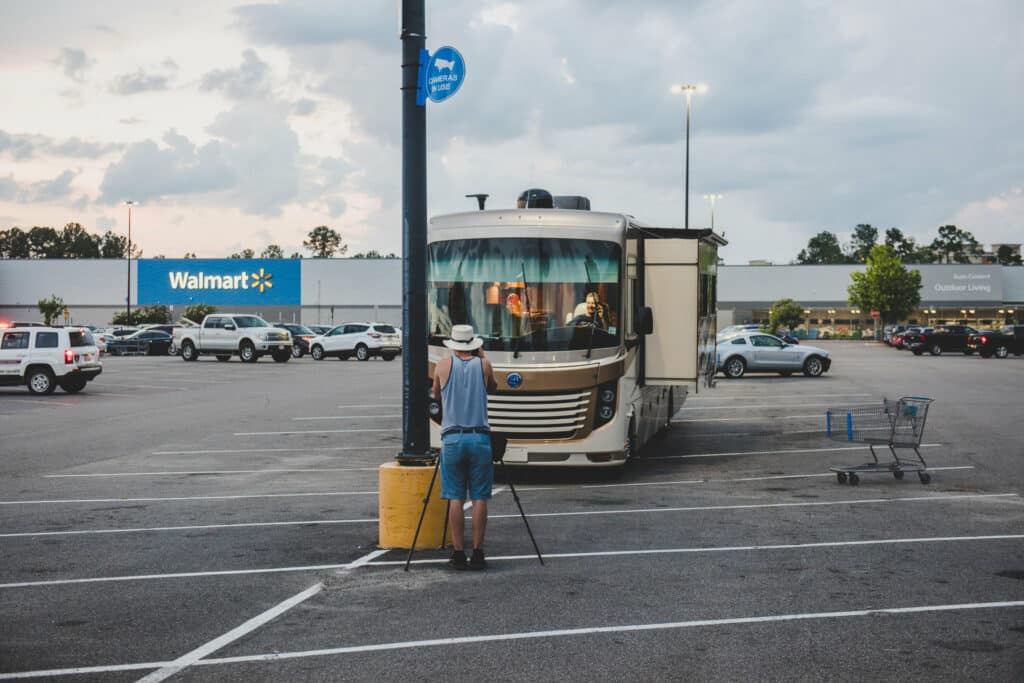 The Walmart parking lot seems to be an old reliable for free RV overnight parking. While they are a good option, it is generally loud and brilliantly lit throughout the night. However, Walmart parking lots are usually secure and offer abundant parking spaces. Another pro about parking at Walmart is that you can stock up on food, groceries, or any other time you may require for the road.
Cracker Barrel
Most Cracker Barrels are RV-friendly, with specific free RV parking areas and 24-hour supervision, which can be particularly appealing to women traveling alone. While not as common as Walmarts, a Cracker Barrel does not ask you to 'check in' or phone anybody before staying there.
Casinos
Most casinos also offer free overnight parking. Some may charge a nominal fee if a significant event, such as a concert or comedy performance, is taking place. However, it would be best to exercise caution in terms of security because such locations can attract shady individuals.
Cabela's
We stayed in some really nice Cabela's parking lots before. They often have added benefits like a pet area and potable water, which is always helpful!
Regardless of the business you choose, try to be respectful, remain no longer than a night or two, and avoid littering around the place. It's worth noting, though, that this guideline does not apply to all privately owned businesses, so it is advisable to call and check. Out of Walmart's 4000 retail locations in the US, 3000 allow free overnight RV parking.
Urban Stealth Camping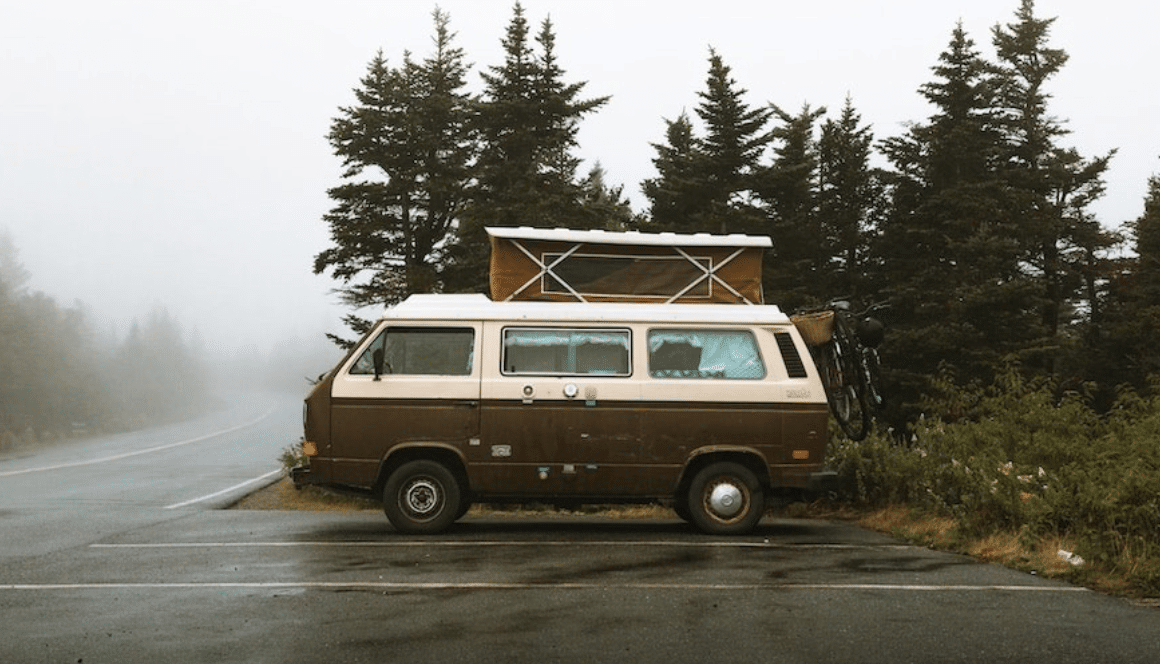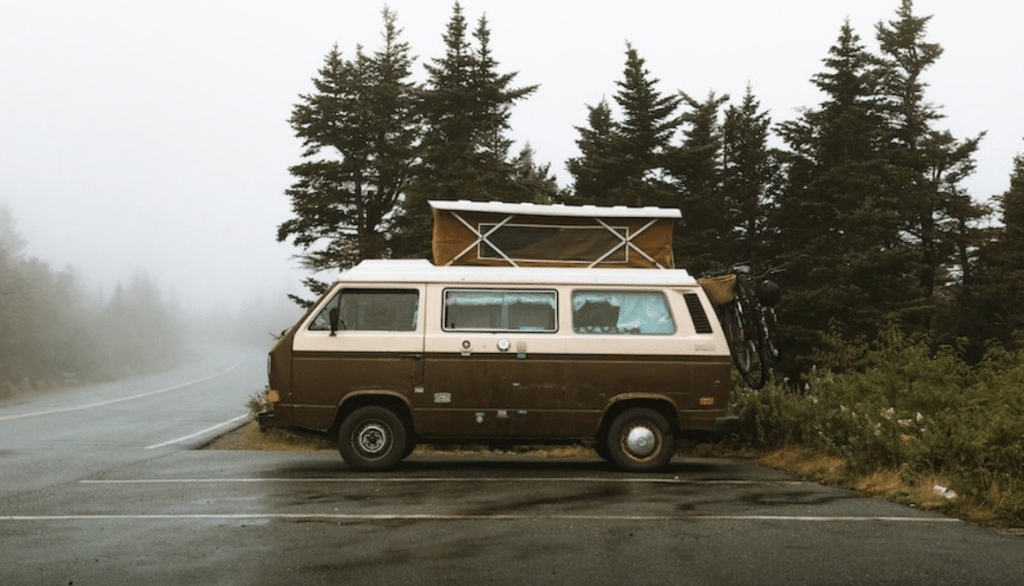 Camping without being noticed is known as stealth camping. The secret is to arrive late at the area and leave early the following day to avoid being spotted. You also don't want to leave any evidence that you were present. You may also achieve this by sleeping (and living) in areas that aren't the traditional ones that your neighbors would anticipate.
Stealth camping is done for two reasons mainly:
Full-time van dwellers whose presence isn't always welcomed in larger cities and towns, so stealth camping enables them to blend in.
Travelers who choose to be more discreet in cities and the outdoors have more privacy and protection.
Just be wary of local laws. In some cities, such as Olympia, WA, allow people to sleep in their campers on the street. In others, it is considered illegal or unlawful and you can get asked to move, or worse.
Rest Areas
When traveling, you will always notice rest stops on the way. Search ahead of time to find out which rest areas have parking lots that you can utilize. Some parking lots allow overnight parking, while others do not. Even if they don't, you can probably pull in and rest for a good few hours in an urgent situation.
Rest stops are usually well lit, and you will also get access to bathrooms. One disadvantage, however, is that you probably won't find these areas equipped with good surveillance. If you feel unsafe or iffy, it may be better to leave.
Free RV Parking Do's & Don'ts
A lot of places give access to RVs for free parking. Using the facility, especially if it is free of cost, mandates certain behavioral rules you must follow.
Dos
Park in residential spots
Keep the blinds down
Stay alert
Leave no trace
You can park in residential neighborhoods because they are usually quiet and secure. The only issue is how welcoming the neighborhood is—there is a chance they will get suspicious and call the cops on you.
Keep your blinds drawn to avoid attracting unnecessary attention to yourself. If you want them up, park in a well-lit space that doesn't make your RV look like a beaming star from afar.
Regardless of how safe you think your parking area is, you must always stay alert and conscious of any background noise or movement around your vehicle.
Read our RV safety tips for more info.
Don'ts
Do not park near schools
Do not become a nuisance
Do not overstay
Do not litter
Park away from schools and playgrounds. You may be aware that you are not planning anything nefarious. Others, however, are unaware of this, and parents are understandably concerned about their children's safety.
Do not abuse the facility you have been provided with, and be wary of the environment and the people that reside around you. Avoid causing a commotion by using a generator late at night, playing loud music, or leaving your litter behind.
Whether or not someone asks you to leave, it is good practice to not stay longer than necessary.
Other Overnight RV Parking Options
Now that you have gone over the free overnight RV parking locations, here are some other overnight RV parking options you can pay for. You might not find space or permission to park freely, and in such cases, it is good to know backups, even if they come at a cost!
Campgrounds & RV Resorts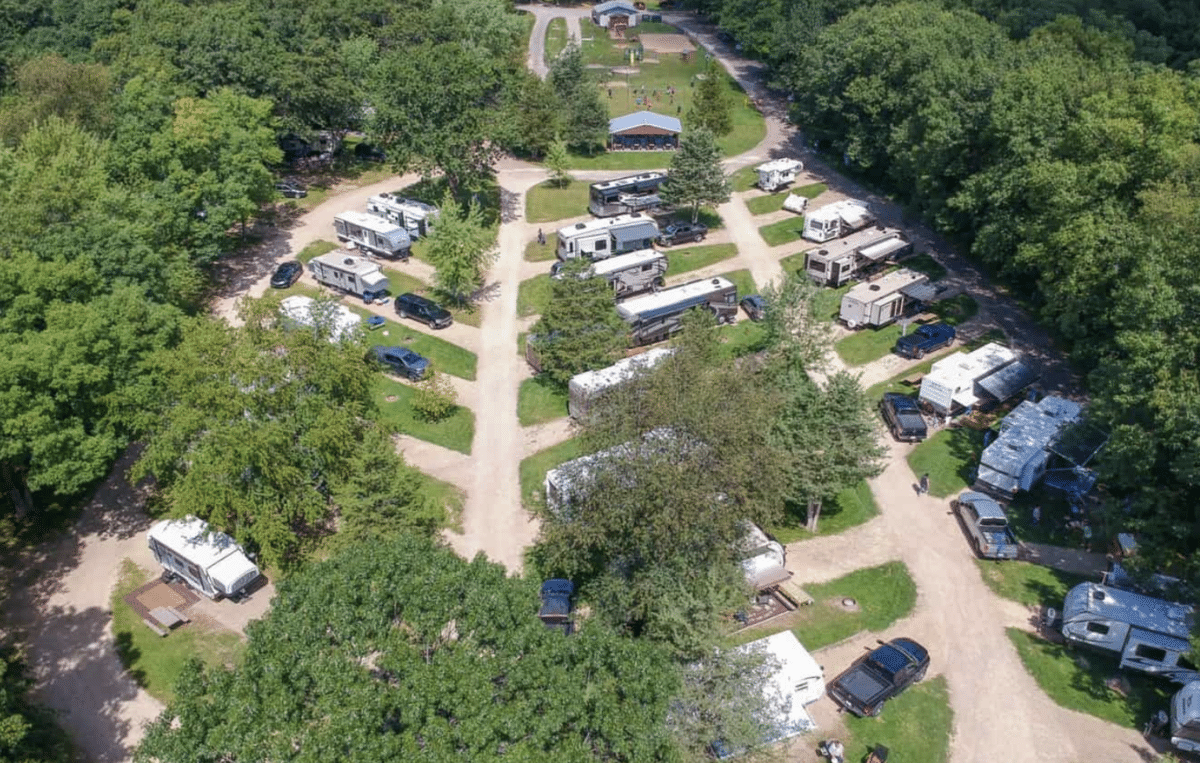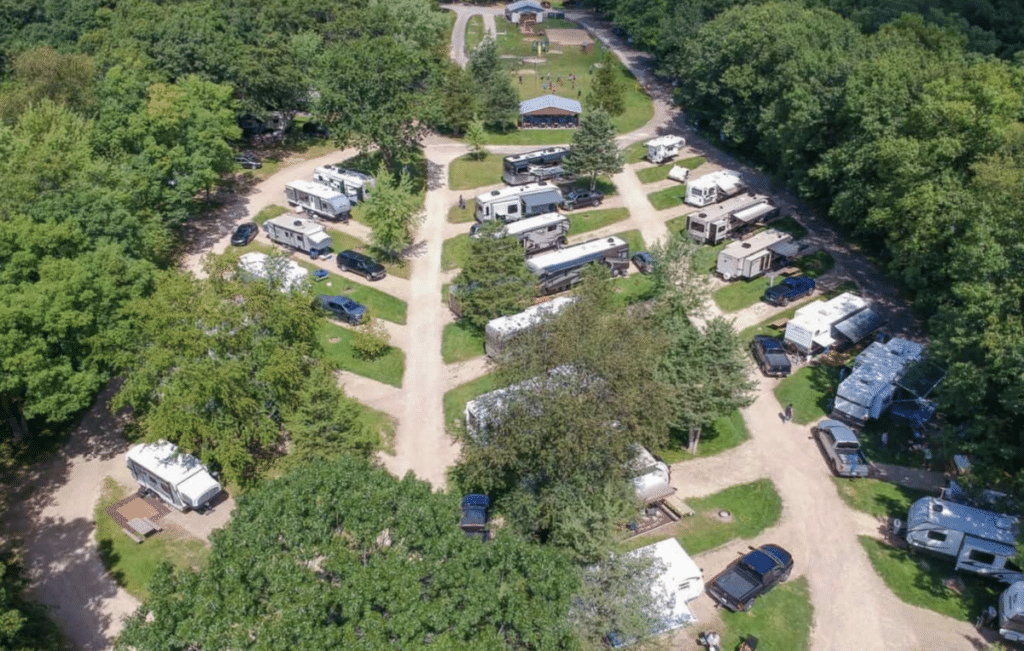 You can expect a few more amenities than you would find at most free RV parks when you pay to stay at a campground. They often include cable TV, free wifi, a clubhouse with showers, coin laundry machines, and other amenities. Resort RV sites are often spacious, and some of them also provide bus services to local attractions.
Check out our list of the 98 best luxury RV resorts, parks & campgrounds in America here.
National Parks
This is especially enjoyable for nature lovers who want to spend the night in a peaceful setting surrounded by national forests. National park campgrounds like Yosemite National Park or Grand Canyon National Park are often larger and more scenic than commercially run campgrounds. However, they usually fill up early throughout the summer, often months ahead of time, especially during weekends.
Check out some of our National Park guides:
State Parks
Apart from the ownership structure and possible regulatory differences, state parks are not much different from national parks. It is recommended to check which state parks allow RV parking and what laws, if any, you would have to adhere to.
Camping Discount Memberships
The Escapees RV Club is more than simply a camping club. Their membership benefits include not just savings but also other support services such as RV training seminars. They have seven Escapees Park sites and have worked with 1,000 other commercial parks to provide savings to their members.
Thousand Trails is the second RV campsite membership on our list. Because of its "zone passes," it is best for people who want to move around a lot. Members may buy a pass for one of their five zones and get admission to all of the campsites in that zone for one low price.
Passport America is another excellent RV campsite membership. With over 1,800 campsites participating, this organization provides members up to 50% off camping expenses.
Websites & Apps to Find Free Overnight Parking
You can surf the following websites and download the applications to find free overnight parking:
The Dyrt (Use code "TWRV" for a 30-day free trial!)
The Dyrt is a great way to find free and paid camping. If you sign up for their PRO membership (free for 30 days with code "TWRV"), you also get access to public land maps (BLM, National Forest, etc.), 10-40% off campgrounds, and even cell service maps to see whether or not a given area will have service!
Hipcamp is a terrific method to uncover unique camp locations such as vineyards, ranches, and beaches that aren't mentioned anywhere else. On the other hand, Couchsurfing connects you with people all over the world who are ready to open their homes to travelers, guide them around town, or even give them space to park in.
Togo RV's Overnight RV Parking is a subscription service app that utilizes your GPS to locate free parking near you and connects with various map applications to offer comprehensive driving directions. RV Parky is another guiding app that lets you identify suitable locations by narrowing them down using parameters such as electrical hookups. This, however, is free.
Frequently Asked Questions
What stores allow overnight RV parking?

There are a plethora of options available. Overnight parking is usually available at 24 Hour Fitness, Anytime Fitness, Cracker Barrel, Camping World, Cabela's, Home Depot, Costco, Sam's Club, and Walmart.

However, this is not set in stone. These stores have multiple branches, and overnight parking may be prohibited at certain shop locations depending upon the laws of that area. Always ask for permission before staying anywhere.
How much is RV parking?

RV campsites typically cost between $25 to $80 a night, based on the area, size of the place, and amenities available. You may be able to use national and state parks' parking lots for a fee of less than $20; however, that again depends on various factors. That being said, there are options like rest stops, churches, casinos, and stores that allow free RV parking!
Can you sleep in an RV anywhere?

You cannot pull over just anywhere and sleep. Some cities and towns allow free overnight RV parking on the street and others do not. In general, it's always best to get permission before you stay anywhere overnight.
A Note on RV Insurance
An RV insurance coverage protects you financially in the case of accidents, injuries, or other unforeseen circumstances. This covers things like repairs, hospital fees, and liability coverage if you hurt somebody or harm their property.
Whether you intend to live in your RV full-time or only use it for frequent excursions, you must ensure it. Companies like Good Sam, National General, and Roamly are good RV insurance companies to try.