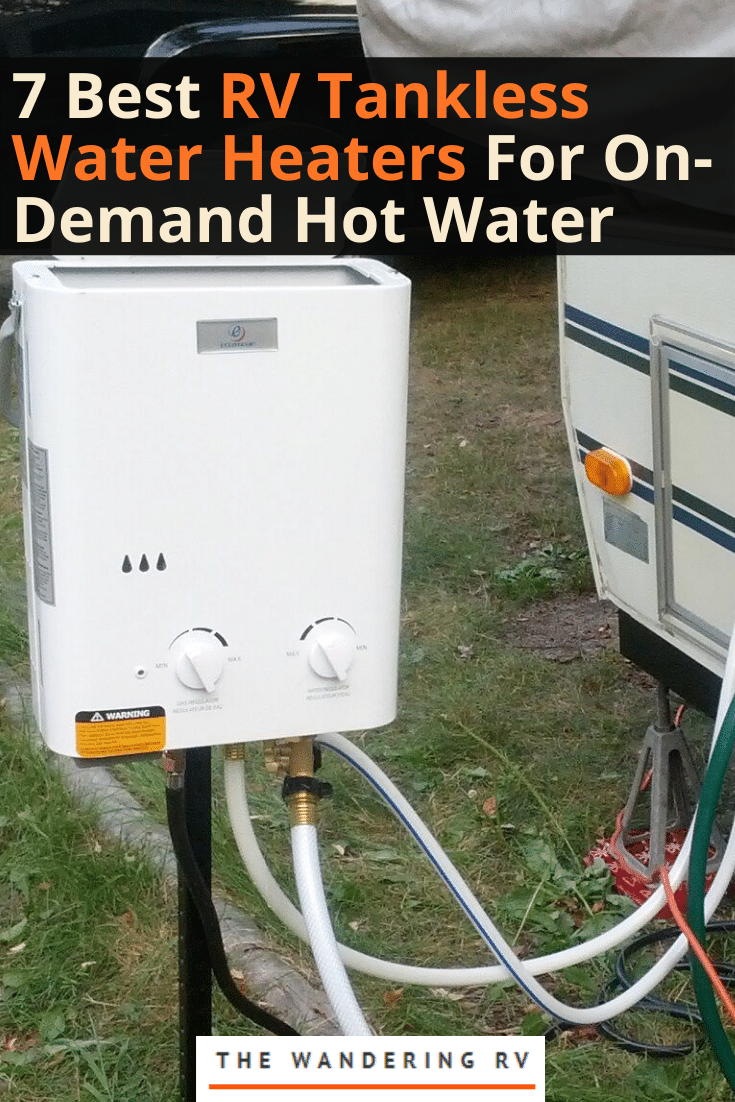 If you've ever taken a shower in an RV with a water heater connected to a tank, you know what rushing to take a 2-minute shower feels like.
With a tankless water heater for an RV, you get on-demand hot water for as long as you want!
But are tankless RV water heaters worth it? If so, which one should you buy?
We answer these and more in this guide to RV tankless hot water heaters. Let's dive in.
Table of Contents
What Is an RV Tankless Water Heater?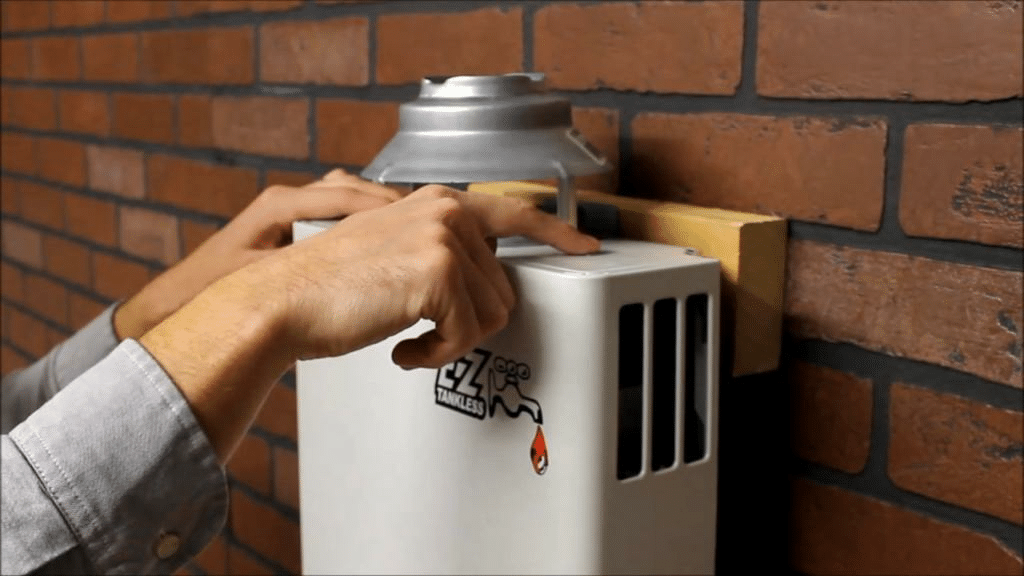 Simply put, an RV tankless water heater is an on-demand system for your water.
A tankless water heater heats water through a heat exchanger only when you plan to use it (rather than needing to fill a hot water tank to hold warm water).
By doing this, you won't run out of hot water while showering or washing dishes and you'll also be able to save some space and weight in the process!
You're also able to control the hot water temperature by using the control panel.
RV Tankless Water Heater Pros & Cons
Like most things, there are pros and cons to tankless hot water heaters. While we think they're great – there are some downsides you should know about before purchasing one yourself.
Pros
RV tankless water heaters are green – Because these water heaters offer heat-on-demand, they don't waste a ton of energy like your existing water heater.
Unlimited hot water – If long showers are your thing, a tankless water heater is your new best friend. As long as you have a way to power your rig, you have hot water.
Propane efficiency – You don't need to leave the power on all the time with a tankless water heater. You'll be able to save propane (which can be expensive to fill).
Tankless water heaters take up little space – Your existing water heater can take up 6 – 10 gallons in your RV. A tankless water heater takes up less than half the size.
Cons
Temperature regulation – You might like the water as hot as it can be, but someone else using your tankless water heater might want it lukewarm. You can't just add cold water to tankless heaters because it'll confuse the system.
Tankless water heaters might not fit in your RV – They're half the size as a regular RV water heater and come in different shapes. With that said, however, most manufacturers of tankless RV heaters work hard to ensure that their units can fit most RVs.
A tankless water heater can be sensitive to water pressure – Tankless heaters depend on water flowing through them. Water pressure can vary from campground to campground, which can be difficult for RV tankless water heaters. If you purchase an RV water pump or an RV water pressure regulator, however, that could help resolve the issue.
It can be more costly – Tankless RV water heaters can be more expensive than the water heater already installed in your rig.
Now that you're aware of both the pros and cons of tankless water heaters, let's get into some of the best on the market today.
The 5 Best Tankless Water Heaters for Your RV
The following options could easily replace your current hot water heater which will help you conserve water over time.
1. Fogatti Tankless Water Heater
Fogatti Tankless Water Heater
Equipped with multiple safety functions with flameout, anti-freeze, overheat and overvoltage protection
Provides endless instant hot water for your RV life without the hassle of replacing magnesium rods
Higher heating capacity 55000 BTU and max flow up to 2.9 GPM
Recommended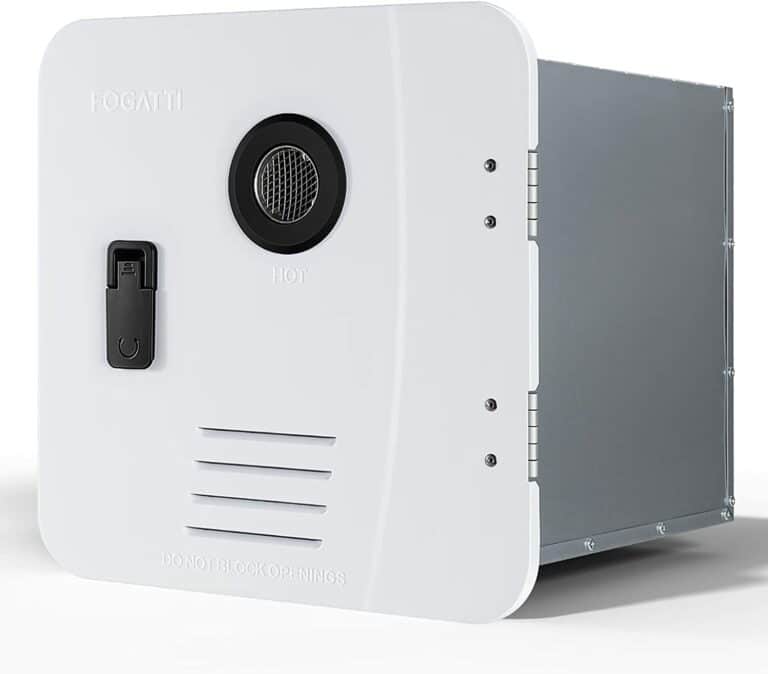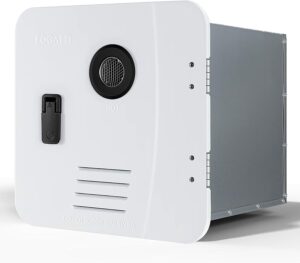 The Fogatti RV water heater is suitable to replace a 6 gallon RV water heater. It's able to withstand the vibrations caused by bumpy roads while driving, has a low operating noise, and has a built-in regulating burner that is used to provide a stable hot water temperature with a range of 95°F to 123°F. If you're looking for the best tankless water heater, we'd go with this one!
2. Girard RV Tankless Hot Water Heater
Girard RV Tankless Hot Water Heater
42,000 BTU
Consumes half the LP gas that a six-gallon tank water heater would consume for the same amount of hot water
Fits in any tank water heater cut-out opening and weighs 23 lbs
Digital user control panel.  Adjustable from 95-124 degrees F
Recommended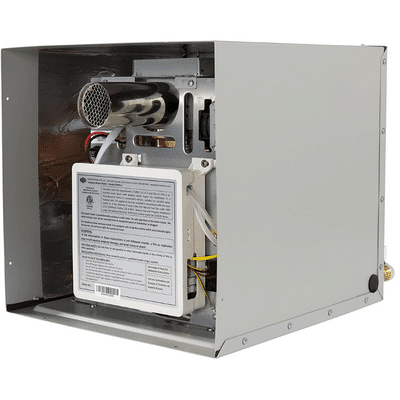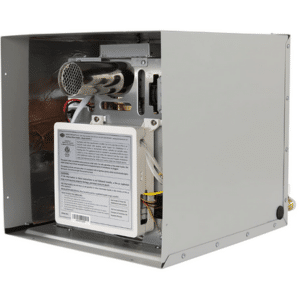 The Girard tankless RV hot water heater is easy to operate and highly efficient. It puts out 42k BTUs and only consumes 3 amps of 12v DC power. The onboard microprocessor monitors inlet water flow, and inlet/outlet temperature to ensure you have a consistent shower with no surprises!
3. Camplux 2.64 GPM Tankless Propane Water Heater
Camplux 2.64 GPM Tankless Propane Water Heater
Meant for external installation
Great for campervans or other custom installations
Very economical
Very powerful at 68,000 BTU
Battery operated (2 D-cell batteries)
Recommended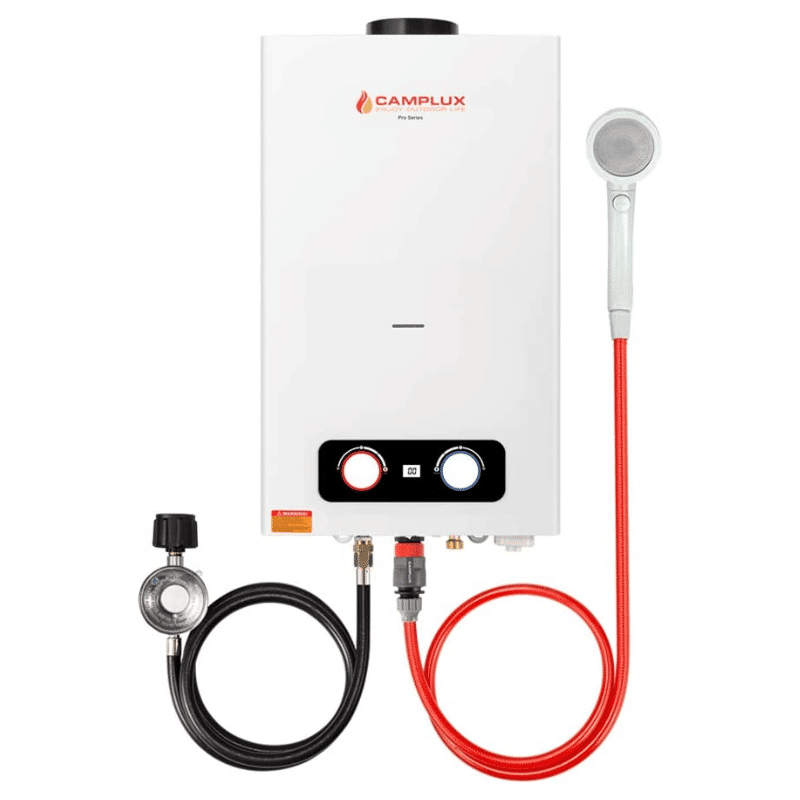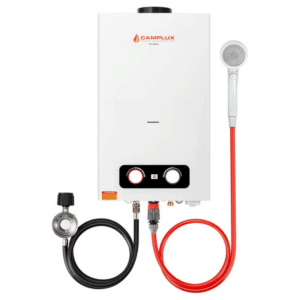 I have seen a lot of these (and its lower GPM option) used in custom campervan builds. They put out a ton of heat, are super portable, and are very easy to "install".
4. RecPro RV Tankless Water Heater
RecPro RV Tankless Water Heater
Have a steady stream of hot water flowing to your faucets or shower without waiting for the tank to warm up
Forced exhaust structure that keeps the air safe and clean while and after entering the combustion chamber
There is a low water pressure startup, which helps to protect the heater and make it easier to use
Recommended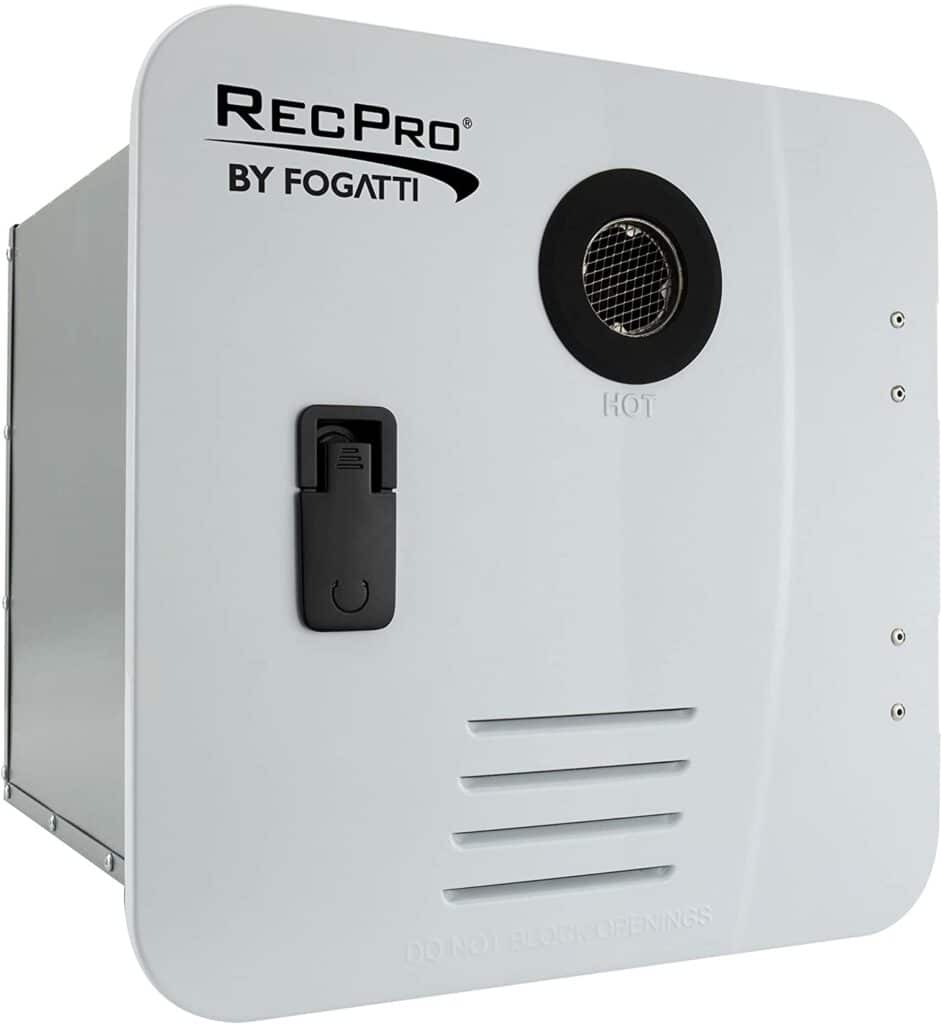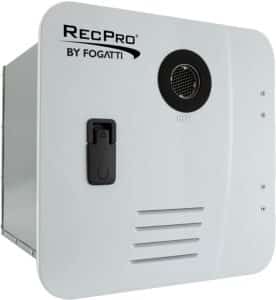 This propane water heater has a few neat features built into it. It has a forced exhaust that keeps the air safe and clean as it enters into the unit. Which, in turn, keeps your combustion chamber in tip top shape. It also has a dust net built in to catch unwanted debris.
This tankless unit is also built with wind resistance. The fan's speed will increase which helps to eliminate harmful gasses from backing up in the system.
5. GASLAND Tankless Water Heater
GASLAND Tankless Water Heater
Flame failure device, anti-freezing protection, over heating protection to ensure the family safety
Compact size and lightweight design for easily carry
Maximum power output 41,000BTU/Hr
Recommended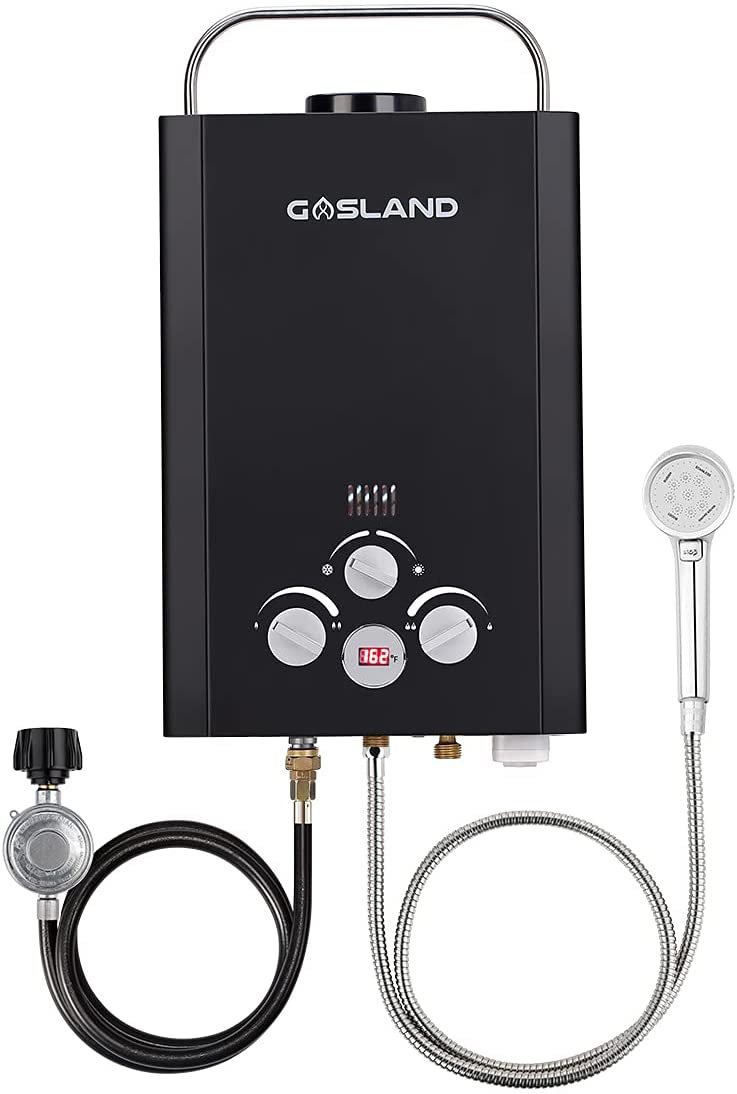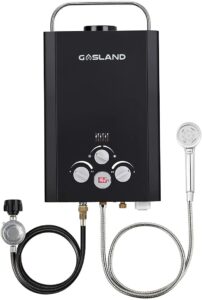 GASLAND tankless water heaters are outdoor portable tankless water heaters that are compact in size and lightweight. This design allows for convenient carrying. It's also a flame failure device, has anti-freezing protection and overheating protection, which ensures the family safety.
Note: This gas hot water heater is not suitable for high altitude areas over 2000 feet and strong wind conditions
Should You Add a Tankless Water Heater to Your RV?
If the thought of waiting for hot water to kick in and taking showers that last less than five minutes depresses you then, yes! You should get a tankless water heater.
Investing in a tankless hot water heater is a smart thing to do, but make sure you're able to fit it into your space!
Now that you know what an RV tankless water heater is (and some of the ones on the market today), do you think you'll get one?
Interested in more posts like this? Check these out: