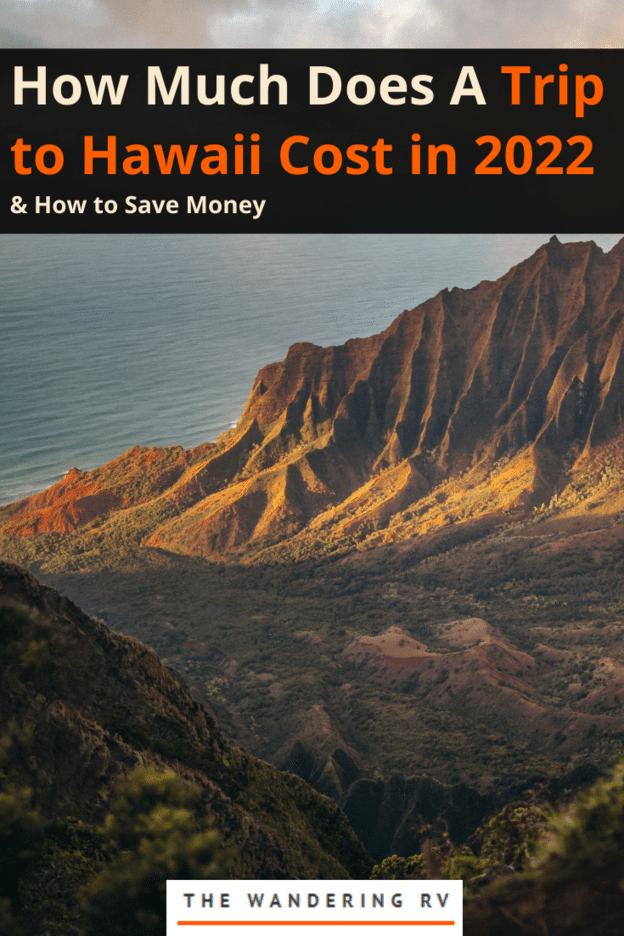 Are you dreaming of a vacation to Hawaii?
COVID, travel restrictions, and supply shortages have all impacted the cost of a Hawaii vacation. Luckily, we've done the research (and visited Hawaii this year) to figure out the exact cost to visit Hawaii.
In this guide, we break down the exact Hawaii trip cost including airfare, lodging, food, activities, and more.
Let's dive in!
Table of Contents
Is a Trip to Hawaii More Expensive in 2022?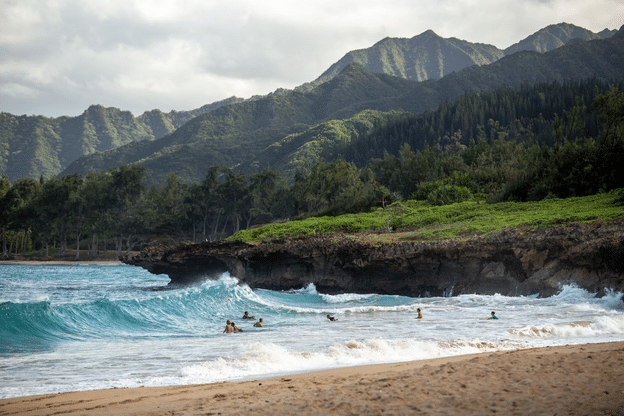 The short and simple answer is: yes. The price of a Hawaii vacation has been rising for years now.
Ten years ago, the typical daily rate of a hotel room was $201. Now? A Hawaii hotel room could run you $329 per night or more. Most hotels in Hawaii charge for parking, too (sometimes up to $40 a night). Hotel taxes have gone from 15% last year to 18%, as well.
There are also some hidden resort fees (some common examples of these are in-room coffee and coffee maker, local phone calls, and pool chairs). Yeah, it's pretty ridiculous!
So, we've answered the question "Is Hawaii expensive?".
But how much does it actually cost?
Hawaii Trip Cost Breakdown
So, what makes a trip to Hawaii cost so much? Is it Hawaiian airlines? How much does a car rental typically run you? Are you able to see the natural beauty of Hawaii without paying an arm and a leg in the off-season? And, what is the cheapest time to visit?
Let's talk about it!
Cost of Airfare to Hawaii: $480 – $1,060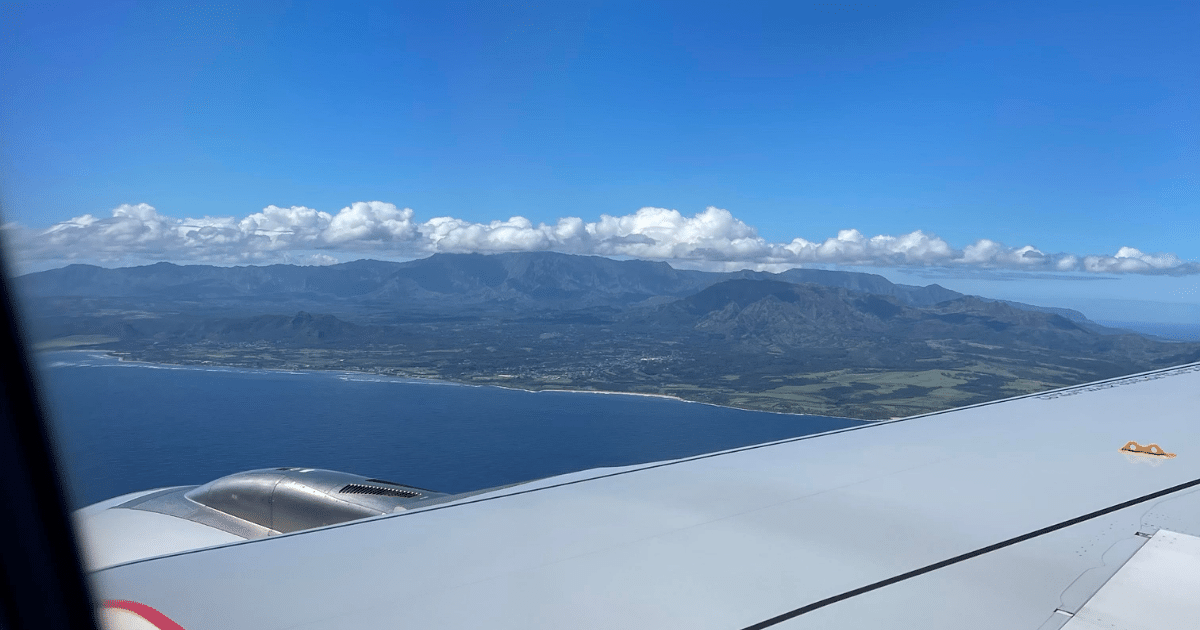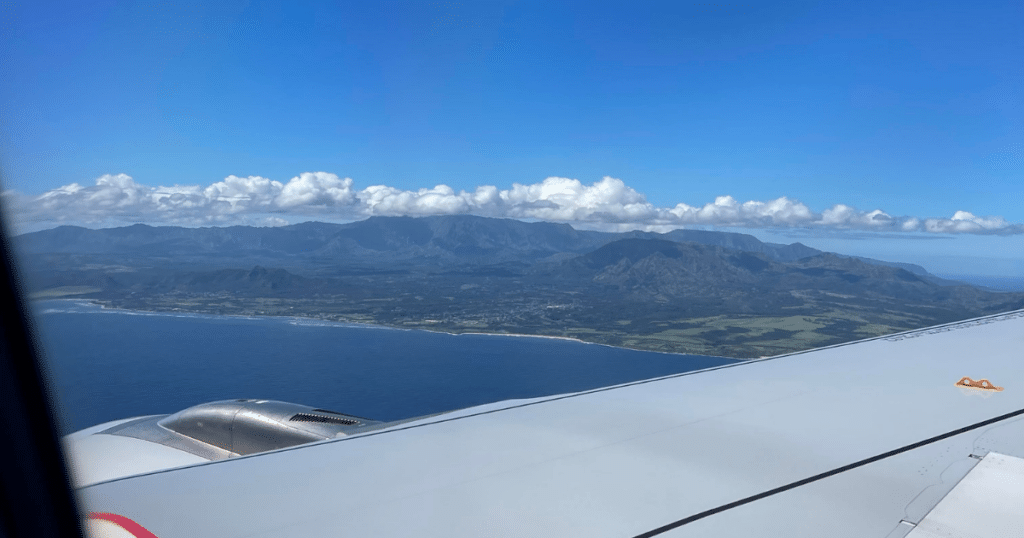 Depending on where you're traveling from, your airfare will differ.
For example, if you're traveling from the East Coast to Hawaii, each ticket will run you about $800. If you're traveling from the Midwest to Hawaii, an average ticket would be $750. If you're traveling from the West Coast to Hawaii, you're looking at a price of about $460. Now, if you're traveling internationally, an average ticket to Hawaii will be about $1,400.
Keep in mind that ticket prices can change based on the season (Summer months can be a bit pricier than Winter). Prices fluctuate! You could always fly into West Coast cities and then fly to Hawaii!
If you're planning to go to Hawaii in a few months and want to find the best deals on your airline tickets, you could go to a website like Kayak, enter the dates you want to visit, and click on the notification bell. Kayak will email you when ticket prices change which allows you to book your flight at the best time! These deals don't stick around forever – you'll want to act pretty quickly once the price goes down. Another favorite place to scout airline prices is Google Flights.
If you fly with Southwest Airlines, you could find direct flights to Hawaii. Most of the time Southwest doesn't show up on the deal sites or Google Flights. Lastly, I have been a subscriber to Scott's Cheap flights (now Going.com) for years. They send you emails when mistake fares or super cheap flights come up from your selected airports.
Keep in mind how much you pack will also affect airfare prices. Check out this Hawaii packing list to avoid bringing anything unnecessary.
Lodging (Hotel, AirBNB, Camping): $300 – $3,000 Per Night
Once you've booked your flight, it's time to figure out where you're going to stay. Lucky for you, there are plenty of places you could stay in Hawaii!
Hotels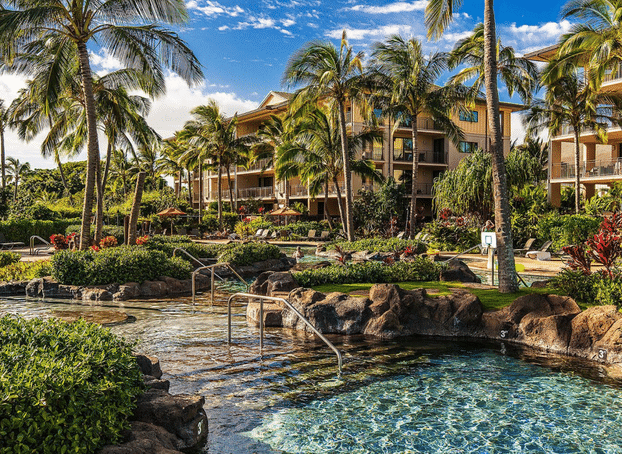 There are tons of hotels to choose from in Hawaii! Depending on where in Hawaii you plan on staying/spending most of your time, you'll want to choose a hotel on that island.
If you're going to Maui, there are plenty of honeymoon hotels to pick from (Maui is known to be one of the most popular honeymoon destinations, so this makes sense). We recommend The Ritz-Carlton. Prices range anywhere from $1,600 – $6,500 per night (depending on the type of room you pick).
If you're going to Oahu to stay close to Waikiki beach, we recommend the Halekulani hotel. Prices range anywhere from $700 – $3,000 per night (depending on the type of room you pick).
AirBNB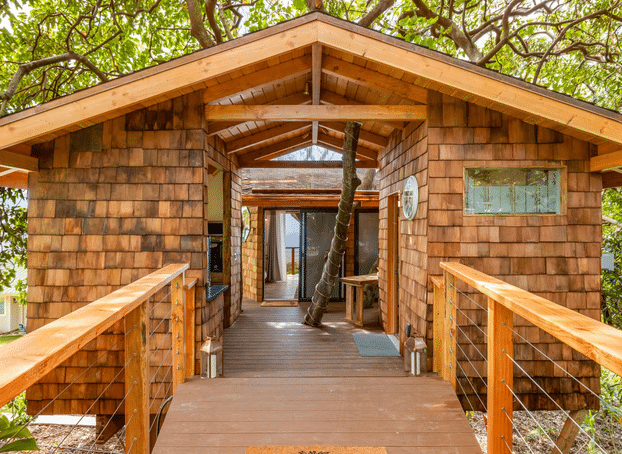 If you want to skip the hotel and instead get a vacation rental, an AirBNB is the perfect choice! AirBNB vacation rentals offer you your own space, a kitchen, some peace and quiet, no parking fees, and you'll save money!
AirBNBs can save you money by letting you split the cost among more people. They are also typically cheaper per night than the resorts and hotels.
Find some awesome AirBNBs in Hawaii here!
Camping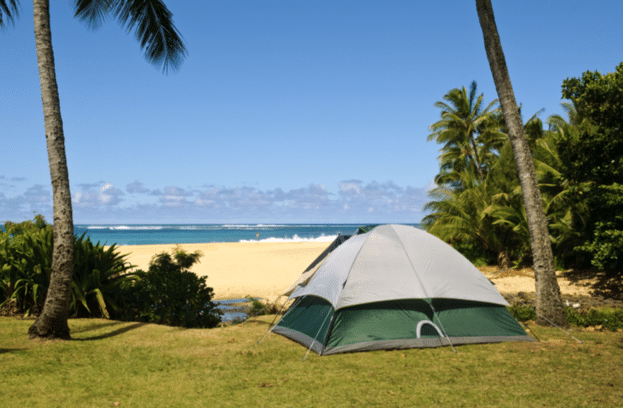 Your options for camping in Kauai are state campgrounds, county campgrounds, and private campgrounds. You need camping permits for all of them.
State camping permits cost $20 per night (or $30 for non-residents) and county camping permits are free for Hawaiian residents (or $3 per night for non-residents). The state campgrounds are only on the northern side, and most of them are only accessible by dirt roads, which can get muddy (not good if you don't have a four-wheel drive vehicle).
Rental Car: $60 – $150 Per Day
We highly recommend looking into car rentals when you take a trip to Hawaii. After all, Hawaii is a big island and with a limited amount of time there, you'll want the freedom to do whatever you want, whenever you want.
To find the best prices on a rental car, check out Discount Hawaii Car Rental. They don't charge you any fees to book your car rentals in Hawaii. There are no prepayment or cancellation fees, so you're free to review rates on their website right up until the day your vacation begins!
They also work with the major car rental companies in Hawaii, assuring that you receive quality service both from the car providers, and their own experienced staff.
If you're able to be flexible with the pick-up location, we recommend taking a taxi from the Honolulu International Airport to town (or at least the rental car dealership. Some people have had trouble getting a rental car at the airport and, even though Hawaii is a big island, there are only so many rental cars to go around!
Note: Make sure you check your car insurance to see if rental cars are covered while you're in Hawaii! While most car insurance companies in America (and Canada) extend into renting a car in Hawaii, it's a good thing to check before you buy additional and expensive insurance while you're on your trip to Hawaii. You could also opt into getting extended third-party liability insurance just to be sure you're covered!
Food: $15 – $50+ Per Meal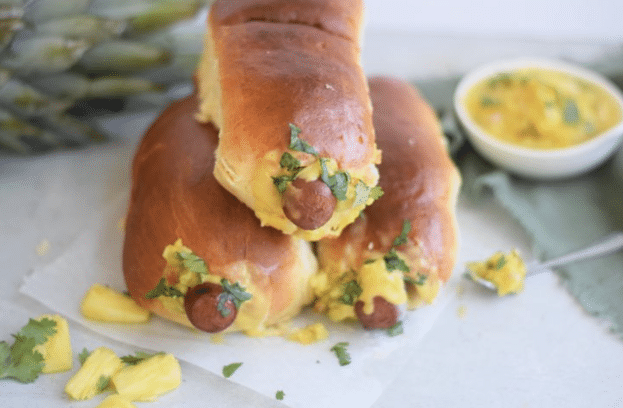 When you ask yourself "How much will this trip to Hawaii cost?", do you factor in the money you'll have to pay for food?
Things in Hawaii cost more than they do in the states. In fact, things in Hawaii tend to cost ​​1.40 times more than what you're used to paying in the United States.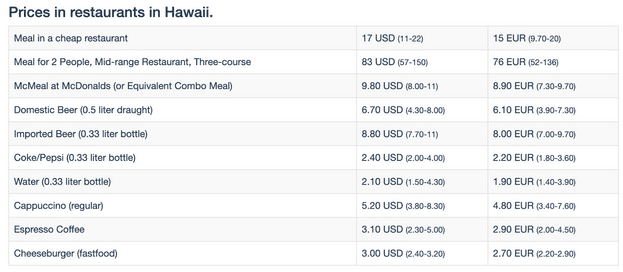 After looking at the food prices in the chart above (provided by Hikers Bay), it's clear that you could easily spend more than you'd like at grocery stores, food trucks, and restaurants while in Hawaii. Depending on where you choose to stay on your summer vacation, you could get a free meal or two. Hotels sometimes offer free breakfast which will help lower your travel costs (but not by a lot).
Grocery prices vary depending on where you go (Costco, farmer's markets, Walmart, and local grocery stores). Before you buy, we recommend that you shop around to get the best deals possible!
Looking for some of the best restaurants while on your Hawaii vacation? Here are some of the best restaurants & activities we tried while in Kauai!
Activities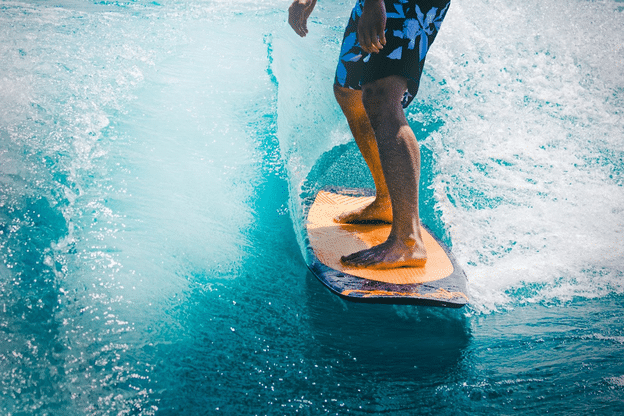 Depending on the Hawaiian island you plan on going to, you'll find tons of different things to do!
Whale watching, scuba diving, laying on white sand beaches… the list could go on and on! Here are some things you could do on your Hawaiian vacation:
Swim with sea turtles (depending on where you go, swimming with turtles in Hawaii costs $45 – $147 and can range anywhere from 3 – 8 hours)
Head to the spa in Maui (masseuses in Hawaii charge anywhere from $30 – $210 and massages last 30 – 60 + minutes)
Drive the road to Hana to see beautiful waterfalls, black sand beaches, and a bamboo forest (apart from the rental car needed, this is free to do! Sightseeing is a great way to save money on your Hawaiian vacation)
Take a helicopter tour in Kauai to get a birds-eye view of the landscape (some of which you can't see unless you take a tour! The average price for this tour is $339 per person and, if you want to go on a private charter, it's $3,200 per hour)
Visit Hawaii Volcanoes National Park (parking fees are $30 per vehicle, $25 per motorcycle, and $15 per pedestrian or bicycle)
Check out the botanical gardens in Kauai ($30 for adults (13 years and above), $15 for children 6-12 years of age, and children 5 and under are admitted free. Reservations should be made in advance)
Lay on Waikiki beach (what's better than laying by the Pacific ocean for free? Nothing!)
Check out the Pearl Harbor museum and memorials (there is no entry fee to visit the Pearl Harbor museum – another great way to save money on your vacation!)
Learn how to surf or paddle board (prices range from $157 – $628. You could also purchase a GoPro video for $105 and if you want to, you can add more instructors for $53)
You could do some island hopping to visit the major islands in Hawaii, but it can be pretty expensive to do so. If you're on a tight budget, there's no better way to see the island than hiking or lying on the beaches! We highly recommend putting some of these activities on your Hawaii itinerary.
How Much Does a Trip to Hawaii Cost For a Family of Four in 2023?
We've found that the average family of four spends around $5,691-$11,772 per week on a trip to Hawaii. This depends on a lot of factors, such as where you're staying, what you're eating, and how many activities you're doing.
Considering how much there is to do on the Hawaiian islands, it's not too surprising to see how much a trip to Hawaii costs!
5 Ways to Save Money On Your Hawaii Vacation
Now that we know that the average trip to Hawaii cost X AMOUNT, you might be wondering how you can save money while visiting Hawaii.
1. Stay in a Vacation Rental
As we mentioned before, AirBNB vacation rentals offer you your own space, a kitchen, some peace and quiet, no parking fees, and you'll save money!
You can find some awesome AirBNBs in Hawaii here!
2. Consider Camping
Camping is a great way to save money while in Hawaii! There are plenty of campgrounds to choose from, but if you're feeling adventurous, you could skip the campground and rent an RV with Outdoorsy. Keep in mind – it is illegal to camp inside any vehicle, INCLUDING camper vans and rooftop tents. Do this at your own risk!
We recently went camping in Hawaii and wrote an ultimate guide to camping in Kauai! If you want to stay away from some Hawaii tourism, camping is your best bet!
3. Use Costco Hawaii Vacation Packages
Just like items in a Costco warehouse, their travel offerings are carefully selected by skilled travel buyers. They offer a selection of the world's top destinations, hotels, cruises, and other travel products (so you can be assured of a quality vacation experience).
With Costco's Hawaiian vacation package, you get upfront pricing on hotels, vacation packages, and rental cars and the price quoted includes taxes. Your total cost is displayed throughout the booking process, so you can easily see any revisions as you customize your travel plans!
4. Travel During Shoulder Seasons
If you haven't picked a date for your Hawaii vacation yet, we highly suggest you visit during the shoulder seasons. These dates run from March through the beginning of May and from September until Thanksgiving.
Keep in mind that spring break could yield higher prices and more tourists (early – mid-March). Because of this, we recommend you visit Hawaii in mid to late March.
5. Try Travel Hacking
Travel hacking is the practice of applying for credit cards that offer rewards (or bonus points) when you use the card and complete a minimum amount of spending on the card within a certain time period.
Typically, the offer on these types of cards will sound like this:
"Apply for our card today and we'll give you 60,000 points after you spend $3000 within 3 months".
By doing this and obtaining rewards, you're able to fly at rock-bottom prices and stay in hotels for free! This is one of our favorite hacks because, as you know, Hawaii is an expensive island.
Each travel credit card has a minimum spending amount that you must reach in order to reap the benefits. This price typically ranges from $3,000 to $5,000 and typically must be done within 3 months. While dropping that amount of money sounds like a lot (and, it is), there are smart ways to do this! Some examples of where to spend this money could be:
Gas
Groceries
Utilities
Memberships and subscriptions
Internet and cable
Car insurance
… and more!
When you think about it, you're probably already spending close to (if not the entire) $3,000 within 3 months!
Most credit card companies do have annual fees you're required to pay but typically the benefits you get from travel hacking (such as saving money on flight costs, rental cars, and hotels) outweigh the cost of these fees.
Here are some credit card companies we'd recommend if you're interested in travel hacking:
You could also get airline and hotel-branded credit cards, such as:
Each card offers different travel benefits, you could opt for one that gives more points towards hotels or for one that gives more points towards airline fees. It all depends on you and your travel expectations but either way, this will help you see the Hawaiian islands at less-than-average costs!
Final Thoughts on Your Trip to Hawaii
Hawaii is an amazing place to take a vacation and we hope that with these travel tips, you'll be able to save money even in the high season! We highly recommend you take a day to chill on Waikiki beach, swim with sea turtles, and explore as many Hawaiian islands as you can (even if you have to island hop).
Let us know in the comments below if you've been to Hawaii and what your favorite thing to do there is!