If you're seeking the home-like feel of a fifth wheel without the cumbersome size, small fifth wheel campers are an ideal option. They offer the perfect balance between spacious living, top-notch amenities, and easy maneuverability on the road. With numerous options on the market in 2023, finding the right fit might seem challenging. Fear not! We've curated a list of the 7 best small fifth wheel campers to help you find the perfect RV for your needs. Let's explore these compact yet luxurious options together!
Let's hit the road!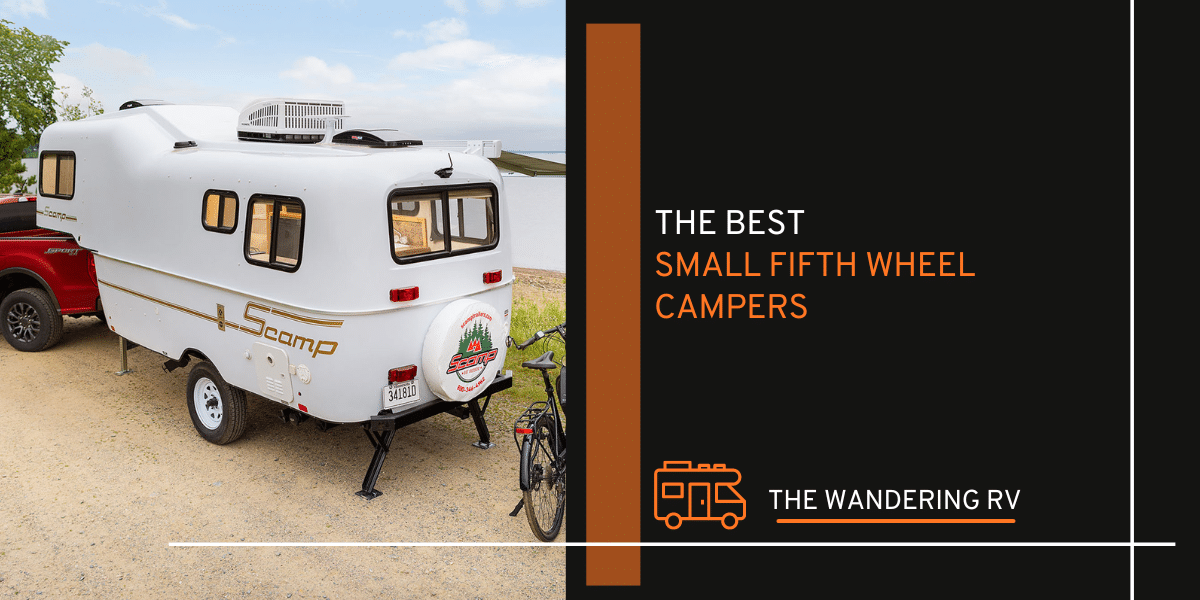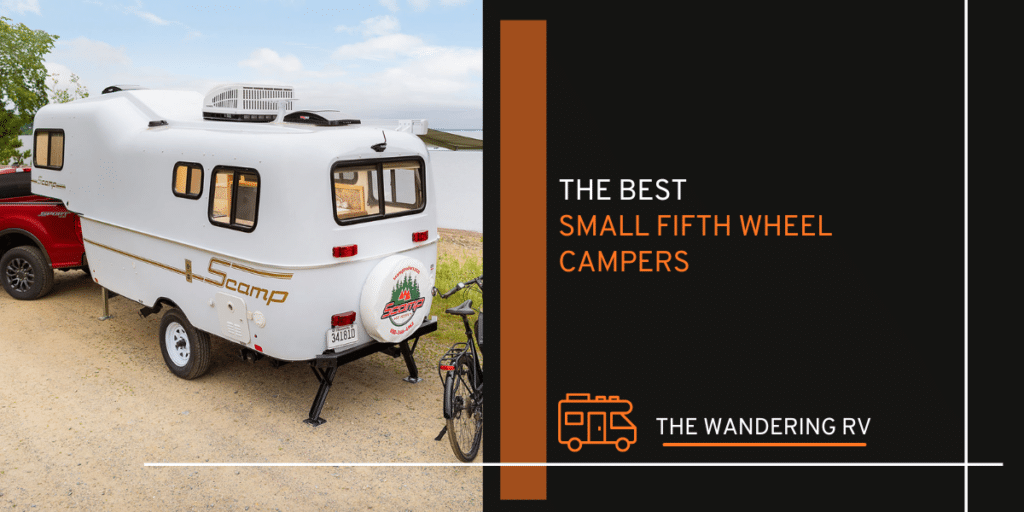 Table of Contents
The 7 Best Small Fifth Wheel Campers
In order of smallest to largest, here are the best small fifth wheel trailers available right now:
1. Scamp 19′ Deluxe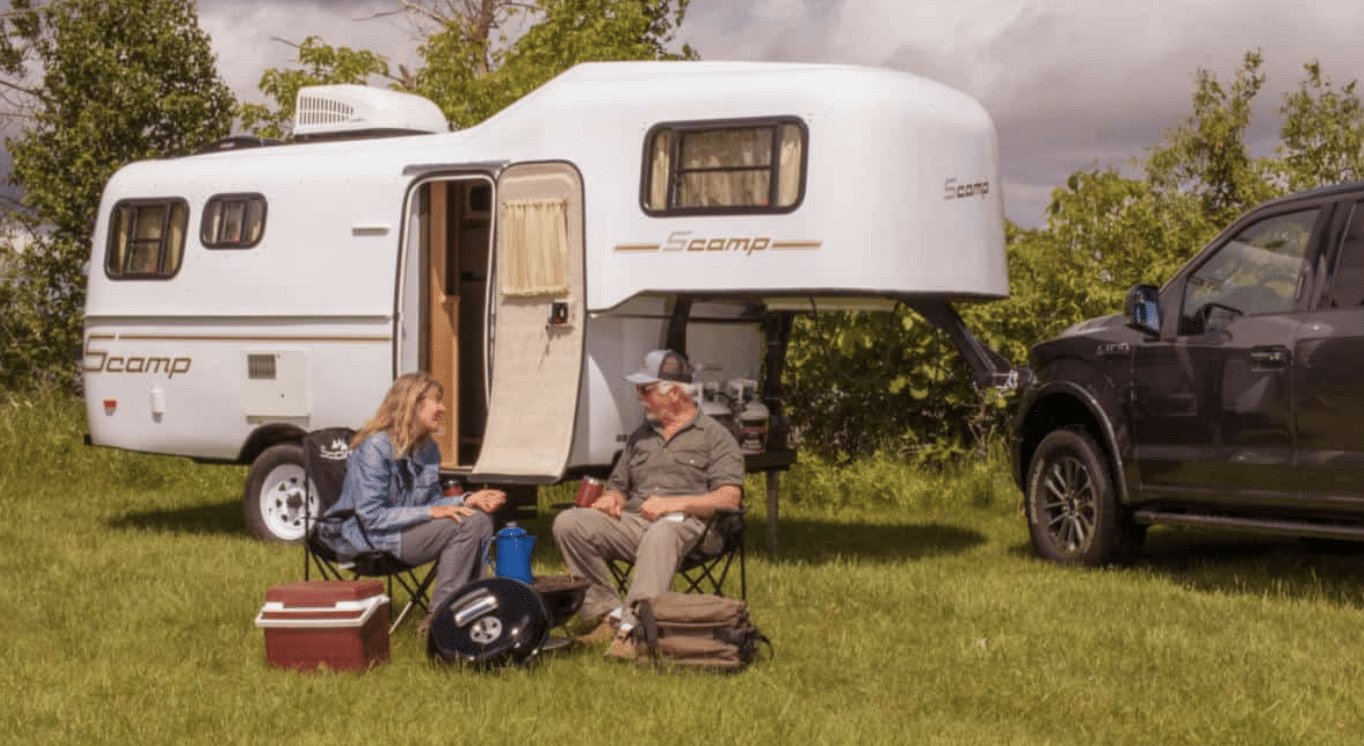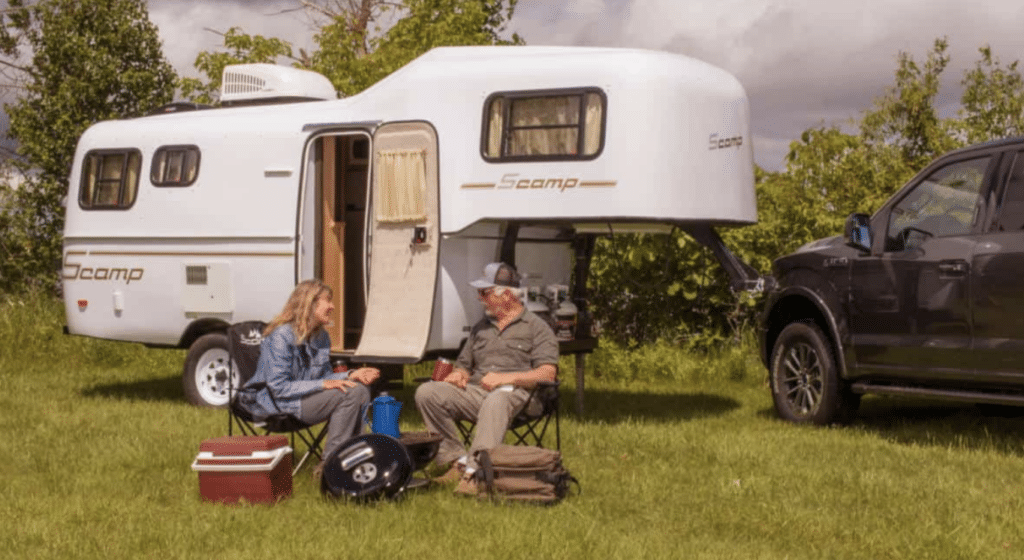 Price: $23,295
Weight: 2400-2900 lbs
Length: 19′
Height: 8′ 10"
Sleeps: 1 – 6 People
The interior of Scamp trailers may be small, but don't let that fool you. These small fifth wheel campers have the sleeping space for up to 6 people, and have a toilet and shower. For 2023, they come in 3 different floor plans. All feature a bed in the loft, and plenty of space for cooking and eating with the open layout.
While most fifth wheels have two or three axles, the Scamp camper only has one! A V6 Tacoma or Ford Ranger could easily tow this small fifth wheel trailer!
2. Escape 5.0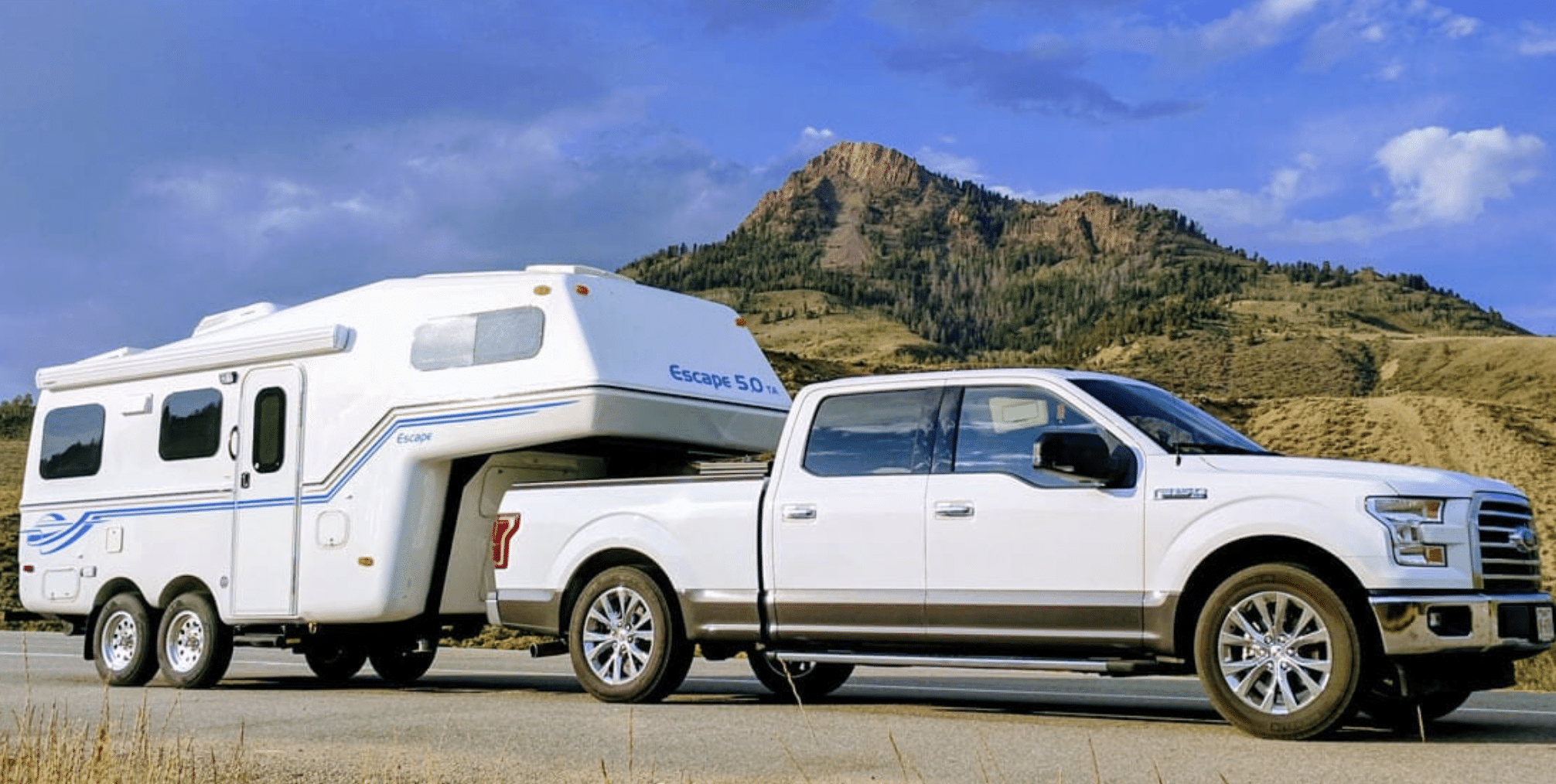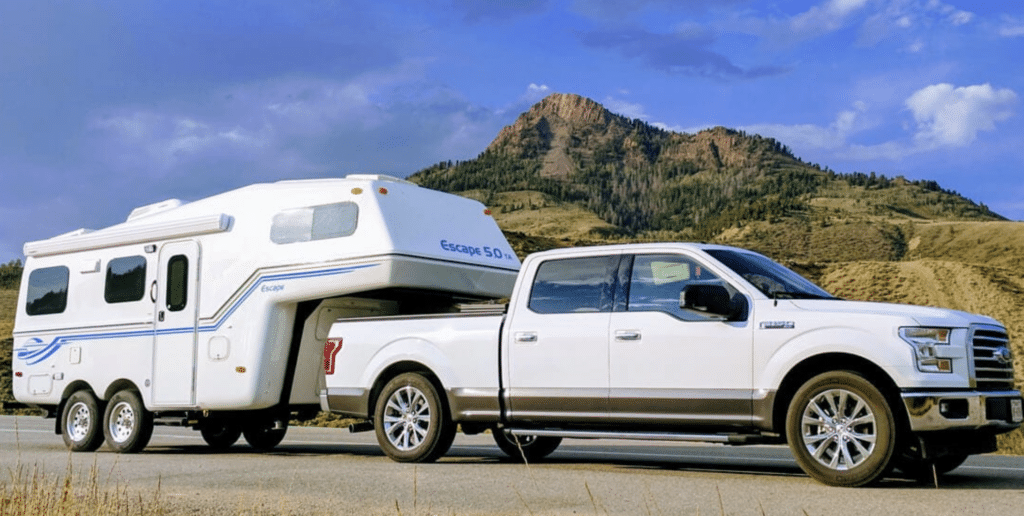 Price: $44,510+
Weight: 3,910 lbs
Length: 21' 2"
Height: 10′
Sleeps: 1 – 4 People
The Escape 5.0 is a lightweight, small fifth wheel trailer that can easily be towed with a mid-size truck. It offers a full wet bath, separate sleeping (and living areas), as well as an extra high ceiling for a spacious feel!
The aerodynamic design, tandem axle, and low center of gravity make for better road stability, fuel economy, and decreased wind resistance.
3. Sportsmen 231RK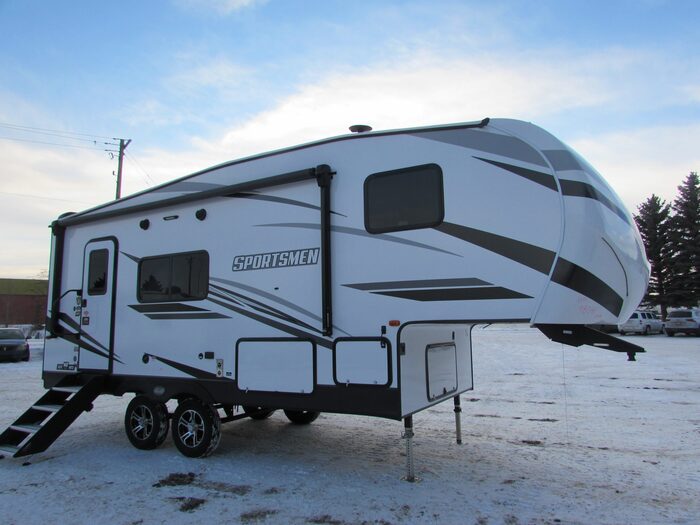 Price: $59,609
Weight: 6,020 lbs
Length: 24'10"
Height: 12' 5"
Sleeps: 5 People
Starting at just 6,020 pounds and just over 25′ long, the Sportsmen 231RK is where utility and comfort meet. Optional features like the outdoor griddle and fireplace will only upgrade your RV lifestyle!
This small fifth wheel comes with a stainless steel under-mount sink with a high-rise faucet with a pull-down spring sprayer, theater seating with cup holders, USB plug, heat and massage, and the roof is prepped for solar panels!
4. Durango Half-Ton D230RKD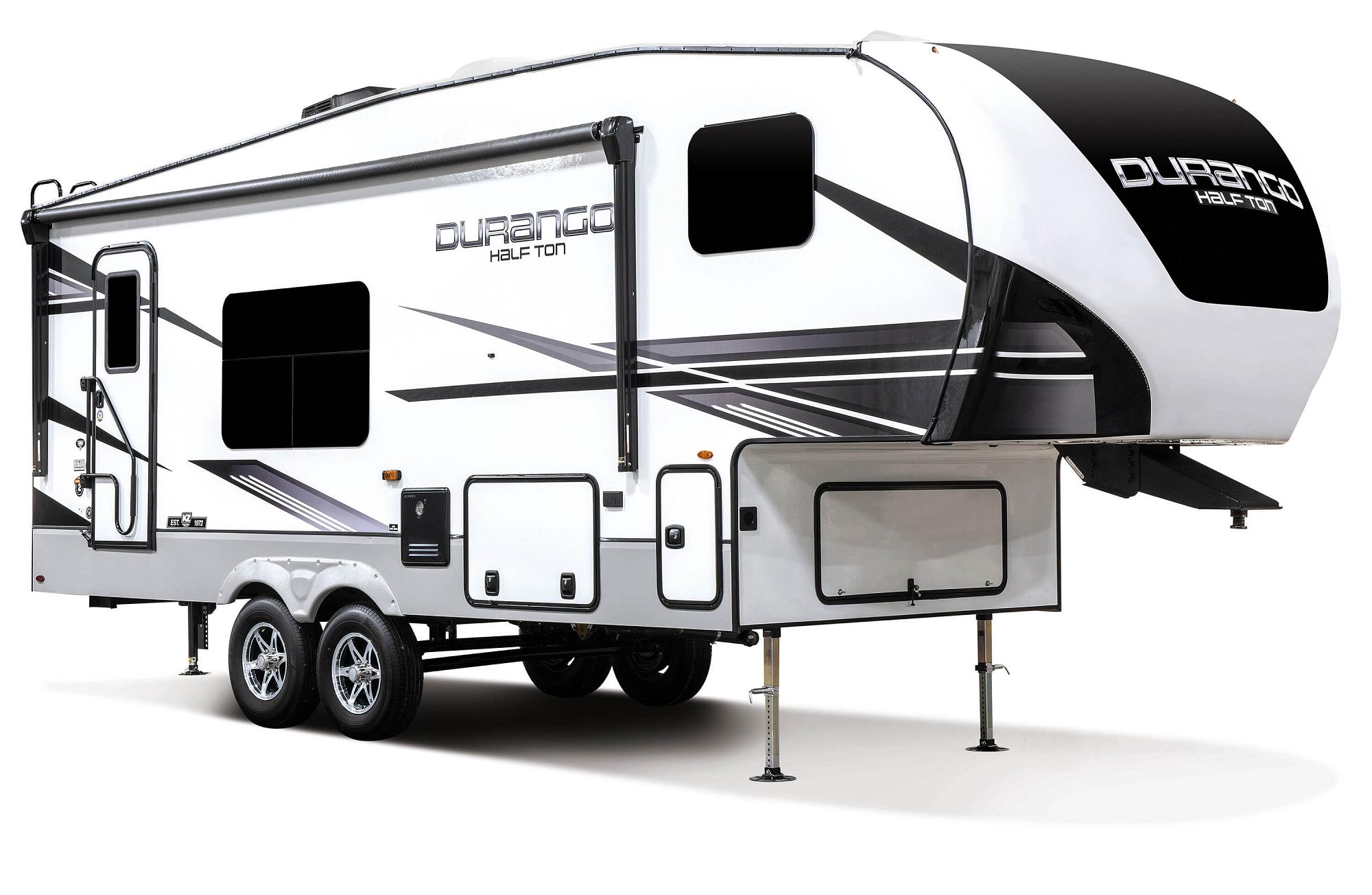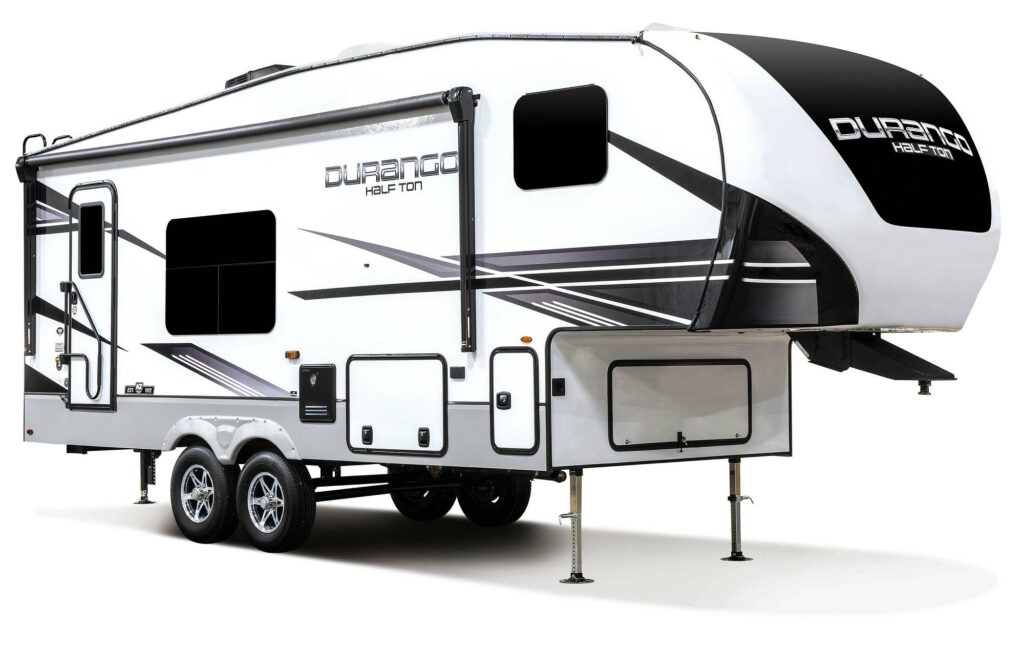 Price: $60,107
Weight: 7,110 lbs
Length: 26′ 9″
Height: 12′ 1″
Sleeps: 1 – 6 People
The Durango Half-Ton D230RKD is small fifth wheel camper that has a pass through storage compartment, washer/dryer in the bedroom, modern farmhouse cabinetry, and sleeping space for up to 6 people!
The luxury amenities, queen size bed, and stainless steel sink make this small 5th wheel one of our favorites on this list.
5. Grand Design Reflection 150 Series 226RK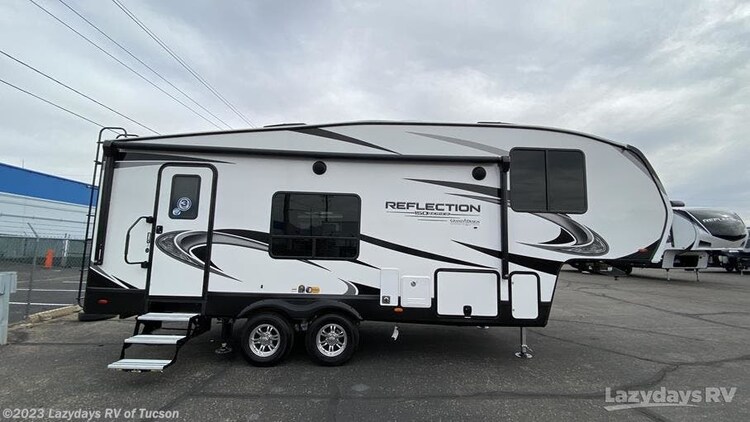 Price: $63,467
Weight: 7,700 lbs
Length: 26′ 9″
Height: 11′ 5″
Sleeps: 1 – 5 People
The Grand Designs Reflection 223RK pushes the boundaries of "small fifth wheel" at 27′ and 7,204; but can be towed by most 1/2 ton pickups. It's also the most luxurious pick on this page. Grand Designs, owned by Winnebago, is known for its quality materials and build quality. It features an aluminum cage framing (as opposed to wood), 56 gallons of fresh water, and a 'one-touch' leveling system.
You also have patio speakers and a power awning with LED lighting – this small luxury 5th wheel definitely shouldn't be overlooked.
6. Jayco Eagle HT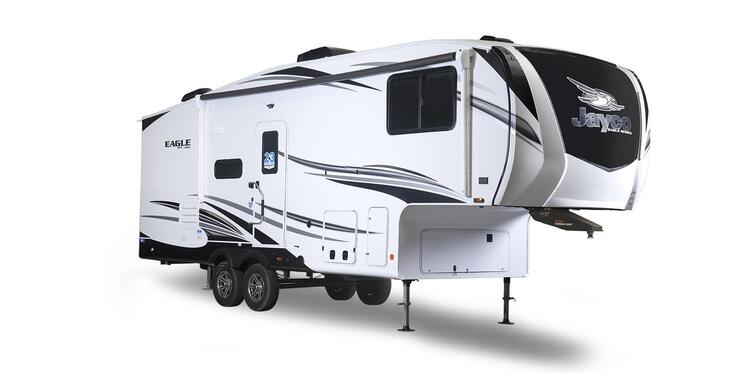 Price: $61,725
Weight: 7,805 lbs
Length: 29'1"
Height: 12' 9.25"
Sleeps: 1 – 6 People
The Jayco Eagle HT Fifth Wheel boasts a lightweight design for effortless towing and is pre-wired to accommodate an inverter, making off-grid adventures a breeze. With an impressive 81-gallon fresh water tank, you'll be well-prepared for remote camping experiences. The updated JAYCOMMAND Smart System, complete with TPMS, enables convenient control and monitoring of key functions via your smartphone or tablet. The new 2023 model features a gorgeous refreshed interior décor, including updated furniture, flooring, and fabrics!
7. Forest River Rockwood Ultra Lite 2442BS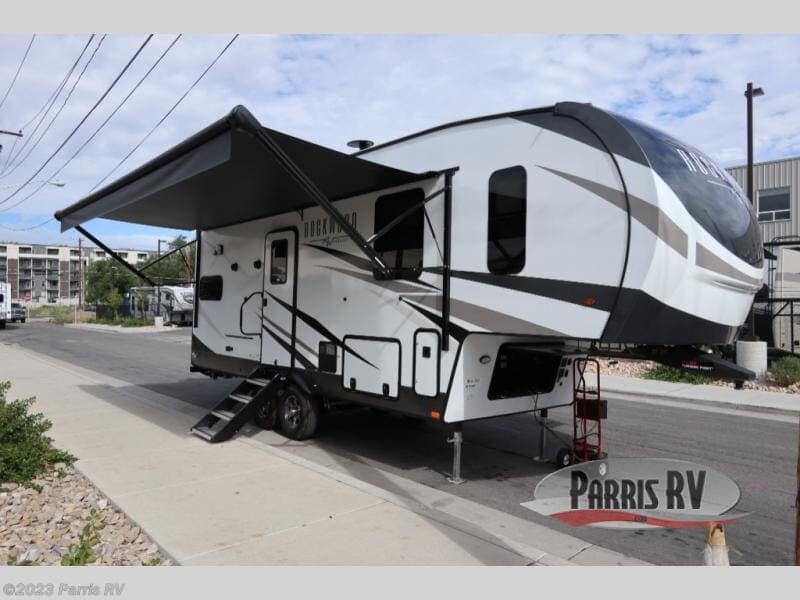 Price: $67,706
Weight: 7,950 lbs
Length: 28' 11"
Height: 13' 1"
Sleeps: 1 – 5 People
The Forest River Rockwood Ultra Lite 2442BS focuses mainly on having a large bedroom and bathroom. The bathroom has a 48″ x 30" shower with a seat and lots of countertop space with the vanity. The bedroom has a king bed option (you read that right – not a queen bed!) and storage across the front is vast and accommodating. If comfort was what they were going for, they certainly achieved it!
On top of that, the living area features bar top seating for two and hide-a-bed sofa or theater seat options across from the television. It's easy to see why this small fifth wheel camper made our list – it's great for couples and small families!
Is a Fifth Wheel Trailer Right for You?
Now you've seen some of the best small fifth wheel campers available right now. But is a fifth wheel travel trailer even right for you?
Even the smallest fifth wheel camper is still heavier than most other types of travel trailers. Unless you have a beefy tow vehicle with a big pickup truck bed, a 5th wheel trailer won't work for you. Fifth wheels, even the smallest ones, are just too heavy for most tow vehicles.
A fifth wheel is right for you if you want the biggest and best camper. Period!
Check out more lists of the best RVs: