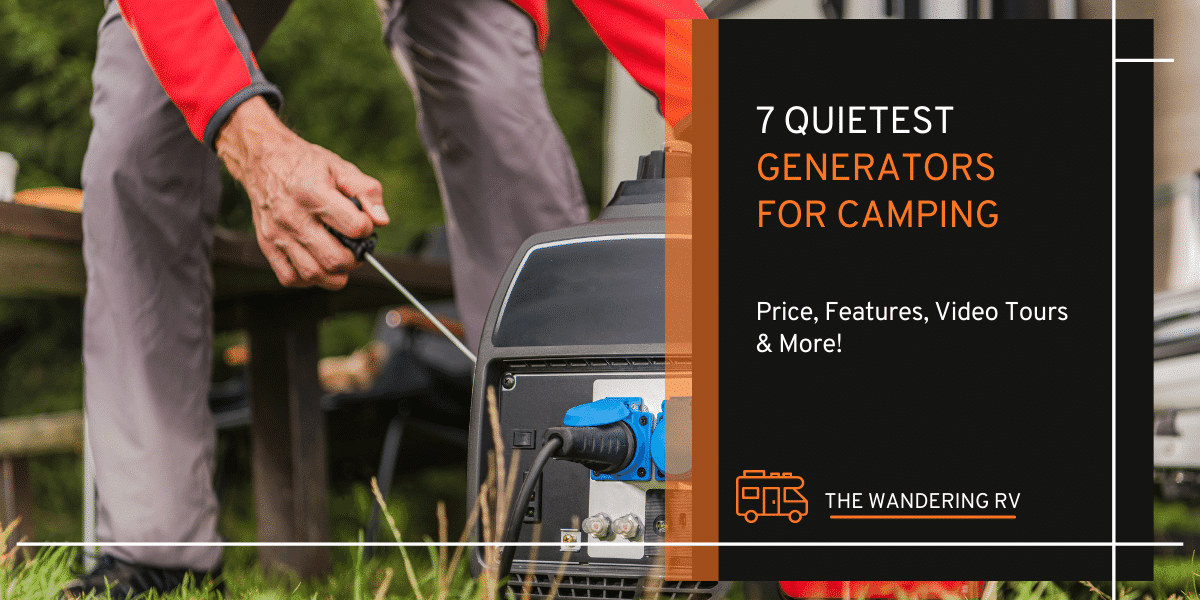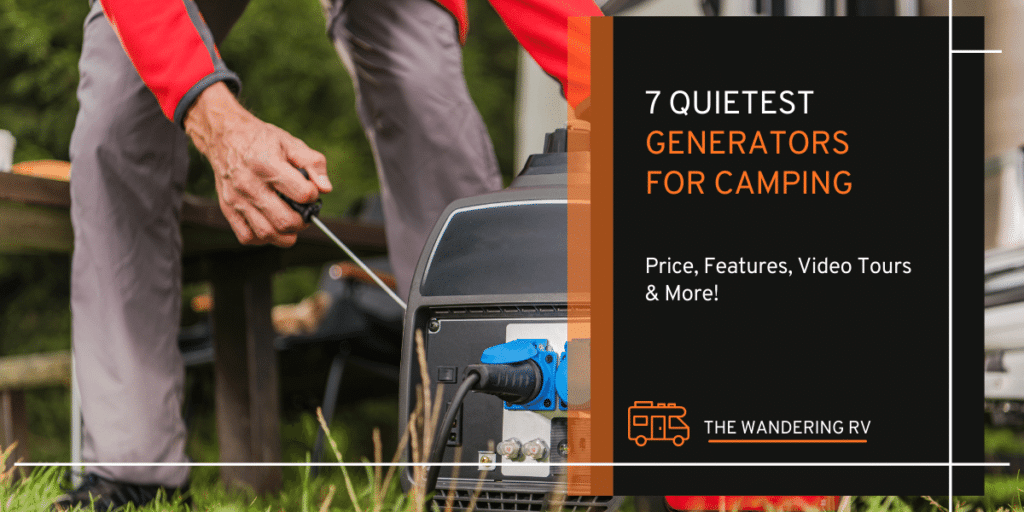 Are you looking for a quiet generator for camping?
Traditional gas generators are loud and obnoxious.
If you're in a tent or camping in an RV near other campers, they can annoy people fast.
Some campgrounds won't even allow loud generators!
Keep this in mind when choosing an RV generator.
Luckily, there are some great portable generators that make very little to no noise. We've compiled a list of the best quiet generators available right now.
Let's take a look!
Note: This list isn't just limited to solar generators, either! While solar power is much quieter than traditional gas generators, they don't offer as much power. It simply depends on your needs.
Table of Contents
A Quick Note on Noise Level & Inverters
Before we get into the best camping generator, let's talk about how noise levels are actually measured. You'll see below that we list the "dB" for each camping generator. This stands for "decibel" and it's a measure of how loud something is.
You may also see "dBA" which stands for "decibels A". The "A" refers to the weighting of a sound for what a human ear is able to hear.
If you wanna nerd out, here's a guide to learn more about sound decibels, but for the sake of simplicity, we'll just list things in dB.
When looking at these, note that inverter generators means the generator produces DC power through fuel, then converts it into stable AC power. This is the most common type of RV generator and the kind you will use!
With most generators, you have to consider things like size, noise level, and the level of fumes emitted. Luckily, with the following camping generators, you'll get enough power with one generator (and they all run quietly).
4 Best Quiet Gas Generators
In order of quality, here are the best gas powered quiet generators:
1. Honda EU2200i Portable Generator Inverter
Price: $1,229
Sound: 48 dB
Weight: 46.5 lbs
Dimensions: 20 x 11.4 x 16.7 in
The Honda EU2200i Portable Generator Inverter may be the most expensive of the portable generators on our list, but for good reason. It is the quietest gas generator available!
With a sound dB rating of 48, this generator will be more than quiet enough to enjoy your camping trips without the constant loud noise of a normal camping generator.
It's also extremely fuel-efficient and able to run for up to 8 hours on less than a gallon of gasoline! In fact, it's the most fuel-efficient generator on this list.
Overall, if you're looking for the quietest generator with more than enough power for your buck, the Honda generator is it!
2. Yamaha EF2000iSv2
Price: $1,050
Sound: 51.5 dB
Weight: 44.1 lbs
Dimensions: 19.3 x 11 x 17.9 in
Coming in next at just over $1k, we have the Yamaha EF2000iSv2. This portable generator is an extremely quiet machine with a dB rating of 51.5, which is a relatively quiet camping generator on our list today.
The Yamaha EF2000iSv2 is also the lightest gas option on our list and it uses a gear-driven valve train instead of a belt-driven valve train (which some people prefer). It really just comes down to portable preference.
Overall, if you need a lighter option that's still extremely quiet, the Yamaha EF2000iSv2 is the best portable camping generator for you.
3. WEN 56200i
Price: $450
Sound: 53 dB
Weight: 48 lbs
Dimensions: 18 x 11 x 18 in
The WEN 56200i is the next gas inverter generator for camping on our list (and it just so happens to be the cheapest). However, at 53 dB, it's a bit louder than the other camping generators on our list.
With that said, this inverter generator does only have a dB rating of 53, which is still a fairly quiet option. If you're looking for a cheaper option that's still a quiet generator for camping, but not the quietest out there, then this is the ideal camping generator for you!
4. Westinghouse iGen 2200
Price: $480
Sound: 52 dB
Weight: 46 lbs
Dimensions: 19.8 x 11.4 x 17.9 in
The last gas generator on our list today is the Westinghouse iGen 2200. This inverter generator has a price listing of $480, which is another very affordable option.
This generator is a light and quiet machine with a weight of 46 lbs and a dB rating of 52, which is one of the lightest and quietest gas generators that you will find on the market today!
Overall, this is a very affordable option for someone who is looking for their next quiet generator to add to their camping gear.
3 Best Quiet Solar Power Stations
Portable solar power stations are often called "solar generators" because they can supply power. However, this is a misconception because the stations don't actually generate power.
Portable power stations are basically just rechargeable batteries that can be charged with a solar panel or by being plugged into an outlet!
That said, they are a great quiet way of supplying power on a camping trip! They also make great off-grid generators.
Here are the best quiet generators powered by solar:
1. Jackery Solar Portable Camping Generators
Price: $1,400
Weight: 22 lbs
Dimensions: 13.1 x 9.2 x 11.1 in
The Jackery Solar Portable Camping Generators come in a variety of different sizes from 250 watts up to a 1500 watt unit. The specs and price listed above are based on the Jackery 1000 with solar panels.
These portable power banks can be used to charge many different devices or machines at one time. The added bonus of these solar panels guarantees you the ability to charge on the go because all you need is the sun!
Click here to read our full Jackery 1000 review.
2. EcoFlow River
Price: $700
Weight: 11 lbs
Dimensions: 11.7 x 7.3 x 7.7 in
The EcoFlow River portable power bank is another fantastic power source for camping trips.
This unit is the lightest on our list weighing in at 11 lbs, which makes it an extremely easy power bank to carry and transport whenever you might need it (you never know when you might need a mini portable generator)!
It's also the cheapest solar power bank unit on our list. With an average price of $700 for the unit and a solar panel for charging purposes, this is the perfect solar power option for anyone looking to save some money but still purchase an amazing unit!
3. Generark Solar Generator Power Bundle
Price: $1,400
Weight: 23 lbs
Dimensions: 13.07 x 9.15 x 9.57 in
The final portable solar power bank on our list is the Generark Solar Generator.
This small portable generator comes paired with a solar panel for charging your generator while out in the great outdoors.
The power bank costs $1,400, which is the same as the Jackery 1000. You can't go wrong with either option; they are both excellent options for an inverter generator!
Final Thoughts About Your Camping Generator
Out of all the camping generators on our list, we hope you were able to find one that suits your needs! We personally always bring a portable inverter generator with us whenever we go camping, and we love our Jackery.
Whether you need a quiet generator for camping or a backup for a power outage, I hope you've found what you're looking for on this list.
If you have questions about your camping generator, feel free to leave a comment below and we'll get back to you ASAP!
Related Reading: