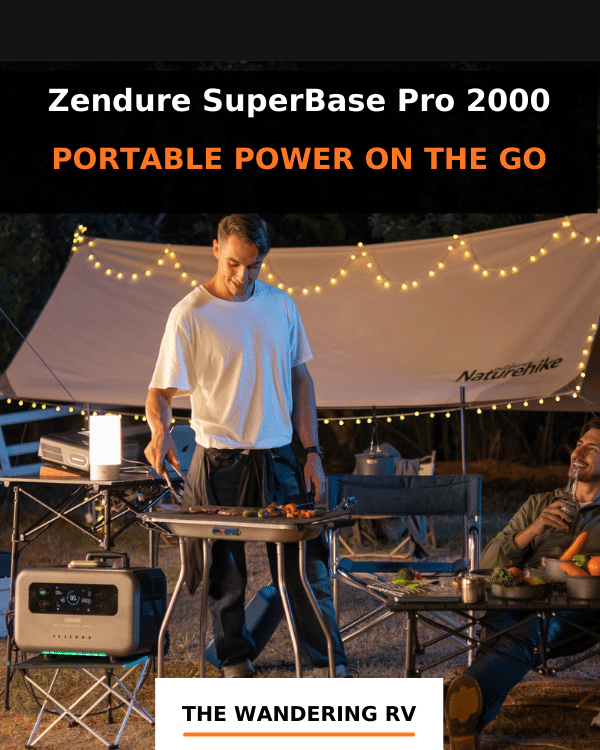 Grab your gear and let's go! We're taking a closer look at the Zendure SuperBase Pro 2000 Power Station, the ultimate power solution for all your on-the-go needs.
While the main use for the Zendure SBP2000 is as an automatic UPS system for your essential devices at home, we think it fits right in for use in your RV. We'll go over how it's the fastest solar charging IoT power station, how easy it is to install with your solar panels, and how it can power heavy-duty appliances.
Let's get into it.
Table of Contents
Note: Some of the links in this article are affiliate links. This doesn't cost you any more than normal. Read our disclaimer for more info.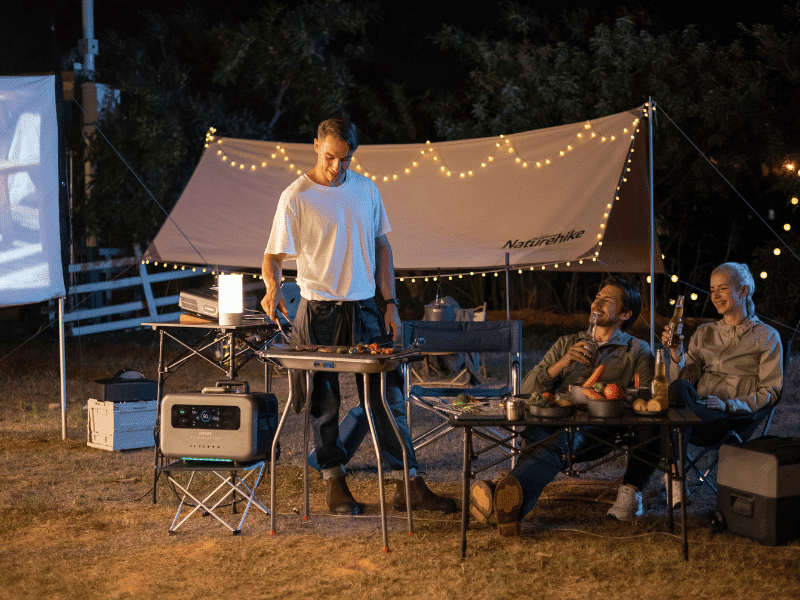 Key Specifications:
| | |
| --- | --- |
| Capacity | 2,096Wh |
| Battery Type | Li-NMC |
| Dimensions | 17.56 × 10.51 × 13.86in |
| Weight | 46.5lbs |
| AC Input | 1,800W |
| AC+XT60 (solar) Dual Input Max | 2400W Max |
| DC Input | XT60; 12V-60V, 10A/600W Max |
| 1 Hour Input | 80% |
| Output | 6 x *AC: 2,000W Max (100-120V), peak 4000W; (UPS Switching Speed: 13ms); 1 x **Car Outlet: 13.6V/10A Max; 3 x DC5521: 13.6V/10A Max; USB-C(1): 5V-20V, 100W Max; USB-C(2): 5V-20V, 100W Max; USB-C(3)(4): 5V-12V, 20W Max Total |
| LED Light | RGB Multicolor |
| Phone App? | Smart Companion App |
Design and Build Quality
The first thing you notice when unboxing the SBP2000 is its sleek design and solid build quality. Nothing about this seems like an afterthought or that it's cheaply made. The carrying handle and collapsible suitcase design make it easy for anyone to move around. It just feels like it will take the abuse of RV life—getting moved around a lot, getting packed under things, and surviving the bumps and jolts of being on the road.
Functionality
What sets this portable power station apart from the myriad of new competitors in this space has to be its ability to charge very quickly. This, as well as its adaptability in terms of how you can achieve that charge. Only have solar power? No problem. Are you only able to plug it into your van while driving? Easy. Is your generator running and your solar panels receiving full sun? Awesome! You can get it up to 80% in one hour and fully topped off in 90 minutes.
The other way this sets itself apart from the competition is its light weight (46.5 lbs) and 2000W rated output with 4000W peak surge power. This is perfect for air compressors, power tools, and other electric motors that have high initial amperage draws.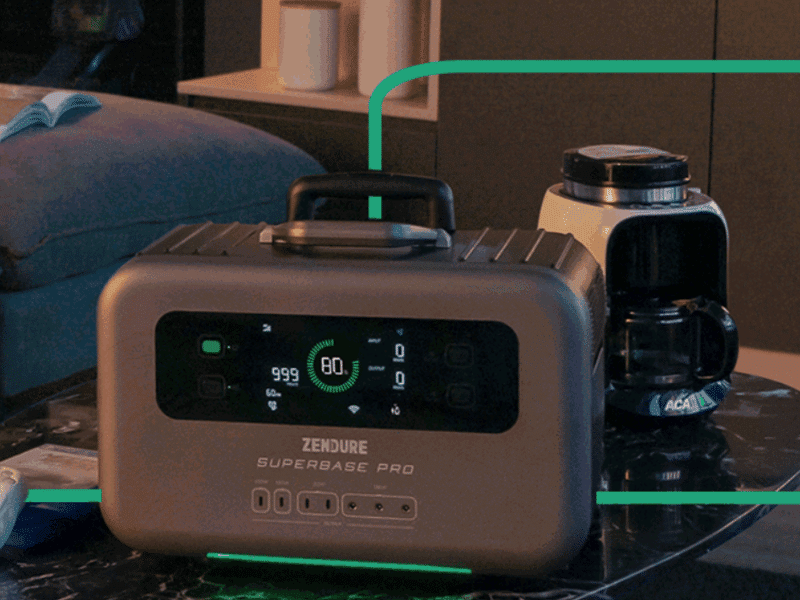 The rest of the features are fairly standard across most portable power packs, lots of AC plugs, USB plugs, USB-C charging, and a beautiful 6.1" large color LCD screen.
Features and Capabilities
As we mentioned, these work great around the house as an automatic UPS (uninterrupted power supply). You connect the SBP2000 to the wall and then your vital devices to it. Once it notices that your power has gone out, it will immediately use battery power to power your devices. With its monster internal battery, it can keep your devices up and running for hours.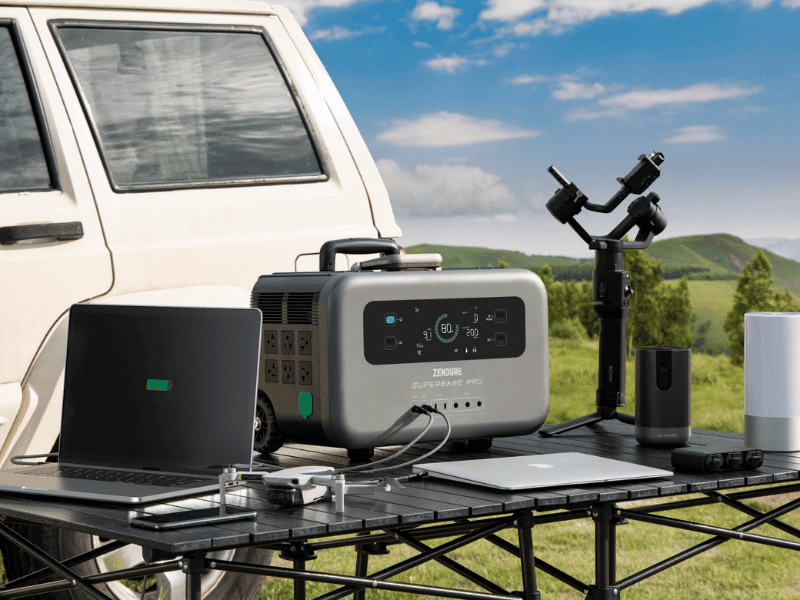 I recently used this during a power outage to power my gas furnace and keep my house warm. Since my furnace fan only pulls 300 watts, it was easily able to keep my house warm for 2 days, so I didn't have to worry about frozen pipes.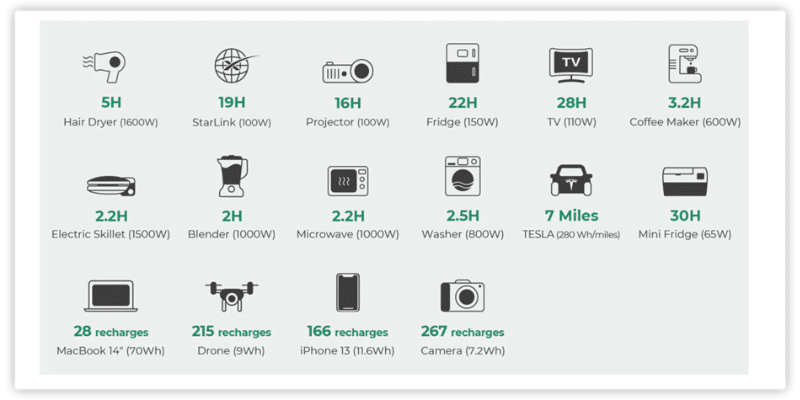 How we use it in our RV is more like a solar charger, AC inverter, and system that allows us to only plug in a few AC-only devices, as opposed to firing up the generator or turning on the whole RV inverter system. I also use it at the track to keep my portable fridge running in my trailer, to plug my laptop and monitor into, and to keep the outside LED lights on at night without worrying about running my small battery down. I also installed a small solar array on the roof to keep it topped off. Most of my races are at least 6-7 hours away, so it gives my truck plenty of time to top off the batteries on the drive. It also serves as a great AC inverter to power my laptop and portable fridge during the drive, too. This makes it the best power station for overlanding or van life!
The last neat feature is the integrated 4G, GPS, and WiFi capabilities. So as long as you've got a 4G signal, you can manage your power station from anywhere. With the app, you can check the location, remaining charge, and output power, all in real-time. This also allows you to track its location in real-time, which is a great integrated theft detector! It comes with one year of 4G service included but can run on WiFi or 4G after that.
Conclusion
The SBP2000 is a beast. It has a ton of great features, can be charged very quickly, and is super portable. We recommend the combo package of the SuperBasePro 2000 + 200W Solar panel. If you're looking for something that is easier on your budget, the Zendure SuperBase 600M is a fantastic choice at a fraction of the price. Everything from Zendure comes with a 24-month warranty, is shipped from the USA, and has a 24-hour customer service response time. We've been super impressed with their products so far.