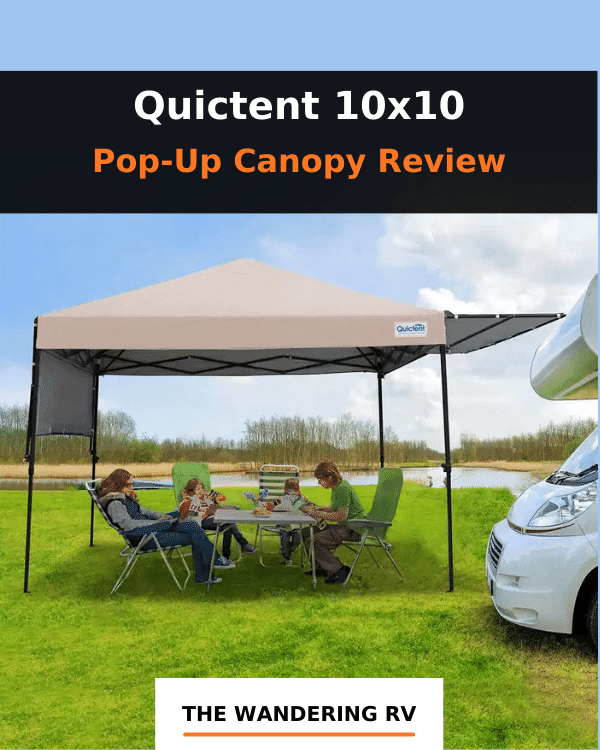 Today we had the pleasure of unboxing and testing out the 10×10 pop-up canopy from Quictent. I have a love/hate relationship with pop-up canopies. In perfect conditions, they are fantastic, providing shade, protection from the rain, and a gathering area for friends. On the other hand, if (and when) a windstorm hits, you'll have a 60-pound sail wreaking havoc on anything in its path. I pretty much treat them as disposable, as I've yet to have one last more than two seasons. The wimpy frames bend under the slightest wind or rain load, the canvas tears with constant use, and the velcro holding things together wears out. So, let's see how the Quictent holds up against the Colemans and other Walmart specials I've bought in the past!
Let's get into it.
Table of Contents
Note: Some of the links in this article are affiliate links. This doesn't cost you any more than normal. Read our disclaimer for more info.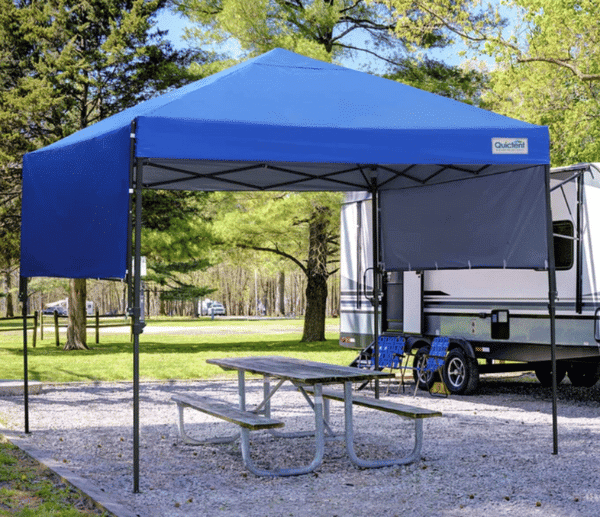 Design and Build Quality
I chose this unique design with one thing in mind: all-day shade. In the early and later months, with the sun low in the sky, sitting under your canopy rarely protects you from the sun. This is where the unique and adjustable side awnings caught my attention. Having an extra couple of feet of awning makes a huge difference in blocking out the sun in these conditions. I was very impressed with how they actually worked as well. There is a bit more assembly than the traditional pop-up canopy, but it seems worth it for the extra comfort throughout the day.
My next common complaint with canopies is their wimpy frames. In my experience, weak frames are the first thing to ruin a canopy, from flexing in the wind to completely crumpling in a storm. These frames were very sturdy and well-built. The buttons to lock everything in place and adjust heights were also well-built and provided a smooth setup process. The canopy is probably the weakest part of the whole build. While it's not the thinnest one I've owned, it definitely could have been thicker to hold up to the abuse. I also have some doubts about the velcro straps standing the test of time, but those are easy to replace!
Quictent Pop-Up Canopy Ease of Use
I live in Iowa, and it's March right now. There isn't a day where it isn't windy out. With that said, I set this up by myself in about 5 minutes, and there were no injuries. The bag that it came with has rollers and a heavy-duty zipper. Unbagging the tent and setting it up went smoothly. The mechanisms snapped into place with confident clicks. I assembled the little poles that go in the side awnings and spread their wings. While it did attempt flight, I was able to stake it down in time. Disassembly went without a hitch as well. I'm not sure who designs the bags that these are kept in. I assume it's the same people that design tent bags, as it's a VERY tight fit and took a decent amount of work to stuff everything back in. But, it all zipped up nicely and was wheeled away with ease.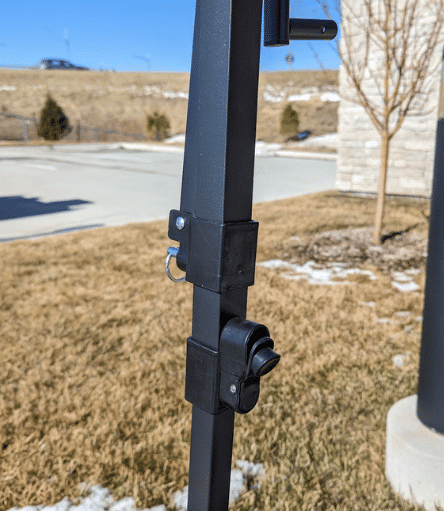 Pros and Cons
Pros
Side awnings
Beefy frame
Smooth operation for assembly and disassembly
Cons
I wish the side awnings were somehow removable or could be rolled up if not needed. They act as little sails in any kind of wind, requiring you to keep a close eye on the weather!
The canvas could be thicker
Other Quictent Options
Conclusion
In conclusion, the Quictent is about the same price as most medium-duty pop-up canopies. But, in comparison, it looks to be above the rest in quality and features. I received the tent two days after ordering, and the customer service was fantastic. It may not be the right canopy in every situation, such as a wide-open parking lot on a windy day. But it will do great tucked against your camper in the trees. I highly recommend it and can't wait to use it for years!