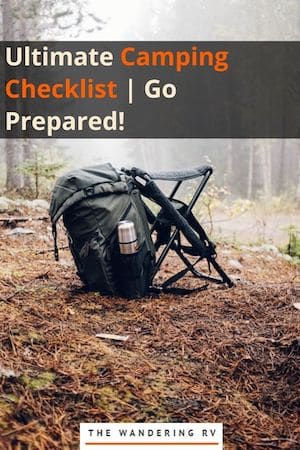 Getting ready to go on a camping trip in a pop up camper or tent (or better yet, are you camping for free?), but worried you might forget something? Don't worry! We made this ultimate camping checklist so you can be prepared and not forget anything! There's nothing worse than realizing you didn't bring enough blankets or forgot your toothbrush. Or not knowing all of the camping hacks out there!
When it comes to camping, preparation is key. Whether you're a seasoned outdoor enthusiast or a rookie camper, having a detailed checklist will help you avoid common camping mishaps and maximize your enjoyment of the wilderness. From basic survival items like tents and sleeping bags to creature comforts like camping chairs and board games, our Ultimate Camping Checklist covers it all. Remember, every camping trip is unique, so tailor this checklist to suit your specific needs and make your outdoor adventure as seamless as possible
Table of Contents
Campsite Essentials
Tent and stakes
Picnic table
Sleeping bags
Sleeping pillows
Lights/Lanterns
Extra batteries
Air mattress/cot
Camping Kitchen Checklist
Propane grill
meal plan
Pots/pans
Cooking utensils
Eating utensils
Cutting board
Plates/Bowls
Trash bags
Mugs/Cups
Bottle/Can opener
Sponge/pan scraper
Clothing
T-shirts
Shorts
Undergarments
Sleepwear
Long sleeve shirt
Sweatshirts
Lightweight sweater
Boots or shoes
Socks
Rain jacket/gear
Insulated Jacket (during cold weather)
Gloves/mittens
Swimsuits (if camping near water or pools)
Health & Hygiene
Hand sanitizer
Toothbrush and toothpaste
Toiletry kit
Body wash
Deodorant
Menstrual products
Prescription medications
First-aid kit
Sunscreen
Bug spray
Baby wipes
Cleaning wipes
Brush/comb
Earplugs
Portable camp shower
Personal Items
Phone
Wallet
I.D.
Cash/Debit cards/Credit Cards
Watch
Campsite Reservation (If required)
Tools & Repair Items
Multi-tool
Knife
Duct tape
Power cords
Mallet or hammer (for hammering tent stakes)
Saw or axe (for cutting firewood)
Small broom and dustpan
Wrench set
Camping Extras
Solar charger and portable power
GPS
Books
Radio
Games and toys
Deck of cards
Dog gear
Dry bags or clear plastic bins to store items
So, there you have it – the Ultimate Camping Checklist that will keep you prepared, safe, and able to fully immerse in the natural wonders around you. Before you load up the RV and head off, take a few moments to review this list and check off each item. Here's to your next unforgettable camping adventure!