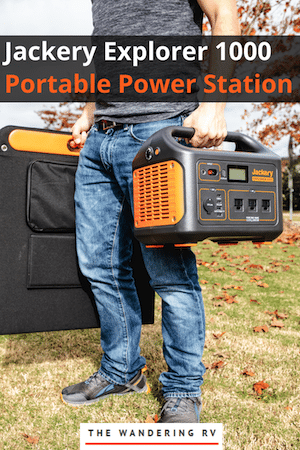 Whether you're looking for a generator for your RV, something to supply power on your next camping or tailgating adventure, or just a reliable backup generator in case of a home power outage, look no further than the Jackery Explorer 1000 portable power station.
The Jackery solar generator is an excellent power station with three AC ports that act like a wall outlet and several types of DC ports to power things like your phone or small electronics.
But with a price tag of over $1,000, is this power station worth the investment? We look at durability, portability, charge capability, and more in this quick roundup review. Let's dive in!
Table of Contents
Note: Some of the links in this article are affiliate links. This doesn't cost you any more than normal. Read our disclaimer for more info.
Jackery Explorer 1000 Portable Power Station: Pros & Cons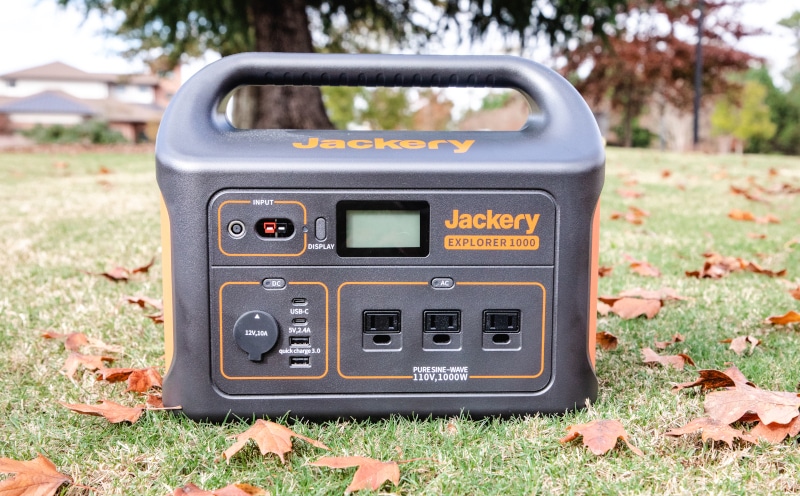 Pros
Pros:
Lightweight (22 lbs)
Relatively Affordable
Plenty of Ports
Can Power Refrigerators (<1000W)
Sleek & Durable
Fan Runs Quiet
Cons:
Slow Charging (200W Max Input)
USB-C PD Maxes Out at Just 18W
Have to Manually Turn On and Off
No Control App
Jackery Explorer 1000 Portable Power Station: Specs
For an outdoor adventure, Jackery's lithium battery generators are an excellent clean power option. It charges with solar power and can also be charged at home before you go for maximum use.
Now let's take a look at the individual specs of this lithium portable power station:
Battery Power Output & Ports
The Explorer 1000 is an absolute powerhouse of a solar generator. With a 1002W battery (21.6V, 46.4 amp), this power station is able to run your home fridge during power outages, as long as it's under 1000W.
You have several output options, including three AC ports, 2 USB-C ports, a 12V/10A port, a 5V/2.4A USB-A port, and a USB-A 3.0 quick charge port.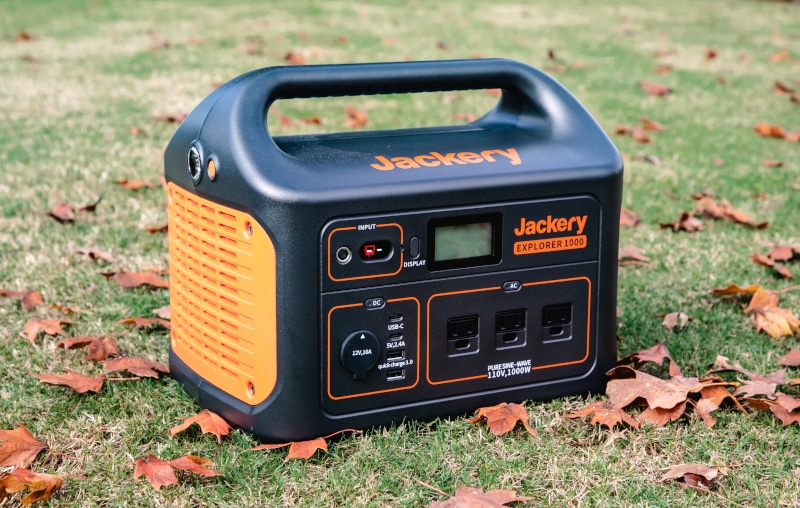 Each AC port acts as a wall outlet and is capable of powering anything from a simple fan all the way up to appliances like refrigerators and microwaves. We even used it to power up our vacuum when we were boondocking in our RV, and it worked like a charm! (The power outlets don't work in our RV off-shore power.)
The DC ports work great to power devices like your phone and other small electronics like tablets or smartwatches. In fact, you can charge your phone hundreds of times on a single charge! We didn't try it that many, but after a few dozen, we could see it lasting that long. Anyway, plenty of USB ports to choose from.
If you don't need something quite so powerful, consider getting a Jackery 300 power station instead. It's smaller, more lightweight, and more portable.
Charging Capabilities
There are three ways to charge your Jackery Explorer 1000:
Using solar panels
Using a car port
Using a wall outlet
You can charge your power station with solar panels. Jackery sells 100W SolarSaga charging panels, which we used for ours. They can charge up to 85W on a bright and sunny day and 30W max on an overcast one, so solar charging from zero to full takes anywhere from 8-16 hours depending on the weather and whether you have one or two panels charging your unit.
Note: We actually really liked the Jackery solar panels. They are easy to fold up, pretty durable, and easy to carry compared to some of the ugly, bulky, heavy panels we've seen elsewhere.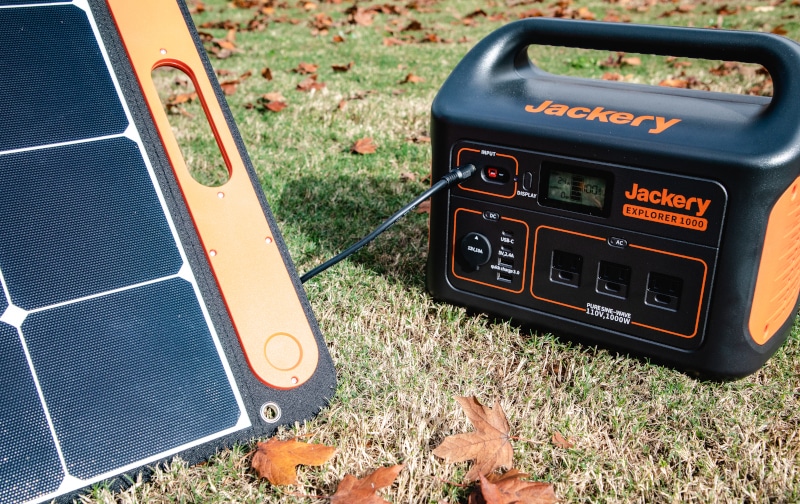 The car port option is the slowest way to charge your power stations. It takes about 14-18 hours to charge, depending on whether the car is off or on and running the alternator.
Finally, using a wall outlet is the fastest way to charge up. It takes just 8 hours to go from 0% to 100%. I love this feature because you can charge your power stations at home, then use solar power to keep them topped off when you're on the road or stuck during power outages.
Pure Sine Wave Inverter
All batteries charge with DC or direct current. The lithium battery is where the power station gets its DC. DC current powers the USB ports and the 12-volt power port of the Explorer 1000.
AC, or alternating current, powers devices like fans, TVs, and laptop chargers. To get AC from DC, you need to use a sine wave. The easiest and cheapest way to do this conversion is through a modified sine wave, which is a cheap imitation that lets you power things like lights.
However, a modified sine wave doesn't run very efficiently and will cause a lot more power to be wasted.
A pure sine wave inverter, which is what Jackery uses in their portable power stations, mimics the smooth sine wave of AC perfectly. So motors, sensitive medical equipment, and all other electronics will function just like they would if you plugged them into a wall outlet. No excess heat, no wasted power.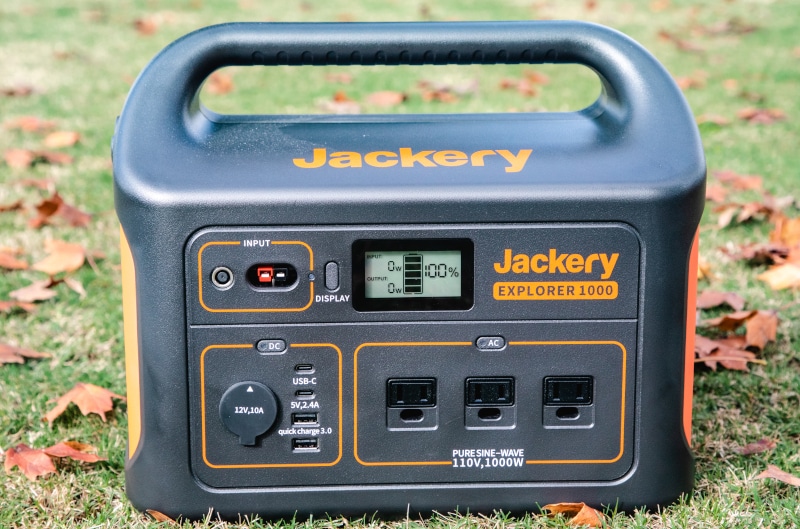 This one reason is why the Jackery portable power station is priced at $999 compared to other, cheaper power stations that use a modified sine wave inverter. It will run much more efficiently, generate less heat, and be more reliable if you're using sensitive equipment like a CPAP machine.
Look & Feel
I'll be honest – I love how Jackery's portable power stations look. The black and orange colors look sleek and modern, and the LCD screen is bright and easy to see.
The plastic is also really durable and doesn't feel cheap at all. Moving this thing around, I felt like it could handle a beating and last a long time.
At 22 lbs, you might not be able to bring it backpacking, but it's much lighter than most of its competition and could easily be picked up and brought with you in a vehicle anywhere.
Durability
Guys and gals, this thing is durable. In our recent adventure into Moab, we left the Jackery and our two 100w panels out to charge while we took my Tacoma on the SlickRock trail.
Halfway through our trip, it started pouring. This meant the Jackery got rained on for a good 45 minutes.
Not only did it still work through the pouring rain, but it also survived a night outside in the freezing cold at 30 degrees with frost covering it the next morning.
It may not be in tip-top shape after two years of use and abuse, but it's still kicking, and that's a lot to be said!
Conclusion
In our opinion, the Jackery Explorer 1000 Portable Power Station (and the other power stations from the explorer series) is a great product worth the price.
We can't recommend them highly enough, from their lithium-ion battery technology to their fast solar charging capabilities, as well as their extreme durability and light weight.
We've used ours to power toasters, lights, cameras, phones, laptops, portable fridges, and way more. It has great customer reviews from other buyers as well, and it's worked great for everything we've thrown at it.
There's a reason we voted Jackery as the best solar generator for off-grid living!
If you're looking for a reliable, durable, and portable power station that can be charged by 100w portable solar panels, look no further than the Jackery Explorer 1000.
If you are on a budget and don't need as much power, you can also consider the Explorer 500 or any of the other power stations in the Explorer series.
Frequently Asked Questions
What is a Portable Power Station?

A portable power station is a lithium ion battery that can charge your devices. It doesn't generate the power itself and therefore must be charged, either via a wall plug, a car port, or a solar panel.
Who is a Portable Power Station For?

A portable power station is great for anyone who wants power outdoors while camping or hiking, or anyone who needs backup energy during power outages.
How do you charge a Jackery portable power station?

You charge the Jackery power source with either a wall plug, car port, or solar panels.
How long does a portable power station last?

The charge in the Explorer 1000 can last months without degrading. If you're using it, depending on what you're running, it will power your devices anywhere from a day to several weeks (a refrigerator versus charging a phone, for example).