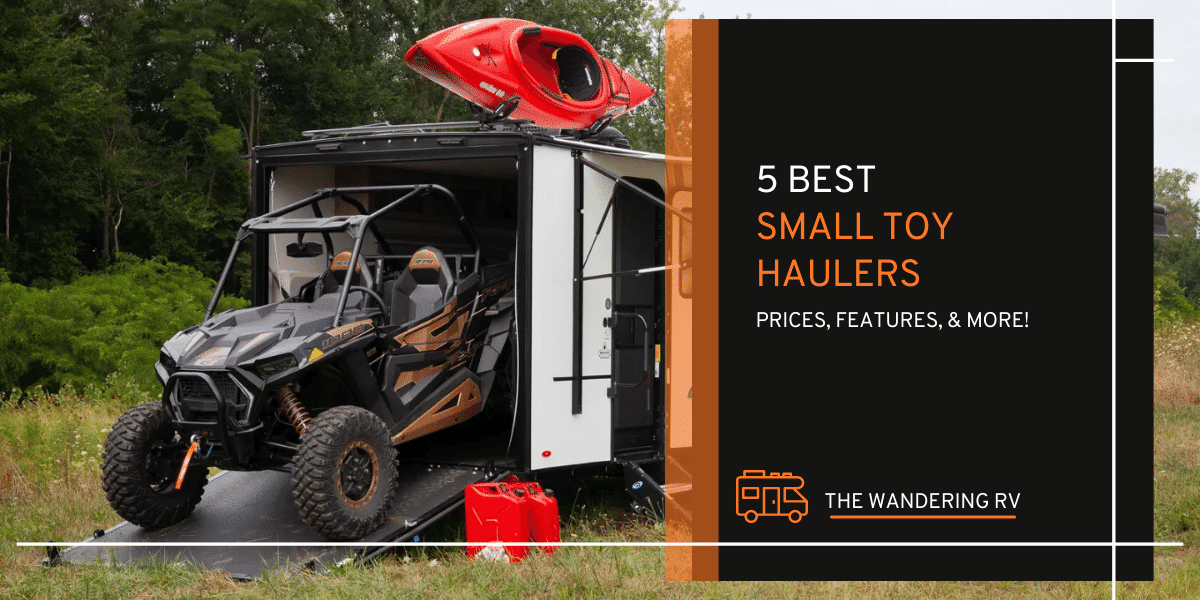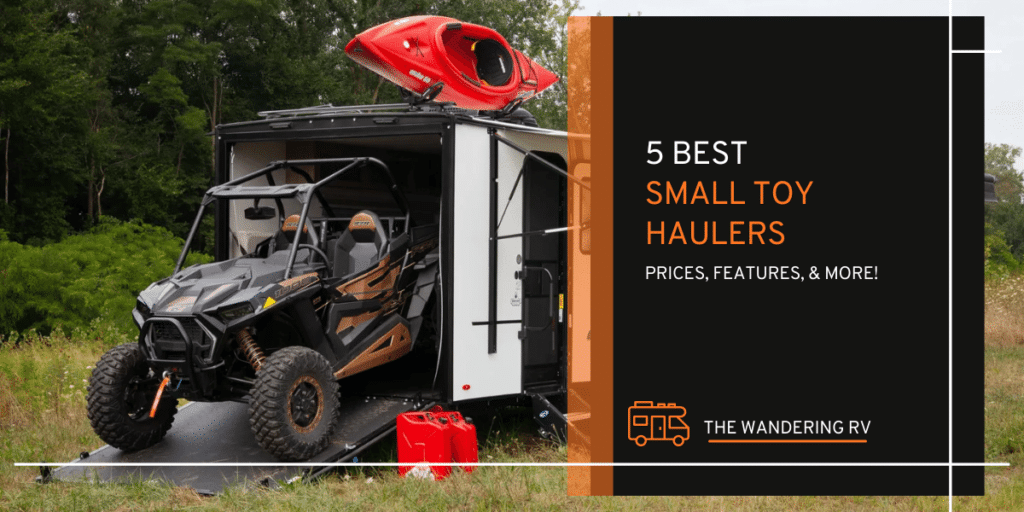 Welcome to the wonderful world of small toy haulers, where adventure meets practicality and weekends become exhilarating escapes! As a fellow toy hauler enthusiast currently on my own quest for the perfect rig, I'm thrilled to share my discoveries and insights with you. So buckle up, because we're about to embark on a thrilling journey to find the ultimate small toy hauler that'll make your weekends unforgettable and have you itching to hit the open road. Let the toy-hauling adventures begin!
Table of Contents
Key Features to Consider
Size and weight
Size and weight are crucial factors to consider when selecting the perfect small toy hauler, as they directly impact your tow vehicle's capability and the overall ease of towing. It's essential to ensure that your tow vehicle can handle the weight of the loaded toy hauler and that maneuvering it on the road and in campsites won't be overly challenging. Make sure to check your vehicle's towing capacity and factor in the loaded weight of your desired toy hauler to guarantee a smooth and safe traveling experience.
Cargo capacity
Cargo capacity plays a significant role when choosing the best small toy hauler for your needs. It's important to consider the types of recreational vehicles or equipment you'll be hauling, as side-by-sides will require a considerably different cargo space than dirt bikes. Ensure that the toy hauler you select has enough room to accommodate your favorite toys while also providing adequate space for essential gear and accessories, making your adventures more enjoyable and hassle-free.
Floorplan and living space
Floorplan and living space are crucial factors to keep in mind when choosing the perfect small toy hauler. Striking the right balance between cargo space and living area is essential, as your needs may vary depending on whether you plan to live in your camper full-time or use it for weekend adventures. Consider the layout, comfort, and functionality of the living space, and how it suits your lifestyle. Remember, the ideal toy hauler should cater to both your cargo needs and provide a comfortable retreat after a day of outdoor excitement.
Amenities and additional features
Amenities and additional features can truly elevate your small toy hauler experience, making it feel like a home away from home. Look for options that include a solar system for off-grid adventures, a mobile fuel station for convenient refueling, an outdoor kitchen for alfresco dining, an outdoor patio for relaxation, bunk beds for extra sleeping space, and more. These extra touches not only add convenience and comfort to your RV lifestyle but also help make your toy hauler a perfect fit for your unique needs and preferences.
Top 5 Small Toy Haulers
Coachmen Freedom Express Blast 17BLSE
Length / Width / Height: 20'4" / 96" / 10'3"
Weight: 3,594 lbs
CCC: 2,306 lbs
Cargo Area: 104" x 46" (see floor plan for detail)
Fresh / Gray / Black: 49 / 33 / 33
MSRP: $39,585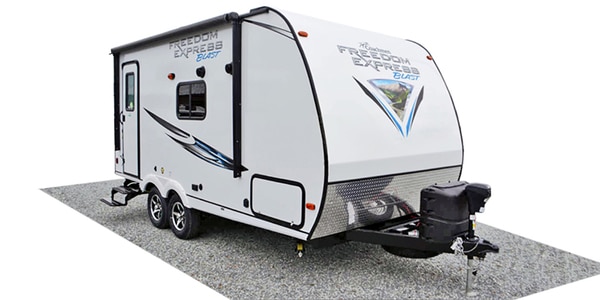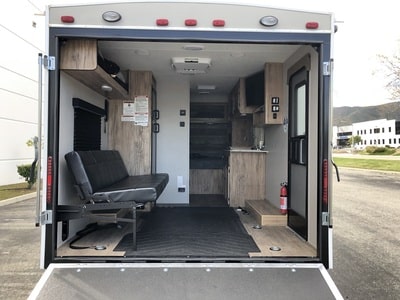 Experience the perfect blend of adventure and comfort with the Coachmen Freedom Express Blast 17BLSE toy hauler. Designed to meet the needs of thrill-seekers and outdoor enthusiasts alike, this travel trailer offers ample space for your toys, with a rear ramp door leading to a 104″ cargo area length and 80″ width. Once you've reached your destination, this versatile space transforms into a cozy living, kitchen, and sleeping area, complete with a 70″ rollover sofa, overhead shelf, and a free-standing table.
The Freedom Express Blast doesn't skimp on amenities either. Boasting a full kitchen, 32″ HDTV, 54″ x 80″ RV queen bed, and a private toilet and shower/tub room, this toy hauler ensures you can relax and recharge after a day of excitement. Constructed with vacuum-bonded walls and featuring a heated/enclosed underbelly, you can enjoy your adventures year-round, while the lightweight design allows for easy towing. Whether you're hauling motorcycles or other outdoor gear, the Coachmen Freedom Express Blast 17BLSE is the ideal choice for those who crave convenience and style without compromising on space or functionality.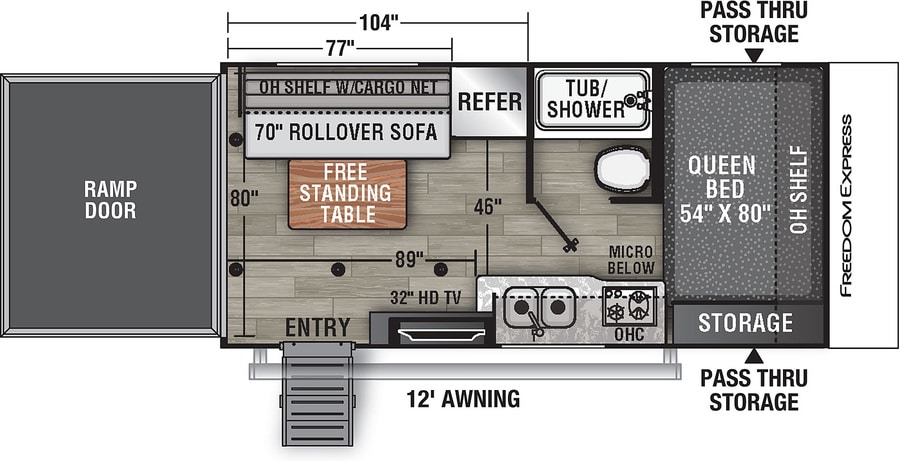 Forest River Ozark 1900TH Ascent
Length / Width / Height: 23'5" / 96" / 10'6"
Weight: 4,659
CCC: 3,116
Cargo Area: 125" x 66"
Fresh / Gray / Black: 54 / 40 / 40
MSRP: $45,921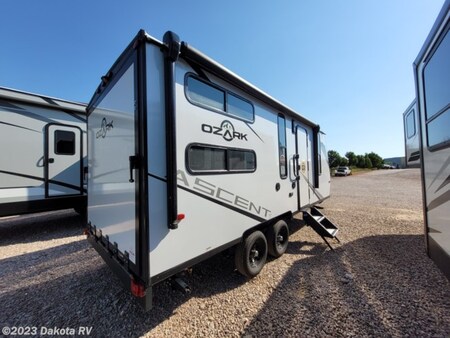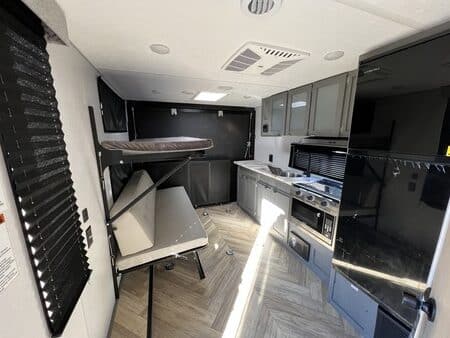 Get ready for the ultimate adventure with the Forest River Ozark 1900 TH Ascent toy hauler. Remember to opt for the Ascent package, which enhances your experience with smooth fiberglass exterior walls, .040 smooth front metal and upgraded steel wheels. With a 3,000 lb. ramp door, you can easily load up your off-road toys into the spacious 10′ 5″ garage area, which features 1,500 lb. tie-downs and a Stow N Load bunk system above the sofa seating / 30″ x 72″ sleeper.
Once you've reached your destination, the Ozark's well-equipped kitchen and largest-in-class single basin sink make meal prep and clean-up a breeze. The full bathroom, complete with a shower, and the exterior hot/cold shower allow you to freshen up after a day of outdoor fun. Unwind in the comfortable 60″ x 74″ bed, complete with under-bed storage, a wardrobe, and a USB charger/110V outlet to keep your devices charged. With a full-length power awning, adjustable legs, LED lights, and class-leading window package, the Forest River Ozark 1900 TH Ascent toy hauler ensures every adventure is comfortable, enjoyable, and unforgettable.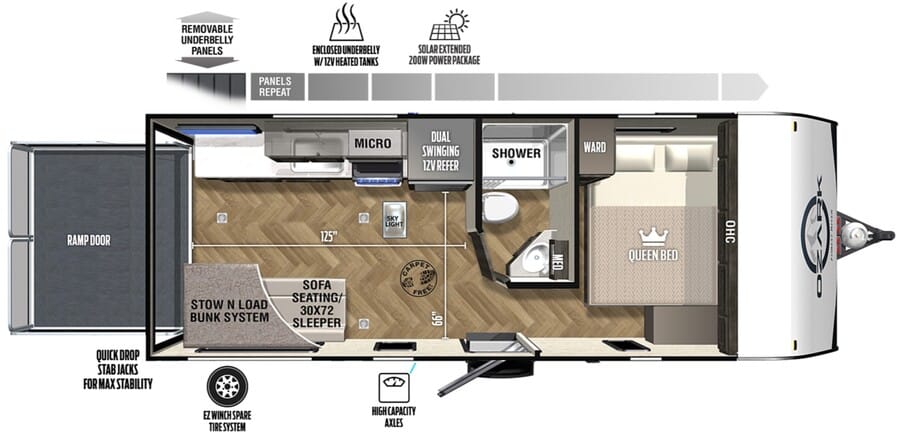 Forest River No Boundaries NB10.6
Length / Width / Height: 13'10" / 88" / 7'9"
Weight: 2,255
CCC: 3,416
Cargo Area: 60" x 82"
Fresh / Gray / Black: 30 / 0 / 0
MSRP: $16,999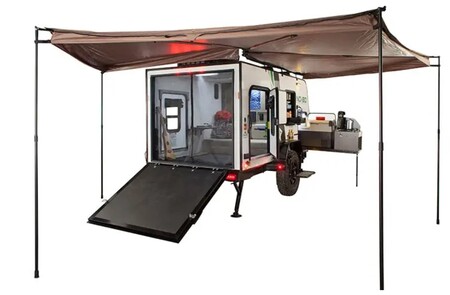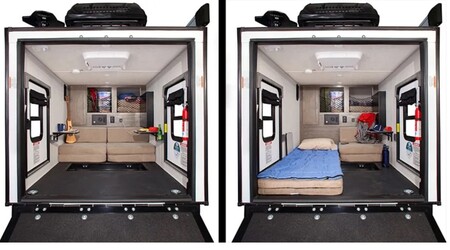 Venture into the great outdoors with the versatile Forest River No Boundaries NB10.6, a sub-2000 lb trailer that's equipped to handle all your adventures. With a rear ramp door, wrap-around awning, 12V/110 refer, 60×82 queen bed, industry-exclusive Rhino Rack Roof Rack Equipment, NoBo Nest Rooftop Tent, and boasting the highest ground clearance in its class, this tiny trailer-turned-toy-hauler is the perfect companion for your escapades. Load up your favorite gear, from canoes and kayaks to mountain bikes and dirt bikes, and embark on an unforgettable journey with this lightweight, towable trailer that's compatible with most crossovers, SUVs, and small pickups.
The NoBo 10.6's outdoor kitchen, complete with a two-burner camp stove and cooler, is cleverly tucked away in a street-side slide-out rack, while a pantry-like compartment nearby stores all your cooking essentials. Featuring a 30-gallon freshwater tank, this mini toy hauler is ready for dry camping adventures. The garage, spacious enough to fit a full-size ATV, and additional storage space in the front area make it an ideal choice for outdoor enthusiasts who crave flexibility and adaptability. With numerous option packages, external carriers for your equipment, a bat-wing awning, mesh rear-door screen, and a rooftop tent system, the Forest River No Boundaries 10.6 is a compact, intelligently designed basecamp that's ready to explore the wild with you.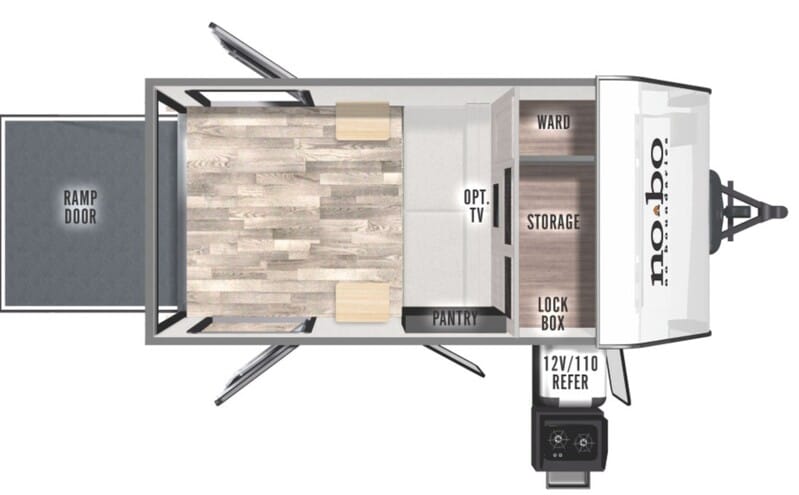 inTech Flyer Discover
Length / Width / Height: 13'10" / 88" / 7'9"
Weight: 2,475 lbs
CCC: 2,725 lbs
Cargo Area: 82" x 141"
Fresh / Gray / Black: 8.5 / 0 / 0
MSRP: $32,409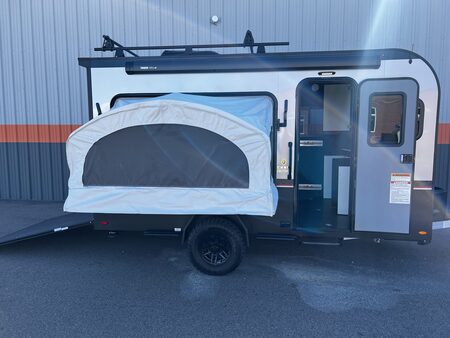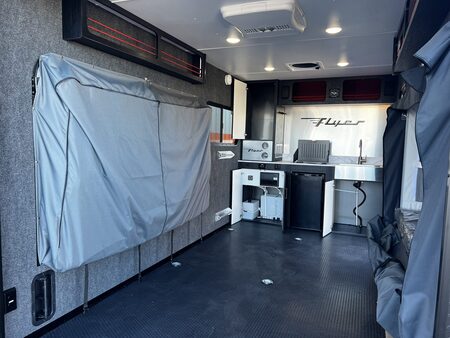 The InTech Flyer Discover is the grandest among the Flyer model toy haulers, boasting a standard roadside tip-out bed and an optional curbside tip-out bed, comfortably accommodating 4-6 adults. Doubling as a roomy adventure camper and a micro-lite toy hauler, the Discover is easy to tow and takes you places that traditional toy haulers simply can't reach. So go ahead and bring your toys, even a side-by-side fits snugly inside!
Constructed with an all-aluminum, all-tube, and fully welded cage frame, every inTech RV is lightweight, rust-resistant, and built to last using the strongest materials available. The Discover's spacious interior, with its tip-out bed, makes it an ideal choice for those seeking both comfort and convenience. Plus, it's light enough to tow with almost any SUV or truck. The only downside? You might need to dig a little deeper into your pockets for this one.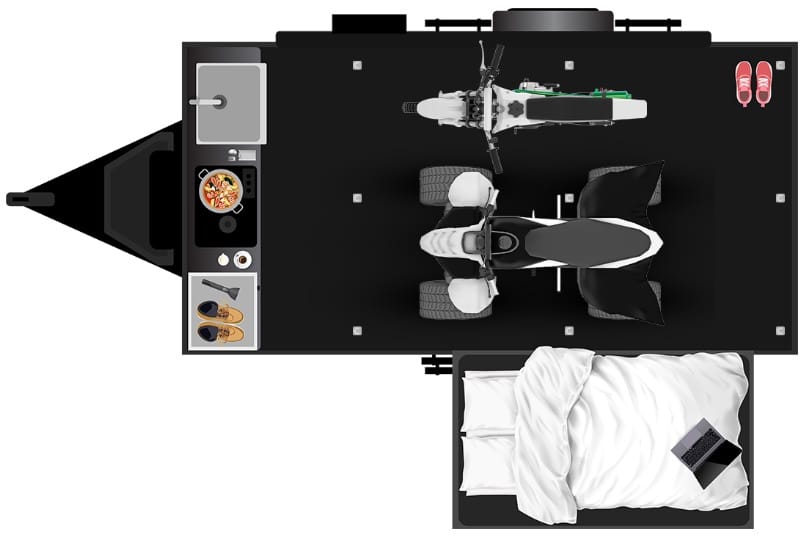 Dune Sport Custom Toy Haulers
Example of my ideal build:
Length / Width / Height: 19'0" / 84" / 10'6"
Weight: 3,775 lbs
CCC: 3,225 lbs
Cargo Area: 74" x 122"
Fresh / Gray / Black: 50 / 50 /5 0
MSRP: $24,409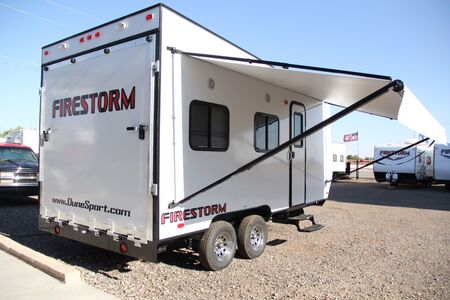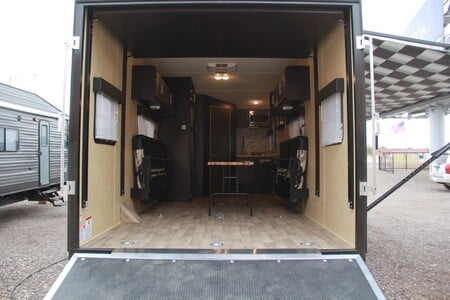 Take your toys on an adventure with a lightweight tagalong that still has plenty of room for home comforts. Smaller than a Fifth Wheel, these trailers fit easily over a 2 5/16" ball hitch on the back of your vehicle.
Starting at 10 feet in length, this small but mighty Dune Sport Bumper Pull features ample cargo space for your toy, along with comfortable living quarters that include a sleeping area, bathroom and kitchen area. As you go up in length, our longer toy haulers offer even more spacious bathrooms, kitchens and bedrooms. Best of all, you can customize every element to fit your exact needs and budget.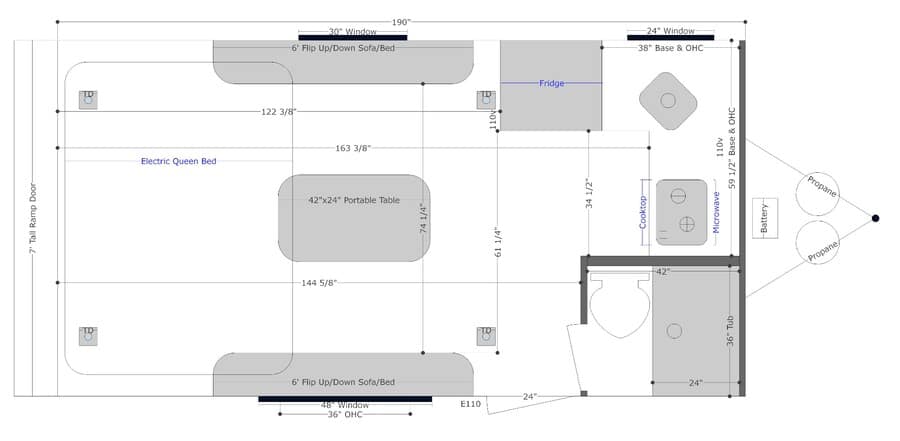 Tips for Choosing the Right Small Toy Hauler
Assess your specific needs:
Consider the type of toys you'll be hauling, the frequency of your trips, and the number of people traveling with you to ensure you select a toy hauler that meets all your requirements.
Set a budget:
Determine a price range that you're comfortable with and stick to it, remembering that there are plenty of great small toy haulers available at various price points.
Test out the floorplan:
Visit dealerships or RV shows to get a feel for different floorplans and layouts, ensuring the one you choose meets your space and functionality needs. Feel free to bring out a tape measure to see exactly how your toys will fit!
Research towing capacity and compatibility:
Make sure your tow vehicle can handle the weight and size of the toy hauler you're interested in, to avoid any unpleasant surprises down the road. You may consider taking a few for a quick tow to see how your vehicle handles the weight. You'll know within 10 minutes whether you'll be comfortable taking it across the country!
Conclusion
We've explored a range of fantastic small toy haulers, each offering unique features and benefits that cater to different lifestyles and preferences. So, get out there and find the small toy hauler that perfectly fits your adventurous spirit! After all, life's too short to miss out on the exhilarating world of toy-hauling escapades. Happy travels!