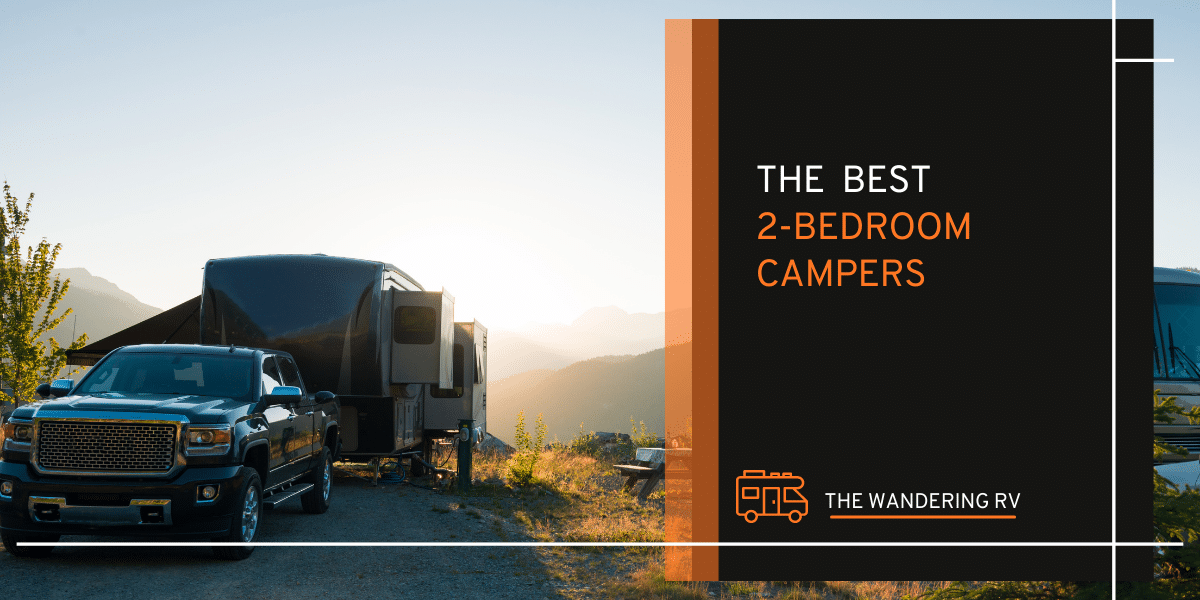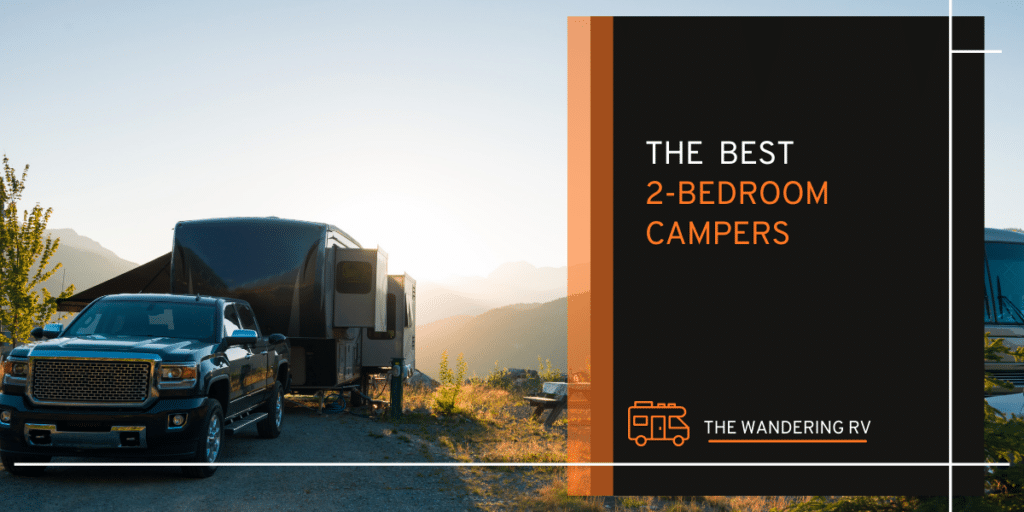 Welcome to the world of spacious RV living, where comfort meets adventure! In this guide, we're exploring the top RVs with two bedrooms, perfect for families, friends, or anyone craving a little extra legroom while roaming the open road. Buckle up and join us on this exciting journey through the ultimate mobile havens!
Table of Contents
Importance of space and comfort in RV travel
Space and comfort play a significant role in ensuring a pleasant RV experience, as they directly impact your ability to relax and enjoy your time on the road. A well-designed RV with ample space can make a world of difference, turning a cramped journey into a memorable adventure.
Overview of RVs with 2 bedrooms
RVs with two bedrooms offer additional privacy and versatility for families, groups of friends, or those who need extra space for hobbies or work. These models provide a separate sleeping area for added comfort, ensuring everyone has their own cozy nook to retreat to after a day of adventure. Let's face it, we all love our families, but on extended road trips, having a bit of privacy can be a true sanity-saver. When you're getting to know your family's quirks and habits a little too well, a two-bedroom RV allows everyone to have their own personal haven for some much-needed rest, relaxation, and occasional escape from Uncle Bob's snoring.
Key features to consider when choosing a 2-bedroom RV
A. Sleeping capacity
Consider the number of people the RV can comfortably accommodate, ensuring that there are enough sleeping spaces for everyone in your party. This may include bunk beds, a master suite, and convertible sleeping areas like dinettes or sofas.
B. Floorplan layout
An efficient and well-planned layout can make a significant difference in the overall comfort and functionality of the RV. Look for a design that suits your needs, whether it's an open-concept living area, separate spaces for privacy, or a blend of both.

C. Storage options
Adequate storage is essential in an RV, as it allows you to keep your belongings organized and easily accessible. Look for models that offer ample storage solutions, such as overhead cabinets, under-bed storage, and exterior pass-through compartments.
D. Kitchen and bathroom amenities
The quality and functionality of the kitchen and bathroom can significantly impact your overall RV experience. Consider models with well-equipped kitchens, including sufficient counter space, appliances, and storage. Additionally, ensure the bathroom offers a comfortable and convenient space, with features like a roomy shower and ample storage for toiletries. Better yet, we highly encourage you to look at layouts with 2 bathrooms.
E. Price range
Finally, consider your budget when choosing a 2-bedroom RV. The price can vary significantly depending on the make, model, and features included. Set a realistic budget for your purchase, and keep in mind that investing in a high-quality, comfortable RV can lead to more enjoyable travels in the long run. Our travel trailer options start with budget-friendly choices at $75k, while the high-end luxury diesel motor coaches can reach prices over $500k for those seeking the ultimate in opulence and comfort on the road.
Comparison Table:
MFR
Model
Length
MSRP
Sleeps
Weight
Slide
Outs
Type
Fresh / Gray / Black
Alliance
PARADIGM 395DS
42'6″
$134K
8
13,924
4
5th Wheel
98 / 106 / 106
Forest River
Arctic Wolf 3770
43'6″
$93K
6
10,893
3
5th Wheel
49 / 70 / 70
Grand Design
312BHTGS
37'4″
$78K
6
9,432
3
Travel Trailer
54 / 86 / 43
Winnebago
Voyager V3538BR
38'11"
$80k
6
9,582
3
Travel Trailer
60 / 147 / 49
Forest River
Georgetown 36B5
37'11"
$217K
9
22,000
3
Class A Gas
82 / 84 / 84
Best 5th Wheel RV with 2 Bedrooms
Length: 42'6″
Weight: 13,920lbs
Sleeps: 8
Slides: 4
MSRP: $134,204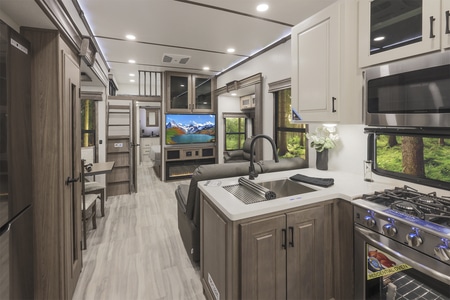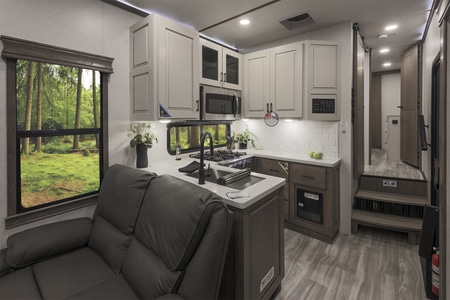 The Alliance PARADIGM 395DS is a luxurious and spacious 42'6″ fifth wheel, designed to provide comfort and convenience for families and large groups. With a starting MSRP of $134,204, this RV offers plenty of features that make it worth the investment. Boasting impressive tank capacities of 98 gallons for freshwater, 106 gallons for gray water, and 106 gallons for black water, this RV can handle extended trips with ease.
The sleeping capacity of the PARADIGM 395DS is 8 people, making it perfect for accommodating friends or family. With four slide-outs, the interior space is significantly expanded, providing ample room for everyone to relax and enjoy their time on the road. Weighing in at 13,920 pounds, this fifth wheel offers a good balance between size and weight.
One of the standout features of the Alliance PARADIGM 395DS is its two full bathrooms, providing additional convenience and privacy for its occupants. Additional features include three A/C units to keep everyone comfortable, a 320-watt solar system for off-grid adventures, and washer/dryer hookups for added convenience. The floorplan showcases the well-thought-out design of this RV, making it an excellent choice for those looking for a 2-bedroom RV that offers the perfect blend of luxury, space, and functionality.
Length: 43'6″
Weight: 10,893lbs
Sleeps: 6
Slides: 3
MSRP: $92,600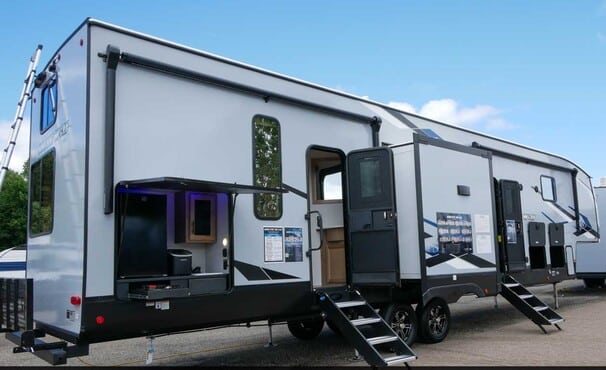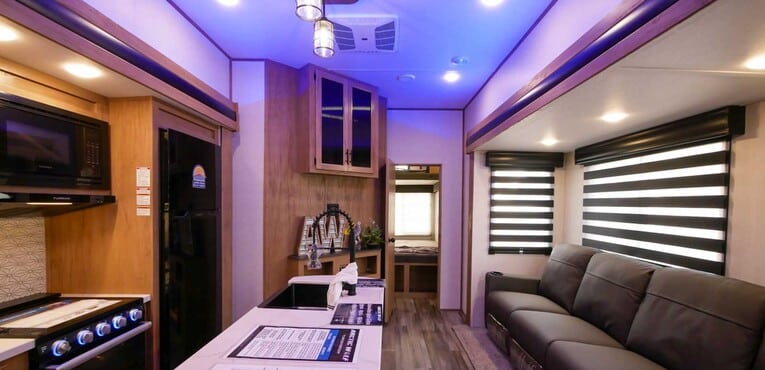 When it comes to value for money, the Forest River Arctic Wolf 3770 is our top pick for a budget-friendly 2-bedroom 5th wheel that still offers plenty of features and comforts. With a length of 43'6″ and an MSRP of $92,600, this 5th wheel provides an excellent balance between affordability and spaciousness.
The Arctic Wolf 3770 can accommodate up to 6 people and features tank capacities of 49 gallons for freshwater, 70 gallons for gray water, and 70 gallons for black water. Its lightweight design, weighing in at 10,893 pounds, makes it easy to tow, allowing for hassle-free road trips.
This budget-friendly 5th wheel comes packed with an array of features, such as 1.5 bathrooms, a cozy fireplace, a king-size bed for ultimate comfort, and 2 A/C units to keep everyone cool. The floorplan is designed for functionality, and the outdoor kitchen allows for enjoyable cooking experiences in the great outdoors. If you're seeking a spacious, feature-rich 2-bedroom 5th wheel without breaking the bank, the Forest River Arctic Wolf 3770 is the one for you!
Best Travel Trailer RVs with 2 Bedrooms:
Length: 38'11"
Weight: 9,582lbs
Sleeps: 6
Slides: 3
MSRP: $80,052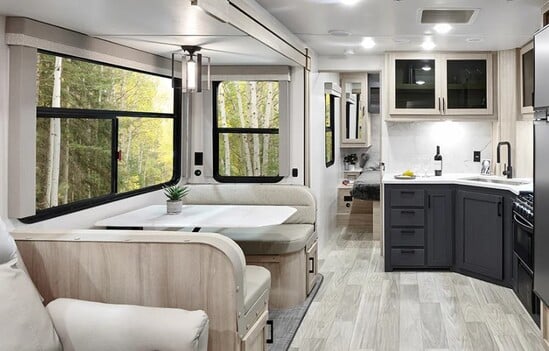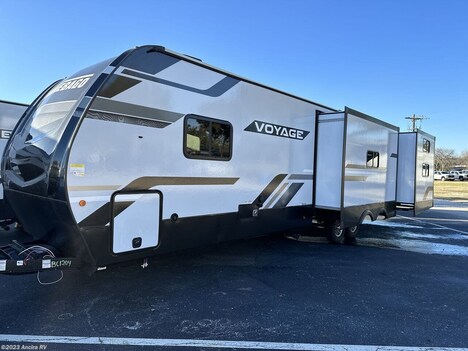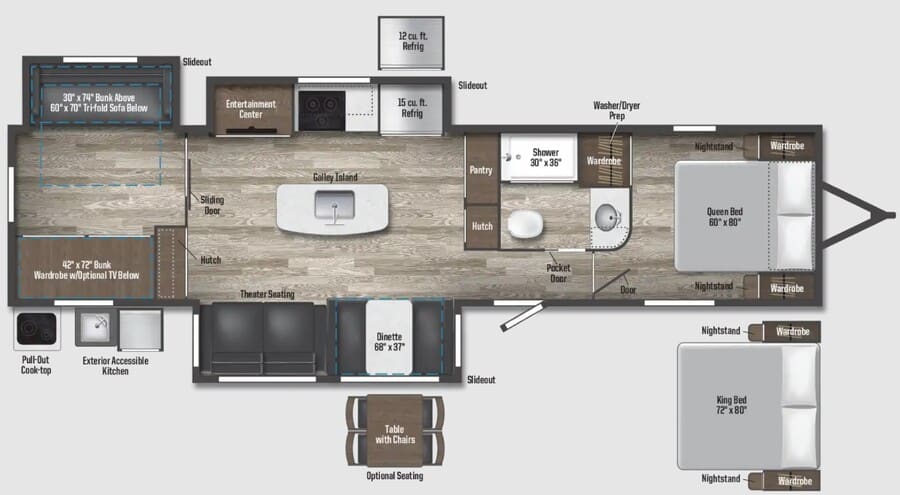 Out of our 2-bedroom travel trailer options, the Winnebago Voyage V3538BR takes the crown. Measuring 38'11" in length and with an MSRP of $80,052, this RV strikes the perfect balance between comfort, style, and value. Its tank capacities are generous, with 60 gallons for freshwater, 147 gallons for gray water, and 49 gallons for black water.
The Voyage V3538BR can comfortably sleep up to 6 people, thanks to its three slide-outs that maximize living space. With a weight of 9,582 pounds, it's a manageable load for many larger towing vehicles (this thing is looong!).
What sets the Winnebago Voyage V3538BR apart is its impressive list of features and amenities. It boasts a single bathroom, an outdoor kitchen for memorable cookouts, a king-size bed for ultimate relaxation, and a fireplace to create a cozy atmosphere. The floorplan showcases a well-planned layout that optimizes both comfort and functionality. For those seeking a top-notch 2-bedroom travel trailer, the Winnebago Voyage V3538BR is our top pick!
Length: 37'4″
Weight: 9,432lbs
Sleeps: 6
Slides: 3
MSRP: $78,654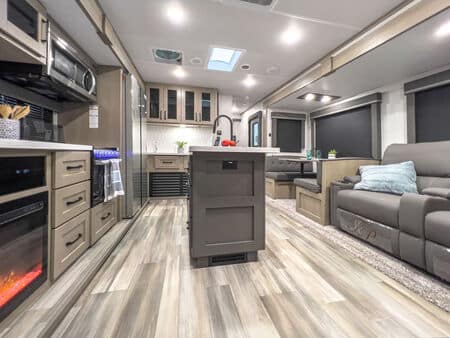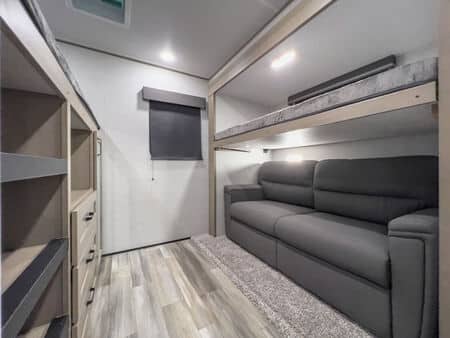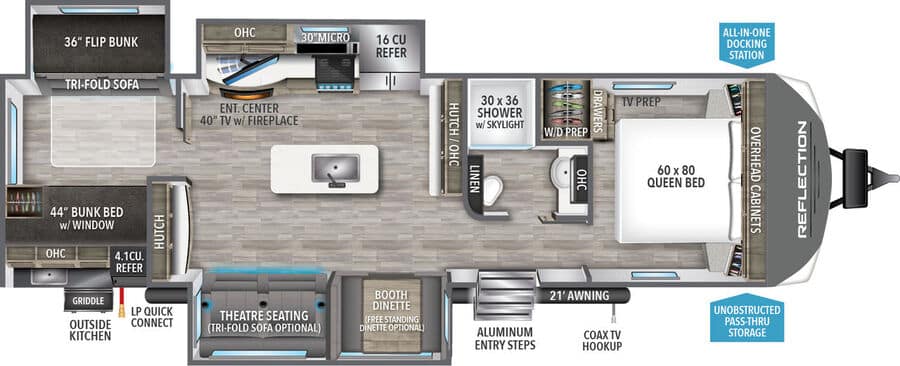 The Grand Design Reflection 312BHTS is a top choice for those seeking a 2-bedroom travel trailer. With a length of 37'4″ and a starting MSRP of $78,654, this RV provides excellent value for its price. The 312BHTS has tank capacities of 54 gallons for freshwater, 86 gallons for gray water, and 43 gallons for black water. This is a bit less than we'd prefer if traveling with a family. 54 gallons of water will go quickly with more than 2 people using the shower.
Able to accommodate up to 6 people, this travel trailer has three slide-outs, creating a spacious and comfortable interior for everyone on board. Weighing 9,432 pounds, the Reflection 312BHTS is pretty heavy for a travel trailer. We recommend a heavy duty (¾ to 1 ton pickup) to tow, or a weight distribution hitch if pulling with a smaller vehicle.
The Grand Design Reflection 312BHTS features a single bathroom and a variety of amenities that make it stand out, such as an outdoor kitchen, a tankless water heater, and a large 21-foot awning for extra shade and outdoor living space. The floorplan showcases an open layout, making this travel trailer an ideal option for those who want a 2-bedroom RV that offers comfort, style, and functionality.
Best Class A RV with Bunk Beds:
Length: 37'11"
Weight: 22,000lbs
Sleeps: 9
Slides: 3
MSRP: $216,749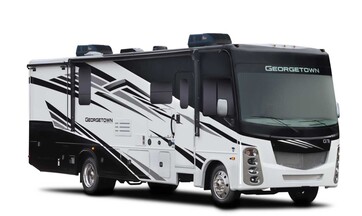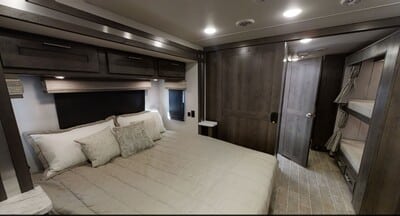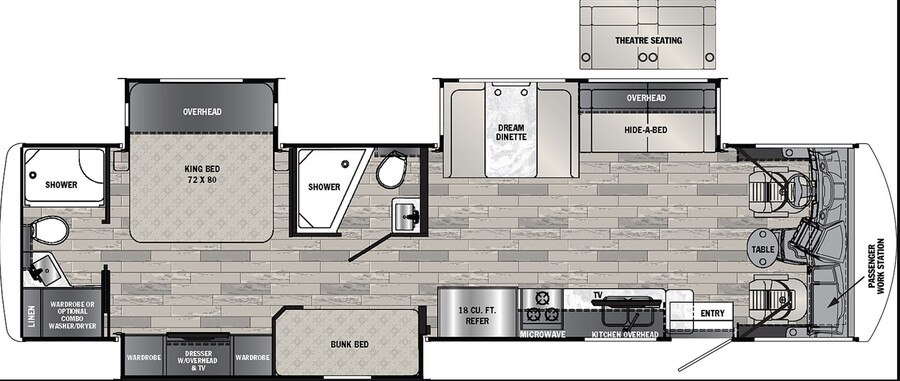 If you're looking for a Class A RV that offers a great combination of value and amenities, the Forest River Georgetown 36B5 is our top choice. While it doesn't have two separate bedrooms, it features a comfortable master bedroom and separate bunk beds, accommodating up to 9 people.
With a length of 37'11" and an MSRP of $216,749, this Class A Gas RV is an affordable option for those seeking a balance between luxury and practicality. Its tank capacities include 82 gallons for freshwater, 84 gallons for gray water, and 84 gallons for black water. The Georgetown 36B5 has 3 slideouts, providing ample space for you and your family.
This RV boasts a floorplan packed with features, such as 2 full bathrooms, a king-size bed, an 18 cu. ft. fridge, and a one-piece fiberglass roof. To keep you comfortable in various climates, it comes with two 18k BTU A/C units with heat pumps and a 3000W inverter. With the Forest River Georgetown 36B5, you'll enjoy the best of both worlds: value and amenities without sacrificing comfort and space.
You can also upgrade to its bigger brother, the Georgetown 36K7. At $272k, it's a bit pricier, but has a more private bedroom and a lot more features.
Alternative Options to Consider
If you're not set on a two-bedroom RV, there are other options worth exploring that still provide additional sleeping areas and versatility. Smaller RVs with bunk beds can maximize space and accommodate more sleepers without the need for a separate bedroom. Toy haulers feature large garages that can double as bedrooms, providing extra room for both your recreational gear and a comfortable sleeping area. Lastly, consider Class B RVs with overhead bunks above the driver's area, which can offer additional sleeping quarters without taking up valuable living space. These alternatives can provide you with creative ways to make the most of your RV's layout while still prioritizing comfort and functionality.
Conclusion
In conclusion, whether you're planning a cross-country adventure or an extended family vacation, a 2-bedroom RV offers the perfect combination of comfort, privacy, and togetherness. Remember, nothing brings a family closer together than having the option to close a door and enjoy a moment of peace and quiet. Happy RVing!