Ensuring your RV is level is essential for the well-being of your rig, optimal fridge functionality, and overall comfort. RV leveling blocks come to the rescue to help you maintain a balanced position on uneven terrain. With numerous options available, finding the best leveling blocks can be quite the challenge. Don't worry! We've done the research and present you with the best RV leveling blocks for 2023.
Spoiler alert: The Camco leveling blocks take the top spot, but keep reading to explore more options and learn why leveling your RV is crucial.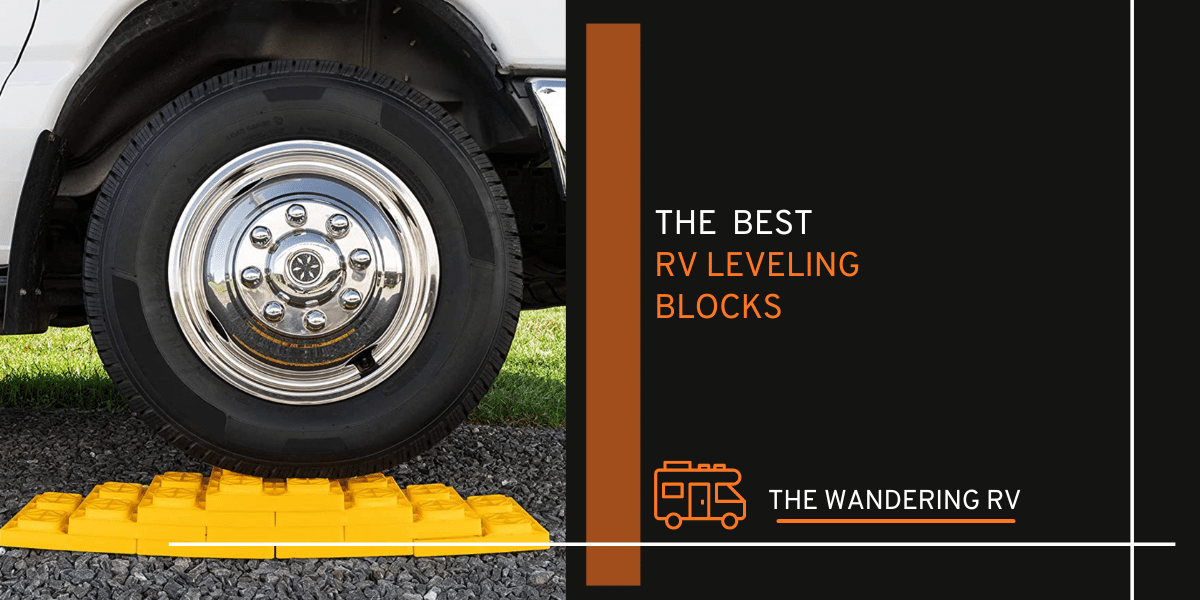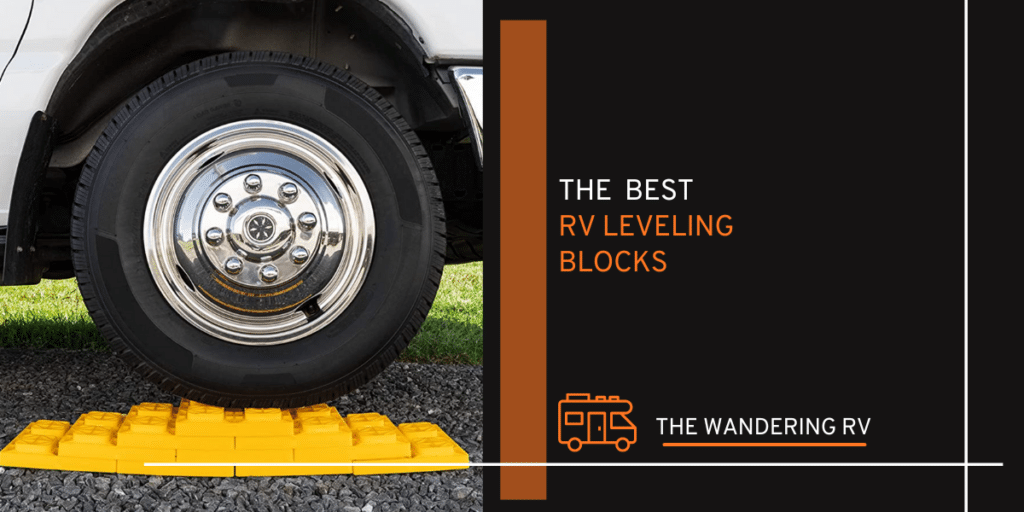 Table of Contents
Note: Some of the links in this article are affiliate links. This doesn't cost you any more than normal. Read our disclaimer for more info.
Best RV Leveling Blocks of 2023
Best Overall – Camco Leveling Blocks
Summary
The Camco interlocking leveling blocks are among the few that stand out for their genuine made-in-the-U.S. pedigree. Unlike most leveling blocks on the market, the Camco uses resins from the U.S. They're put together in manufacturing facilities in-country, which results in a reliable, high-quality modular product that will see you through many trips and seasons.
Pros
Camco makes use of its industry-secret technology to make its leveling blocks UV-resistant, durable, and able to distribute your RV's size and weight efficiently, even in times when you can't. They also come with a free carrying bag, and you can clean them without much hassle before putting them in storage.
Cons
These blocks work great in dry conditions, but they can be slippery on wet ground, especially when it's snowing. Some users also report some cracks forming after using them with 20-foot and heavier RVs
Sale
Best Value – Tri-Lynx Leveling Blocks
Summary
Like Camco leveling blocks, the Lynx Levelers from Tri-Lynx are also proudly made-in-the-U.S. with American resins. However, the company goes one step further by giving their customers a bulletproof 10-year warranty for any cracks or latent defects in their blocks. Lynx Levelers are durable, easy to use, and able to serve other stabilizing equipment as a support base.
Pros
The Lynx Levelers receive great reviews on RV and camping sites because of their unparalleled durability. Users test them on massive campers like the Jayco Eagle HT 314BHDS, which weighs over 8200 pounds wet and still attest to their excellent quality—provided that you know how and where to use them.
Cons
These levelers are ideal for uneven ground conditions, but be careful when using these in RV parks, especially ones with a lot of chunky gravel. Uneven weight distribution at the blocks' base can cause them to crack, and the warranty won't cover them.
Honorable Mention – Andersen Leveling Blocks
Summary
The RV leveler blocks from Andersen Hitches have an unfortunate name: The 3604. Instead of blocks per se, they look more like half-round wedges than a standard chock kit, and they require no tying down or stacking. All you need to do is drive on them and then chock, which is perfect when you're parking in a hurry or stopping on damp ground. A lot of campers say they're more reliable than many standard leveling blocks.
Pros
The Andersen Hitches 2-Pack camper levelers have a higher weight capacity when you compare them to most mainstream blocks on the market, capable of handling RVs that weigh up to 30,000 pounds. They also have a wide girth, and you can park trailers and campers with tire sizes up to 32" while giving them up to a 4" lift from the ground.
Cons
Even with online discounts, the 3604s are still more expensive than most RV leveling blocks. While they might be twice as easy to use, they can cost thrice or four times as much as what you would pay for a Camco or a Tri-Lynx, and you might need more than one pack.
Sale
Camper Leveler | Andersen Hitches | Frustration Free Drive-On Leveling in Seconds | Up to 30,000 Lbs | Drive On, Chock, Done
LOOKING FOR THE BEST LEVELING BLOCKS FOR CAMPERS? LEVEL YOUR CAMPER, RV, MOTOOR TRAILER IN 5 MINUTES OR LESS WITH THE BEST LEVELER KIT ON THE MARKET! Are you ready to experience the BEST levelers for your RV? Level your camper, RV, or Trailer on the FIRST TRY by simply driving on until level. Chock. Done. Nothing is easier to use than the innovative Andersen Hitches Camper Leveler Kit. You'll literally be ready to roast hot dogs, s'mores, or head out to go hiking or fishing in 5 minutes or less!
EXPERIENCE THE ONLY ON-THE-FLY, PRECISE CAMPER LEVELING SYSTEM AT ANY INCREMENT BETWEEN 1/2″ AND 4″ (LIFTS UP TO 4″) RIGHT FROM THE DRIVER'S SEAT. AVOID THE HASSLE, HEADACHE, AND WASTED CAMPGROUND TIME OF SETTING UP YOUR RV OR CAMPER WITH BLOCKS AND PLANKS. Don't get in and out of the driver's seat and/or make your spouse or significant other drag blocks or heavy planks around…. and stop worrying about a plank flying out at someone's shin – or head!
What Are Leveling Blocks? Do You Need Them?
If you live out in the country, you have no doubt seen pickup trucks, tractors, and passenger vans with blocks underneath their tires as people leave them in the middle of a field or on the side of a dirt road. Experienced drivers use these blocks so that their vehicles don't roll away or skid down an uneven surface. RV leveling blocks increase the point of contact between the ground and your tires to ensure that your vehicle will stay in place no matter how much the terrain is sloped.
Leveling blocks:
Keep your RV's plumbing working properly
Keep your fridge and air-conditioning units working without starving their pumps
Prevent mechanical damage to automatically extending parts like slide-outs
For years, people had to make do with concrete or with porous and water-absorbent woodblocks that could break down when they were not paying attention. You might be surprised by just how far a more-than-10,000-pound vehicle can skid! Many RV campsites don't feature paved parking spots, so leveling blocks are necessary for long road trips through hilly areas and mountainous regions.
RV Leveling Blocks Features
Material & Type
Most RV leveling blocks have a combination of resin and plastic for their overall construction. These materials naturally bend a little to accommodate the weight of an RV without cracking. A standard leveling block can take about 3,500 pounds to 10,000 pounds of weight.
Today, you can find three types of RV leveling blocks on the market:
a drive-on tri-leveler, a single piece of plastic that works as a stair that you can buy exclusively from Camco
a rounded leveler with double wheel chocks that you can buy from Tri-lynx
a stackable Lego leveler, the most popular type that many companies sell
How to Use RV Leveling Blocks
Driving to the Most Level Spot
Finding a level spot is essential for your RV, not just so that it won't skid, but so that the coolant-containing appliances inside it will work properly. Most fridges have refrigerant tanks that need to be always level so they can do their work. A tilt of more than three degrees can permanently damage your fridge's compressor, which could leave you with a lot of spoiled food.
So how do you find a level parking spot? If you're an experienced driver, you'll know how to feel the ground beneath your wheels and make an accurate estimation of your RV's stability. If you're new to RVs, buy a spirit level from a nearby hardware store and install it using one of the horizontal lines inside your vehicle, like a window or a door, as a guide to provide visual confirmation on whether you're level or not.
Use Your Level Bubbles
The easiest way to know if you're parking on a level spot is by looking at the bubble on a spirit level. Many campers are wildlife photographers who bring camera tripods wherever they go. These accessories have a bull's eye or a tubular spirit level that will tell them whether they're shooting from a level surface or not.
You can buy a tripod, an RV level, or a standard carpenter's spirit level, but we recommend a manual tool that doesn't need batteries to run. Install products like the Camco AccuLevel or Hopkins Towing Solutions Level atop a horizontal guideline inside your RV, then stare at the bubble that flows through it from end to end. Feel out your camping ground, and wherever the spirit bubble stays closest to the middle, that's the best spot to park.
Place Your Blocks
Sometimes, you won't find any level spots on a campsite no matter how much you look. When you find the most level parking spot possible, it's time to break out your RV leveling blocks. Most models work like Legos, and you can stack them on top of each other to reach the height you want.
Begin stacking your RV leveling blocks in front of your RV's front or rear wheels. Ensure that you plant their bases firmly in a place where they can distribute your RV's weight equally. Avoid using them on gravel, loose dirt, or roots, as they can crack and break when their bases bend to accommodate your RV.
Check Your Level Bubbles Again
Climb back onto the RV and re-check your spirit bubble. Keep readjusting your leveling blocks until you see the bubble stop in the middle of the spirit level. If it leans a little too much to the left or the right, your RV isn't level, even if you feel comfortable inside.
Getting your RV level can take several adjustments to your leveling blocks, but this is far less expensive and troubling than having your fridge or plumbing break down in the middle of a trip.
Conclusion
We hope our comprehensive guide to the best RV leveling blocks in 2023 has made your decision-making process a breeze. Armed with our top picks and expert insights, you can now confidently choose the right leveling blocks for your RV, ensuring your rig stays stable and you remain comfortable on any terrain. Happy RVing!
Other RV Buying Guides: