Are you searching for a new RV antenna, but feeling overwhelmed by the options? Fear not! We've done the legwork for you and tested various models to determine their worth. For those in a hurry, our top pick is the Winegard Sensar IV Digital and HD Antenna.
However, if you're keen to explore more options, stick around as we delve into the best RV antennas available today!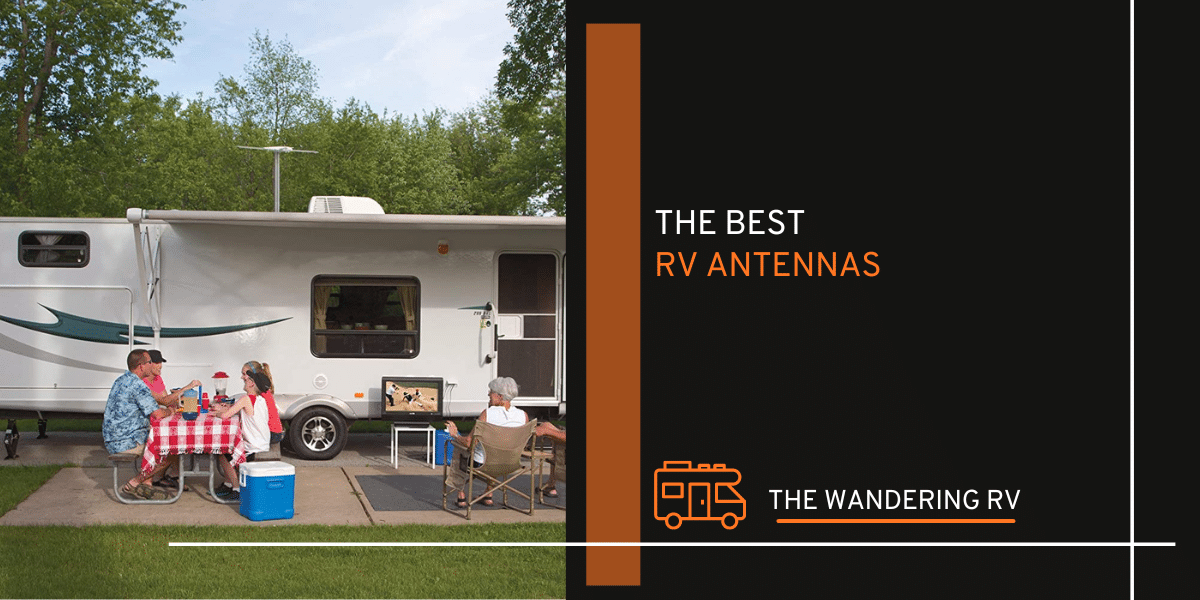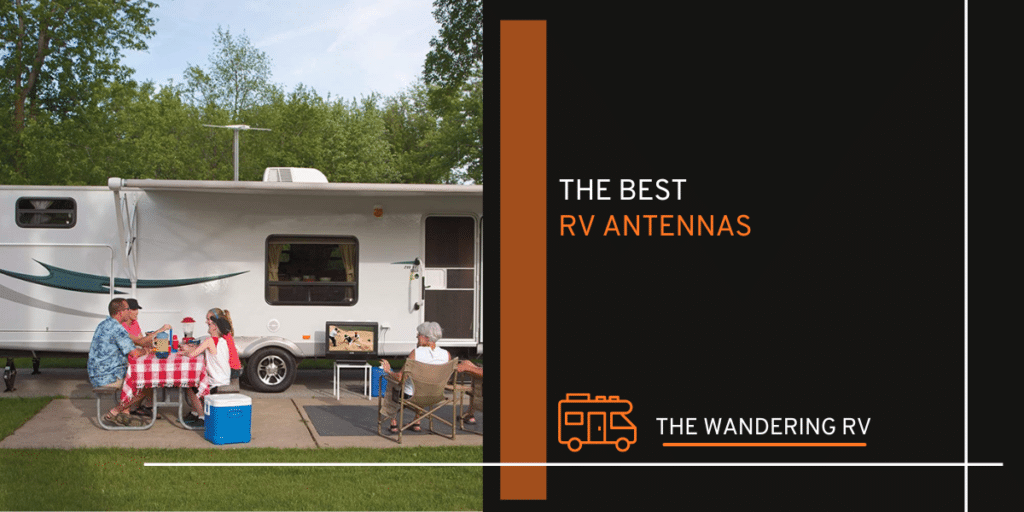 Table of Contents
Note: Some of the links in this article are affiliate links. This doesn't cost you any more than normal. Read our disclaimer for more info.
Best RV Antennas of 2023
Best Overall – Winegard Sensar IV Digital and HD Antenna
Summary
With a range of 55 miles, it doesn't get any better than the Winegard Sensar IV travel trailer antenna. This powder-coated, retractable model is built to last and weighs only nine pounds.
Pros
Easy installation
Excellent reception with little to no static
Well-designed and built
Cons
Winegard RVW-395 Sensar IV White DTV/HD TV Antenna
Enhanced antenna exceeds at receiving digital TV signals.Fit Type: Universal Fit
Receives all VHF and UHF programming available within 55 mile radius
Receives SD and HD local over the air television broadcast channels (ABC, CBS, NBC, FOX plus many more sub channels not offered by satellite)
Best Value – KING Jack Directional OTA Antenna
Summary
King boasts that this model catches up to 80% of the broadcast HD channels. It's a compact solution that can replace or fit your current batwing model. It zeroes in on the strongest signal within range to provide crystal-clear images.
Pros
Lightweight
Takes five minutes to install
Compact
Gets great reception
Cons
Won't pick up as many channels as Batwing models
Not suitable for all RV models because of the mount
Sale
KING OA8400 Jack HDTV Directional Over-the-Air Antenna with Mount – White
Long-range signal acquisition gets more channels
Simple, fast antenna pointing with 360-degree rotation
Upgraded technology enhances UHF signal reception while still receiving remaining VHF broadcast channels
Broader reception coverage quickly locates strongest signal and maximizes reception
Compact, aerodynamic design minimizes wind resistance and is up to 70 percent smaller than traditional RV antennas
Best Budget – PBD Amplified HDTV Antenna
Summary
This multi-directional HD antenna for RV comes with a built-in signal amplifier. It's built to endure a lot of abuse from the elements. The UV protection prevents the mast from becoming brittle with age, and the waterproof design keeps all the internal components free of condensation.
Pros
Quick installation
Outstanding reception
No need to rotate the RV antenna
Low-profile design
Cons
Range of up to 150 miles (we're skeptical)
Bad weather causes breaks in the signal
PBD WA-2608 Digital Amplified Outdoor HD TV Antenna with Mounting Pole & 40 ft RG6 Coax Cable 150 Miles Range Wireless Remote Rotation Support 2TVs
150 Miles Long Range and Dual TV Outputs –Full HDTV support 720p, 1080i, 1080p, 4K | Working Frequency: VHF 170 – 230MHz | UHF 470 – 860MHz | Receive free digital broadcast high definition TV signals. Support 2 TVs at the same time without a splitter. No special adapter needed.
Snap-On Installation–Snap On Elements no tools required. Comes with an easy-to-follow user manual so you can install the antenna with ease.
Wireless remote controller — Built-in 360 degree motor rotor | Built-in Super High Gain and Low Noise Amplifier | includes 40FT RG6 Coaxial cable. Easy for you to place it to get the best reception in your house.
Best Portability – Luxtronic HDTV Antenna
Luxtronic is a pretty generic Amazon brand. But, if you are looking for a quick and cheap way to get over the air channels in your RV, this is a great option! It only has an "ok" 3.9-star rating, but boasts over 15,000 reviews.
Pros
Ultra-portable with a strong magnetic base
360 degree omnidirectional
Super easy setup
Low profile
Cons
The downside is that the reception range could be better. At about 50 miles, it's 25 miles shorter in range than our top pick. If you're camping in the middle of nowhere, this could prove problematic.
It's not a permanent solution. While the magnet may be strong, I wouldn't advise keeping this on top of your RV while zooming down the road.
Sale
Portable HDTV Antenna – Includes Magnetic Base & Coaxial Cable – Indoor or Outdoor
360 Degree Reception with Omnidirectional Antenna – Our black 3.87" HD antenna can receive signals from any direction from up to 50 miles away. You'll enjoy a crystal clear picture whether you attach the antenna to your TV stand or wall – all with no extra power source required.
Setup is Easy with the Magnetic Base – Use the 2" magnetic base to keep your new digital antenna for smart TVs stealthily tucked away. We recommend attaching it to the bracket that holds up your TV or on the back of the TV itself. The shape of the antenna helps it fit snugly, behind your TV.
Supports 1080P and 4K – You'll enjoy great HD picture quality with this digital antenna as long as your TV supports it. And don't worry – if you upgrade TVs soon, this portable device easily disconnects from your old TV so you can use it on the new one.
Reliable Satellite and Cable TV Alternative – Stay connected with the latest in TV technology with this digital antenna. Experience over-the-air broadcasts transmitted in uncompressed full HD. Enjoy watching your smart TV anytime, even when the satellite signal or cable connection is weak or unavailable.
Runner Up – Winegard RZ-6000 Rayzar z1 RV TV Antenna
Summary
The Rayzar Z1 is a slightly older model but earns a place on our list because it's so well-designed. It's a low-profile unit that takes up very little space on your roof.
Pros
Weighs 2.5 pounds
The housing is weather- and UV-resistant
No need to raise or lower it
Plugs into the wiring already installed
Highly durable
Cons
The unit provides excellent picture quality but won't pick up as many channels as a batwing model. As it's a directional unit, you'll have to reset it when you move your RV. On the upside, there's no need to crank it up or down because it's so low-profile.
Winegard RZ-6000 Rayzar z1 RV TV Antenna (HD, Digital, 4K Ready, ATSC 3.0 Ready) – White
Optimal UHF reception with strong High-Band VHF allows you to catch your favorite broadcast channels wherever you go
Streamlined design with minimal footprint is not only smaller and shorter (8.4″), but the modern design compliments every RV
Effortless rotation and no cranking required, easily replaces existing antenna unit or head with minimal effort
Roof-Mounted TV antenna for your RV
What Is an RV Antenna Used For?
An RV antenna makes it possible to locate free-to-air TV channels within range. The latest models pick up a range of VHF, UHF, and HD programs.
My traveling companion and I primarily use our antenna to keep track of news and weather programs. When it's cold outside, we'll catch movies and TV shows.
What Types of RV Antennas Are Out There?
Indoor Antennas
There's no need to worry about tree branches ripping this type off your roof. The trade-off is that it takes up space inside the RV and has a shorter range. If you simply want to watch the local weather station, these will get the job done.
Outdoor Antennas
You'll mount an exterior antenna on the outside of the RV. This type is more powerful and durable than the indoor versions. The downside is that they're often bulky and may get caught on low-hanging obstacles.
Satellite Television Antennas
You'll have to sign up for a subscription service with these models. If you're aiming for the best-quality picture, these are your best option. Satellites broadcast these signals, making them the best choice for rural or mountainous areas.
Digital/VHF/UHF & HDTV Antennas
VHF and UHF refer to the radio frequencies over which stations broadcast video and sound signals. Both types may broadcast digital or HDTV channels. Looking for an aerial that can receive both bandwidths allows for the best reception.
Best Camper Antenna Brands
Winegard
With over sixty years of experience in the industry, Winegard is one of America's leading brands. The company provides an antenna for home, business, and leisure use. It currently boasts over 1,000 models that feature an innovative, sturdy design.
King
King, established in 1985, is the youngest of the top brands. That hasn't stopped the company from building a sterling reputation in the industry, though. The firm makes satellite, over-the-air, and Wi-Fi antennas.
Antop
This Canadian company focuses on high performance in a neat, modern package. With over forty years of experience in the industry, Antop has built a reputation for high-quality aerials for the residential and leisure sectors.
What to Consider When Buying Antennas for RVs
Reception Strength
Is there anything worse than a glitchy signal or static when you're trying to watch TV?
Reception strength dictates how near to a transmission station you must be to pick up programs clearly. If you like camping in a remote location, look for an aerial like the Winegard Sensor with a range of 55 miles.
Functionality
How will you use the antenna? Do you need something that works while you're driving? Do you want something that'll pick up the maximum number of stations, or will a small indoor model work?
Choose a model that will meet your needs for a few years to come.
Size
Again, consider where you're most likely to use your RV. The mast of a large aerial makes for a tight squeeze in wooded areas but works well in mountainous regions. Generally speaking, the taller the mast, the longer the range.
Ease of Installation
Will you install the antenna yourself or hire someone to do it for you? If you're a DIY-enthusiast like my partner, make sure that the aerial includes the mounting equipment. Look for something easy to install, and you'll save yourself a lot of frustration.
Durability
Trailer antennas generally come in aluminum, plastic, or a combination of the two. Choose a model made from high-grade supplies to withstand sunshine and stormy weather better. Thin aluminum may snap off in a strong wind, and plastic should be UV-protected for better durability.
Wi-Fi Capability
Do you need to hook up to the internet while you're out and about? Then look for an antenna that can also receive Wi-Fi signals. These are useful when you're in an underdeveloped area and your mobile phone's reception is spotty.
Weight
Weight is a tricky issue. If the aerial is too heavy, it might unbalance the trailer while you're driving. If it's too light, it won't stand up to heavy winds or storms well. Streamlined designs such as the Antop Outdoor strike a good balance between performance and weight.
Mounting Location
You may be able to mount your new aerial on the roof, mirror, hood, or bar. A side-mounted model may be a good option when there are low-hanging obstacles. A roof-mounted option is better suited to areas where there's not much space to maneuver.
Related Reading:7 Best RV Generators to Keep You Powered Up
FAQs
How do you use an RV antenna?

It should be straightforward. Mount the antenna, connect the cable and then switch your TV over to antenna mode. Search for channels to watch by following the manufacturer's instructions.
How do you get better reception on a camper antenna?

Rotating or extending the aerial to its fullest length may do the trick. If not, you may need to consider moving the RV. Metal, rocks, and hilly terrain may all block signals.
Conclusion
In conclusion, finding the right RV antenna for your needs can make a world of difference in your camping experience. Our top choice, the Winegard Sensar IV Digital and HD Antenna, offers excellent performance and reliability. However, the other options discussed in this guide have their unique features and advantages, so be sure to consider your specific requirements before making a decision. With the right RV antenna, you can enjoy crystal-clear reception and entertainment, even while adventuring off the grid.
Other RV Buying Guides: