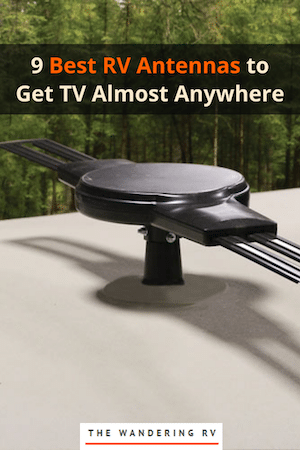 Looking for a new RV antenna but aren't sure what to buy?
After a few different antennas, and holes to match, we decided it was time to do a little more research to figure out which were worth it and which were junk.
If you're in a rush, we found the Winegard Sensar IV Digital and HD Antenna to be the best.
But if you want to learn more, read on to learn about the best RV antennas on the market!
Table of Contents
Note: Some of the links in this article are affiliate links. This doesn't cost you any more than normal. Read our disclaimer for more info.
Top 3 Best RV Antennas of 2022
Best overall
Winegard Sensar IV Digital and HD Antenna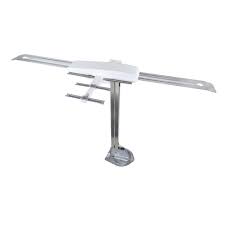 Summary
With a range of 55 miles, it doesn't get any better than the Winegard Sensar IV travel trailer antenna. This powder-coated, retractable model is built to last and weighs only nine pounds.
Pros
Easy installation

Excellent reception with little to no static

Well-designed and built
Cons
The base could be more compact
Cranking it up and down is annoying when on the road
Best Value
KING Jack Directional OTA Antenna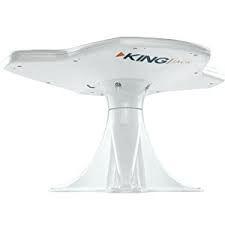 Summary
King boasts that this model catches up to 80% of the new broadcast HD channels. It's a compact solution that can replace or fit your current batwing model. It zeroes in on the strongest signal within range to provide crystal-clear images.
Pros
Lightweight
Takes five minutes to install
Compact

Gets great reception
Cons
Won't pick up as many channels as batwing models

Not suitable for all RV models because of the mount
Honorable Mention
Outdoor Amplified HDTV Antenna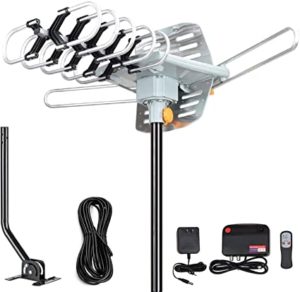 Summary
This multi-directional HD antenna for RV comes with a built-in signal amplifier. It's built to endure a lot of abuse from the elements. The UV-protection prevents the mast from becoming brittle with age, and the waterproof design keeps all the internal components free of condensation.
Pros
Quick installation
Outstanding reception
No need to rotate the RV antenna

Low-profile design
Cons
Range of up to 30 miles

Bad weather causes breaks in the signal
What Is an RV Antenna Used For?
An RV antenna makes it possible to locate free-to-air TV channels within range. The latest models pick up a range of VHF, UHF, and HD programs.
My traveling companion and I primarily use our antenna to keep track of news and weather programs. When it's cold outside, we'll catch movies and TV shows.
What Types of RV Antennas Are Out There?
Indoor Antennas
There's no need to worry about tree branches ripping this type off your roof. The trade-off is that it takes up space inside the RV and has a shorter range. If you simply want to watch the local weather station, these will get the job done.
Outdoor Antennas
You'll mount an exterior antenna on the outside of the RV. This type is more powerful and durable than the indoor versions. The downside is that they're often bulky and may get caught on low-hanging obstacles.
Satellite Television Antennas
You'll have to sign up for a subscription service with these models. If you're aiming for the best-quality picture, these are your best option. Satellites broadcast these signals, making them the best choice for rural or mountainous areas.
Digital/VHF/UHF & HDTV Antennas
VHF and UHF refer to the radio frequencies over which stations broadcast video and sound signals. Both types may broadcast digital or HDTV channels. Looking for an aerial that can receive both bandwidths allows for the best reception.
Best Camper Antenna Brands
Winegard
With over sixty years of experience in the industry, Winegard is one of America's leading brands. The company provides an antenna for home, business, and leisure use. It currently boasts over 1,000 models that feature an innovative, sturdy design.
King
King, established in 1985, is the youngest of the top brands. That hasn't stopped the company from building a sterling reputation in the industry, though. The firm makes satellite, over-the-air, and Wi-Fi antennas.
Antop
This Canadian company focuses on high-performance in a neat, modern package. With over forty years of experience in the industry, Antop has built a reputation for high-quality aerials for the residential and leisure sectors.
What to Consider When Buying Antennas for RVs
Reception Strength
Is there anything worse than a glitchy signal or static when you're trying to watch TV?
Reception strength dictates how near to a transmission station you must be to pick up programs clearly. If you like camping in a remote location, look for an aerial like the Winegard Sensor with a range of 55 miles.
Functionality
How will you use the antenna? Do you need something that works while you're driving? Do you want something that'll pick up the maximum number of stations, or will a small indoor model work?
Choose a model that will meet your needs for a few years to come.
Size
Again, consider where you're most likely to use your RV. The mast of a large aerial makes for a tight squeeze in wooded areas but works well in mountainous regions. Generally speaking, the taller the mast, the longer the range.
Ease of Installation
Will you install the antenna yourself or hire someone to do it for you? If you're a DIY-enthusiast like my partner, make sure that the aerial includes the mounting equipment. Look for something easy to install, and you'll save yourself a lot of frustration.
Durability
Trailer antennas generally come in aluminum, plastic, or a combination of the two. Choose a model made from high-grade supplies to withstand sunshine and stormy weather better. Thin aluminum may snap off in a strong wind, and plastic should be UV-protected for better durability.
Wi-Fi Capability
Do you need to hook up to the internet while you're out and about? Then look for an antenna that can also receive Wi-Fi signals. These are useful when you're in an underdeveloped area and your mobile phone's reception is spotty.
Weight
Weight is a tricky issue. If the aerial is too heavy, it might unbalance the trailer while you're driving. If it's too light, it won't stand up to heavy winds or storms well. Streamlined designs such as the Antop Outdoor strike a good balance between performance and weight.
Mounting Location
You may be able to mount your new aerial on the roof, mirror, hood, or bar. A side-mounted model may be a good option when there are low-hanging obstacles. A roof-mounted option is better suited to areas where there's not much space to maneuver.
Related Reading:7 Best RV Generators to Keep You Powered Up
In-Depth RV Antenna Reviews
Best Overall
Winegard Sensar IV Digital and HD Antenna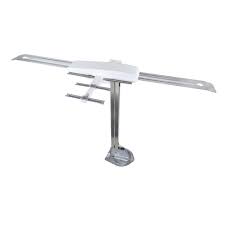 The Winegard Sensar is a powerful model able to receive VHF, UHF, HDTV, and standard signals. You'll find a wide range of channels like Fox, CBS, ABC, and NBC. The Winegard Sensar takes the pole position in our review. We gave it top marks because it:
Pros
It has a range of 55 miles
Receives a wide range of signal types
Has excellent reception
Weighs less than 10 pounds
Is powder-coated
Cons
Both installation and operation are easy with this unit. If we were to make one change, it would be to replace the plastic gears with metal ones. Some of the people we spoke to said that you should treat the crank gently so as not to strip the gears.

Also, consider the placement carefully. Even when retracted, this model requires a clearance of four inches.
Best Weight
King Jack HDTV Directional OTA Antenna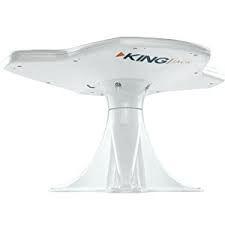 This unit is a low-profile over-the-air antenna that may replace or augment your batwing model. It's easy to mount and folds down completely when not in use. It came in second on our list because it doesn't have the range of the Winegard Sensar.
Pros
Great reception
Low profile
Folds down flush with the RV roof
Lightweight
Simple installation
Contemporary look
Cons
Is this the perfect RV antenna? Not quite. Some of the people we spoke with mentioned that it doesn't pick up as many channels as the batwing varieties. If you'd like the maximum amount of programming, use this as an adjunct to your batwing rather than a replacement.

If your RV's roof is pitched by an angle of more than three degrees, look at one of the other models on our list.
Best Durability
Antop Outdoor Amplified HDTV Antenna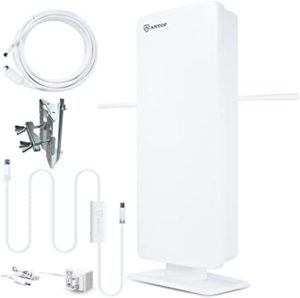 Antop creates high-quality products, and this aerial is a perfect example. The technology includes a filter that blocks mobile phone signals. In good weather, the picture quality is the best on the list. Why then did it only come in third? The reception range is about 30 miles, and the picture clarity often drops in lousy weather. This model rates as the most durable on the list. It has a UV-coating to prevent the plastic from perishing in the sun. This model is also waterproof and features a design that allows snow to slide off of it.
Pros
Great signal strength
Outstanding sound quality
Suitable for use in a built-up area where mobile phone towers might interfere with reception
Simple to install
Low profile
Cons
The downside is that the reception range could be better. At about 30 miles, it's 25 miles shorter in range than our top pick. If you're camping in the middle of nowhere, this could prove problematic.
RV House Battery Comparison
FAQs
How do you use an RV antenna?

It should be straightforward. Mount the antenna, connect the cable and then switch your TV over to antenna mode. Search for channels to watch by following the manufacturer's instructions.
How do you get better reception on a camper antenna?

Rotating or extending the aerial to its fullest length may do the trick. If not, you may need to consider moving the RV. Metal, rocks, and hilly terrain may all block signals.
Conclusion
The correct RV antenna provides you with a crystal-clear picture and sound. It gives you access to the channels you'd like to watch while being lightweight and compact enough not to overload your RV.
Finding the right model, however, isn't easy. With so many contenders on the market, it's easy to find one that doesn't match your needs. We know—we've been there.
With the tips outlined above, you now know what to look for. We've also included nine stellar models to help you choose the best unit for your needs.
Get an RV antenna today, and your RV can double as your personal cinema.
Other RV Buying Guides: