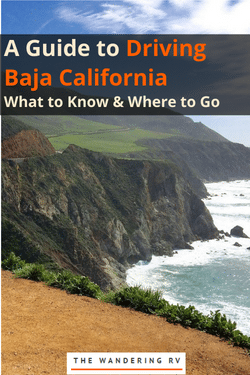 Thinking about driving to Baja California in Mexico?
Baja is absolutely beautiful, with incredible food, low prices, and lots of cool things to see and do. But there are some things you should know before driving to Baja, California to ensure a safe and fun trip!
In this guide, we cover the essentials you should know before you go, including what to pack, what you need, some safety tips, and more. Let's dive in!
Table of Contents
Baja Mexico? Baja California? The Baja Peninsula?
Baja is referred to as Baja Mexico, Baja California, the Baja Peninsula, or even Baja California Peninsula. They all mean the same thing. Just so you know!
Crossing the Border
The two main border crossing locations to get to Baja from California are in San Diego (San Ysidro, pictured below) and Tecate. There are also border crossings in Calexico that cross into Mexicali, which is the route we took going into Baja our first time and it was super easy with zero traffic.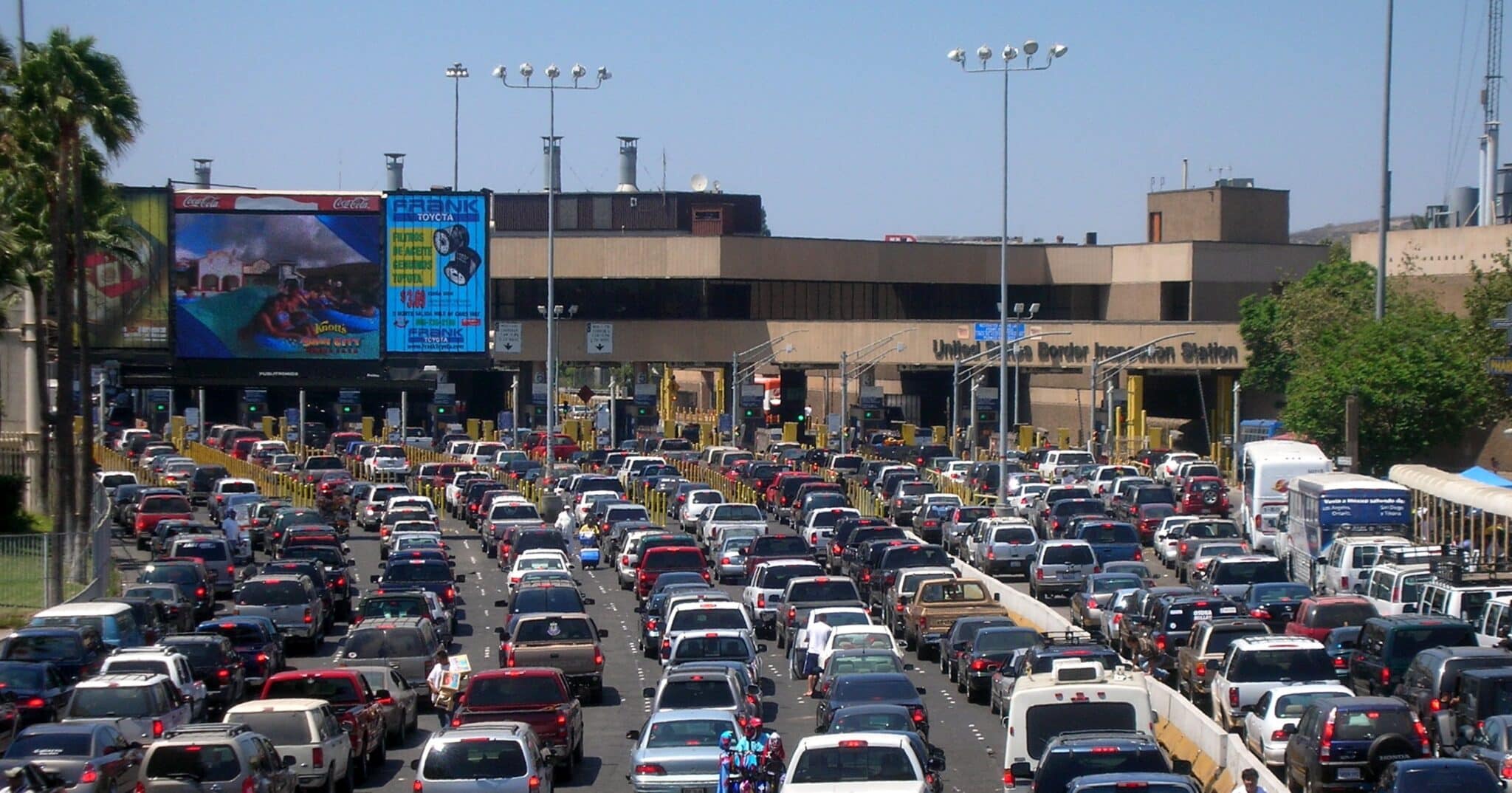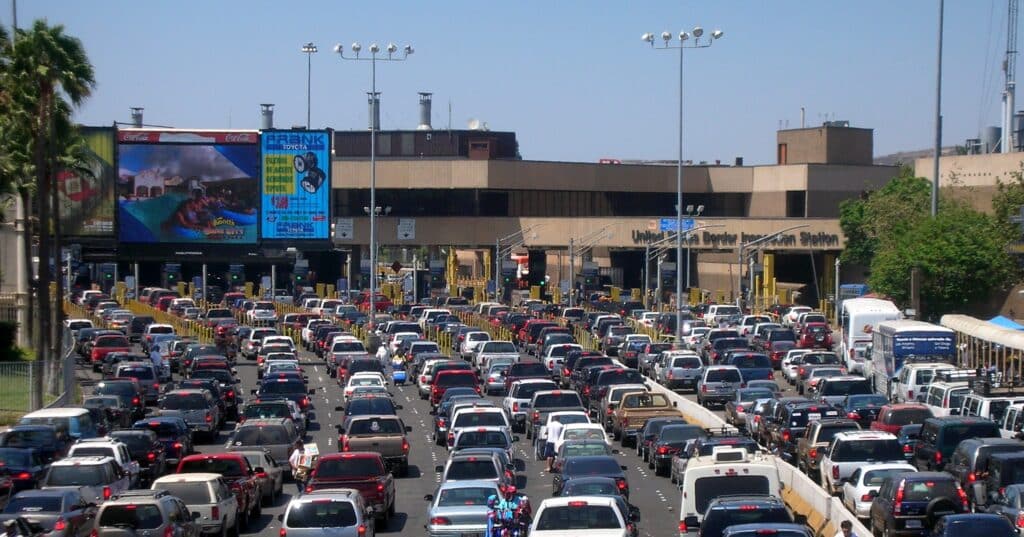 While the San Diego / San Ysidro crossing may be the most convenient for a California to Mexico drive, it's also the busiest border crossing in the world, with over 50 million people crossing every year. Crossing can take anywhere from 30 minutes to several hours depending on the time of day and if it's a holiday or special event. So I recommend the other border crossings if you don't mind going out of your way.
Some things to keep in mind when crossing:
Cross the Border During Non-Peak Hours: The time of day can have a dramatic impact on how long it takes to get across. Try to go either just before dawn (around 5 AM) to have the best shot at a quick and easy crossing.
Check the US Customs Site: You can get real-time updates on current border wait times on this government website.
Apply for Sentri: If you plan on crossing the border into Baja frequently, Sentri will allow you expedited clearance for up to 5 years. Note that if you cross the border with a Sentri card, every passenger in your car must also have Sentri.
As soon as you get across the border, you must get an FMM (Tourist Visa / Tourist Permit). The tourist visa is free unless you'll be staying in Baja for more than 7 days, then you'll have to pay $638 pesos at the border (as of Jan. 1, 2022). You can also buy it online ahead of time to save the hastle.
For more information on the FMM, check out this FAQ page.
You do not need a TIP (Temporary Important Permit) for your vehicle if you're only driving into Baja. If you plan on driving to other parts of Mexico (or taking the ferry from the tip of Baja to inland Mexico), you'll need to purchase a TIP at the border.
Check out this guide to Puerto Escondido if you're traveling further down the coast!
How to Find Places to Stay in Baja
There is no shortage of places to stay in the Baja California Peninsula, however, it can be hard to weed out the good from the bad.
We had great success with Airbnb in Baja. While we spent most of the time beach camping, we did stay in an Airbnb two nights and a hotel one night.
You can also check Hotels.com for options.
If you're interested in camping, iOverlander has plenty of great options! We definitely recommend staying at Rancho San Carlos hot spring outside Ensenada if that's your style!
We also recommend taking a look at boondocking apps – you're able to find tons of camping spots through apps (and some are free)!
Where to Go in Baja California
There are so many beautiful places to see and things to do in Baja! With vastly different terrains from one coast to the other and beautiful weather all year long, it's hard to pick only a few places.
That said, here are some recommendations for places that we've visited personally or have heard are great to visit:
Tijuana: Voted the most dangerous city in the world, this border city is actually not that dangerous (at least, during the day in the tourist areas!). We didn't spend any nights here, but during the day it's one of the cleanest and most interesting cities we visited in all of Baja!
Rosarito: Just south of Tijuana lies the coastal resort city Rosarito. We spent our last night in Baja here in a beautiful Airbnb, and mostly we just ate great food and drank craft beer. It was delicious and affordable — a win-win!
Ensenada: Right near the incredible wine country known as Valle de Guadalupe, Ensenada is a fairly large city with lots to see and do. It's a hot spot for surfers and offers lots of opportunities for off-roading, cruise ships, and great eats. Check out our guide to things to do in Ensenada for more info!
Valle de Guadalupe: The valley ("valle") of Guadalupe is Mexico's wine country. Beautiful rolling hills and delicious, affordable wineries makes this a must-see if you're driving to Baja! We also have a guide to visiting the Valle de Guadalupe here.
San Felipe: Switching coasts now to the eastern shore, San Felipe is a small (but super awesome) fishing village and a great place to stop and soak up the sun. They also offer off-road experiences, an excellent gringo-owned brewery, amazing food, and ample opportunities for all the outdoor water sports and activities. Once again, check out our guide to things to do in San Felipe!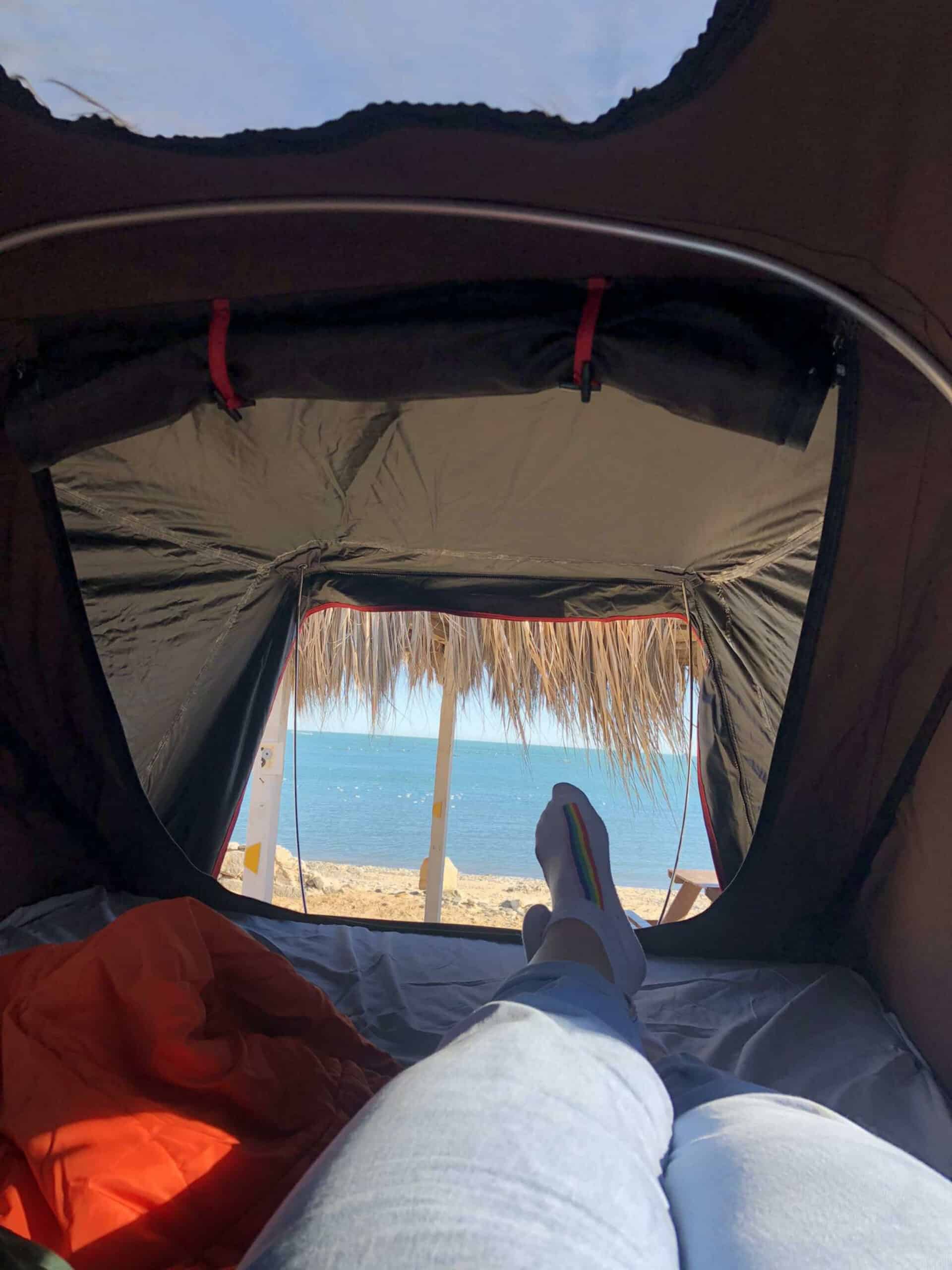 Todos Santos: Farther south into Baja California Sur, this hippie, happy eco-chic town 45-minutes north of Cabo San Lucas on Mexico's Baja California Peninsula. They're home to Mario's Surf School and plenty of Baja sunshine to soak up.
Cabo San Lucas: The southern tip of the Baja California Peninsula, commonly known as Los Cabos, refers to the adjacent towns of Cabo San Lucas on the Pacific Ocean and San José del Cabo on the Sea of Cortez (also where the international airport is). Great for partying and lounging, but swimming in the ocean is forbidden, as there are strong undercurrents.
La Paz: Swimming with whale sharks, anyone? La Paz is well-known for it's beautiful sea life and coral reefs. If you get the chance, make your Baja road trip a good one and hit La Paz!
There are plenty more places to visit and things to do on your Baja adventures, but this is a great start!
Crossing Into Baja California Sur
Just so you know, Baja Mexico has two states: Baja California and Baja California Sur. When crossing from B.C. to B.C.S. there are three things to know:
You enter Mountain Standard Time (MST) from Pacific Time, going forward one hour.
There's a drastic improvement in the road of the Transpeninsular Highway – the pot holes (mostly) disappear!
You must pay 20 pesos ($1USD) to have the underside of your car get "misted" by what appears to be steam to kill bugs from up north. A gimmick? Maybe!
The Route We Drove in Baja California
Want a fun route to test the waters of Baja without getting too far off the beaten path? Here's the exact route we took, including what we did at each destination!
(Note that we drove from Phoenix, Arizona to Calexico to cross the border, not from California.)
Cross the border at Calexico into Mexicali. This was a super small two-lane border crossing with zero traffic going into Mexico. We crossed without breaking a sweat, walked into the building to purchase our FMM and get our visa stamp, and continued on our way. Note that we filled up on gas right before we crossed so we wouldn't have to stop before San Felipe, which is about 126 miles (202 km) away.
Take Highway Five to San Felipe. We spent 2 and a half days in San Felipe, where we bought and cooked fresh-caught shrimp right off the boat, hung out on the beach, ate tons of great food, and did some hiking and exploring. Beach camping was beautiful here! Check out our guide to things to do in San Felipe for a full breakdown. Note that you'll pass a military checkpoint on your way down. See our tips below for more on that.
Take Highway Three to Ensenada. After our short vacation in San Felipe, we went back up Highway Five, then crossed over Highway Three to Ensenada. This is another long drive of about 152 miles (246 km), so make sure you fill up in San Felipe before you leave! And be sure to check out our guide to things to do in Ensenada before your Baja road trip. Note that you'll pass through two military checkpoints on this route. More on that below.
Visit the Valle de Guadalupe. Known as Mexico's wine country and famous for providing over 80% of all the wine in the country, this valley ("valle" in Spanish) is both beautiful and fun to visit! They even have a great craft beer scene with three amazing breweries (cervecerias) Check out our guide to Valle de Guadalupe to learn more!
Hit up Rosarito on your way back to the States. We took Highway One back north and stopped at both Puerto Nuevo and Rosarito on the way up. Puerto Nuevo (New Port) is an odd tourist town with over 30 restaurants and shops in a 4 block radius where everyone yells at you to park in THEIR parking space and eat at THEIR restaurant. It's a unique and interesting experience, but I can't say I'd ever go back there again! Although a stop in the Puerto Nuevo art gallery and a look at their unique and beautiful straw art is worth the trip.
And that was our whole Baja California road trip! Next time, we plan on going down to Baja California Sur to visit La Paz, Cabo San Lucas, San Jose Del Cabo, and more so stay tuned!
9 Tips for Your Baja Road Trip
Here are our top tips for driving to Baja:
1. You Need Mexico Car Insurance
This is #1 because it's important! It's illegal to drive into Mexico with your own car without specific Mexican auto insurance. You can often get this relatively cheap from your current auto insurance provider.
You can also try companies like Baja Bound insurance or another Mexican insurance company to get insurance a bit cheaper than you might find through your traditional car insurance company.
2. Try Not to Drive at Night
It's not safe to drive in Baja after dark. No, not because you'll be kidnapped – it's because most of the roads are narrow, and tons of big 18 wheelers blast through the state without much concern for other drivers on the road. That, and the cows!
Because of the high temperatures during the day and highway 1 running through rural farmland, it's not uncommon to come around a turn and see cows or horses in the middle of the road.
3. Highway 1 is Narrow and Windy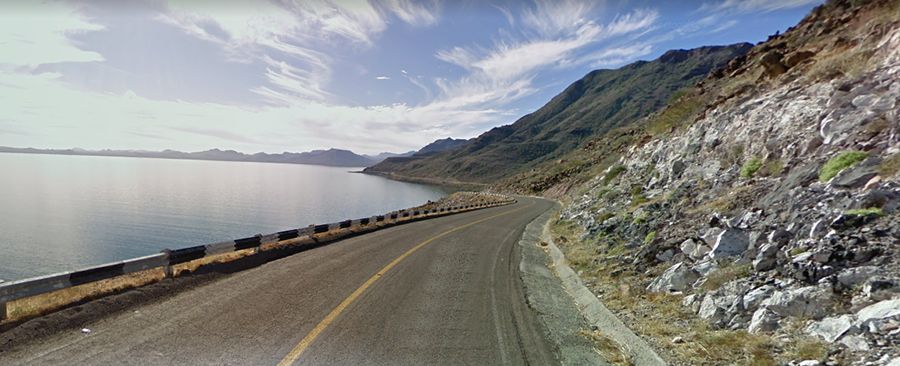 Baja Highway 1 is the main road leading down from California along the western coast of Baja. It's narrow, it's windy, and it doesn't have street lights.
That said, it's breathtakingly beautiful! The massive waves and high cliff sides are a sight to behold. And if you're driving to Mexico from LA or San Diego, it's the fastest route.
But if you're looking to avoid the narrow and windy Highway One, take Highway Five instead. It's a more direct route (albeit slightly longer), and it's much wider and less winding than its counterpart. If you're worried about stressful driving, the Five is the way to go.
Highway Five also has a group called the Green Angels, who will stop and help you if you get into an accident or need assistance!
Just be aware that there are very few gas stations along this highway, so make sure to fill up in either Tijuana or Mexicali (or, preferably, in the states) before you head down. It's not uncommon for people to get stranded with no gas on these highways!
4. Road Etiquette
In Mexico, they use their turn signals and hazard lights a bit differently than in the US. They use their hazard lights when slowing down to alert drivers behind them of obstacles in the road, such as a cow or a TOPE (speed bumps – more on common Mexico phrases later.)
As for turn signals… they use their left turn signal to alert the driver behind them that it's safe to pass! This is important to know because it can make you more cautious when using your left turn signal.
Always know that when you're going to take a left turn, keep an eye on the car behind you in case they take it as a signal they can pass you! This could save you from a nasty car accident.
5. The Essentials: Water, Fuel & Toilet Paper
There are long stretches of over a hundred miles between towns in some parts of Baja. This means having some extra fuel on hand can save you or another stranded person, and having water means you won't get dehydrated in the hot temperatures and long stretches! Also, your car may need it in 100+ degree temperatures.
But why toilet paper, you ask? Well, toilet paper in bathrooms in Mexico is rare. For whatever reason, most bathrooms do not have their own toilet paper. And if they do, they'll often charge you to use it. Plus, with long stretches of desert between the pueblos (towns), you very well may have to use nature as your toilet!
Check out our complete road trip essentials guide if you're not sure what else to bring.
6. Keep Common Car Parts On You
This tip is more for cars that are a bit older, but…
Mexican mechanics are excellent at fixing things without all the parts. If you keep some commonly malfunctioning parts in your car, chances are you'll be able to find someone to fix it! Finding the parts in Baja is the hardest part; finding someone to fix it is easy.
Common things it's beneficial to have include: a
Fan belt
Radiator hose
Spark plugs
Distributor cap and rotor
Set of tools
Just be aware that Mexican mechanics will often charge you more than what the part would cost in the US or Canada – so it's always a good idea to have some extra cash on hand.
7. What to Know About Military Checkpoints
There are several military checkpoints set up along the Baja Peninsula. Don't let the sight of uniforms and machine guns scare you! These are military guys whose job it is to deter crime.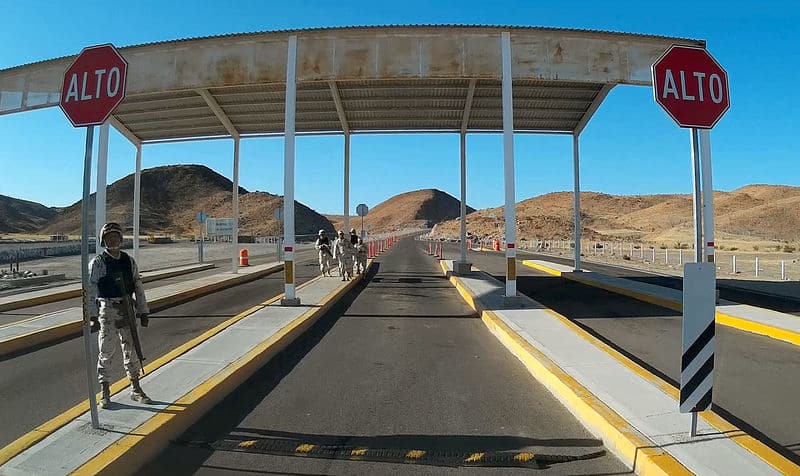 They will ask you where you are from and where you are going. Have your answer ready: "Hello, I am from California and I'm a tourist driving to Ensenada." They speak some English and should be able to understand you just fine.
They may ask you to step out of the vehicle to perform a routine inspection (they didn't ask us in our two crossings). If they do ask you to step out: take your wallet and/or purse with you, secure or remove any pets, and casually watch your belongings as they inspect.
More than likely, they'll just ask you to put your windows down to take a quick look inside your vehicle and may ask you to open your trunk as well.
Be courteous and cooperative and you'll be right on your way.
8. Road Sign Translations
The road signs in Baja are all in Spanish. Here are some common signs you'll see and what they mean:
| | |
| --- | --- |
| Spanish Word | English Meaning |
| TOPE | SPEED BUMP |
| PELIGROSO | DANGEROUS |
| CUIDADO | CAUTION |
| DESPACIO | SLOW |
| DERECHA | RIGHT |
| IZQUIERDO | LEFT |
| DERECHO | STRAIGHT |
| ENTRADA | ENTRANCE |
| SALIDA | EXIT |
| DESVIACION | DETOUR |
| CURVA PELIGROSA | DANGEROUS CURVE |
| NO HAY PASO | ROAD CLOSED |
| NO REBASE | NO PASSING |
9. Get Out of Your Car at Gas Stations
In Baja, attendants pump your gas for you. However, it's not uncommon that they may try to steal some of your money through sleight of hand tricks, so always get out and make sure the pump is zeroed out and you double-check the change they give you.
That said, they may also wash your windows for you, and it's normal to give them a 3-5 pesos tip for doing that. (You'll find a lot of people will try to wash your windows for you down here!)
10. Know Your KMPH
In Mexico, the road signs are in KMPH instead of MPH. Did you know that your car's speedometer also shows KMPH? It's the smaller inner numbers. I didn't know that, and I know several people who didn't, either, so I thought I'd share it!
11. There Are Lots of ALTO Signs And Not So Many Stoplights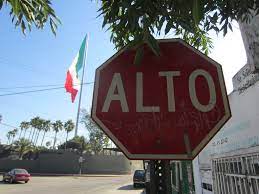 Four-way stop signs, or ALTO signs, are extremely common in Baja. Stop lights are much less common. This took us off guard, so we thought you should be prepared!
Also, in Ensenada at least, many people entertain or try to sell things at the few stoplights there are. Don't be surprised to see a clown juggling on a tire in the middle of the road, or people riding around on unicycles!
Frequently Asked Questions
Now you should know all you need for driving to Baja! However, here are a few common questions people have about their Baja trip that we've answered for you:
Is it safe to drive to Baja California?

Yes, it is safe to drive to Baja California. However, there are some things you should be aware of before driving down. For example, make sure not to drive after dark, watch out for cows and horses in the road, and fill up your gas tank whenever possible.

Also, drug smuggling and human trafficking do happen, mainly near the border towns of Tijuana and Mexicali. While we went on an 8-day drive with absolutely no issues, it's good to have your guard up and be cautious when driving through Mexico.
What is the best route to take from California to Baja?

The best route to take from California to Baja is Highway Five. It's a more direct route (albeit slightly longer), and it's much wider and less winding than its counterpart, Highway One.

Just be aware that there are very few gas stations along this highway, so make sure to fill up in either Tijuana or Mexicali (or, preferably, in the states) before you head down.
What do I need to drive to Baja California?

In order to drive to Baja California, you'll need a valid driver's license, proof of insurance, your passport, and your vehicle registration. You may also want to bring some extra cash (pesos) in case you have car trouble and need to pay for repairs.

Finally, make sure to pack plenty of water and snacks – there are long stretches of over a hundred miles between towns in some parts of Baja.
What are the roads like in Baja?

The roads in Baja are a mix of paved and unpaved. However, most of the main highways (Highway One and Highway Five) are paved. The unpaved roads can be a bit rough, so if you're driving an older car, it's a good idea to bring along some common car parts in case you need to get it fixed.
What should I do if my car breaks down?

If your car breaks down, the best thing to do is pull off to the side of the road and wait for help. The military patrols and Green Angels can help you if anything goes wrong.

I hope these tips help you on your Baja road trip! If you have any other questions or tips of your own we didn't include here, please drop a comment below!