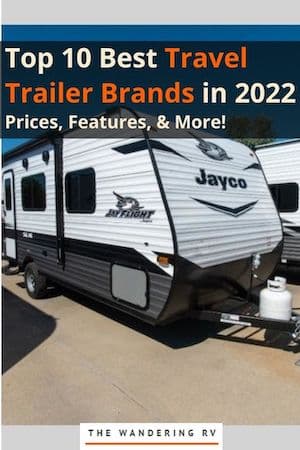 Interested in buying a camper, but aren't sure which travel trailer brand to go with?
We've owned many RV travel trailers in our 10+ years in the camping world and we've personally toured and tested nearly every brand you can imagine.
Our research has made it obvious which are the best travel trailer brands, and which RV brands to avoid. Let's dive in!
Table of Contents
The Dyrt Camping App
Find free camping with a public lands map
Up to 40% off select campgrounds
First 30 days free with code "TWRV"
Recommended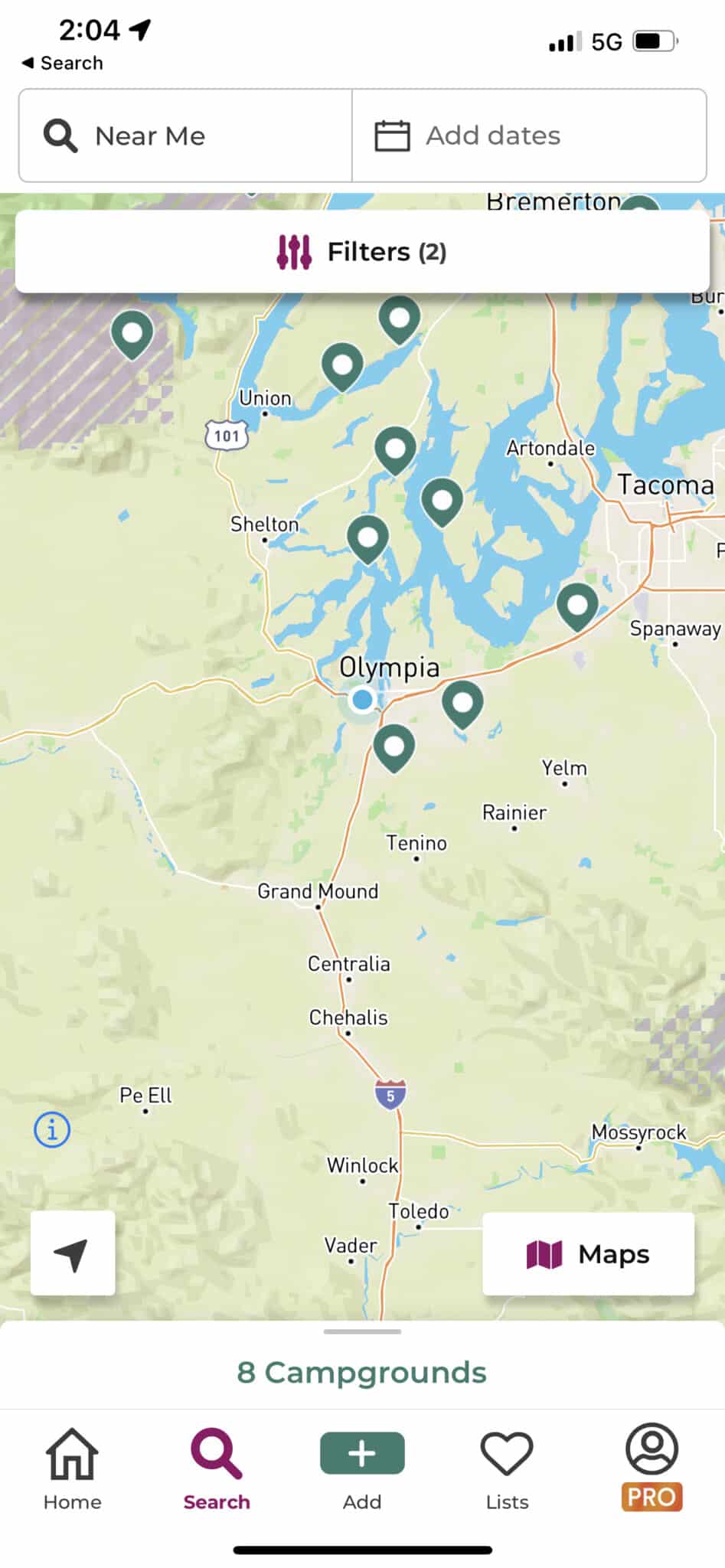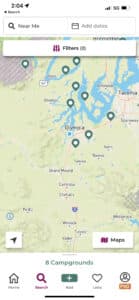 The 10 Best Travel Trailer Brands in 2023
Here are the best travel trailer brands of 2023 (so far):
Airstream
Winnebago Industries
Grand Design RV
Happier Camper
Oliver Travel Trailers
Starcraft
Lance Campers
Shasta RV
Jayco
Forest River
Let's take a closer look at each company and what makes them the best travel trailer brands to own right now!
1. Airstream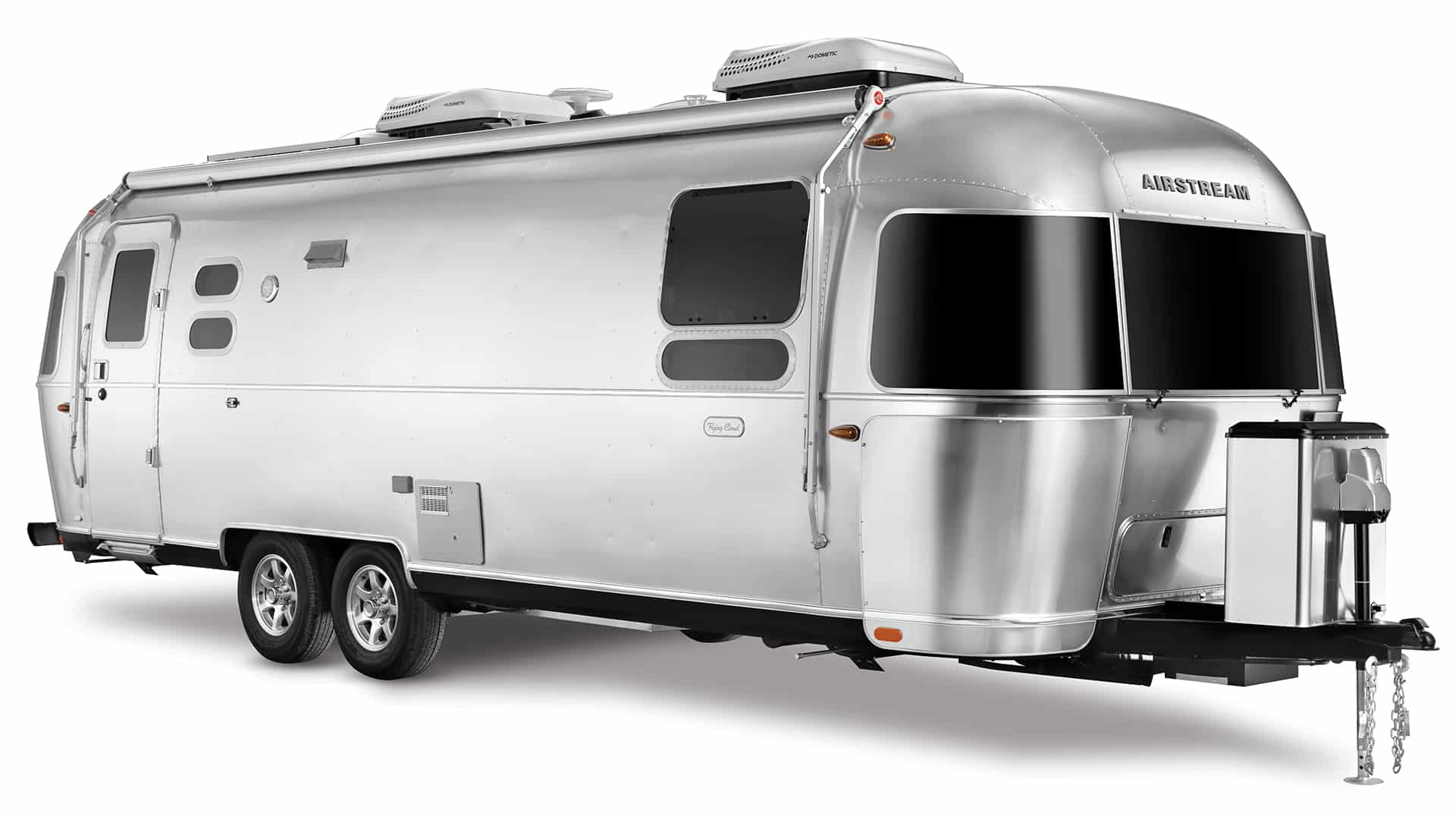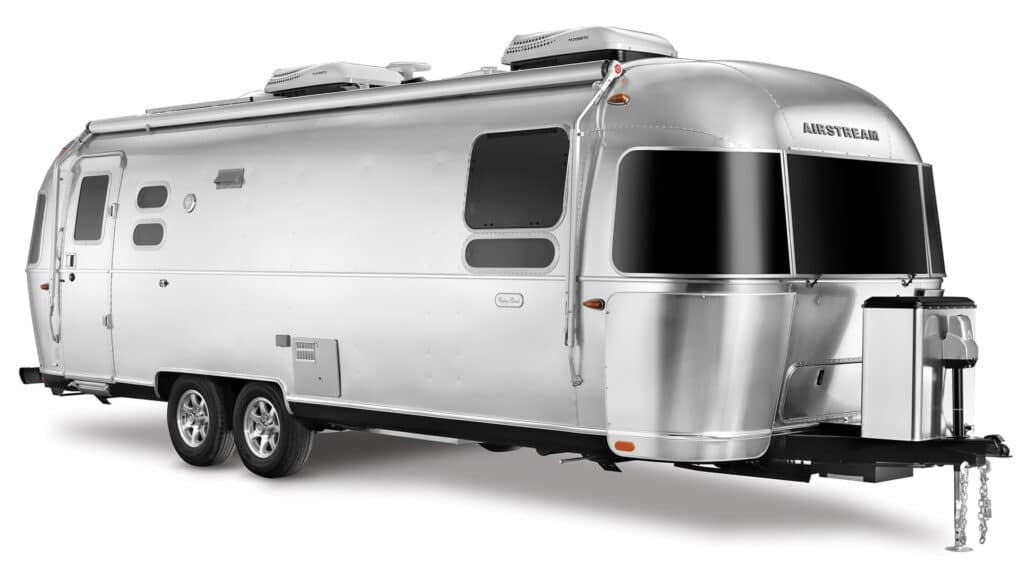 The Airstream brand is one of the most known and highly recognized RV manufacturers in the United States. Airstream campers are known to be high-end luxury (especially their travel trailer), which offers many luxury features, such as:
Power slide-out Murphy suite
Premium air ride suspension
Power stabilizer jacks
Their iconic models include the Classic, Globetrotter, Tony Bahama, and several others. They may be owned by Thor industries now, but is still known to be among the best travel trailer brands in the RV industry.
Try Before You Buy!
Click the button below to find Airstream Rentals near you and see if these luxurious trailers are right for you!
One of the most popular Airstream travel trailers is the Flying Cloud travel trailer.
Why Is The Airstream Flying Cloud So Popular?
The Flying Cloud Airstream travel trailer is slightly in the higher price range with a starting price of $67,400. When you look at the amazing quality and luxury features you get with it, you'll quickly understand why.
Basic specs on the Flying Cloud:
Sleep Capacity: 4-8
Length: 19 feet to 30 feet
GVWR: 4,500 to 8,800
19 available floor plan options
The Flying Cloud also has many optional packages that provide an even more luxurious style and feeling to your camper. Some of these options that are found in these packages include:
Quietstream Climate Control
Ultra-leather seating
High-end kitchen appliances
Seating that converts to sleeping
Memory foam mattress
Handcrafted cabinetry
Retractable awning
Rear-view monitoring system
Roller blinds and blackout curtains
Overall the Airstream Flying Cloud is a fantastic travel trailer! This would be the perfect starter option for anyone looking for their first travel trailer or for any RV enthusiast looking to upgrade to a Travel Trailer.
Click here to see Airstream rentals to try them out before you buy!
2. Winnebago Industries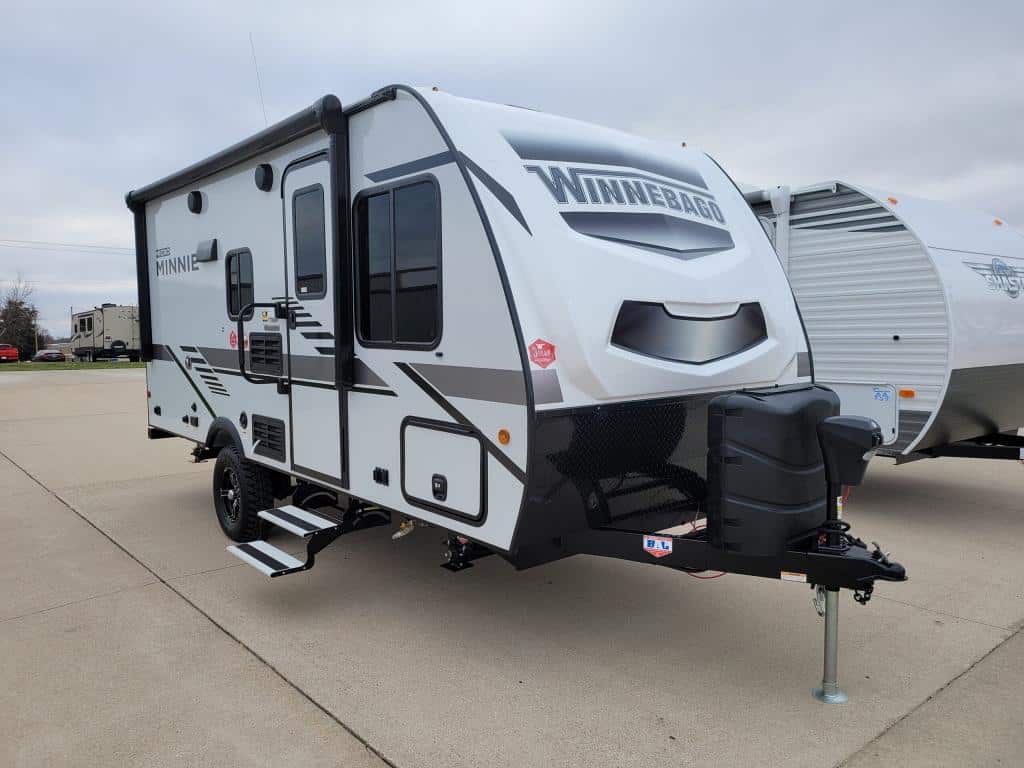 If you want to find the best travel trailer brand in the industry, Winnebago Industries is one of the best in the RV industry. The Winnebago headquarters is located in Forest River Iowa and has been in business for over 50 years.
Their markets not only span across the United States, but Winnebago has a strong presence within the Canadian RV market as well! Originally Winnebago was known for providing great quality campers for an affordable price for most families, but over the years has had to change its prices to match the competitors.
The Winnebago Minnie Winnie is one of their more popular and best-built travel trailers. It's geared for small families and can sleep up to four. Not to mention, Winnebago just came out with the Winnebago Solis! Check out our post on these new camper vans here.
There are multiple designs, features, and trim levels to choose from during the travel trailer shopping process.
Try Before You Buy!
Click the button below to find Winnebago Rentals near you and see if these luxurious trailers are right for you!
Basic Winnebago Features
A steel frame with outriggers and cross members
The skeletal framing is present in wall studs, floor joists, and roof rafters
Slide out boxes and reliable structural assemble
Fiberglass front caps with fade and crack resistant paint
Overall, Winnebago Industries provides many fantastic travel trailer options to choose from! These would be the perfect starter option for anyone looking for their first travel trailer or for any RV enthusiast looking to upgrade to a Travel Trailer.
3. Grand Design RV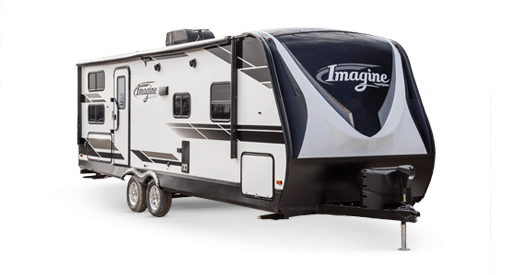 Grand Design RV is another one of the most popular RV companies within the industry. They have a very loyal and caring fan base that will constantly rank Grand design as the best RV company in the United States (which is surprising, considering the company started in 2001 – it hasn't been around nearly as long as some other competitors on this list).
Each Grand Design travel trailer and fifth wheel come with a 3-year limited structural warranty, which is another reason why this brand is so popular. This company also allied with Winnebago and operates as an independent business within Winnebago Industries (which is something not many people may know)!
Which Grand Design Travel Trailer is Our Favorite?
Grand Design offers many quality travel trailers and fifth-wheel campers, but if we had to choose one, we'd have to go with the Grand Design Imagine travel trailer.
This trailer comes with multiple high-quality options and luxury amenities. Its larger size offers plenty of room for you and all of your guests with many storage options and sleeping areas.
Let's take a closer look at some of these amazing packages and options offered with the Imagine.
Basic Grand Design RV Imagine Specs
11-floor plans
Length: 26 ft 9-inches to 36-feet 11-inches
UVW: 6,695 lbs to 7,495 lbs
Gel-coated fiberglass exterior
One-piece roof membrane with a 12-year warranty
Features available for the Imagine
Solid hardwood drawer fronts
Large panoramic windows
Upgraded residential furniture
Residential quality countertops
Stainless steel microwave
3-burner range with oven
Double door fridge
Overall, you truly can not go wrong with the Grand Design RV Imagine travel trailer. This would be the perfect trailer for you and your family, whether you are looking to purchase your first travel trailer or are looking for the perfect upgrade.
4. Happier Camper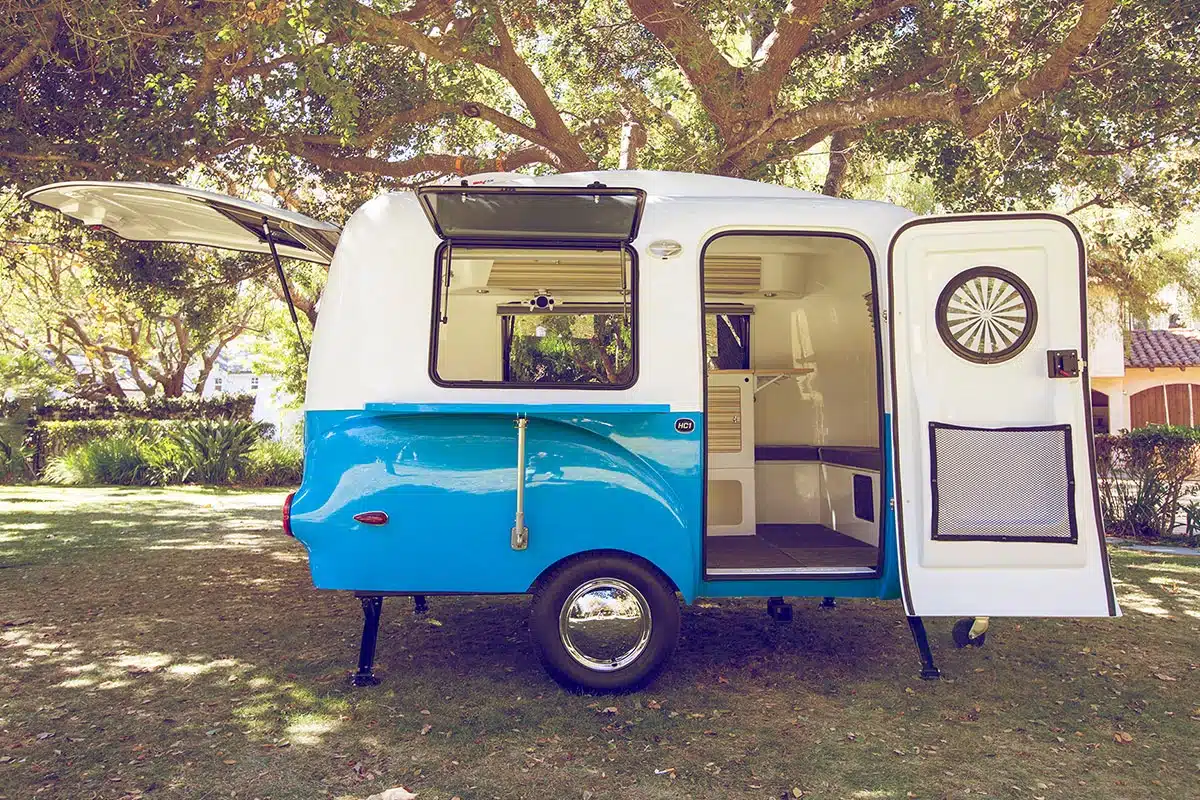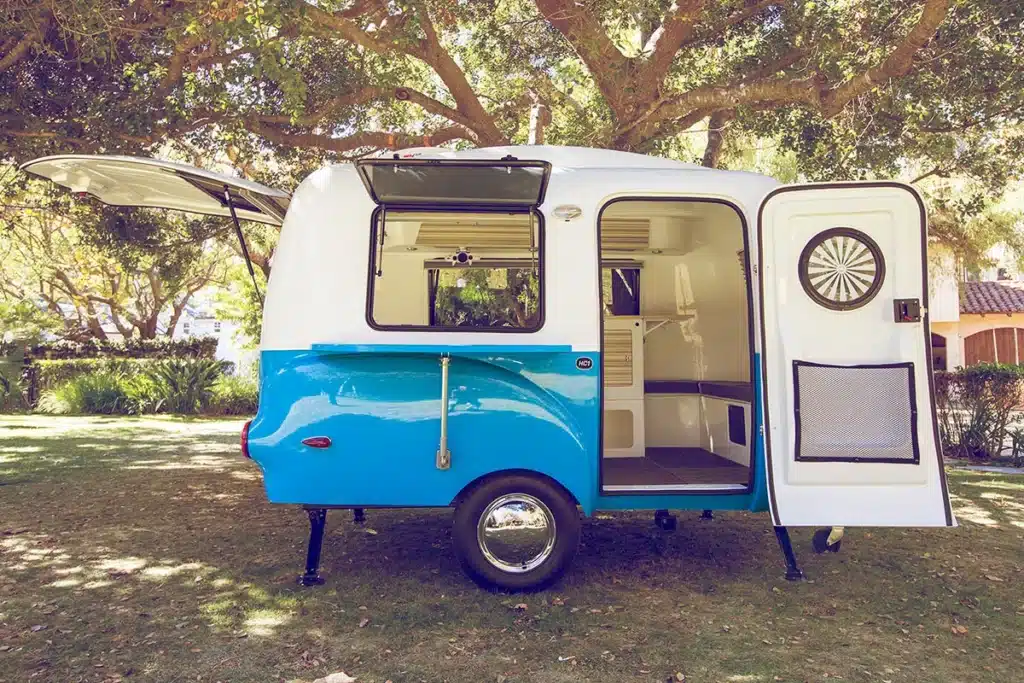 Happier Camper is another highly popular travel trailer brand in North America, which produces quality fiberglass campers that feature a visually appealing retro style.
Happier Camper even allows you the ability to put your own spin on the interior of your camper! This is possible with their one-of-a-kind adaptive interior. The adaptive interior lets you arrange the interior in just about any way you desire. Not to mention, the honeycomb fiberglass floor allows you to set the cubes in any arrangements, which is a reason people love these Happier Campers so much.
One notable feature is the expansive rear hatch that allows you to easily load up a few bikes and even a kayak!
One very important thing to remember with the Happier Camper is that it does not have a traditional bathroom. Instead, it has a dry toilet. This might not be a bad thing, but it's something to keep in mind when possibly looking to purchase a Happier Camper.
Want more options with a shower and toilet? Check out these small campers with onboard bathrooms!
Basic Happier Camper Specs
100% Double-Hull Insulation Fiberglass
Length: 10 feet for the shell, 13 feet including hitch
Width: 6 feet 11 inches
Height: 7 feet 4 inches
Dry weight: 1,100 lbs
Adaptive modules are all 20″ x 20″ and of varying height
Custom engraved door hinges
Outdoor porch light
Precision hardware, locks, and components
Stylized panoramic windows
Adaptive modular interior
Side door storage
Perimeter wall storage
Stainless steel floor drain
Heavy-duty D-ring tie-downs
Independent dimmable LED lighting
14″ dual airflow ceiling fan
As you can see, the Happier Camper has many standard features and packages that make these campers a solid option. These travel trailers give you the ability to create your own interior style so you can lay out the interior exactly how you want.
Overall, these are truly great options that you should consider when looking to purchase a travel trailer.
5. Oliver Travel Trailers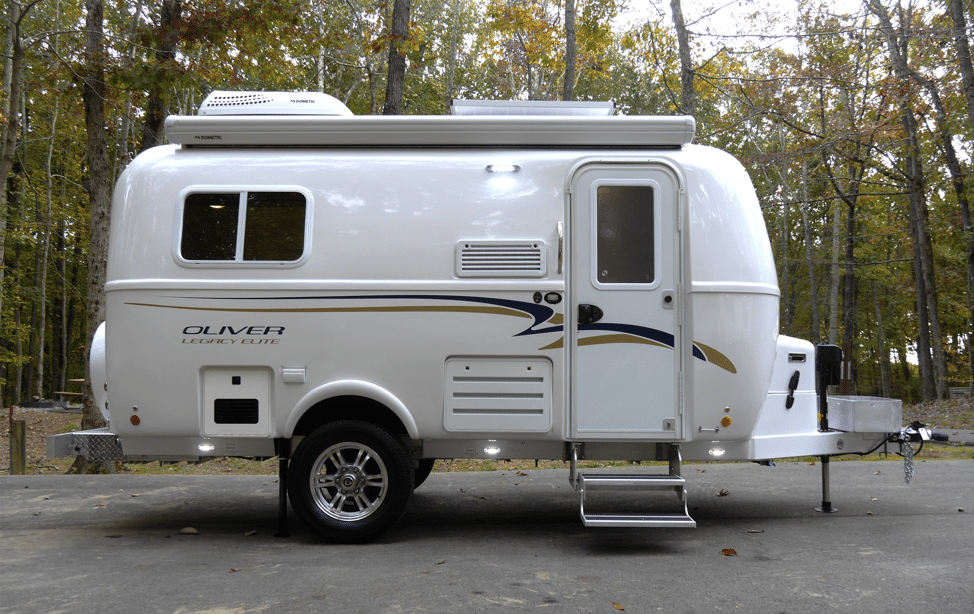 The Oliver brand makes great quality and luxury fiberglass travel trailers. This company was started by twin brothers Jim and John Oliver in 2008!
One of the high-quality aspects of Oliver travel trailers is found with the wheels found on all Oliver models. The wheels are not cheap travel-trailer wheels, but rather E-rated, 10 ply, light truck tires.
The frame is aircraft-grade aluminum which provides long-term durability for all of its travel trailers. Many Oliver Travel Trailers also come with an insulated double shell that keeps the cold air out!
All water lines, appliances, tanks are enclosed within the lower shell to also help keep these things from freezing up.
The Oliver Legacy Elite 2 is one of their top-rated all fiberglass campers.
It has a dry weight of just 4,600 pounds (a very lightweight travel trailer) which provides for the ability to be towed by a truck or full-size SUV. The Legacy Elite 2 comes in two-floor plans.
One of which comes with twin beds and the with a dinette to 75″ x 79″ bed conversion. This model is filled with so many standard features that truly make this travel trailer spectacular.
These are also some of the smallest travel trailers available, and they're extremely lightweight!
Basic Specs for Oliver's Travel Trailers
Full Custom Molded Interior and Exterior Insulated Shells
Plumbing, Holding Tanks and Drain Pipes enclosed between shells with heat to diminish freezing
Quad Shocks on dual Dexter leaf spring axles with "Nev-R-Adjust" 10? electric brakes for exceptional control and braking
Nordicold 3 Way Refrigerator 4.5 cubic ft. (12V, 11OV, LP)
Molded vanity
15′ Dometic awning
22″ Flat screen LCD TV
Custom mounted speakers (4)
The Oliver travel trailer brand is a highly recommended option by so many people, including us, that will make the perfect first-time trailer for anyone!
6. Starcraft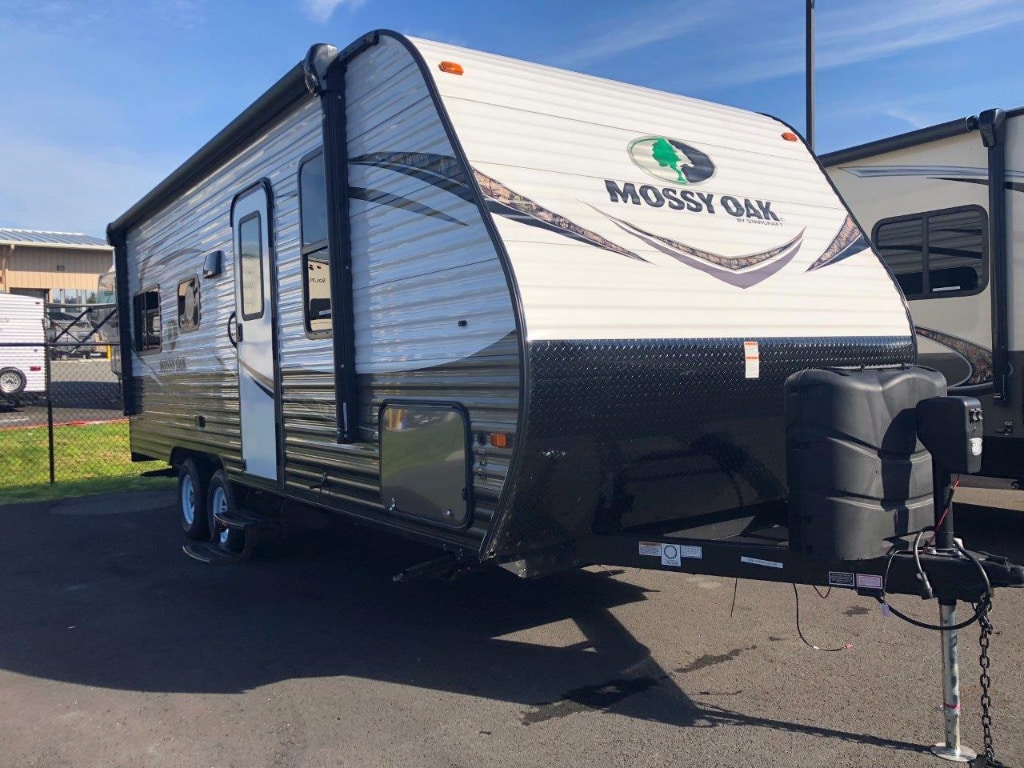 Next on our list is another company with a very long history within the world of RV manufacturing. Starcraft was originally founded in 1903 but produced metal farming equipment (not RVs and travel trailers).
The company didn't start manufacturing RVs until 1968 once they were purchased by Jayco (another manufacturer that we'll talk about in a bit). They were eventually purchased by Thor industries. However, Starcraft retains its own name and image, while also having access to Thor's quality components!
All Starcraft travel trailers come with a 3-year warranty, as well as including a Magnum Roof System and their trademarked Tuffshell (a vacuum-bonded lamination used for all of the walls within their RVs).
The Starcraft travel trailer that most stands out to us is none other than their Mossy Oak travel trailer.
What Makes The Mossy Oak Trailer So Good?
This travel trailer is the double axle model Mossy Oak, which we prefer over single axel models. The double axle allows for a higher gross vehicle weight rating and more towing stability when in travel.
This is a spacious camper is available in 11 different floor plans and comeS packed with many amazing features, making it one of the best travel trailers with a bunkhouse.
Basic Specs of Mossy Oak Travel Trailer
Floor plans: 11 layouts including some with bunk beds
Exterior Length: 23′ 4″ to 36′ 5″
Interior Height: 81″
Exterior Width: 96″
Dry weight: 4,185 lbs to 7,600 lbs
Sleeping Capacity: 4 to 10 people
13,500 BTU A/C
Cable & Satellite Prep
Closeable A/C Vents
Double-Over-Double Bunk Bed With 600lb Capacity (Select Models)
Durable Residential Style Flooring – Designer Carefree Congoleum®
Foot Flush Toilet
LED Lighting
3-Burner Range with 17″ Oven
60/40 Split Kitchen Sink
Range hood
Residential-Style High Rise Faucet
As you can see, Starcraft is one of the premier travel trailer brands in today's RV market.
The Mossy Oak travel trailer is perfect for anyone looking to live the RV lifestyle with the perfect luxury travel trailer. This can also be a great option for any first-time RV owners that have a compatible tow vehicle.
Make sure to check out all that Starcraft has to offer the next time you are in need of recreational vehicles for camping purposes!
Try Before You Buy!
Not sure which travel trailer brand is right for you?
Click the button below to view travel trailer rental options near you and try before you buy!
7. Lance Campers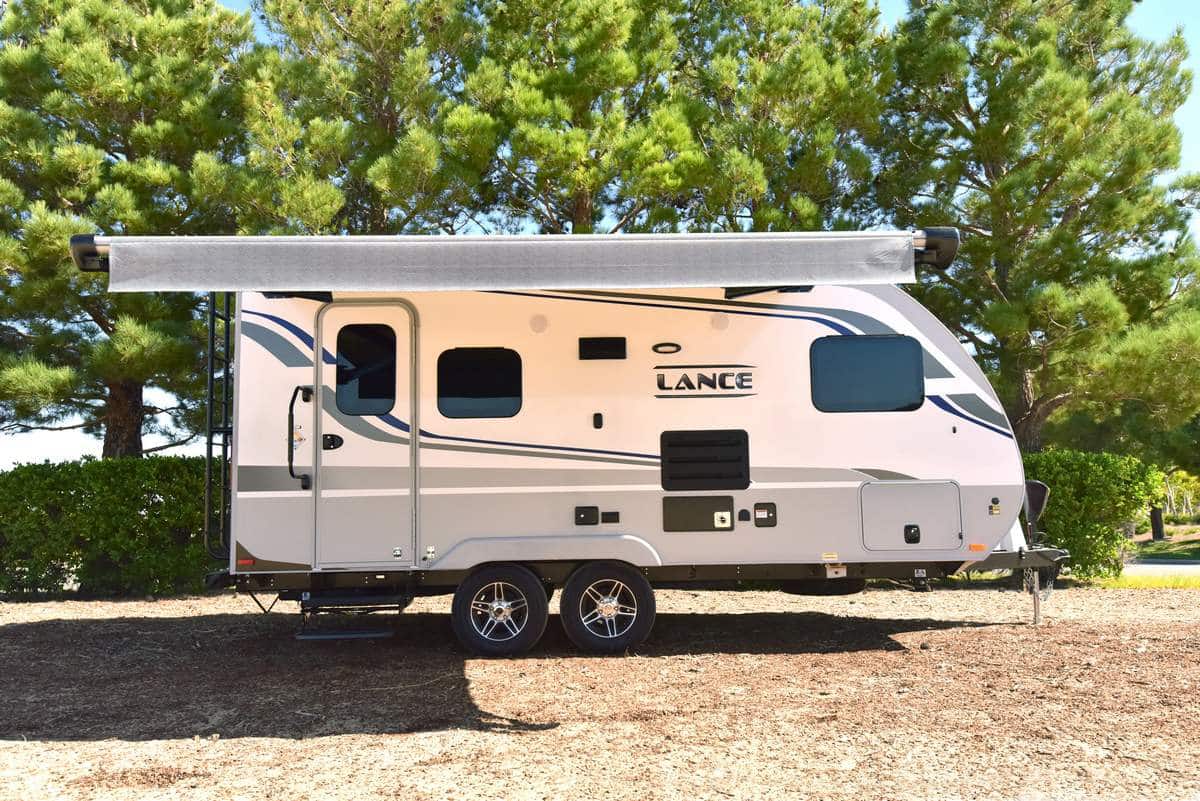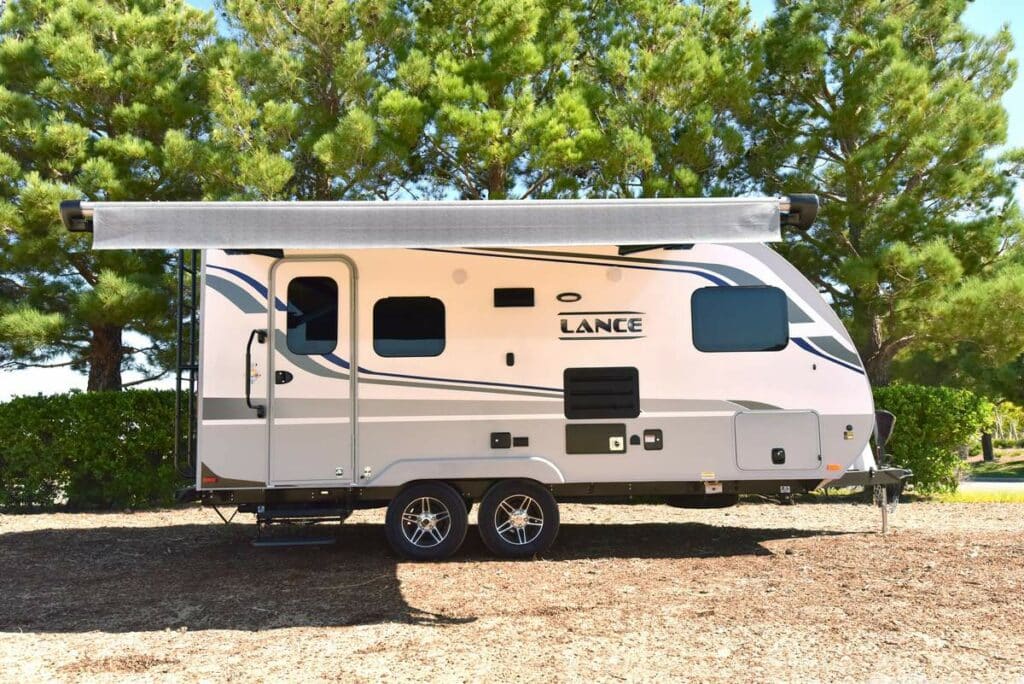 One of the better RV brands in the industry is none other than Lance Campers. Their company has a history of a great reputation for being very well-built as well as having a very helpful customer support team.
Lance campers currently produce 9 truck camper models and 12 travel trailer models. Lance is also well known for its use of Eco-friendly Azdel composite panels. These panels are considered to be far more superior than any wood options and are toxic-free!
Lance also offers a 2-year structural warranty on all of their truck campers and travel trailer models.
Which Lance Travel Trailer is Our Favorite?
Lance currently offers 12 different travel trailer models that are all very high quality and great options. However only one can be our favorite, and that is their 1685 travel trailer model.
This model is jam-packed with so many standard features and packages to truly make your experience perfect! The interior has plenty of room and lots of storage space available (not to mention, the floor plan is intelligently designed and laid out for maximum space efficiency).
Standard Specs for Lance Campers
Floor Length 16'6"
Overall Length 21'0"
Exterior Width 96-3/8"
Exterior Height w/Optional 13.5M A/C 10'1"
Interior Height 78"
Gross Dry Weight 3980 Lbs.
Hitch Dry Weight 425 Lbs.
Axle Weight 3555 Lbs.
Cargo Carrying Capacity 1520 Lbs.
GVWR 5500 Lbs.
Standard Features of The 1685
Dlx Queen Innerspring Mattress w/Pillow Top & Bedspread
LED Reading Lights
Overhead Cabinet Bunk
Dinette W/Locking Pull-Out Storage Drawers
Euro Overhead Cabinetry Design W/Accent Lighting
Flush Mount SS 3-Burner Range w/Cover & BackSplash
Furnace Forced Air 25,000 BTU
Propane Tank 2 Each 5 Gallon – One w/Gauge
Refrigerator (7 Cu Ft) 2-Way Double Door
Overall, Lance campers is a very well-respected RV manufacturer in the United States. With a very long history of customer satisfaction and producing high-quality truck campers and travel trailers, any of the Lance Campers would be a perfect option for you and your family!
8. Shasta RV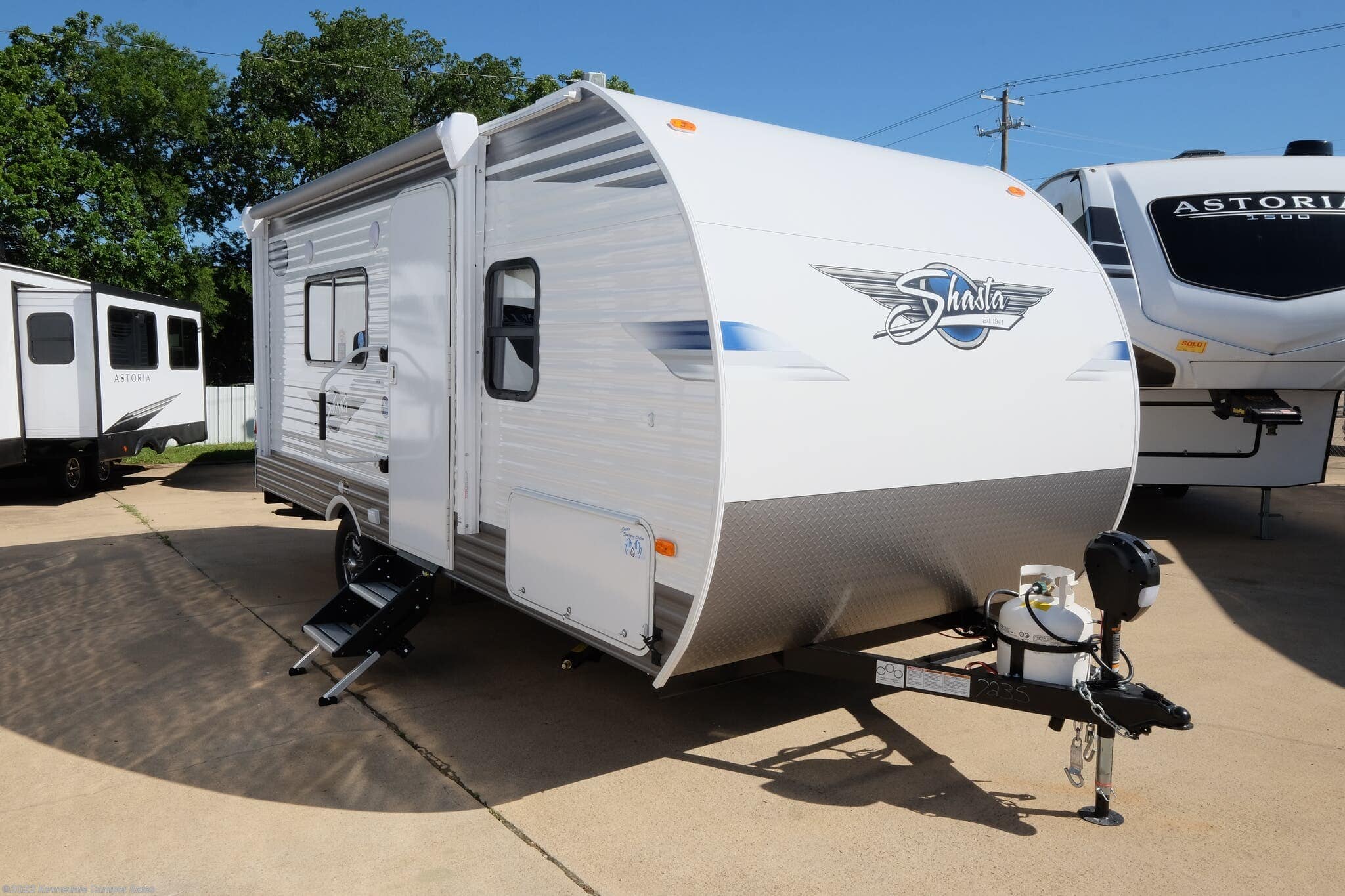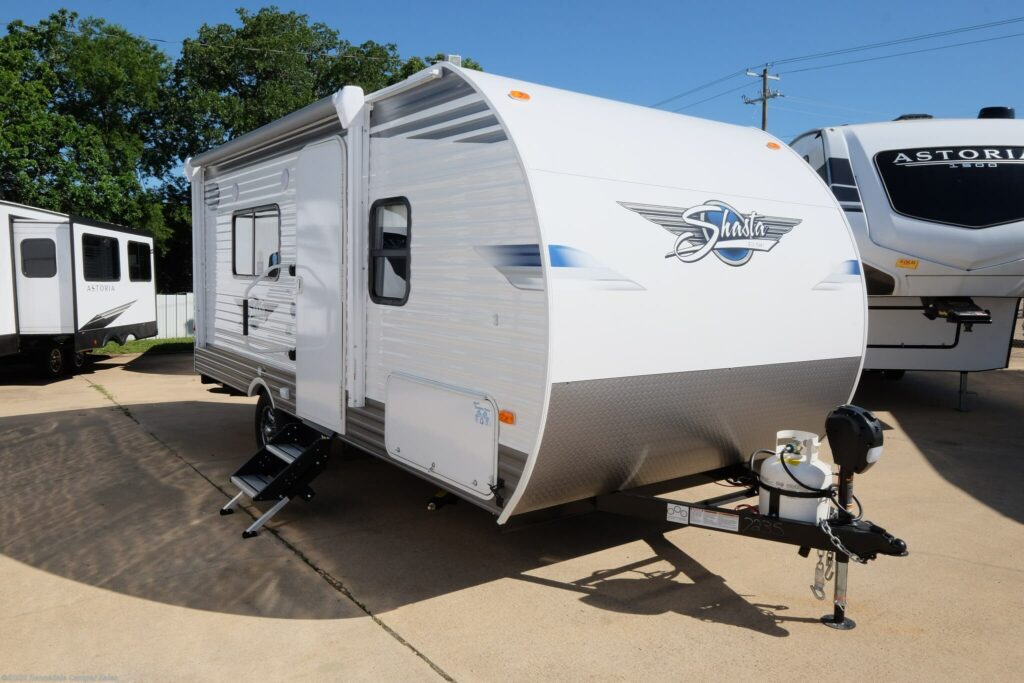 Shasta RV has a very long history (going all the way back to the early 1940s) of creating high-quality travel trailers, toy haulers, and campers.
Shasta RV is a division of Forest River, which is considered to be the largest and most successful RV manufacturer in the United States. These travel trailers made by Shasta are very well designed and have many amenities offered.
However, in recent years Shasta has actually cut down its line of travel trailers to just the Shasta model. Although they only have one model, it comes in 17 different floor plans (which offer lots of varieties to choose from that are all great)!
Which Floor Plan Model is Our Favorite?
The Shasta travel trailer has 17 very well-designed different floor plans to choose from. Each of these all has different styles and layouts that for the most part will fit almost all of your camping needs.
Of these 17 floor plans, our favorite would have to be their 18FQ model. This floor plan comes with many features and amenities that will truly maximize your camping experience.
Let's take a closer look at some of the specs and features the Shasta 18FQ travel trailers have to offer.
Specs of the Shasta RV
Hitch Weight:325 lb.
Dry Weight: 3254 lb.
Cargo Carrying Capacity: 1796 lb.
Exterior Length:22′ 5″
Exterior Height:10′ 6″
Standard Features Offered With the 18FQ
Straight Axle with Electric Brakes
E-Z Lube Hubs
Radial tires
LED Interior Lights
Pocket-Bored and Screwed Cabinets
Full Extension Ball Bearing Drawer Guides
Blackout Shades in Bedroom
Over-Sized & Deep Residential Sink
High-Rise Kitchen Faucet
Range Hood with Exhaust Fan
As you can see, Shasta RV is one of the most successful divisions of the Forest River RC company. The Shasta travel trailers are an ideal option for those of you looking for a very well-designed and dependable option.
Make sure to consider a Shasta RV travel trailer for your next home away from home.
9. Jayco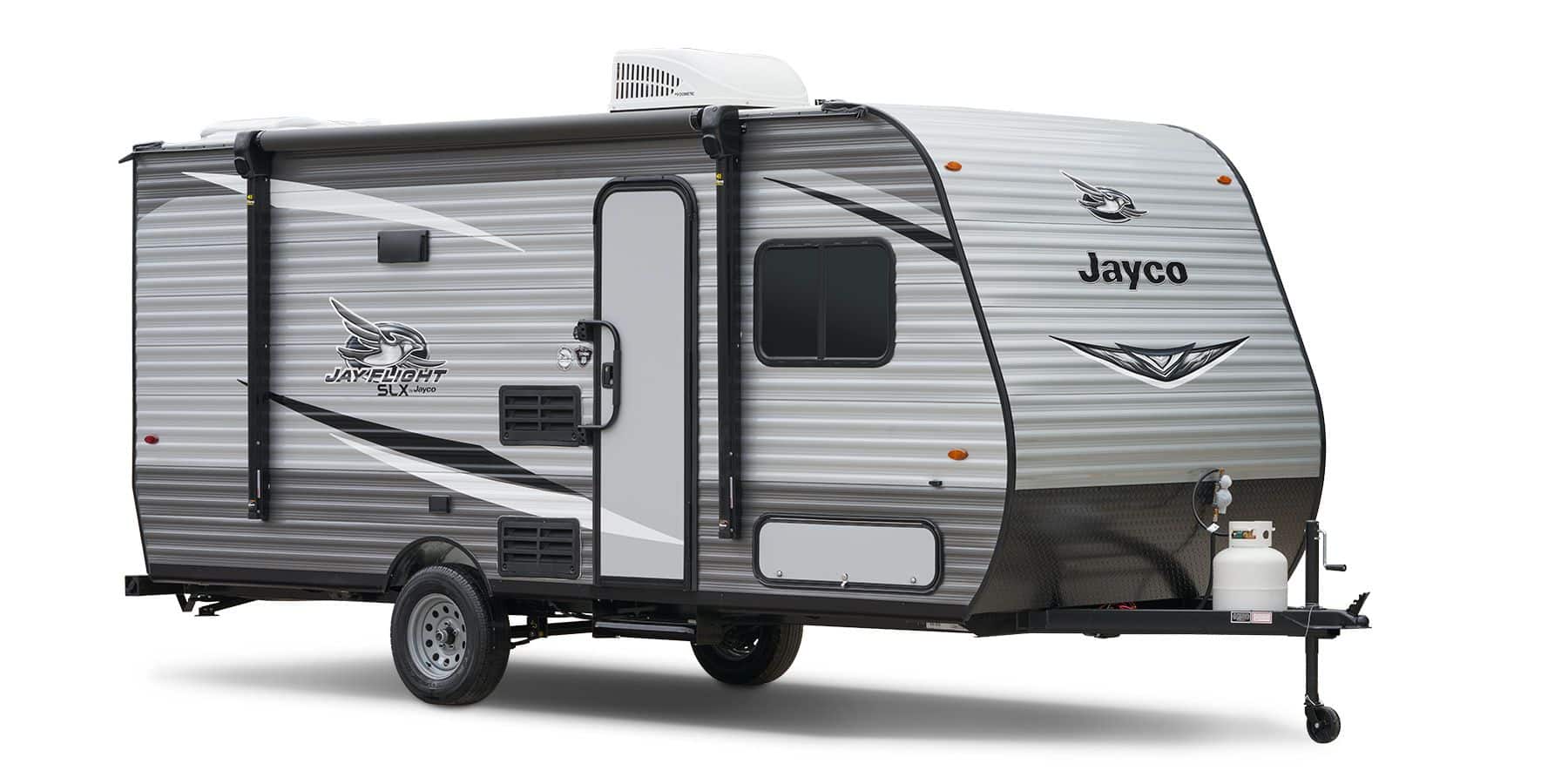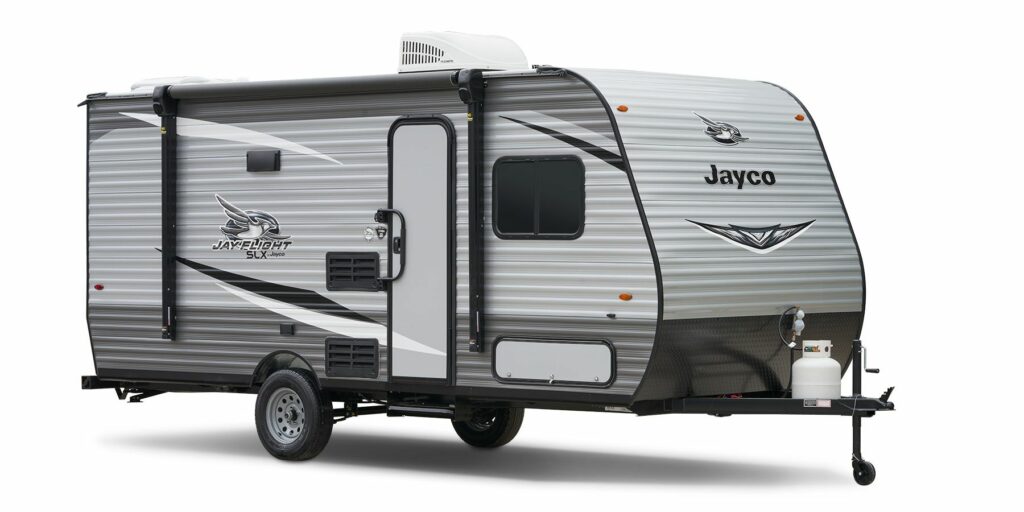 Jayco has been one of the most successful RV brands for over 50 years.
They have a very loyal customer base, mainly because they're consistent, provide high-quality RVs, and have an excellent customer support team. Founded in 1968, Jayco is currently one of the largest manufacturers in the United States.
In 2016 Jayco was purchased by Thor Industries (which also owns Airstream among many other companies). They are a premier producer of travel trailers with a current lineup of 9 different options to chose from.
Which Jayco Travel Trailer is Our Favorite?
While nearly all Jayco travel trailers are great, the Jay Flight SLX 7 is our favorite travel trailer offered by Jayco. It is a rather mid-sized travel trailer that is not too big or too small. This makes the SLX 7 very manageable when it comes to towing and traveling.
It is available in 6 different floor plans to choose from that all offer many quality features and layouts. Let's take a look at the key specs and features offered by Jayco.
Basic Jayco Specs
Unloaded Vehicle Weight (lbs): 2415 – 2890
Cargo Carrying Capacity (lbs): 615 – 860
Gross Vehicle Weight Rating (lbs): 2995 – 3750
Dry Hitch Weight (lbs): 260 – 265
Exterior Length: 16′ 6″ – 21′ 8″
Exterior Height: 106″ – 107″
Exterior Height w/ A/C: 111 – 1/4″ – 111- 3/4″
Exterior Width: 85″
Interior Height (living area): 73″
Standard Features Offered With the Jay Flight SLX 7
3-inch, cambered, steel box tube frame
Fully-integrated A-frame
Magnum Truss™ Roof System with seamless DiFlex II material
Seamless solid-surface look kitchen countertops
Large 50/50 acrylic kitchen sink
2-burner range
3-cubic-foot refrigerator with temperature controls
Microwave oven
Brushed nickel faucets
Wall-mounted 8,000-BTU A/C
Overall, Jayco campers is a very respected RV manufacturer in the United States. With a very long history of customer satisfaction and producing high quality RVs of all classes and travel trailers, any of the Jayco Campers would be a perfect option for you and your family!
10. Forest River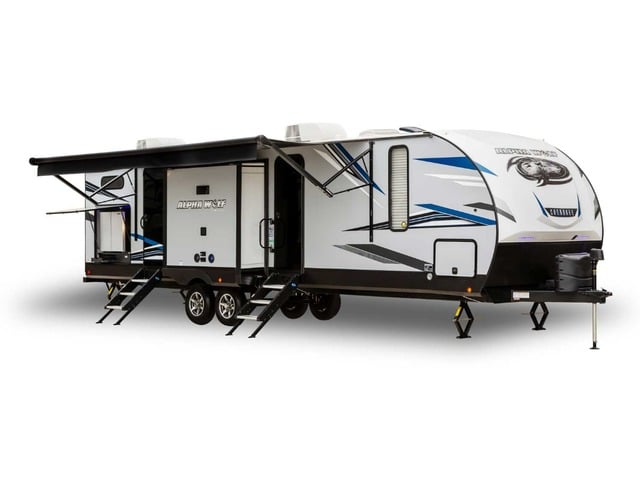 The largest RV manufacturer in the united states heading into 2023 is Forest River Inc. The company has an estimated $2.41 Billion Dollars in yearly revenue which is the largest of all RV manufacturers!
Forest River got its start on January 26, 1996. On June 28, 2005, the company reached a deal with Berkshire Hathaway for the purchase of the company. The transaction was officially finalized on August 31, 2005, and ever since then, Forest River Inc. continued to grow and eventually became one of the largest RV manufacturers in the United States!
Forest River offers a wide variety of RVs of all classes along with an amazing line of travel trailers (they also have awesome pop up campers). These travel trailers are of the highest quality and are designed to be durable and dependable.
Which Forest River Travel Trailer is Our Favorite?
Of all the travel trailers offered by Forest river, it is very hard to choose a favorite. If we did have to choose one, it would be the Alpha Wolf travel trailer.
It is a lightweight trailer that makes it easier to tow with larger SUVs and mid-sized trucks. The Alpha Wolf is truly the top of the top when talking about the best travel trailers on the market today.
Let's take a closer look at some of the key specs and features offered with the Alpha Wolf.
Basic Specs for Forest River
Hitch Weight: 570 lbs to 1,026 lbs
Dry Weight: 5,795 lbs to 6,780 lbs
Cargo Carry Weight: 1,246 lbs to 1,805 lbs
Exterior Length: 31′ 6″ to 36′ 8″
Exterior Height: 11′ 0″
Exterior Width: 96″
Standard Features Offered By the Alpha Wolf
LED Interior Lighting Package
Super-Plush Evergreen Mattress
Deluxe Bedding Package
Individual Reading Lights at Bed
Full Under Bed Storage with Strut Lift Assist
Blackout" Kitchen Appliance and Hardware Package
VIBRATIONSMART™ 12V, 10 Cubic Foot Residential Refrigerator with Travel Lock
Total Control" for Wireless Operation of Multiple Light Zones, Awning, Monitor Panel, and All Slides
Zebra Shades" (Light Filtering with Blackout Capability) In Main Living Area
Pleated Shades in Bedrooms, Hallways, and Bunk Rooms
Aluminum Rims
Commercial Grade Spring Spout Kitchen Faucet with Pull-out Sprayer
High Gloss Gel Coated Front Cap
As you can see the Alpha Wolf travel trailer by Forest River is an outstanding option for you! This trailer is not only packed full of amazing features but is also a very reliable option for anyone.
If you are looking to purchase a travel trailer I strongly recommend taking a closer look at the Forest River Alpha Wolf travel trailer!
Best Travel Trailer Manufacturers Summary
Overall all of these brands are very good options to consider when looking to purchase a travel trailer. They all have a very long history of producing high-quality and dependable campers, and all have very loyal customer bases.
Best Travel Trailer Manufacturers Summary
We hope this article has helped you get a better understanding of the best quality travel trailers on the market today, and wish you the best of luck finding your new home away from home!
Other Best-Of RV Lists:
Read Next: