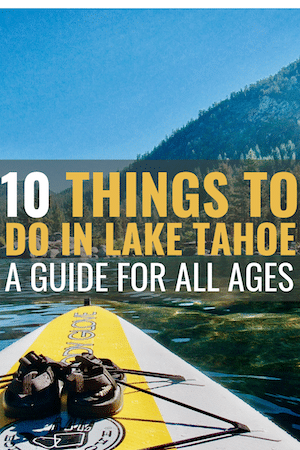 Lake Tahoe is well known for it's beaches and ski resorts, but there are tons of things you can do while visiting that you may have never thought of!
We'll cover both the Northern and Southern regions of Lake Tahoe – as they do differ a bit.
One thing's for sure:
You'll absolutely love your trip to Lake Tahoe.
Ready to explore Lake Tahoe? Let's go!
Table of Contents
Note: Some of the links in this article are affiliate links. This doesn't cost you any more than normal. Read our disclaimer for more info.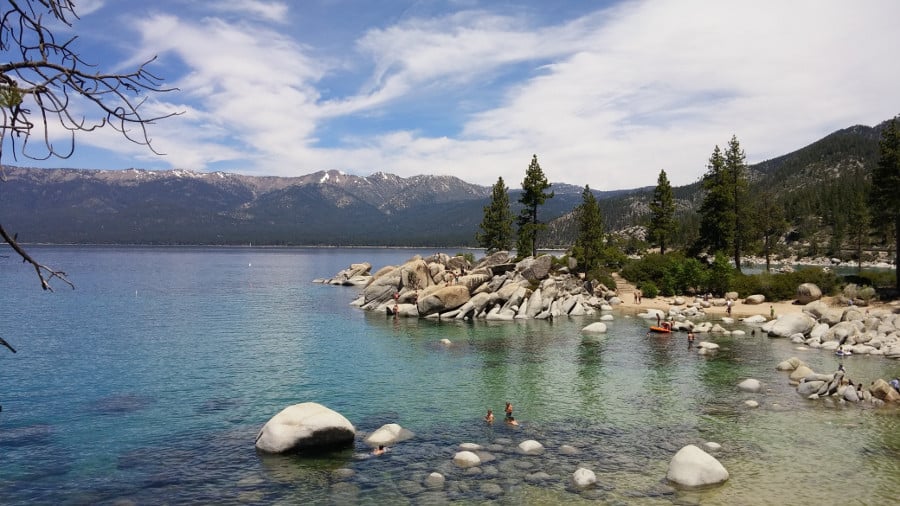 Why Should You Go to Lake Tahoe?
Want to sleep on the beach, go hiking, and gamble a bit all in one day?
If so, Lake Tahoe is the place to be!
Paddle boarding, mountain climbing, hiking trails, beaches, casinos, gift shops… we could go on and on with activities for you to do, but I think you get the point I'm trying to make:
Lake Tahoe is a beautiful destination for people of any age.
Are you hooked yet? I figured you might be!
Let's talk about when you should go to Lake Tahoe before you spontaneously book a trip, though!
What's the Best Time of the Year to Go to Lake Tahoe?
While you could visit Lake Tahoe at any time during the year, we found that the best time to visit is between March and May.
The prices are lower, there aren't as many tourists in the area, and if you're a fan of winter, you might be able to get some last minute skiing in!
The second best time of the year to go is between September and November. This is when kids go back to school, tourists slowly return home, and if you stay long enough, you can get a head start on skiing season.
If you want sunshine and warm weather while in Lake Tahoe, I recommend going anytime from June to August. However, the prices rise and there are crowds of people everywhere.
Where Should I Stay While In Lake Tahoe?
You could stay in local hotels, motels, cabins, tent sites, or (my favorite option) in an RV rental!
There are plenty of RVs to rent from in and around Lake Tahoe and with the following coupon, you can get $50 off your first RV rental!
Get $50 Off a Lake Tahoe RV Rental!
Click the button below to view RV rentals near Lake Tahoe.
5 Things to Do In Northern Lake Tahoe
Before you plan your trip, ask yourself this:
Do you want to relax or go a little crazy while in Lake Tahoe?
Northern Lake Tahoe is known for it's calming spas and many people go there to experience solitude by the open lakes.
My top 5 recommendations for Northern Lake Tahoe are:
1. Go Kayaking in a Crystal Clear Kayak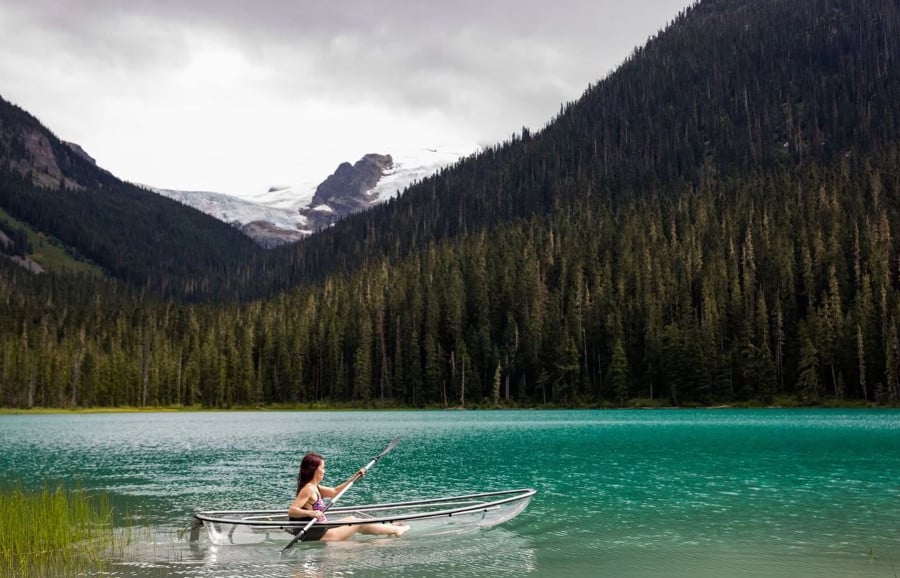 Obviously, Lake Tahoe is well-known for their gorgeous lakes. And there's no better way to experience them than paddling around in a clear kayak, right?!
Imagine the sea critters you may see in the water (as well as the rocks you'll see at the bottom of the lake). It's a great way to be in nature while relaxing!
2. Go Horseback Riding
Take advantage of the Sierra Nevada scenery while on horseback!
Going on vacation with kids?
Worry not – pony rides are available for children to participate in!
3. Relax in the Clearwater Day Spa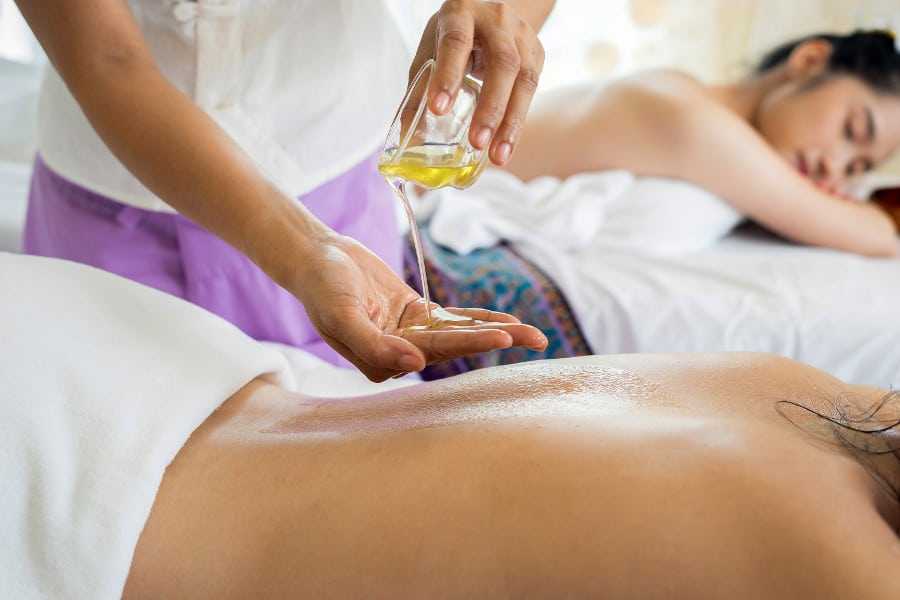 Whether you're feeling tense from work or from kayaking in Lake Tahoe, the Clearwater Spa will wash your worries away in a few hours.
There are various types of massages, facials, detoxifying herbal wraps, and more to choose from – you could spend the entire day at the spa if you chose to!
4. Hike the Eagle Falls Trail
The Eagle Falls trail is a mere 1-mile trail that offers gorgeous views and is pretty dang easy to hike around.
If you're a nature lover, want to capture beautiful pictures from your trip to Lake Tahoe, or want to forget about your worries for a while, this is a sure-fire way to do it!
5. Visit an Art Gallery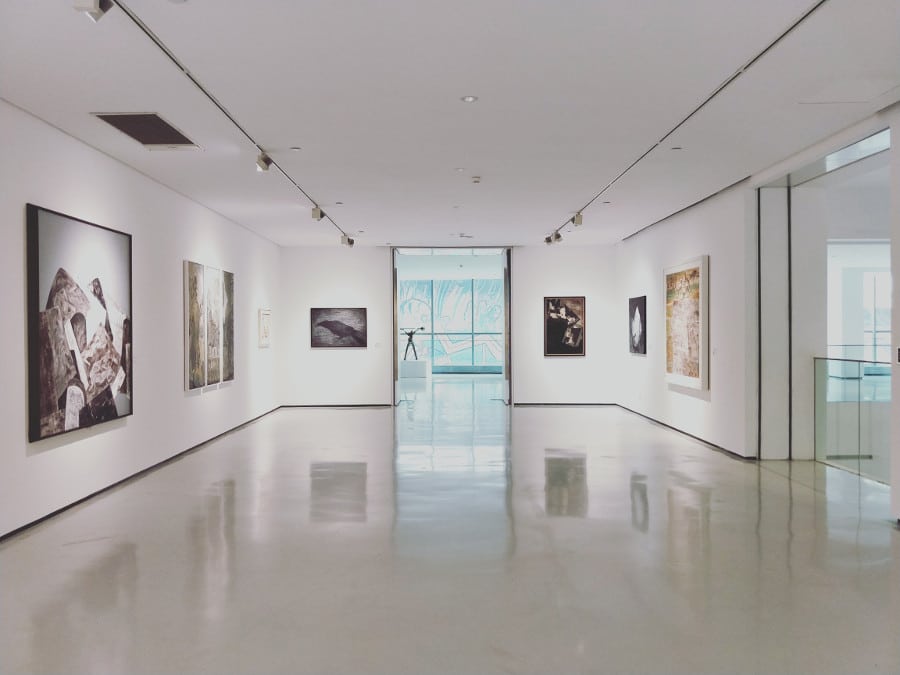 While Lake Tahoe isn't well-known for their art galleries, there are a few to choose from while there.
I'm a huge fan of art and love interpreting paintings in my own way, it's a great way to tap into your creative side!
5 Things to Do In Southern Lake Tahoe
If you're ready to party, hike, paddle board, and gamble in one day, Southern Lake Tahoe is the place for you.
My top 5 recommendations for Southern Lake Tahoe are:
1. Go Snowmobiling During the Winter Season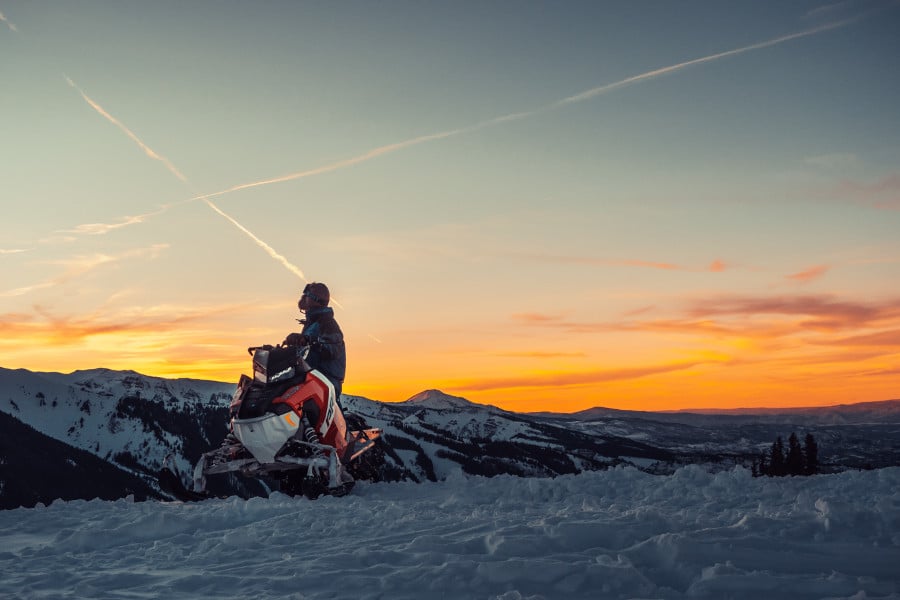 Snowmobiling is a fun, family-friendly activity that's popular during the Winter season at Lake Tahoe.
Be prepared to pay a good chunk of change to snowmobile, though. Not to mention, there are tourists looking to snowmobile, too!
2. Head to the Hard Rock Hotel & Casino for Some Fun
Nevada is the place to be when you're in the mood to gamble. The Hard Rock Hotel & Casino has 25,000 square feet of gaming space and thousands of slot machines to pour your money into (just be sure you don't go too crazy).
3. Go Golfing at Edgewood Tahoe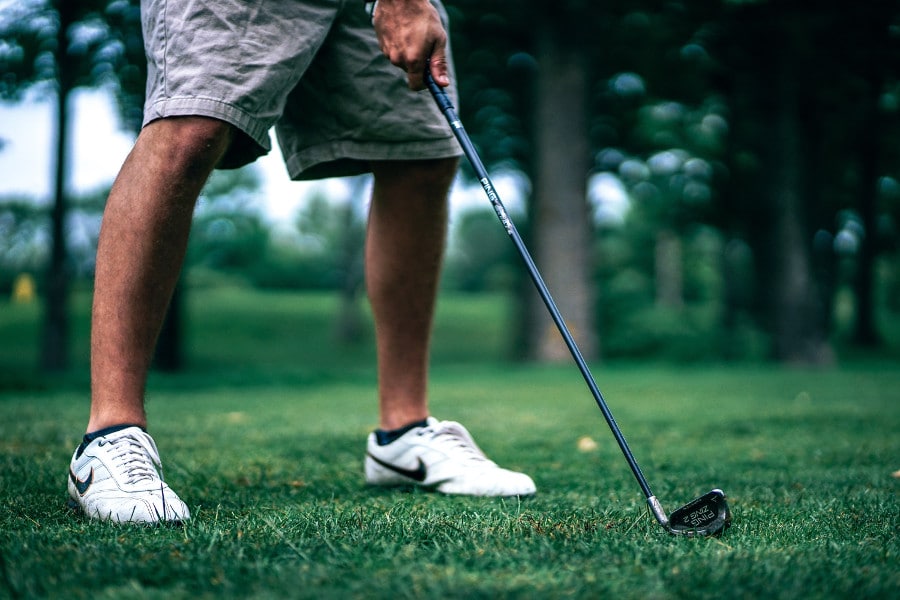 If you're a fan of being outside but aren't in the mood to hike, why not pick up a new hobby?
Golfing can be a tad boring (if you're alone and hate sports) but with a group of family members or good friends, it can be an awesome experience.
Especially at Edgewood – their 18-hole course stretches all the way to a lake! Exercise, beautiful views, and good friends makes for awesome memories!
4. Go Mountain Biking
South Lake Tahoe is a mountain biker's dream.
You can choose the 22-mile Flume Trail or the Tahoe classic, Mr. Toad's Wild Ride/Saxon Creek (for experienced bikers only)!
Or, you can go on the 165-mile Tahoe Rim Trail, there are tons of paths you can choose from!
5. Go On a Hot Air Balloon Ride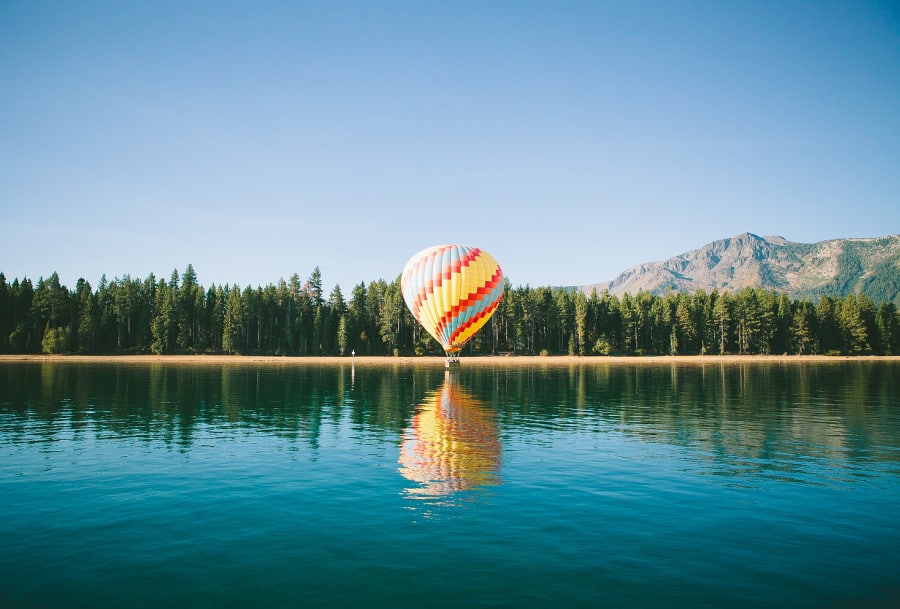 Lake Tahoe Balloons owns the world's only US Coast Guard certified hot-air balloon launch and recovery boat.
Which makes this experience a once-in-a-lifetime chance (unless you go in the hot air balloon more than once, but even then, it's still cool).
You'll be able to see Emerald Bay, Fallen Leaf Lake, Desolation Wilderness, and Cascade Lake. On clear days, you might even see the mountains in Yosemite!
A Few Tips Before You Go
Before you book your trip to Lake Tahoe (which I'm sure you're ready to do now) I wanted to share a few quick tips with you.
If you've been to Lake Tahoe before, feel free to share your tips (as well as your experience) in the comments below!
Here's what I suggest:
Look for free venues. There are plenty of free things you can do while in Lake Tahoe. The only problem? You might have to pay for parking. With that in mind, parking is a lot cheaper than having to pay for activities all day!
If you can, go to Lake Tahoe during the week. You'll avoid larger crowds and be able to do a lot more because of it!
Keep warm! Even at night, Lake Tahoe can get cold.
Make dinner reservations. Just… trust me. You'll need them (especially at North Shore).
Above all, have fun!
​Looking for more things to do? Check out these cheap vacation ideas for your next adventure!
Get $50 Off a Lake Tahoe RV Rental!
Click the button below to view RV rentals near Lake Tahoe.