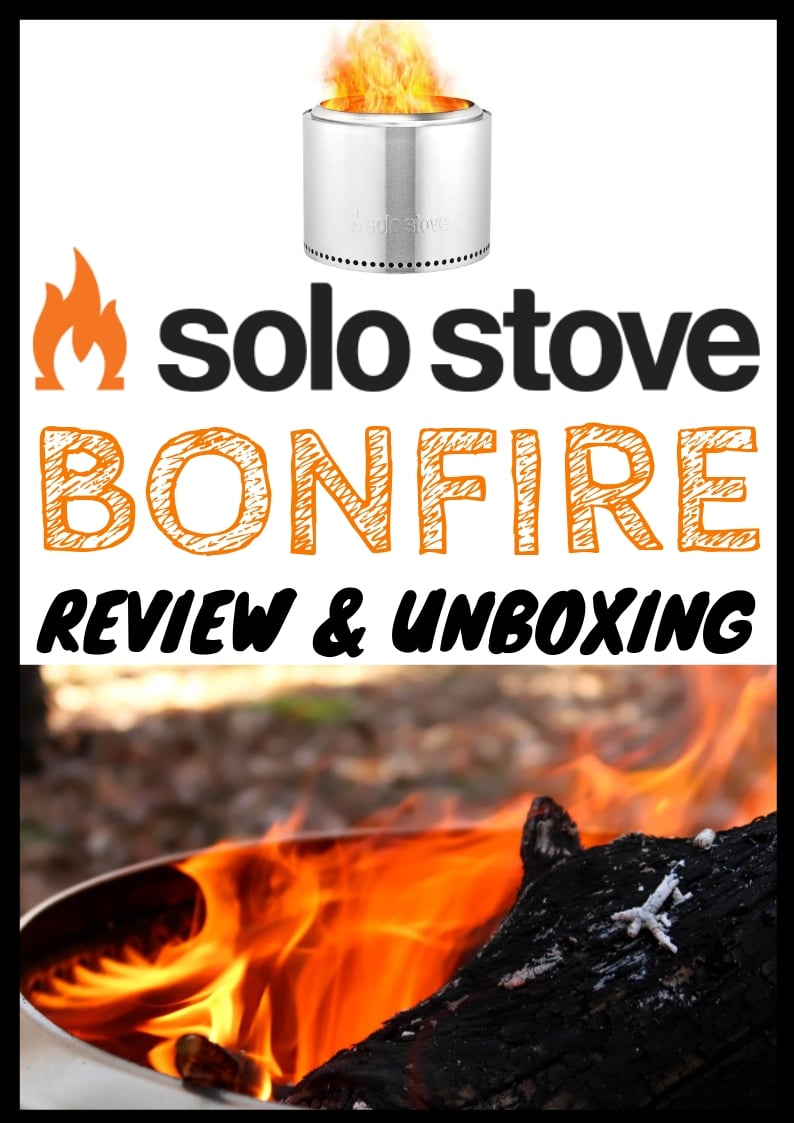 The Solo Stove Bonfire is a top rated "wood stove".
So when Kayla and I decided to buy it, we had high hopes for it. Is it worth $300?
The short answer: Hell yes.
The longer answer? Maybe, depending on how often you're going to use it.
In this Solo Stove Bonfire review, we weigh the quality & benefits versus the price and answer some commonly asked questions. Let's dive in!
Table of Contents
Solo Stove Bonfire Review Video
Don't care for reading? We recorded a quick review video to give you our thoughts on the Solo Stove Bonfire in less than 3 minutes!
Not convinced yet? Keep reading.
Solo Stove: How It Works
To see how to use your Solo Stove, here's a how-to video made by Solo Stove themselves:
The Solo Stove Bonfire – and the Solo Stove Lite, Titan, and Campfire – produce a hotter fire and less smoke using a unique airflow system.
Thanks to the holes on the bottom and inside of the fire pit, cold air is pulled in by the flames, then split in two directions.
Half of it goes under the fire to feed the embers, and the other half is heated through the sidewalls and comes out the holes in the upper chamber, causing a secondary combustion of the fire.
Here's a visual: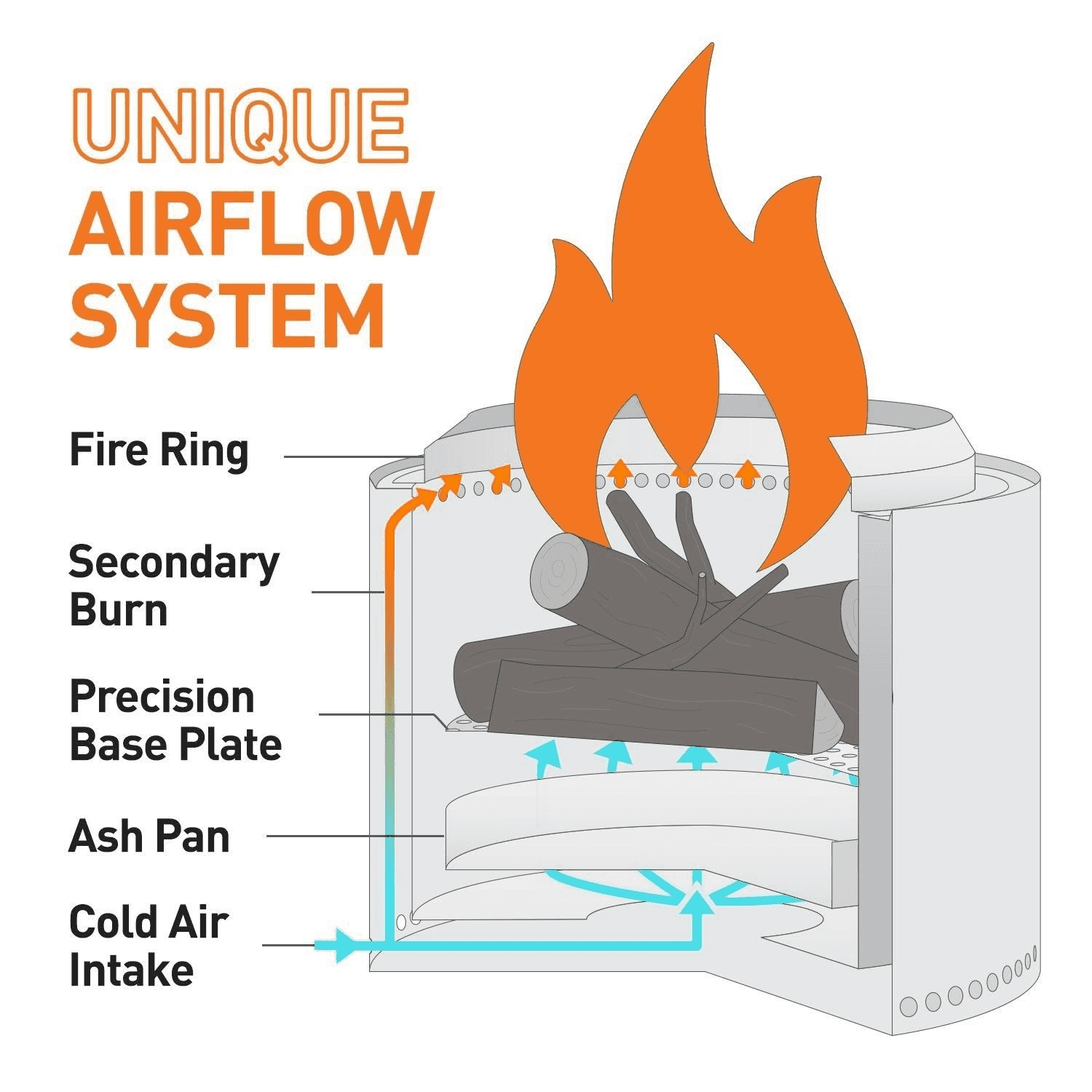 They also have bottom vent holes under your logs so oxygen can be fed directly into the bottom of the embers, resulting in a hotter burn.
A hotter burn means less ash – and you can easily clean out anything that happens to be left by tilting the fire pit upside down and giving it a little shake! (There's an ash pan underneath the logs).
The Bonfire Benefits

The Solo Stove Bonfire fire pit has a modern stainless steel design, burns hotter than a regular fire, and makes fire starting easier thanks to the walls that block the wind.
But more than that, this outdoor fire pit has three main benefits:
1. Hotter Fire & Less Smoke Means No Campfire Smell!
Have you ever spent the night around a fire, then smelled like thick smoke for the rest of the day – so strong that your significant other didn't want to lay next to you?
You know, the kind of smoke smell where you have to wash your clothes and scrub yourself hard in the shower to get it out.
With the Solo Stove Bonfire, your clothes won't smell like smoke!
One of Solo Stove's key features is their patented air-intake system that allows for hotter air to feed the fire, causing a "secondary combustion", resulting in a hotter fire – and less smoke.
And it actually works!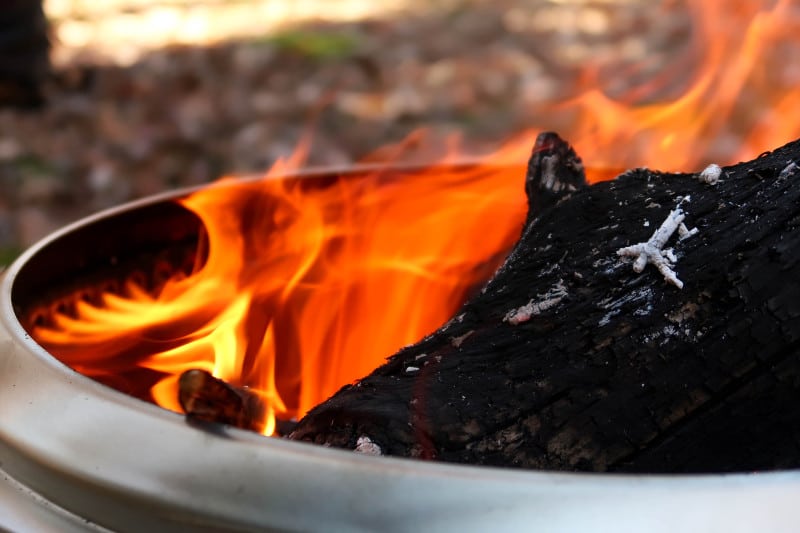 Note that low smoke doesn't mean NO smoke!
You will still see smoke coming from the fire, especially when you first light it while the smaller twigs first start burning. However, Kayla and I have found that there is significantly less smoke than a regular camp fire (almost none) and this helps a lot with the campfire smell.
2. Lifetime Guarantee
The Solo Stove Bonfire is made out of 304 stainless steel. That stainless steel construction makes it pretty darn durable.
However, unlike other fire pits on the market, it's not made of cast iron – and thus isn't as heavy or as durable. So it's better to be a bit gentler with it rather than tossing logs in willy-nilly.
But, if you do somehow break it, you're covered by a lifetime guarantee. Not 10 years. Not 100 years. You'll have this thing till the day you die! (And I'd bet your kids and even your kids' kids will, too.)

3. Portable Enough to Take RVing or Tailgating
Our favorite feature of the Bonfire! Thanks to it's light weight (it's only 20 pounds) and the durable carrying case it comes with, you can easily bring your Bonfire in your RV camping, or to any tailgating events!
Kayla and I personally love sitting at a campsite, getting comments from passer-by's on how cool our Solo Stove is and asking where they can get one!
The Drawbacks
No product is perfect (although some certainly come close)!
It was hard for us to come up with cons to the Solo Stove Bonfire. But there are a few, and we wanted to have an honest review. So let's talk cons.
1. You Can't Really Cook Over It
Unlike Solo Stove's smaller portable fire pits – the Lite, the Titan and the Campfire – you can't easily cook over the Bonfire. (Other than hot dogs and marshmallows; it's not a fire without s'mores!)
The reason is that you can't disassemble it. It's all in one piece. So if any food falls in – like sauce or burger juices – it can be a pain to clean it out.
It also doesn't have prongs over it like the smaller Solo Stoves do, so if you DID want to cook over it, you'd have to get a grill grate.
Even then, I'd only recommend cooking in pots or pans, not directly over the flame (again, to avoid any hard-to-clean foods falling in).
2. It's Pricey
Let's face it – you're still spending $300+ for a fire pit. Even if it is a super awesome, techy, minimalist, lifetime-guaranteed fire pit.
3. Some People Complain About Rust
While Kayla and I have yet to experience any rust on our unit after half a dozen burns, some reviewers have complained about their Bonfire rusting.
If yours rusts, it's covered by the lifetime guarantee!
Those are really the only cons we could come up with. This thing is awesome and it's easy to see why they have thousands of 5-star reviews.
Customer Reviews
Speaking of reviews, here are some things Solo Stove's customers are saying about the Bonfire (taken from their site):
Todd
Solo Bonfire.
The Bonfire is AWESOME!!!! Easy to start and the fire stays hot. Very little smoke and a beautiful fire when roaring. We love our Solo Bonfire.
Lorelai
Nice surprise.
A few months ago I purchased the Solo Bonfire and was very nervous due to some reviews complaining about rust.
What I realized is that as long as you clean it the very next morning and cover the Bonfire with the cover it came with that there has been zero rust.
The stove has patina beautifully. It burns the wood to powder ash and you and your guest do not smell as you have been at a campfire.
I did put the stove on two concrete pavers to keep the stove off the cement patio just to ensure the stove does not touch water.
It is a show piece for sure as we sit outside relaxing.
Richie
Worth it.
Worth every penny, built to last longer and no smoke! Looks great and is nice and hot.
Of course, there are a few critical reviews on Amazon showcasing some of the negatives of the Bonfire.
Note that nearly all of these reviews are from 2017 and may have been addressed since then. Kayla and I haven't seen any rust issues yet, but we've only used it a handful of times. We'll update this post after a few months.
*Since buying our stove and using it a ton, we've still yet to see any rust issues! Of course, we put it away after nearly every use so it doesn't sit out in the rain or get morning moisture, so we can't speak to negligence.
Stevil
Great product, but rust is a concern.
Used it for the first time on a three-day camping trip. Its big advantages are that, once it heats up, there is very little smoke, and it radiates heat very evenly.
On the negative side, the handles on the carrying bag are uncomfortable, and it's difficult for one person to get it in and out of the bag. My biggest concern is that the bottom grate shows heavy rust after three nights' use- since the rest of the pit is OK so far, I'd surmise that they used an inferior grade of stainless steel there.
I'm not encouraged by others' reports of the company's reaction to complaints of rust, particularly since the grate doesn't appear to be replaceable.
Jeff
Could have been a little larger.
I like it. Could have been a little larger or come with legs.
For the price it should have come with a screen. Especially for the early stages of a fire where there are more flankers or sparks.
Enough customers reviews. Let's answer some commonly asked questions!
Frequently Asked Questions
Here are some frequently asked questions we've personally been asked or saw others asking. Click any question to open a drop-down box with the answer.
Have a question not answered here? Leave a comment below and we'll add in you question (and answer) ASAP!
Where can I use the Bonfire?

In your backyard, on the back porch, outside your RV, at a campsite, tailgating – you name it!

As long as you're outside, the world is your plaything.
Do I need to purchase anything extra to use it?

Nope! All you need is your bonfire, some logs, and kindling to get it started.
What's the difference between the Bonfire and other Solo Stoves?

The Solo Stove Lite, Titan and Campfire are more portable and were designed for backpacking and campsite cooking.

The Solo Stove Bonfire was created to be an awesome fire pit for your backyard!
What kind of wood should I use?

Any firewood will do!

However, hardwoods like birch, maple, hickory and oak will burn longer than softwoods.
How many logs should I use?

You can fit ~4-6 normal sized logs inside without much fuss.

However, there's no need to overfill it. You can always add more logs on later if you want more fire!
How do I clean the Bonfire?

Since it's all one piece, you might be wondering how to clean it.

From what we've found, there's very little ash left over after a burn. All you have to do is tip your Bonfire upside down to dump the ash out – that's it!
Do the sidewalls get hot? How long do I have to wait to pick it up?

Yes! The sidewalls get hot. Don't pick it up in use or try to move it!

Wait until the fire is completely burnt out and the steel has had time to cool off. Usually 2-3 hours, depending on how hot it was.
Does the bottom get hot? Will it harm the grass underneath?

The bottom of the stove never gets hotter than 100 degrees Fahrenheit.

We've done several burns on grass in multiple locations, and it's never hurt the grass any more than leaving something cold on the grass would.
Can I use it on a wood deck or porch?

Yes! Unlike a regular fire pit, the bottom of the stove never gets hotter than 100 degrees Fahrenheit.

That said, it should only be used outside. If your porch is enclosed or covered, you shouldn't use it on the porch.
How close can I sleep next to this outdoor fire pit?

You can get fairly close (within 3 feet), but if you're using a sleeping bag, I wouldn't be within 4 feet due to risks of embers.
How do I go about cleaning and maintenance?

Cleaning and maintenance are easy! After a fire, just dump out the ashes – no need to wipe anything down.

Just be sure to store your wood stove in a cool, dry place when you're done using it to avoid rust.
The Verdict: Who's It For?
Overall, the Solo Stove Bonfire fire pit is a high-quality, minimalist, portable backyard fire pit. For us, it was worth the money.
But it's not for everyone.
The Solo Stove Bonfire is for you if…
You don't like smelling like a campfire every time you sit around one.
You need a portable fire pit that's fairly lightweight to take RVing or tailgating.
You're going to use it often enough to justify the price.
You just like having a cool ass bonfire in your back yard.
*If you're looking for a portable stove to bring on camping trips, consider the Solo Stove Lite or Solo Stove Campfire instead.
Related Posts:
– 40 Camping Gifts Every Camper Would LOVE to Get
– 20 Camping Experts Reveal Their Favorite Camping Gear
– Solo Stove Campfire Review
– Solo Stove Ranger Review