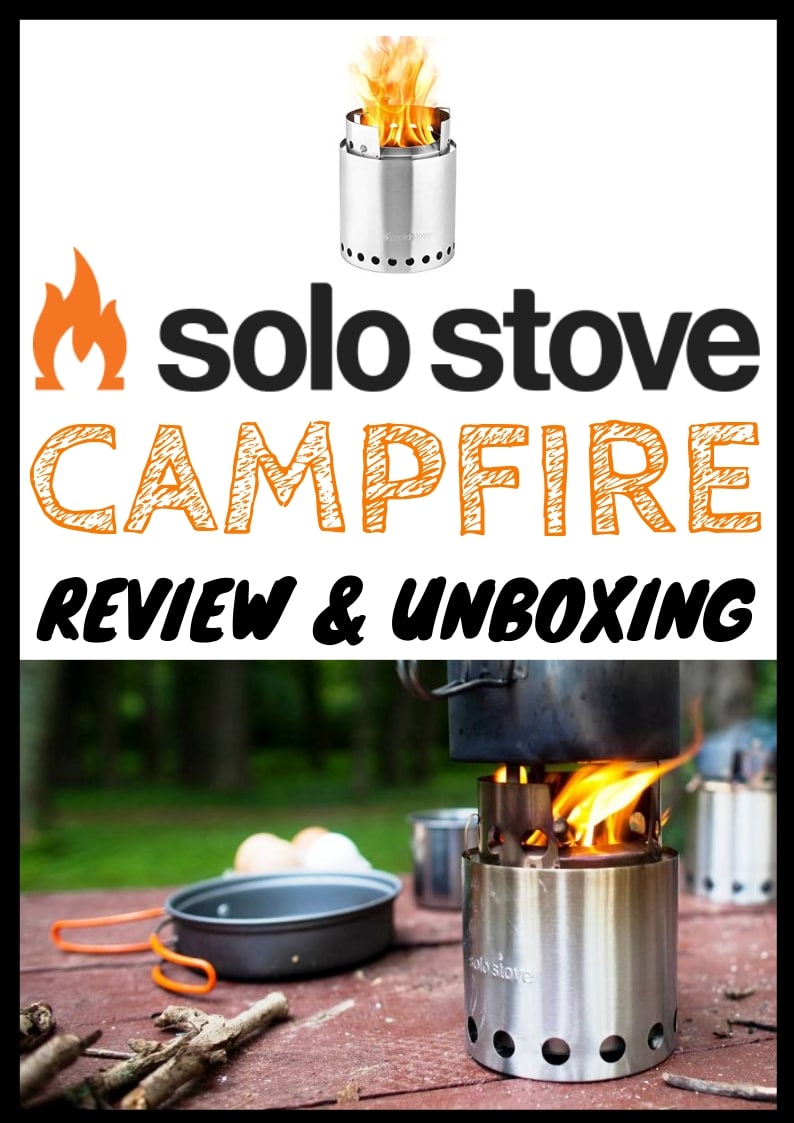 The Solo Stove Campfire is a top rated portable wood stove.
They tout the ability to quickly and easily create camp fires you can cook over while camping, hiking, or backpacking.
But at $100, is it worth getting?
The short answer: Hell yes. 
The longer answer? Maybe, depending on your needs and how many people you're cooking for.
In this Solo Stove Campfire review, we weigh the quality & benefits versus the price and answer some commonly asked questions. Let's dive in!
Table of Contents
Solo Stove Campfire Review Video
Not one for reading lots of text? Here's a great video review we found by CountryMash on YouTube:
In addition to the Solo Stove Campfire, the accessories used in the video are:
If you're only cooking for 1-2 people, get the Solo Stove Lite instead.
The Solo Stove Campfire is the biggest portable wood stove Solo Stove makes. It's meant to cook for 4+ people at a time.
If you're the kind who prefers text to video, or you've still got questions before you buy, read on!
Solo Stove: How It Works
To see how to use your Solo Stove, here's a 1:58 how-to video made by Solo Stove themselves:
The Solo Stove Campfire – and the Solo Stove Lite & Solo Stove Titan – produce a hotter fire and less smoke using a unique airflow system.
Thanks to the holes on the bottom and inside of the fire pit, cold air is pulled in by the flames, then split in two directions.
Half of it goes under the fire to feed the embers, and the other half is heated through the sidewalls and comes out the holes in the upper chamber, causing a secondary combustion of the fire.
Here's a visual: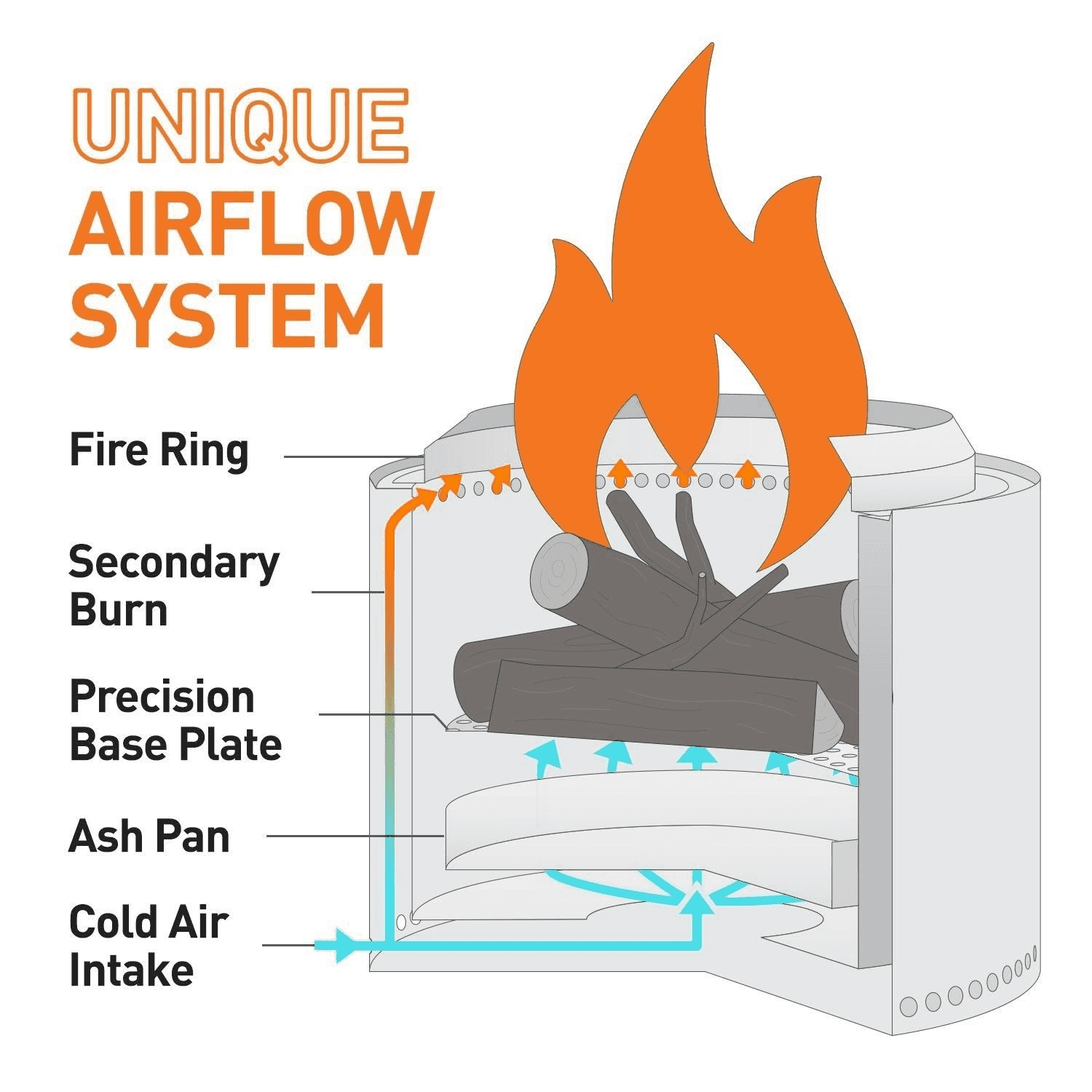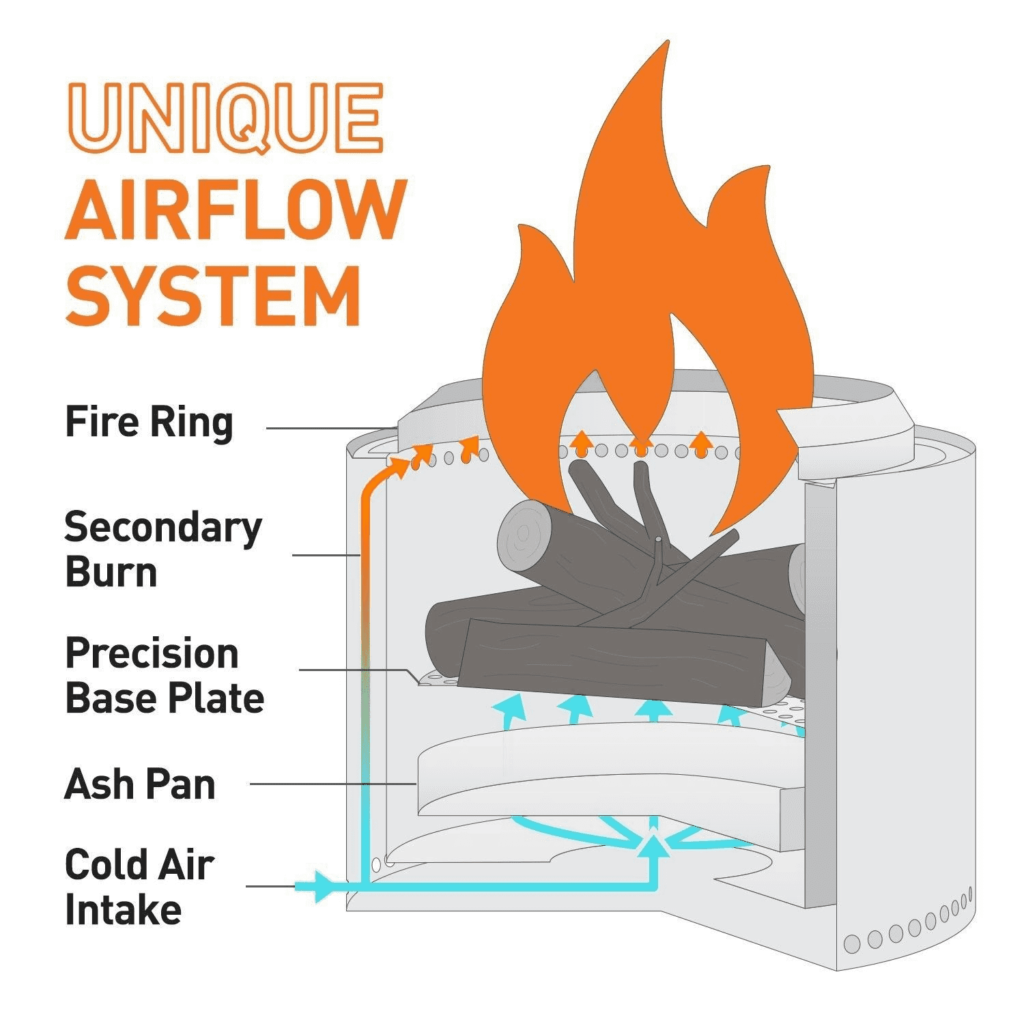 They also have bottom vent holes under your sticks so oxygen can be fed directly into the bottom of the embers, resulting in a hotter burn.
A hotter burn means less ash – and you can easily clean out anything that happens to be left by tilting the fire pit upside down and giving it a little shake! (There's an ash pan underneath the nichrome wire grate where the wood is burned).
The Campfire Benefits
The Solo Stove Campfire has a modern stainless steel design, burns hotter than a regular fire, and makes fire starting easier thanks to the walls that block the wind.
But more than that, these wood burning camping stoves have three main benefits:
1. Hotter Fire & Less Smoke Means No Campfire Smell!
One of the worst parts of cooking outside over an open fire is the constant smell of ash and soot on your clothes and skin.
With the Solo Stove Campfire, there's less smoke and less campfire smell.
After the fire is initially lit, the smoke dies down thanks to the double combustion and extreme heat. Note that low smoke doesn't mean NO smoke!
You'll still see some smoke upon the initial lighting. However, Kayla and I have found that there is significantly less smoke than an open fire on the ground.
2. Lifetime Guarantee
The Solo Stove Campfire is made out of 304 stainless steel. That's durable stuff.
But, if you do somehow break it (say by throwing your backpack off a cliff during a day hike?), you're covered by a lifetime guarantee.  From the Solo Stove Campfire reviews we've seen, they're good about honoring this guarantee, as long as you don't do something that's obviously against their terms.
3. Portable Enough For Section Hikers, Day Hikers & Camping
These wood burning camp stoves were made specifically to be the ultimate cooking system for hiking and camping, so they're made with portability front-and-center.
At just 2.2 lbs and 7 inches wide by 9.25 inches tall, they're lightweight and easy to toss in a backpacking pack or tie to the bottom of your hiking pack.
The Drawbacks
While this is one of the top rated backpacking stoves money can buy, no product is perfect. Kayla and I had a few (minor) gripes with our campfire.
1. Some Rust Issues
Some users have experienced rust after several months of using their stove. We've had ours for over two years now and still haven't seen any rust.
However, all of the rust complaint reviews are dated 2017 and prior, indicating that Solo Stove may have upgraded the 304 stainless steel they use in their products.
But remember: If yours rusts, it's covered by the lifetime guarantee!
2. It's Pricey
Despite how awesome and portable this little camp stove is, it's still $100. While we believe it's worth every penny, not everyone can afford to spend that much on a portable campfire.
Those are really the only cons we could come up with. This thing is awesome and it's easy to see why they have thousands of 5-star reviews.
Customer Reviews
Speaking of reviews, here are some things Solo Stove's customers are saying about the Campfire (taken from their site):
Bob Sherrer: The perfect way to decompress and relax. As an employee of a retail DIY company, I need a release at the end of the day. You may too?
The solostove Campfire helps us send the day up in flames. We always have branches and twigs littering our yard and the solostove Campfire allows us to dispose of these sticks in a very therapeutic way.
I've always been a "fire junkie" and, for me, this is the best "fix"! The solostove Campfire helps to be prepared for power outages and other small inconveniences and gives my wife peace of mind (and an excuse to drink wine, occasionally). I hope to find a solostove Bonfire in our holiday purchases.
Truly the Best little thing that I've purchased in a very long time. On many levels, you need one of these little therapists!
Dennis: The best wood stove on the market today!!! Received my solo campfire yesterday. And of course I tried it out immediately. Fantastic!!
I could sit here and rant and rave about how great this stove is, but if you have been reading the reviews on this product, then you already know how good this stove is; because everything you read good about this stove is true.
It has already been said for me throughout the years that this product has been available. In this case believe what you read. It is all true. I have made my own stoves in the past and they worked well but they don't hold a match to this stove. (Pun intended) So stop reading and make the purchase. I did and I am not one single bit disappointed.
I will be purchasing the 3 pot set and alcohol burner in the very near future. That should complete my camp set up. Happy camping to all those outdoor enthusiast. Enjoy your solos. And for those who don't have one; GET ONE!
There are only 6 "critical" reviews on Amazon. Here are 2 of the most constructive.
Note that all of these reviews are from 2017 or older and may have been addressed since then.
Since buying our stove and using it a ton, we've still yet to see any rust issues! Of course, we put it away after nearly every use so it doesn't sit out in the rain or get morning moisture, so we can't speak to negligence.
Worked very well but as I just tried cleaning the stove, it has a lot!!! of rust. I can see how it will rust out soon as others have experienced. Good stainless would not be rusting.
It gave us a great campfire. Everybody crowded around it.. But I could make my own out of cans if I did not mind rusting. Also it is hard to get the ash out because the bottom does not come off.
The Campfire works fine for several months, after that, the pan inside the stove fails and drop to bottom,the pan should be designed as support from bottom with a seat etc, so the connection will not fail due to high heat.
Now the pan falls to bottom, the timber can not burn right. a lot of smokes come out and always leave some black unburned timber.
Enough customers reviews. Let's answer some commonly asked questions!
Frequently Asked Questions
Here are some frequently asked questions we've personally been asked or saw others asking.
Have a question not answered here? Leave a comment below and we'll add in you question (and answer) ASAP!
The Verdict: Who's It For?
Overall, the Solo Stove Campfire is a high-quality, minimalist, portable wood stove. For us, it was worth the money.
But it's not for everyone.
The Solo Stove Campfire is for you if…
You don't like smelling like a campfire every time you cook over one.
You need a portable wood burning cooking system that's lightweight to take hiking or camping.
You're going to use it often enough to justify the price.
You just like having a cool ass campfire in your back yard.
If you prefer an outdoor fire pit to portable stove kits, consider getting the Solo Stove Bonfire or Solo Stove Ranger instead or in addition to the Campfire!
Enjoy your camping trips with your new wood burning stove!
Related Posts: 
– 40 Camping Gifts Every Camper Would LOVE to Get
– 20 Camping Experts Reveal Their Favorite Camping Gear
– Solo Stove Bonfire Review & Unboxing