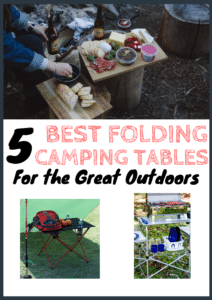 Need a new folding table in your life but aren't sure which one is right for you? We've got you covered!
In this guide, we share the best folding camping tablesand explain the benefits of having one.
We also talk about the differences between a cooking/prep table, dining camp table, and accessory camping tables so you know which one to get.
Let's dive in!
Note: Some of the links in this article are affiliate links. This doesn't cost you any more than normal. Read our disclaimer for more info.
Table of Contents
Do you really need a camping table?
Portable folding tables aren't mission critical for RV-ing, but they are definitely a useful and classic accessory when it comes to living on the road.
Some advantages to having a folding table include:
Expanding your living space
Multipurpose
Creates a comfortable outdoor area
Some downfalls to having an outdoor table include:
Something else to pack
May require more set up time
If you are ready to begin your search, let's jump into what to look for!
Things to Think About When Looking For A Camping Table
How Will You Be Using Your Table?
One of the main things to think about when looking for the right camping table is the primary use that it will service. Will it be used as a cooking/outdoor prep station? Do you need a folding table for outdoor dining? Maybe you want a versatile solution or just a picnic table.
There are so many different types out there. There are portable outdoor tables designed for camping, bamboo folding tables, and tables meant for hunting, cleaning, and cutting.
Having the right table makes a huge difference. Keep these things in mind when looking for your next table to ensure that it fits all of your needs.
Ease of Set Up
When looking for the right portable folding table to fit your needs, it is best to think about the set up and take down process. You are going to want something that is easy to put up and put away, requiring little to no time.
Sturdiness and Durability
I don't know about you, but if I spend money on something I want it to last until I'm 110 years old! The camping table you choose to purchase should be able to withstand the elements and anything you could (and probably will) put it through.
A few question to ask yourself:
Does the manufacturer offer a warranty? (2-3 years is preferred.)
Does the table have any weak spots that could be cause for concern, or moving parts that could potentially break?
How will it hold up to accidents like being knocked over or having something dropped onto it?
Weight and Size
As with most things, with folding tables there isn't a one size fits all option. They come in a variety of shapes and sizes from small and round to large and rectangle. They even have adjustable ones!
Take into consideration how you will be using your table and the size that would best suit your needs during your search.
Best Folding Camping Tables
Now that we've covered the things you need to think about when looking at for the perfect table for you, let's take a look at the best tables on the market!
Trekology Portable Camping Side Table
Measurement: 27″ x 18″ x 16″
Waterproof and durable
Easy to set up
Recommended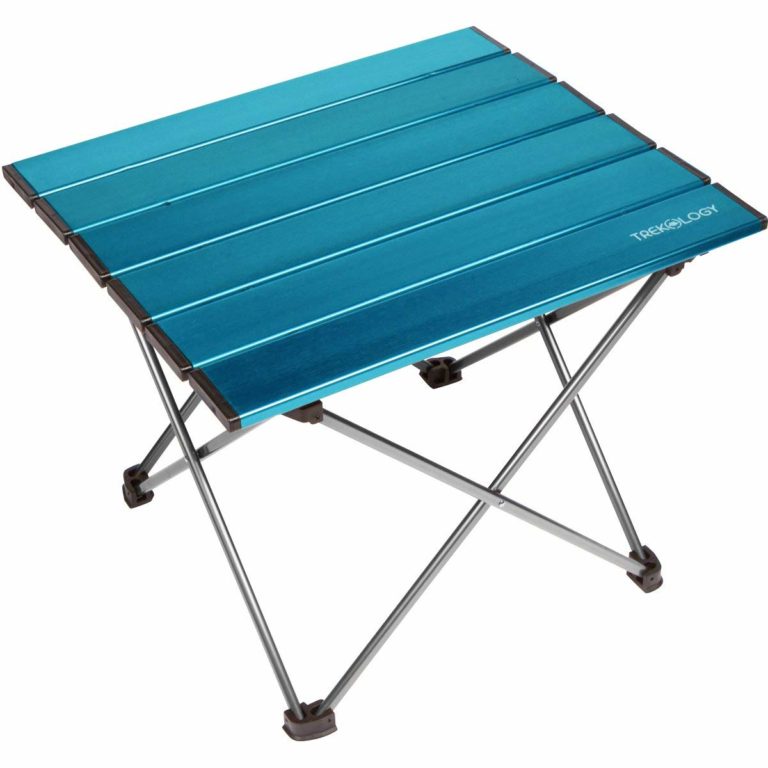 The Trekology Portable Camping Side Table is an all-purpose portable outdoor table that is both mobile and practical.
Because of it's small size, you can take it just about anywhere and use it as a dining table on the go.
Don't let this table fool you! It can hold up to 50lbs and the rubber legs are make it perfect for camping outdoors.
This portable camp table is made with an aerospace-grade aluminum alloy and the manufacturer backs it with a 100% satisfaction guarantee!
Here is a video on how to set it up:
Deluxe Folding Grill Table
Quick & easy to set up
Lightweight steel frame and aluminum tabletop
Includes durable carrying case
Recommended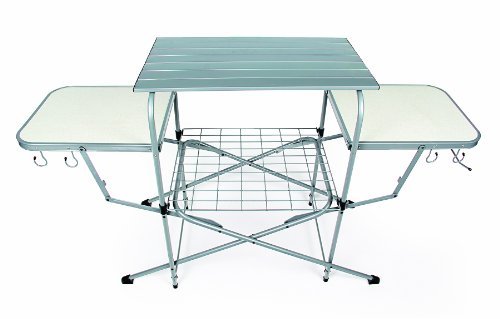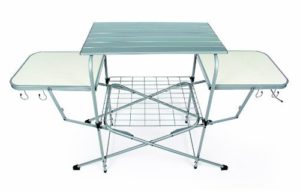 If you are looking for an affordable outdoor cooking table, the Camco Deluxe Folding Grill Table is the way to go!
It has a large aluminum table top for a small grill or food prep, as well as two-sided shelves (and one lower shelf) for your cooking gear.
It even comes with additional hooks and a paper towel holder on the side!
Here is a video on how to set it up:
Coleman Pack-Away Portable Kitchen
Equipped with utensil hooks for additional storage space
Fits into a compact case for easy carrying and storage
Accommodates most Coleman stoves and coolers
Recommended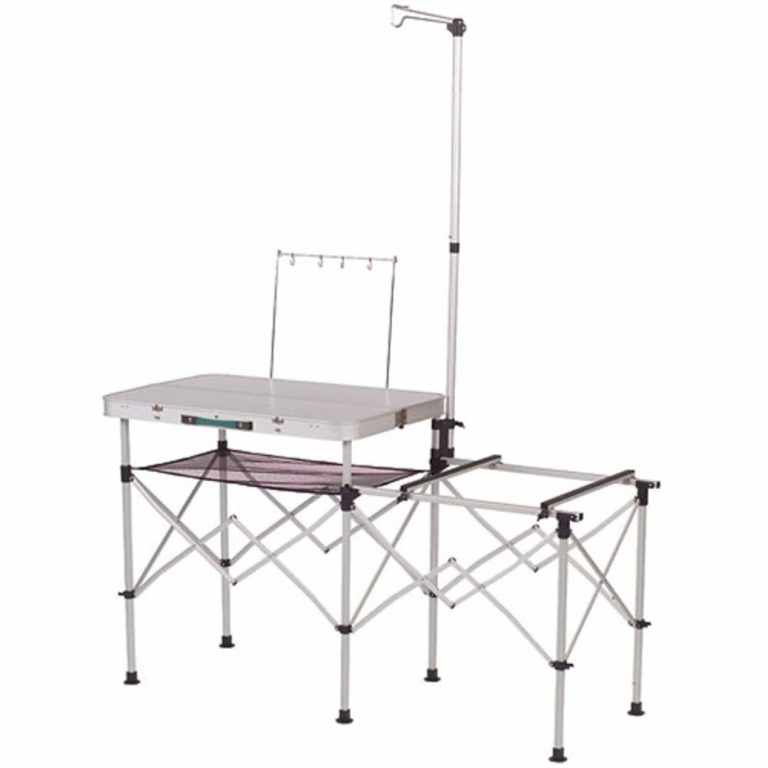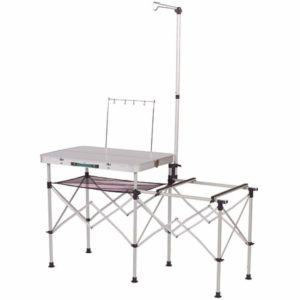 The Coleman Pack-Away Portable Kitchen has a spacious countertop to prep your food as well as a stand for your outdoor stove. 
With a shelf for utensils and hooks for spoons and other necessities, this is the perfect RV companion. It even has a lantern hook!
One downfall is that the setup process seems a little longer than other tables in this article.
Check out how to set it up:
Outry Lightweight Folding Table
Made with heavy duty nylon fabric and lightweight aluminum
Sets up quickly and easily
Carrying case included for convenience
Recommended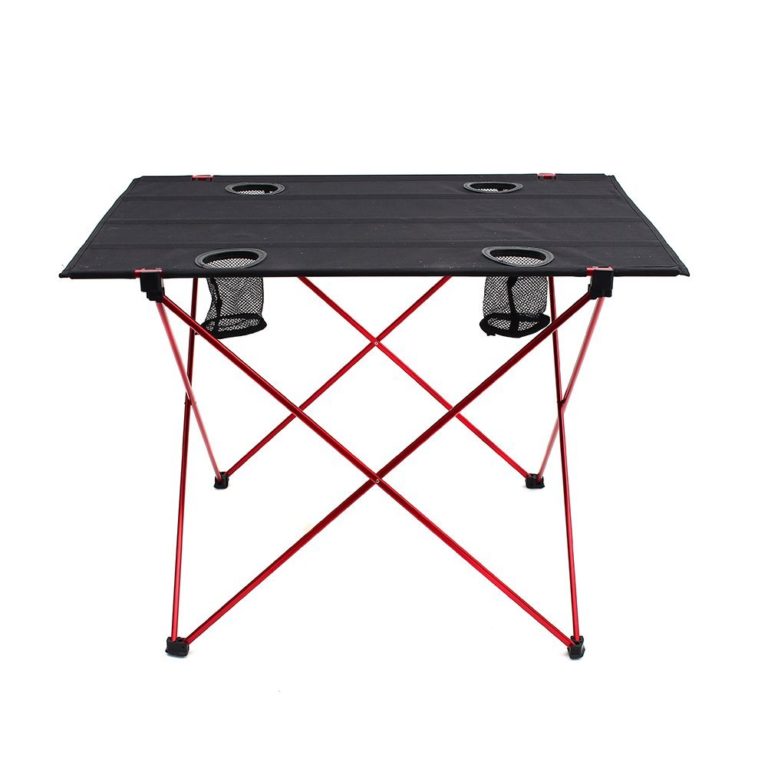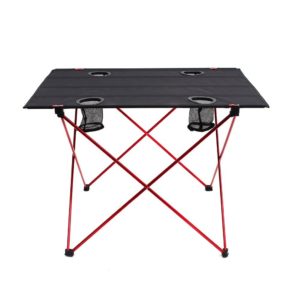 The Outry Lightweight Folding Table is a great choice if you are looking for a basic, portable outdoor table.
It can be a dining table or a place to set your stuff on. It is lightweight, easy to set up, and small enough that it won't take up much storage space (which is a huge help).
Another fun fact? The frame is made from aluminum alloy while the table top is made of nylon! 
This baby is made to last. Here's a close-up of what the table looks like: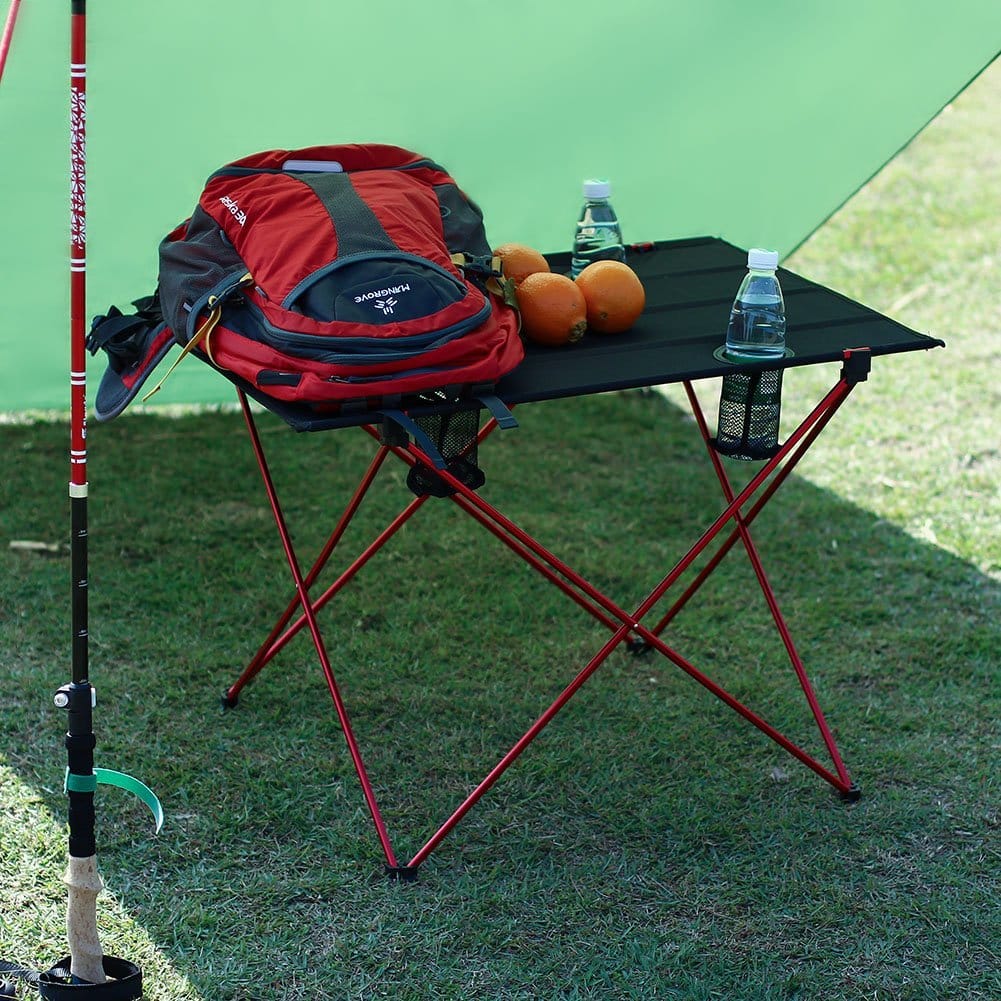 Coleman Pack-Away 4-in-1 Adjustable Folding Table
Lightweight aluminum frame
Adjusts to 3 different heights and includes leveling feet
Fits in self-contained case with handle for easy transport and storage
Recommended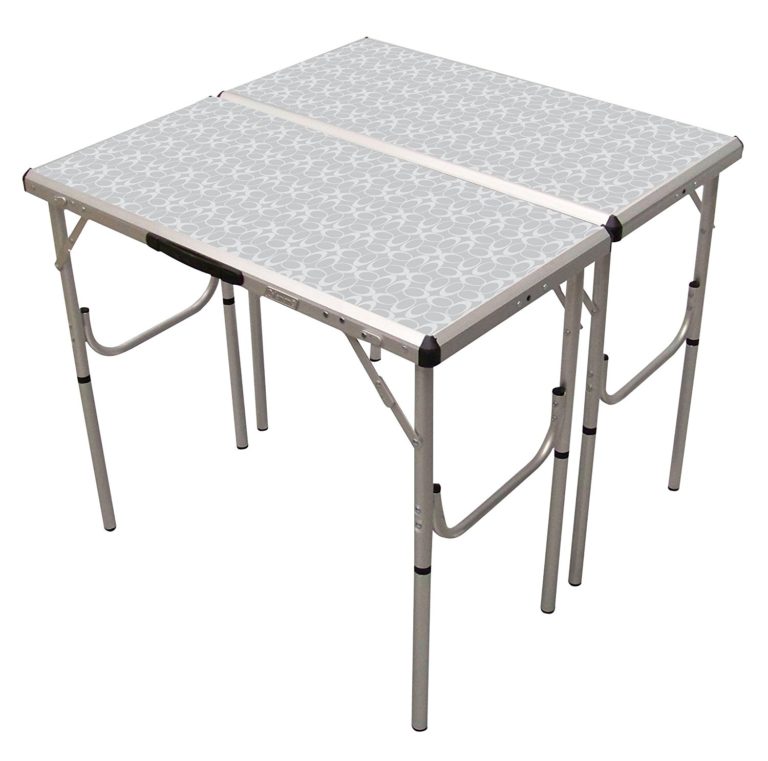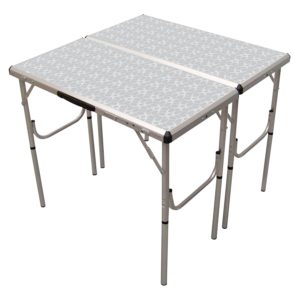 The Coleman Pack-Away 4-in-1 Adjustable Height Folding Camping Table is the Swiss Army Knife of tables!
It can be set up as a square picnic table, rectangular buffet, bi-level serving station, or two coffee tables. You also have a choice of three height settings.
This portable outdoor table can handle just about anything with its ability to hold up to 300 pounds and its strong aluminum frame.
The only downfall is this table isn't recommended for use with camping stoves or other hot items.
Take a look at two different setups: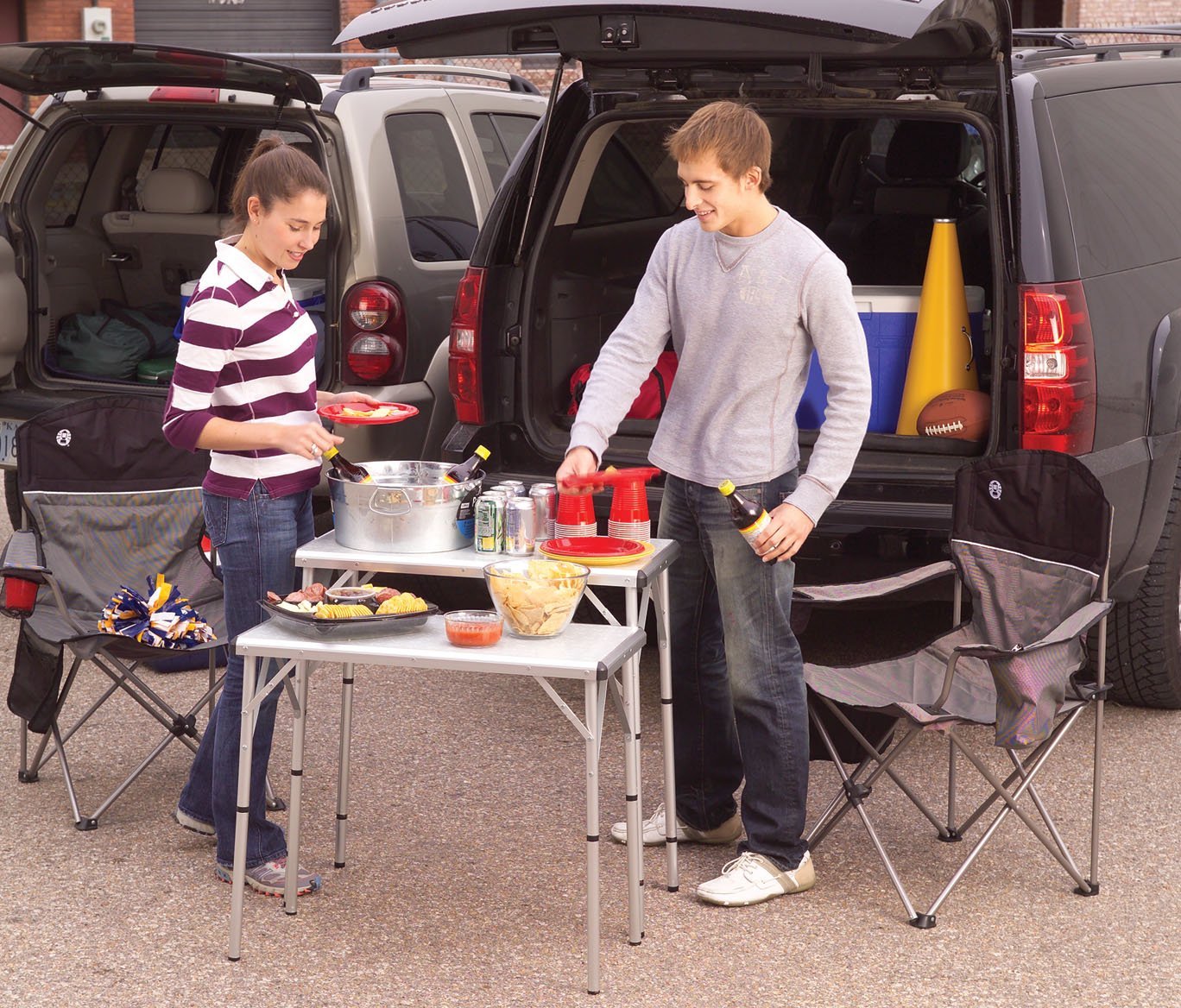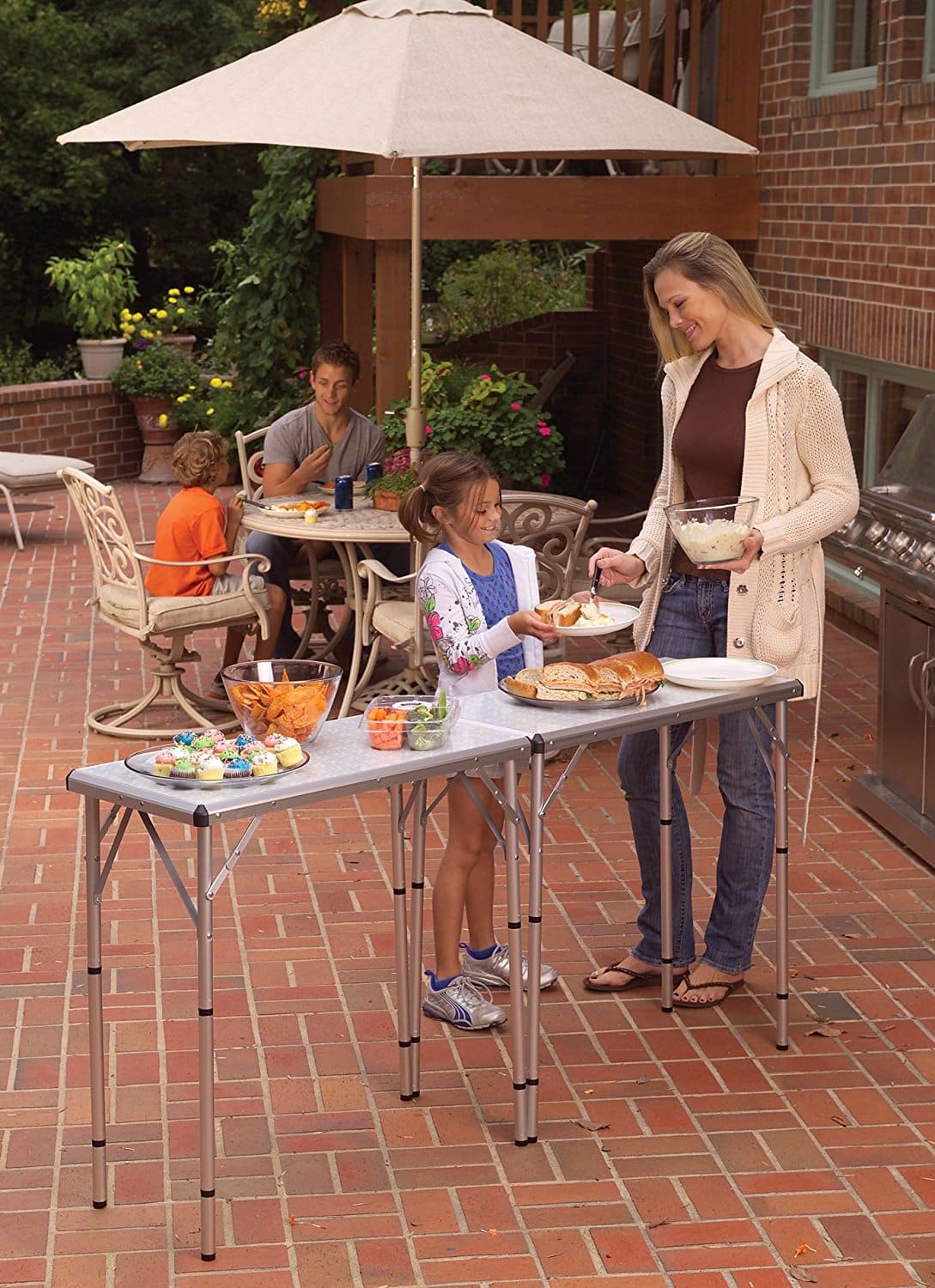 What's Your Favorite Camping Table?
Did we list a camping table that you already have? If so, what's your favorite thing about it?
Have another camping table you want to suggest? Drop a comment below!
Pro Tip: Even if you're in an RV rental, it's always a good idea to have a folding table on hand!