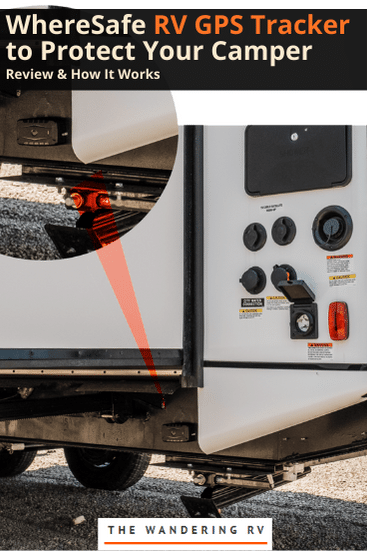 Having the ability to know exactly where your camper is at all times means peace of mind.
If you own an RV, chances are you store it for at least part of the year. Maybe you have friends or kids who use it, too. An RV GPS tracker like WhereSafe can help you keep tabs on it.
This is especially useful if you rent out your RV and need to know where your renters are taking it. You'll know if they take it somewhere you didn't agree to.
Table of Contents
WhereSafe: The RV GPS Tracker
WhereSafe offers a great GPS tracker that you can easily install in your RV or your toys like ATVs, golf carts, dirt bikes, motorcycles, etc..
Click here to see WhereSafe options and plans now.
How it Works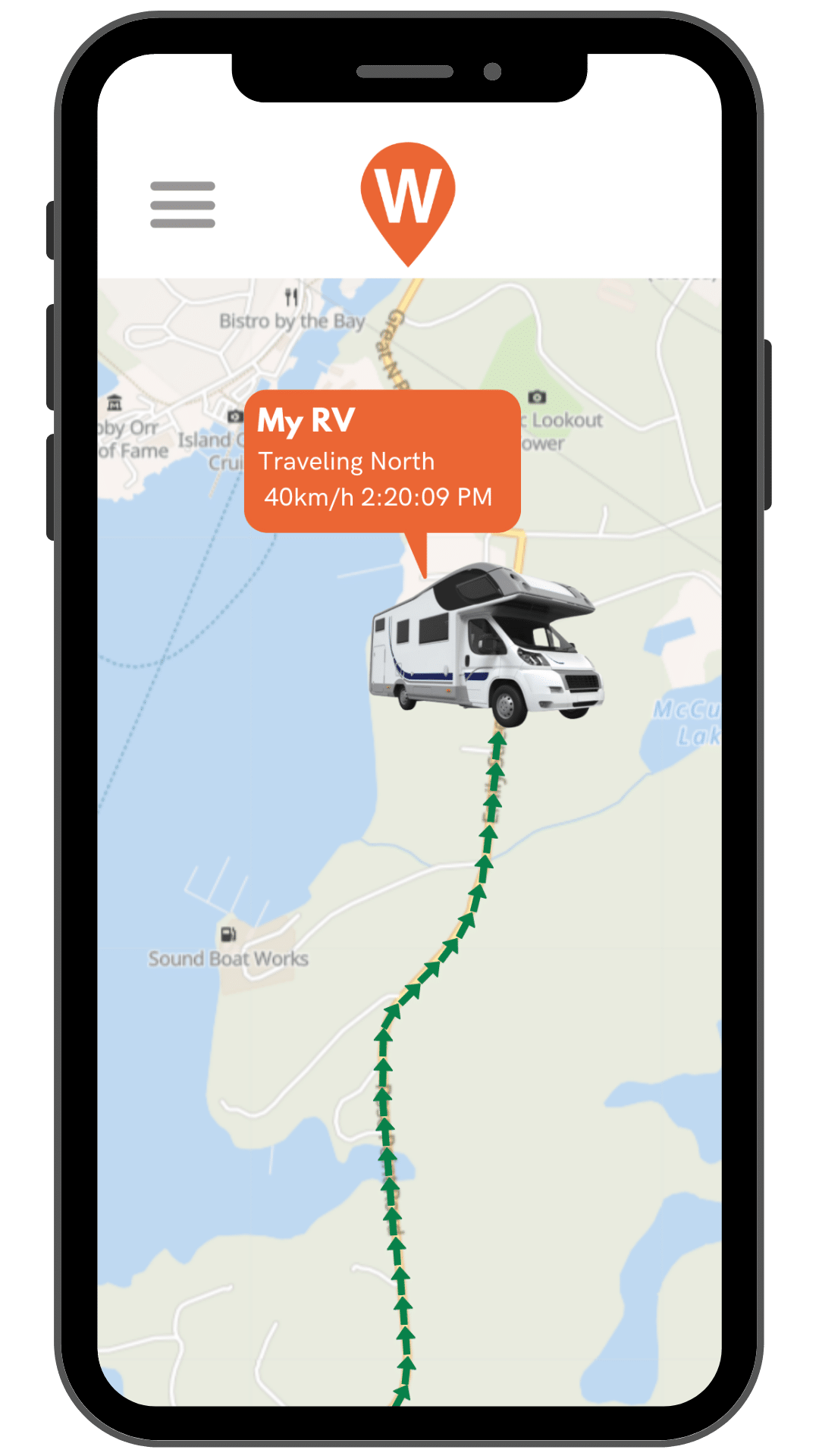 WhereSafe GPS trackers work with real-time tracking rather than the location by request system most other GPS trackers use.
You download an app on your mobile device to monitor the location. This means more accurate location tracking for your peace of mind.
And, installing it is simple. More on that in a moment.
Real Time Tracking vs Location By Request
Most GPS trackers work by pinging the SMS-based location by request services. Unfortunately, this is not effective because if the device can't submit the location, you don't know where it is.
WhereSafe's real-time tracking, on the other hand, works by pinging the location to a satellite, then sending that information to WhereSafe's cloud server and constantly updates the app.
It is always tracking and will notify you of issues IF you need to know, so you don't have to constantly monitor the app.
Here's a visual of how it works: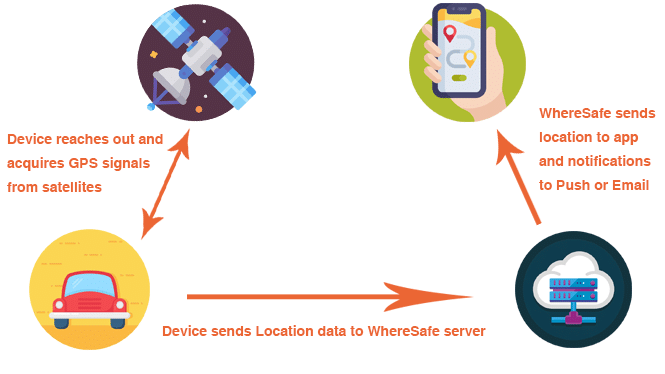 Magnetic vs. OBDII vs. Hard Install
When it comes to installation, you have three device options:
Magnetizing it to your rig
Plugging it into an OBDII port
Installing it under the hood and connecting it directly to your RV's battery
If you choose the magnetic tracker and slap it on your camper, you can easily move it, remove it, or put it on a different vehicle if you want to track something else.
However, you do need to recharge it if you choose this device type. The battery life of the magnetic WhereSafe GPS tracking device is about 2-6 weeks and it takes ~6 hours to charge.
To off-set needing to plug in your unit, you have two options:
A solar-powered tracking unit
A tracking unit that plugs into your OBDII port
A hardwired unit that plugs directly into your battery
Their solar-powered unit (the XTracker Solar) can be installed on the roof of your RV and you never have to worry about it (as long as it gets sunshine, obviously!).
Their plug-in GPS tracker, called the OBDII, plugs directly into your OBDII diagnostic port. This means you won't have to worry about charging it, but you will be limited to only using it in those ports, which means you won't be able to move it into some of your other toys if you wanted to.
Finally, you can get a hard-wired GPS tracker that you install under the hood and connect to your battery. Once again, you won't have to worry about battery life, but you're limited to what you can use it on.
They also have a Wi-Fi Tracker option which allows you to have a tracking device AND a Wi-Fi hotpot build into one. This is the best option if you want tracking as well as roaming data to keep you connected on the road.
Which GPS tracking device you choose depends on your personal needs and preference. The magnetic trackers are the most versatile, but require charging. The other options are less maintenance but have more limitations.
WhereSafe Service Plans
WhereSafe service plans require you to pay monthly subscription fees to use their tracker. You can save money by paying yearly instead of the monthly fees, and they also offer a seasonal plan for further savings (more on that later).
These monthly fees give you built-in alerts right on your phone, as well as:
NightWatch – After hours monitoring keeps an eye on your device and let's you know when it moves
RideMonitor – Be aware of high speed driving and take action. Even get harsh driving alerts with the Plug In Tracker.
SafetyNet – Set a geofence boundary around your city and know when your device leaves the area.
TamperGuard – Know right away when your device needs a charge and is unplugged or removed.
Did you know you can also save by purchasing a seasonal RV insurance plan instead of regular RV insurance?
Add-On Features
There are some great optional features you can add on as well, including:
Giving other caregivers, family members, employees or staff private and secure access to your vehicles' live location details.
Knowing when a vehicle enters or leaves a particular "safe zone".
Receiving a location history report emailed to you each day.
And more!
Click here to see all of the available add-on features for your GPS tracking.
Optional Seasonal Plan for Storage
I mentioned before that you can save $20 per year with a seasonal plan.
If you store your RV and don't need tracking, this plan lets you get 4 months of "suspension service", where the device is still 'alive', so the SIM chip stays active and allows for asset recovery mode in the case of off-season theft.
3 Reasons to Use GPS Trackers
Why even bother using GPS trackers? Here are three reasons:
1. Quick Recovery or Insurance Claims on Theft
You will immediately know when your RV has been stolen, and where it is. With RV thefts on the rise, this is a great thing to have.
Even if you can't recover the RV, you'll be able to make a claim right away to ensure you get your money ASAP.
2. Keep Track of Your RV While Renting It Out
If you want to start an RV rental business, you can add one of these GPS trackers to your camper to know if your renters are taking it somewhere they shouldn't.
Then, you can properly charge them or keep your security deposit if they break your rules.
3. Know Where Your RV or Toys Are
If you let friends or family use your RV or your ATV, you can keep tabs on it.
Plus, you can toss the GPS tracker in your kid's backpack or purse to know where they're at if they go out on a hike or camping or whatever!
Get Your GPS Tracking Device Now
Ready to GPS track your RV or something else?
Click here to view the GPS tracking device options available to you now.