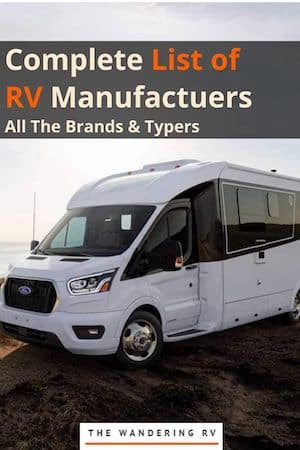 The RV industry is one of the largest industries in North America. Camping enthusiasts from all over the world purchase RVs and trailers every year, which is why the industry is booming. There are so many different RV manufacturers that produce RVs ranging in different length or weight requirements which offers endless options for people to purchase and enjoy.
These RV manufactures can be found all across the country. We've compiled a complete list of RV manufacturers, brands, and types – let's dive in!
Table of Contents
1. Class A Motorhome Manufacturers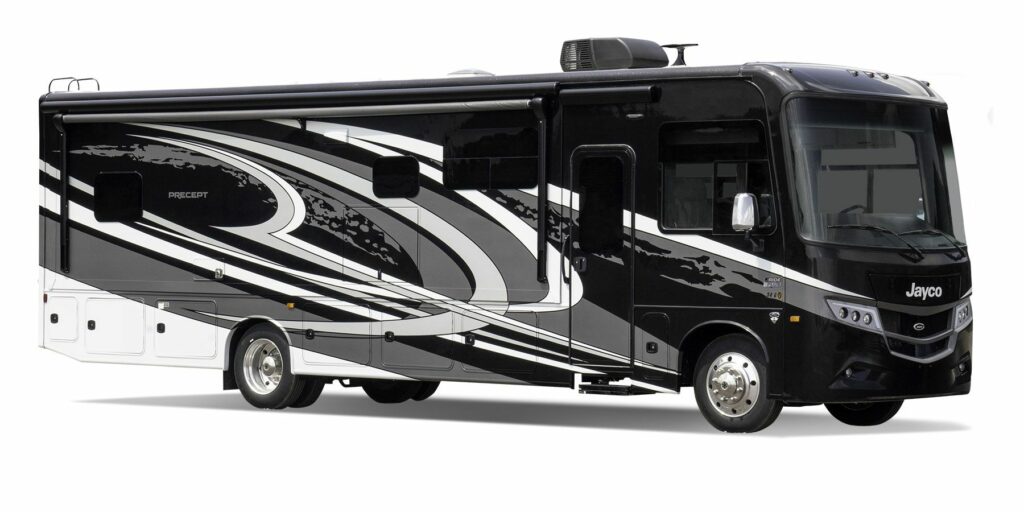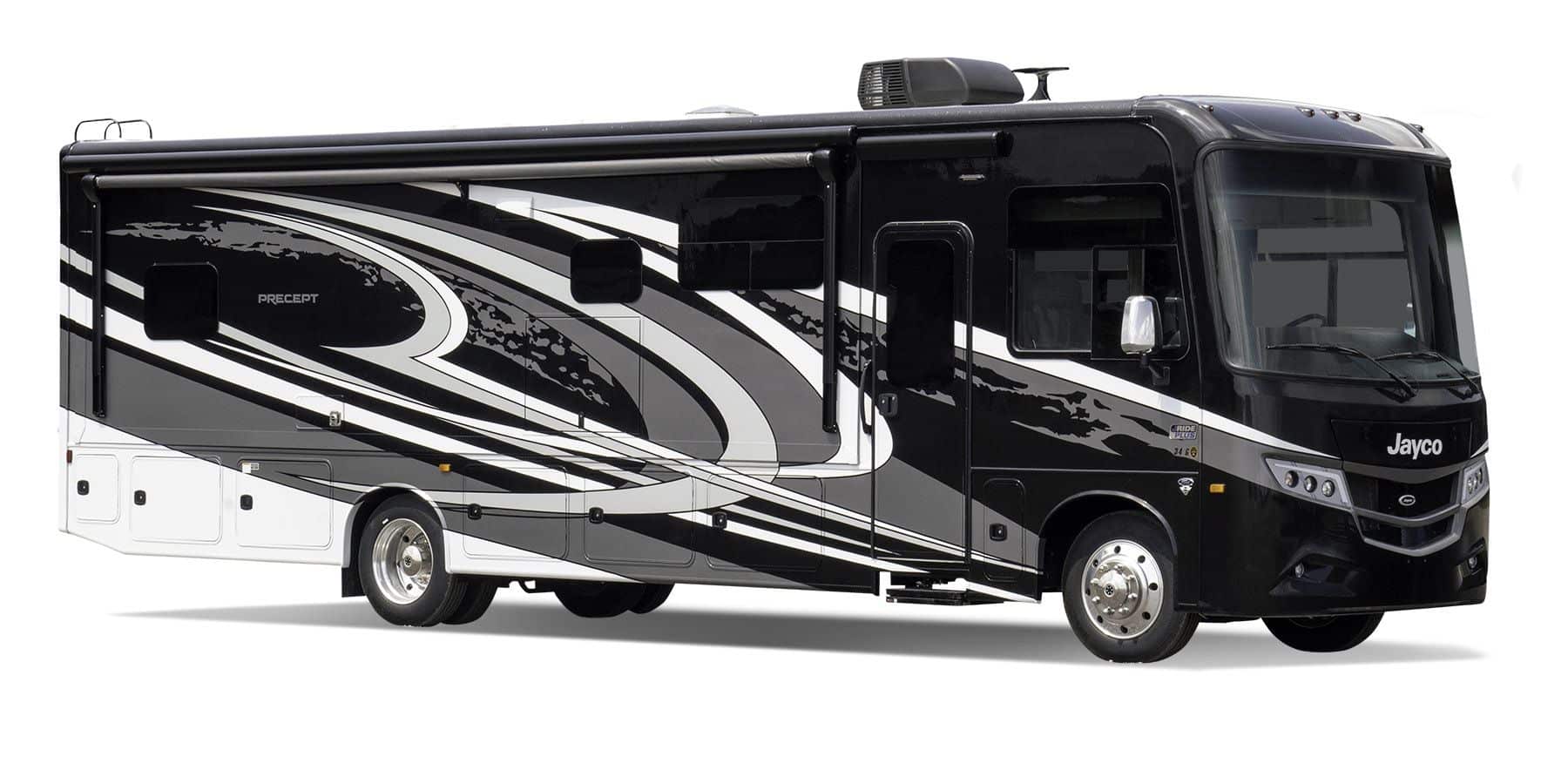 When it comes to large RVs, Class A motorhomes are the largest on the market. With an average size of 26-45 feet, these campers will have all of the desired features you could dream of!
Some of the features include (but aren't limited to):
King size beds
Bunk beds
Washer/Dryer
Multiple slide outs
Most Class A RVs also come with the ability to tow a car behind the camper with a car dolly. When making your purchase decision, it's important to remember that Class A motorhomes offer a lot, but may be overwhelming first a time RVer.
Overall, class A motorhomes can be a campers dream RV type and can be the perfect recreational vehicles for you!
Average Size Range: 26-45 feet
Average Weight Range: 13,000- 30,000 pounds
Manufacturers Who Offer Class A RVs:
American Coach
Monaco Coach
Newmar
Coachmen RV
Nexus RV
Entegra Coach
Fleetwood RV
Forest River RV
Holiday Rambler
Jayco
Thor Motor Coach
Tiffin
Winnebago
Related Post — Can You Rent An RV? Yes – Here's Everything You Need to Know About RV Vacation Rentals
2. Class B Motorhome Manufacturers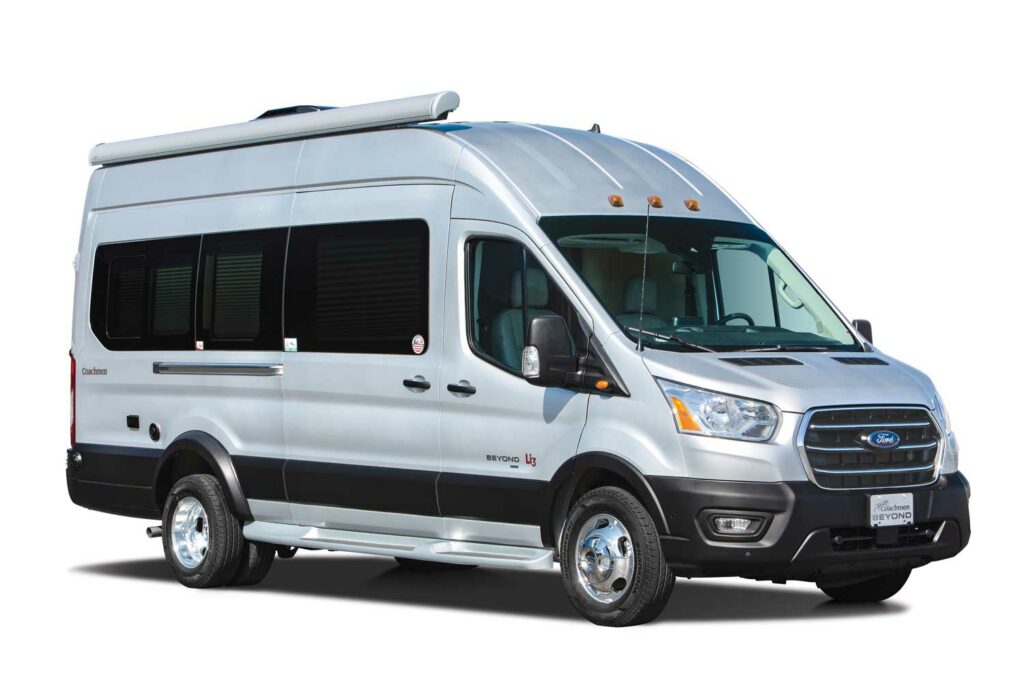 Class B motorhomes, also known as camper vans, are some of the smallest motorhomes on the market. When it comes to amenities and options the class B campers can be very basic, but still offer what you need!
Almost all Class B RVs offer your basic needs, such as a bed and storage compartments (check out our guide on RV space saving ideas to fit more into your rig), but also can come with upgraded packages that include bathrooms and kitchens! Typically, these camper vans can sleep 2-6 people depending on the size and model that you have.
This type of RV provides smaller families all the room they could need at a much lower price compared to the Class A motorhome.
Average Size Range: 17-23 feet
Average Weight Range: 4,000-9,000 pounds
Manufacturers Who Offer Class B RVs:
American Coach
Panoramic RV
Airstream
Chinook
Phoenix USA
Pleasure-Way
Coach house
Coachmen RV
Regency RV
Renegade RV
Safari Condo
Fleetwood
Leisure Travel
Nexus RV
Thor Industries
Winnebago
Midwest Automotive Design
3. Class C Motorhome Manufacturers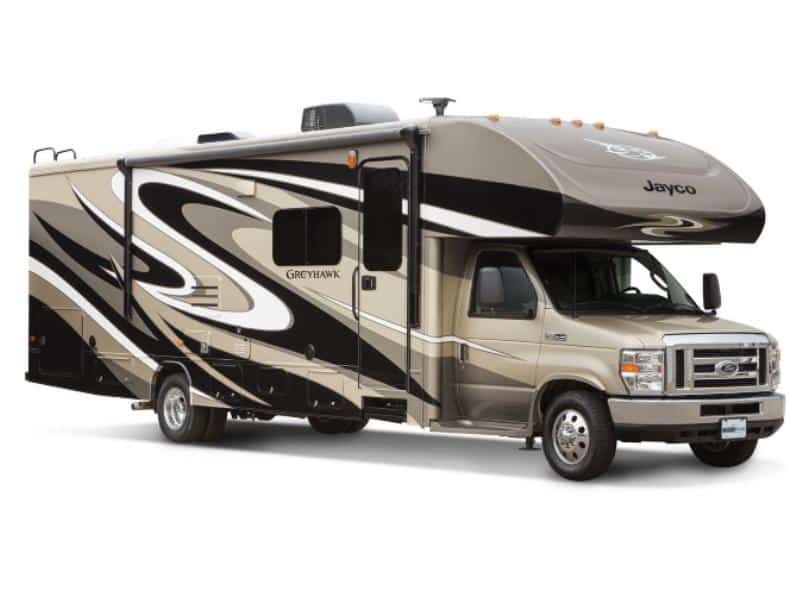 The Class C motorhome is your standard mid-sized camper. They're bigger than Class B camper vans, but are smaller than Class A motorhomes.
Most class C campers come with a bathroom and kitchen and are the perfect fit for someone looking to get a large motorhome that reminds you of a Class A without paying the price. Class C motorhomes have a very long history of providing well designed floor plans and bed layouts for amazing quality and luxury camping.
Overall, Class C motorhomes are perfect recreational vehicles and are a great fit for anyone looking to upgrade their current camping vehicle for a quality RV!
Average Size Range: 20-30 feet
Average Weight Range: 10,000-13,000 pounds
Manufacturers Who Sell Class C RVs:
Jayco
Forest River RV
Fleetwood RV
Enter Coach
Dynamax
Coachmen RV
Gulf Stream Coach
Holiday Rambler
Lazy Daze
Nexus RV
Renegade RV
Newmar Corporation
Phoenix USA
Thor Industries
Tiffin Motorhomes
Winnebago
4. Travel Trailer Manufacturers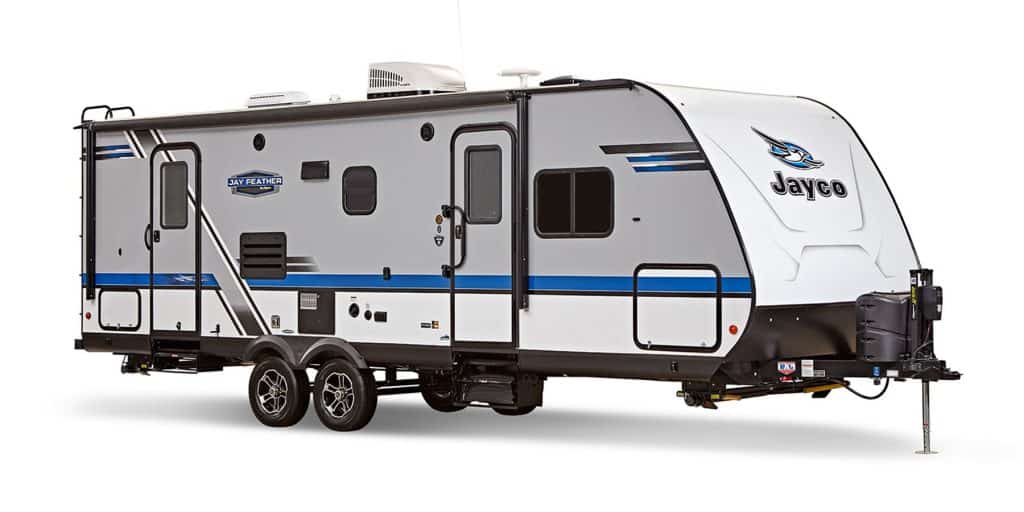 When it comes to having the largest variety of campers, look no further than a travel trailer! These trailers range from 10-40 feet which is the largest size range of any of the campers we have talked about today.
If you opt for a smaller travel trailer, it can be pulled by smaller SUVs and cars (which is something that attracts a lot of attention from first time camper buyers). Having the ability to hook up to and haul something with a car/SUV and not needing to also purchase a truck is an added benefit of these travel trailers! Most small travel trailers don't come with slide outs, though!
However, the larger travel trailer, the more amenities you'll have (especially if you pick from new models). The more weight you have in the camper, the more you'll need a truck to pull it.
Travel trailers are some of the highest demanded campers within the camping industry and why they are the perfect recreational vehicles. If this rig is on your list, check out our guide on the best Travel Trailer insurance quotes!
Average Size Range: 10-40 feet
Average Weight Range: 1,100-12,000 pounds
Manufacturers Who Sell Travel Trailers:
Airstream
Bigfoot
Coachmen
Chinook RV
Allen Camper
Armadillo
Braxton Creek
CrossRoads RV
Cruiser RV
Dutchmen RV
Forest River RV
Eveland's
East To West
Genesis
Grand Design
InTech RV
Jayco
Escape
Gulf Stream Coaches
Highland Ridge RV
Heartland RV
Northwood
KZ RV
Lance Camper
Keystone RV
Oliver Travel Trailers
Outdoors RV
Pacific Coachworks
Palomino RV
Riverside RV
Roulottes Prolite
Safari Condo
Shasta RV
Starcraft
Travel Lite RV
5. Toy Hauler Manufacturers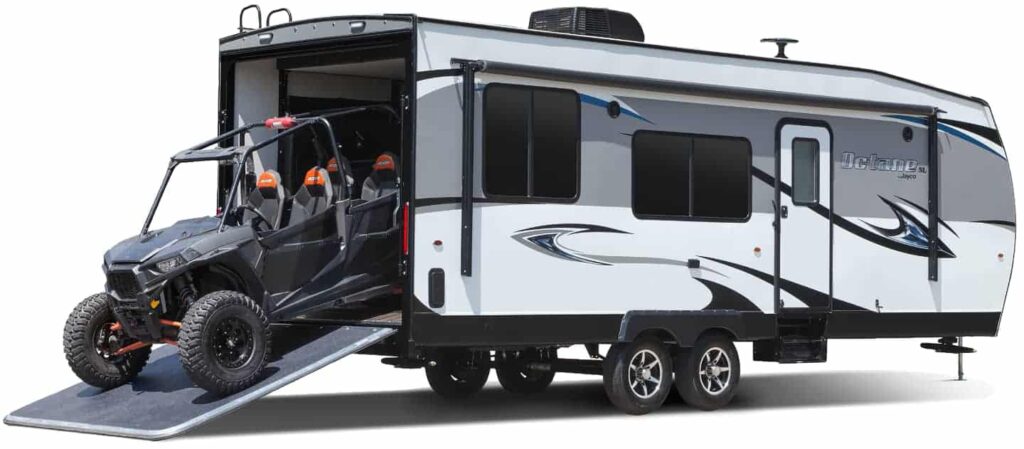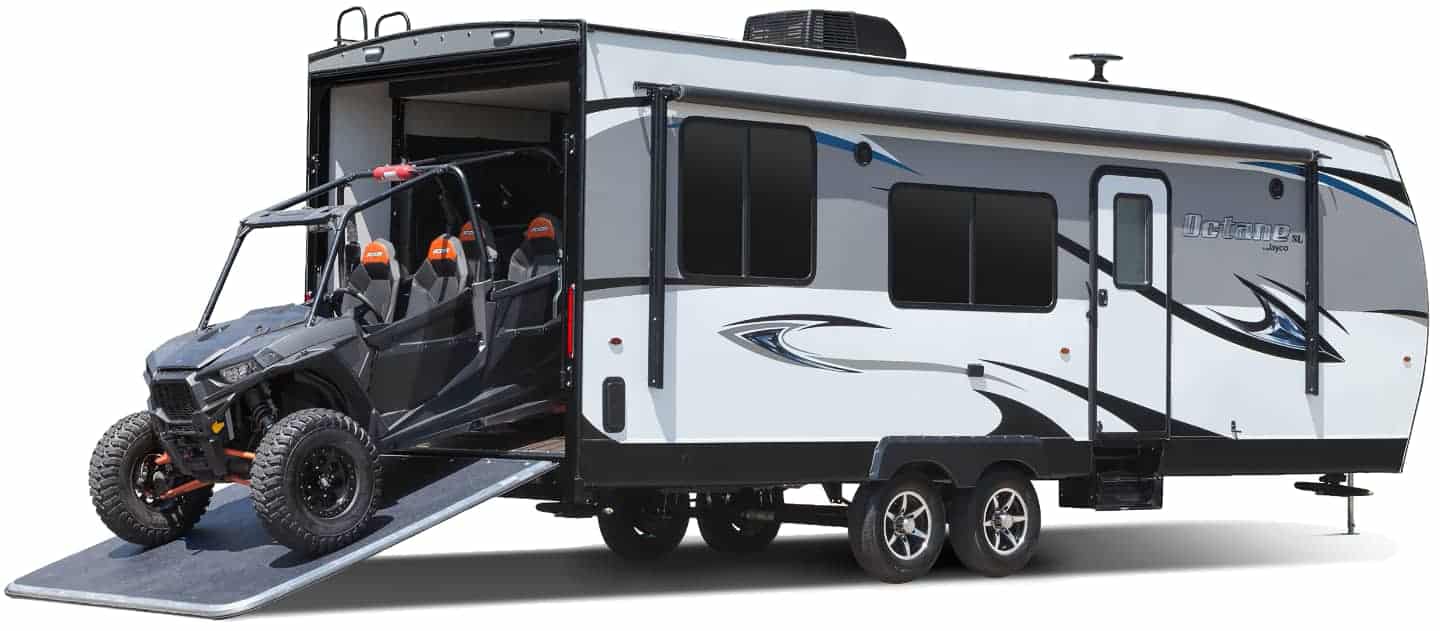 Cruiser Rv
Forest River RV
CrossRoads RV
DRV Luxury Suites
Dutchmen RV
Eclipse
Genesis
Gulf Stream Coach
Grand Design RV
Highland Ridge RV
Heartland RV
Jayco
Keystone RV
K-Z RV
New Horizons RV
Northwood
Palomino RV
The RV Factory
Pacific Coachworks
Thor Motor Coach
Winnebago Industries
6. 5th Wheel Manufacturers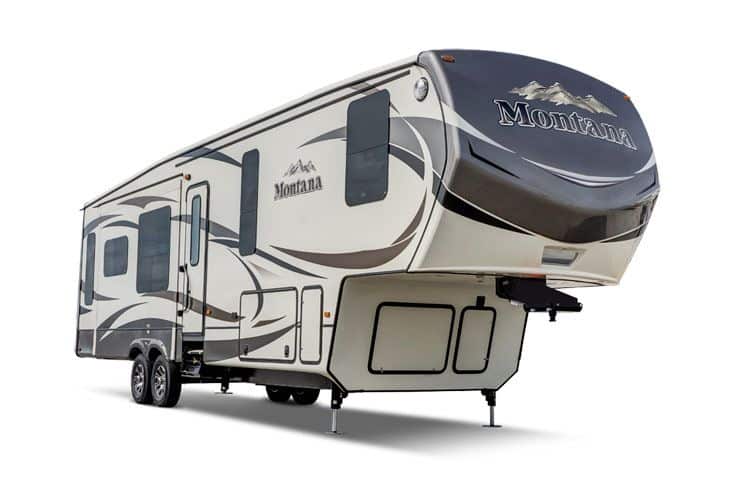 Fifth wheel trailers are the largest trailers you can tow behind a vehicle. They're called fifth wheels because the front of the trailer extends over the rear of the truck (however, they're not quite small enough to be considered truck campers).
The truck bed contains hitch mechanism to connect the trailer to the truck which can make fifth wheels easier to tow due to the location of the hitch. Fifth wheels offer the size and space of a Class A RV but they also require a heavy duty pickup truck to pull the camper with (they're not exactly lightweight travel trailers).
This type of RV is best for someone who wants all the amenities (such as bunk beds and slide outs) and value of a large Class A, but also wants to be able to tow it and store it when not in use.
Overall fifth wheels trailers can be the perfect fit for any beginner or experienced camper looking for a large motorhome that is also towable.
Average Size Range: 22-40 feet
Average Weight Range: 7,000-20,000 pounds
Manufacturers Who Sell Fifth Wheel Trailers:
Allen Campers
CrossRoads RV
DVR Luxury Suites
Dutchmen RV
Escape
Eveland's
Forest River RV
Grand Design RV
Keystone RV Company
K-Z RV
New Horizons RV
Northwood
Outdoors RV
Palomino RV
Prime Time
The RV Factory
Shasta RV
Starcraft
VanLeigh RV
Winnebago Industries
Related Post — The Ultimate Guide to Living in an RV and Making Money From Anywhere
Frequently Asked Questions
Here are a few common questions we're asked about RV manufacturers:
How many manufacturers of RVs are there?
It is hard to put an exact number to this question due to the constantly expanding RV Market. As of 2022, there's currently 114 Manufacturers in the United States. Many of these manufacturers are based out of Indiana, too ( a pretty cool fun fact to know!).
Each manufacturer produces thousands of RVs every year of all different styles and classes, which is why there are so many to choose from (this is perfect for those who have specific length or weight requirements).
It's important to take your time when looking for the perfect fit RV for you and your family, so make sure you take a look at the many options within the RV world!
Who is the largest manufacturer of RVs?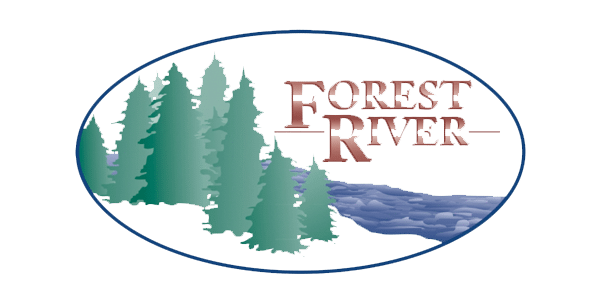 The largest RV manufacturer in the united states heading into 2022 is Forest River Inc. The company has an estimated $2.41 Billion Dollars in yearly revenue which is the largest of all RV manufacturers.
Forest River got its start on January 26, 1996 based out of Indiana. On June 28, 2005 the company reached a deal with Berkshire Hathaway for the purchase of the company. The transaction was officially finalized on August 31, 2005 and ever since then Forest River Inc. continued to grow and eventually became one of the largest RV manufacturers in the United States!
What is the best RV manufacturer brand?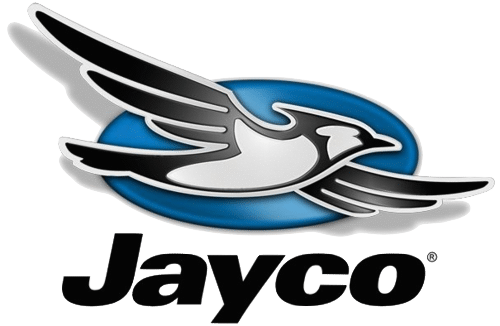 When asked, most people refer to Jayco as the best RV manufacturer brand. They're consistent, provide high quality RVs, and have an excellent customer support team. Founded in 1968, Jayco is currently one of the largest manufacturers in the United States. Jayco's main factory and headquarters is located in Middlebury, Indiana but there are tons of locations around the USA.
Overall, whichever RV manufacturer you choose you're sure to get a high quality motorhome.
Other Types of Campers: