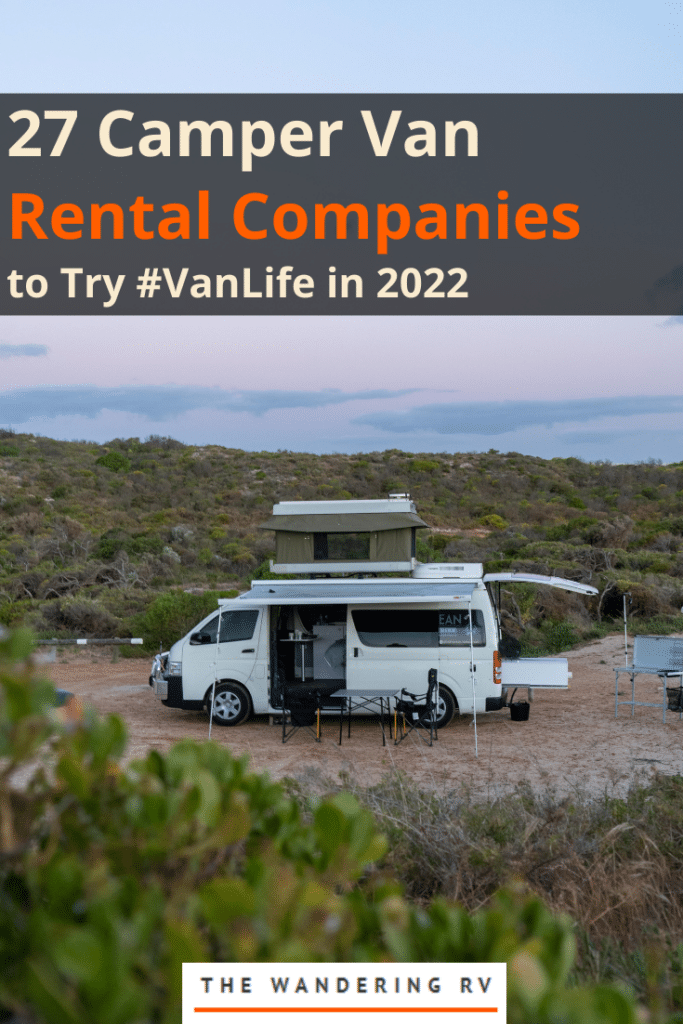 Interested in a cross country road trip in an RV camper van rental? Or maybe you want to test out #VanLife for yourself in someone else's cool build? 
Either way, these camper van rental companies can help you go on some epic road trips. Whether you're on the east or west coast, you'll find the best rental company for you.
Without further ado, here are 27 camper van rental companies to fuel your next adventure!
Table of Contents
1. Outdoorsy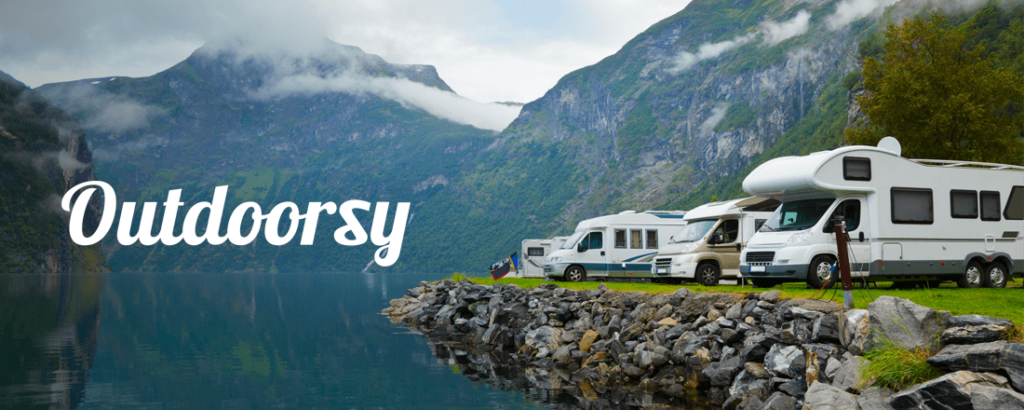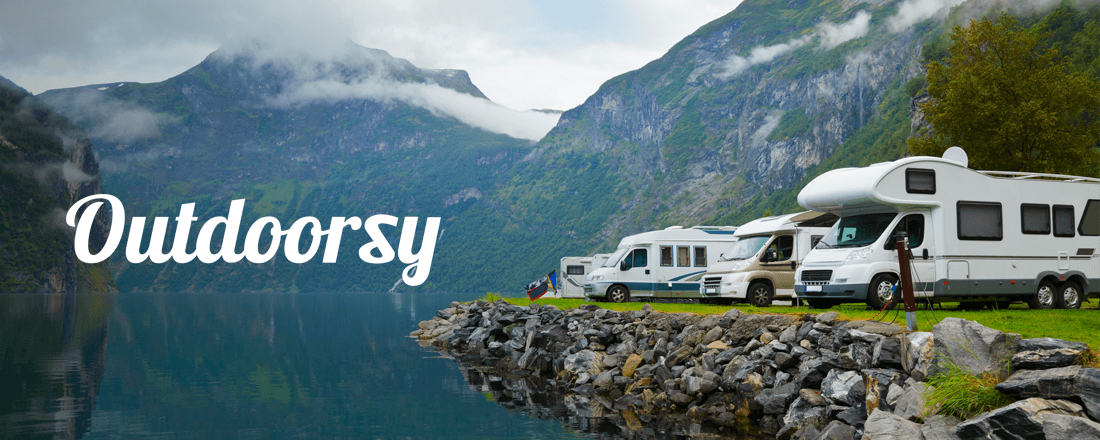 We've been huge fans of Outdoorsy for years now (and for good reason). This peer-to-peer RV rental company has an amazing customer service team, is incredibly trustworthy, and has RVs for rent all over the place. Outdoorsy has so many RVs to choose from that it could be hard to pick! Luckily, we wrote a guide on what type of RV you should rent to suit your needs!
Whether you're in Salt Lake City or Fort Lauderdale, Outdoorsy has RV rentals for you! We wrote a guide on our experience using Outdoorsy, read it here!
First time renters get $50 off with discount code "thewanderingrv"!
2. RVezy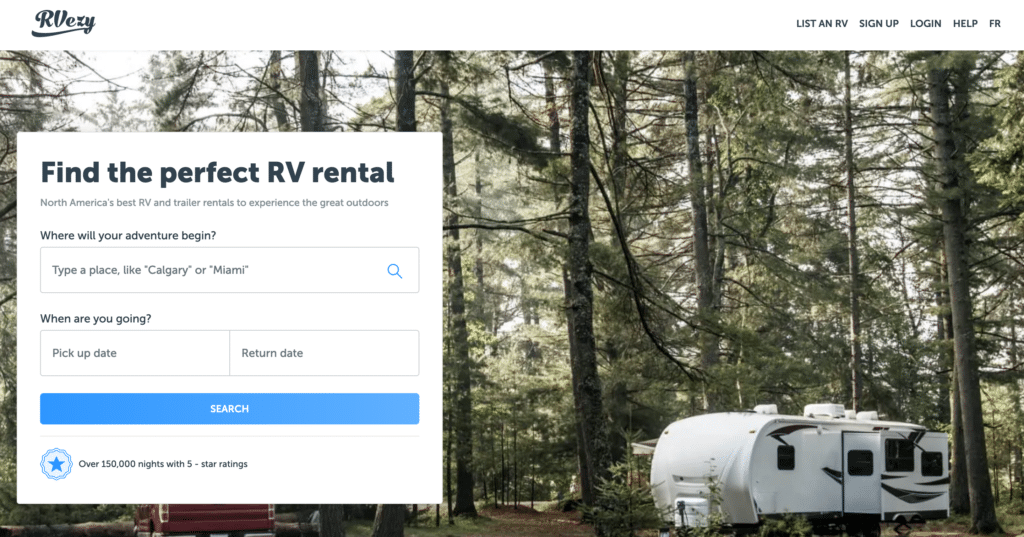 While RVezy is new to the RV rental game in the United States, they don't have a large selection and most of the RVs they do have are a bit pricier than the other platforms. However, their customer service team is probably the best in the industry!
Want to learn more about RVezy? Check out this our review of their services here!
3. RVshare

RVshare provides a platform for owners to list their RVs for rent and for prospective renters to browse listings. Owners and renters both have profiles complete with reviews written by people they've rented to or from.
RVshare offers everything from Class A, B, and C RV rentals, as well as toy haulers, fifth wheels, pop-up campers, travel trailers, rental vans, and more (perfect for family vacations). To read more about RVshare, check out this guide we wrote.
4. Moterra Campervans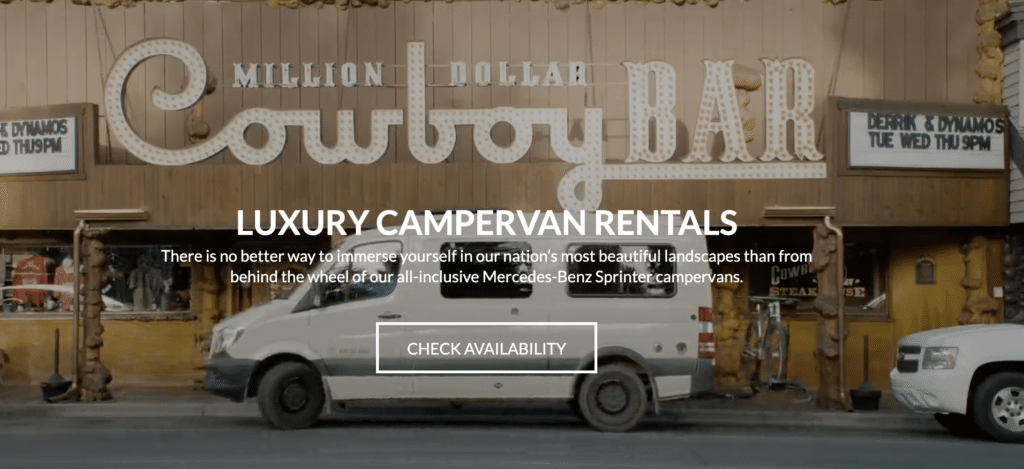 Moterra Campervans offers three types of Campervans for their guests, all of which are 4WD Diesel Mercedes Sprinters at 19ft in length, making them a dream to park and maneuver through any terrain.
All of the campervans come fully stocked with everything you might need for your adventure, and feature a full kitchen (stove, sink & fridge), porta potty toilet, thermostat heater and solar electric system!
If you're after luxury campervan rentals, Moterra has you covered.
5. Escape Campervans

Escape Campervans offers round trip and one-way rentals, meaning you can pick up locally or fly into your dream destination for a weekend away or an epic cross-country road trip!
Each model comes fully-equipped with a bed and kitchen with sink, stove, and refrigerator, and they have kitchen supplies, bedding kits, and other extras available for rent.
All you have to do is pick up your van rental, stock up the refrigerator, and hit the road!
6. Peace Vans Rentals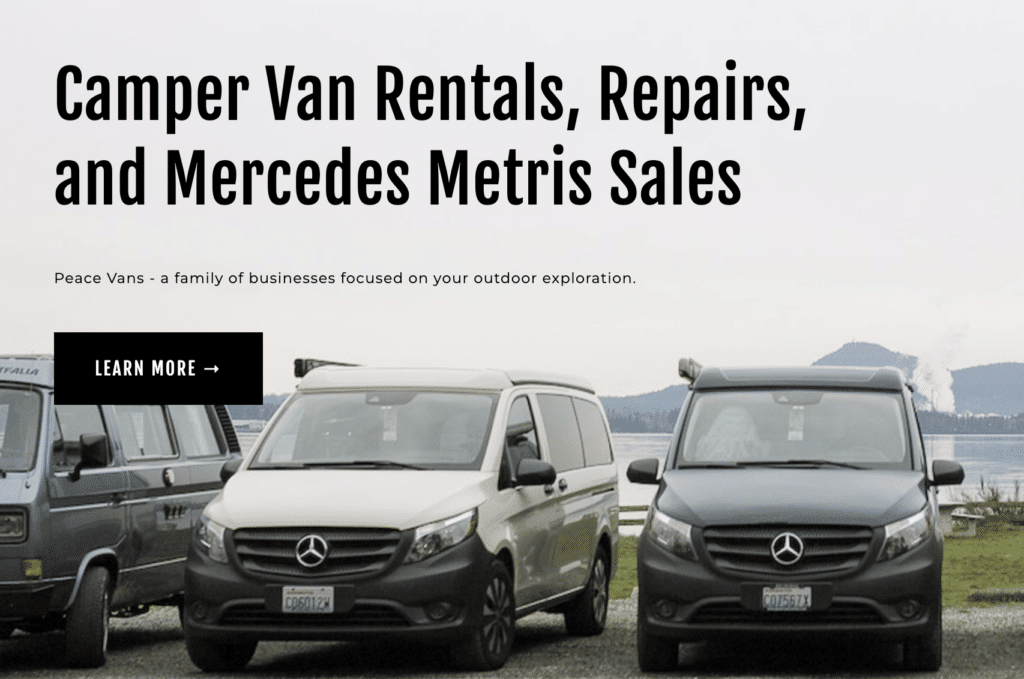 Looking to experience the Pacific Northwest in a Classic Volkswagen Vanagon or Mercedes Metris Camper Van? Look no further than Peace Vans Rentals!
Perks just for their renters include private Peace Vans Camps, detailed expert itineraries, and special offers and partnerships. Most of their fleet is converted passenger vans.
Each passenger van rental gets at least $20,000 of mechanical work before they enter the fleet, and lots of great upgrades like modern refrigerators, heaters for colder weather camping, awnings and upgraded sound systems!  
7. Mercedes Sprinter RV Rental

At Mercedes Sprinter RV Rental, you can choose from five different models:
Roadtrek ETREK 4 x 4
The SS Agile 2500
The RS Adventurous 3500 
The CS Adventurous 3500
The Coachman Galleria
Each rental vehicle has full bathrooms with a shower, sink, and toilet, as well as a full kitchen with two burner propane stove, refrigerator/freezer, plenty of storage for food, a functionally sized sink, chef knives and tools, quality cookware and serveware, cabinets for clothes, games and anything else you may want to bring! There are two completely removable dining/card/conversation tables, too. If you book your trip in advance, you may be able to get a discount code or coupon codes for future visits! 
8. Vintage Surfari Wagons VW Rentals

Each and every van rental at Vintage Surfari has its own unique personality and most have revamped interiors apart from a few stock interiors that remain in excellent condition! In addition to private VW van rentals, Vintage Surfari Wagons offers fully curated group camping tours where our local guides introduce you to the most magical spots within their California playground.
9. Native Campervans Rentals

Native Campervans offer three sizes of easy to drive, fully stocked vans that enable you to travel deeper and access everything. Complete with kitchens and sleeping quarters, their campervans offer comfort and functionality without the headache and expense of driving an RV. You get 100 free miles per night and any excess mileage is charged $.35/mile.
10. Hawaii Surf Campers Rentals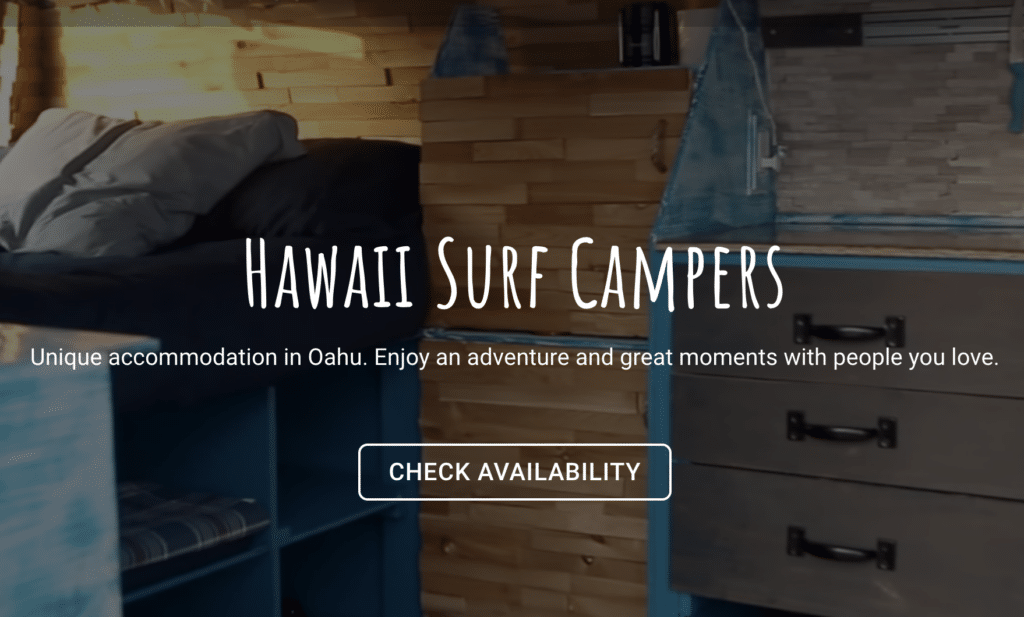 Hawaii Surf Campers is a small van rental company on the north shore of Oahu. Founded by surfers and friends, they are proud and happy to share stories and adventures of many years on the island.
With tons of camper van rentals to choose from at affordable rates, Hawaii Surf Campers knows how to kick off an awesome road trip! Check out these campervan rentals available in Hawaii right now.
While you're in Hawaii, check out some of these other guides we wrote:
11. ROAMERICA Campervan Rental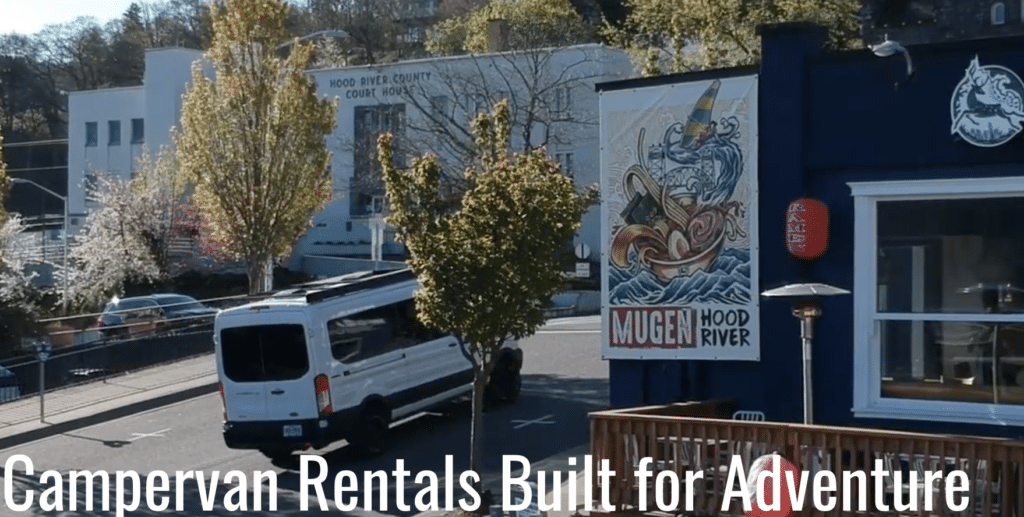 ROAMERICA's self-contained and fully-equipped campervans are perfect for exploring the Pacific Northwest and beyond. Each vehicle is maintained to the best possible standards.
Standing room inside, full kitchen, 2 beds, 5 seat belts, car seat friendly, free roadside assistance and we provide all the gear! You're able to travel anywhere in the US and Canada, from San Francisco to Las Vegas and beyond at no additional fee.
12. Campervan North America Rental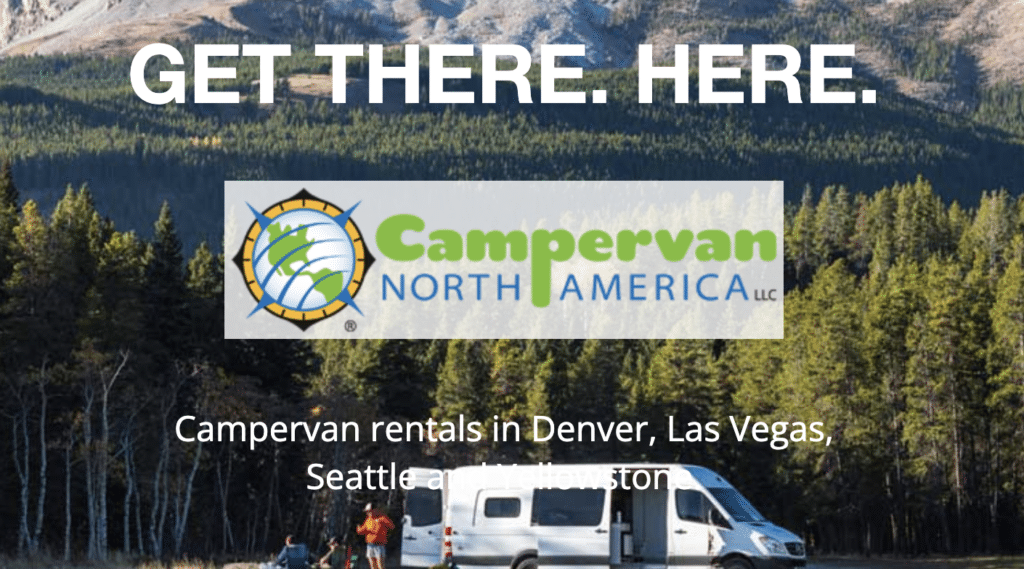 Campervan North America began with the idea that many adventure-seekers want to see and experience the Great American West, but not in a large RV rental. They see what's lacking in the current world of vehicle rentals and have a solution for those with a sense of adventure, who want to get off the beaten path and get on board with caretaking the environment: a cargo van conversion rental!
They offer campervans for those on a budget, which helps you save money in the long run!
13. Outervan Rentals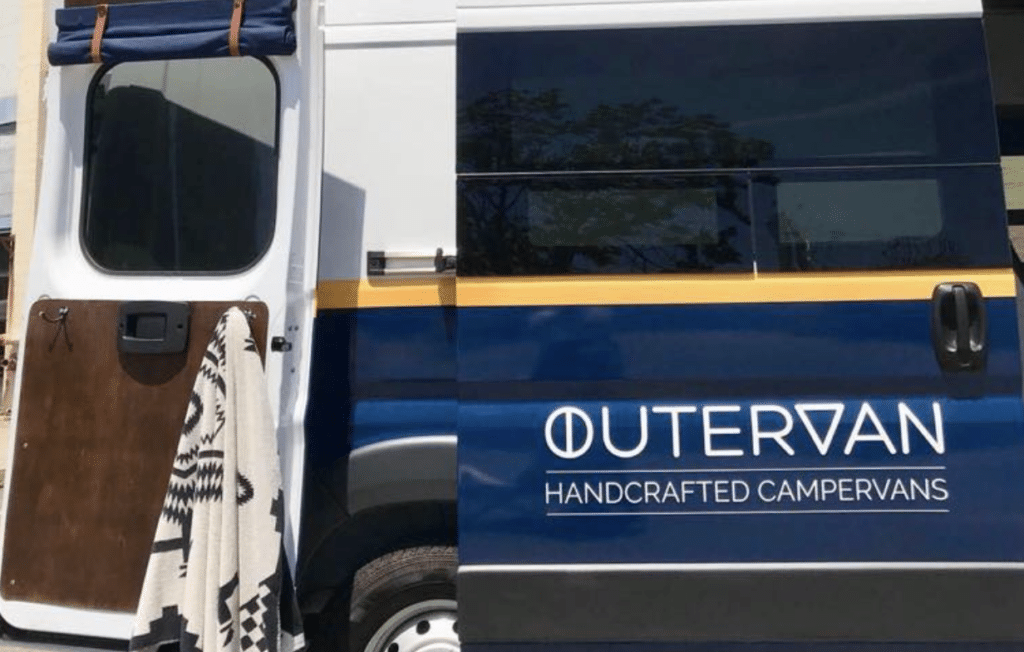 Outervan rents handcrafted campervans made from passenger vans, stocked with curated gear from San Francisco, California. Their mission is simple: give you the opportunity to pack little, think less and get outside! Group outings have never been easier!
14. VanCraft Sprinter Campervan Rentals

With VanCraft, you're able to book long term rentals and almost everything you'll need (or want) for your road trip is stocked in the van! You'll just need to pick up food and toiletry items. All of their Sprinter and NV200 vans are model year 2015 and newer. With conversion installations no older than 3 years. 
15. Boho Camper Vans Rentals

Whether you're looking for an adventure with no commitments, or a camper van to call your home – Boho Camper Vans has an option for everyone. Not only do you get an awesome van rental with Boho, you get a secret map code on their site that unlocks new areas to explore (you can only get this code when you rent a campervan from them, which makes this secret map that much cooler). 
16. Lost Camper Van Rentals

Lost Campers is known as the original budget rent a camper van company in the Western USA. They've been family owned since 2007 and want to welcome you into their family of over 25,000 Lost Campers! Their greatest desire is for you to have an amazing trip and create heartfelt memories that last a lifetime and they book up 2-4 months in advance (especially April – October).
17. Trekker Vans Ford Transit Rentals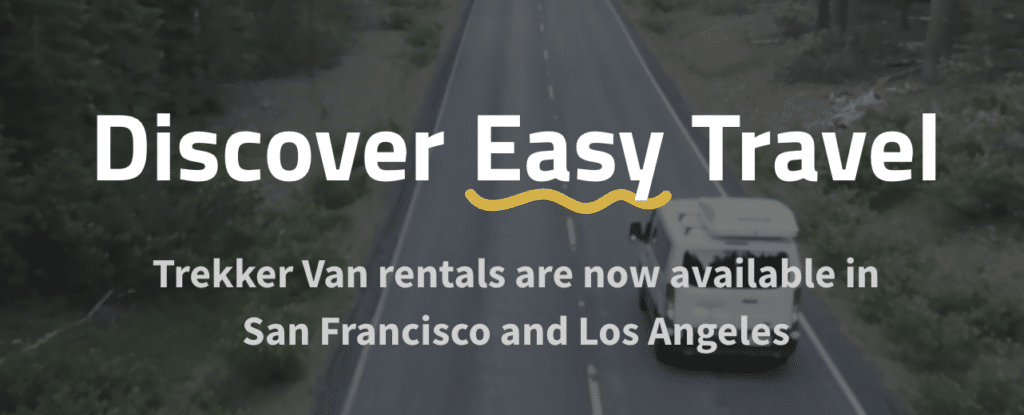 Trekker Vans are available for pickup and dropoff at select locations in San Francisco & Los Angeles, giving you access to the best California has to offer. What's more, they can even accommodate one-way trips between the two cities on a case-by-case basis!
They make it easy to plan your next adventure with a simple booking process, customizable features, transparent pricing, and have two drop off locations available in California to pick up and drop off your Trekker Van.
18. Ondevan Campervan Rentals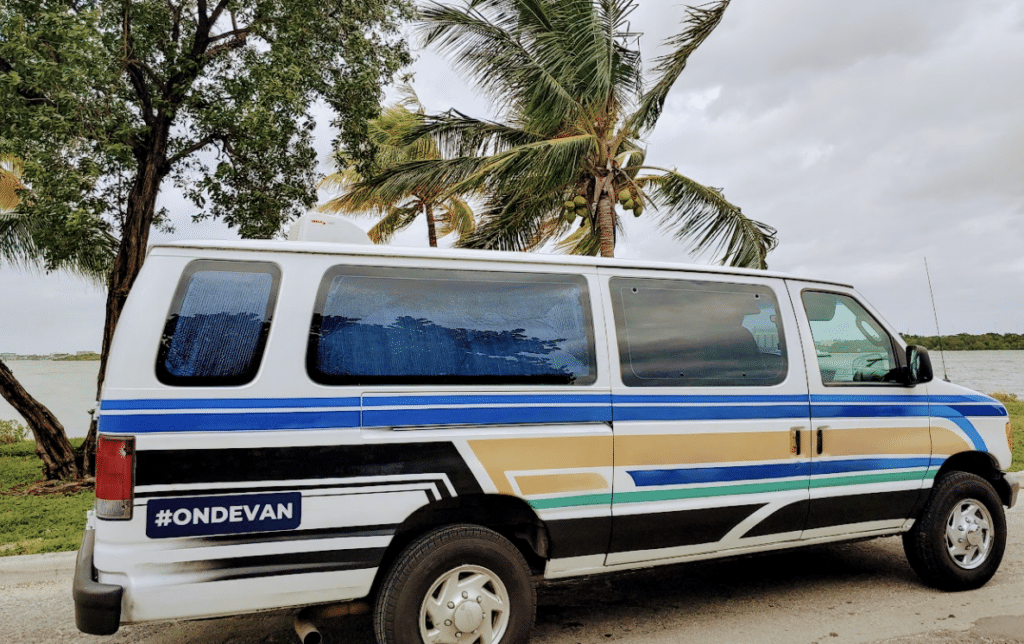 Ondevan campervan is a local camper van rental company in the Miami, Fort Lauderdale, and Orlando area in Florida.
Ondevan campervan is perfectly designed for camping adventurers, travelers, and remote workers that would like to experience their freedom in a different way. They were also featured in the New York Times and selected by the Outside Magazine as one of the best rental rigs in 2021!
19. Maine Campers VW Rentals

Looking for some awesome campervans to travel Maine in? Look no further than Wander VW! They've got three campervans to choose from (and come May 2022, they'll even be renting out 2022 Tesla Model Y)!
They want your entire trip to be perfect and can even arrange to pick your crew up at the airport, so you can just Arrive & Drive™! 
20. Basecamper Van Rentals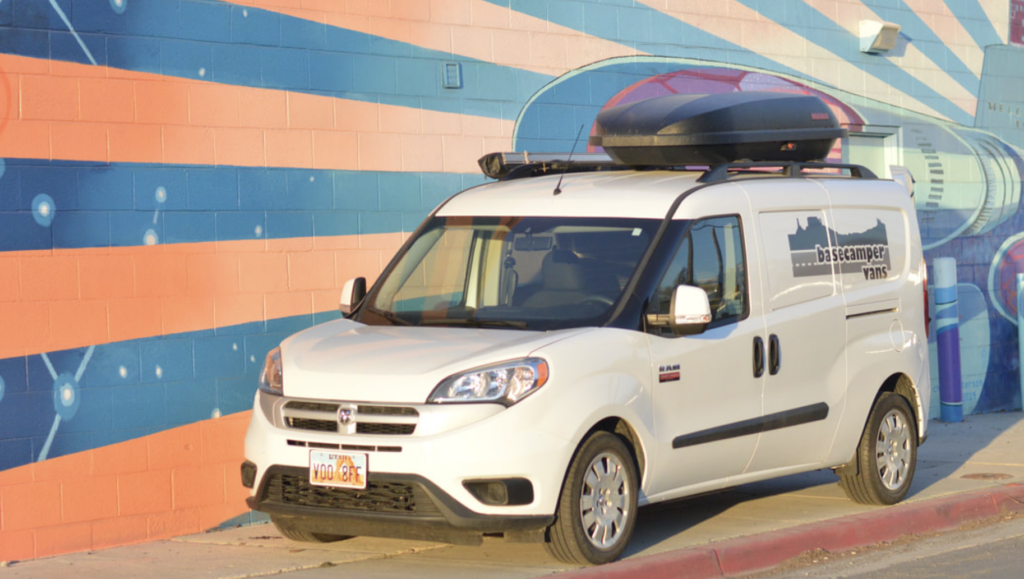 Not only does Basecamper Vans rent some pretty awesome passenger van rentals, they also build them! They offer hard-shell roof top tents for additional sleeping space, have custom built interiors designed for functionality and maximum space, and each van has automatic transmission(as well as cruise control)! These minivan rentals truly can't be beat.
21. Voyager Campervans Rentals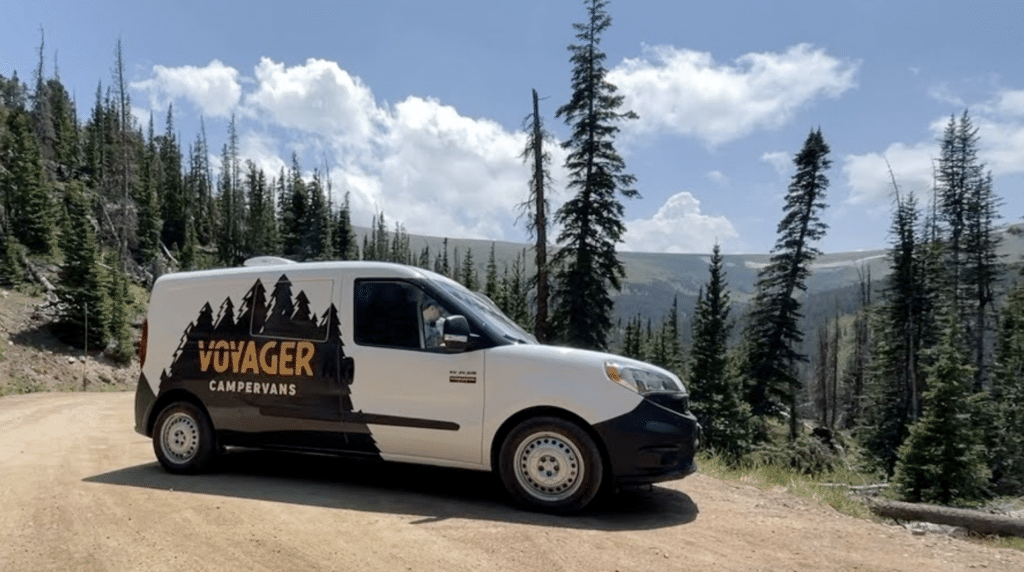 At Voyager Campervan Rentals, they build, sell, and rent eco-friendly campervans to travelers across the US. Their passenger van rentals come equipped with everything you need to comfortably explore the great outdoors. Rentals include 175 miles per day and they have a self check-in process that makes it easier than ever to hit the road.
22. Adventure Travel Sports Rentals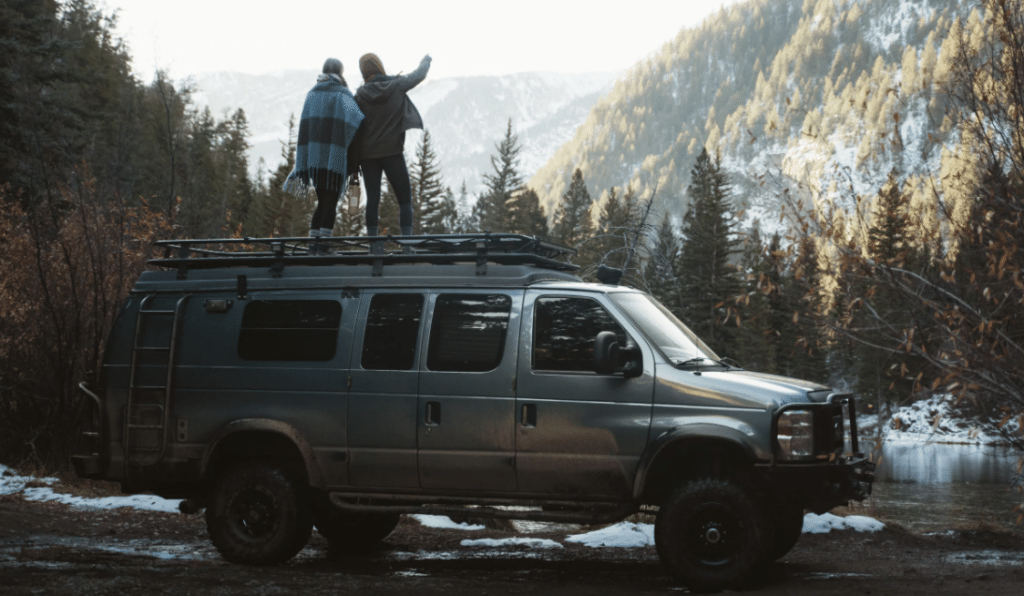 Whether you are planning a trip or building your dream rig, Go Explore It's team of talented professionals will work with you to make the next adventure an unforgettable one! They offer passenger van rentals as well as roof top tent rentals – both of which are perfect for trips!
23. Rocky Mountain Campervans Rentals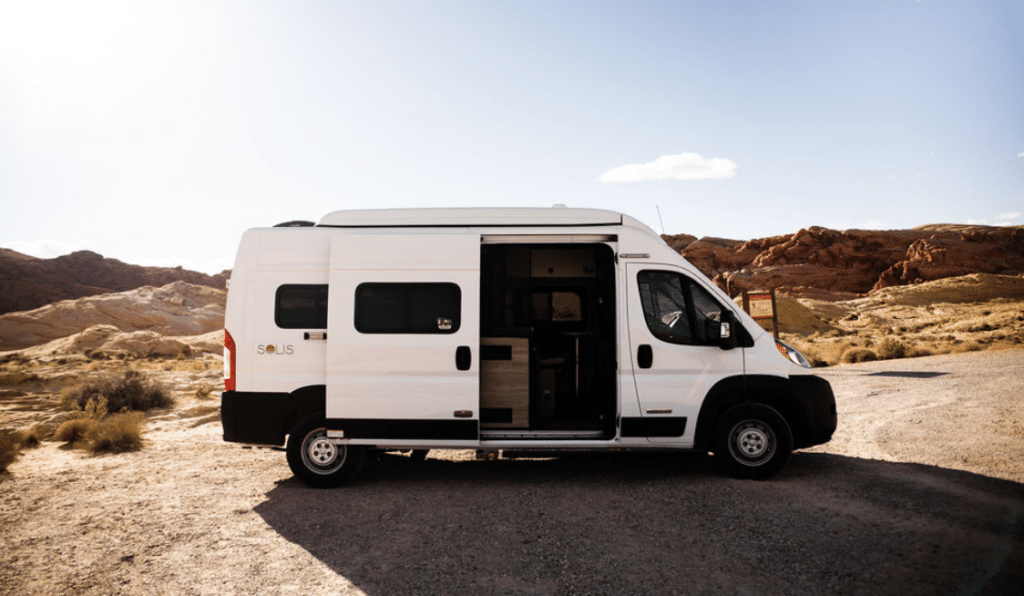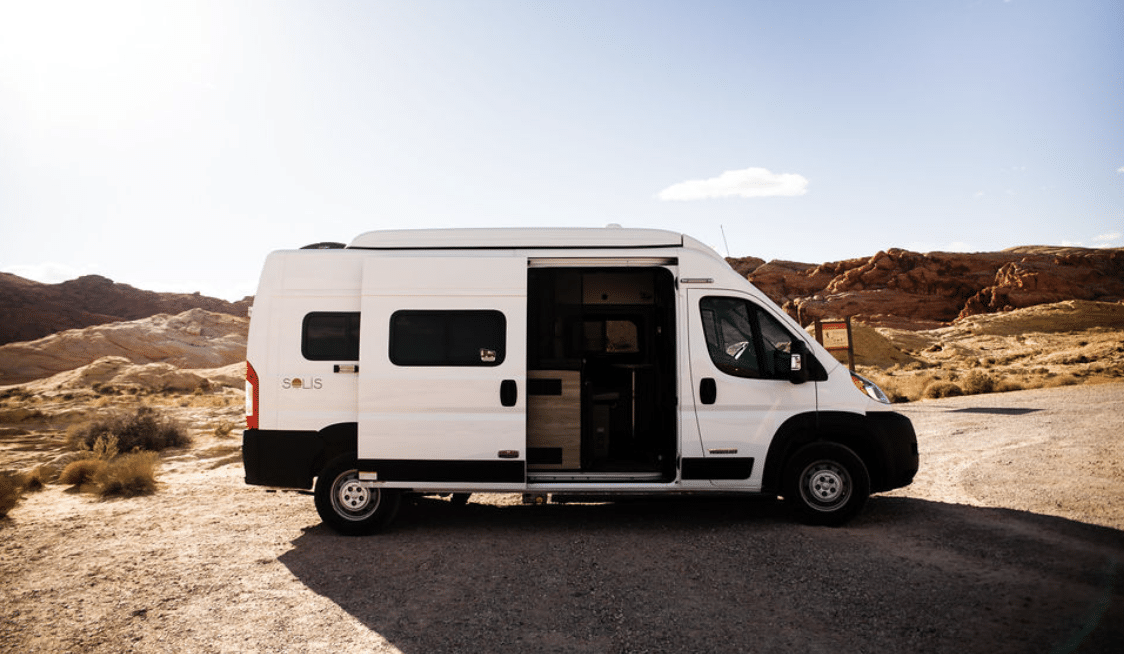 With Rocky Mountain Campervan Rentals, renting a passenger van is a breeze! These vans sleep anywhere from one to five people on both lower and upper beds in the pop top roof and each van comes fully-equipped with all the necessities like linens, cookware, bedding, camp chairs, and more – all included in the price! All you'll need is your sense of adventure (and a change of clothes or two). 
24. Tierra Traveler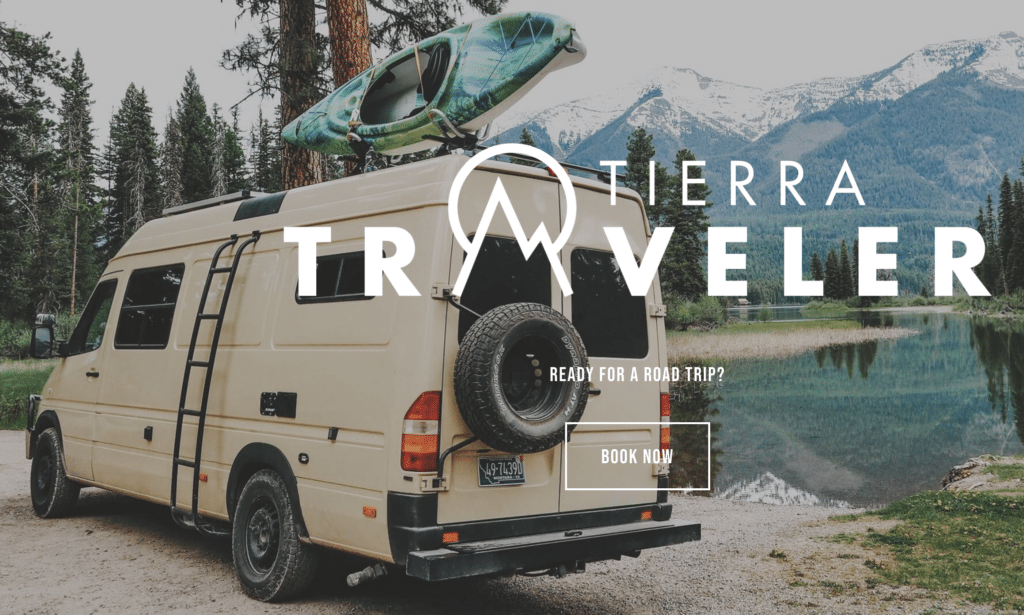 Are you ready for an adventure in one of the country's most remote regions? You're in the right place! Tierra Traveler is located in Livingston, Montana just north of Yellowstone and an easy day drive from Glacier National Park.
They offer campervan rentals and custom van conversions for those looking for a better way to travel! Each campervan rental comes fully-equipped with your van life essentials, plus unlimited mileage and road side assistance. They also offer pickup and drop off services to Bozeman, the Bozeman Yellowstone International Airport, and other surrounding areas.
25. Travellers Autobarn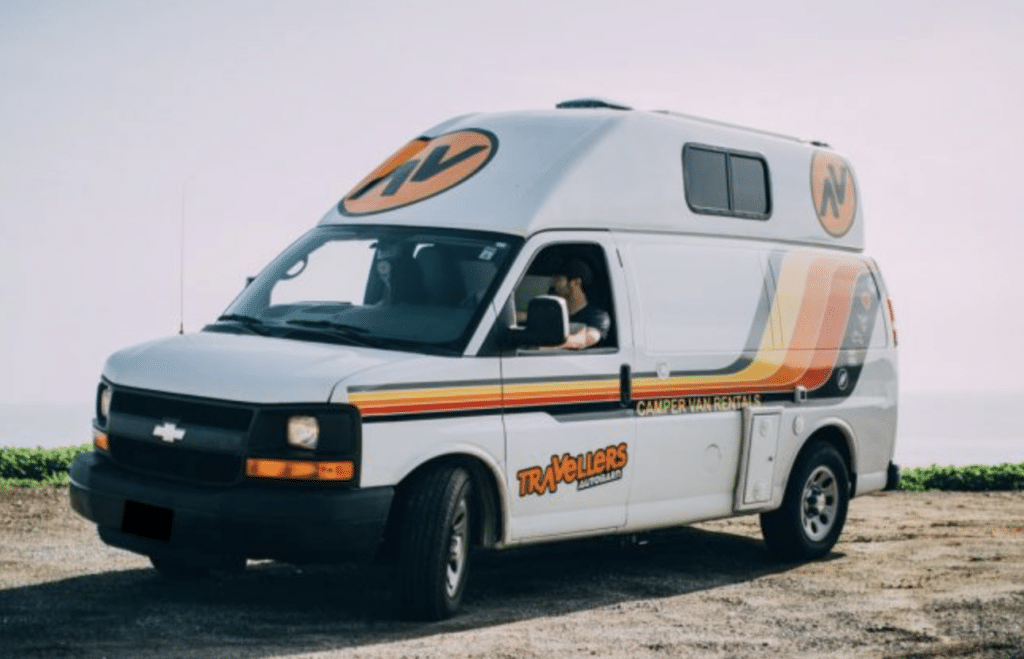 As a proud & well-established youth & "budget" premium campervan rental company, Travellers Autobarn offers the perfect road trip experience all around America.
Whether it's a weekend getaway or an epic road trip from LA to San Fran – you'll have the time of your life! All of their rentals include unlimited miles, too!
26. Cruise America

Rather than using cutting edge peer-to-peer rental systems, Cruise America simply owns a fleet of motorhomes and travel trailers they rent out from their RV rental centers.
The stress-free convenience of vacationing with your room on your back affords families and friends the opportunity to travel in comfort and style, while allowing time for a great opportunity to grow closer as you travel to and from your destination!
27. GoCamp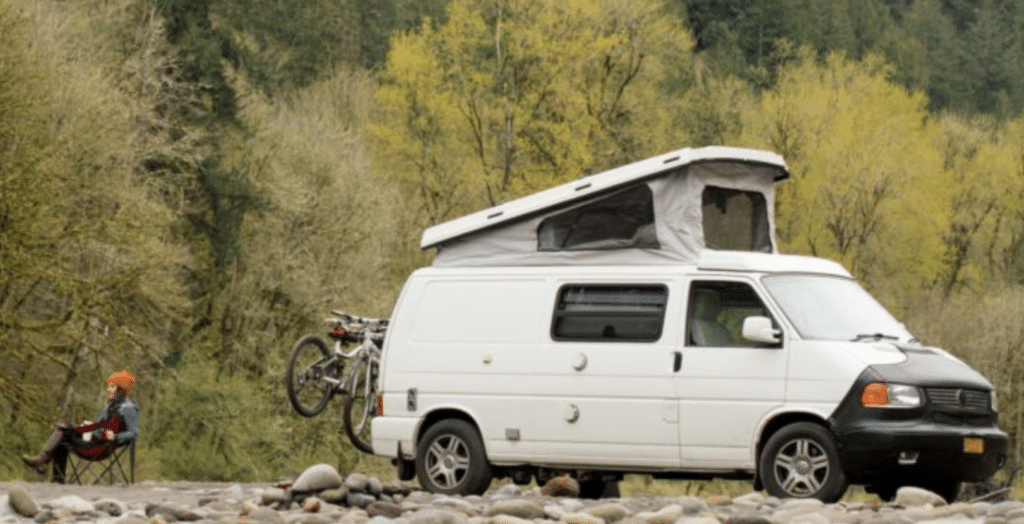 With GoCamp, camper vans are as unique and fun as the memories you'll make in them. From old school Volkswagen Vanagons and Eurovans to newer Mercedes-Benz Sprinters, Ford Transits, Dodge Ram ProMasters, Storyteller Overland MODE4x4 adventure vans, specialty conversion vans, and many more makes, models and styles, you have lots of great choices for your next road trip.
GoCamp vans are ready to hit the road. All you have to bring is yourself and a sense of adventure.
Looking for more rental options? Here are some other guides you might like: